Last updated on January 3rd, 2023.
This Black Forest Cupcakes Recipe is made in an easy 1 hour and is the ultimate chocolate cupcake homemade dessert made from scratch. These moist chocolate cupcakes are filled with delicious cherry filling and topped with light, airy, and creamy whipped cream frosting.
This Black Forest Cupcakes recipe is sponsored by Oregon Fruit Products. However, all thoughts and opinions are my own. Thank you for supporting the brands that make One Sarcastic Baker Possible.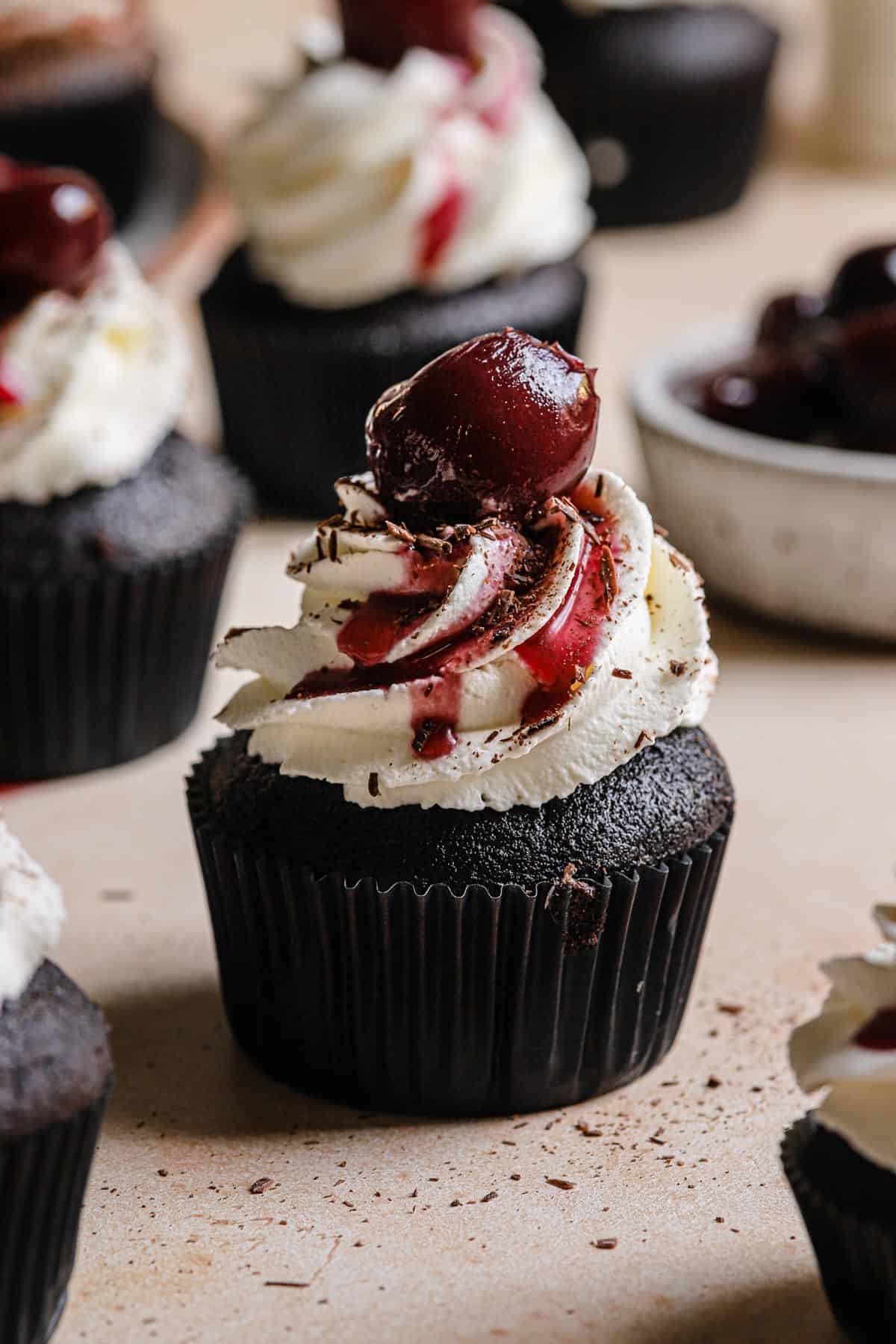 What are black forest cupcakes?
These moist black forest cupcakes are a small and cute version of the traditional Black Forest German dessert (much like these Black Forest Brownies). This dessert is named after the Black Forest Mountain range in Germany, which is known for its Cherry trees and is famous for its specialty cherry liquor. Black Forest dessert is made of two or more layers of sponge chocolate cake (chocolate gateau) sandwiched with cherry filling and frosted with whipped cream. Traditionally Kirschwasser (cherry liquor) is added to the cake. The law in Germany mandates that any dessert named "The Black Forest" must-have Kirschwasser in it.
And much like the Germans, I take my dessert very seriously. This is why I knew that Oregon Fruits would be the perfect fit for my easy Black Forest Gateau cupcakes.
Oregon Fruits Dark Sweet Cherries are delicious, perfectly preserved to their full shape, easy to find year long and I love that it is a family-owned, US-based company with core community values and sustainability being the main focus. Oregon Fruit is delicious and convenient! Bringing spectacular fruit to any recipe or snack in a shelf-stable, easy-open can.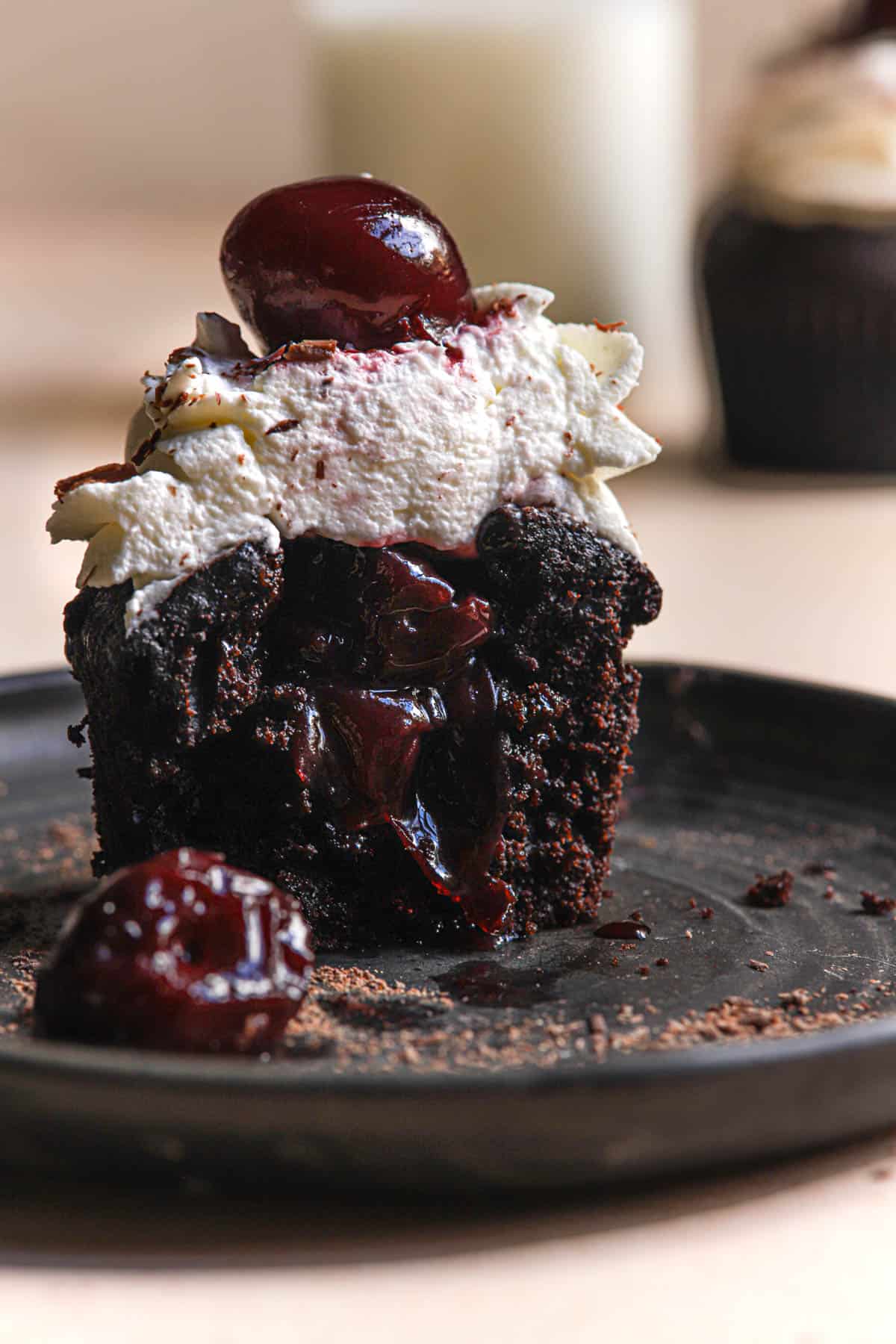 Why Should You Make It
There is no doubt that these Black Forest Cherry Cupcakes are moist, flavorful, and delicious. But not only that, these cupcakes have a lot more going on for them:
Easy and fast. This recipe is super easy to make with no special equipment or complicated steps.
Versatile. You can bake and assemble this dessert into german black forest cupcakes. But you can use the chocolate cupcakes recipe for other desserts like these Oreo Chocolate Cupcakes. And the same goes for the cherry filling and whipped cream, use it to make a Cherry Galette topped with cream, or maybe Cherry Pie pops and White Forest Cake.
It's a showstopper. This recipe is a showstopper with a unique yet straightforward flavor combination. It is a great special occasion recipe for birthdays, Mother's Day, weddings, and anniversaries. It is an excellent way for passionate bakers to express gratitude, love, and appreciation. Also, to show off…
Bake it big or large. Use this recipe for baking Mini Black Forest cupcakes or an impressive layer cake. Check out the variation section for conversions.
It is timeless. No need to wait for the cherry season; since we are using Oregon's Dark Sweet Cherries, we can make this recipe any time of the year.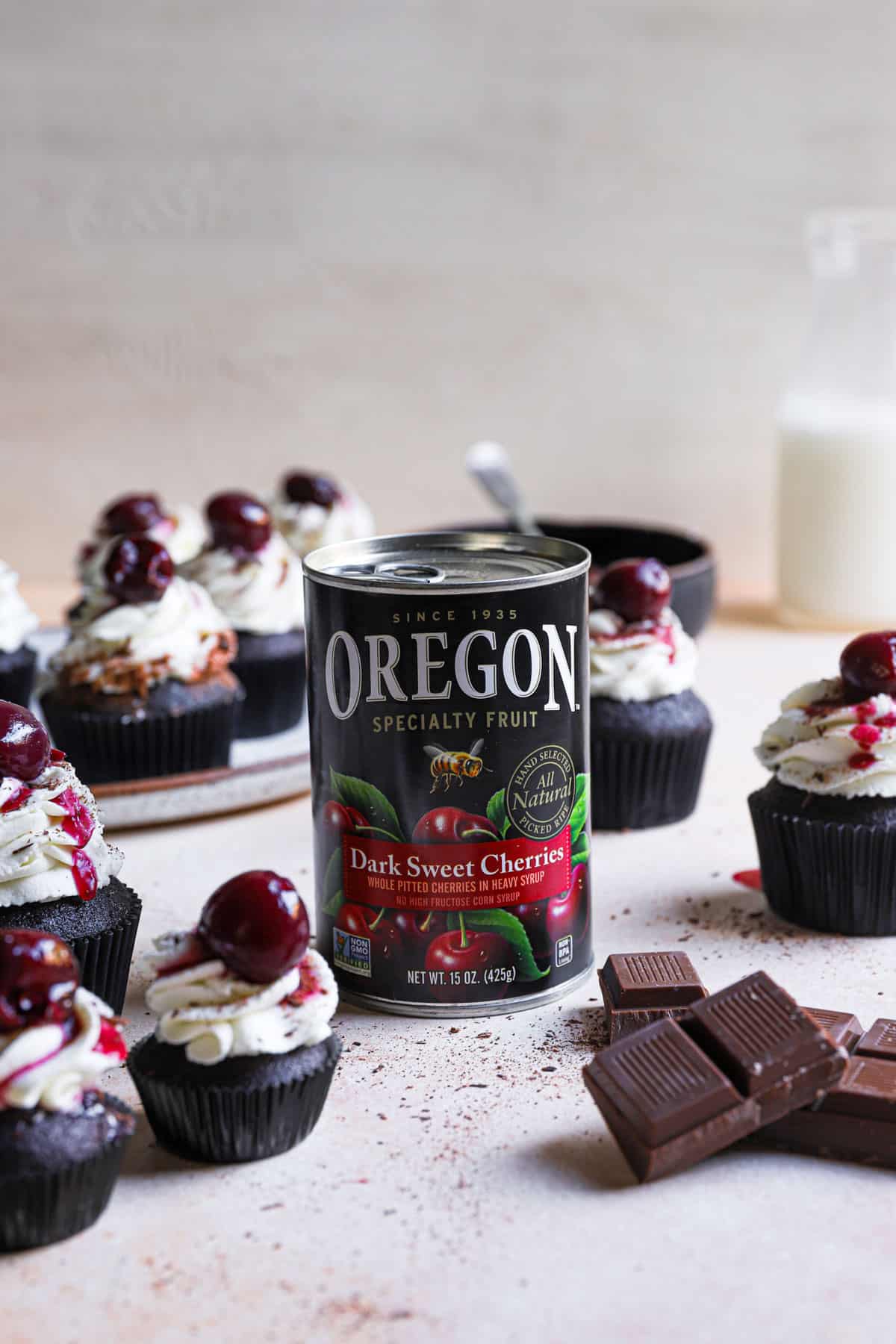 Ingredients that go in this Black Forest Cupcakes Recipe:
Chocolate cupcakes
For this recipe, you will need simple everyday pantry ingredients. The most important part is to make sure they are all at room temperature. (Excluding the coffee which should be boiling hot):
All-purpose flour. Since we are adding a large amount of cocoa powder just 1 ¼ cup of all-purpose flour is all we need. Avoid using bleached flour when possible.
Unsweetened natural cocoa powder. This is where we got the rich irresistible chocolate flavors. I love using black cocoa powder for the dramatic color.
Granulated sugar. Will provide sweetness and moisture.
Baking powder and baking soda. The leaveners in this recipe.
Heavy cream, for flavor, moisture, and richness.
Vegetable oil is the best way to enrich and provide moistness to cupcakes.
Vanilla extract. Because it makes everything better.
Egg and egg yolk. The two will make sure the cupcakes will keep their structure.
Boiling coffee. Coffee enhances the chocolate flavor and the high boiling temperature will help to "bloom" the cocoa powder.
Substitutions:
Dutch-processed cocoa can replace natural cocoa powder. Note that the cupcakes will bake with a richer more dense texture and might need a longer time in the oven. For color, you can replace 1 Tablespoon of cocoa powder with Black Cocoa.
Butter. You can replace the oil with melted butter. Use 1 stick (120 g / 4 oz) of melted and cool butter and add it where the oil should be. Note that I do not recommend it.
Milk and sour cream. Use full-fat milk instead of heavy cream, same amount.
Boiling water. Use water instead of coffee.
Cherry Filling
This cherry filling only calls 5 ingredients, one pot, and 15 minutes.
Oregon Fruits Dark Sweet Cherries. I used 2 cans.
Granulated sugar. Will sweeten the filling and help it thicken.
Lemon. Will balance the sweetness and help the cherries keep their structure.
Cornstarch (with water). To slightly thicken the filling.
Kirsch. Because after all, this is a Balck Forest Cupcakes recipe.
Substitutions:
Frozen cherries. Thawed.
Kirsch. Skip it or use 2 tbsp of Marchiano cherry water or Brandy.
Heavy Cream
I'm not going to lie if there is one reason I love making this Black Forest Cupcakes Recipe from scratch is that I get to enjoy a spoonful (or two) of this amazing homemade whipped cream. Three ingredients, 3 minutes and you have a thick and stabilized heavy cream that will hold its stiff pick for up to 3 days.
Also, I created the ultimate guide on how to stabilize whipped cream with 5 recipes.
Heavy whipping cream. Use the brand you like. I found that the off brands are the best.
Powdered sugar. Sometimes granulated sugar does not dissolve fully.
Dry milk powder. My secret ingredient to this stabilized cream.
Substitutions:
Buttercream. Although untraditional for Black Forest Dessert, it is a great substitution for heavy cream. Especially if the cupcakes need to sit for a while before serving. Give this Swiss buttercream recipe a try.
How to make these Black Forest Cupcakes?
Like any other cupcake recipe, this recipe also has three parts: the cupcakes part, the cherry filling part, and the heavy whipping cream part. The good news is that you can bake them all at the same time or plan ahead and bake them separately.
Chocolate Cupcakes
Two bowls, 10 minutes of prep, and 18 minutes of baking are what stand between you and the most delicious chocolate cupcakes. You can use a stand mixer or an electric mixer.
In a large mixing bowl or a bowl of a stand mixer, sift together the dry ingredients (flour, cocoa powder, baking powder, baking soda, and sugar.) Use a fork to mix on low to incorporate.
In a separate bowl mix together the wet ingredients (excluding the coffee).
Pour the wet ingredients mixture over the dry ingredients mixture.
With the mixer on medium speed mix for 15 seconds.
Pour the hot coffee and increase speed to high, mix for 20 seconds, reduce speed to medium and mix for 15 seconds. The batter should be smooth and runny.
Divide the batter evenly between the cupcake liners and bake for 18-22 minutes. (until a toothpick comes out clean or the inner temperature reads 200F).
Cherry Filling
It takes about 20 minutes for the cherry filling to cook, including preparing the ingredients.
In a small bowl mix together the sugar and cornstarch. This step will ensure the cornstarch will not clump together.
Strain the cherries and place them in a medium-sized pan, add the lemon juice and sugar mixture.
Cook on medium for 5 minutes then reduce to low and cook for additional 10 minutes. Remove from heat and stir in the Kirsch.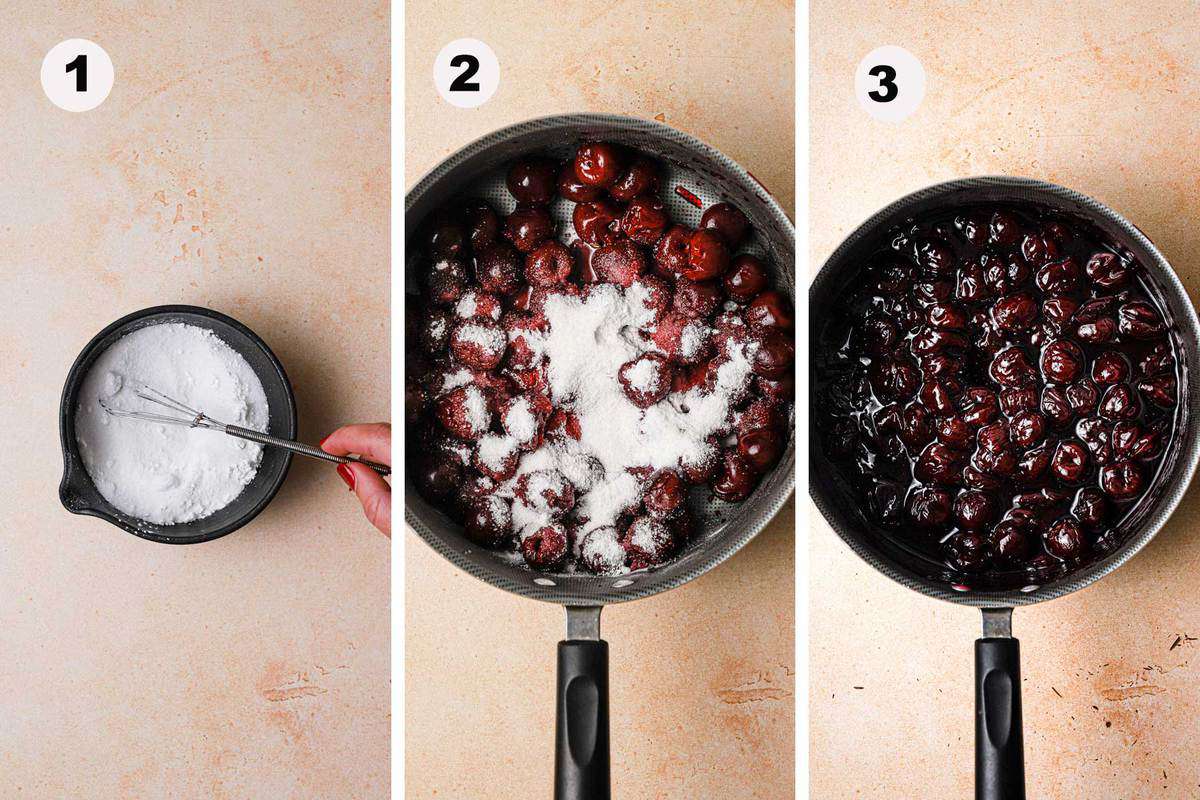 Heavy cream
Because heavy cream has a short shelf life, I recommend that you whip it right before piping/serving.
Mix he powdered sugar with the dry milk powder then sprinkle it over the heavy cream.
Use a fork to gently mix in.
Whip the cream on medium speed gradually increasing to high. The cream should start to thicken after about 1-2 minutes and will go from soft pick to thick.
Once you notice stiff peaks form, turn the mixer off and fill a piping bag fitted with a large flower tip (Wilton 1M).
How to decorate the cupcakes?
These cupcakes have the "wow" factor all the way, but decorating cupcakes might be intimidating for some of us. Here is a short tutorial on how I decorated and made some chocolate shavings in 1 minute.
Use a small knife or an apple corer to cut the center of the cupcake, by running the knife at a 45-degree angle.
Remove the piece of the cupcake, set it aside.
Fill with cherry filling. (1 tsp)
Pipe heavy cream on top of the cupcake.
Use a vegetable container to "peel" the sides of a chocolate bar then sprinkle some on the cupcake.
Add a cherry on top.
Converting to mini cupcakes or a layer cake
You can easily make mini Black Forest cupcakes or Black Forest layer cakes by following these steps:
Mini cupcakes. Reduce oven temperature to 325F, and bake for 10-12 minutes, or until a toothpick comes out clean from the center of the cupcakes. Follow the recipe as is.
Layer cake. To make a three-layer 8" cake, double the recipe and use 3 eggs. Follow the recipe as is.
Transporting the cupcakes
Because these cupcakes are so impressive and are a great idea to celebrate any special occasion, you might find yourself in a bind when it comes to actually transporting the cupcakes without making a huge mess. Here are some ideas that do not require you to buy a cupcakes container:
Fill the cupcakes and place them back in the cupcake tin. Transport then pipe and decorate on site.
Wear your prettiest smile and kindly ask the bakery staff and your local market if they will sell you 1-2 containers from thier supply. Most times it works, I know because I once was the bakery staff.
Line a 9×13 brownie pan with a non-skid shelf liner and place the cupcakes on top.
How to store, make ahead and serve?
When filled and decorated. Once the cupcakes are filled and assembled, they should not be at room temperature for more than two-three hours and can be refrigerated for up to 3 days. Make sure to cover them as the heavy cream might form a dry layer. You can freeze the cupcakes after filling and decorating them, make sure that they are well covered.
Chocolate cupcakes. When baked the chocolate cupcakes keep their freshness up to 2 days covered at room temperature and up to 4 days in the refrigerator. You can bake them up to 4 weeks ahead and freeze them. When ready to use, remove from freezer and from their container/bag and let thaw.
Cherry filling. You can make it up to 7 days ahead place it in an airtight container and refrigerate. Or, make it up to 3 weeks ahead and store it in the freezer. When ready to use remove from the freezer and allow to thaw at room temperature.
Whipped cream. This whipped cream will keep its freshness and stay stabilized for up to 3 days in the refrigerator. Note that at room temperature, the whipped cream melts, and is a great spot for bacterias that can be harmful to humans.
Expert tips
Here are some tips and tricks to make your life easier.
For decorations. Use the leftover cupcakes scraps. Crumble them with your fingers then sprinkle.
Use the cherry liquid to make cherry simple syrup by boiling 1 cup with 1 cup of sugar and drizzling it on to of Homemade pancakes.
Piping. When piping the heavy cream, make sure the piping bag is at a 90-degrees angle and in a straight line to the cupcake.
FAQS

I don't have Kirsch, what can I use?

Use the water from a Marciano cherry jar or Brandy. You can also just skip it.

Can I use butter instead of oil?

Yes, use 1 stick of unsalted melted butter. I do not recommend it.

Can this recipe be made ahead?

Yes, the cupcakes up to 4 weeks, the cherry filling up to 3 weeks both to be stored in the freezer.

Can I use Dutch cocoa?

Yes, use the same amount as natural cocoa. Note that the cupcakes will be richer and denser.

Can I mix the filling with the batter?

You can fold some of the cherries in the batter, after stringing.

Can I use frozen or fresh cherries?

Frozen cherries follow the recipe as is. Fresh cherries should be pitted and might take longer to cook.

Does the recipe work with buttercream instead of whipped cream?

Yes. You can use your choice of buttercream

Can I replace the coffee in the cupcake batter?

Yes. You can use boiling water instead of coffee.
Can I use melted chocolate instead of cocoa powder?
No, read why in my article about Unsweetened chocolate.
Here are more recipes you might like
If you are a fan of fruity desserts or traditional ones I am sure you will love these: Chocolate cherry puree cake, Blueberry Babka recipe, Blackberry cheesecake.
Did you make this recipe?
If you tried this Black forest cupcakes recipe or any other recipe by One sarcastic Baker baking blog, please take a movement to rate and comment at the end of each recipe.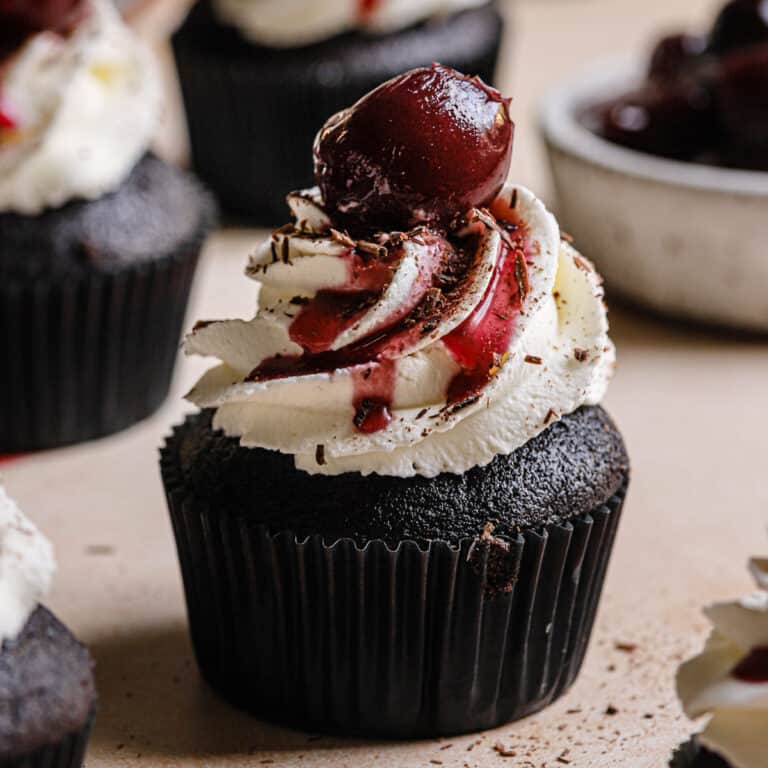 Black forest cupcakes recipe
These Black Forest Cupcakes are moist, tender and loaded with delicous cherry filling.
Ingredients
Chocolate Cupcakes
1 1/4

Cups

All-purpose flour

(150 g / 5 oz)

2/3

Cup

Unsweetened natural cocoa powder

(65 g / 2 oz)

1

tsp

Baking powder

1/4

tsp

Baking soda

1

Cup

Granulated sugar

(200 g / 7 oz)

1/2

Cup

Heavy cream

(120 ml / 4 oz)

1/2

Cup

Vegetable oil

(120 ml / 4 oz)

2

tsp

Vanilla extract

1

Large

Egg

1

Large

Egg yolk

2/3

Cup

Boiling hot coffee

(150 ml / 12 oz)
Cherry filling
2

Cans

Oregon Fruit Dark Sweet Cherries

A total of 2 cups

1/3

Cup

Granulated sugar

(70 g / 2.5 oz)

2

tsp

Cornstarch

1

TBSP

Fresh lemon juice (about half a lemon)

2

tbsp

Kirsch
Heavy whipped cream
2

Cups

Heavy whipping cream

(240 ml / 16 oz)

1/4

Cup

Powdered sugar

(40 g / 1.5 oz)

2

TBS

Nonfat Dry milk powder

(14 g / 0.5 oz)
Assembling and decorating
2

tbsp

Chocolate shavings.

Access liquid from the cherry filling.
Instructions
Chocolate cupcakes
Preheat oven to 340 F and line one 12 ct cupcake pan with cupcake liners.

In a large bowl or a bowl of a standing mixer, sift the flour, cocoa powder, baking soda, and sugar and mix on low until fully incorporated.

In a separate bowl, mix together the heavy cream, oil, egg, egg yolk, and vanilla extract.

Pout the liquid mixture over the dry mixture and mix on medium until incorporated.

Drizzle in the hot coffee, increase speed to high and continue mixing for about 15 seconds until the mixture is smooth.

Divide the batter between the cupcake liners, filling 2/3 full each liner and bake for 18-22 minutes or until a toothpick comes out dry from the center of the cupcakes or the temperature reads 200F when using a thermometer.

Remove the cupcakes from the oven and allow them to cool before filling and frosting.
Cherry filling
In a small bowl, mix together the sugar and cornstarch.

Place the cherries, lemon juice, and sugar mixture in a medium-sized pan on the stove medium heat.

Allow the cherries to cook for 15 minutes, stirring a few times.

Remove from heat and place in a glass container until ready to use.
Heavy whipping cream
I a large bowl or a bowl of a standing mixer, fitted with the whisk attachment pour the heavy cream then sprinkle over the milk powder. Add the powder sugar

Whisk on medium speed gradually increasing to high speed until the cream has reached a stiff peak.

Fill a large piping bag with the cream and decorate the cupcakes.
Decorating the cupcakes
Use a sharp knife or an apple corer to cut the center and create a small dent. Remove the scraps.

Fill each cupcake with cherry filling (about 1 tsp.)

Pipe with heavy cream, drizzle with some cheery water, and chocolate shavings.
Recipe Notes
Do not over-beat the heavy cream it will deflate.
If time permits, allow the batter to sit for 10 minutes before baking.