Last updated on March 21st, 2023.
The iconic Black Forest Dessert we all love is now in a brownie form, and trust me when I say this easy Black Forest Brownies recipe is a must-bake.
These "just the right amount of fudgy brownies" are tender, delicious, and an explosion of dark chocolate flavors. Like these Hot Cocoa Brownies and these Butterscotch Blondies, this is the ultimate grab-and-go treat that can be transformed into a sophisticated plated dessert with just a splash of whipped cream. And let's not forget the epic flavor combination of chocolate and cherries.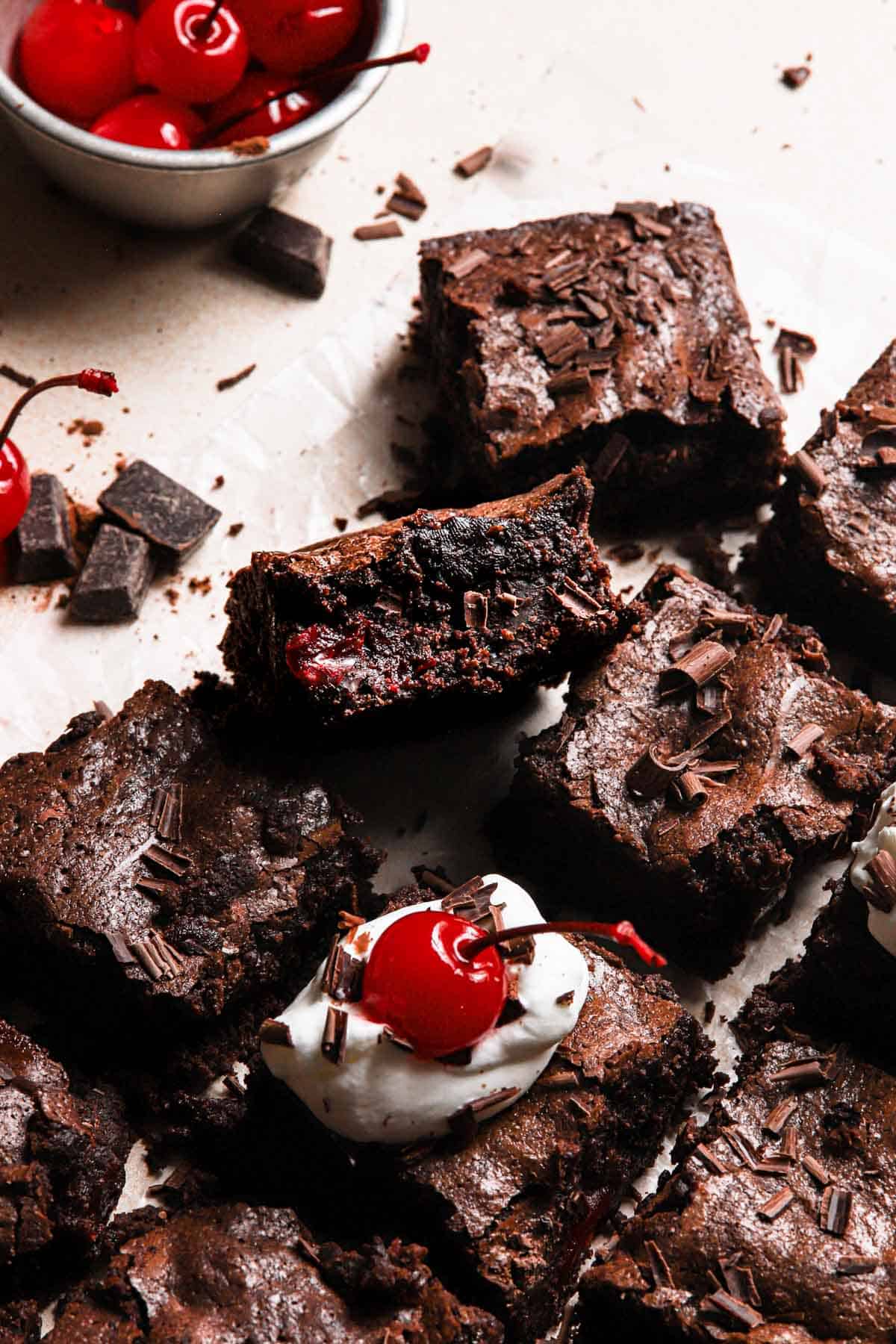 Ingredients Overview
Along with traditional brownie ingredients such as large eggs, all-purpose flour, and sugar, here are the key ingredients:
Unsweetened cocoa powder. I used Scharffen Berger Natural Cocoa powder. Use the brand you have at hand and make sure it is natural and not Dutch Processed.
Dark semi-sweet chocolate, 65%-72%, will work best for this recipe.
Maraschino cherries. Because they are marinated in sugar and another flavoring, they will provide a similar taste to Kirsch. This cherry liqueur is traditionally added to the Classic Black Forest Cake.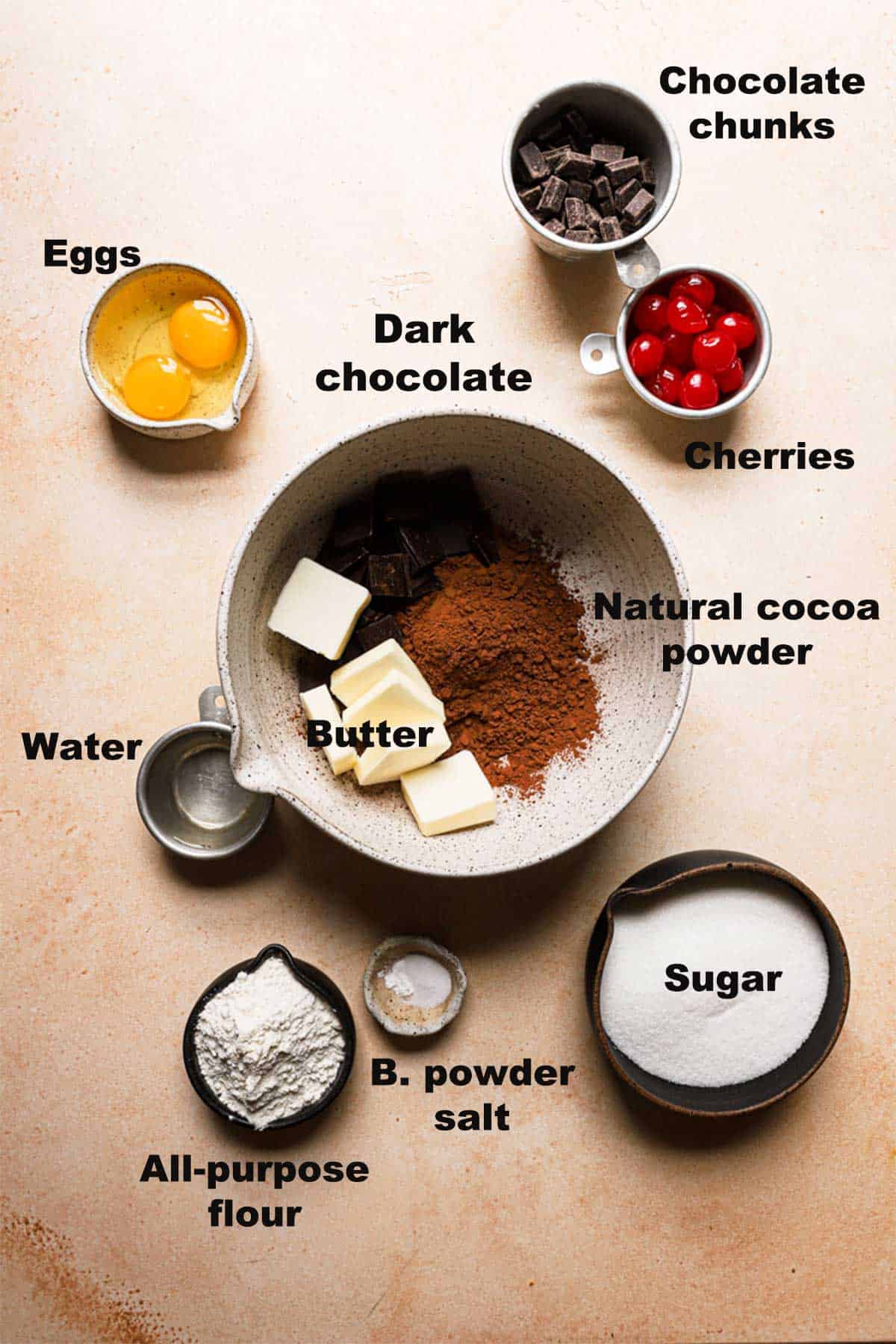 How To Make This Black Forest Brownie Recipe
This recipe yield one 8-inch square pan. To bake a 9×13-inch pan, double the recipe.
Preheat your oven to 335F (170C) and line your pan with parchment paper. Measure the cherries, cut them in half, then line them over a paper towel. Gently swirl the cherries over the paper towel to remove any water access.
Place the water, butter, and dark chocolate. in a large bowl (or a medium saucepan) and melt in the microwave using 30 seconds increments. Once melted, add the cocoa powder and mix to incorporate. Mix in the sugar, followed by the eggs.
Add the salt and baking powder to the flour, mix to blend, then fold the dry ingredients into the chocolate mixture.
Add the cherries and chocolate chips (or chocolate chunks), then pour the batter into the prepared pan and bake.
Expert tips, including Substitutions and variations
I used Scharffen Berger for this recipe (and also for this Brownie Cake recipe), and if you have it available, I highly recommend it.
Make sure all of the ingredients are at room temperature.
Use a kitchen scale to measure the ingredients correctly; this is a crucial step to ensure the best results.
If Scharffen Berger is unavailable, use natural cocoa powder, dark chopped chocolate (72% – 85%), and dark chocolate chunks (65%-72%), though you can also use milk chocolate chunks.
You can also use fresh cherries: remove the pit, slice in half, then marinate in 1/4 cup kirsch for 1-2 hours. Drain, and the liqueur and the cherries are ready to use. To use cherry filling, like cherry pie filling or the one I used making these Black Forest Cupcakes, this White Forest Cake, and these Cherry Hand Pies. Scoop a few tablespoons over the brownie batter, then use a knife to swirl the filling and bake.
To enhance the cherry filling, consider adding one teaspoon of almond extract to the batter.
Feel free to dot the top of the brownie batter with extra Marschiano cherries.
Storing
Store the brownies at room temperature, covered, or in an airtight container for up to five days. To freeze the brownies, I recommend wrapping them with plastic wrap in groups of three, placing them in a freezer bag, and freeze for up to eight weeks. Remove from the bags and allow them to reach room temperature to defrost.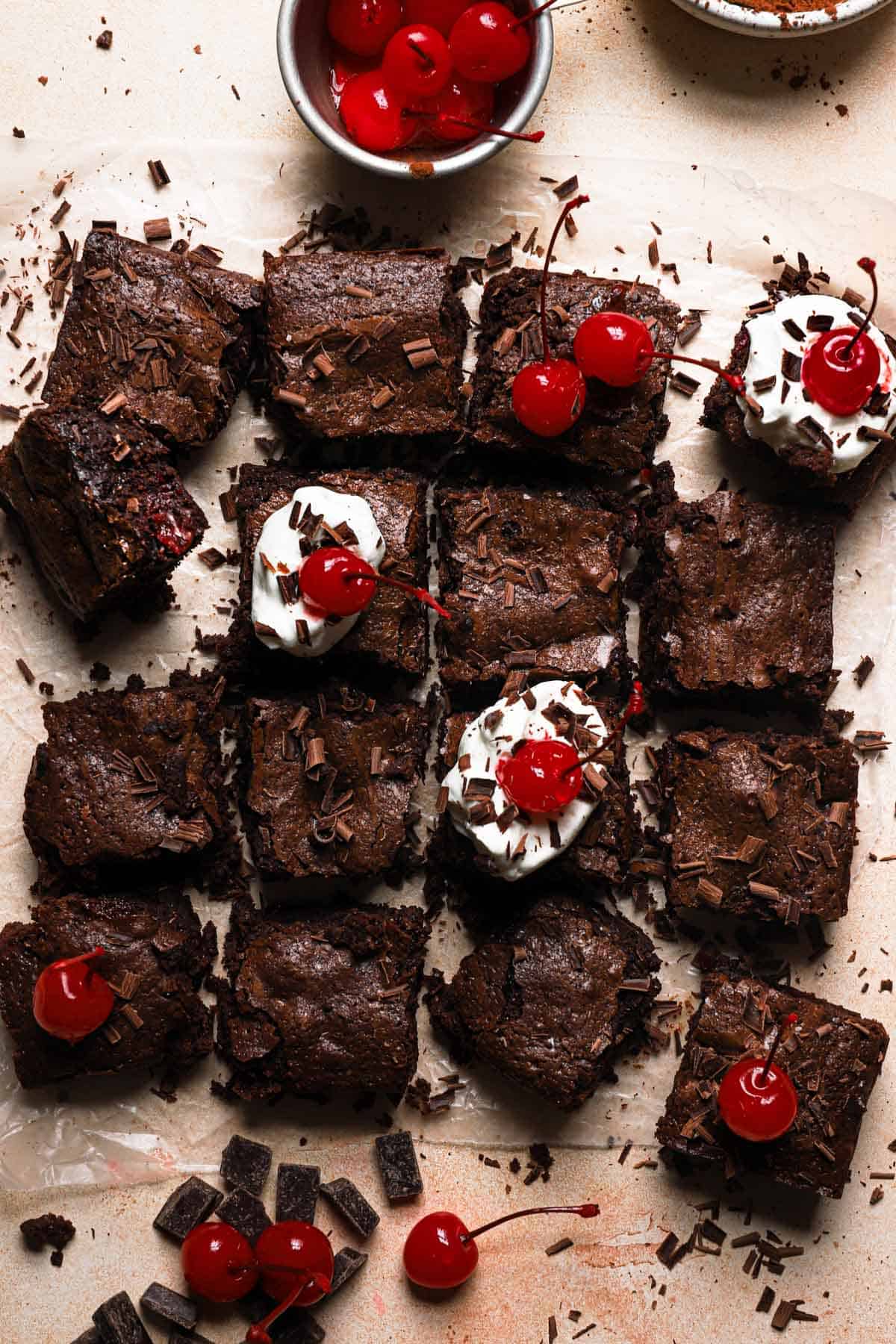 I've got more cherry recipes you might enjoy
Chocolate-Cherry Cake, Cherry Galette, Cherry Olive Oil Cake, and Fresh Cherry Pies.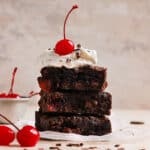 Black Forest Brownies Recipe
Ingredients
1/4

Cup

Lukewarm Water

(60ml)

1

Stick

Butter, cut into 1" pieces

(113g/4oz)

1/2

Cup

Natural unsweetened cocoa powder

(45g)

1/3

Cup

Semi-sweet (72%) chopped chocolate

(60g/2oz)

1 1/4

Cup

Sugar

(250g/9oz)

2

Large

Eggs, at room temperature

1/2

Cup

Unbleached AP flour

(60g/2oz)

1/4

teaspoon

Baking powder

1/2

teaspoon

Salt

Skip if using salted butter

1/2

Cup

semi-sweet chocolate chopped or chips

(85g/3oz)

1/2

Cup

stem-free Maraschino cherries, at room temperature.

(85g/3oz)
Instructions
Preheat your oven to 335F (170C) and line one eight-inch pan with parchment paper Grease the sides and set aside.

Cut the cherries in half or quarters, then place them in a bowl over a paper towel. Gently swirl the bowl around to remove access liquid.

Over the stove, on medium-low heat, melt the butter, dark chopped chocolate, and water. Mix in the cocoa powder.

Add the sugar, then whisk in the eggs.

Mix the flour, salt, and baking powder in a separate bowl, then fold them into the cocoa/eggs to the mixture.

Fold in the chopped chocolate and sliced cherries.

Evenly spread the mixture into the prepared pan and bake for 27-28 minutes over the middle shelf. The brownies are ready when a toothpick comes out with a few moist crumbs.

Allow cooling in the pan completely before inverting and slicing.
Recipe Notes
Recipe notes:
Use salted or unsalted butter.
If using salted butter, do not add the salt.
All of the ingredients must be at room temperature before baking.
You can use 72% or 65%, or 56%  dark chocolate.
Store covered for up to 5 days at room temperature.
To freeze the brownies, place them in a freezer bag for up to 8 weeks. Allow reaching room temperature before serving.
You can also use fresh cherries and/or cherry filling, and dot the tops of the batter with some extra cherries.