Last updated on March 21st, 2023.
These beautiful Hot Cocoa Brownies are what devoted chocolate lovers dream of. Imagine a large mug of hot chocolate packed into a square of homemade brownies.
What Are Hot Chocolate Brownies
When we bake our favorite brownie recipe, it is all about the chocolate and the rich, dense texture. When we enjoy a warm cup of chocolate milk, we get a fuzzy warm feeling filled with the expectation for the marshmallow bits. This hot cocoa brownies recipe is a cross of baking brownies and enjoying warm hot chocolate milk. A layer of rich, tender, and somewhat classic brownies topped with a thick layer of mini marshmallows. My favorite way to enjoy this hot chocolate brownie recipe is with a large cup of chocolate milk.
Ingredients
Cocoa powder. I used natural unsweetened cocoa powder, but you can also use dutch cocoa powder. The dutch cocoa will give a darker appearance and a milder chocolate flavor.
Dry milk powder. This is what gives the brownies their hot chocolate mix flavor. You can skip it by replacing it with three tablespoons (20g) of flour.
Unsalted melted butter. Salted butter will not work in this recipe.
Vanilla extract. It will round up all the flavors and give the vanilla milky taste to the brownies.
Light brown sugar and granulated sugar. I found that using all granulated sugar makes the brownies too sweet; brown sugar balances the sweetness and adds a unique flavor.
Eggs. Large, at room temperature.
Flour. I used unbleached all-purpose flour; you can also use bleach.
Chocolate chips or chopped chocolate (optional). I like milk chocolate chips to enhance the hot chocolate flavor, but you can use semi-sweet dark chocolate chips.
Mini Marshmallows.
How to make hot chocolate brownies
This recipe, like this Black Forest Brownies recipe and these Biscoff Brownies, you only need a bowl and a spoon. (and BTW, if you are a marshmallow fan, check out my S'more Pies recipe)
Measure the cocoa powder and dry milk powder in a large bowl, and pour the melted butter over, mix.
Mix in the brown and granulated sugar, followed by the eggs.
Fold the flour, add the chocolate chips to the chocolate mixture, pour the brownie batter into the pan, and bake.
Remove from the oven, and immediately layer the mini marshmallow over the brownies. The marshmallows will melt from the heat residues as it cools.
Can I make the brownies with hot cocoa mix
Yes. Measure 40g of hot chocolate powder mix and mix it with 1/3 cup of cocoa powder (30g); follow the recipe as written. Do not add dry milk powder.
Storing
The brownies taste best the next day at room temperature; store them covered for up to 4 days. You can freeze for up to 14 days in an airtight container or wrapped in plastic wrap and a freezer bag. Avoid placing it in the refrigerator; it will dry the brownies out.
FAQ and Tips
Use a kitchen scale
Always measure your ingredients (especially the dry ingredients) using a kitchen scale for the best results.
For the perfect slice
Spray a paper towel with cooking spray and run your knife between each slice.
Use high-quality cocoa powder.
The brownies taste the same as the cocoa powder, so use a high-quality brand for the best flavor.
Don't over or under bake
Over-baking the brownies will give us a cakey texture, while undertaking will provide fudgy brownies. For the perfect balance, bake until a toothpick comes out from the center of the pan with a few moist crumbs.
For Mexican hot cocoa brownies
Add 1/2 teaspoon of cayenne pepper to the flour.
Are cocoa powder and cocoa mix the same?
No. Cocoa powder is made with 100% cocoa solids; it is very fine, bitter, and does not dissolve in hot water. Cocoa mix is a mix of cocoa powder, milk solids, and sugar that tends to melt when mixed in hot liquid. Cocoa powder is the best way to increase the chocolate flavors in brownies, cakes, cookies, and other baked goods.
Can I use a stand mixer for baking these brownies?
It is best to use a large or medium bowl and a large spoon for baking this recipe, but you can use an electric mixer. Remember that it might incorporate more air, and the brownies might lose some texture.
Should I cut the brownies hot or cold?
Cold. Do not invert it while warm; it will break and tear. Give the marshmallow a chance to melt, and if you wish, place it in the refrigerator for 20-30 minutes before slicing.
Can I warm the brownies?
If you do not mind a gooey marshmallow mess, you can warm for 5-10 seconds in the microwave.
More recipes you will enjoy
Brownie Cake, Butterscotch blondies, S'more Brownie Pies
And don't forget to tag me on Instagram and leave a comment with a rating when you bake one of my recipes.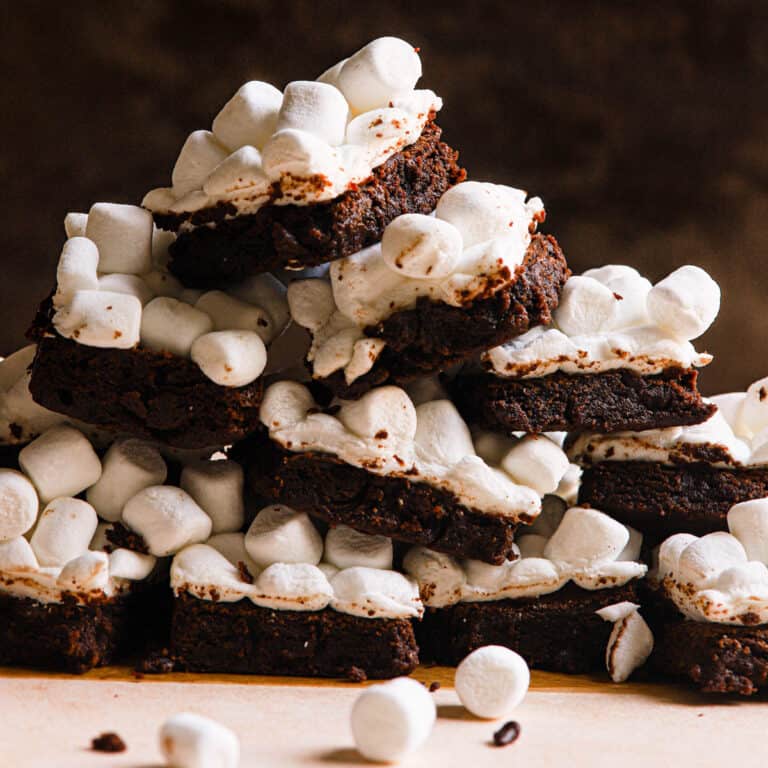 Hot chocolate brownies recipe
Ingredients
1/2

Cup

Cocoa powder

(45g / 1.5 oz)

2/3

Cup

Dry milk powder (skim)

(40g)

10

tablespoons

Melted unsalted butter, warm

(140g / 5oz)

1

teaspoon

Vanilla extract

1/2

Cup

Light brown sugar

(100g/3.5oz)

1/2

Cup

Granulated sugar

(100g/3.5oz)

2

Large

Eggs, at room temperature

1/3

Cup

All-purpose flour

(40g)

1/2

Cup

Mini Chocolate chips

(85g/3oz)

2

Cups

Mini marshmallows
Instructions
Prehear oven to 340F (170C) and line an 8×8 brownie pan with parchment paper.

Measure the cocoa powder and milk powder in a large bowl and pour over the warm melted butter and vanilla, mix to blend.

Mix the brown sugar and granulated sugar followed by the eggs.

Add the flour and the chocolate chips, and pour the batter into the prepared pan.

Bake for 20-22 minutes or until a toothpick comes out of the center of the cake with moist crumbs.

Remove from the oven and immediately spread over the mini marshmallow. Let the brownie cool and melt the marshmallow from the heat residue.

Slice when cooled into 16 or 12 pieces and serve.
Recipe Notes
Leave access parchment paper to hold and help remove the brownies from the pan. 
Store at room temperature for up to four days, covered or in an airtight container.
Freeze for up to 14 days in a freezer bag.
Slice when cold. Rub your knife with an oily towel and slice.
Please pay attention to the brownies and not the baking time; it is ready when a toothpick comes out with a few moist crumbs.