Silky smooth, creamy White chocolate ganache is probably one of the most versatile, delicious, and underrated recipes in the baking world. Don't be fooled by its velvety ivory appearance; it is one of the most straightforward two ingredients recipes you can master in 10 minutes.
White chocolate ganache for frosting and other uses
It is hard to believe that this simple recipe has so many usages, but deciding what to do with it is essential before you make it. And as you will soon realize, there are countless ways to incorporate this ganache and upgrade your recipes to a new level.
Frosting
Ganache is a great way to frost your chocolate (like I did with this chocolate ganache cake) or a layered cake for a smooth cake with straight edges. When set, its structure is firm, with a higher melting point than most buttercream making it an excellent frosting for cakes that are covered with fondant or need to sit for a few hours, like at weddings.
Filling
White ganache is rich in cocoa butter, which melts at body temperature, so as soon as we bite it, it melts and hits our taste buds. It also has a relatively mild flavor and can be paired and flavored with many other flavors, like in this White Chocolate Raspberry cake and this White forest cake.
White chocolate drip cake and Glaze
A drip cake is one of the most unique and popular ways to add the wow factor to our cakes, and we can use this recipe to add a beautiful shiny drip, glaze, and coating to our cakes, cookies, chocolate glazed donuts, and even individual desserts (try these Chocolate Cream Puffs). The best part is that we can add color and customize our ganache.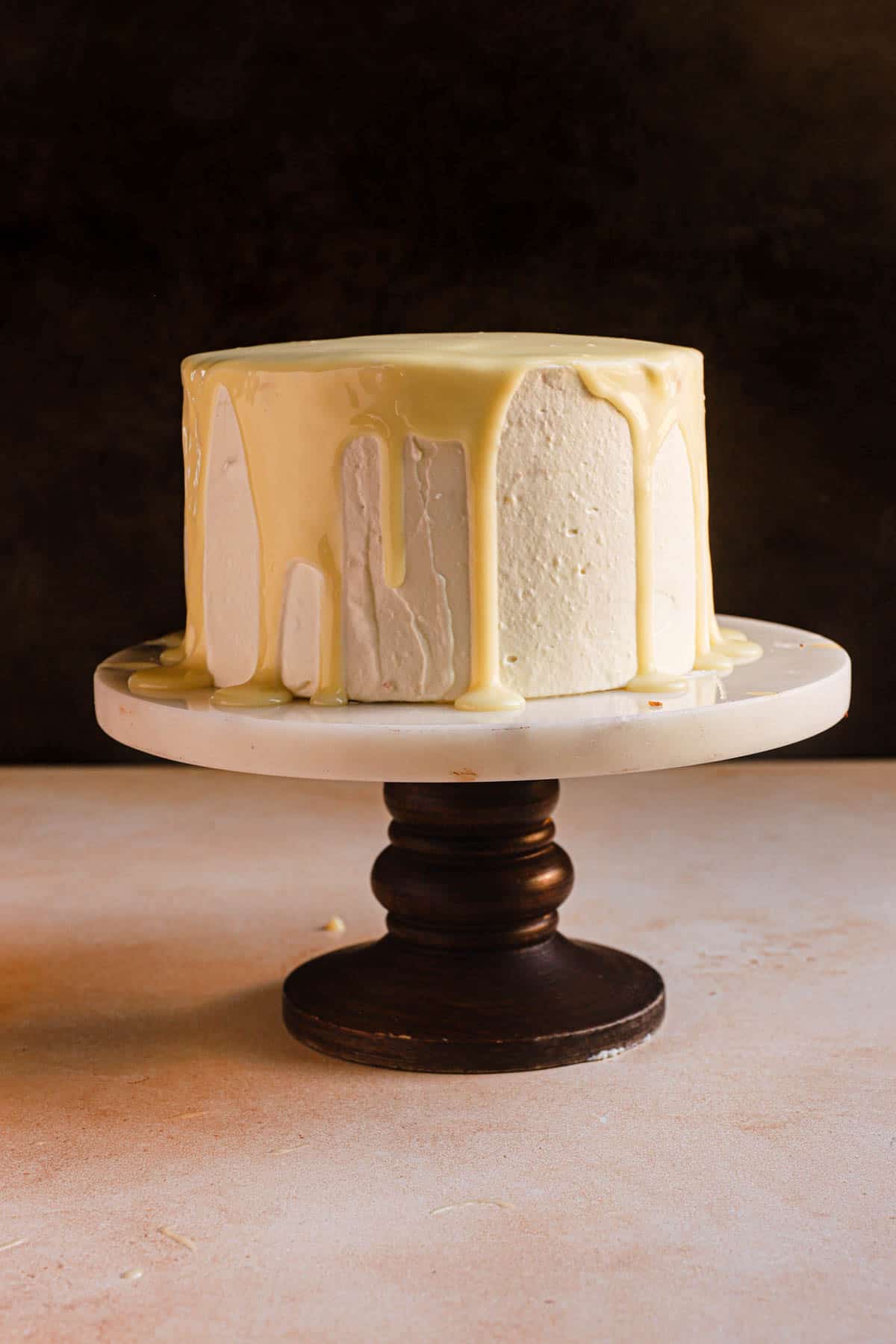 How to make white chocolate ganache
This recipe is made like dark chocolate ganache, and the quality and type of chocolate will make a huge difference, even though we use simple ingredients. When shopping for chocolate, look at the ingredients list and ensure it contains cocoa butter. Some brands replace cocoa butter with other types of fats. It may reduce the price, but the flavor, texture, and quality will differ.
There are different ways to make the perfect white chocolate ganache recipes, and they all relay the idea of melting the chocolate and incorporating the cream into a smooth solution.
Time needed: 15 minutes
Option one: Using the microwave
Melt

Use the microwave to melt the chocolate in a heat-proof large mixing bowl.

Add cream

Bring the heavy cream to a simmer, then pour it over the melted chocolate.

Stir

Gently stir using a wooden spoon or a rubber spatula until you have a smooth, shiny ganache.
Option 2: Using a double boiler
When we use a double boiler, we melt the chocolate with an indirect heat of steam; if we use a saucepan to melt the chocolate, the direct heat might increase the temperature during the melting process and break the solution, giving us a grainy ganache.
Fill a medium or small saucepan with two inches of water and boil.
Place the chopped chocolate and cream in a glass or metal bowl, and place the bowl over the saucepan making sure the water does not touch the bottom of the bowl.
Stir frequently and allow the chocolate to melt.
Remove from heat, and let the ganache cool and set.
The Ratios
The absence of cocoa solids (cocoa powder) means less absorption of liquids, and if we want a sturdy ganache, we will need a higher chocolate ratio than the ratio of cream. Of course, the base recipe is equal parts chocolate and cream, and depending on what we wish to use the ganache for, will we add more chocolate or use less cream.
Soft
Firm
Extra Firm
Cho. 100-200%
H.C 100%
Cho. 250-300%
H.C 100%
Cho. 400%
H.C 100%
The quality of the chocolate makes a huge difference; some white chocolate bars contain milk that reduces the stability of the ganache. It is great for drip or white chocolate ganache filling but not ideal for frosting and glazing.
Coloring and flavoring the ganache
You can add food coloring and flavor extracts (or vanilla bean) to color and flavor your recipe.
Always add the coloring or extract to the cream and not the chocolate.
Divide the ganache when warm for coloring in a few different colors, and add the colors separately. If your food coloring is too thick, stir it with a little bit of ganache in a small bowl, then add it with the rest.
Tips
Use white chocolate chips (that do not contain cocoa butter) to frost layer cakes that will be covered with fondant or sit for a while during an event. Because fake chocolate has a higher melting point, it will hold its structure longer and firmer.
Please do not use a whisk to stir the ganache; it might incorporate too much air and lose some gloss and smooth texture.
For the chocolate to create a beautiful drip on the side of the cake, use it when it is slightly warm and has not set completely.
Gently tap the bowl before it is setting time so any trapped air is released.
Use a kitchen scale (affiliate) to measure the ingredients; one cup of cream is 225g, and one cup of chopped chocolate is about 170g.
If you can, use an immersion blender to mix for the perfect consistency
Use dairy-free white chocolate and dairy-free/vegan cream for a dairy-free and vegan ganache. Canned coconut oil is ok (not skim).
Store at room temperature in an airtight container for up to 48 hours, or refrigerate for up to 10 days. To warm it, you can melt a small amount in the microwave and mix it with the rest or heat it over a double boiler.
Whipped white chocolate ganache, make soft ganache using heavy whipping cream, and refrigerate until completely cool. Remove from the refrigerator and use a stand or electric mixer to whip until thick and you have a fluffy texture.
FAQ AND TROUBLESHOOTING
Can I use white candy melts?
No, candy melts are not chocolate; you will have a different outcome.
Why is the chocolate yellow and not white?
The yellowish color indicates cocoa butter, which is a good sign; you can always add white food coloring.
Why does ganache curdle, and how to fix it?
Chances are you overheated the cream or chocolate; if that happens, process it in the food processor until smooth.
How to harden/thicken ganache?
Always give it time to cool; it will set and thicken as the temperature goes down. If still thin, mix in some more melted chocolate.
Why is my recipe too thick?
It means you added too much chocolate; mix in some more warm cream.
How do you make a ganache for a layer cake?
Use the ratios for a firm or extra firm, and follow the recipe card instructions.
More Recipes you will enjoy
White Chocolate Pecan Brownies, Chocolate Waffles, Black Forest Brownies
Don't forget to tag me on Instagram when you make one of my recipes.
White Chocolate Ganche
Smooth ganache for every occasion and usage
Ingredients
Soft, good for drip cake, and glazing
1

Cup

Heavy cream

(240ml)

1 1/3

Cup

Chopped W. chocolate

(225 g)
Firm, for filling, and frosting
1

Cup

Heavy cream

(240ml)

3 1/3

Cups

Chopped White chocolate

(570g / 20oz)
Extra Firm for frosting layer cake and scuplting
1

Cup

Heavy cream

(240ml)

5 1/3

Cups

Chopped w.c

(900g / 32 oz)
Instructions
Using the microwave
Place the chocolate in a large microwave-safe bowl and melt it.

Bring the cream to a simmer, and pour it over the melted chocolate.

Gently stir using a rubber spatula or a wooden spoon until smooth.

Let sit at room temperature until cooled and set.
Using a double boiler
Fill a medium or small saucepan with two inches of water and boil.

Place the chocolate and heavy cream in a deep bowl, and place the bowl over the saucepan. Make sure the water does not reach the bowl.

Gently stir until the chocolate is completely melted.

Remove from heat and let cool and set.
Recipe Notes
Apply the drip over the cake before it is completely set.
To warm, place it over a double boiler, or heat a small amount in the microwave and mix it with the rest.
Store at room temperature for up to 48 hours or in the refrigerator for up to ten days.
To color, add the food coloring to the heavy cream or the ganache while it is warm.
Add flavor extract to the heavy cream.
Use a rubber spatula or a wooden spoon to mix; a whisk might incorporate too much air.
Gently tap the bowl before setting the time to release any trapped air.