Last updated on February 13th, 2022.
Hi friends, I am so excited to share a recipe from Gemma Stafford's very first baking book "Bigger Bolder Baking". There are about a dozen reasons why I have been reading this book constantly since I received it. But I figured it is better to walk the walk than talk the talk and share with you the first recipe that caught my eyes. White Chocolate Pecan chewy Blondies.
If you are a Blondies fan, here are some more delicious recipes: Brownie blondies, Butterscotch Blondies, Chocolate Match Brownies.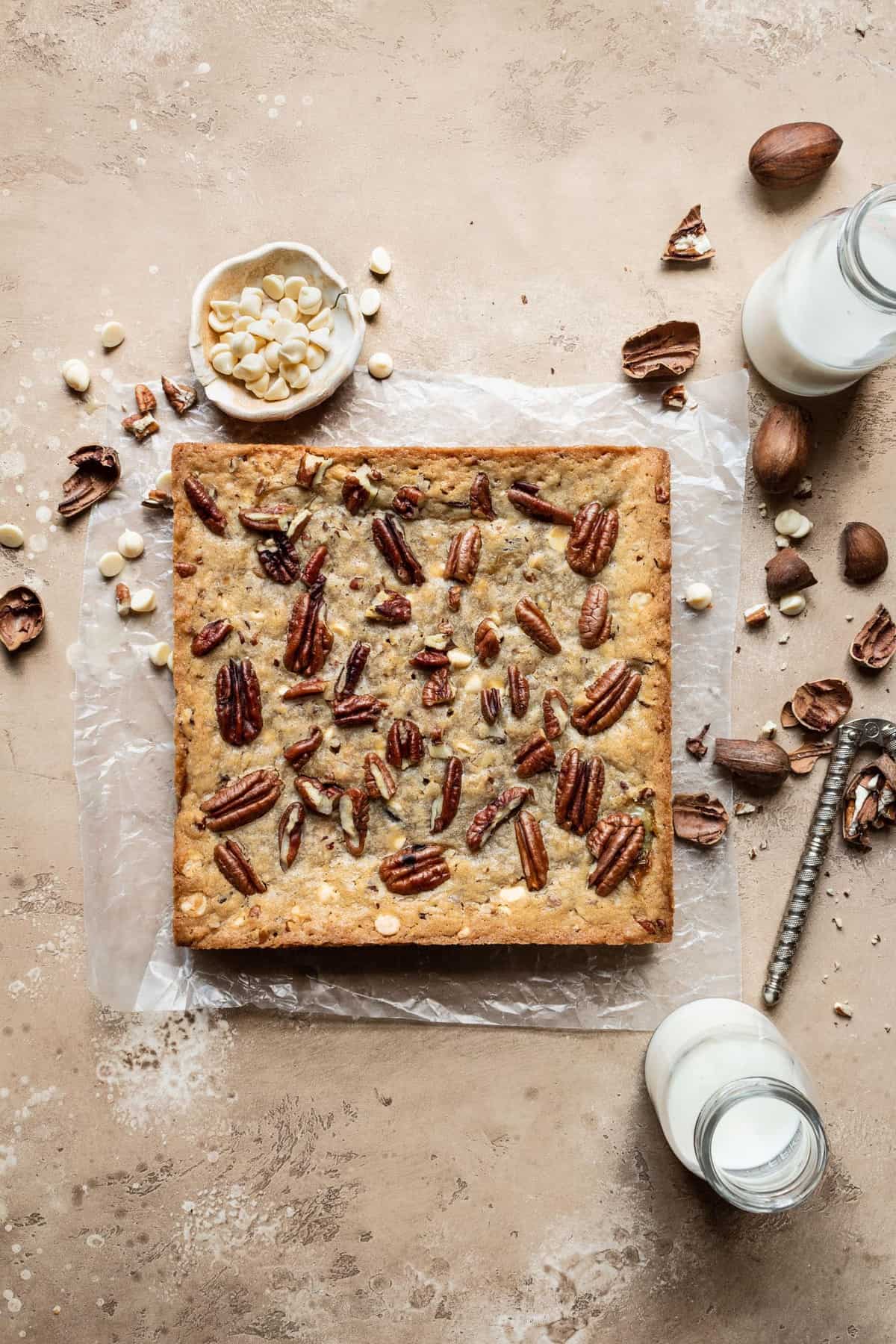 (Let's pretend we're watching uncensored HBO for a second:)
HOLLY CRAP!!! THESE BLONDIES ARE FREAKING GOOD!!! SO FUCKING FREAKING GO!!!
(ok back to PBS)
It's loaded with brown sugar which makes the batter chewy and smooth and that goes wonderfully with the texture of the toasted pecans. Now to wrap it all up Gemma added some white chocolate chips for flavor.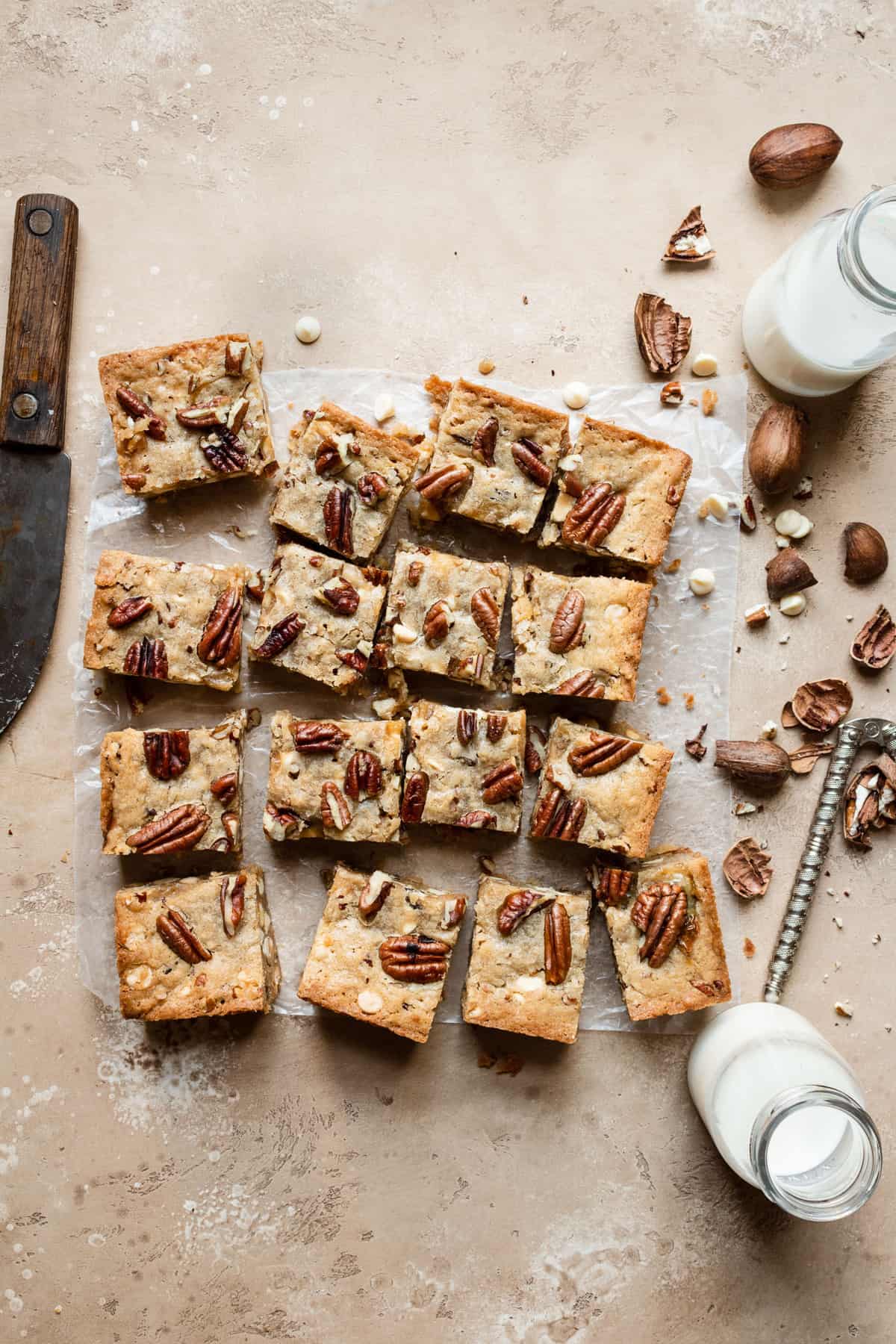 I'll add and say that this recipe is what Gemma's book is all about. Simple (yet genius), old fashion (with a modern twist) and timeless recipes.
Now Let's Talk About This White Chocolate Pecan chewy Blondies:
This recipe calls for 8″x8″ square pan which is a bit different from the norm of 9″x13″ pan. However, if you don't have 8″x8″ square pan, just us a regular round pan.
It is very important not to over bake the blondies in order to get a chewy texture. The way to know if it's ready is first move the pan around. If the blondie appears to "jiggles" then it needs more time. It it looks firm, insert a small toothpick to the center of the cake, if it comes out with some moist crumbs than it is ready.check it halfway through baking.
Here are some more recipes you might enjoy:
One more thing…
Don't forget to tag @OneSarcasticBaker on Instagram if you bake this recipe. Would love to see your creations!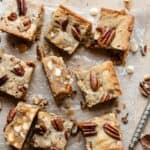 White Chocolate Pecan Chewy Blondies
Chewy blondies with white chocolate chips and pecans
Ingredients
2

Sticks

Unsalted Butter melted

(225 g / 8 oz)

2

Cups

Light Brwon Sugar

(340 g / 12 oz)

1

TBS

Pure Vanilla Extract

2

Large

Eggs

2 1/3

Cups

All purpose flour

(284 g / 10 oz)

1

tsp

salt

1 1/2

Cups

White Chocolate chips

(255 g / 9 oz)

1

CUP

Coarsly chopped toasted Pecans

(142 g / 5 oz)
Instructions
Prehean oven to 350F. Line 8×8 pan with paking paper and grease the sides.

In a medium bowl or in abowl of a standing mixer, stir together the melted butter, brown sugar and vanilla

Add eggs one at a times until well combined.

Fold in the flour, salt, chocolate chips and pecan and pour the batter into the prepared pan.

Bake for 30 minutes, until the top is golden brown and a tooth pick come put with moist crumbs from the center of the cake.