Last updated on December 2nd, 2022.
Pumpkin craze only fades a way to give some room to the holiday's star ingredient, the Cranberries.
These little red tart gems are the perfect match to a sweet and flavorful white chocolate cake.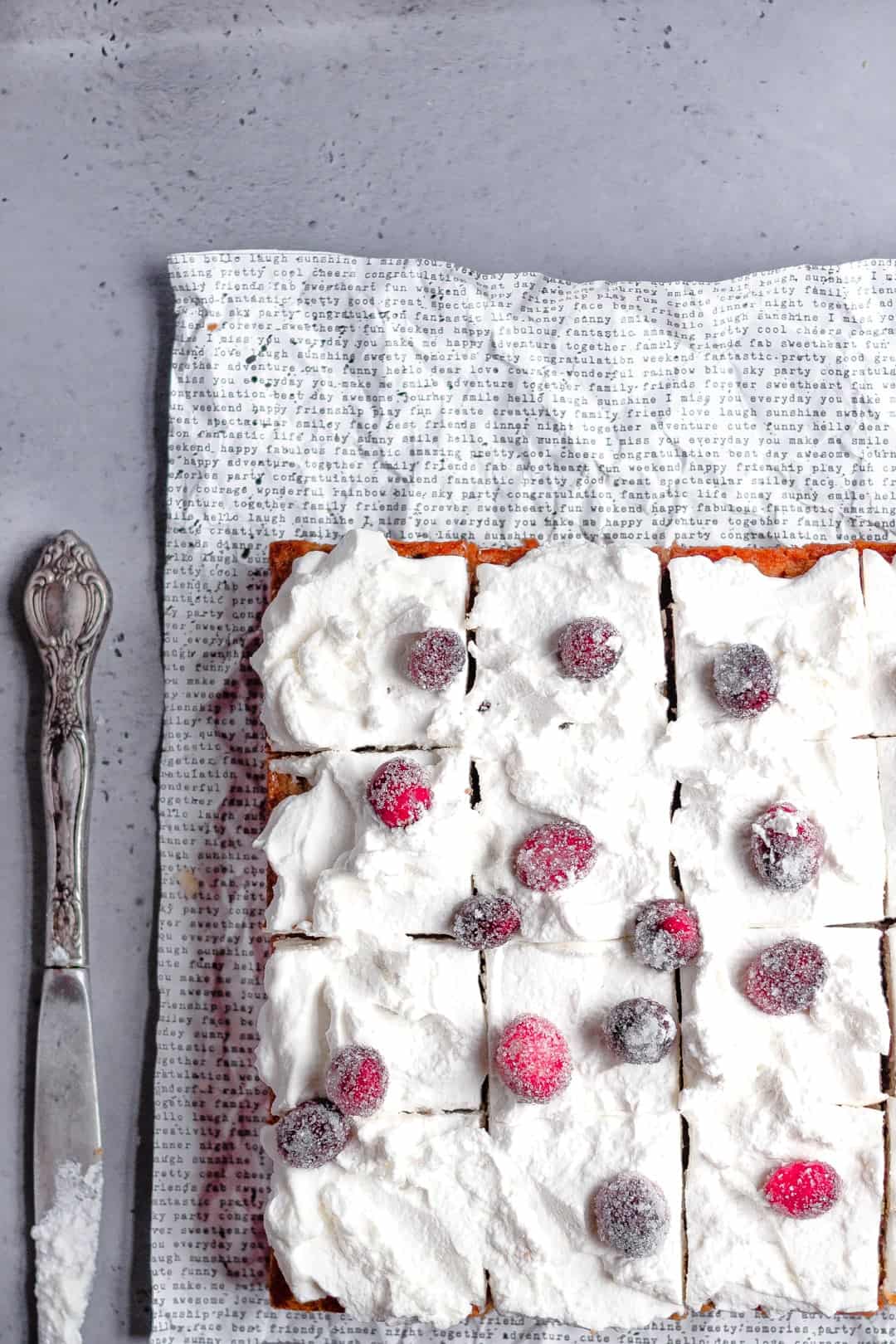 There is always a pack of dried cranberries in my pantry. Mostly to sprinkle some over the quinoa salad I'm taking to a gathering, as an attempt to convince it is not bird food. It sits nicely in the pantry over looked by the more commonly used ingredients. (I want to say raisins but can't. It's chocolate, defiantly chocolate.)
Then a day after Thanksgiving these little gems are taking a front row in every recipe.
This year was no different.I baked the same white chocolate cake I have been baking for years but this time, it tasted just like white chocolate cake. And even thou I am Jewish and spinning dreidels is more my thing, no Christmas tones came in mind as I was biting in to it.
So I added some dried Cranberries. Let me tell you, the moment I added the Cranberries into the batter, I got a call from my very Jewish alway worried mom. I took it as a sign that this new addition was a smart move. It was and I can honestly say that Cranberries are the Yin to the White Chocolate Yan.
About the Recipe:
Use a high quality white chocolate, most of the off brands do not melt very easily and contain a higher amount of sugar.
All cakes are sweet, but this one is SWEET. I am writing this down only because I know that many people like desserts that are "not too sweets", this cake is not like that. This one is for the sweet tooth personalities among us. (see below for some low sugar recommendations).
The whipped cream and sugared cranberries additions are optional.
To make the sugared Cranberries, simply dip fresh cranberries in cooled simple syrup (1:1 sugar and water ratio) and then roll it in sugar.
HAPPY BAKING!!!
Here some more recipes you might like:
White Chocolate Cranberry Cake
Fluffy and sweet white chocolate cake dotted with tangy cranberries and topped with whipped cream
Ingredients
1

Stick

Unsalted butter, soften

(112 g / 4 oz)

3/4

Cup

Sugar

(150 g / 5.5 oz)

2

Large

Eggs, room temperatur

2

Cups

AP Flour

(240 g / 8.5 oz)

1

tsp

Baking powder

1/2

tsp

salt

2/3

Cup

White Chocolate

(112 g / 4 oz)

1

Cup

Heavy Cream, divided

1

TBS

Vanilla Bean Paste

1

Cup

Dried Cranberries, chopped

(120 g / 4.2 oz)
Whipped Cream
3/4

Cup

Whipping Cream

1

TBS

Powdered Sugar

4

TBS

Sugared Cranberries
Instructions
Preheat oven to 350 F. Line 8"x8" square pan with parchment paper grease the sides, and set a side.

Sift the flour, baking powder and salt in a medium bowl and set a side.

Place the white chocolate in a heat prove medium bowl and pour 1/4 cup of the heavy cream over the chocolate. Place in the microwave and warm for 30 seconds at a time stirring between each time until the chocolate has completely melted and blended in the cream. Set a side to chill.

In a bowl of a standing mixer, place the butter and sugar and mix on medium-high speed for 5-7 minutes, until you have a fluffy light mix.

Lower mixer speed and add the eggs one at a time, waiting for each to completely incorporate before adding the next.

Add the vanilla bean to the remaining heavy cream and mix to combine.

Add the flour in three additions alternating with the heavy cream starting and ending with the flour.

Right after adding the last portion of the flour, turn mixer off and using a rubber spatula add the melted white chocolate following the dried cranberries. Fold until well distribute.

Pour the batter in the prepared pan and bake for 35-40 minutes or until a tooth pick come out dry from the center of the cake.

Remove from oven and allow to cool before frosting the cake.
To make the Whipping Cream
Place the cream in a bowl of a mixing bowl and beat on high using the whisk attachment.

Add the sugar and keep beating until the cream had thicken

Spread the cream on the cake after it's cooled and sprinkle some sugared cranberries.