Last updated on March 25th, 2022.
These Candied Cashews are sweet, crispy, and are full of cinnamon confirming flavor.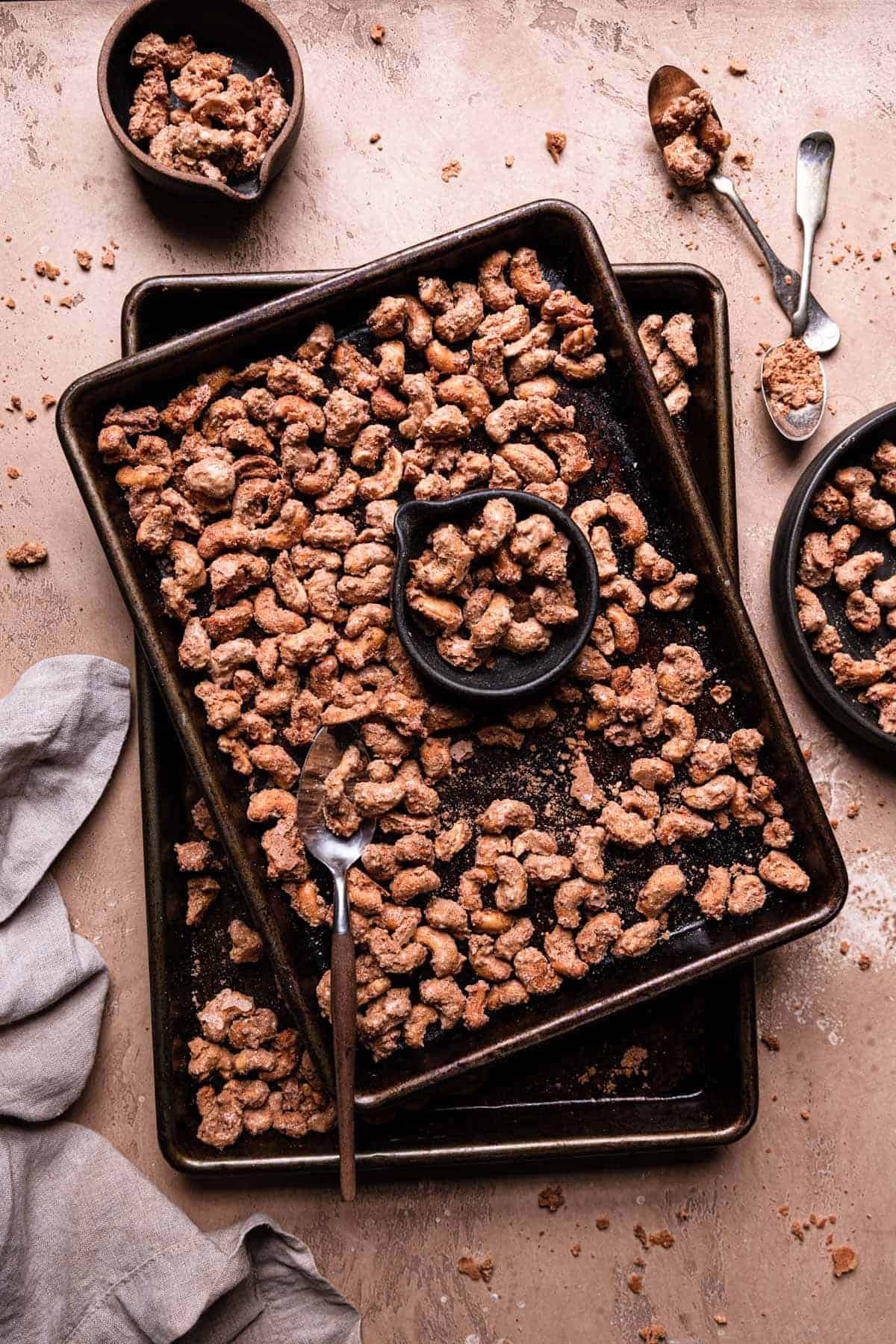 As if Cashews are so easy to resist I went ahead and turned them into candy. We all know and love Caramelized Pecans, and also Chocolate Covered Pecans but we are not so familiar with a Candied cashews recipe. Check out this Honey Roasted Cashews for another candied nuts recipe.
So What are candied cashews?
In short, these are cinnamon roasted cashews. And if we want to get into details, they are cashews that have been coated with egg white, sugar, and spices then baked until crunchy.
If you find the use of an egg-white a bit unusual for candy you are probably right. But the egg white has a crucial part in this recipe. Not only is it the "glue" that holds the sugar and spice and nuts together but also because we whisk it to a soft meringue it will firm up as it bakes and give a crispy and crunchy exterior layer.
I love that you can eat the nuts by themselves, sprinkle them on ice cream, on top of salads, and also add them to a cake layer for an extra texture.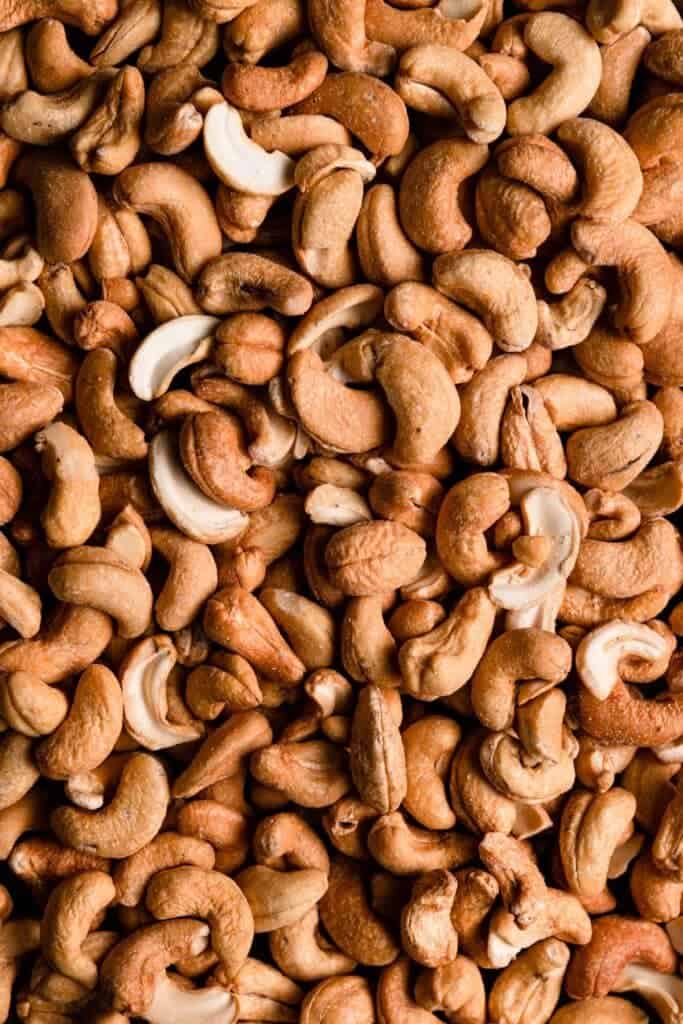 Even though this recipe calls for cashews, you can use any of your favorite nuts.
Ingredients Used in This Candied Cashews Recipe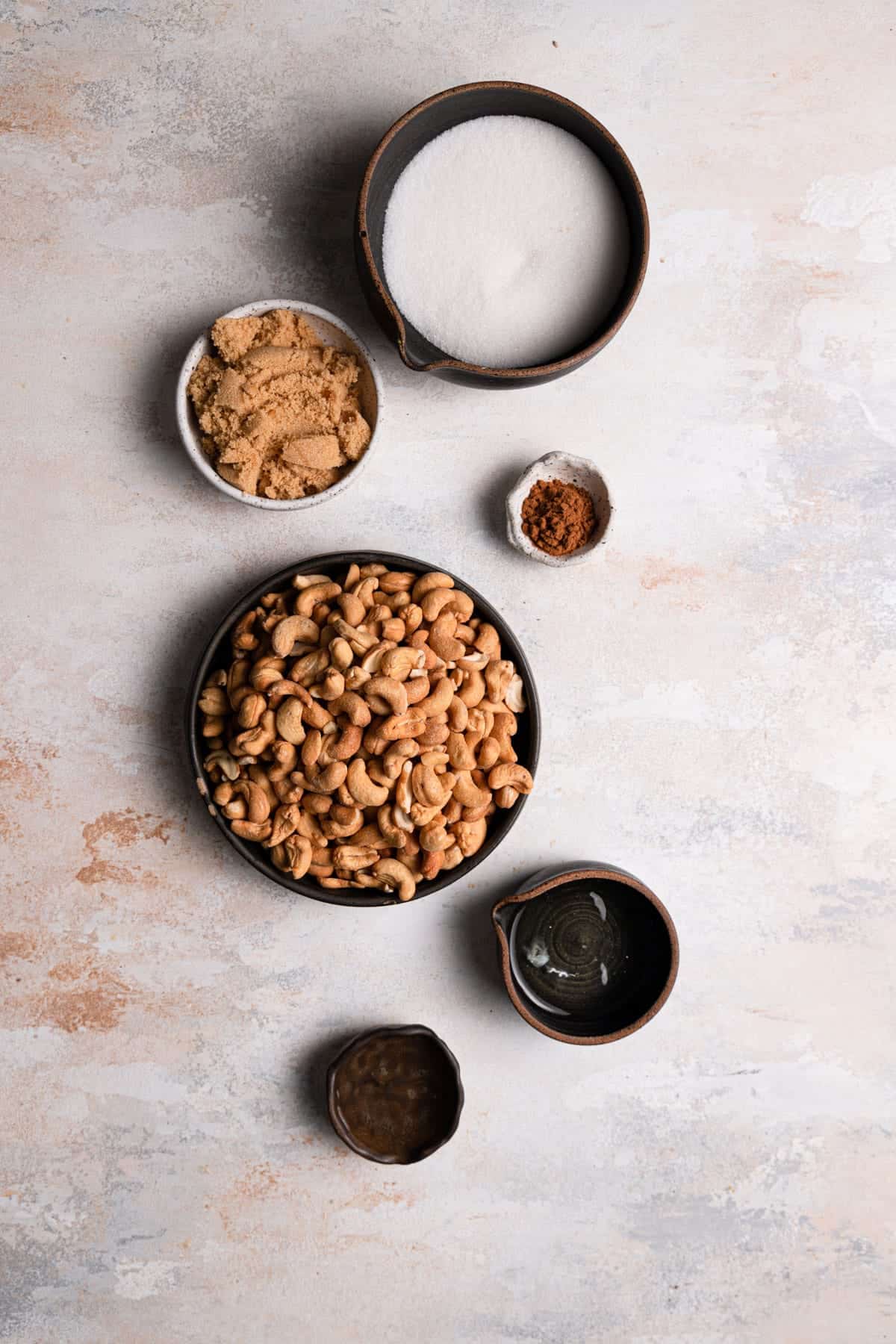 Cashews
Light brown sugar
Sugar
Cinnamon
Egg whites
Water
How To Make Candied Cashews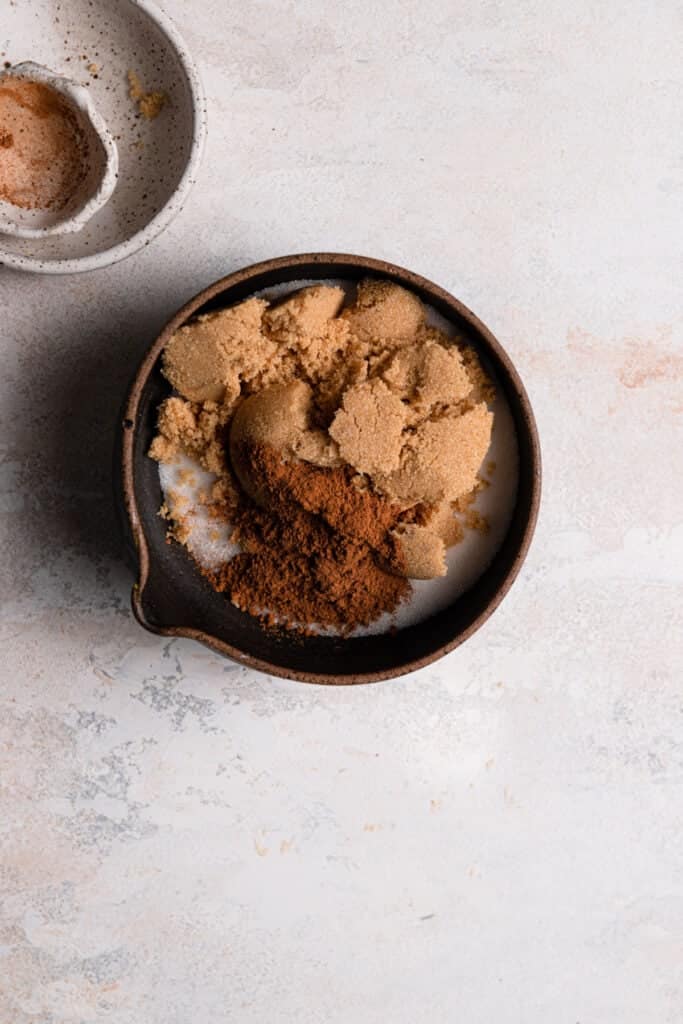 In a medium bowl mix together the sugar, brown sugar, and cinnamon set aside.
In a large bowl whisk the egg whites until fluffy and foamy, about 1 minute on medium-high speed. Add the water and keep whisking for additional minutes at high speed.
Add the cashews to the whites and stir to fully coat, then add the sugar mixture and use a rubber spatula to fully coat the nuts.
Spread the nuts mixture on top of a cookie pan lined with parchment paper and bake for 20-25 minutes or until the nuts are a dark golden color.
Variations:
Vegan candied cashews. Omit the egg whites with aquafaba (canned chickpeas water), and process with the recipe as is. Or, use your go-to egg replacement.
Spice it up. Mix 1/4 tsp cayenne pepper with the cinnamon.
Mix 1-2 tsp of soy sauce with the egg whites.
Sweet and Salty. Sprinkle some sea salt right when you remove the caramelized sashews out of the oven.
Storing:
At room temperature in a sealed container (preferably glass) for up to 1 month.
HAPPY BAKING!!!
Also, one more thing…
Don't forget to tag @OneSarcasticBaker on Instagram if you bake this recipe. Would love to see your creations!
Here are some more cookie recipes you might enjoy:
PIN FOR LATER
Candied Cashews
Sweet and delicious candied cashews recipe ready in less than one hour.
Ingredients
4

Cups

Whole Cashews (raw or roasted)

( 480 g / 13 oz)

2

Medium – large

Egg Whites

2

tsp

Water

3/4

Cup

Sugar

(150 g / 5.5 oz)

6

TBSP

Light Brown Sugar

(90 g / 8.5 oz)

3

tsp

Cinnamon

1/4

tsp

Nutmeg (optional)
Instructions
Mix the cinnamon and sugars in a bowl and set aside.

With a hand whisker, beat the egg whites until frothy, about 1 minute. Add the water and whisk for about an extra minute. 

Add the nuts to the egg whites and toss to evenly coat the nuts.

Add the sugar mixture into the nuts and toss to evenly coat.

Spread the nuts on a cookie sheet lined with parchment paper and baker for 25-30 minutes. Use a wooden spoon to mix the nuts halfway through baking.

Remove from oven and allow to cool.