Last updated on May 7th, 2021.
Guava Cream Cheese Babka is a unique version for the Sweet, soft, and flavorful traditional Jewish sweet bread.
I first tasted Guava and Cream Cheese combo at the bakery I used to work in back in Miami.
Naturally, the aromas and flavors of the guava con queso pastry were a colorful and sweet representation of reminiscent of both Latin American culture and the guava fruit. The bakery where I worked had pastries made of guava, dulce de leche, mango, coconut, Key lime, pineapple and so much more. The trick was to wash it all down with a shot of a super strong and super sweet Cafe Cubano.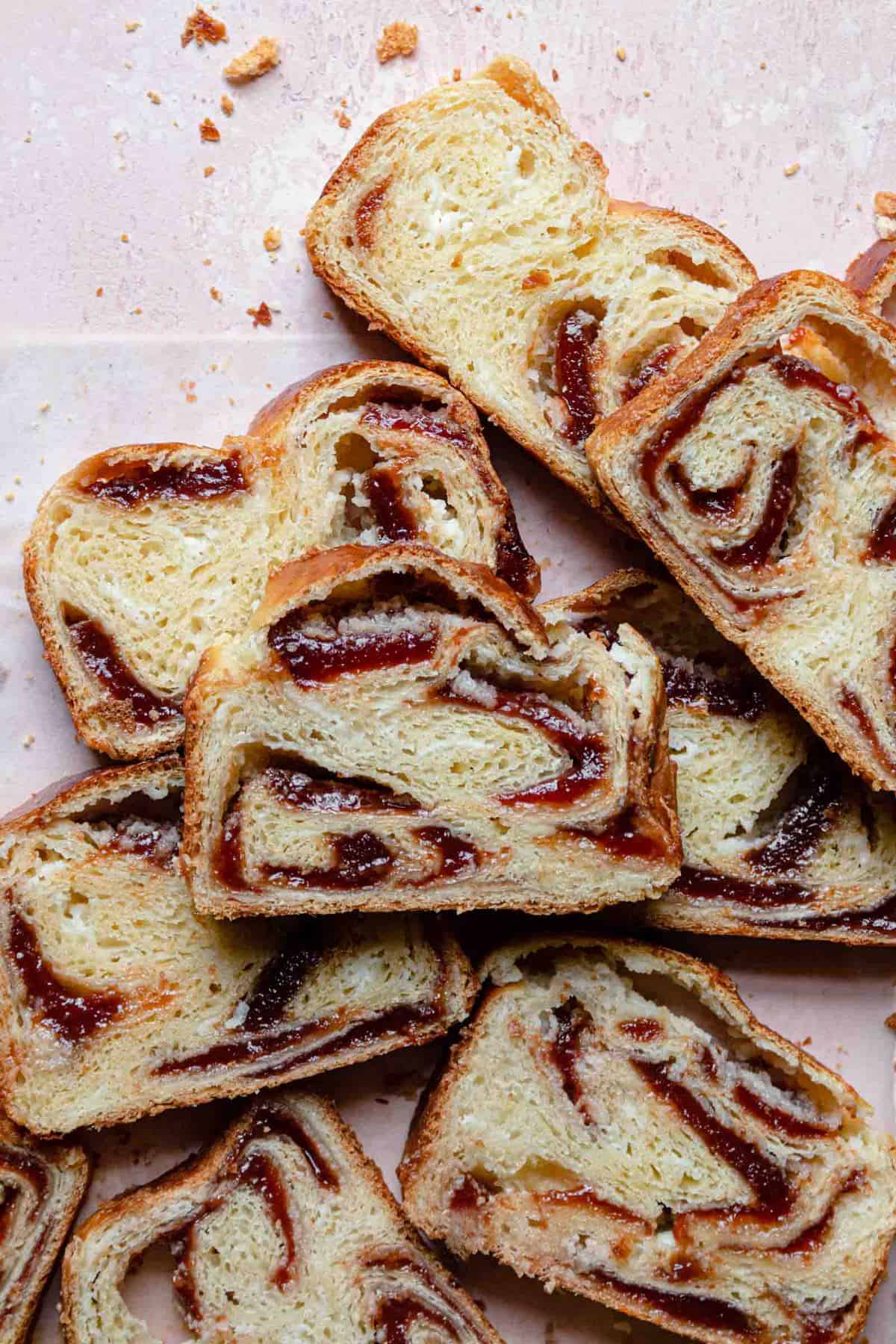 Awesome right?
So you can imagine the variety of cultural personalities I had the pleasure to meet in Miami. Most of them were super nice, while others, you might say, represented more of the bitter side of the Cafe Cubano. All spoke Spanish.
When they first engaged me they spoke Spanish, and when I replied in English, they immediately apologized.
Well, all but one. One ma got really really upset that I could not speak Spanish. Actually, he was more upset because my brunette appearance was a false indication of my ability to converse in Spanish. (How dare I look like I can speak Spanish without knowing a word!) He stood in front of the bakery yelling at my manager for 5 minutes before I could understand the true nature of his complaint.
At that point I had to walk away, just so I could crack up laughing, but before I took one step, my co-worker, B stormed into the conversation:
"Sorry sir, but feel free to take your complaint to the store manager. He is the tall man standing at the end of the aisle." The man thanked her and seemed pleased. Then she added: "Please know he doesn't speak any Spanish."
I think interacting with so many different people was one of my favorite aspects of working at a bakery. After all, customers are the true essence of any bakery, and if you pay close attention, you and your palate will learn so much.
As for the recipe, I guess I decided to go with Guava Cream Cheese Babkas because my Jewish part misses Miami. Great combo, right?
What ingredients are used in this recipe:
All-purpose flour, no need for bread flour, we want the babka to have a nice tender bite.
Active Dry yeast
Sugar
Egg
Egg yolk
Unsalted butter softened
Sour Cream, full fat. This will be act as the liquid that brings the dough together.
Milk
Guava paste, I used THIS brand that I found at my local market but you can use any brand you have in hand.
Cream Cheese, full fat is recommended, however light cream cheese would work just fine
What is Guava Paste:
Guava Paste is a very thick and flavorful paste that is very popular in many Cuban and South American recipes. To make this paste some Guava puree, sugar and pectin are cooked together then dried to remove moisture and as a result, a very sweet thick paste is formed. The paste is thick enough to be cut with a knife.
Is it different than Guava Jelly?
Yes. Guava paste is much thicker and stands by itself where Guava Jelly is more of a liquidy paste and is stored in a glass container. Also, Guava paste has a stronger, sweeter flavor.
Can I use Guava Jelly instead?
Yes. Depending on the brand the jelly might have a very thin consistency. If you find it to be too thin, simply cook it over the stove, low heat for 10-15 minutes to reduce liquids.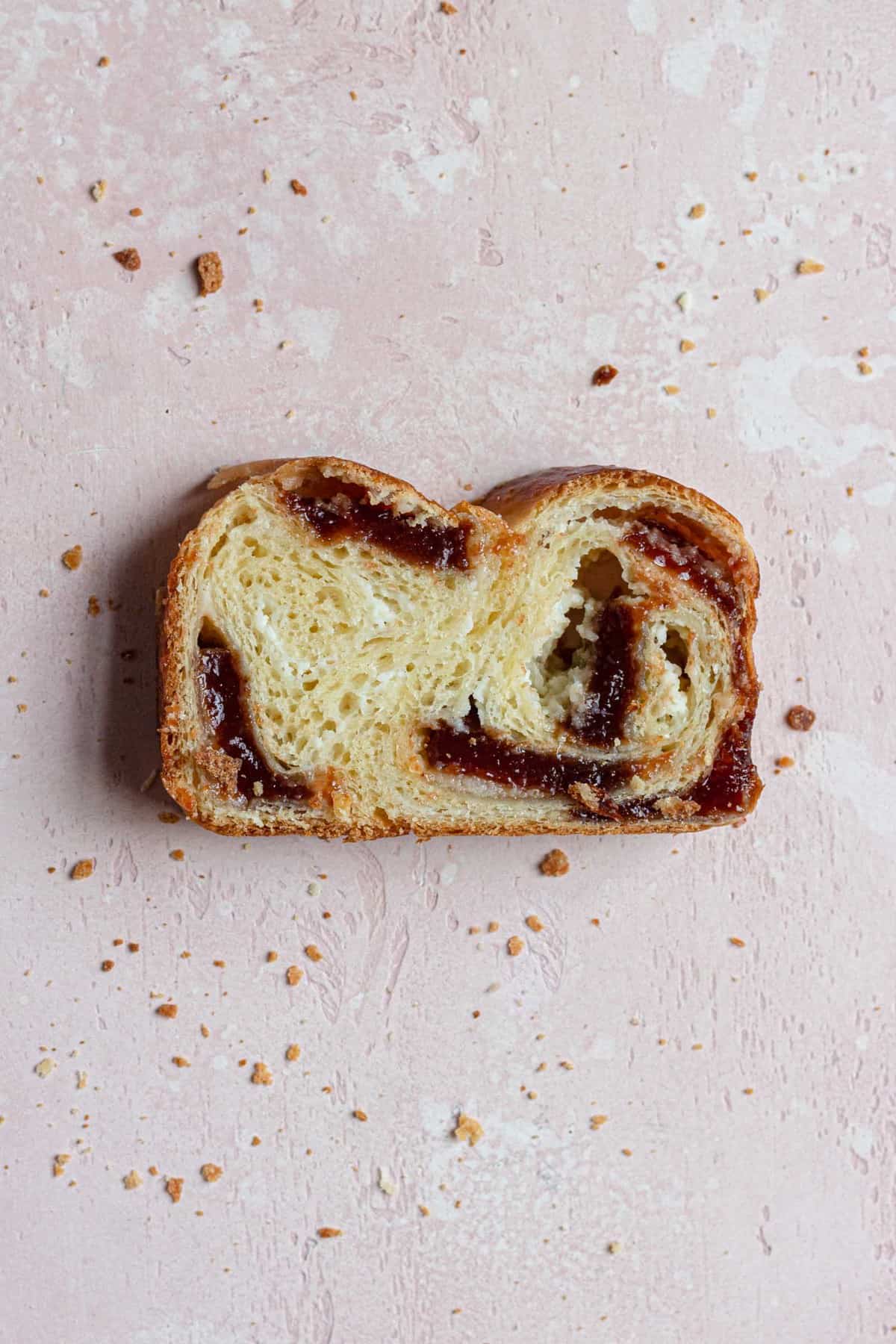 How To Bake This Guava Cream Cheese Babka:
Making the dough is quite simple, simply mix all the ingredients together until you get a smooth and soft dough. Let rest for about 2-3 hours.
To roll and shape the babka, start by dividing the dough into 2-4 even parts.
Roll each part into 12″ wide and twice as long as your pan.
Spread the cream cheese filling leaving a 1″ empty space in the center of the dough and edges. Cut the Guava paste into thin pieces and place them on top of the cream cheese filling, leaving some space between each piece.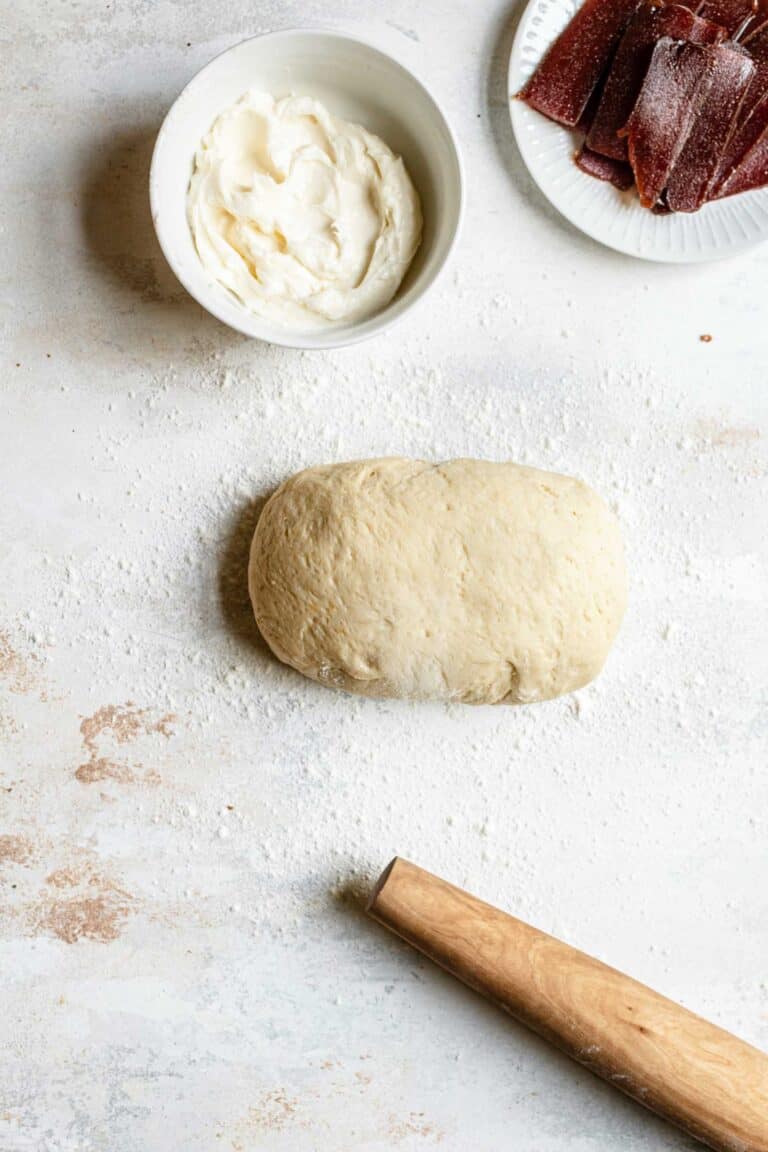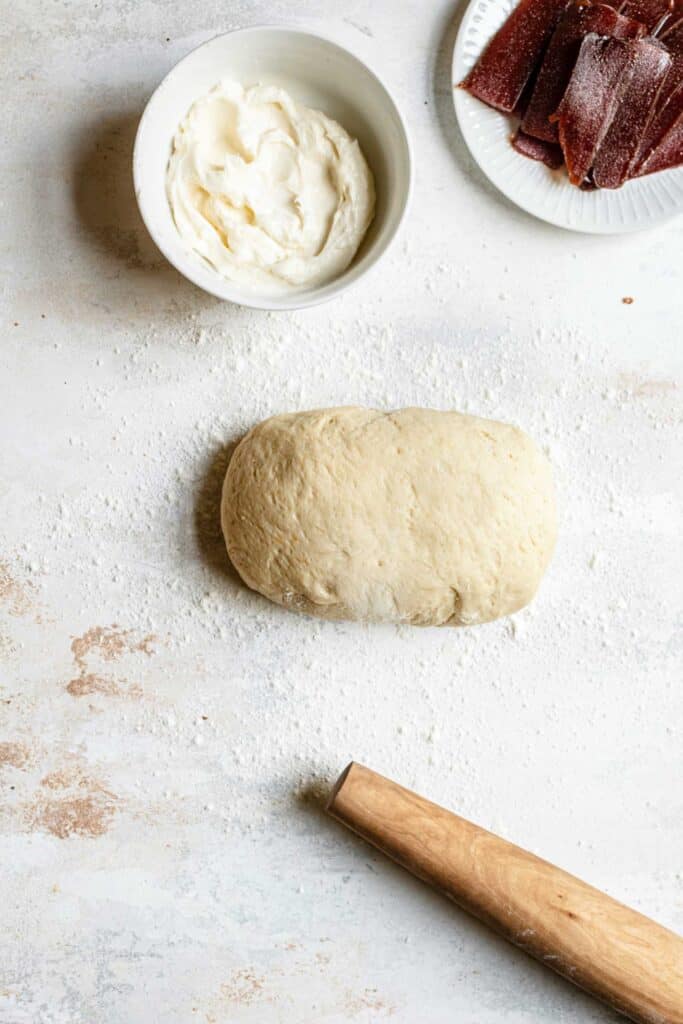 Storing the Babka:
Best to store the Babka at room temperature for up to 48 hours. Also, you can wrap it in aluminum foil bagged in a freezable bag and froze up tp 2 months.
Few More Notes About This Guava Cream Cheese Babka Recipe:
For a super simple recipe, use store-bought puff pastry and fill it with Guava paste and cream cheese.
You can bake 4 x 8″ Babkas or 2x 9″ Babkas.
The Babka is best when warm, however, make sure to allow it to cool in the pan for about 20-30 minutes. The filling makes the dough pretty heavy and it can break very easily when warm.
The dough recipe is adapted from here.
HAPPY BAKING!!!
One more thing…
Don't forget to tag @OneSarcasticBaker on Instagram if you bake this recipe. Would love to see your creations!

Here are some cultural recipes you might like: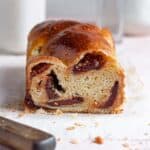 Guava Cream Cheese Babka
Ingredients
Dough
4 1/4

Cups

AP Flour

(500 g/ 17.5 oz)

1/3

Cup

Sugar

(70 g /2.5 oz)

2.5

tsp

Instant Yeast

(8 g/ .25 oz)

1 1/4

Sticks

Soften Butter

(140 g/ 5 oz)

1

Large

Egg

2

Large

Egg Yolks

3/4

Cup

Full Fat Sour Cream

(200 ml)

3

TBSP

Milk

Dash

Salt

1/2

tsp

Vanilla Extract

1

Large

Beaten Egg, to coat the dough
Cream Cheese Filling
1 1/2

Box

Cream cheese

(340 g/ 12oz)

1/4

Cup

Sugar

(50 g/ 2 oz)

1

tsp

Vanilla Extract

1

1 LB Guava Paste

Placed ontop of the cream cheese filling
Simple Syrup (Optional)
1/2

Cup

Water

1/2

Cup

Sugar

(100 g/ 3.5 oz)
Instructions
To Make The Dough
Place all the ingredients in a bowl of a standing mixer. Using the paddle attachment mix on low speed just to combine all of the ingredients.

Replace the the paddle attachment with the dough hook and mix until a smooth and sticky dough forms. About 4-5 minutes.

Place the dough in a deep and wide bowl, cover with plastic bag and allow to rest until double in size.
To Make the Cream Cheese Filling
Place all the ingredients (excluding the guava paste) in bowl of a standing mixer, with the whisk attachment mix to combine.
To Make the Simple Syrup
Combine the water and sugar in a pan on top of a medium heat and let simmer for about 5 minutes.
To Make and Bake The Babka
Grease two 9″3 loaf pans. (you can use what ever pans you have available, but make sure the Babka will have space to rise during the second rest and baking)

Place the dough on a clean and smooth surface. Divide dough into 2 even parts.

With a rolling pin, roll each dough piece into 12" wide and twice as long as the pan you are using.

Spread cream cheese filling (1/2 or 1/4) leaving 1" empty space at the center of the dough and the edges.

Cut the Guava paste into thin slices and place them on top of the cream cheese filling. 

The Guava does not need to be crowded, some gaps between the stripes are best.

Roll the filled dough starting from the farther edge towards you and fold it in half in a way the edges are meeting.

Twist the dough once or twice then place it in the pan, brush it with egg wash.

Allow the  braided Babkas to rest and rise for about 3-4 hours (or over night). 

Bake the Babkas for 30-40 minutes until dark golden and shiny.

Take the Babkas out of the oven and brush with the simple syrup.