Last updated on December 2nd, 2022.
Ohh Rugelach. Buttery, flaky and soft beloved cookie, Filled with fruity filling and nuts for that extra crunch.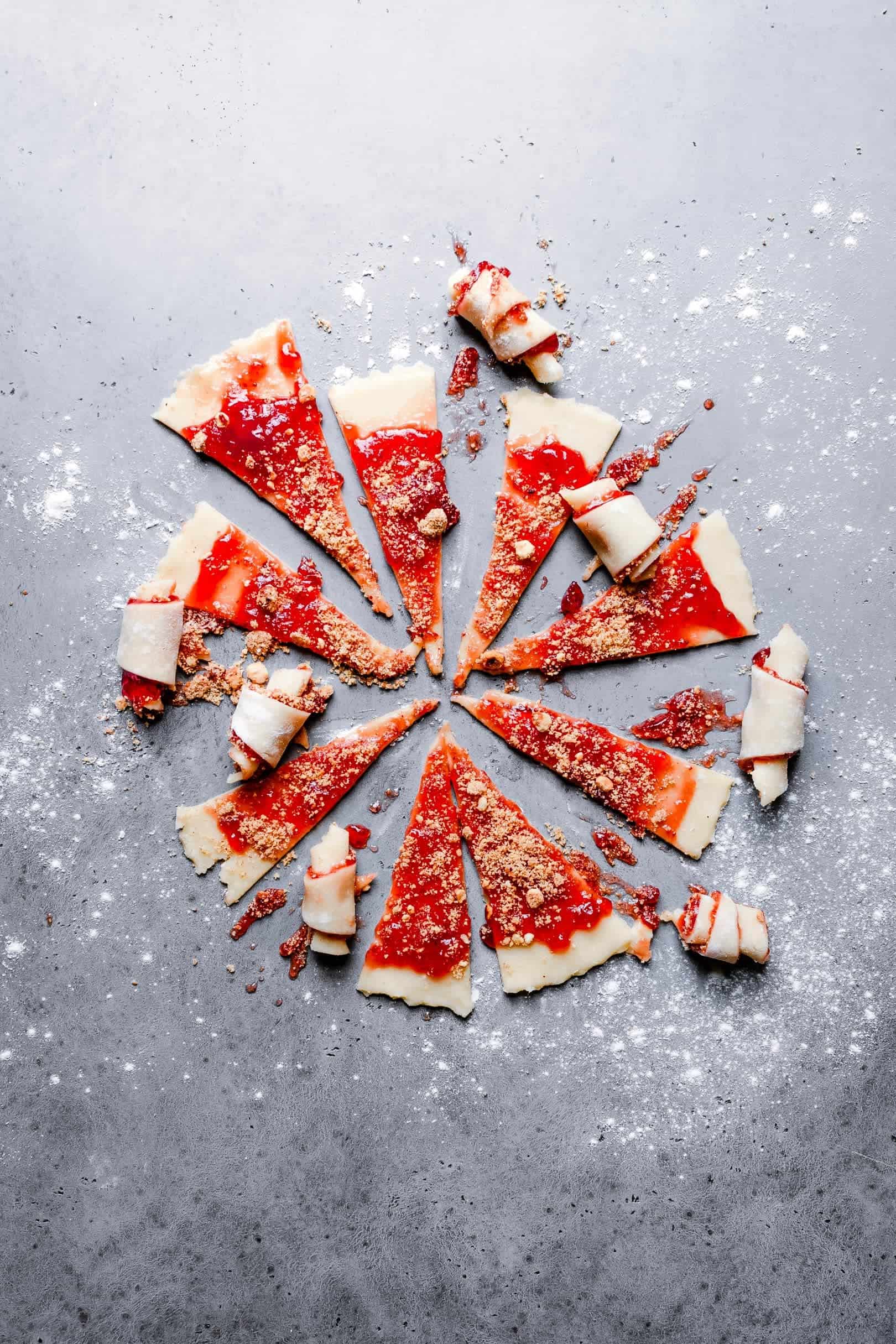 As a baker you most likely have a "to bake" list as long as the number of Rugelch recipes out there. And as a one you wouldn't have it any other way.
Chances are a friend, a coworker or even a total stranger asked you if you can bake Rugelch. But not just any Rugelach, it has to be the exact same one he/she used to enjoy as a child. Obviously your only answer is ABSOLUTELY!
Because at the end of the day, we are all in the the business of spreading that buttery love.
What I am trying to say is that this recipe is up for the job. After all, it traveled for centuries all over the world from one Jewish bakery to another. It even had the stamp of approval from that aunt that bakes EVERYTHING BETTER . That is if she only had the time.
And you can use the dough for so many other recipes like streusel bars, Hamentashen or even sandwich cookies.
Now Lets Talk About This Rugelach Recipe:
Make sure you do not over mix the dough. Over mixing might "toughen" the dough and you will lose the soft crumbly texture.
It is important to allow the dough to rest overnight. This will insure the rich and crumbly texture of the bars.
Any filling can work. Like fruity preserve, Nutella, peanut butter or what ever you can think of.
I like that the preserve oozes out while baking. If you don't and still wants to use a fruit filling you can do one of this two: One – reduce the liquids by warming the filling in a pan over the stove. Two – warm the filling and add 1 tsp cornstarch mix with 1 TBS water. Allow cool before using.
For extra oomph brush the cookies with cold simple syrup as soon as they come out of the oven.
Feel free to roll the cookies and freeze until use. You can bake it frozen just add few more minutes to the baking time.
HAPPY BAKING!!!
Here are some more recipes from the Jewish Bakery you might enjoy:
One more thing…
Don't forget to tag @OneSarcasticBaker on Instagram if you bake this recipe. Would love to see your creations!
Rugelach
Traditional rugelach cookies filled with jam
Servings
40
small cookies
Ingredients
2

Sticks

Unsalted Butter, soften

(226 g / 8 oz)

1/2

Cup +1 TBS

Sugar

(115 g / 4 oz)

1/2

tsp

Salt

1

Large

Egg

2 3/4

Cups

AP Flour

(340 g / 12 oz)

1

tsp

Potato starch

1/2

tsp

Vanilla Extract

1

Cup

Strawberries perserve

1/2

Cup

Walnuts Finly grained

1

Egg beaten for brushing
Instructions
In a bowl of a standing mixer, beat the sugar, butter, and salt until light and smooth, 4-5 minutes.

Scrap the sides and bottom of the bowl and on low speed add the beaten egg. Mix until fully incorporated.

Add the flour 1/2 cup at a time following the vanilla. Mix until you have a soft, smooth dough. Do not over mix!

Divide the dough to 3 equal parts, each flaten as a disk, cover with plastic wrap and refrigerate overnight. Remove from the refrigerator 10-15 minutes before baking.

Preheat oven to 350F line a 13×9  baking paper with parchment paper and grease the sides.

Roll each piece to 12" circle, spread with 2-3 TBS of perserve and sprinkle with 2 TBS of nuts.

Using a sharp knife or a pizza cutter, divide the dough into 12 equal triangle.

Roll each trianle from the wide side in and place in the prepared cookie sheet.

Brush with an egg and bake for 15-18 minutes or until the top is golden brown.

Remove from the oven and let the cookie set for about 15 minutes.