Last updated on August 13th, 2023.
This Chocolate Brioche bread is buttery, tender brioche dough filled with smooth chocolate filling and baked to golden brown perfection. Perfect for breakfast, afternoon snacks, or dessert, this treat is the ultimate pastry.
What is chocolate brioche bread?
This chocolate brioche is a lot like a traditional chocolate Babka, but unlike the traditional Babka dough, which is vegetable shortening based, this recipe is made with buttery, enriched Brioche dough. The dough is rolled into a rectangle, spread with chocolate filling then rolled into a screw-like shape.
The shaped dough gets a second rest, and as it expands, it rises high into a tall and impressive bread with decorative layers of chocolate.
Ingredients
For best results, use a kitchen scale (affiliated); it is the best way to measure the ingredients and avoid frustrations.
Flour. I used all-purpose flour and bread flour, but you can use all-purpose solely.
Instant Yeast. I like to use SAF (affiliated) to convert to active dry yeast or fresh cake yeast; check the notes in the recipe card.
Sugar and salt. Both will sweeten and enhance the flavor, help feed the yeast, and develop the right texture.
Warm Water. You can also use milk, but you'll need to bring it to a boil and then allow it to cool down to 85F (30C).
Eggs. At room temperature, in the states, a large egg is about 55g.
Unsalted butter. Softened butter is essential. Salted butter will not work in this recipe. You will need butter for the filling as well. Use vegan butter for a dairy-free version.
Cocoa powder. For the filling, it is the best way to incorporate chocolate flavors.
Powdered sugar. For the filling, unlike granulated sugar that melts and spreads, powdered sugar will keep its form and prevent the filling from oozing out of the bread.
Optional. Cinnamon and nutmeg will add flavor to the filling; another option is to spread some mini chocolate chips, dark chocolate, or milk.
How to make chocolate brioche
The dough needs to rest and rise twice. To learn more, check out my post about How To Make Brioche bread, including troubleshooting. (I used the same method to bake these delicious Cinnamon Brioche Rolls and this Chocolate Chip Brioche.) Below is the workflow and recommended timetable.
Making the dough
2-4 hours before shaping or the night before.
Place the dry ingredients: flour, yeast, sugar, and salt, as well as the eggs and water in a large bowl of a stand mixer, and mix for about 3 minutes on medium speed.
Reduce speed to medium-low speed and add the butter. one piece at a time, wait about 15-20 seconds between each addition.
Mix on medium-high until it is smooth and the sides of the bowl are clean. This might take 10-15 minutes (or even 20 minutes).
Spay with cooking spray, cover with a plastic bag, let rest, and rise for 2-3 hours or until double in size. Overnight in the refrigerator is ok.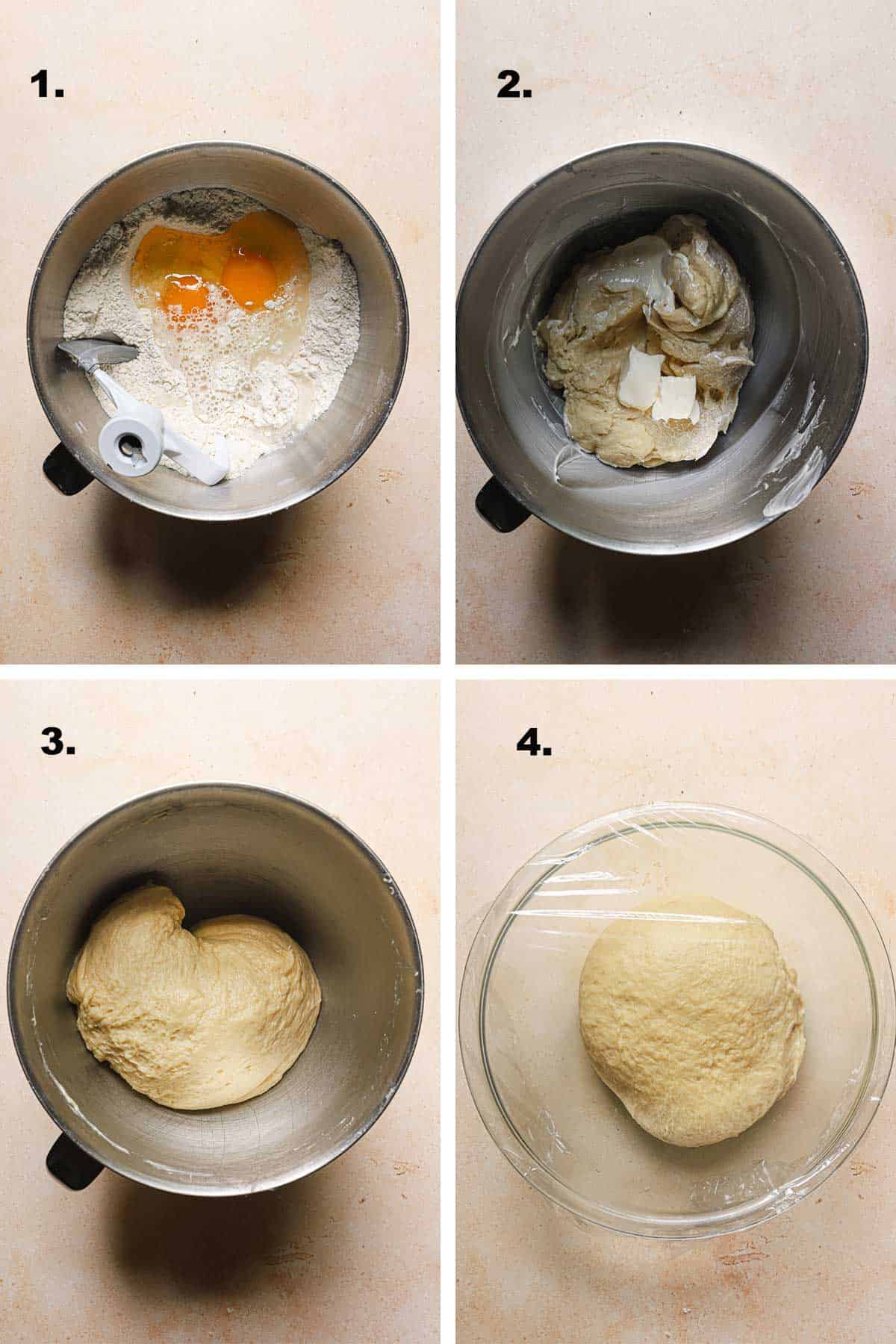 Making the Filling
When ready to shape
Place the filling ingredients in a large mixing bowl until smooth.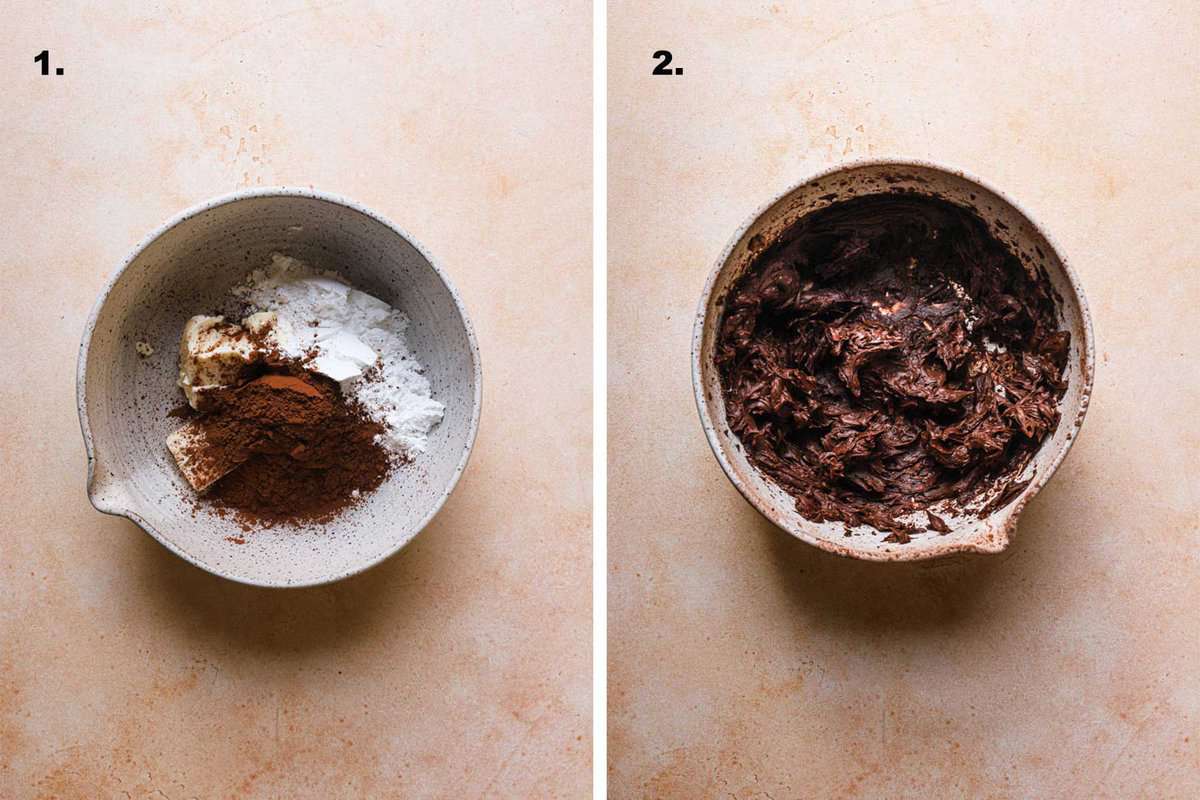 Shaping The Dough
Last step, about 2-3 hours before baking.
Remove the dough from the refrigerator, and roll it over a lightly floured surface into 12″ wide and about twice the length of your pan. (for an eight-inch pan, roll it into a 12×16 rectangle)
Spread the chocolate filling, leaving an uncoated band in the center and about 1″-2″ from the bottom edge, spread with chocolate chunks or chips (if using).
Starting with the edges furthest from you, roll the dough towards you into a tight log and seal the bottom.
Fold the log in half, twist it 3-4 times into a spiral, place the loaf into your prepared pan, and brush with egg wash.
Let rise for about 2-3 hours. Bake.
Making ahead, storing, and freezing
To make ahead. Freeze the dough for up to one month. Place in the refrigerator the night before use, and allow it to double in size.
Storing. Best at room temperature for up to three days, cover.
Freezing. After baking, you can freeze the bread. Wrap it in plastic wrap or aluminum foil, place it in a freezer bag, and freeze it for up to one month. To defrost, remove it from the freezer, unwrap it, and let it reach room temperature.
Leftovers can be frozen for up to one month and reheated in the oven at 300F for about 10 minutes or used to make some Brioche French Toast or French Toast Casserole.
Expert Tips
The recipe yields two 8 or 9 -inch loaf pans or one 9-inch tube pan with a removable bottom.
I like to use the paddle attachment to bring the ingredients to a shaggy mass, then replace it with the dough hook attachment.
You can make this recipe without a stand mixer, but be patient. Do not use an electric or a hand mixer.
Add orange zest (about two teaspoons) to the dough during the first part for a citrusy touch.
Line your loaf pan with parchment paper after you spray it with cooking spray.
Brush the shaped dough will an egg wash before you let it rest. Otherwise, the egg might deflate the logs before it sets during baking.
Place the shaped covered dough in a warm place so it can rise fast and efficiently.
Let the bread cool in the pan for about 10 minutes, then invert it to a cooling rack. Use the parchment paper to remove the bread from the pan safely.
If you have dough leftovers, you can make some Brioche donuts or Bavarian cream donuts.
Frequently Asked Questions
How can I tell that the dough is ready to be proofed?
First, you should not see any butter chunks, and the mixer bowl's sides should be clean. Also, cut a small piece and gently stretch it; if it stretches into a thin, almost transparent layer, it is ready.
What is the difference between brioche and regular bread?
Brioche bread is an enriched dough and is rich in butter and sometimes eggs. Regular bread most times does not have any butter or eggs in it.
What happens if you add too much butter to bread dough?
Too much butter might break the dough. When it happens then, it loses its elasticity, and you won't be able to stretch it or roll it. Add up to 3/4 cup of butter to this dough (170g) and refrigerate overnight.
What type of cocoa powder should I use?
Natural unsweetened cocoa powder has the most distinguished chocolate flavor. You can also use dutch process cocoa, but do not use black cocoa.
Can I use Nutella instead of the filling?
Yes. You can also use cinnamon filling instead of chocolate.
Can I use this recipe to make chocolate brioche buns?
Yes, divide the dough into as many small pieces as you would like, let it rest, and bake at 350F (180C) for about 20-24 minutes.
How to tell when the bread is done?
I like to use a kitchen thermometer (or a meat thermometer) and check the center of the bread once it reaches 190-200F (87-92C) it is done. If you do not have one, gently insert a kitchen skewer; if it goes in with no resistance, it is ready.
Here Are More Sweet Bread Recipes you might like
S'mores Babka, Cinnamon Rolls, Sweet Challah
Chocolate Brioche Recipe
Buttery and rich bricohe bread filled with chocolate filling.
Ingredients
Brioche
2

Cups

Unbleached all-purpose flour

(240g / 9oz)

2

Cups

Bread flour

(240g / 9oz)

2 1/4

teaspoons

Instand yeast

1/3

Cup

Granulated sugar

(70g / 2.5 oz)

2

Large

Eggs, at room temperature

3/4

Cup

Lukewarm water

(180ml)

7

tablespoons

Unsalted butter, softened and cut into 1-inch pieces

(100g / 3.5 oz)
Chocolate Filling
1 1/2

Sticks

Unsalted butter softened

(170g / 6 oz)

1/2

cup

Cocoa powder

(50g / 2 oz)

3/4

Cup

Powdered sugar

(80g / 3 oz)
Instructions
Dough
Add the flour, yeast, sugar, salt, eggs, and water to a bowl of a stand mixer. Mix using the paddle attachment until a shaggy mass is formed.

Replace with the dough hook and mix for 3 minutes on medium speed.

Add the butter one piece at a time, waiting about 15 seconds between each addition.

Mix for 10-15 minutes until the bowl is clean, the dough is smooth, and does not tear easily when gently stretched.

Spray the dough with oil, cover it with plastic wrap, and let sit for 2-3 hours, until it doubles in size. Alternatively, you can also refrigerate overnight
Make the filling
Place the butter, powdered sugar, and cocoa powder in a large bowl and mix until smooth.
Shaping and baking
Grease two 8 or 9 -inch pans and line them with parchment paper. You can also use a 9-inch tube pan with a removable tray.

Punch the dough to release air and divide it into two equal parts.

Roll the first part over a floured working surface to a 12-inch length rectangle, with the width double the size of your pan (12×16 if your pan is 8-inch)

Spread the filling leaving an empty one-inch band at the center and 1.5-inch from the bottom of the rectangle.

Roll the dough from the top end, then move the ends of the log towards each other, in a U shape.

Gently coil the two "legs" around each other, lift, and place in your pan. Place in a warm spot and let rest for 2-3 hours.

Bake for 35-40 minutes at 350F (180C) until the inner temperature is 190-200F.

Remove from the oven, let cool in the pan for 10-15 minutes, then invert over to a wire rack.
Recipe Notes
Add t teaspoons of orange zest to the dough (step 1) for fresh citrus flavor.
Add 1 1/2 teaspoons of ground cinnamon and 1/4 teaspoon of ground nutmeg to the filling if you enjoy spices.
Place the dough to rest in a warm place. 
If using active yeast: use 2 3/4 tablespoons (15g), mix the yeast with 1/4 cup of the water plus one teaspoon of sugar, and let sit for 15 minutes. Continue with the recipe, step 1.
If using Cake yeast: use three tablespoons (20g), mix with 1/4 cup of water and a teaspoon of sugar, and sit for 15 minutes. Add the rest of the ingredients and follow the recipe.
Store at room temperature for up to 3 days, covered, or wrap with plastic wrap, place in a freezer bag, and freeze for up to 4 weeks.