These Coffee Cookies (or, espresso cookies) are chubby, slightly chewy, and coffee lovers dream. Every bite is loaded with nutty chocolatey flavors and crunchy texture coming from the chopped pecans if you feel adventurous, use this candied pecans recipe instead of toasted ones.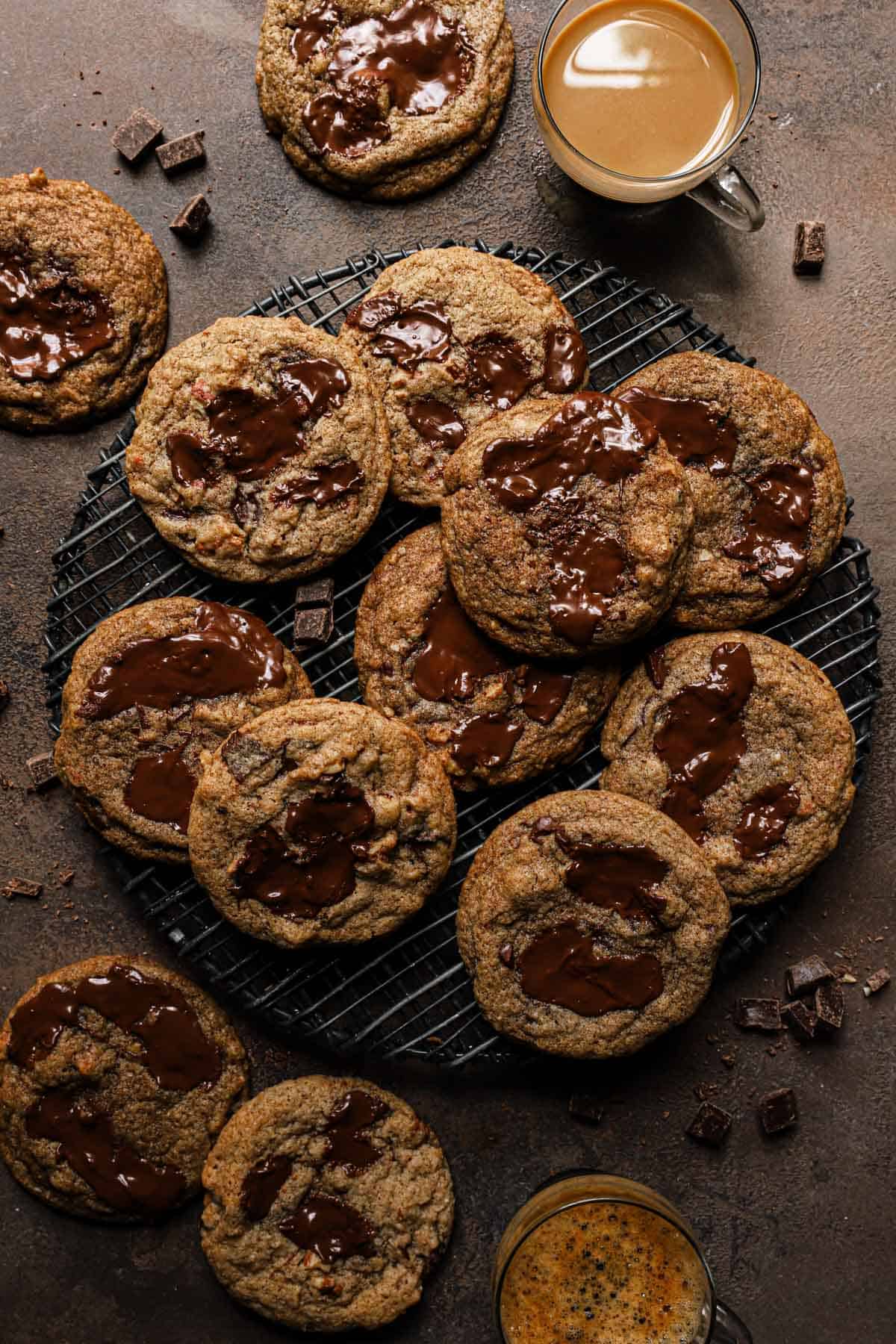 There are many drop cookie recipe versions out there, like these Triple Chocolate chip cookies, and these Chocolate Chunk Cookies, and some might say that these Oatmeal Butterscotch Cookies are legit.
These are the best coffee cookies or a cup of coffee in a cookie form. Because the coffee really brings out all the flavors, there is no need to chill the dough. These cookies with coffee are a festival of flavors, tender and slightly chewy, every bite is a celebration of tender and crunchy textures. And they are loaded with chocolate, you can go ahead and name them chocolate chip coffee cookies, or even mocha cookies.
Key Ingredients
The complete recipe is in the recipe card at the end of this post.
Bread Flour and all-purpose flour. I like the tender texture coming from the high protein content of the bread flour, but you can use all-purpose flour as well.
Room Temperature Butter, unsalted.
Light brown sugar. For a deeper flavor and chewier texture, use dark brown sugar.
Instant coffee, Optional use anything between 1/2-1 tsp, depending on your personal taste.
Vanilla extract
Chocolate chips, The type you like, dark chocolate chips, or milk chocolate chips will work just fine, chocolate chunks or chopped chocolate bars are also ok.
Finally Ground pecans and chopped pecans. Both are optional but it enhances the flavor and adds another layer of texture. Here is a post about how to toast pecans, in the oven, microwave, and stovetop.
Instant Coffee vs. Espresso Powder
In this recipe, you can use instant coffee or instant espresso powder. There are three main differences between them:
Espresso powder has a stronger and more bitter coffee flavor than instant coffee powder.
Texture-wise, espresso comes as a fine powder vs. the instant coffee granules.
While it is easy to use any type of instant coffee at your local grocery store, espresso powder designated for baking is a bit harder to find, and they are priced higher.
Both powders will dissolve in hot water or vanilla extract. You can use one Espresso shot instead of powder by adding it to the butter mixture, following the eggs.
Firstly, make sure all ingredients are at room temperature. You can use an electric mixer or an electric hand mixer
Then start by mixing the dry ingredients (flour, grinned pecans, baking powder, baking soda, and salt) together in a medium bowl, and in a small bowl, mix the vanilla extract with the coffee together.
In a large bowl, or a bowl of a stand mixer, beat the butter and sugar until light and fluffy using the paddle attachment, followed by the egg.
Add the flour mixture to the butter mixture using a rubber spatula, or a wooden spoon to fully incorporate the ingredients.
Fold in chocolate chips and chopped pecan. Scoop cookie dough balls, placed them over a parchment-lined baking sheet, and bake. Sprinkle the top of the cookies with extra chocolate chips right before baking for extra texture.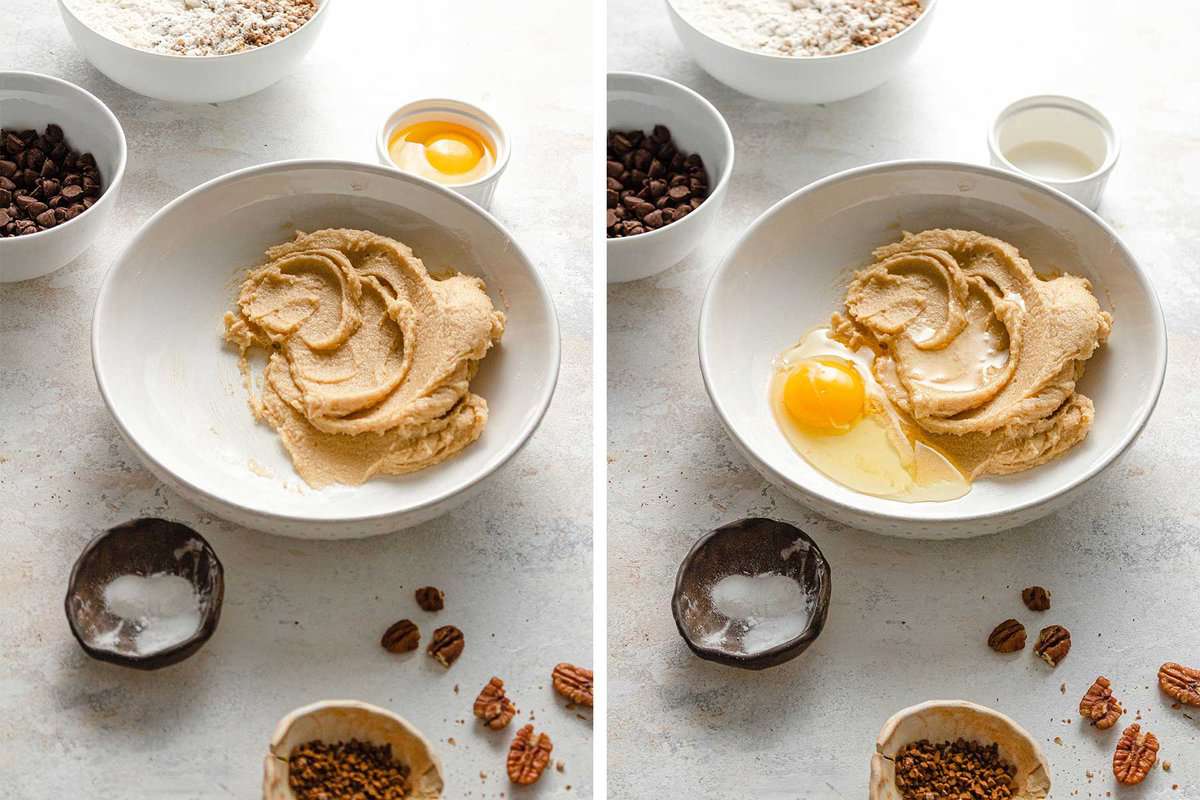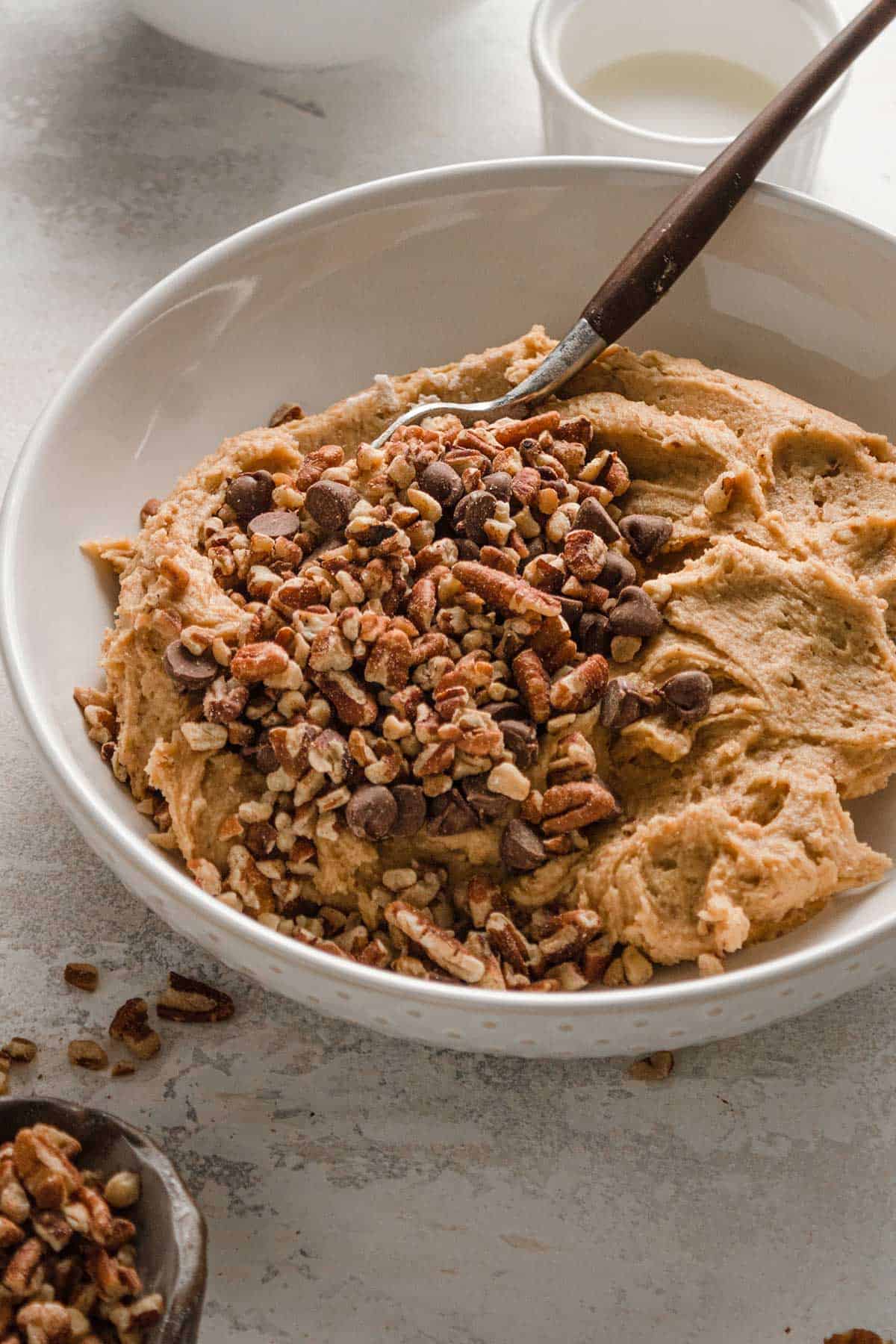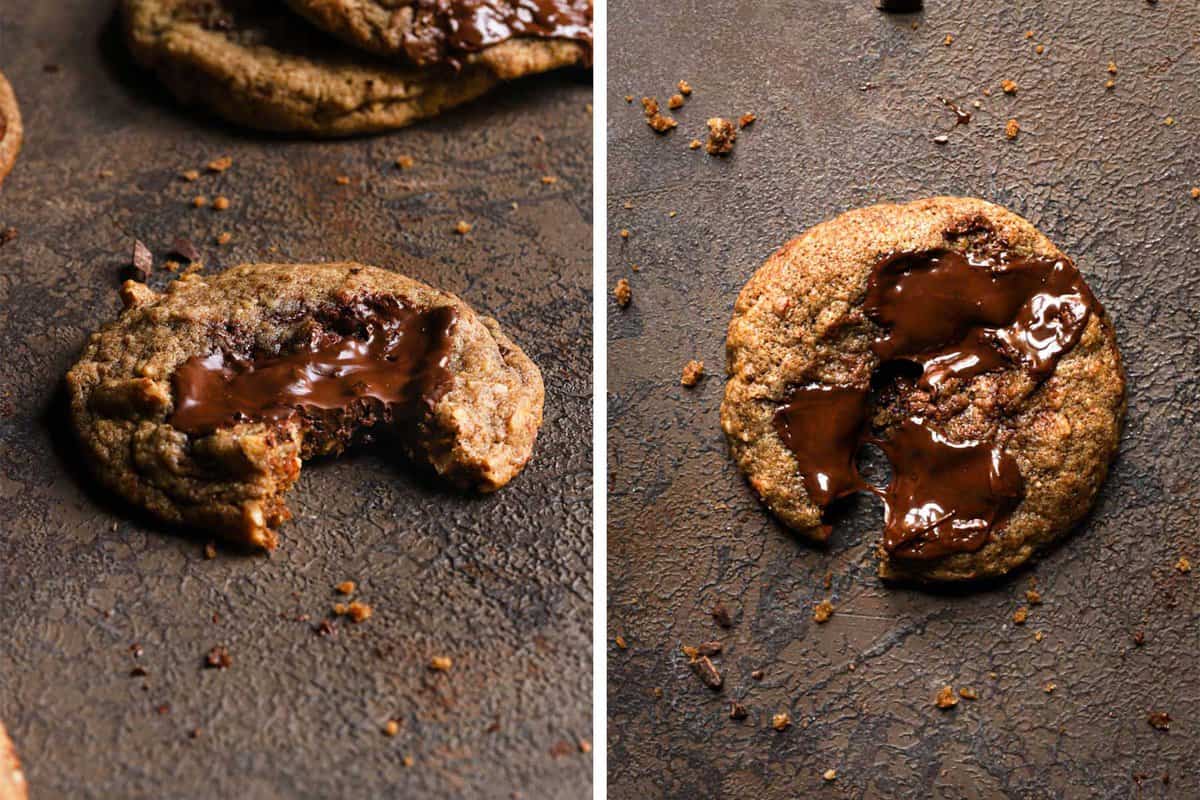 Storing the Cookies

Store cookies at room temperature in an airtight container for up to 5 days.
Freezing The Cookies
Baked – place cookies in a freezable plastic bag and freeze them for up to two months.
Unbaked – Scoop the cookies into balls, then place them in a freezer bag. Freeze for up to two months. To bake the frozen dough, remove the cookie dough from the freezer and place it on a cookie sheet lined with parchment paper, allow it to reach room temperature, and bake.
Expert Tips
For best results, use a kitchen scale (affiliate) to measure your ingredients, especially the flour. If using too much flavor, the cookies will be dense and not spread as much.
For brown butter flavor, add 1 tablespoon of Brown Dry Milk Powder to the flour mixture.
The bigger the cookie scoop is, the wider the cookies will spread, so consider that when spacing the raw cookies.
The cookies are tender, if you are a chewy cookies fan, use dark brown sugar and increase the amount to 1 1/2 cup (300g).
The cookies are ready to be eaten a few minutes after being removed from the oven; however, please note that the coffee flavor will get more potent a day later.
FAQ's
Why didn't my coffee cookies spread?
If baked chilled, the cookies will not spread as much. Also, too much flour will prevent the cookies from spreading, and if the oven temperature is too high.
Why did my cookies spread too much?
Not enough flour, or too much butter/sugar. Another reason is that the oven temperature might be too low.
Can I bake this recipe vegan?
Yes, use vegan unsalted butter and your choice of egg replacement such as flex egg.
Can I use different types of nuts?
Yes, roasted cashews, toasted hazelnuts, and almonds are all great options. Use the type of nuts you like.
Can this recipe be baked without the pecans?
Yes, don't add the ground nuts, and replace the chopped nuts with more chocolate chips.
More Recipes You Might Enjoy
Chocolate Covered Pecans, Hazelnut Shortbread Cookies, Peanut Butter Cookies
Don't forget to leave a comment and tag me on Instagram when you make one of my recipes.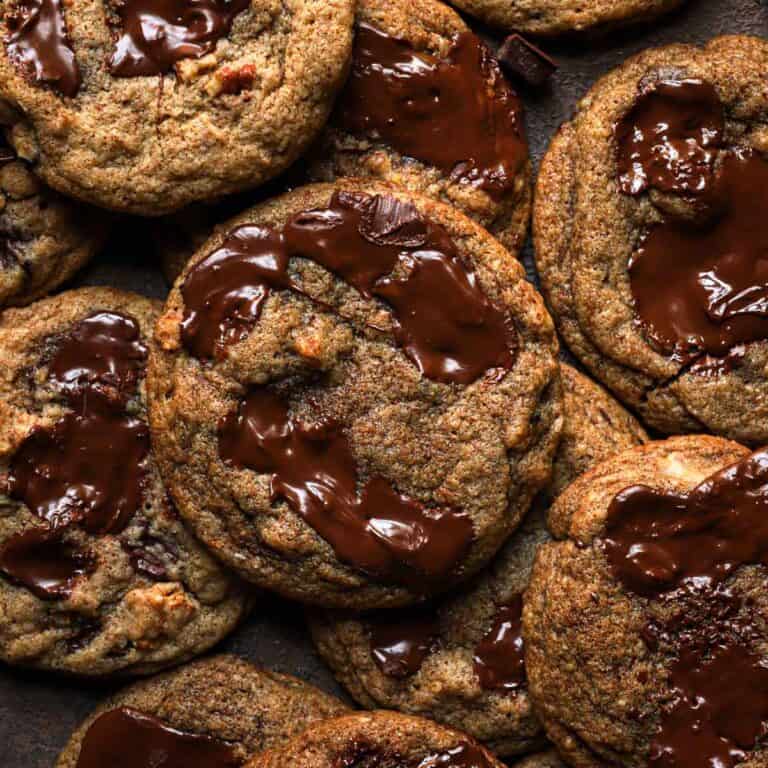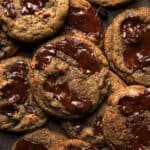 Coffee Cookies Recipes
Tender and slightly chewy cookies, loaded with coffee flavors and chocolate chips
Ingredients
2

Sticks

Unsalted butter, soften

(225g)

1

Cup

Light brown sugar

(225)

1

Cup

Bread Flour

(125g)

1

Cup

All-purpose flour

(125g)

1/2

tsp

Baking powder

1

tsp

Baking soda

1/2

tsp

Salt

2/3

Cup

Finely ground pecans

(100g)

2

Large

Eggs at room temperature

2

tsp

Instant Coffee or Espresso powder

2

tsp

Vanilla extract

1

Cup

Chocolate chips

(170g)

1

Cup

Chopped pecans

(100g)
Instructions
Preheat oven to 350F and line two cookie pans with parchment paper.

In a medium bowl sift the flour, ground pecans, baking powder, baking soda, and salt. Use a fork to distribute and set aside.

Place the coffee in a small bowl add the vanilla extract and allow the powder to dissolve.

In a bowl of a standing mixer fitted with the paddle attachment beat the butter and sugar on medium until light and fluffy. About 2-3 minutes.

Add the eggs one at a time and mix to incorporate then add the vanilla-coffee mix.

Add the flour mixture in three additions, after the second addition add the chocolate chips and chopped pecans.

Spoon the dough into cookie balls and place them on a cookie sheet leaving 2.5" space between each cookie.

Bake for 10-11 minutes or until the sides of the cookies are golden. (or 15 minutes for large cookies)

Remove from the oven and let cool for 5-10 minutes.
Recipe Notes
Make sure all of the ingredients are at room temperature.
Measure the flour with a kitchen scale, if using too much flour the cookies will not spread and be too dense, if not enough flour, the cookies will spread too wide.
If you do not have bread flour, use all-purpose flour.
If the cookies do not spread, lower the oven temperature to 327F (160C) and use a light pan.
The bigger the cookie scoop is, the wider the cookies will spread, so consider that when spacing the raw cookies.