Last updated on October 27th, 2022.
These Coffee Pecan Cookies are chubby, chewy, and truly addictive. Every bite is loaded with coffee flavor and crunchy texture coming from the chopped pecans if you feel adventurous, use this candied pecans recipe instead of toasted ones.
And as for the chocolate chips? well, these are just an added bonus. Because chocolate baked everything so much better. Am I right?
Do you want to hear something funny? When I started testing this recipe, it was supposed to be Pecan-Dates cookies. I added some coffee to bring out the flavor of the dates and realized that chocolate chip cookies would be a much better fit for what all of a sudden became the Coffee Pecan Cookies recipe. Sometimes you just got to roll with it. And also, this quarantine/homeschooling/5 meals a day plus 8 snacks in between has turned this Mommy into a walking sleeping pill, so this is pretty much a survival kit item.
Having said that, I must add and say that you can most defiantly replace the chocolate chips with some chopped dates. And also remove the coffee for soft and tender chocolate chip cookies.
Ingredients used in this recipe:
Bread Flour, I wanted the cookies to be chewy and the best way to do so is by using bread flour which contains a higher percentage of protein. The high content of protein creates more gluten threads, hence a chewy bite. If you do not have any, use unbleached all-purpose flour.
Ground pecans, I simply used store-bought toasted pecans and processed them in the food processor into a fine meal. (looks like almond flour)
Baking powder and baking soda, these two ingredients firstly help the cookie spread and puff and, secondly, give a tender, crumbly bite.
Salt
Butter, at room temperature.
Light brown sugar, brown sugar has molasses in it. In addition to flavor, the molasses attracts moisture into the cookie dough, which means more chewiness.
Instant coffee, use anything between 1/2-1 tsp, depending on your personal taste. However, if you do not have espresso powder in hand, use instant coffee and mix it with vanilla extract. The liquid in the vanilla extract will help dissolve the dry coffee.
Vanilla extract
Chocolate chips, in this recipe, I used milk chocolate chips simply because it is my favorite. However, semi-sweet or dark chocolate chips (or chopped chocolate) would be great. Please keep in mind that the cookies are not overly sweet.
Chopped pecans, again I used store-bought toasted pecans and used a kitchen knife to roughly chop the nuts. Here is a post about how to toast pecans, in the oven, microwave, and stovetop.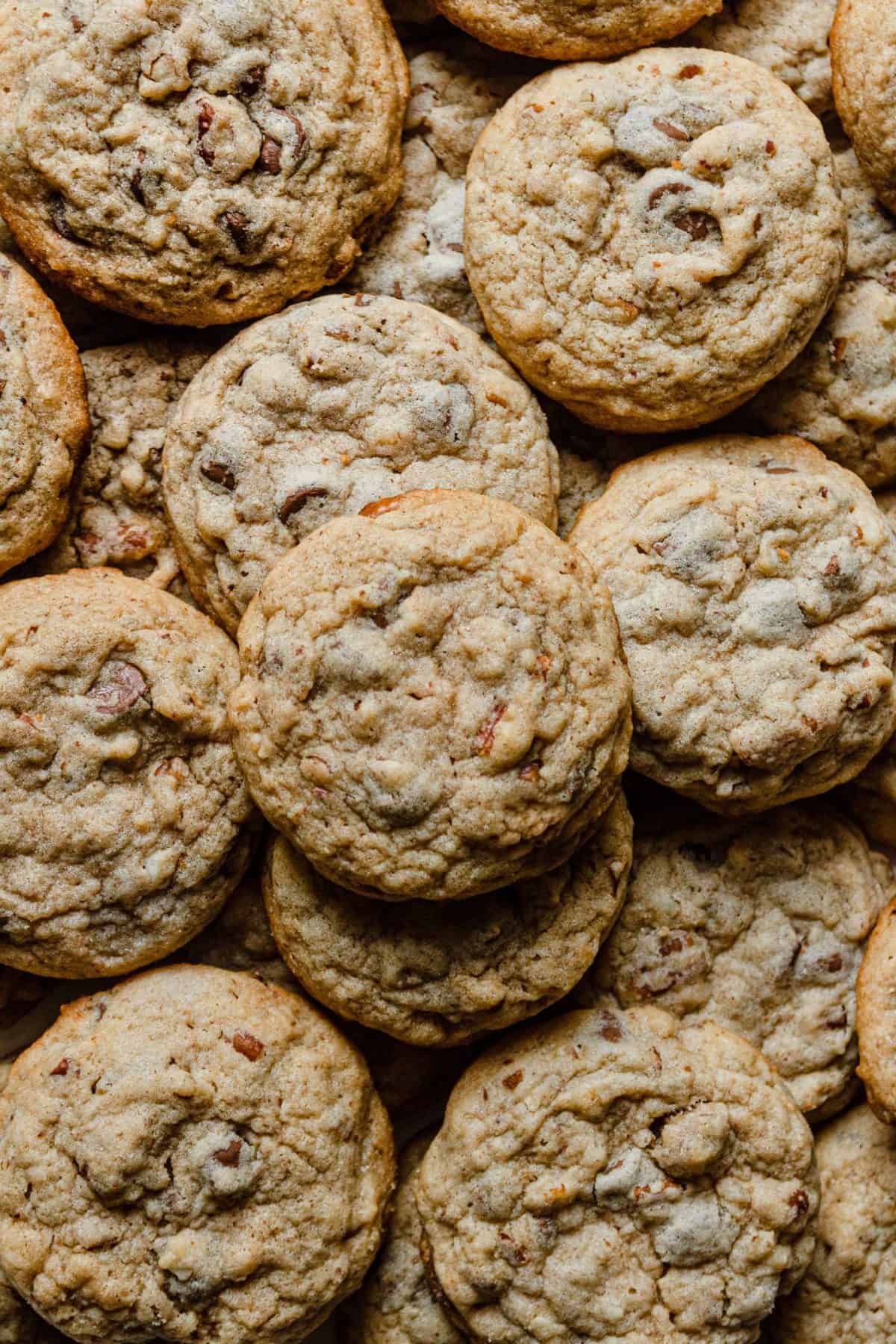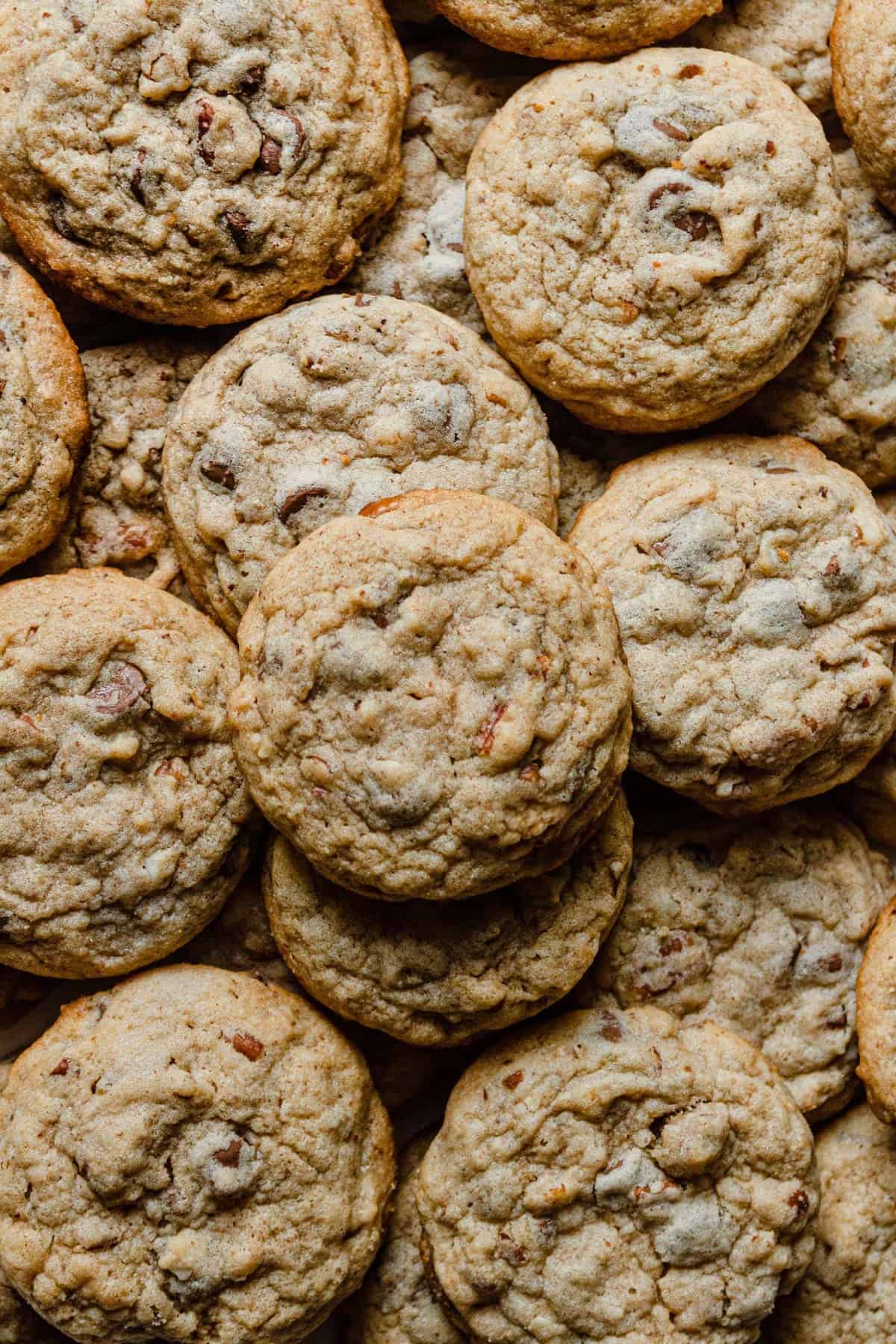 How to bake this recipe:
Firstly, make sure all ingredients are at room temperature. Then start by mixing the dry ingredients (flour, grinned pecans, baking powder, baking soda, and salt) together in a medium bowl.
In addition, using a separate small bowl, mix the vanilla extract with the espresso (or instant coffee) together.
Next mix butter with sugar until light and creamy followed by the egg and last the vanilla/espresso mix.
Add the flour and mix just for a few seconds (we don't want to create strong gluten threads. That will toughen the cookies ), using a rubber spatula to fully incorporate the ingredients.
Fold in chocolate chips and chopped pecan.
Storing the Cookies
The cookies can be store at room temperature in a tight container or a cookie jar for 5-7 days.
Also, they freeze well baked or unbaked.
Baked – place cookies in a freezable plastic bag and freeze up to two months.
Unbaked – Scoop the cookies into balls, and place in the refrigerator to harden slightly than in a freezable plastic bag. Freeze for up to two months. To bake the frozen dough, remove cookie dough from the freezer and place on a cookie sheet lined with parchment paper, allow to reach room temperature and bake.
Here are a few more notes about these Coffee Pecan Cookies:
The cookies are ready to be eaten a few minutes after being removed from the oven; however, please note that the coffee flavor will get more potent a day later.
If you do not have any bread flour, use all-purpose flour. (The cookies might spread a bit more)
The number of cookies might vary depending on the size of the cookie spoon you are using.
To make a small batch (6 cookies) cut the recipe in half and also use 1 egg yolk.
HAPPY BAKING!!!
Here are some more recipes you might enjoy:
Also, one more thing…
Don't forget to tag @OneSarcasticBaker on Instagram if you bake this recipe. Would love to see your creations!
Did you like this recipe and inspiring? Save THIS PIN to your cookies, or baking boards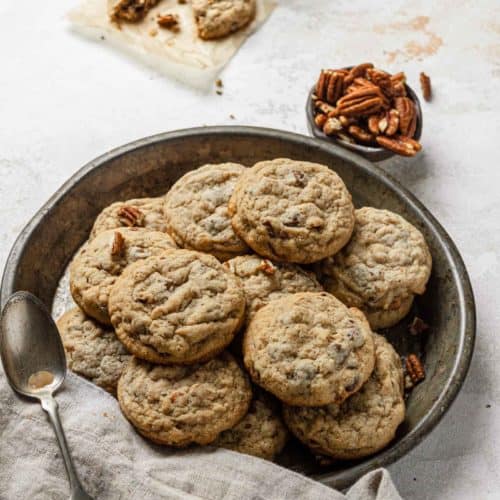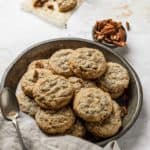 Coffee Pecan Cookies
Ingredients
1

Stick

Unsalted butter, soften

(113 g / 4 oz)

1/2

Cup + 1 tsp

Light brown sugar

(113g / 4 oz)

1

Cup

Bread Flour

( 125 / 4 oz)

1/4

tsp

Baking powder

1/2

tsp

Baking soda

1/4

tsp

Salt

1/3

Cup

Finely ground pecans

( 56 g / 2 oz)

1

Large

Egg

1/2-1

tsp

Espresso powder

1

tsp

Vanilla extract

2/3

Cup

Chocolate chips

(113 g / 4 oz)

3/4

Cup

Chopped pecans

(90 g / 3 oz)
Instructions
Preheat oven to 350F and line two cookie pans with parchment paper.

In a medium bowl sift the flour, ground pecans, baking powder, baking soda, and salt. Use a fork to distribute and set aside.

Place espresso powder in a small bowl add the vanilla extract and allow the powder to dissolve.

In a bowl of a standing mixer fitted with the paddle attachment beat the butter and sugar on medium until light and fluffy. About 2-3 minutes.

Add the egg and mix to incorporate then add the vanilla-espresso mix.

Sprinkle in the flour mix then stop the mixer and fold in the chopped pecans and chocolate chips.

Spoon the dough into cookie balls and place them on a cookie sheet leaving 2.5" space between each cookie.

Bake for 10-11 minutes or until the sides of the cookies are golden.

Remove from the oven and let cool for 5-10 minutes.
Recipe Notes
If you so not have bread flour, use all-purpose flour.
If the cookies do not spread, lower the oven temperature to 327F (160C) and use a light pan.