Last updated on May 26th, 2023.
This Chocolate Drop Cookies recipe calls for three different types of chocolate which makes them the perfect chocolate lover's treat. It is also a wonderful addition to our chocolate recipes collection like this Brownie Cake, these Biscoff Brownies, these Chocolate Covered Pecans, and these Matcha Brownies.
The cookies are, tender, rich, and fudgy, just one bite, and you are hooked!
But what I love the most about this recipe is that at the end of the day this is a basic Chocolate Drop Cookies recipe. Just a good ol' classic mix and drop that will satisfy your heart and soul in no time.
This recipe is adapted from the Bigger Bolder Baking cookbook.
What makes a drop cookie a drop cookie is the use of a cookie spoon (or with the help of two spoons) to "drop" the dough over a baking sheet, then bake it in free form. Meaning with no molds or shaping, much like these Coffee cookies, and these Chocolate Chunk Cookies.
Why These Chocolate Drop Cookies?
Let's state the obvious first: it's triple chocolate chip cookies, an old-fashioned treat we all love, and I can not think of any reason why you would not want to bake these. But just for the sake of it, here are some reasons and ideas:
Easy. This is a straight forward easy recipe.
Versatile. These chocolate cookies are great for any occasion including the holiday season and can be decorated for the special festivity.
The chocolate can be the star of the show or a canvas for other amazing combinations such as coconut and peanut butter, or maybe orange if you're in the mood for Orange and Chocolate Dessert.
Make ahead. You can make and freeze it for a last-minute or a midnight snack.
Key Ingredients
Please note that the full list of ingredients including measurements you can find on the recipe card at the bottom of the post.
Chopped and melted bittersweet chocolate. Use a brand you like and avoid melted chocolate chips or any chocolate substitutions. I have the full article for you all about What Is Dark Chocolate?
Unsalted butter softened. You can also use salted butter, if you do make sure not to add any salt.
Granulated sugar and dark brown sugar.
Molasses. Not only to add flavor and enhanced the chocolate flavor but also the molasses is what gives the cookies their tender and moist texture.
Our dry ingredients are all-purpose flour, cocoa powder, baking powder, and salt.
Eggs at room temperature.
Milk chocolate chips.
What Chocolate To Use
Like I mentioned before, use the type of chocolate you enjoy eating. If you love dark chocolate then use bitter-sweet chocolate instead of semi-sweet but remember that the cocoa powder is also unsweetened and the cookies might have a strong chocolate flavor.
The type of cocoa powder will also make a big difference, I used a combination of both and you can use either. Make sure to read my posts about Dutch cocoa powder vs. Natural cocoa powder, and Whats Is Cocoa Powder for a better understanding.
Substitutions
The recipe calls for basic everyday ingredients that are easy to find at your local market. I highly recommend that you use the same ingredients the recipe calls for without any substitutions.
How To Make Chocolate Drop Cookies
As always, please make sure to bring all of the ingredients to room temperature. This is key and one of the most important ways to guarantee the success of this recipe.
Cream butter and sugars in a bowl of an electric mixer (you can also use a hand mixer), until fluffy and a bit lighter in color. Do not rush this step. This is the only way we incorporate air into the cookies (especially if you are using Dutch cocoa powder) and it not only helps with the puffing of the cookies it will also provide us with a tender texture.
Drizzle in the melted chocolate and molasses mix until incorporated then add the eggs one at a time.
In a large bowl mix together the dry ingredients then add them to the wet ingredients mixture.
Fold in the chocolate chips.
Scoop the dough over a cookie sheet lined with parchment paper and then bake cookies.
The cookies are done when you notice that they no longer have a glossy shiny appearance to them and their top looks mat. When out of the oven they are very tender and will break if touched, so allow them to cook for a few minutes before transferring to a cooling rack.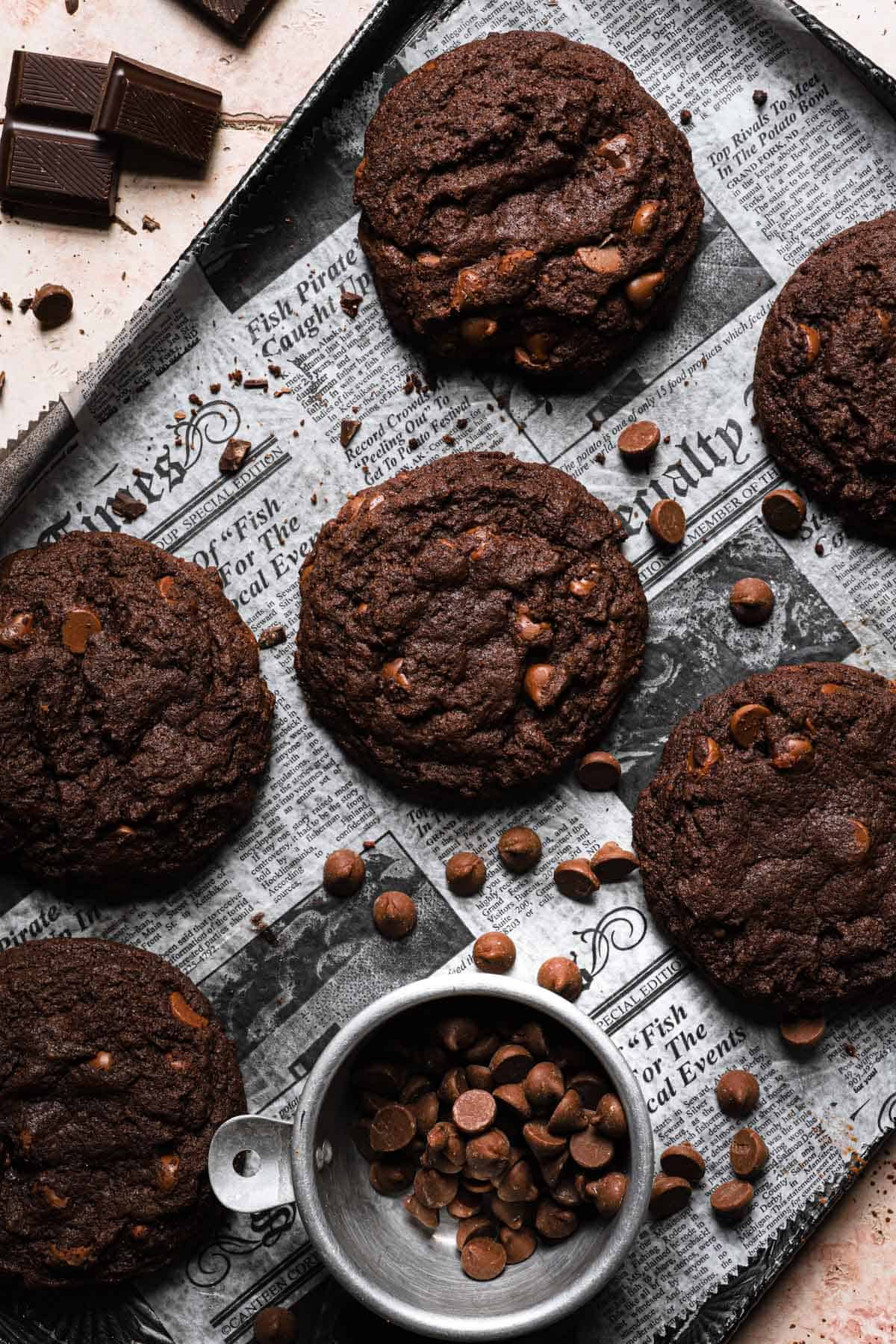 Trouble Shooting And Expert Tips
It's not uncommon to make mistakes when we bake, even if we bake a basic recipe like this one, please read the notes below and save some frustrations. First, take a look at the dough and even touch it with your fingers, it should be soft and moist but not too wet. When the cookies come out of the oven they are very soft and tender. Allow them to sit at room temperature for a few minutes before transferring them to a cooling rack.
The cookies are too flat. Three reasons: 1) You did not beat the sugar and butter long enough. 2) The cookie dough was too warm and it melted faster when baked causing the cookies to spread and place it in the refrigerator for about 30 minutes. 3) Your oven runs too low, try to increase the temperature by 10-15 degrees. I like to always test bake 1-2 cookies just to make sure and troubleshoot before baking the full batch.
The dough did not spread at all. Two reasons: 1) You added too much of the dry ingredients, make sure to use a kitchen scale. 2) The cookie dough is too cold and the cookies set before they had a chance to melt, make sure to bring the dough to room temperature.
The cookies are bitter. Again you may have added too much cocoa powder, a kitchen scale is key when it comes to baking. Also, avoid using chocolate over 65% cocoa.
Too dry. Too much flour I will say it once more: kitchen scale. Flour is a powder and it is very hard to eyeball the right amount even when we use measuring cups.
Make sure to bring all of the ingredients to room temperature.
Pay attention to the color of your pan, dark-colored pans will set the cookies faster. Light-colored pans will need more time and the cookies will spread more.
If possible, add the flour using a rubber spatula to prevent it from becoming too chewy.
Chilling vs, no chilling
There is no need to chill the dough before baking. Three types of chocolate will enhance the flavor of the cookies. However, if you live in a very warm and humid climate, the dough might be too soft to be baked right away, so take your time and chill the dough for about 30-45 minutes.
Alternatives And Flavoring
Gluten-free chocolate chip cookies. Use 1:1 gluten-free flour instead of all-purpose flour.
Dairy-free. Use dairy-free or vegan butter and chocolate.
To personalize these quick chocolate drop cookies, replace some of the chocolate chips with crushed peanuts, shredded coconut, and white chocolate chips. Or, mix in 1/4-1/2 tsp of your favorite spice like cinnamon, cardamom, or even cayenne pepper.
Decorated cookies. You can use ganache for chocolate frosted cookies or iced chocolate cookies options.
Special occasion. Sprinkle with crushed peppermints, or themed sprinkles to celebrate Valentine, Christmas, or even Chanuka.
Ice cream sandwiches. Place an ice cream scoop in between two cookies and enjoy!
Storing and Make-ahead
The cookies are best stored at room temperature for up to 3 days, in an airtight container.
To make ahead: scoop and refrigerate the dough, when solidify place it in a freezer bag and freeze for up to 4 weeks, when ready to make, remove it from the freezer and allow it to reach room temperature before baking.
FAQ
How can I make them Hershey's drop cookies?
Use Hershey chocolate products.
Are these the same as old-fashioned chocolate drop cookies?
Not quite, the old-fashioned ones are more cake-like with chocolate frosting.
Can I bake this recipe for one?
To turn this into a chocolate drop cookie recipe, you'll need to freeze and then bake as many or as few as you would like.
Here Are More Chocolate Articles
How to temper chocolate?, What is Tempered Chocolate?
DID YOU TRY THIS RECIPE?
If you tried this recipe or any other recipe by One sarcastic Baker baking blog, please take a movement to rate and comment at the end of each recipe. Your questions, ideas, and thoughts are priceless, and here at OSB we value them more than butter!
And don't forget to tag me on Instagram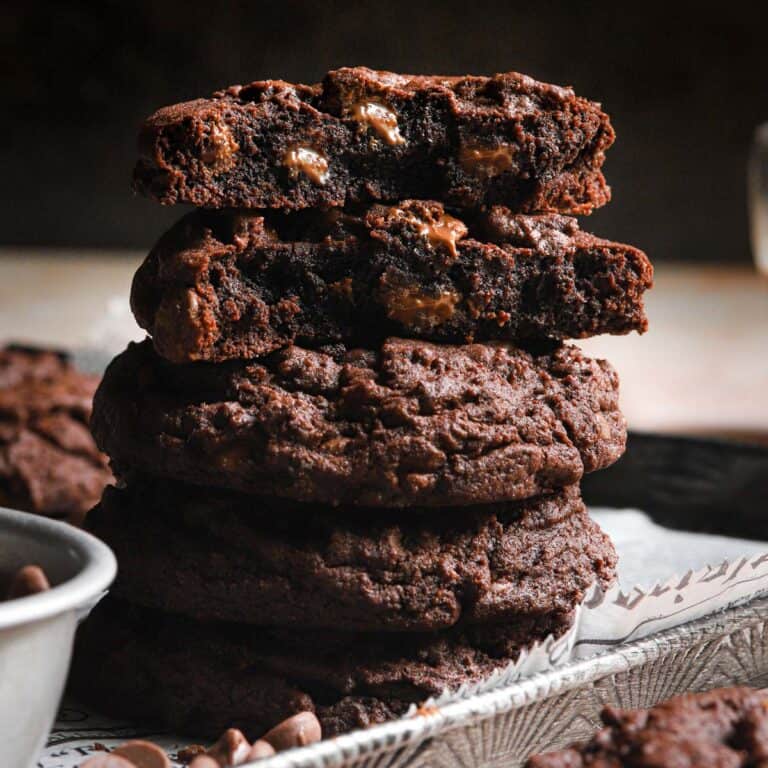 Triple Chocolate Chip
Ingredients
1

Cup

Chopped bittersweet chocolate

(170 g / 6 oz)`

2

Cups

All Porpuse Flour

(284 g / 10 oz)

1/2

Cup

Unsweetened Cocoa Powder

(57 g / 2 oz)

1

tsp

Baking Soda

1

tsp

Salt

3/4

Cup

Unsalted butter, soften (1 1/2 sticks)

(170 g / 6 oz)

3/4

Cup

Sugar

(170 g / 6 oz)

2/3

Cup

Dark Brown Sugar

(115 g / 4 oz)

1

TBS

Molasses

3

Large

Eggs

1 1/2

Cups

Milk chcocolate chips

(255 g / 9 oz)
Instructions
Preheat oven to 350F and line two cookie sheets with parchment papaer.

Melt the bittersweet chocolate and set it aside to cool for about 10 minutes.

In a large bowl / a bowl of a standing mixer fitted with the paddle attachment, beat the butter and sugars until fluffy and light in color.

Reduce speed to low and slowly drizzle in the molasses and melted chocolate.

Add the eggs one at a time and mix to fully incorporate.

Sift together the flour, cocoa powder baking soda, and salt into the bowl and mix until the dough comes together.

Fold in the milk chocolate chip.

Using a small or medium cookie spoon scoop the batter and place it on the pan leaving 2" space between each cookie.

Bake for 8-10 minutes remove from the oven and let sit for a few minutes before removing from the pan.
Recipe Notes
Make sure all of the ingredients are at room temperature.
Bake the cookies on the middle oven rack and pay attention to the color of the pans. Dark pans might need less time than light pans. Light pans will cause the cookies to spread more.