Last updated on August 9th, 2022.
Yes, you can totally take a second to soak in these Biscoff butter cookies. And in case you wonder, these cookie butter cookies are tender, crumbly, melt-in-the-mouth loaded with intense Biscoff flavor. I think these just may be your new favorite cookie recipe.
And I found it quite astonishing that we bakers have managed to create countless Biscoff butter recipes, mostly because Biscoff butter is made out of cookies. Only the flavor is about 100 times more intense which makes it such a great candidate for so many Biscoff recipes, like this Biscoff ice cream, Biscoff Cheesecake, Biscoff layer cake, Biscoff baked donuts, Biscoff brownies, and now Biscoff cookie recipe.
What is the flavor of a biscoff cookie butter?
The key ingredients in Biscoff cookie spread (affiliate link) are the Delta flights' famous Lotus cookies or Speculoos cookies. These cookies are dark shortbread cookies with a warm, cinnamon flavor and a deep caramel flavor
So In a nutshell this is what the butter tastes like but since the cookies are so packed and smooshed together the flavor is intense and so so rich.
Why this biscoff butter cookies recipe?
Well, I am glad you asked because I believe this recipe wraps up everything we love about baking both as bakers and as sweets fans.
Easy and simple cookie. You only need a large mixing bowl, a small bowl, and a rolling pin.
Therapeutic. We get to use our hands to mix the ingredients, feel the dough and then roll, fill, and cut. This is baking therapy 101.
Versatile. Use this wonderful recipe to bake peanut butter cookies, Nutella cookies, or tahini cookies.
Multi-purpose. This cookie dough is perfect for shaping and baking Hamentashen. A triangle-shaped Jewish cookie is traditionally eaten during Purim, like these simple Hamantaschen cookies and these S'more hamentashen.
Delicious. OMG these biscoff cookie butter recipes are so delicious, they are buttery, warm, tender, and literally melt in your mouth.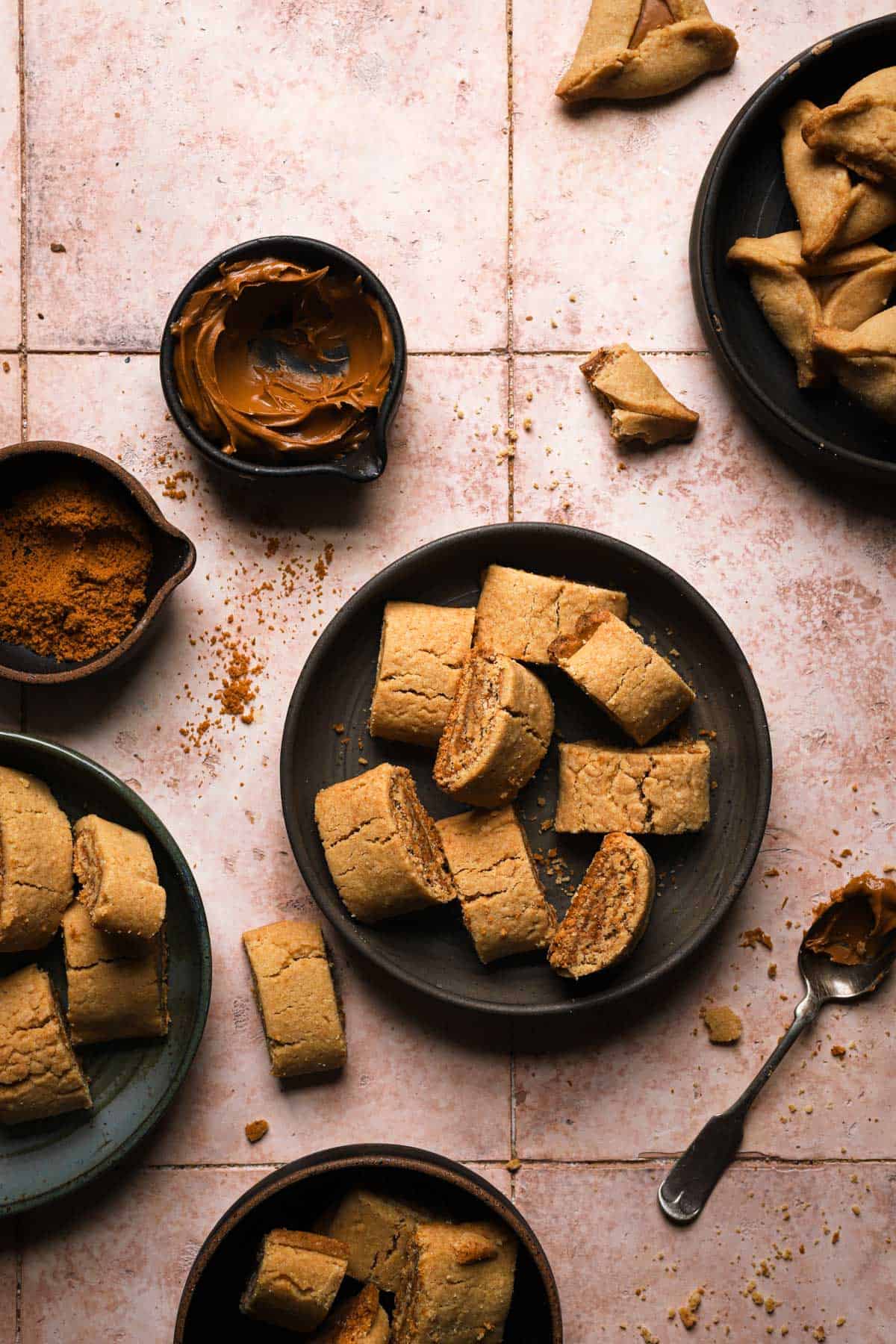 Ingredients in this cookie butter cookie recipe
Please make sure that all of the ingredients are at room temperature, this is key and the difference between a tender and buttery cookie to a tough chewy cookie. You can find the full recipe including measurement in the recipe card below.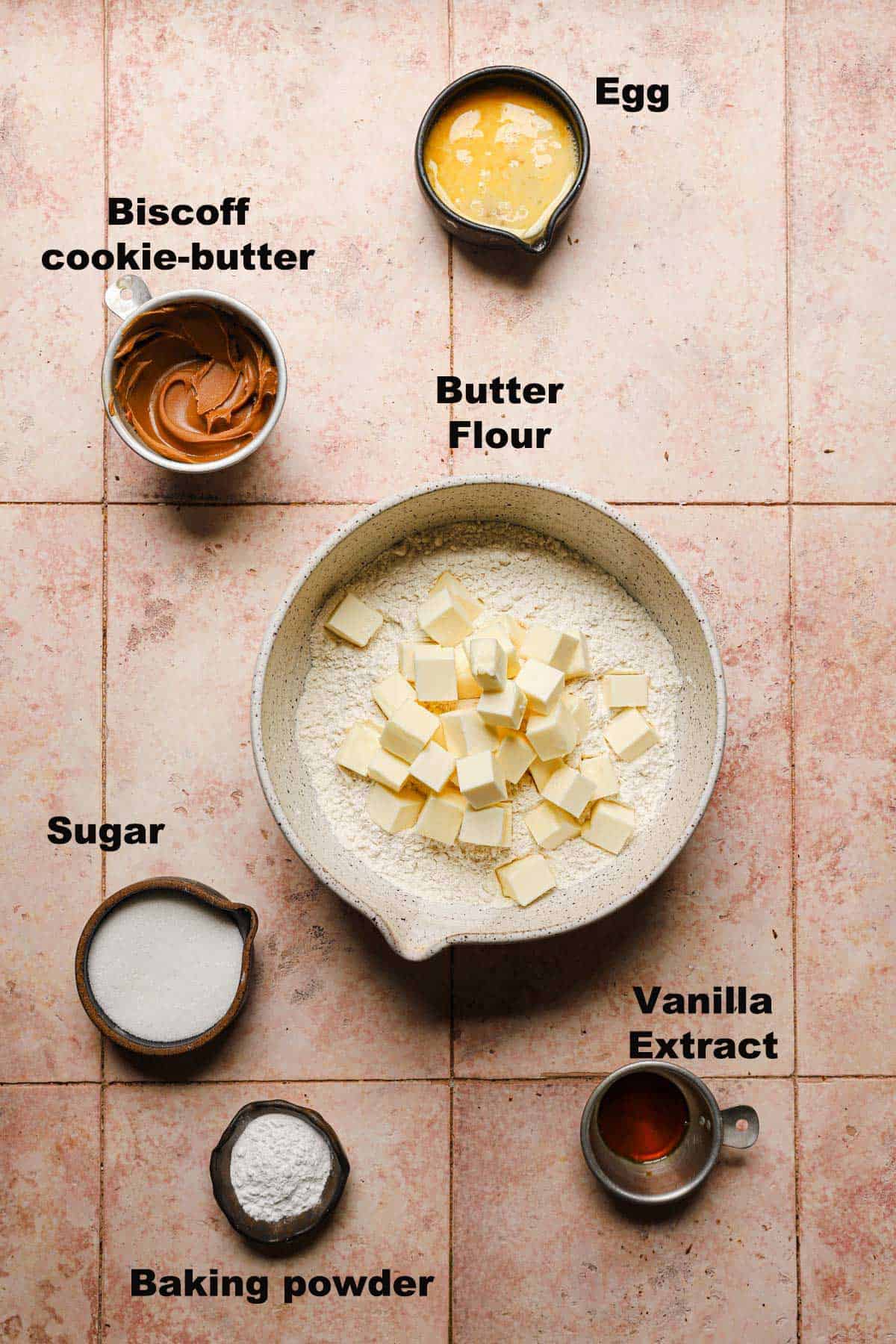 All-purpose wheat flour.
Baking powder
Granulated sugar
Unsalted butter, cut into 1/4 " pieces
Biscoff spread. For this recipe, you will need about 1 full jar of cookie butter, for both the dough and the filling.
Egg, beaten
Vanilla extract
Biscoff cookie crumbs.
Substitutions:
Non-dairy. Use vegan butter to make these cookies dairy-free.
How to make this biscoff cookie butter cookies?
Below are two options for you to choose from: the rolled Rugelach style cookies and the hamantaschen cookie butter spread cookies. Note that you'll make the dough in the same way, but the shaping process and baking time are different.
Making the dough
Measure and sift the flour, and baking powder in a large bowl then mix in the sugar.
Add the butter and use your fingers to toss the butter with the dry ingredients.
Add the cookie butter, beaten egg and vanilla extract and use your hand to mix the ingredients together until a smooth, soft dough is formed with no butter clumps.
Divide the dough into 4 equal portions, wrap each part with plastic wrap and refrigerate for about 30-60 minutes.
Shaping Rugelach style
Dust your workplace with flour then roll the dough into 9"x7" rectangle.
Spread with cookie butter and sprinkle with some cookie crumbs.
Use the wider side to gently roll the dough inside towards the opposite side and form a log.
Gently lift the log and place it on a cookie sheet lined with parchment paper.
Shaping the hamentashen
Be sure to check out this Hamantaschen cookies recipe, and this S'mores Hamentshen.
Dust your workplace with flour and roll the dough into ⅓"-½" thick.
Use a 3" (or larger) cookie cutter to cut the dough and dollop 1 tsp of speculoos cookie butter at the center of each circle.
Using a small brush or your finger, dipped in water or a beaten egg, to brush the edges of the dough.
Use your fingers to lift the dough and pinch it in the corner. Repeat with the other sides until you get a triangle shape.
Gently lift the cookie and place it on a lined baking sheet.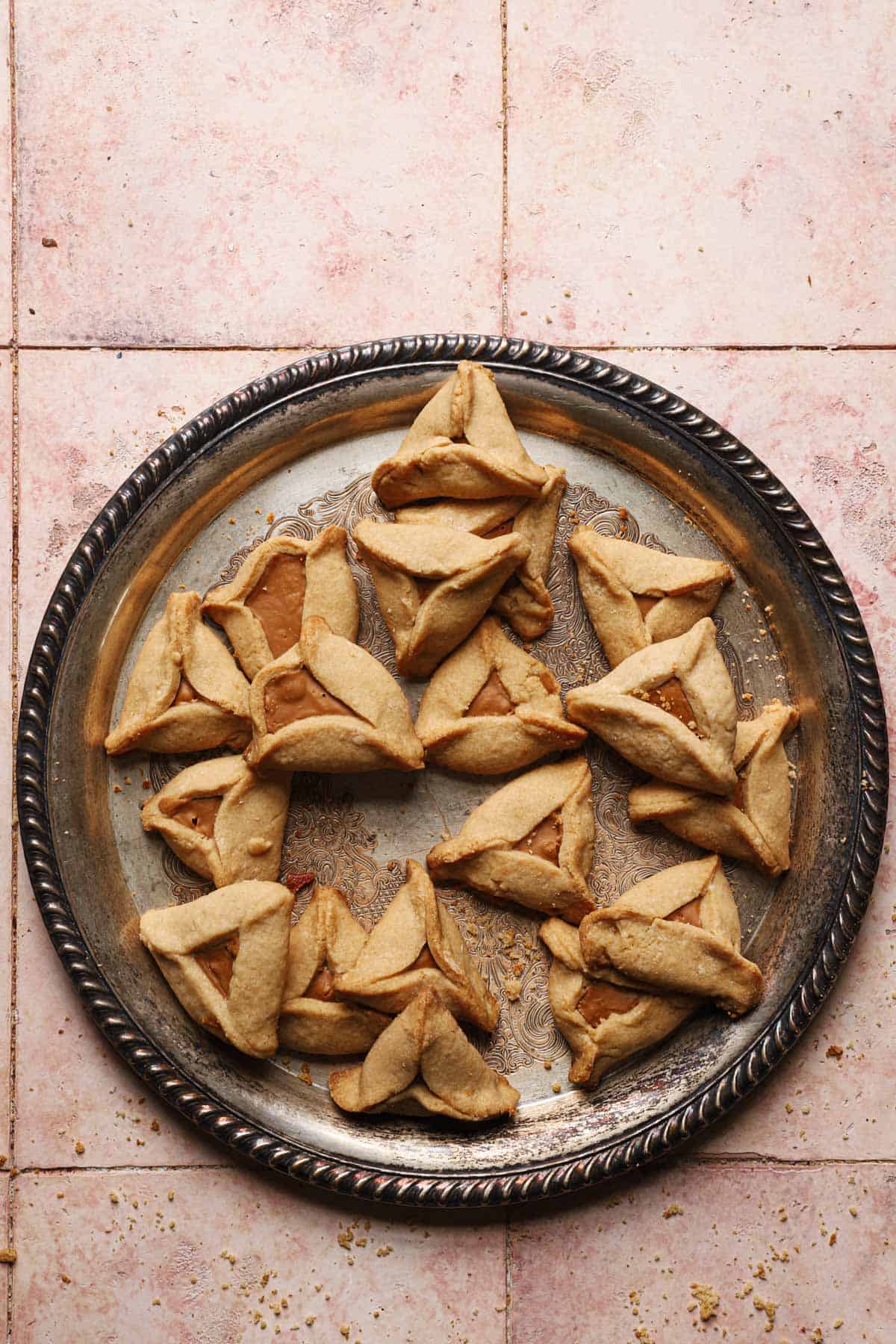 Variations
If you are not happy with Lutos Biscoff cookies butter being the main ingredient, here are some options you can choose from:
Peanut butter, Nutella, Tahini. Use either one instead of the Biscoff butter.
S'mores cookies. Replace the biscoff butter with 2 tbsp of sour cream, fill with chocolate spread and sprinkle with graham cracker crumbs and mini marshmallows.
Add texture. Sprinkle white chocolate chips, chocolate chips, chopped nuts, or mini marshmallows.
Storing
The cookies are best when stored in a cookie jar for up to 7 days and an airtight container for up to 4 days.
Freezing the cookies. Make sure to wrap the cookies in groups of 5-7 with plastic wrap, then place in a freezer bag and freeze for up to 4 weeks.
When making hamentashen you can freeze the cookies unbaked. Make sure to use a large and wide plastic container or a freezable bag. Line the cookies in an even layer, top with parchment paper then layer some more cookies on top. You can freeze the cookies unbaked for up to 3 months. When ready to bake, simply remove the cookies from the freezer, line them on a baking sheet with parchment paper and bake, increasing the baking time by 3-4 minutes.
Expert tips and troubleshooting
Make sure to carefully read the tips below for a successful baking experience:
Measurement mater, if possible use a kitchen scale. It is the best way of measuring baking ingredients, even more so than a measuring cup. Check out this Baking Conversions post for exact measurements.
There is plenty of cookie butter flavor, so do not be tempted to spread more than 3 tbsp, about 8 teaspoons of cookie butter Biscoff filling. The butter might spread the cookies and spread out. (see picture below)
Make sure not to roll the dough too thin, during baking the dough might break.
To make these cookies using a stand mixer, place the flour, baking powder, and sugar in the bowl of a stand mixer fitted with the paddle attachment. Add the pieces of butter and mix until the mixture resembles wet sand. Add the remaining ingredients and mix until a dough comes together.
Roll the fough very gently or it eill tear and stick to the rolling pin.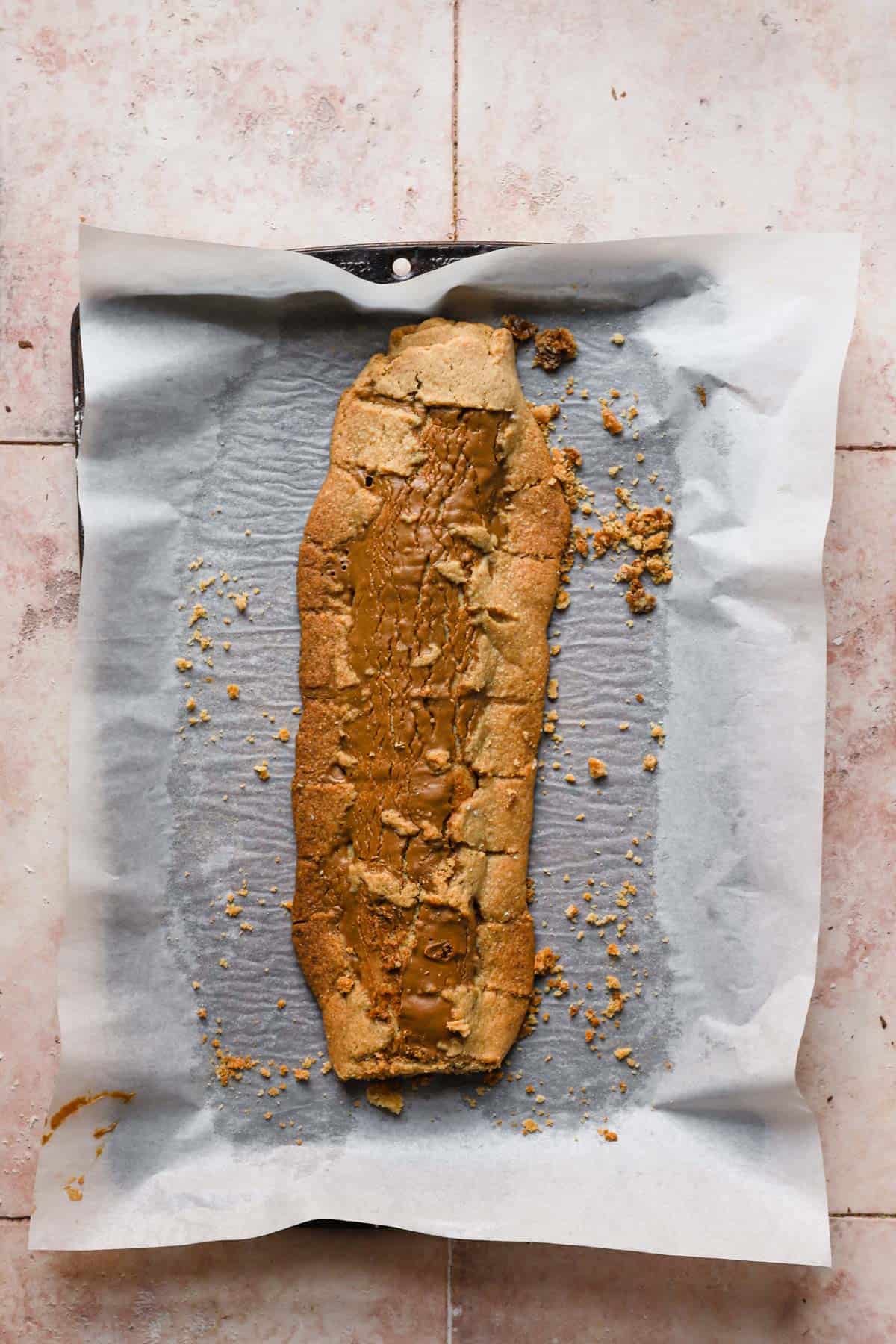 FAQ:
What is Biscoff cookie butter used for?
It is great for filling, dipping, and adding to recipes.
Where can I buy it?
Most grocery stores carry it in the peanut butter aisles.
Is there a different brand?
Yes, try Trader joe's cookie butter.
Is cookie butter vegan?
Some brands may contain animal products in the butter.
Is cookie butter gluten-free?
No.
Should it be refrigerated before opening?
Storing instructions should be found on the jar's label.
Is Biscoff and cookie butter the same?
Yes. Different brands.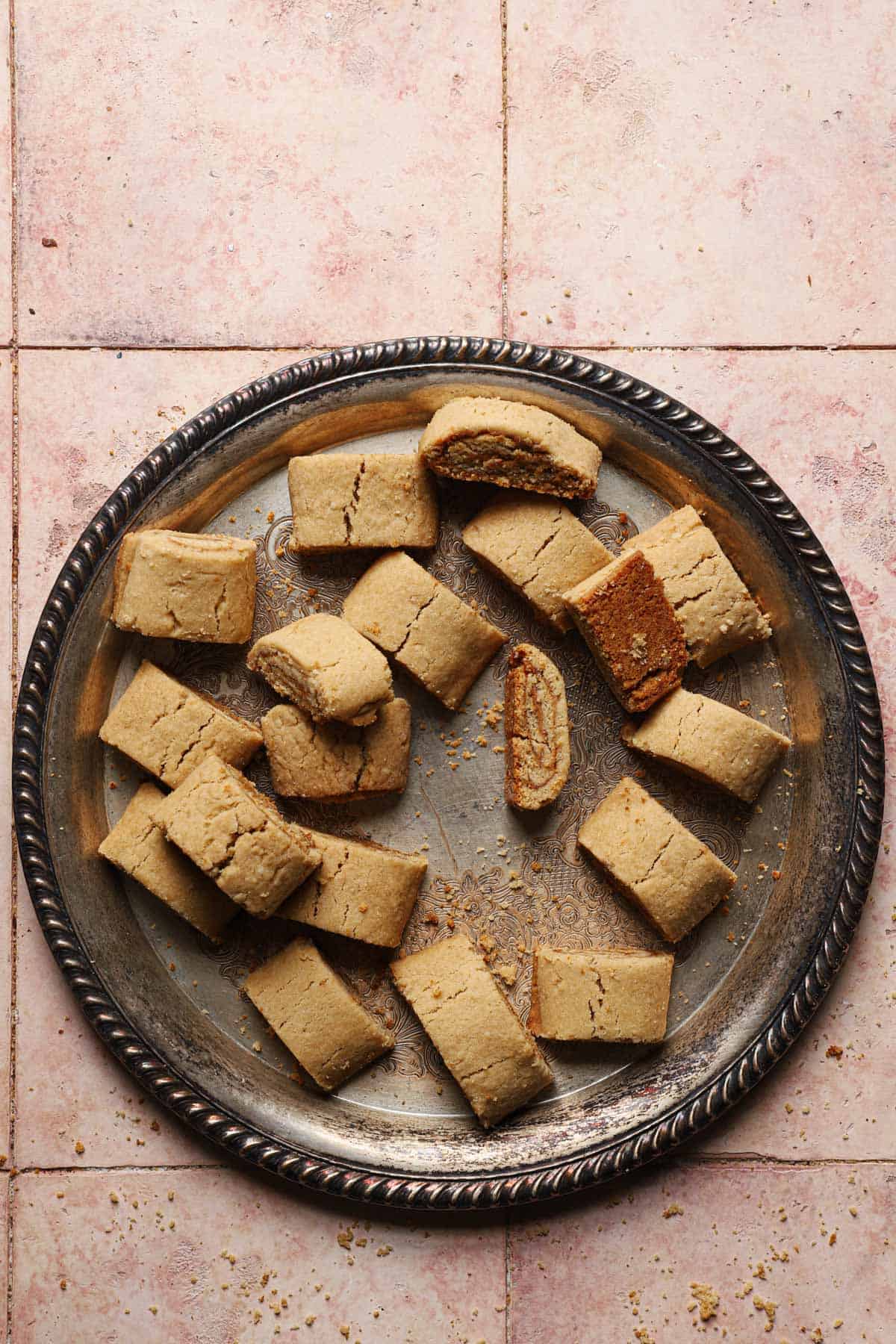 MORE RECIPE YOU MIGHT LIKE
Chocolate Rolled Cookies , Black Forest Cupcakes, Rugelach
DID YOU TRY THIS RECIPE?
If you tried this recipe or any other recipe by One sarcastic Baker baking blog, please take a movement to rate and comment at the end of each recipe. Your questions, ideas, and thoughts are priceless, and here at OSB we value them more than butter!
Biscoff Cookie Butter
Tender, buttery and crumbly Biscoff butter cookies loaded with Biscoff flavors.
Ingredients
3

Cup

All purpose flour

(360 g / 13.5 oz)

1

TBSP

Baking powder

1/4

Cup

Granulate sugar

(50 g / 2 oz)

14

TBSP

Unsalted butter, soft and cut into 1/4" pieces

(200 g / 7 oz)

1/2

Cup

Biscoff butter

(120 g / 4 oz)

1

Large

Egg, beaten

1

tsp

Vanilla extract

1

Cup

Biscoff butter, for filling

(240 g / 8 oz)

1/2

Cup

Crushed Biscoff cookies crumbs
Instructions
In a large bowl, sift the flour and baking powder. Add the sugar and use a fork to evenly incoporate.

Toss the butter pieces in the flour mixture then add the remaining ingredients.

Use your hand to mix the ingredients until a soft yet firm dough is formed.

Divide the dough into 4 equal parts then wrap each with plastic wrap and refrigerate for a minimum of 30–60.

Preheat oven to 350F and line a large cookie pan with parchment paper.

Dust a clean surface with flour, and roll one of the pieces into a 9"x7" rectangle.

Spread the dough with 3 tbs of Bscoff butter and sprinkle with crushed Biscoff cookies.

Roll the dough from the wider side in, place the log onto the prepared pan and use a sharp knife to make insertion with 1" space in between.

Bake for 20-22 minutes on the middle shelf rack until the logs are lightly browned and puffed.

Remove from the oven allow to cool for 5 minutes then use a knife to cut the cookies.
To make hamentashen
Roll each piece until 1/3" thick. Use a 3" round cookie cutter to cut the dough.

Dollop 1/2 tsp of Biscoff butter at the center of each circle. Use a small brush to brush the edges of the dough with water or a beaten egg.

Gently use your fingers to lift two edges of the dough and pinch the corner where the dough meets. Repeat with the remaining dough until you have a triangle.

Place the cookies on top of the prepared pan and bake for 12 minutes. Remove from the oven and allow to cool before dusting with sugar.
Recipe Notes
Make sure all of the ingredients are at room temperature.
Do not overfill the cookies or roll them too thin, they will spread and break.
For straight logs, trim the edges of the dough, before rolling it.
Roll the dough very gently with little force, to avoid it from sticking to the rolling pin and tearing.