These Chocolate Rolled Cookies are Tender and flaky cookie dough smothered with chocolate filling and rolled to a perfect Rugelach like shape.
They say that change in unavoidable and that change is the only certainty in life. That was not what I was thinking when I baked the latest batch of those cookies. I simply wanted to share the love with you all and my amazing 8 years old daughter.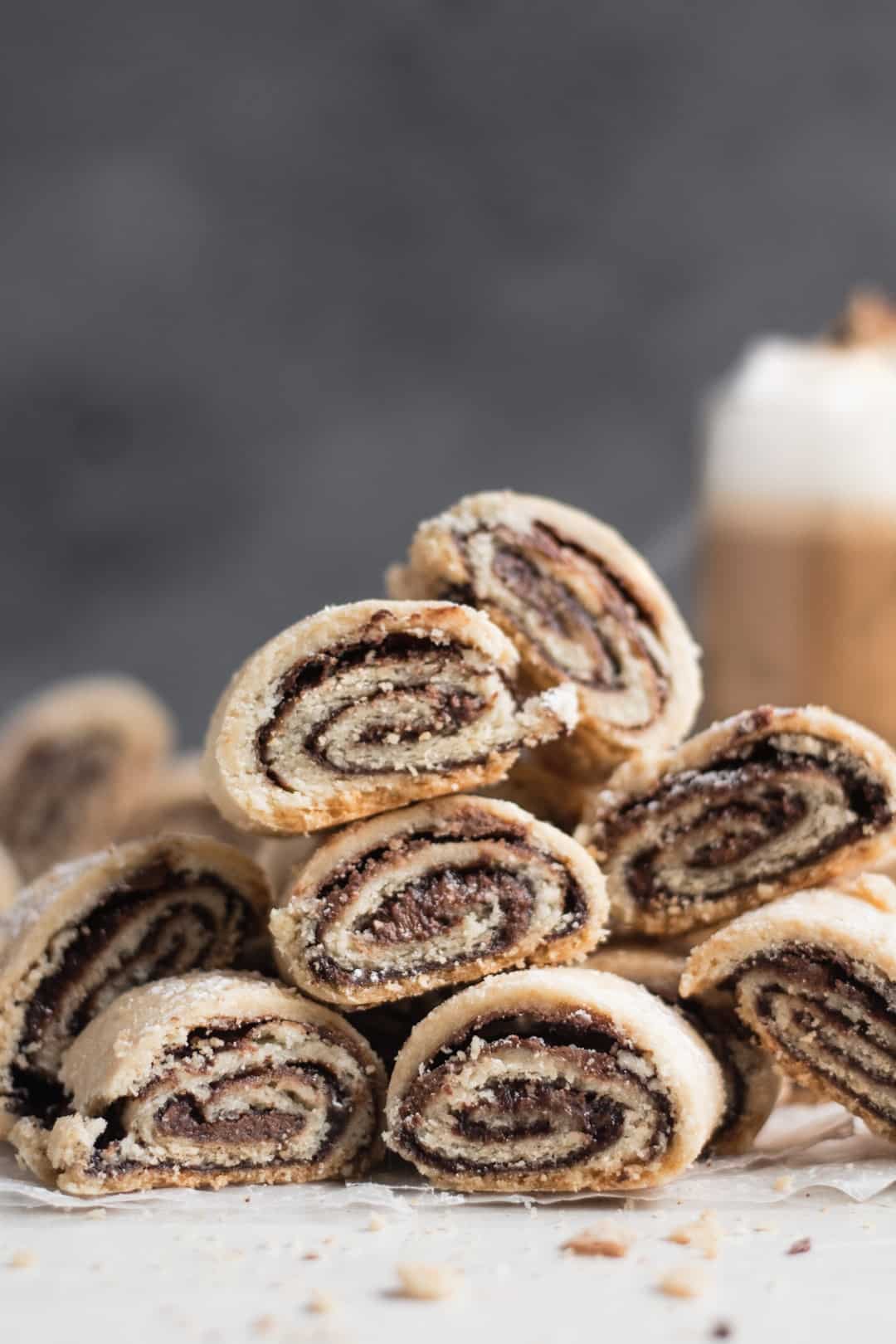 For some reason she decided it is time to bring her inner Socrates to life and a question (in the form of a monologue) about change not actually being a change had begun.
It was something about me baking the same recipe for many years but for someone different and with a different filling, but I have the same intentions but I know the result might change but not really. (no need to read this line again…it is what it is)
In cases such as this, best is to just nod your head and hope she will ask for another cookie before your thoughts on the matter. Better yet, give her one. (Parent survival guide 101 #momlife)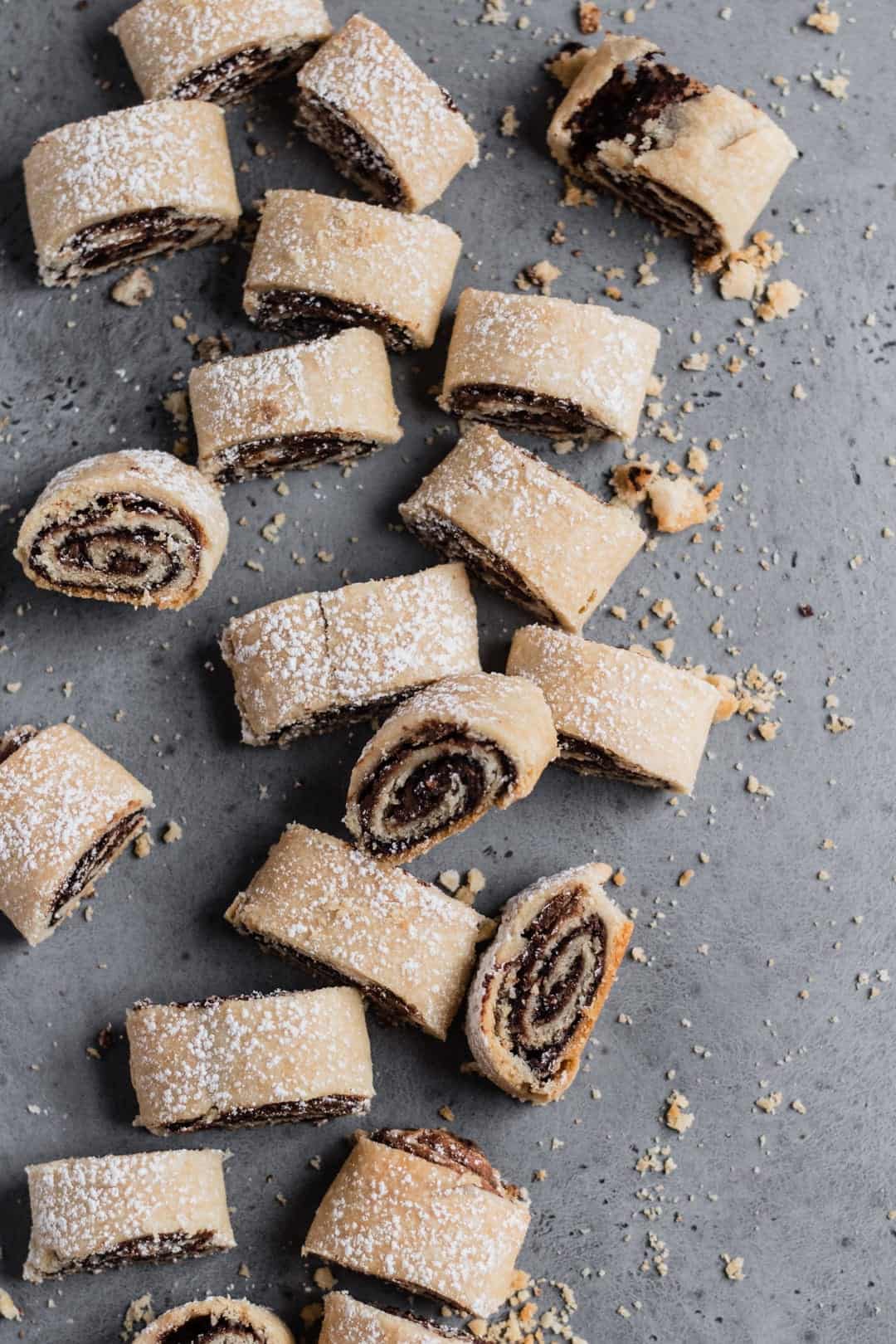 Now Lets Talk About This Chocolate Rolled Cookie Recipe:
It is very important not to over mix the dough. Once all the ingredients come together into a big messy lumps of dough stop the mixer and bring it all together with your hands.
You can fill the dough with Date spread and chopped walnuts. If your local market carries dates spread I highly recommend it.
The cookies are baked before the dough is fully cut. First step right before baking is to make insertions through the first layer of the filling. shortly after baking, the cookies are cut through.
The dough has a very small amount of sugar so the cookies will not brown.

Look at the bottom of the cookie loaf.

Once it is lighty-medium golden it is ready.
One more thing…
Don't forget to tag @OneSarcasticBaker on Instagram if you bake this recipe. Would love to see your creations!
Here are some more cookies recipe you might enjoy:
Chocolate Rolled Cookies
Ingredients
4

Cups

AP Flour

(500 g / 18 oz)

2

tsp

Baking Powder

2

Sticks

Unsalted Butter, cold

(225 g / 8 oz)

1

TBS

Sugar

1/2

Cup

Water

(120 ml / 4 foz)

1/4

Cup

Vegetable Oil

(55 g / 2 oz)

2

Cups

Chocolate spread (Nutella is best)
Instructions
In a bowl of a standing mixer fitted with the paddle attachment, place the flour, sugar, baking powder and butter and mix until the butter is the size of peas.

Add the water and oil and mix just until large and moist lumps of dough have formed.

Remove the dough from the bowl and mix with your hands to form a ball. (mix just to combine)

Divide the dough into 4 even parts (shape as a rectangle disk), wrap each piece with plastic wrap and place in the refrigerator for minimum 1 hour or preferably over night.

When ready to bake, preheat oven to 350F and line 2 baking pans with baking paper.

Rolle each piece to a 12″x8″ rectangle and spread about 1/2 cups of the chocolate spread.

Roll the dough starting from the end closer to you. Once you have rolled the dough, place it in the baking pan and using a sharp knife make horizontal insertions ,along the dough, making sure there is 1″-1.5″ space between each insertion. (Cut it just until you notice the first layer of the chocolate. )

Repeat the same with the rest of the dough parts and bake for 40-45 minutes.

Remove from the oven, let cool for 10-15 minutes and then cut it into cookies using the iterations as guide lines.

Once the cookies have completely cooled, dust it with powdered sugar.