Last updated on June 15th, 2021.
This Orange Cream Cheese Cake is my new favorite treat!. This cake is tender, soft, moist, and loaded with a creamy orange flavor.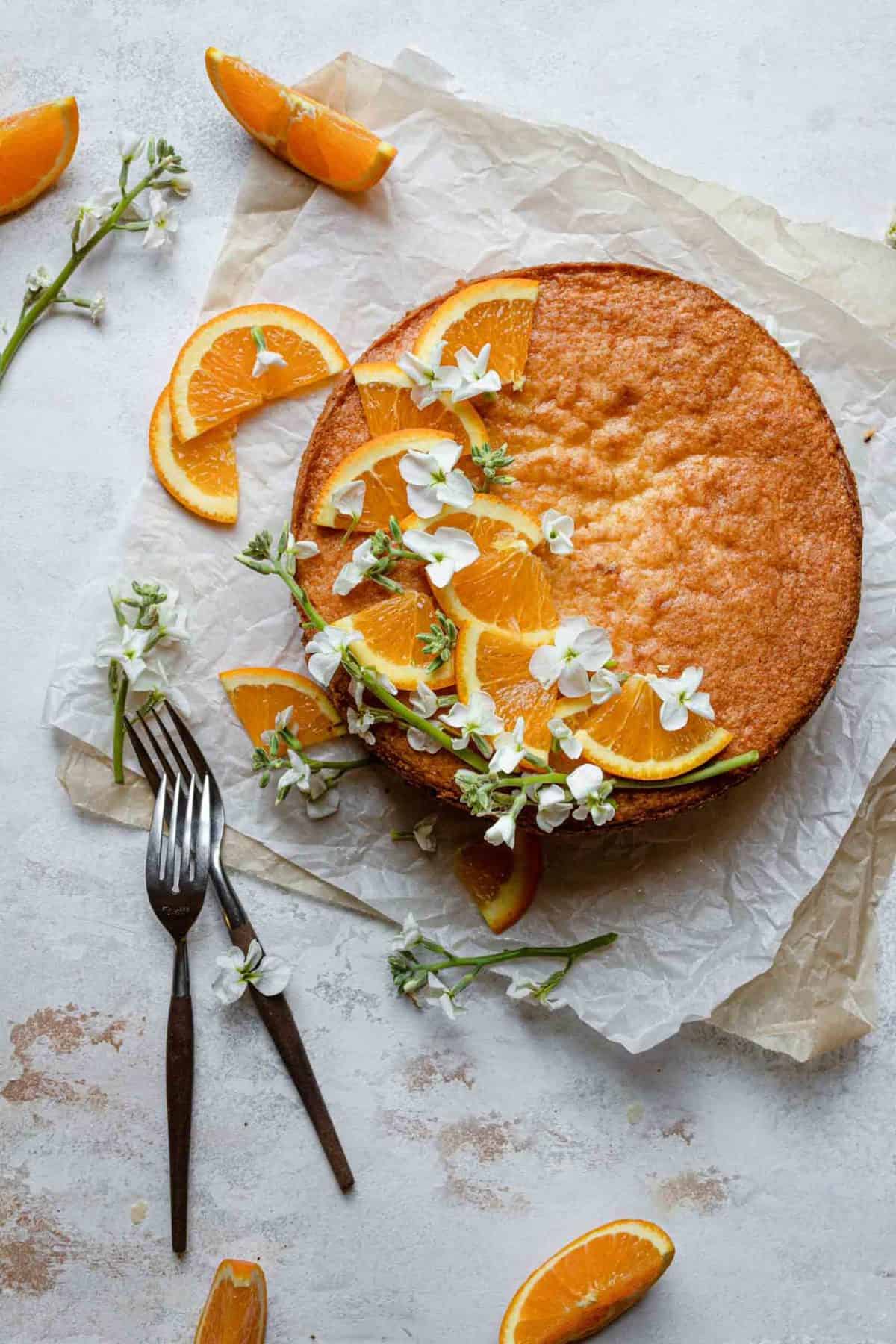 I am so excited about this cake. There is something about the smell of fresh orange zest that just brings me joy. In addition, this cake has a pretty nice amount of cream cheese which adds an amazing texture and creaminess to the tangy orange flavor.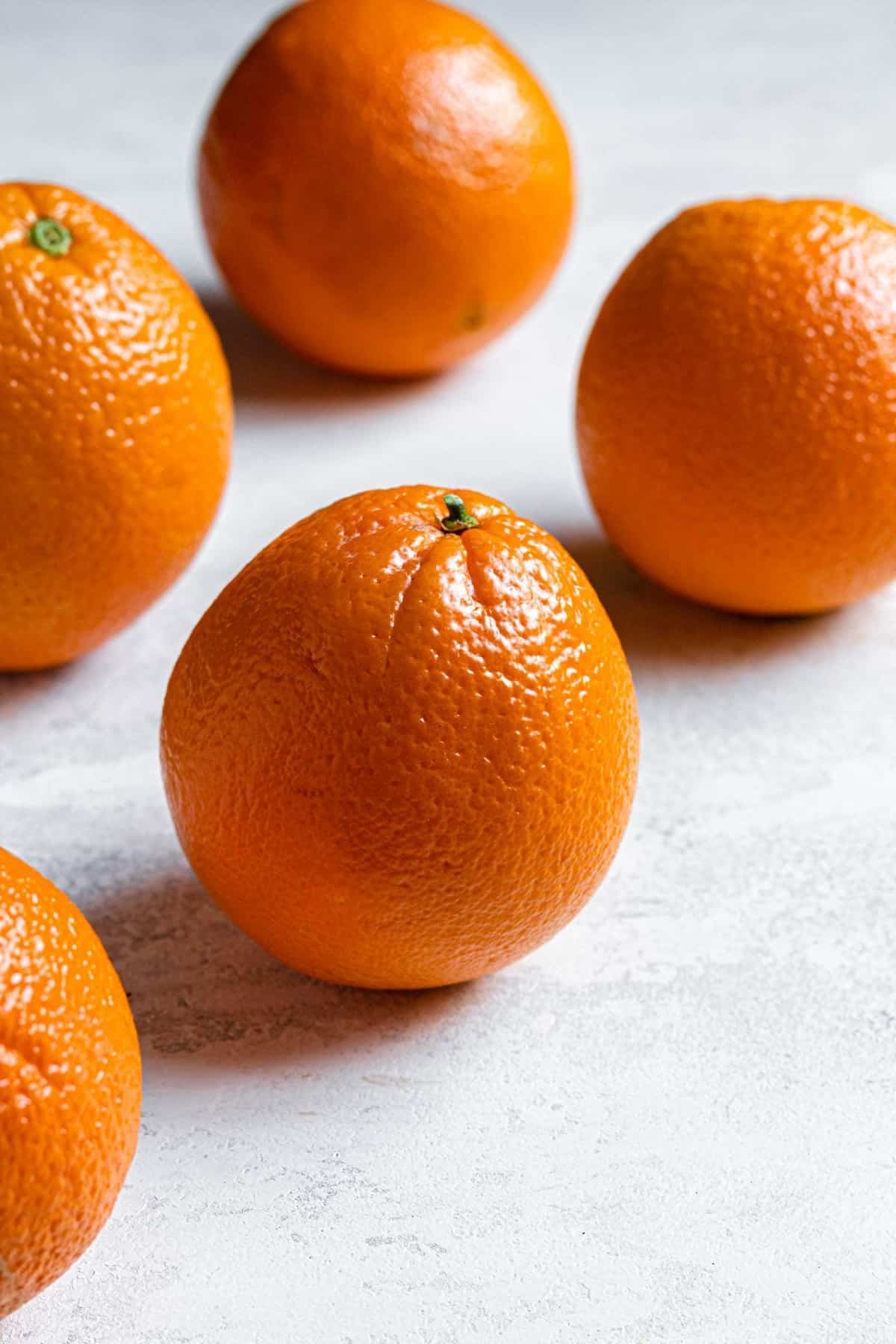 Ingredients used in this Orange Cream Cheese Cake recipe: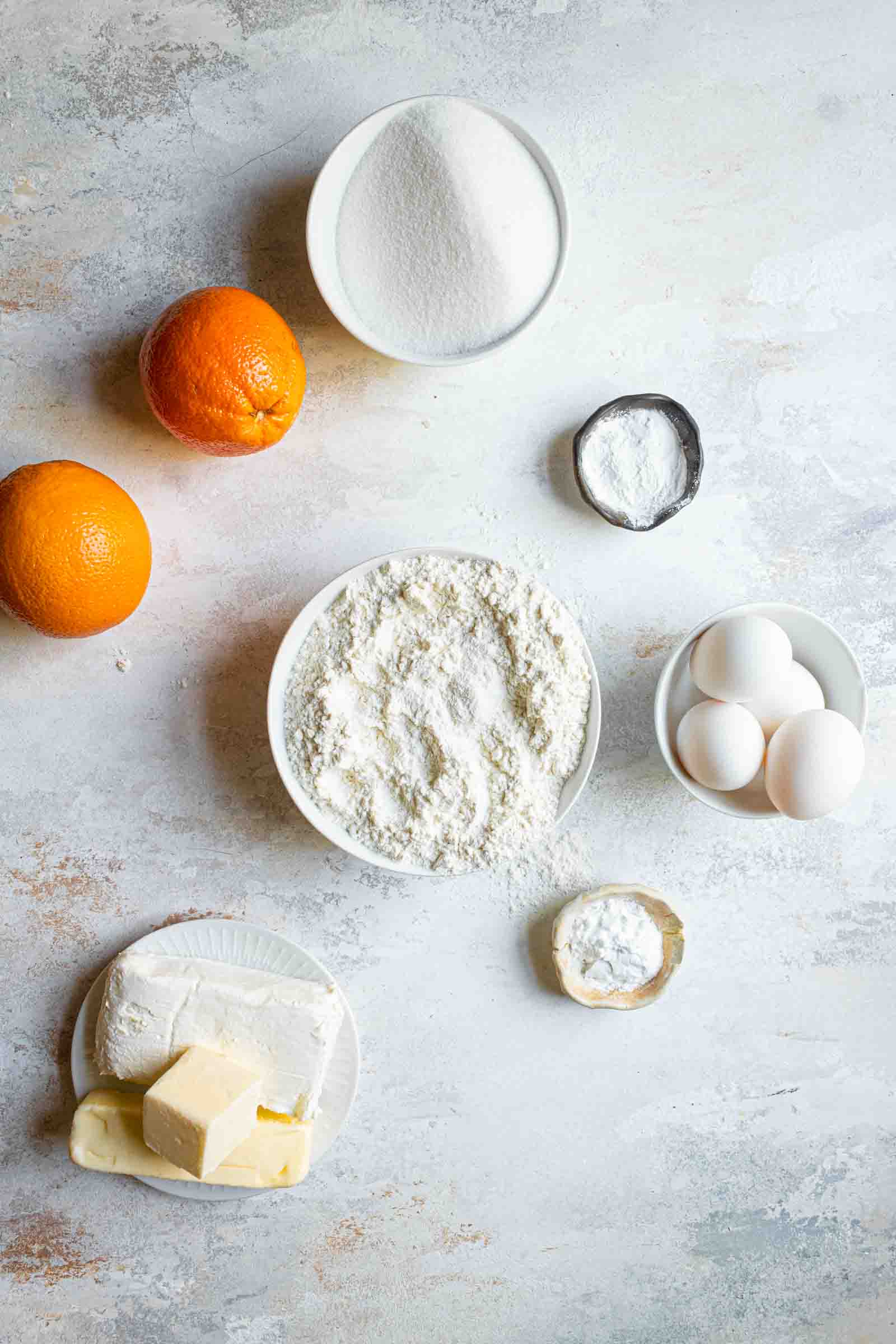 Unsalted Butter, at room temperature
Full fat cream cheese, one 8 oz pkg. At room temperature. The Cream cheese has many rules in this recipe. Firstly, it adds a creamy flavor to the tangy oranges. Secondly, full-fat cream cheese is 55% water and 45% fat which means it tenderizes and moisturizes the cake.
Sugar
Orange zest from 1 1/2 medium-sized oranges.
Orange Juice, from 1 medium orange
Eggs
AP flour
Baking powder
Baking soda
Potato starch helps reduce the formation of gluten and as a result, we have a tender and crumbly cake. However, if you do not have any in hand, just skip it.
How to make this Cake?
This cake is a pound cake. When baking a pound cake the first step is to beat the fat (butter and cream cheese) with the sugar until light and fluffy. Please note that the mixture will be more on the smooth size due to the addition of the cream cheese.
With this recipe, I found that the best way to infuse the orange flavor is by mixing the orange zest with the sugar using a fork until you have a light orange sugar. (A little trick I learned from Brown Eyed Baker)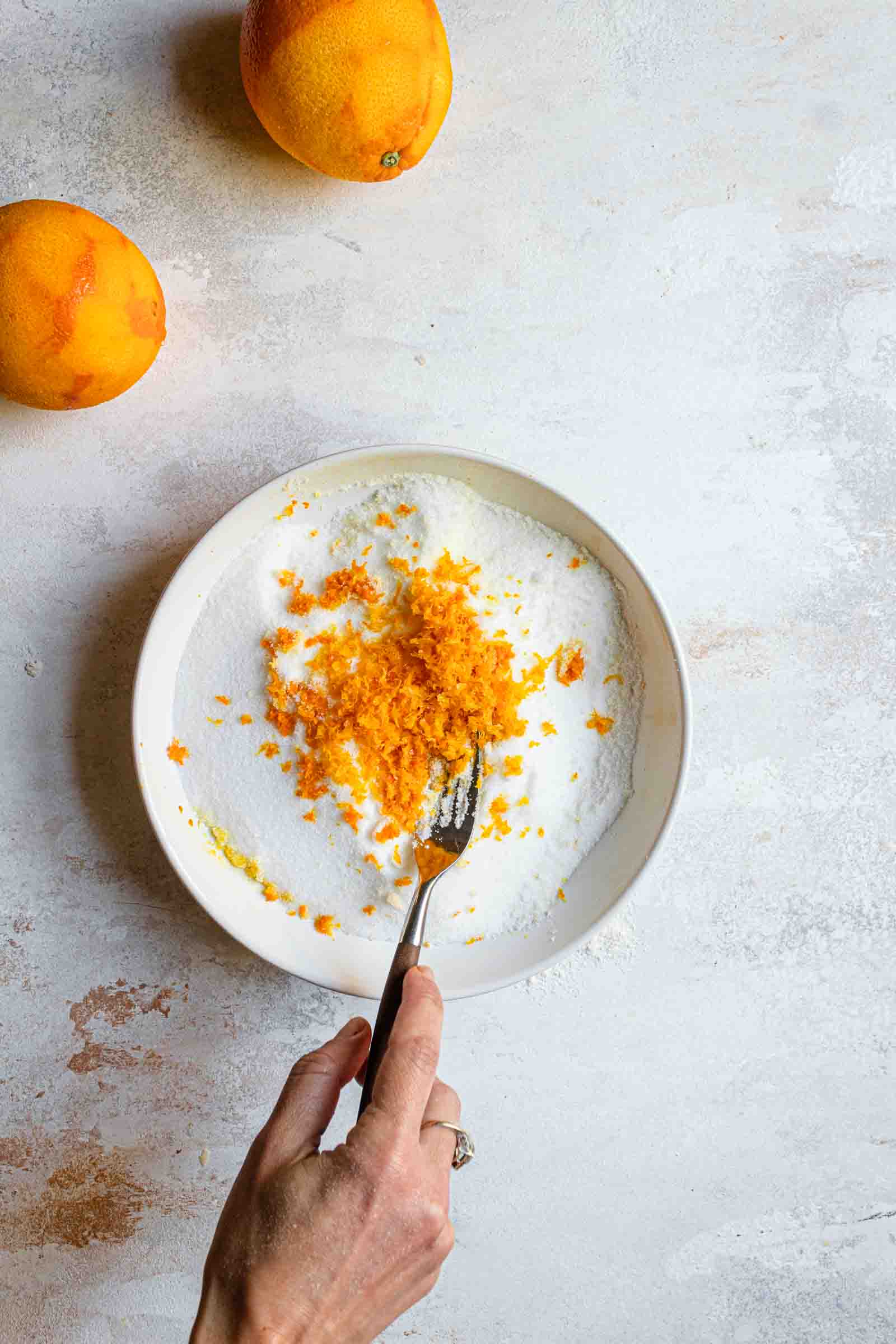 Next step would be to add the eggs, one at a time, waiting for each to fully incorporate before adding the next.
Lastly, we add the dry ingredients (flour, baking powder, baking soda, and potato starch) in three additions alternating with the liquids, the orange juice. Starting and finishing with the dry mixture.
Adding the dry ingredients in three additions is very important. It is the best way to ensure the flour mixture will be fully and evenly incorporated into the batter. Otherwise, we might have pockets of unblended flour.
Baking the cake
When testing this recipe, I baked it in a round 8″ pan, a 9″ bunt pan, and small individual mini bunt pans.
When using bunt pans, it is pretty straight forward. Make sure you grease the pan with soft butter and sprinkle flour on top.
When using round pans, it is very important not to fill the pan over 2/3. I baked it in an 8″x4″ pan which is pretty high. But I still had to take about 1/2 cup out and bake 2 individual mini bundts.
If your round pan is not so high, cut parchment paper into 5″ – 6″ stripes and line them around the sides of the pans (from the inside).
Storing the cake
The cake can be stored at room temperature covered for up to 3 days or wrapped in a plastic bag then bagged in a freezable bag and frozen for up to 2 months.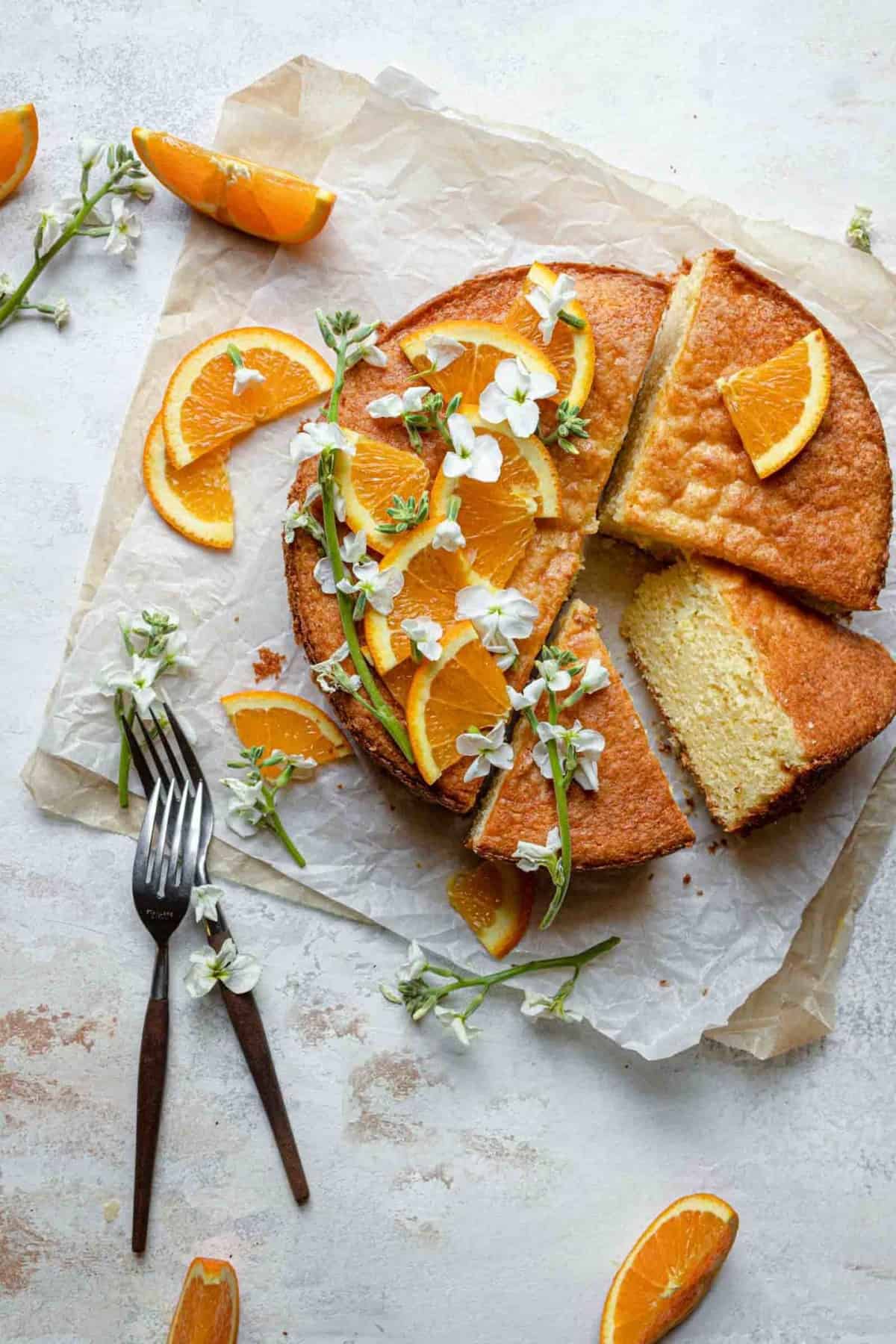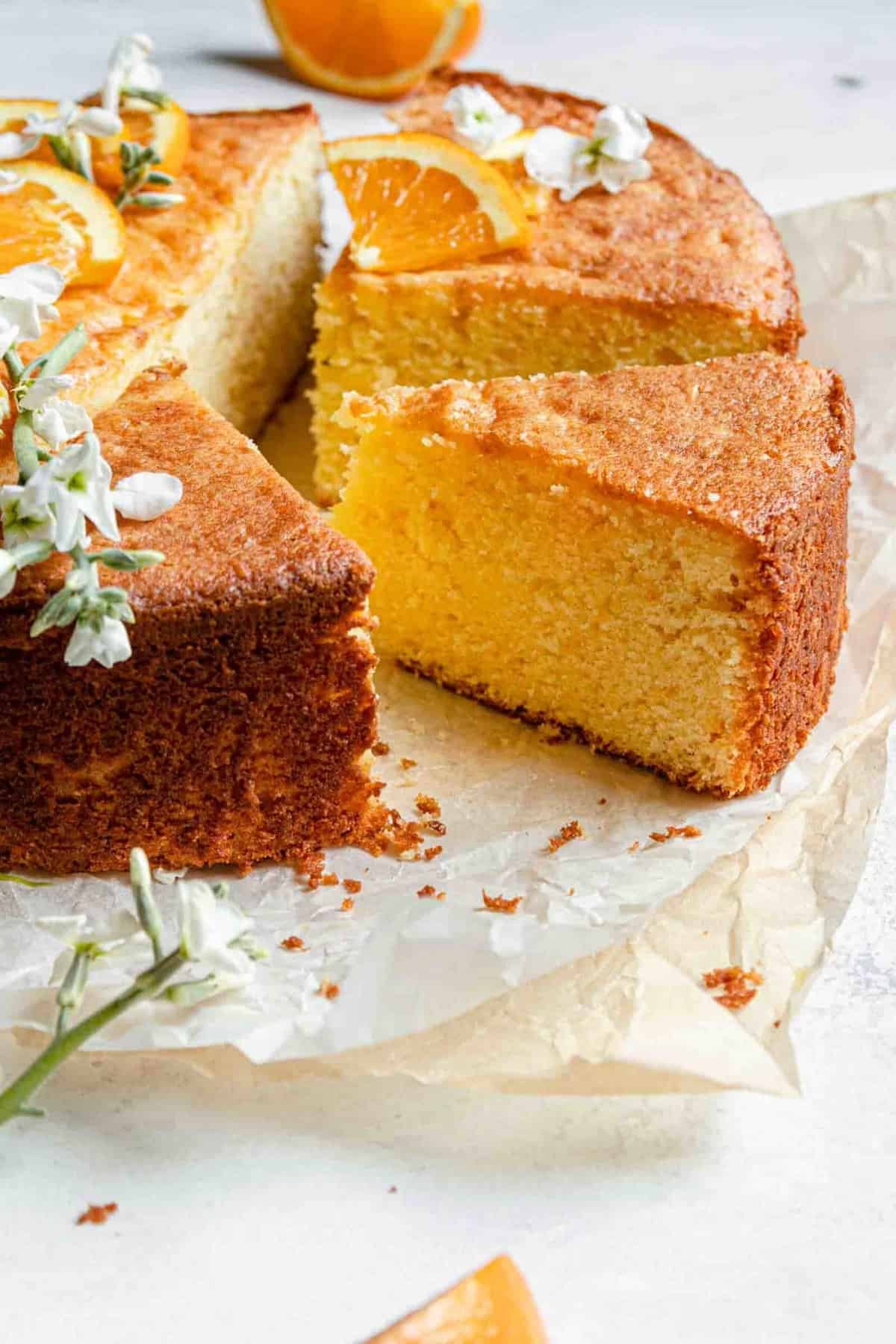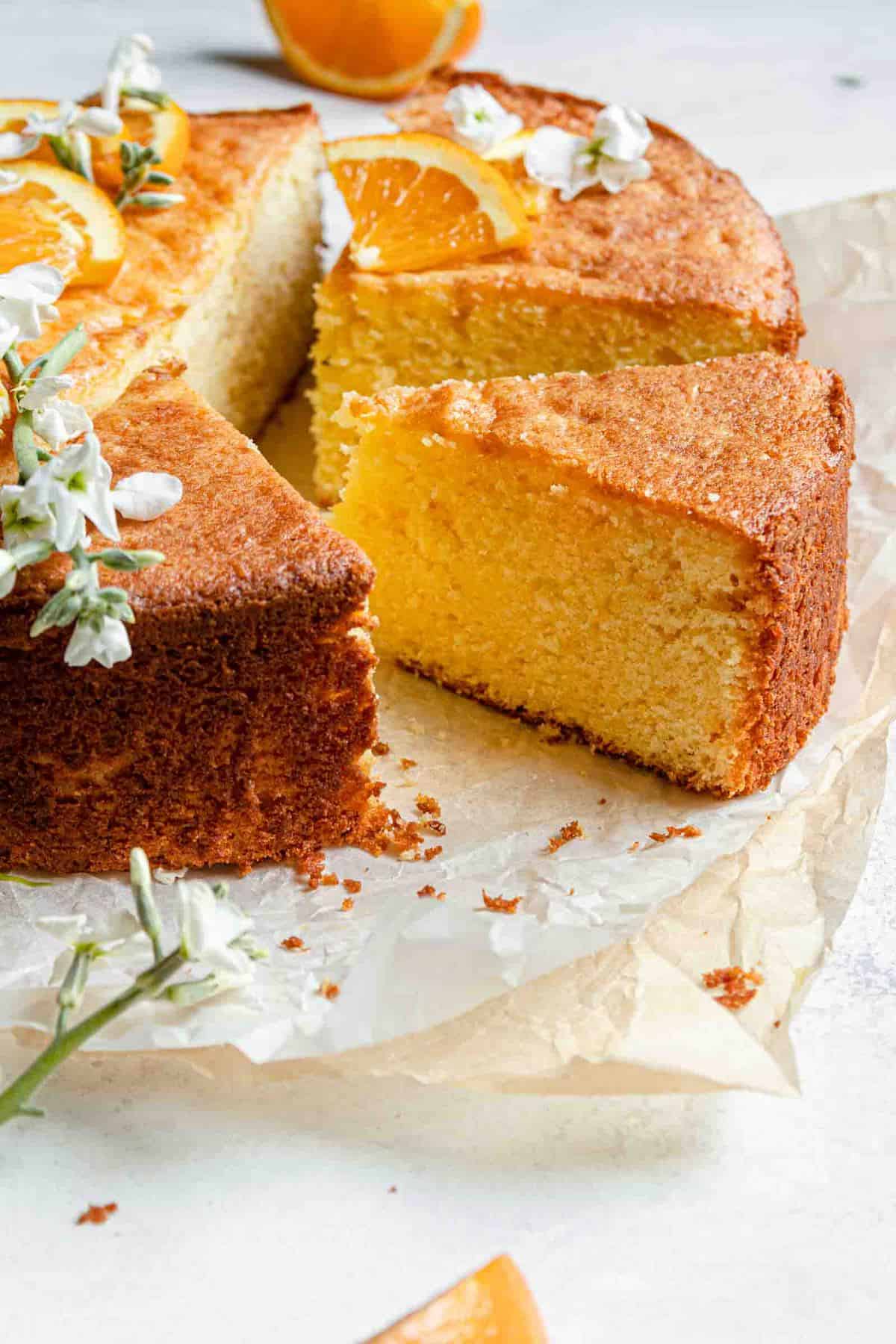 Few more important notes about this Cream Cheese Orange Cake:
Use high-quality cream cheese, off-brand might have a higher volume of water.
Lemon flavor is another option, simply replace the orange zest and juice with lemon zest (zest from 3 lemons) and juice.
When adding the dry ingredients, make sure not to over mix the batter, the whole process should take 15-20 seconds. I like to turn the mixer off right after adding the last portion of the flour mix and blend using a rubber spatula. Over mixing the batter might result in a tough, dense cake.
You can glaze the cake with some icing but this cake doesn't really need anything.
HAPPY BAKING!!!
Video by: Marie Sugar Salt Magic
Here are some more Honey Recipes you might enjoy:
Also, one more thing…
Don't forget to tag @OneSarcasticBaker on Instagram if you bake this recipe. Would love to see your creations!
Thinking of baking this recipe sometime soon? Add THIS pin to your Cakes or Baking boards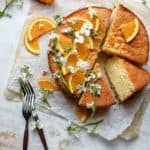 Orange Cream Cheese Cake
Ingredients
1 1/2

Sticks

Unsalted butter, room temperature

(6 oz / 170 g )

1

pkg

Full fat cream cheese

(8 oz / 226 g)

1 1/2

Cups

Sugar

(11 oz / 300 g )

Zest of 1 1/2 medium-sized oranges

4

large

Eggs

2 1/3

Cups

AP flour

(9 oz / 280 g)

1 1/4

tsp

Baking powder

1/4

tsp

Baking soda

1

TBS

Potato Starch

1/3

Cup

Fresh orange juice (a juice from 1 medium orange)

(3 oz / 80 ml)
Instructions
Preheat oven to 325F, grease the pan and dust with flour (for bundt pan). Or use parchment paper if needed. (for 9" round pan)

In a bowl of a standing mixer, place butter and cream cheese, beat on low for about 1 minute.

Place the sugar in a medium bowl and add the orange zest. Using a fork, blend the orange zest into the sugar until well distributed.

Add the zesty sugar into the butter and cream cheese mixture, increase speed to medium-high and mix until smooth and light about 3-4 minutes. Scrape bottom and sides of the bowl.

Reduce speed to medium-low and add eggs one at a time, waiting for each egg to fully incorporate before adding the next.

Scrap the sides and bottom of the bowl.

In a medium bowl sift the flour, baking powder, baking soda, and potato starch mix to incorporate then add it to the eggs and butter mixture in three additions alternating with the orange juice, starting and ending with the flour mixture.

As soon as you add the last portion of flour, turn mixture off and use a rubber spatula to fully incorporate the ingredients.

Pour batter into the greased pan and bake for 40-45 minutes or until a toothpick comes out clean from the center of the cake.

Remove from the oven and allow the cake to cool before removing from the pan about 10-15 minutes.