Last updated on May 7th, 2021.
A generous addition of vanilla bean paste turns this Gluten-free Vanilla Bean Cake into a creamy, tender, and flavorful dessert. One that is easy and simple to make
This post is sponsored by Florida Crystals®, all thoughts and opinions are my own. Thank you for supporting the brands that make One Sarcastic Baker possible.
Most times, when we want to bake something special to someone super special to tend to spend hours and hours in search of a recipe that is truly extraordinary. And short 13 hours of Pinterest search later, we realize that Hibiscus lavender cake with Earl Gray infused custard filling and limoncello buttercream might not be such a great idea. After all, our special person only ever orders Vanilla ice cream.
And this Mother's Day (or Father's Day) I am saving you 13 hours of search and giving your amazing Mothers the treat they really want.
As always, using top ingredients is key for any recipe. This is why I was so excited when Florida Crystals® asked me to create a Mother's Day recipe. Their Organic Raw Cane Sugar is what makes this recipe extra special. All organic, non-GMO, and best all made in the USA.
Ingredients in this Gluten-Free Vanilla Bean Cake:
For the GF Cake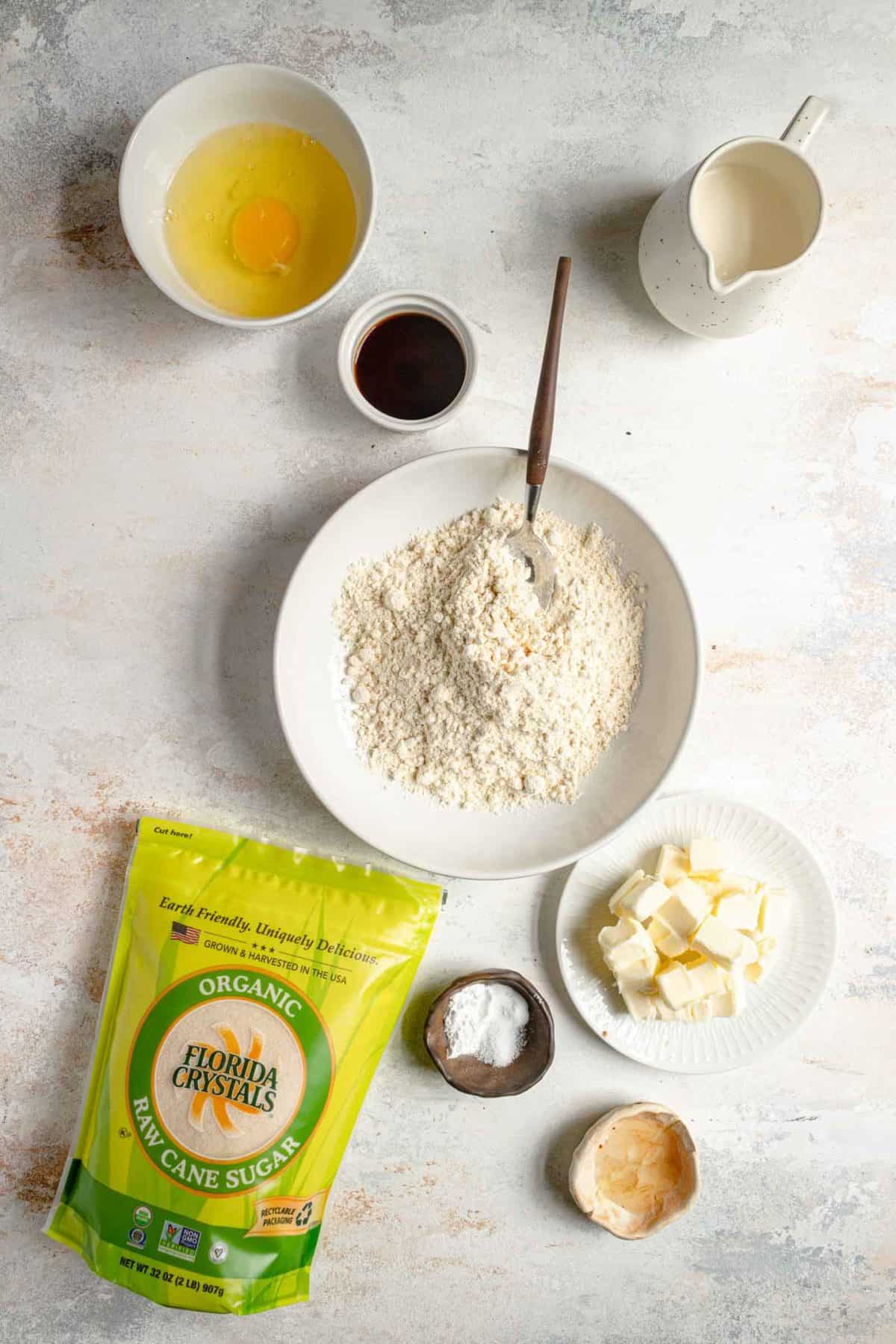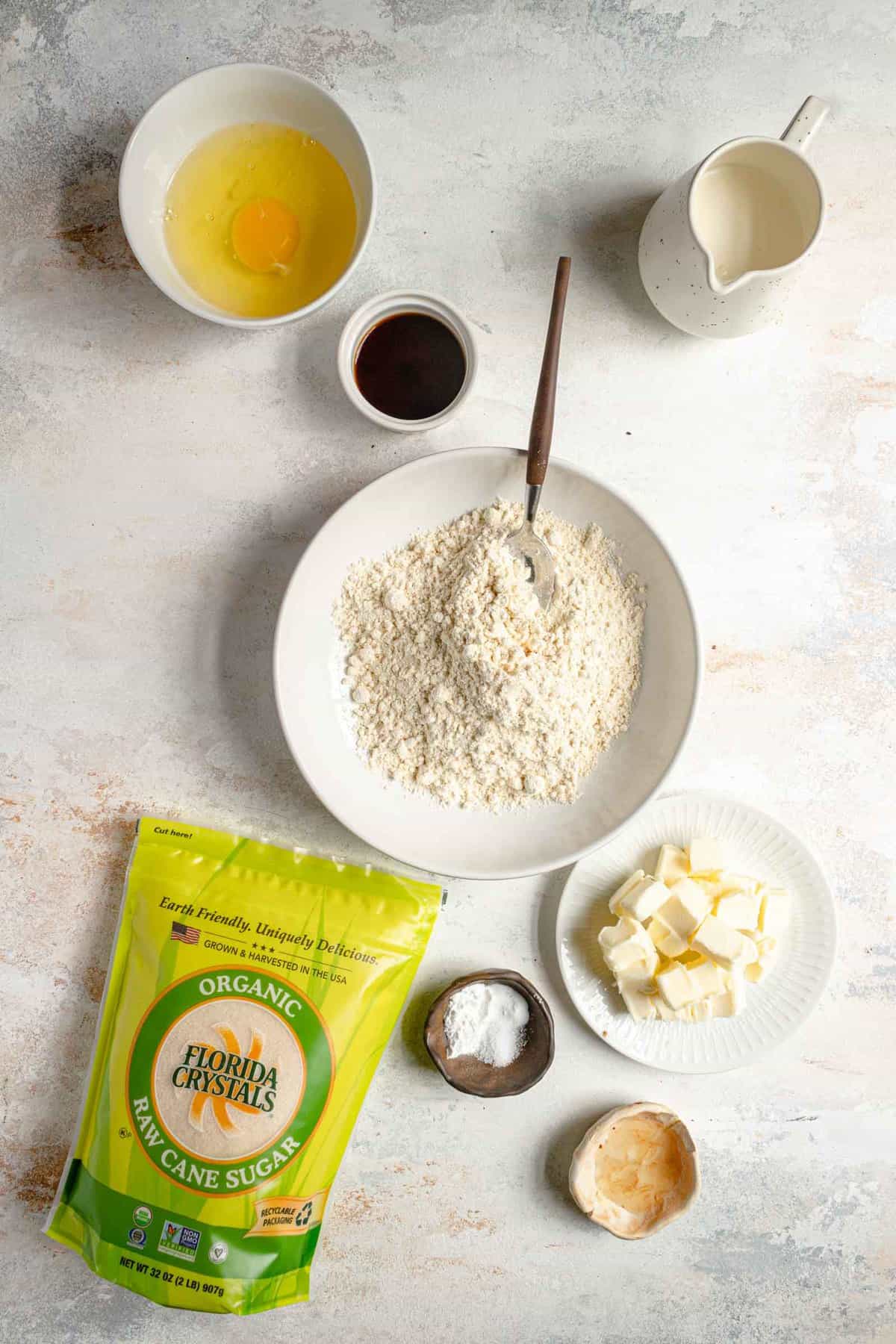 1:1 Gluten-Free Flour, for regular cake, replace the Gluten-free flour with the same amount of cake flour.
Baking powder, will elevate the cake and help create tender crumbs.
Baking Soda, will react with the apple cider vinegar and as a result, the cake will be moist and soft.
Apple Cider Vinegar, it's my favorite vinegar to bake with. Firstly, it has a very mild flavor and secondly, it is cheap and economic. However, if you do not have that at hand use regular white vinegar or freshly squeezed lemon. (such small amount will not affect the flavor)
Salt
Florida Crystals® Organic Raw Cane Sugar, the best sugar to bring the Vanilla flavor out.
Unsalted Butter, one stick cut into 1/4″ cubes.
Egg
Egg whites, egg whites act as a stabilizer in a cake and will give extra strength to the gluten-free flour.
Heavy Cream, is the best ingredient to soak up all the vanilla flavors.
Vanilla extract, a full TBS.
Vanilla Bean Paste for more vanilla taste after all this is Vanilla Bean Cake.
For the Butter Cream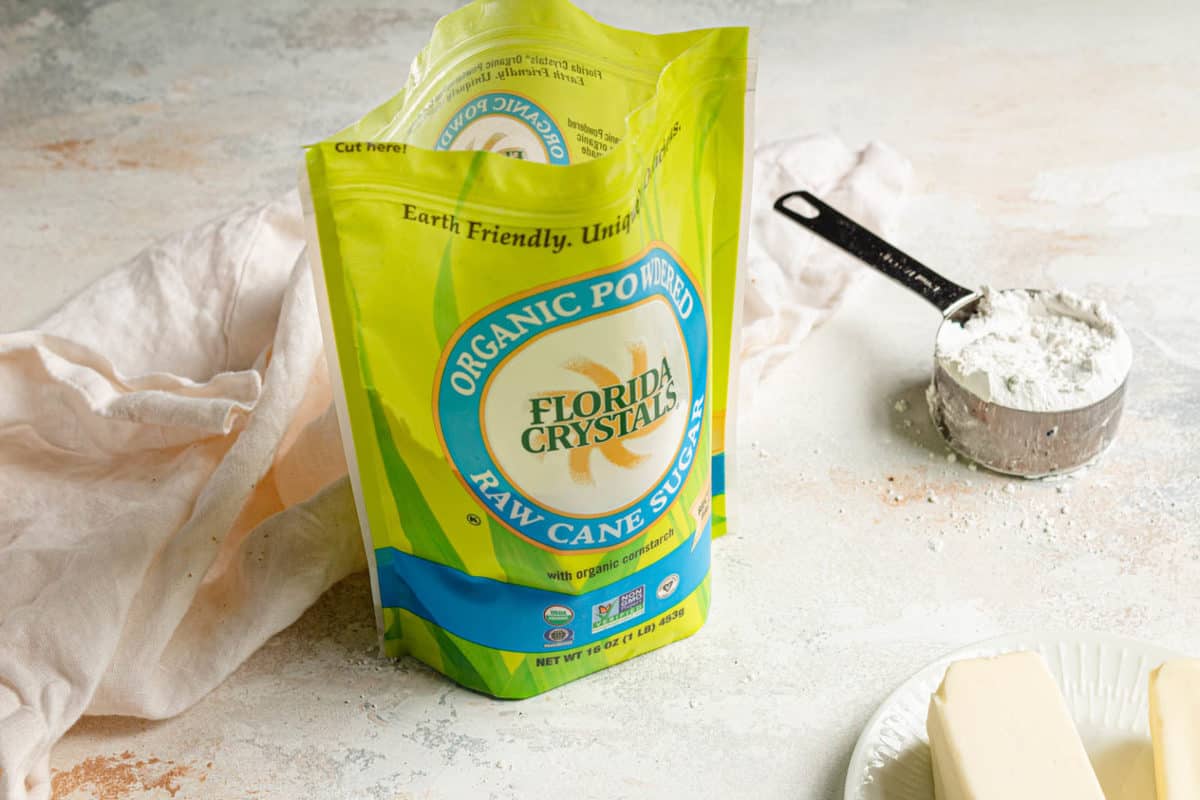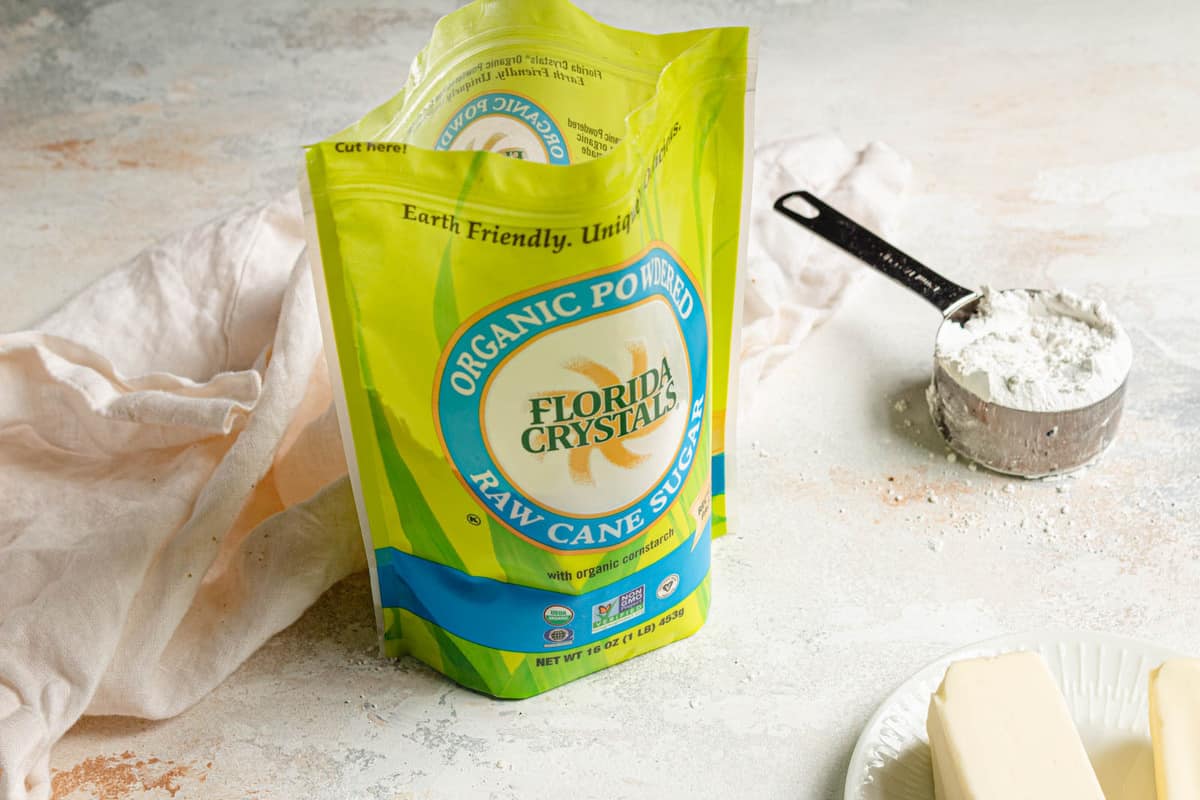 Unsalted Butter, soft
Vanilla extract
How to make this cake
To make this cake we are using the Blending method. Firstly we blend all the dry ingredients together (flour, sugar, baking powder, baking soda, and salt) followed by the soft butter. Then we blend in the liquids (heavy cream, vanilla extract, vanilla bean paste, and eggs).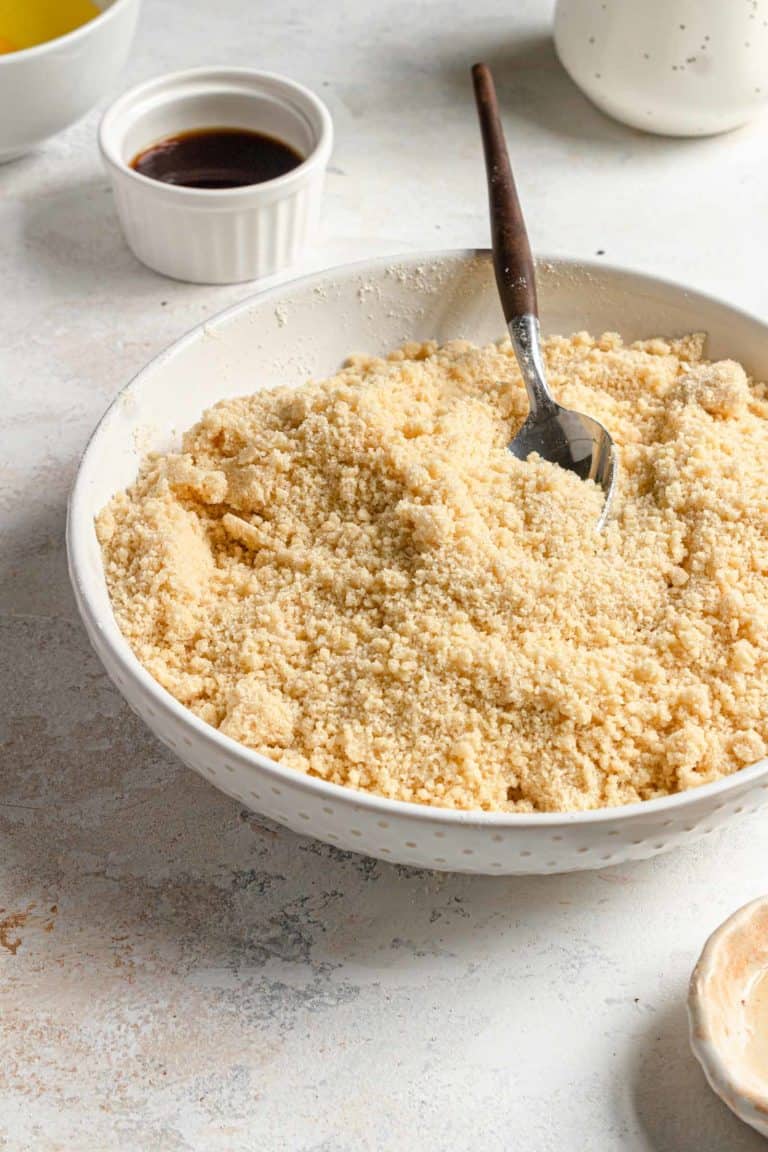 To make the Buttercream:
Bring butter to room temperature. Beat on medium-high with the sugar until smooth.
Storing the Cake
The cake can be stored at room temperature covered for up to 3 days. Also, In the refrigerator covered for up to 4 days. (bring to room temperature before eating)
The Buttercream can be stored the same way. If refrigerated bring to room temperature before frosting/piping.
Few More Notes about this Gluten-free Vanilla Bean Cake :
Because the cake contains no

gluten

there is no need to worry about over-mixing the batter. However, if you are using cake flour, please make sure to mix just until the ingredients are incorporated.
For an extra vanilla flavor, add 1-2 tsp Vanilla Bean Paste.
Decorate the cake however you wish to. I used the following Wilton coloring for the flowers: Moss Green, Burgundy, Orange+copper mix.
HAPPY BAKING!!!
HERE are some more recipes you might enjoy:
Also, don't forget to tag @OneSarcasticBaker on Instagram if you bake this recipe. Would love to see your creations!
Did you like this recipe and inspiring? Save THIS PIN to your Cake, Baking, or Gluten-Free boards.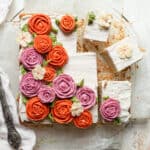 Gluten-Free Vanilla Bean Cake
Ingredients
GF Vanilla Bean Cake
1 2/3

Cups

1:1 Gluten-Free flour

(170 g / 6 oz)

3/4

tsp

Baking powder

1/4

tsp

Baking Soda

1/2

tsp

Salt

1

Cup

Florida Crystals® Organic Raw Cane Sugar

(200 g / 7 oz)

1

Stick

unsalted butter, at room temperature, cut into ¼" cubes.

(113 g / 4 oz)

3/4

Cup

Heavy Cream

( 120 ml / 6 oz)

1

Large

Egg

2

Large

Egg Whites

1

TBS

Vanilla extract

1

TBS

Vanilla bean paste

1

tsp

Apple cider vinegar
Buttercream
2

Sticks

Unsalted Butter, room temperature

(226 g / 8 oz)

2

Cups

Florida Crystals® Organic Powdered Raw Cane Sugar

(226 g / 8 oz)

2

tbs

Vanilla extract

1

TBS

Vanilla bean paste
Instructions
GF Vanilla Paste Cake
Preheat oven to 350F, grease the sides and bottom of an 8" square pan and the bottom of the pan with parchment paper.

In a large mixing cup, pour the heavy cream, vanilla extract vanilla paste, and apple cider vinegar mix to incorporate then add the egg and egg whites to the mixture.

In a bowl of a standing mixer, sift the flour, baking powder, baking soda, and salt. Add the Florida Crystals® Organic Raw Cane Sugar and beat on low using the paddle attachment.

Increase speed to medium and add the butter. Keep mixing until the flour resembles wet coarse sand.

Pour the wet mixture into the flour mixture and mix on medium speed until the ingredients are well combined.

Pour the batter into the greased pan and bake for 25-28 minutes or until a toothpick comes out clean from the center of the cake.

Remove from the oven and let cool completely before decorating.
Buttercream
Place soft butter in a bowl of a stand mixer. Beat on medium-low speed using the paddle attachment for about 1 minute.

Gradually add the Florida Crystals® Organic Powdered Raw Cane Sugar ¼ cup at a time followed by the vanilla extract and increase speed to medium-high. 

Divide the buttercream into 3-4 parts, add 2 drops of food coloring to each part and mix until you get a cohesive color.

Use piping bags and floral tips to decorate the cake.