Last updated on January 3rd, 2023.
Rich, tender and flavorful Lemon Blackberry cake with a unique design beautifully created by Mother Nature.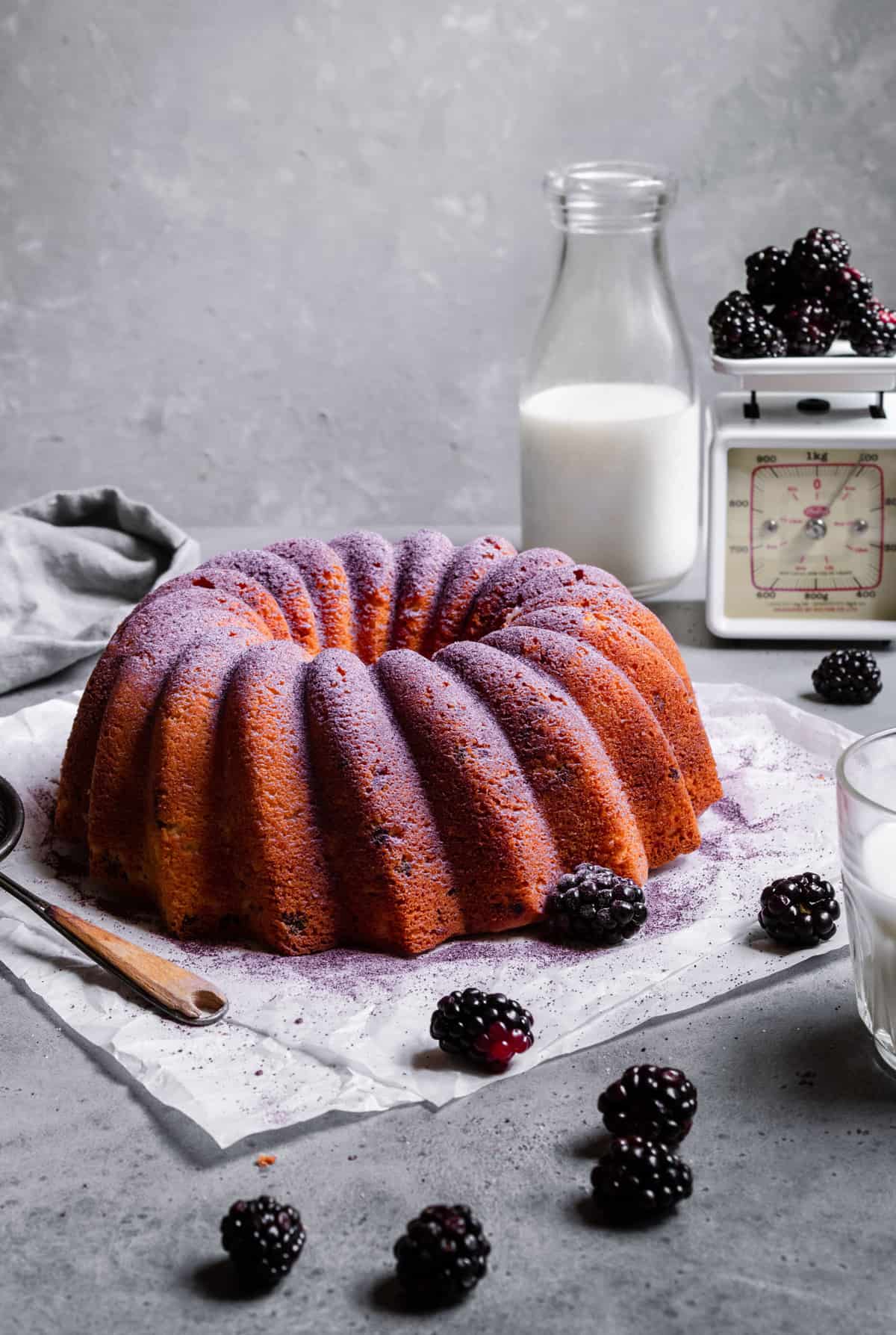 I have a confession to make.
I am a baking nerd. Reading recipes, baking books and highlight baking facts are second nature to me. And I love it! It all started when I decided that I want to create my own recipes and I realized there is much to learn. And so my journey began.
The first step was Baking Ratios. Whenever I decide what I would like to bake, my first step is writing down the ratios. (A while back I created THIS ratio chart for all of you talented bakers.)
Then I think about the flavors and texture. And this is where baking science takes its role.
Think of baking science as a long list of formulas you mix and match to create a masterpiece. For example: mixing red and blue to paint with purple.
About That Cake
When it comes to cake, the desired result is a tender cake with soft crumbs, moist and flavorful. When you have it all, you've reached baker's heaven. However, take one component out, and the cake is not the same.
Here is how I achieved all three components in this Lemon Blackberry Cake:
ACID (Sour Cream)
Acid is my favorite chemical ingredient in baking. You can find it in many different everyday ingredients. ( I listed below some of my favorite acidic ingredients.)
Adding acids to baked goods will reduce gluten strength, and as a result, we will have a tender more crumbly texture.
BAKING SODA:
We are all familiar with baking soda as a leavening agent. But by itself, baking soda is not a practical leavening agent. A very large amount needs to be used for the baking soda to release a sufficient amount of gas.
Acids react with baking soda at the presence of moisture. When the two are combined, the baking soda breaks down to:
Carbon dioxide = air = Leavening
Water = Moist
Salt residue = Flavor
POTATO STARCH:
I have to give credit for this one to Mr. Warren Brown, author of my all-time favorite baking book Cake Love (affiliate link). He added potato starch to all his recipes, claiming it is the secret ingredient. He was right. So I did some research as to why.
Potato starch is a root starch with different thickening qualities than the cereal starches such as cornstarch.
Potato starch absorbs moisture (yeah, for moist cake), and is a root starch it thickens when in touch with moisture which adds an extra crumbly texture to the cake.
Now Let's Talk About This Blackberry Cake Recipe:
I baked this cake close to a dozen times, and every single time the baked blackberry color came out different. Once, it was purple and other times, it was pink or red. The sour cream brand, amount of blackberry puree and even the blackberries brand are all different variables that may affect. Please bear that in mind.
You can replace the blackberries with raspberries, strawberries, peaches or any other fruit you wish. (Keep in mind the color effect of the cake).
For a more noticeable blackberry flavor, add more blackberry puree. Make sure the puree is pasty and not liquify. There are two ways to do that: Firstly place the puree in a sieve over a clean bowl and allow the liquids to drain. Secondly, place the puree in a pan over the stove low-medium heat and reduce the liquid. To avoid burning make sure to constantly stirring.
The recipe calls for potato starch (NOT potato flour). You can skip it if you don't have it in hand but do not replace it with cornstarch. Unlike cornstarch, the potato starch will not mask the cake flavors. Potato starch will give the cake a rich crumbly texture while cornstarch might give it an unpleasant gel-like texture.
If you want to learn more about the science of baking, I highly recommend the book "How Baking Works" by Paula Figoni.
The recipe includes how to make blackberry sugar to dust on the cake after it cools. Feel free to skip it.
Here are some more fun recipes I created with the power of Baking Science :
One more thing…
Don't forget to tag @OneSarcasticBaker on Instagram if you bake this recipe. Would love to see your creations!
Please note that this post contains some afflicted links which means I might get a small percentage at no cost to you.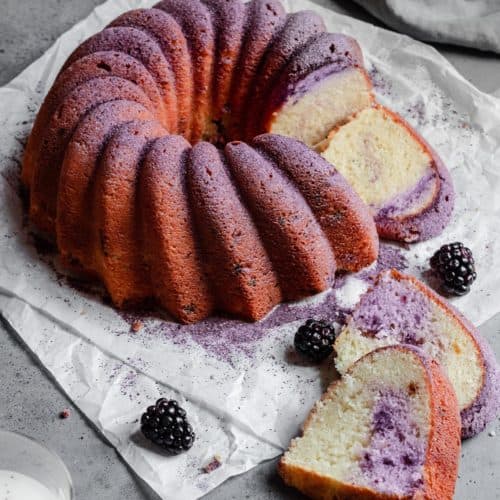 Lemon Blackberry Cake
Ingredients
1

pkg

Fresh Blackberries (frozen is ok)

(170 g / 6 oz)

2 3/4 + 1 TBS

Cups

AP Flour

(338 g / 12 oz)

1.5

tsp

Baking Powder

0.5

tsp

Baking Soda

1

TBS

Potato Starch

1 1/4

Cup

Full Fat Sour Cream

(300 ml / 10 oz)

1/4

Cup

Fresh squeezed Lemon juice

(60 ml / 2 oz)

1 1/2

Sticks

Unsalted butter, soften

(170 g / 6 oz)

2 1/2

Cups

Sugar

(500 g / 18 oz)

2

tsp

Fresh lemon zest

4

Large

Eggs
Blackberry Sugar
1/2

Cup

Freeze dried Blackberries (any other berries are ok)

2

TBS

Sugar
Instructions
Preheat oven to 350F, place an oven rack in the center of the oven. Grease a 10 cup bundt cake with butter and dust with flour. Set a side.

Using a fork, mash the blackberries to a fine puree. Place the puree in a sieve over a bowl and set a side.

Sift together the flour, baking powder, baking soda and potatore starch. Stir to incoporate and set a side.

In a large measuring cup, mix together the sour cream and lemon juice. Set a side.

In a bowl of a standing mixer, place the sugar, butter and lemon zest and beat on medium speed until fluffy and light color. About 4-5 minutes.

Lower speed to low and add eggs one at a time, waiting for each egg to completely incoporate before adding the next.

Add the flour in three additions alternating with the sour cream mix. Starting snd finishing with the flour mix.

Once you added the last portion of the flour mix, turn mixer off and using a rubber spatula incoporate any flour/egg strides.

Scoop about 1/3 of the batter into a medium size clean bowl and fold in the blackberry purre.

Using regular size cookie spoons, spoon the batters into the greased pan in alternating patterns (white batter next to blackberry batter).

Bake for 45-50 minutes or just until a skewer comes out clean from the center of the cake.

Remove from the oven and allow to completely cool.
To Make the Berry sugar
Place the freezed dried berries in a coffee grainer (food processor is ok) and grined to a fine powder.

Add the sugar and grind to your desire texture.