Last updated on August 9th, 2023.
There's nothing quite like the burst of zesty lemon and the luscious tarty sweetness of blackberries to elevate a classic cake into a comforting homemade treat. If you're a fan of delightful desserts that perfectly balance tangy and sweet flavors, this Lemon Blackberry Cake recipe is bound to become your new favorite.
I love going to my local grocery stores and buying all the beautiful and vibrant fresh produce; I always get more than I can handle because ripe berries and fresh fruits have always been a source of inspiration to my baking journey, whether its cakes: like Raspberry white chocolate cake, Mango Pound Cake, and Jewish Apple Cake. Or pies: like Blackberry Ginger pie or Blueberry Pies. Nature is the best inspiration, and this Lemon Blackberry Cake is another example.
Why You Will Love This Recipe
Refreshing Flavor Combination: Like in this Lemon Blackberry Bread, the combination of lemon and blackberries creates a classic balance of flavors, leaving a refreshing and satisfying taste on your palate.
Moist and Tender: This cake boasts a tender crumb, making every bite a pleasure to savor.
Perfect for Any Occasion: Whether it's a birthday party, a family gathering, or a Sunday afternoon treat, this cake fits the bill.
Easy to Make: You don't need to be a master baker to whip up this cake or high-end equipment. The recipe is straightforward and beginner-friendly.
Eye-Catching Presentation: The vibrant purple-blackberries against the light-yellow cake make a stunning visual appeal perfect for Instagram-worthy photos.
Ingredients
The complete recipe, including measurements, is at the bottom of this post in the recipe card.
Frozen or fresh blackberries. You can use 1/2 cup of Blackberry jam, but it won't taste the same.
Unbleached all-purpose flour
Baking Powder
Baking Soda
Potato Starch. If you don't have any in hand, skip it.
Full Fat Sour Cream
Fresh squeezed Lemon juice
vanilla extract
Unsalted butter, soften
Sugar
Fresh lemon zest
Large eggs
How to Make Lemon Blackberry Cake
Place the blackberries in a medium bowl and mash them into a puree using a fork. Place the puree over a sieve, and stir it using a spoon to remove excess liquids.
Sift the flour, baking powder, baking soda, and potato starch in a separate bowl, and mix the sour cream, vanilla, and fresh lemon juice in a separate bowl.
Rub the sugar and lemon zest in a large mixing bowl, then beat it with the butter until light and fluffy, about 4 minutes. Start with medium speed, then gradually increase to medium-high.
On medium-high speed, add the eggs one at a time, scraping the bottom and sides of the bowl.
On low speed, add the flour mixture alternating with the sour cream mixture in three additions starting and ending with the dry ingredients.
Mix 1/3 of the cake batter in a large bowl with the blackberry puree. Then scoop the lemon batter alternating with the lemon blackberry batter into the pan. Bake
Tips
For best results, ensure you use room temperature ingredients; this is critical for the cake's success.
You can make this blackberry lemon cake using a stand or electric mixer (hand mixer).
Do not over-mix the batter, especially when adding the flour. I like mixing the flour's last portion using a rubber spatula.
This recipe yields one large bundt cake (10-12 cups) or two eight or 9-inch loaf pans lined with parchment paper. The critical thing to pay attention to is not to fill the pan over 3/4 full.
Allow the cake to cool in the pan for 15-20 minutes before inverting it to a wire rack, and don't allow it to cool in the pan. Otherwise, it will get stuck in it.
Topping and Serving Ideas
This tender and moist pound cake is great by itself with no additional topping, but here are some ideas for special occasions:
Top with homemade whipped cream and fresh berries.
Use some of the liquids from the blackberry to make blackberry frosting. Mix one-two tablespoons of blackberry juice with one cup of powdered sugar.
Add a lemon glaze to the cooled cake for an extra lemony kick. Mix 1 cup of powdered sugar with two tablespoons of lemon juice until smooth, and drizzle it over the top of the cake.
Brush the cake with Lemon simple syrup: mix 1/2 cup sugar, 1/4 cup fresh lemon juice, and 3/4 cup sugar, bring to a boil, then simmer for 5 minutes.
Storing and Freezing
Cover the Lemon Blackberry Cake with aluminum foil or place it in an airtight container (a cake dome is best) and keep it at room temperature for up to 2 days.
For freezing, wrap the cake tightly in plastic wrap and place it in a freezer-safe container or a freeze bag. It can be stored in the freezer for up to 2 months. Remove the cake from its wrapping and let it defrost at room temperature.
FAQ
Can I use frozen blackberries for this recipe?
Yes, you can use frozen blackberries, but make sure to thaw them first, strain them from the liquids, and gently pat them dry before using them.
Can I make this recipe gluten-free?
You can try using a 1:1 gluten-free flour blend to make this cake gluten-free. However, the texture and taste may differ slightly from the original recipe.
Can I use other fruits to make this cake?
Absolutely! Feel free to experiment with different berries like raspberries, blueberries, or strawberries for other flavor variations.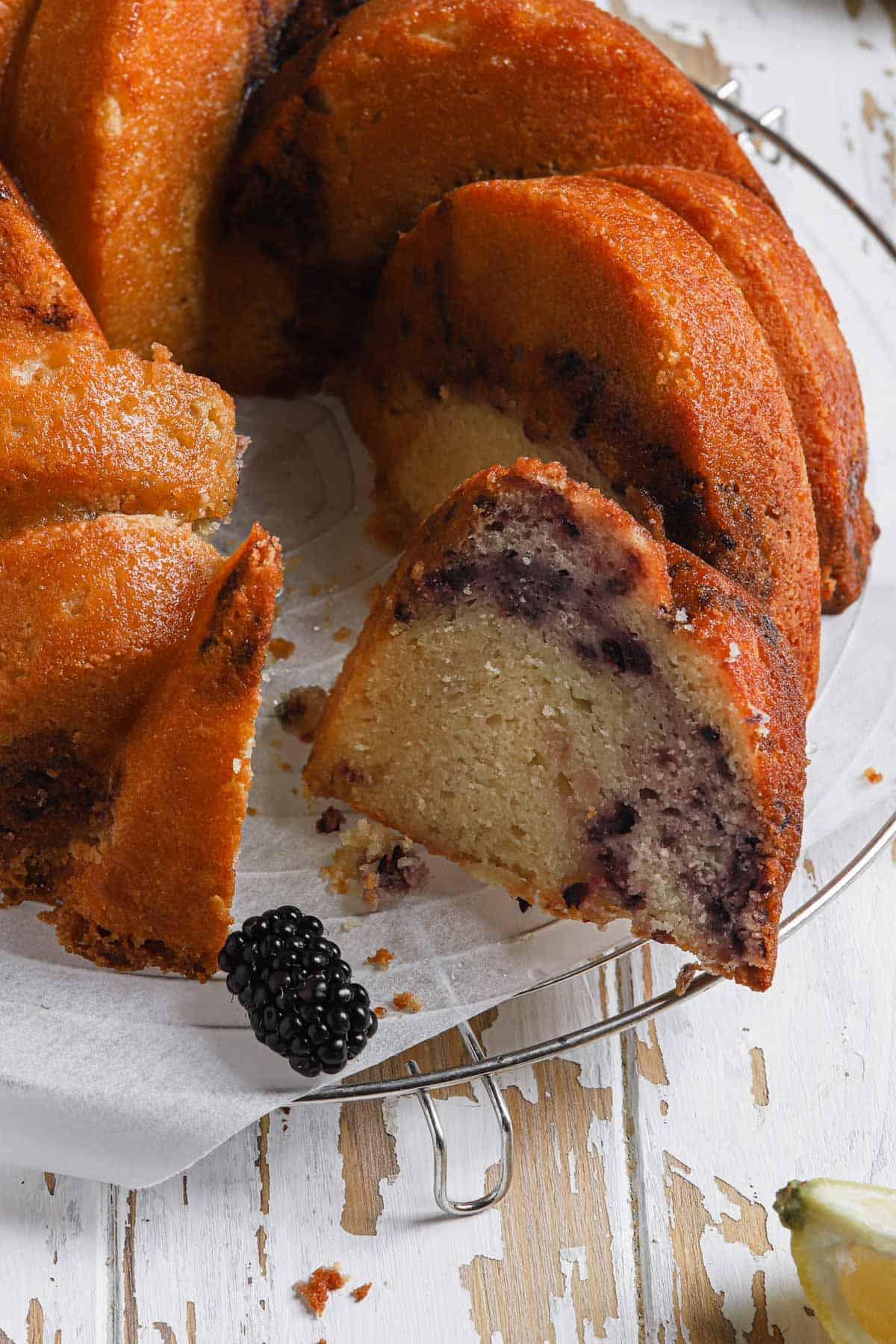 More Recipes You Might Enjoy
Pear Cake, Chocolate Blackberry Cupcakes, Fruit Galette
Don't forget to leave a comment and tag me on Instagram when you make one of my recipes.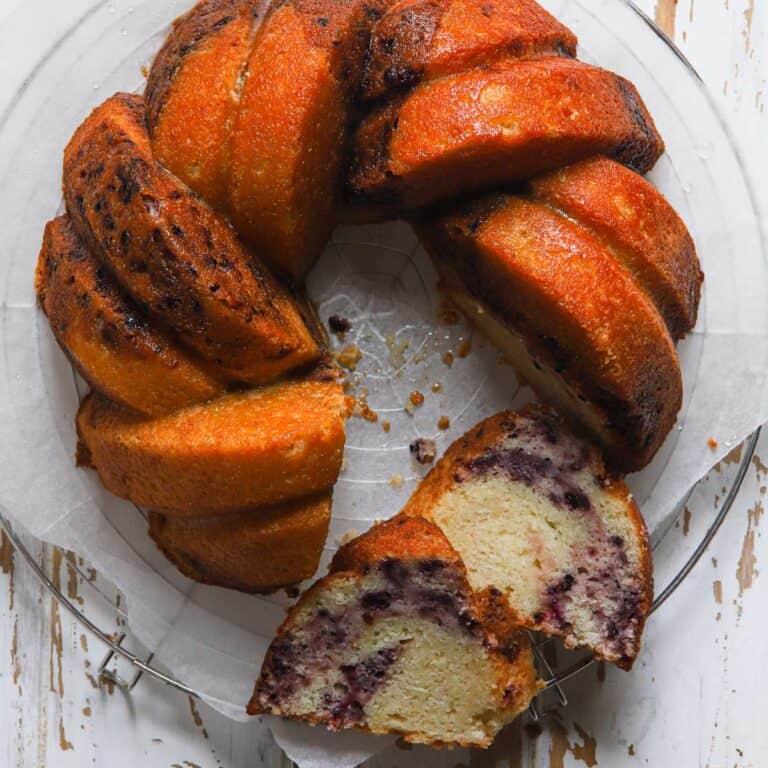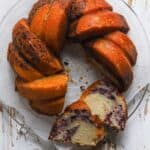 Lemon Blackberry Cake
easy and delicious pound cake flavored with lemons and blackberries
Servings
1
12 inch bundt pan
Ingredients
1

pkg

Fresh Blackberries (frozen is ok)

(170g)

2 3/4 + 1 TBS

Cups

AP Flour

(340g)

1.5

tsp

Baking Powder

0.5

tsp

Baking Soda

1

TBS

Potato Starch

1 1/4

Cup

Full Fat Sour Cream

(300ml)

1/4

Cup

Fresh squeezed Lemon juice

(60ml)

1

Cups

Unsalted butter, soften

(200g)

2 1/2

Cups

Sugar

(500g)

2

tsp

Fresh lemon zest

4

Large

Eggs
Instructions
Preheat oven to 350F and place an oven rack in the center of the oven. Grease a 12 cups bundt pan.

Using a fork, mash the blackberries to a fine puree. Place the puree in a sieve over a bowl and set aside.

Sift together the flour, baking powder, and baking soda. Stir to incorporate and set aside.

In a large measuring cup, mix the sour cream and lemon juice.

In a bowl of a standing mixer, place the sugar, butter, and lemon zest and beat on medium speed until fluffy and light. About 4-5 minutes.

With the mixer on medium-high speed, add the eggs one at a time, waiting for each egg to completely incorporated before adding the next.

Add the flour in three additions alternating with the sour cream mixture. Starting and finishing with the flour mix.

Once you have added the last portion of the flour mix, turn the mixer off, and using a rubber spatula mix any flour.

Scoop about 1/3 of the batter into a medium size clean bowl and fold in the blackberry puree.

Spoon the batters into the greased pan using regular-sized cookie spoons in alternating patterns (white batter next to blackberry batter).

Bake for 45-50 minutes or just until a skewer comes out clean from the center of the cake.

Remove from the oven and allow to cool completely.
Recipe Notes
To achieve optimal results, make sure to utilize ingredients at room temperature, as this factor plays a crucial role in the success of the cake.
This delightful blackberry lemon cake can be prepared using either a stand or electric mixer (hand mixer).
Take care not to over-mix the batter, especially when incorporating the flour. I prefer to add the last portion of flour and mix it gently with a rubber spatula.
This recipe is designed to yield one large bundt cake (10-12 cups) or two eight or 9-inch loaf pans lined with parchment paper. The key is not to fill the pan more than 3/4 full.
After baking, allow the cake to cool in the pan for 15-20 minutes before gently inverting it onto a wire rack. Avoid leaving it to cool in the pan, as this may cause it to stick."