Last updated on January 3rd, 2022.
This Almond Pear Cake is the perfect tender, soft and flavorful fall treat sprinkled with buttery pear bites.
Pear is such an amazing fruit to bake with, and I really wanted to bring out its sweet and unique flavor. During my research, I found that olive oil would be a great way to do just that. I also realized that baking with Olive oil can bring a lot to the table when it comes to baking.
Why baking with Olive Oil?
Well, firstly olive oil has some amazing health benefits since it is full of "good fat". Secondly, unlike vegetable oil, olive oil has fruity aroma and taste that can bring out flavors used in baked goods such as fruits, spices, and chocolate.
But the most important thing is that Olive oil is OIL. I know, I know not exactly shocking news but it is the biggest contribution olive oil brings to the table. Here is why:
Oil is lighter than butter. Hence, oil-based baked goods are lighter than butter-based ones.
Oil is 100% oil. Butter (most common brands) is composed of 80% fat, 2%-5% milk solids and 18%-15% water. That extra water will interact with the flour, creat gluten and result in a crumbly more dense texture. Now, when using oil not we are taking that extra gluten out of the formula which means a lighter more tender base cake.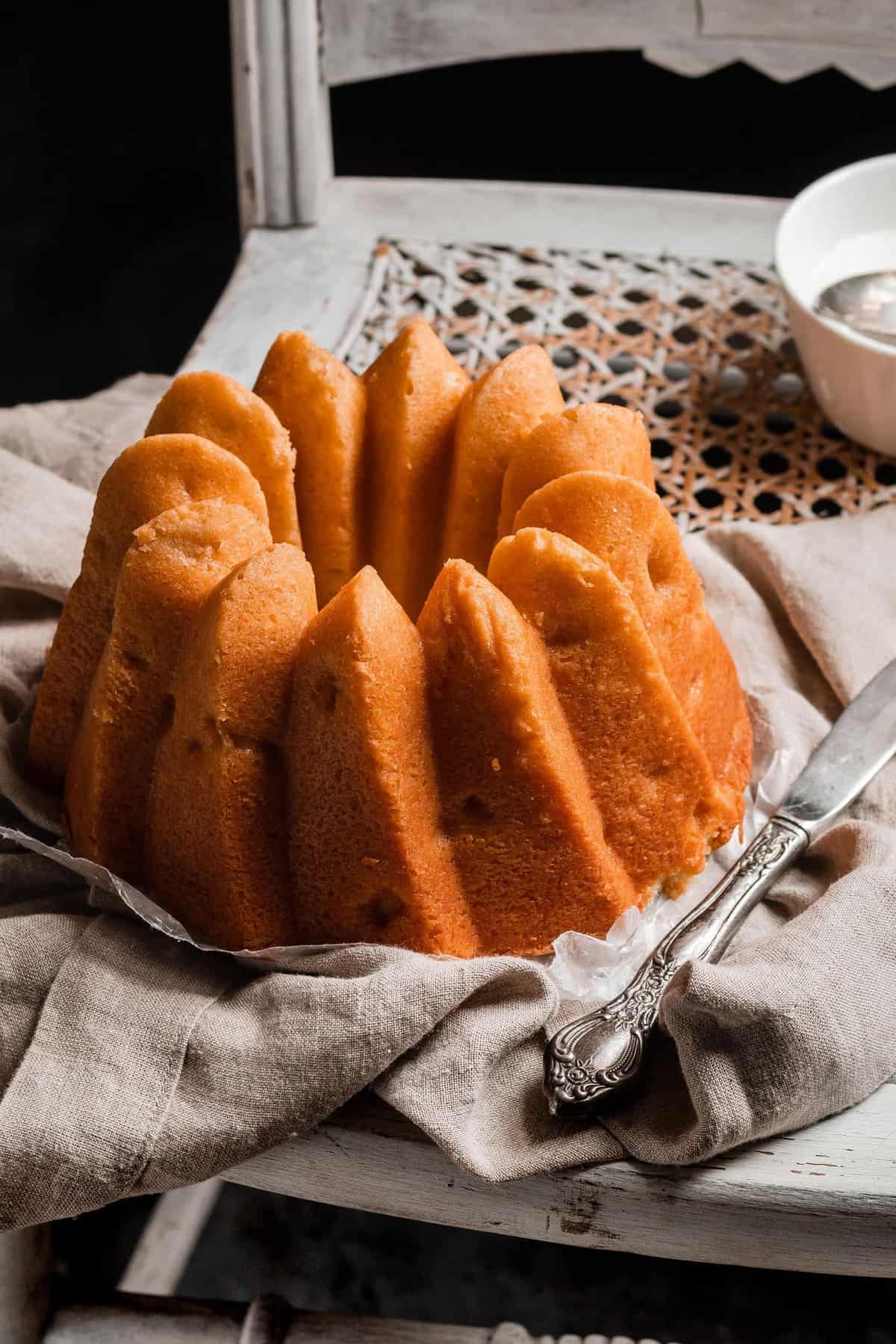 What to know when baking with Olive Oil:
Choose the brand that you like. If it tastes good when dipped in bread it will taste good when baked with.
When replacing the full amount of butter with olive oil, use 80% of the needed amount. (instead of 8 TBS of butter use 6 TBS of olive oil).
Use olive oil in recipes that call for vegetable oil/melted butter. It is very important to keep in mind that olive oil will not cream like butter. So if a recipe calls to cream the butter either skip the olive oil and stick with butter OR replace 30%-40% of the butter with olive oil. For example, if the recipe calls of 8 oz / 225 g of butter (2 sticks) replace about 3 oz of the butter with olive oil: 5 oz / 140 g butter + 3 oz 85 g olive oil. The timing is very important olso. Add the olive oil AFTER you cream the butter and sugar. (you can also see an example in this Pear Cake Recipe)
When you SHOULD NOT use olive oil :
When creaming is the essential method of the recipe like in buttercream. As you cream butter in sugar, the idea is to trap the air coming out of the sugar crystals during mixing time. The fat in the butter does that and since butter tends to harden/solidify it will be able to keep the air in and as a result you have a light fluffy and playable buttercream.
When baking rich doughs and pie crust. Sorry but not sorry olive oil, butter takes the win on this one. Firstly you want your croissants to stats like butter. Secondly, remember that butter is 15%-18% water? Well, that water turns into steam during baking. And that steam is why we have beautiful flaky layers.
Frying. Olive oil has a low smoking point and will overheat very fast. So stick to peanut oil/canola oil when frying.
However, I will add a note that wearing the "Mad scientist" hat might be a good plan if you have an idea or just want to try something new. I would love to learn something new!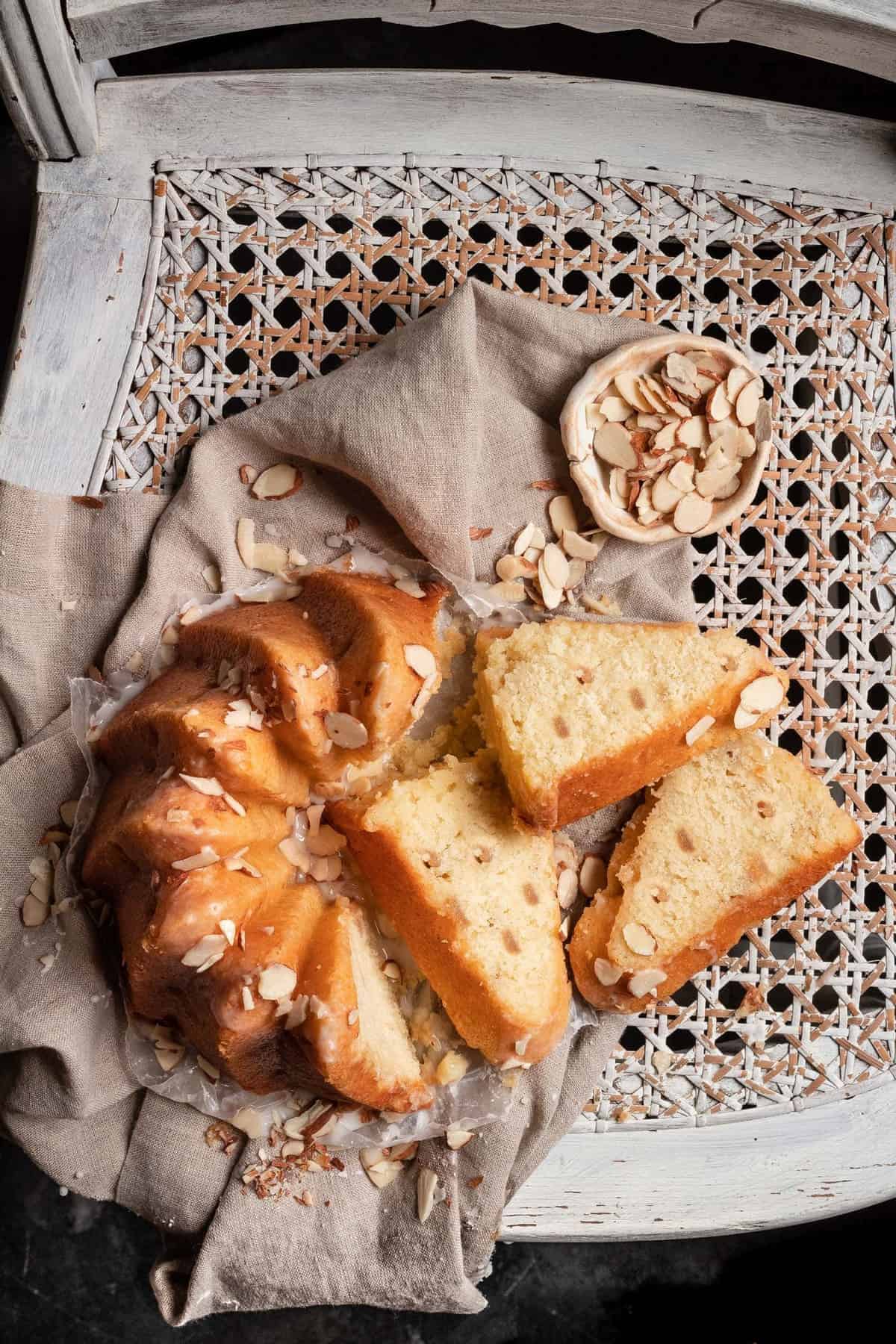 Now Let's Talk about this Almond Pear Cake Recipe:
The first step is to saute the sliced pears with some butter. This is n important step not only because it adds extra flavor but because it tenderizes the pears and softens its texture a bit.
Make sure to drain the access butter after sauteing the pears.
Please slice the pears into small pieces, about the size of large peas to make sure the pieces will not sink to the bottom of the cake.
Make sure the Almond paste you are using is fresh and soft. A dry paste will not incorporate into the batter well.
If you are out of cake flour, use 100% all-purpose flour.
HAPPY BAKING!!!
Here are some more fun recipes I created with the power of Baking Science :
One more thing…
Don't forget to tag @OneSarcasticBaker on Instagram if you bake this recipe. Would love to see your creations!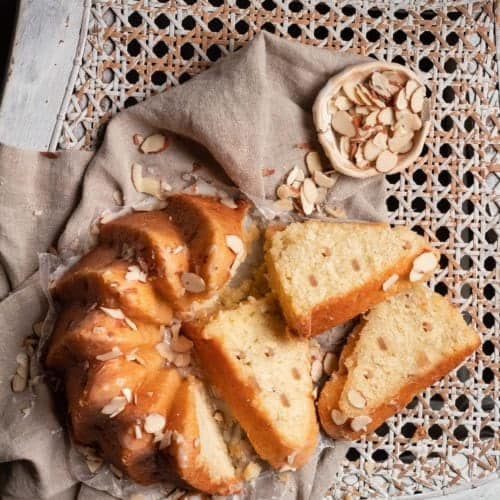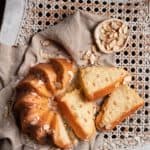 Almond Pear Cake
Ingredients
2-3

Medium

Pears

(200 g / 7 oz)

2

TBS

Unsalted butter

2

TBS

Almond Paste

(40 g / 1.5 oz)

2

Cups

Sugar

(400 g / 14 oz)

1

Stick

Unsalted butter, soften

(113 g / 4 oz)

1/3 + 1 TBS

Cup

Olive Oil

(85 g / 3 oz)

4

Large

Eggs

2

Cups

AP flour

(240 g / 8.5 oz)

1

Cup

Cake Flour

(120 g / 4.25 oz)

1 1/2

tsp

Baking Powder

1

Cup

Full fat milk

(240 ml / 8 oz)

1

tsp

Vanilla extract

2

tsp

Almond extract
Instructions
Preheat oven to 350F. Grease with butter and sprinkle some flour your choice of budt pan.

Peel and slice the pears into 1/8" thick cubes.

Melt the butter in a medium-size pan then add the sliced pears.

Gently stir the pears using a rubber spatula for about 2-3 minutes. Remove from heat and place the pears in a sieve over an empty bowl. Let cool.

Sift the AP flour, cake flour, and baking powder together, Set aside.

Mix the milk and extracts together, set aside.

In a bowl of a standing mixer place the butter, sugar and almond paste and mix on medium-high for about 3-4 minutes.

Reduce heat to medium-low and slowly drizzle in the olive oil. Return speed to hight and mix for additional 3-4 minutes.

Add the eggs one at a time, waiting for each egg to completely incorporate before adding the next.

Add the flour mixture alternating with the milk mixture in three additions starting and ending with the flour.

Right after you add the last portion of the flour, turn the mixer off and using a rubber spatula fold in any egg/flour residue.

Gently fold in the pears.

Pour the batter in the prepared cake pan and bake for 40-50 minutes or just until a cake tester comes out clean from the center of the cake.