Last updated on January 4th, 2023.
This is a soft, tender and moist Chocolate Gin Cake. Packed with chocolate and coffee flavors that are enhanced by the gin.
Once upon a time, there was a princess. She did not have a prince nor was she looking for one. Her life was full of friends, laughter, and lots of social events. She also loved expensive boots, live concerts, and had a strong passion for whiskey sour.
Then the princess met her prince. Things went very fast and before she knew it she was living the American dream with two kids, a mortgage and an average of 5 hours of sleep a night. In addition, the expensive boots were replaced with snickers, social events are mostly held at the local "My Gym" and whiskey sour is no where to be in sight but an average of 7 Muy Grande coffee cups. But she couldn't be happier.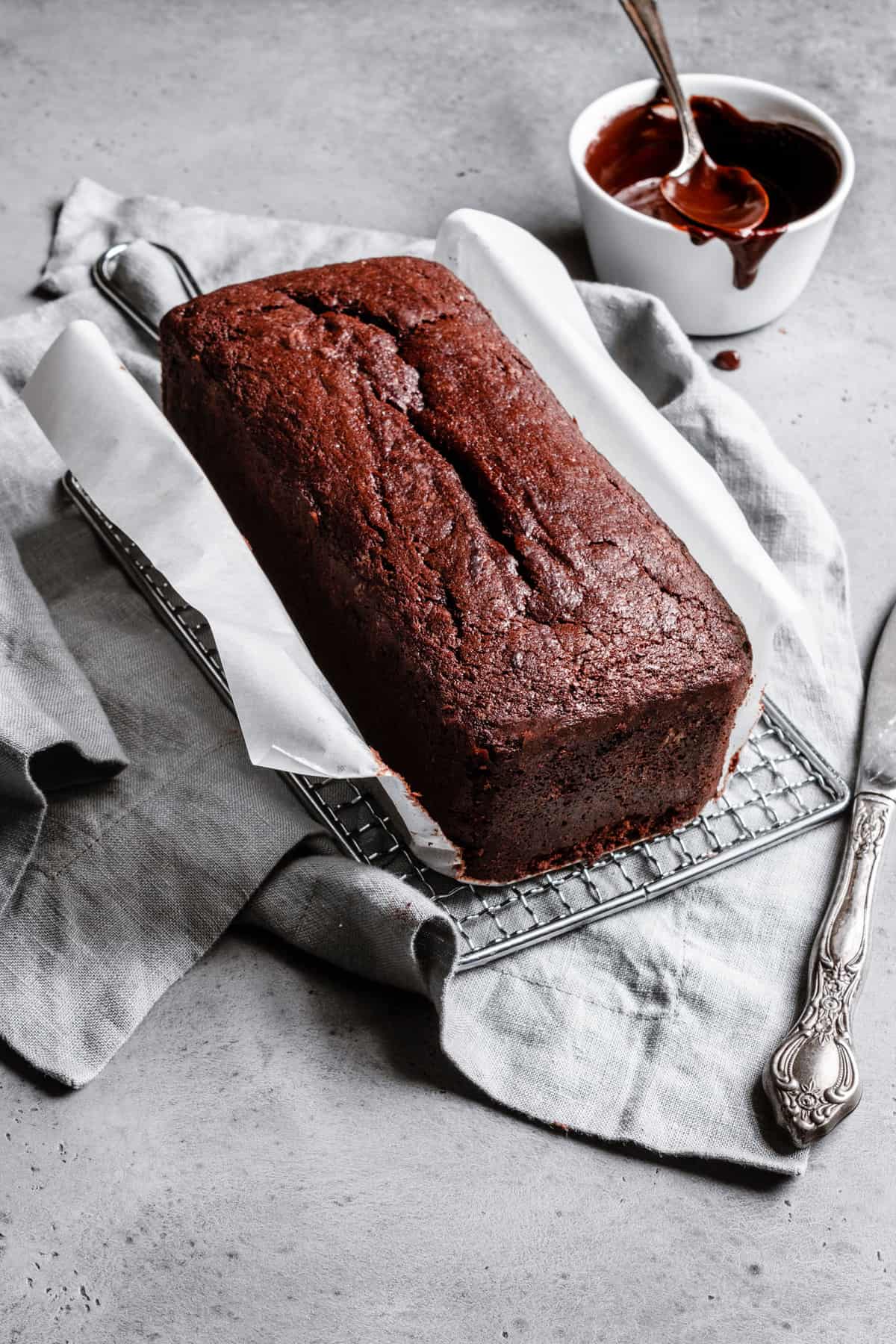 Sounds familiar? I call it "Cinderella in reverse" syndrome. (LOL)
And I thought about it recently when I realized that I have a very impressive alcohol stash I am very protective of. It contains Brandi, Vermouth, Amaretto, Limoncello, Frangelico, Grand Marnier and now Gin! For one reason and one reason only, BAKING! What can I say, getting old is intoxicating!
Brockmans Gin asked me to develop a recipe using their amazing gin. The cake came out SO DELICIOUS, moist and tender I had to share! However, this is not a sponsored post. You can not taste the gin when eating the cake, but you can taste how it brings all the flavors together in a truly unique way.
Oh, and if you wondered, my prince knows that snicking a taste from my stash might result in a fine at the expense of his very expensive whiskey. (Same one that is for my special occasion whiskey sour.)
Now Let's Talk About This Chocolate Gin Cake Recipe:
If you do not wish to use alcohol, replace the Gin with extra coffee or extra sour cream.
The coffee helps bring out the chocolate flavors. How strong the coffee should be is completely up to you.
It is important to use very hot coffee firstly to melt the chocolate and secondly to allow the cocoa powder to bloom. (It will not bloom in cold environment ). Please remember that regular cocoa powder in contrast to Dutch-processed cocoa powder will not melt in hot liquid. However, I have yet to notice any difference in flavor.
You can bake this cake in two 8″ loaf pans, four 6″ round pans, three 3″ round pans or 1 regular size bundt pan.
If you are a Gin fan and love the flavor, add 1 TBS of Gin to a simple syrup recipe (1 cup water + 1 cup sugar cook until sugar has dissolved), and brush the cake with it.
HAPPY BAKING!!!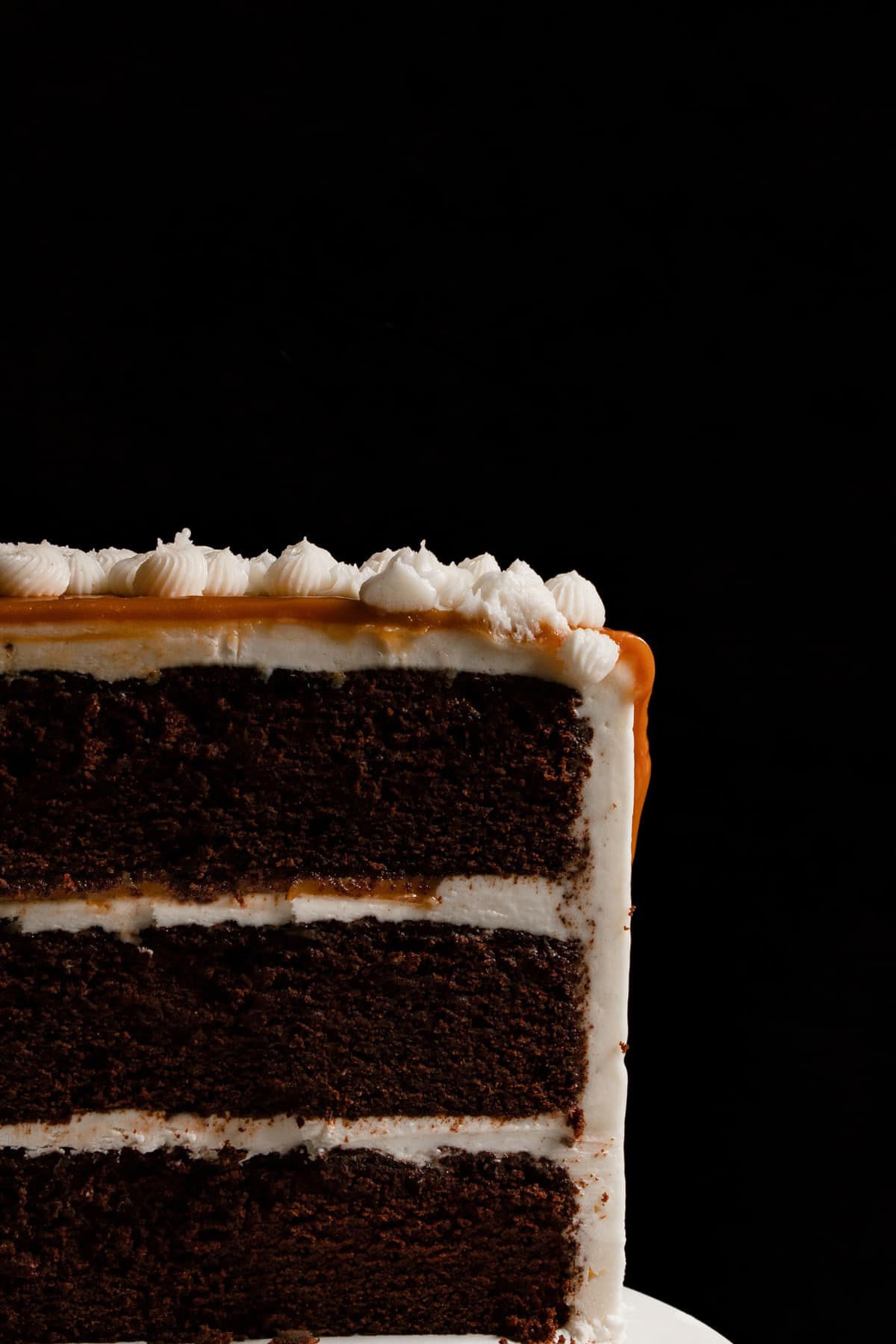 Here are some more recipes you might enjoy:
One more thing…
Don't forget to tag @OneSarcasticBaker on Instagram if you bake this recipe. Would love to see your creations!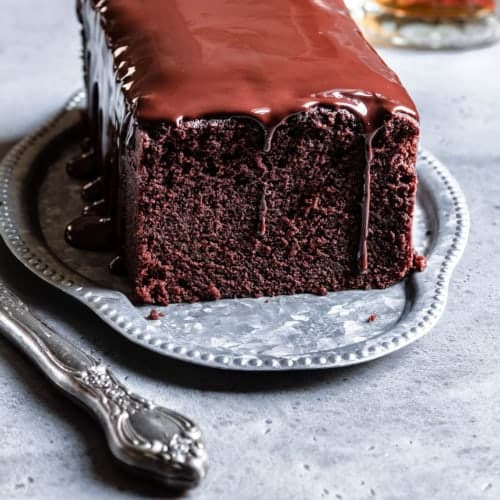 Chocolate Gin Cake
Ingredients
2

Cups

AP Flour

(240 g / 8.5 oz)

1/2

Cup

Cake Flour

(60 g / 2 oz)

1

tsp

Baking powder

1/2

tsp

Baking soda

1/2

tsp

salt

1/2

Cup

Unsweetened chocolate

( 85 g / 3 oz)

1/2

Cup +1 TBS

Unsweetened Cocoa powder

(56 g / 2 oz)

3/4

Cup

Hot Coffee

(180 ml)

1/4

Cup

Gin

(60 ml)

1/2

Cup

Full fat sour cream

(120 g / 120 ml)

1

Cup

Unsalted Butter softened

(226 g / 8 oz)

2 1/2

Cup

Sugar

(550 g / 17 oz)

4

Large

Eggs, room temperature
Chocolate Glaze
1

Cup

Dark chocolate (72% or up)

(170 g / 6 oz)

1

TBS

Vegetable Shortening
Instructions
Preheat oven to 350F. Grease two 8" loaf pans or line with parchment paper and set aside.

In a medium bowl, sift the AP flour, cake flour, baking powder, baking soda, and salt. Stir to evenly distribute and set aside.

Chop the unsweetened chocolate into small pieces and place in a medium bowl, add the cocoa powder.

Pour the hot coffee over the chocolate and cocoa powder and allow 1-2 minutes for the hot coffee to melt the chocolate.

Gently stir the chocolate coffee mix using a fork until a smooth mixture is formed.

Add gin and sour cream to the chocolate mixture and stir to combine. Set aside.

In a bowl of a standing mixer, place the sugar and butter and mix medium-high speed for about 4-5 minutes. Until light and fluffy.

Reduce speed to low and add eggs, one at a time waiting for each egg to fully incorporate before adding the next.

Add the flour in three additions alternating with the chocolate sour cream mix.

Right after adding the last portion of the flour, turn the mixer off and use a rubber spatula to incorporate any flour or egg residue. 

Divide the batter between the prepared pans and bake for about 50-55 minutes, or just until a tooth pick comes out clean from the center of the cake.

Remove from the oven and allow to cool before removing from pans.

Once the cakes have cooled, remove from pans and set on a serving dish or a cooling rack that is placed on a cookie sheet lined with baking paper.

Melt the chocolate and vegetable shortening and glaze the cakes.