Last updated on December 3rd, 2021.
One might say that this recipe for Double Decker Chocolate Profiteroles is an homage.
An homage for the those who shared some of their most distinguished qualities with me.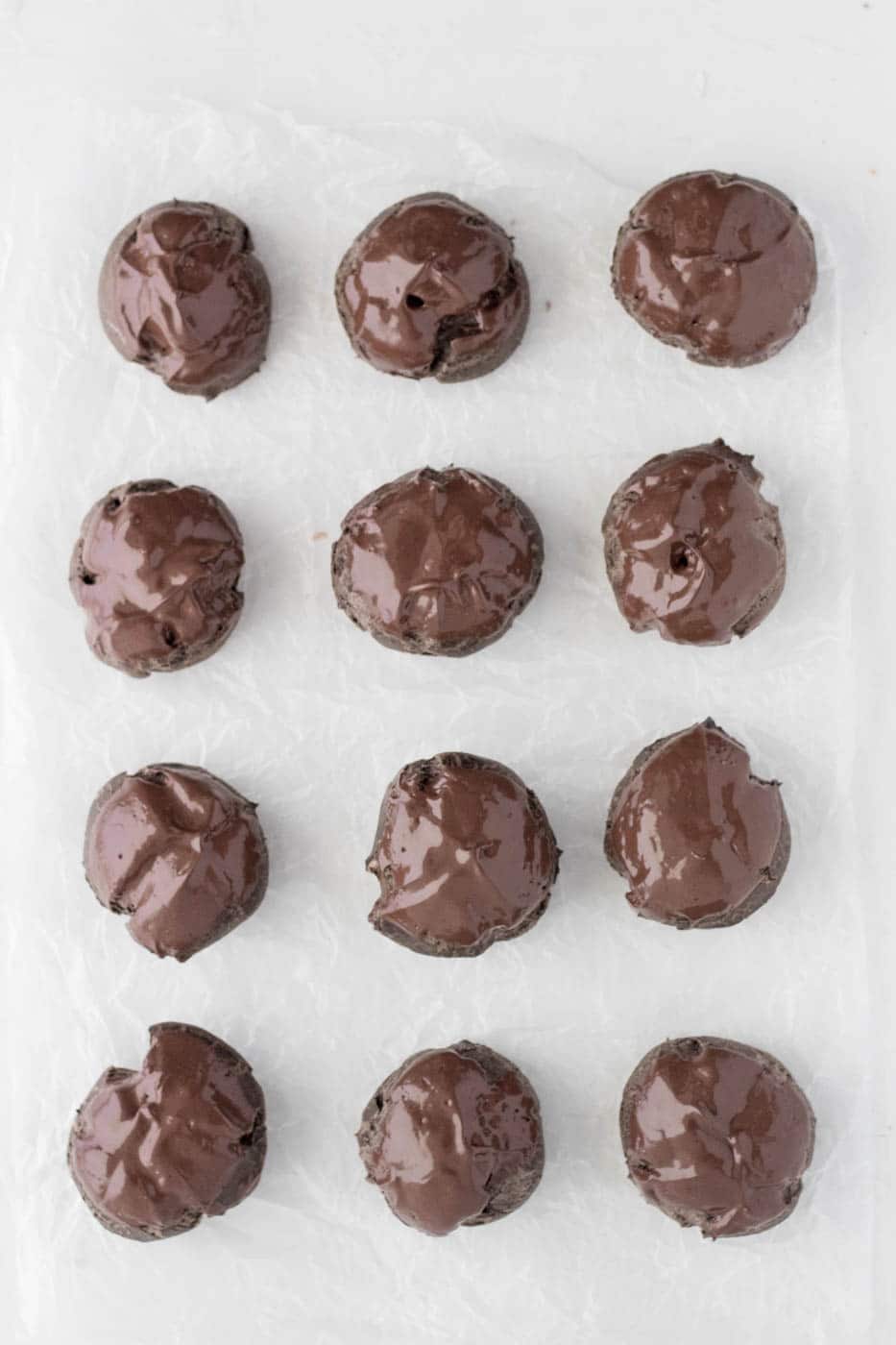 Today, I am not talking about my loving parents. Thou my dad did share his overly sweet tooth which he liked to nourish mostly while watching TV.
And my love for baking along with the fear of egg yolks dripping into the egg whites I inherited from my mom.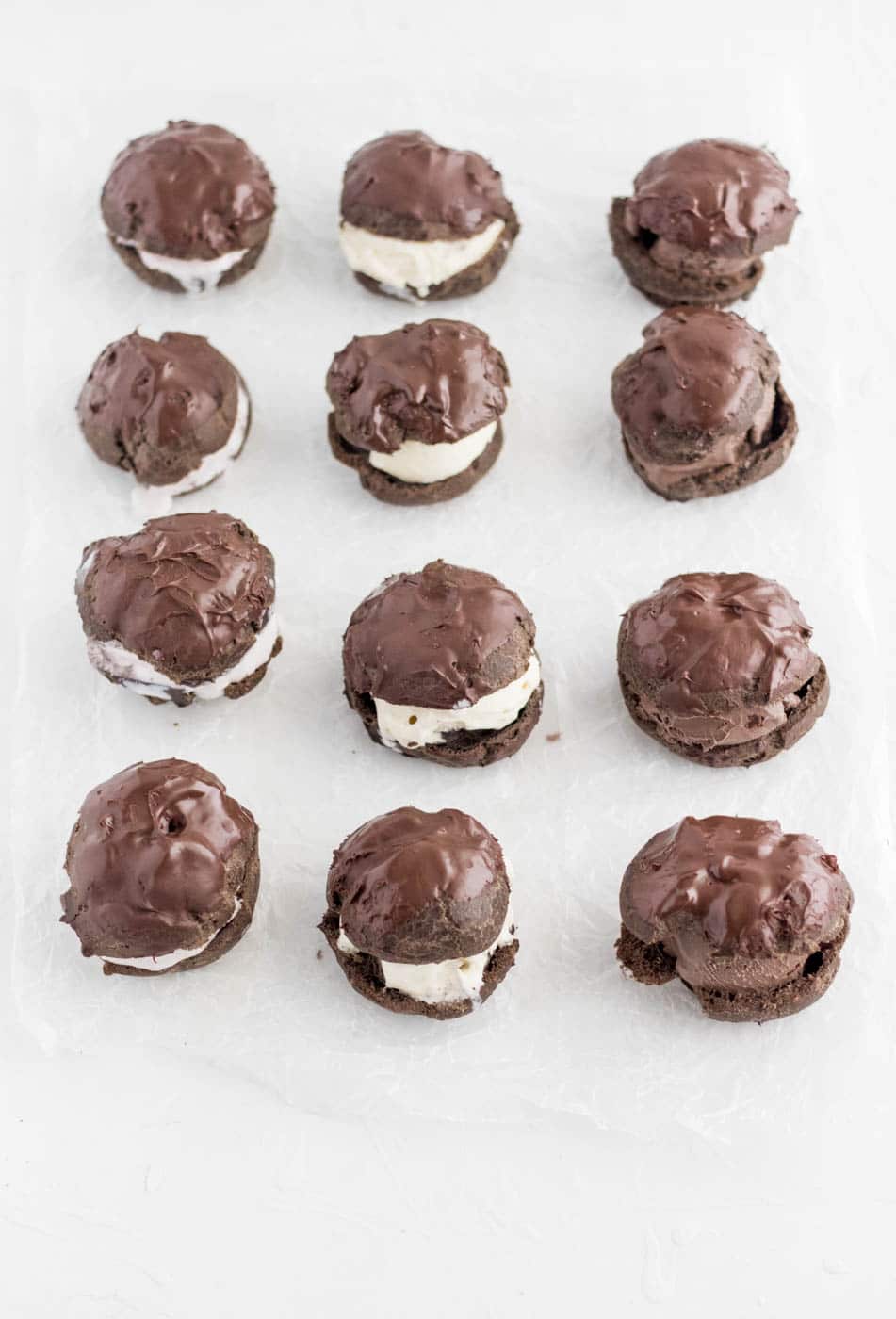 Today I am talking about my grandparents. The funny thing is that I only came to think of it because I was baking a French dessert.
You see, both of them spoke French and even thou they were born and raised my Morocco,they consider them self somewhat French.
My Grandmother ,Juliet loved anything that was related to French cuisine, like yours truly. And just like me she has a serious issue when it comes to quantity control when cooking/baking. Which is why our neighbors were and still are well fed.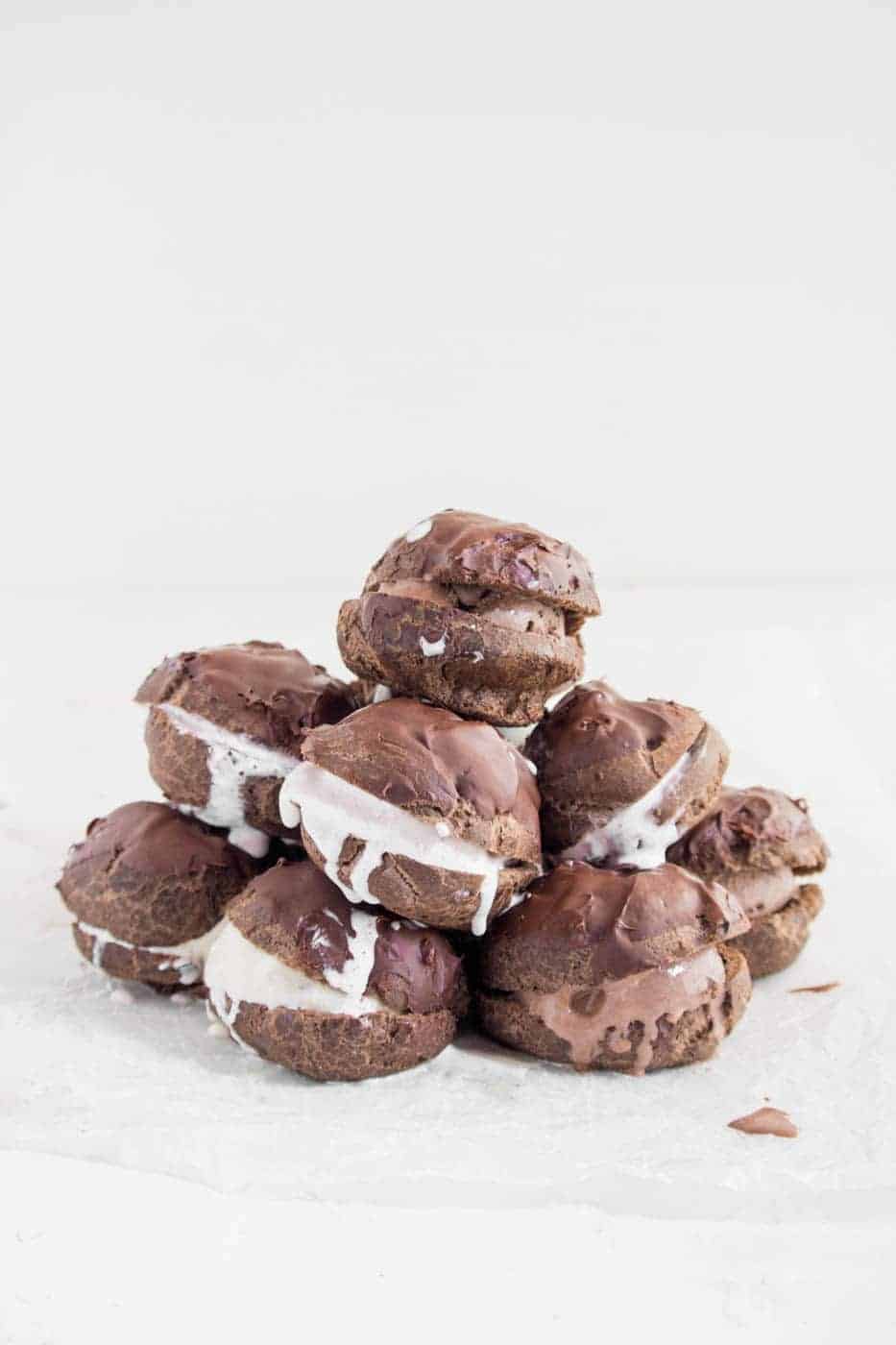 My Grandfather was one of those old school tailors. He was always well dressed, wearing a suite with a matching hat. Once a month he traveled the county in search for the best materials (Pre Amazon prime time). He took a lot of pride in his work and the best part for him was how happy he made his costumers that ended up being his friends. He was known as Isaac the Tailor.
Like him I put my heart and soul in my work and my biggest motivation is always the pleasure one might get from it.
And so I present to you Double Decker Chocolate Profiterole.
Profiteroles, just like cream puffs and eclairs do not have much flavor by themselves. They get all the flavor from the filling and topping and have the best texture and structure to be filled.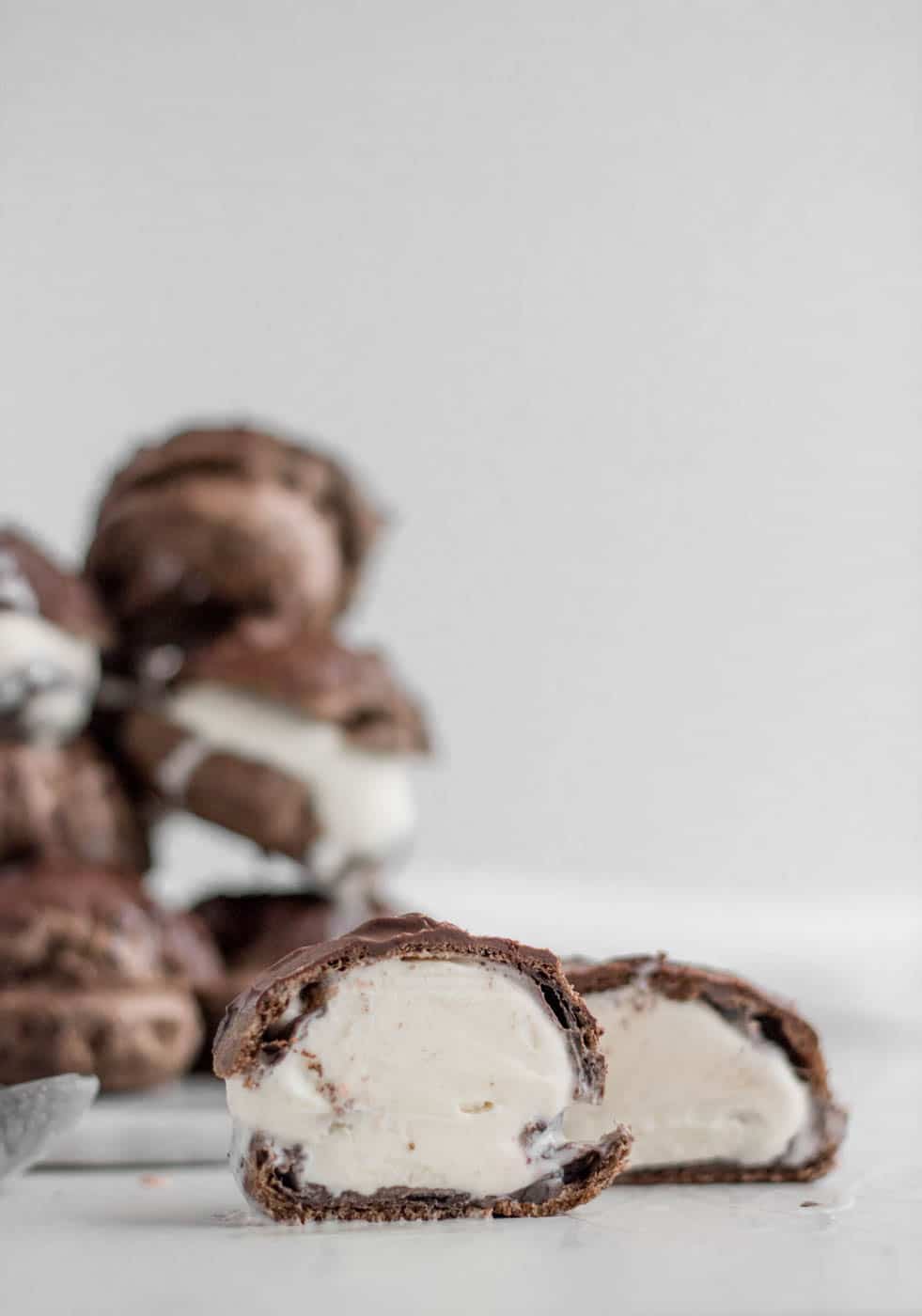 This recipe was created by using the baking ratio science. You can download a free printable Baking Ratio Chart here.
You can bake the Profiteroles a head and freeze for up to 3 months.
If you wish, skip the chocolate flavored Profiteroles by omitting the cocoa powder with additional flour.
Don't forget to check out the Baker's Tip at the end of the recipe.
HAPPY BAKING!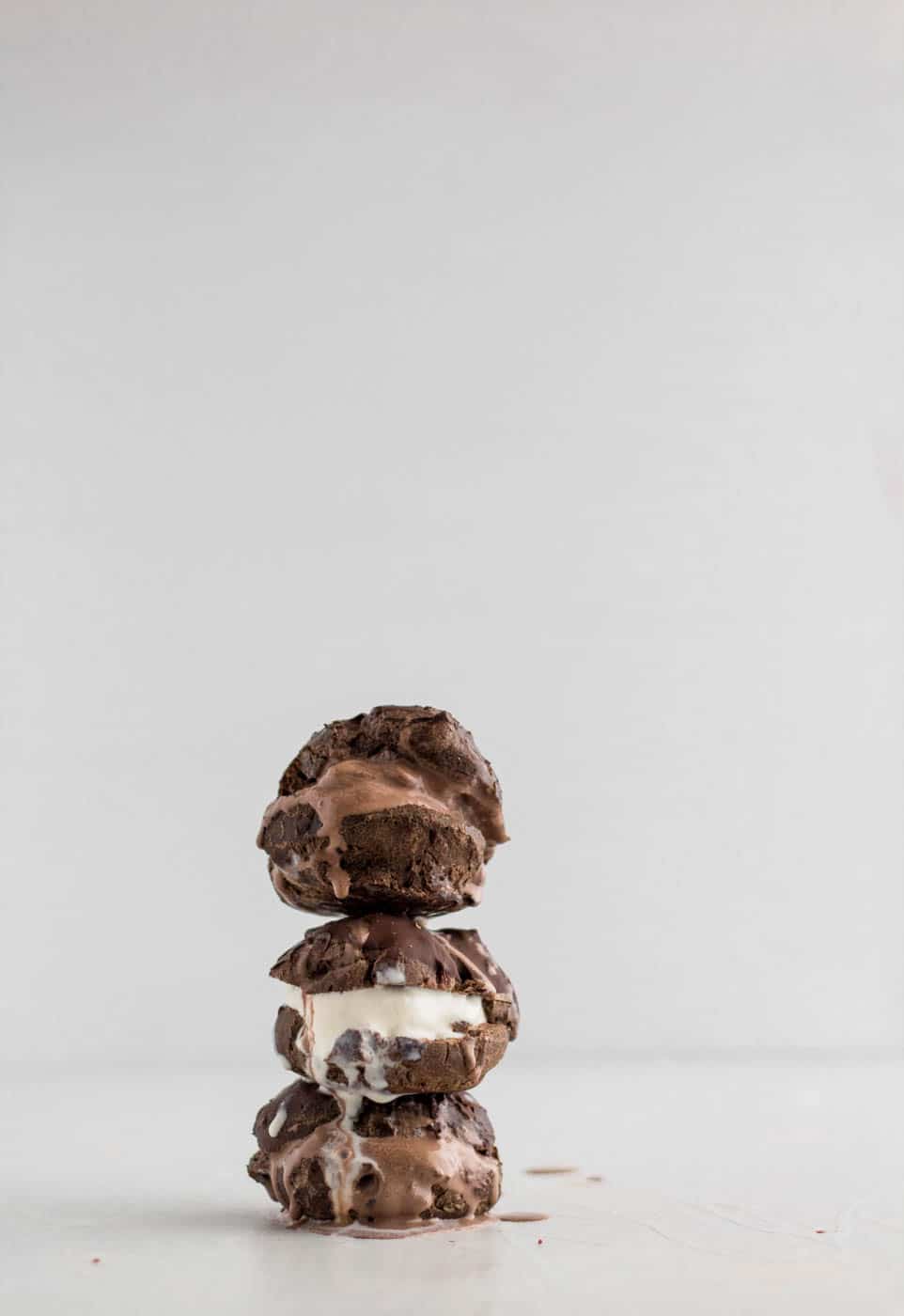 Here are some more desserts recipes you might like: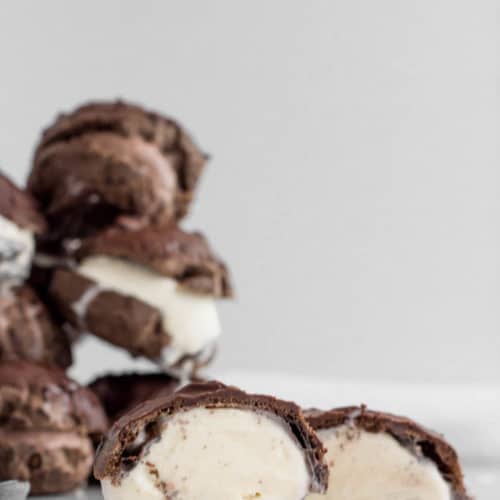 Chocolate cream puffs
Airy chocolate flavored cream puffs filled with ice-cream
Ingredients
1

Cup

Water

(240 ml/ 8 oz)

1

stick

Unsalted Butter

(113 g/ 4 oz)

1/8

tsp

Salt

1

TBS

Sugar

3/4

Cup

AP Flour

(100 g / 3.5 oz)

1/8

Cup

Cocoa Powder

(15 g / 0.5 oz)

4

Large

Eggs

1

Cup

Semi Sweet Chocolate chips

( 170 g / 6 oz)

1

tsp

Vegetable shortning

2-3

Cups

Your choice of icecream
Instructions
Preheat oven to 425F. Line 2 cookie pans with parchment paper.

Sift the flour and cocoa powder together. Set a side

Place the water, butter, salt and sugar in a pan and over the stove, high heat.

Allow the butter to melt and once the mix starts to simmer lower to medium and add the flour cocoa mix.

Rapidly mix the flour and keep on mixing for about 30 seconds to allow the liquids to be absorbed.

Remove from heat and place in a bowl of a standing mixer. Using the paddle attachment, mix the dough on low to allow it to cool a bit. (the dough should still be warm but not to hot or it might cook the eggs)

Add the eggs and mix on medium until you have a smooth batter.

Scoop or pipe the batter on the parchment paper. (I used a cookie spoon)

Baker for 10 minutes than reduce the heat to 350F and baker for 25-30 minutes longer.

Once it is baked, turn the oven off and allow the profiteroles to cool in the oven.

When ready to serve. Melt the chocolate chips and shortening and dip the top of each profiteroles. (you can do this step before or after the following step)

Cut the profiteroles in the center and fill each one with a scoop of ice cream. Serve immediately.