Last updated on August 5th, 2023.
Crispy grooves and tender interiors are what the ultimate Chouxnut is like. It's also glazed with a sweet glaze, and if you wish to add some more distinguished flavors, then fill it with cream filling.
What Is a chouxnut?
First, it is pronounced shoo-nut; it's a fun pun for choux paste and donuts. Chouxnut is a hybrid pastry: fried choux pastry donuts that are glazed and sometimes filled with cream. In the USA and Canada, we know them as Crullers, and in Southern Italy Zeppole, or Italian Cream Puffs. While you can fill them with all fillings, they are deliciously addictive when glazed with a simple lemony icing.
Ingredients and substitutions
This recipe only calls for a few simple recipes. You can find the complete list of the items and measurements in the recipe card below.
Milk. Alternatively, you can use water.
Unsalted butter. Cut into 1-inch pieces. Do not use salted butter; it will give you a savory pastry.
Salt.
Bleached all-purpose flour. Bread flour will also work.
Beaten eggs. At room temperature.
Powdered sugar. For the glaze.
Lemon zest and juice. For the glaze.
Vegetable oil for deep frying.
How to make chouxnuts
Making the dough is the same as baking cream puffs or choux au craquelin, and I have the complete tutorial for How To Make Choux Pastry, including troubleshooting and a step-by-step visual guide.
In a medium pan, bring the milk, butter, and salt to a boil over the stove.
Add the flour, and use a wooden spoon to stir the mixture over medium heat until smooth and the side of the pan are clean, about 3 minutes.
Place the dough in a bowl of a stand mixer bowl (or a large mixing bowl), and beat using the paddle beater until cool, about 4 minutes.
Add the eggs in four parts, and mix until smooth.
Place the dough in a separate bowl, cover, and refrigerate until completely cool.
Remove from the refrigerator, and fill a large piping bag (affiliate), fitting with a large star tip (affiliate).
Pip choux rings over 3-inch baking paper squares (about 8 cm squares).
Fill a heavy-based pan with oil and warm it to 350F (180C); gently place the donuts in the oil and fry for 2 minutes on each side. Use a kitchen tong to remove the baking-paper squares.
Remove from the oil, and place the cooked rings over a cooling rack or a wire rack.
Mix the powdered sugar with the lemon zest and juice and mix until smooth.
Gently brush each donut with the icing and serve.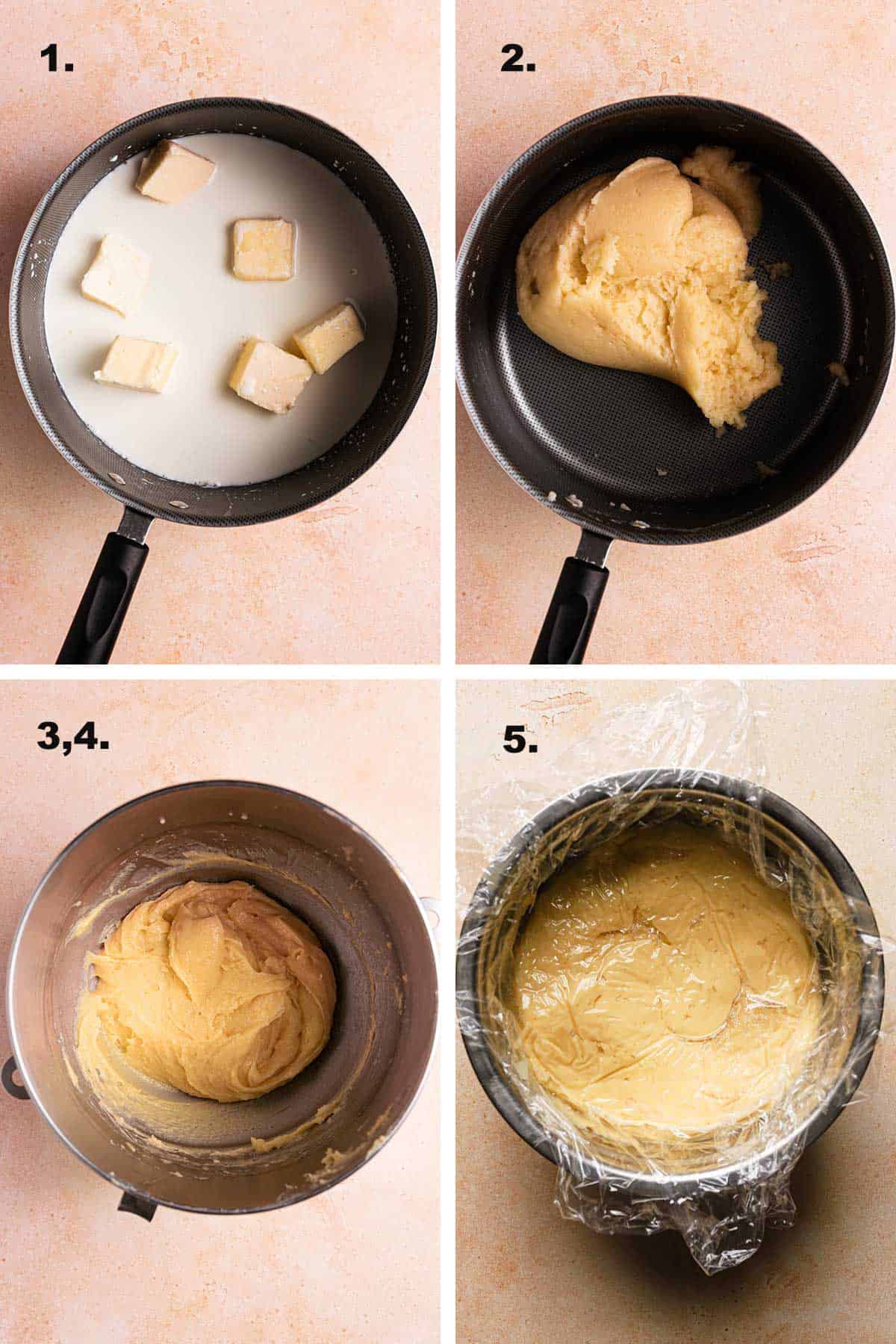 Baking vs. Frying
In addition to frying, you can bake this doughnut-shaped choux pastry bun dough. Pipe the choux paste over baking sheets and bake at 400F for 10 minutes, then reduce the temperature to 375F for additional 10-12 minutes.
When baking, I recommend filling the donuts.
Glazing and filling Ideas
When filling the donuts, make a small hole at the side of each ring and gently fill using a small piping nozzle. Here are a few ideas:
You can also sprinkle chopped chocolate, sprinkles, sesame seeds, flaked almonds, or crushed cookies on top of each chouxnut.
Storing
These crullers chouxnuts are best when fresh; keep covered for one day. Also, the choux paste can be made a day in advance in the refrigerator.
To freeze, place in a freezer bag and freeze for up to three weeks.
FAQS AND TIPS
Using plain nozzle.
It will not create grooves, and you might not have the perfect combination of crisp pastry.
Use an electric mixer.
Or a whisk if you don't have a stand mixer.
What is the difference between a doughnut and a chouxnut?
Doughnuts are made with yeast dough, chouxnut is made with choux pastry.
Are chouxnuts the same as cronuts?
No, cronuts are made with brioche dough, chouxnuts are made with choux pastry.
What are chouxnuts made of?
Chouxnuts are made with choux pastry, the same dough used to make eclairs and cream pastry.
Are French crullers chouxnuts?
Yes, both are made the same way; they are the same.
What is the difference between beignet to chouxnuts?
Beignet is usually dusted with powdered sugar, chouxnuts are glazed.
Here are more donuts recipes you will enjoy
Potato donuts, Sfenj, Baked chocolate donuts, Baked Pumpkin donuts
Please follow and tag me on Instagram when you bake my recipes.
Chouxnut Recipe
Light and airy chouxnuts, french cruller donuts glazed with a lemony frosting.
Ingredients
1

Cups

Milk

(240ml)

1

Stick

Unsalted butter, cut into 1-inch pieces

(112g/4oz)

1/4

teaspoon

Salt

1

Cup

All-purpose flour

(120g/4oz)

4

Large

Eggs, at room temperature, beaten
For the lemon glaze
1

Cup

Powder sugar

(125g/4oz)

2

teaspoon

Fresh lemon zest (from one lemon)

2

tablespoon

Fresh lemon juice (from one lemon)
Instructions
Add the ,milk, butter, and salt, in a medium saucepan and place over the stove on medium heat. Melt the butter and bring the milk to a boil.

Add the flour into the milk mixture and use a wooden to cook the mixture until it is smooth or reaches 175F (79C), about 3 minutes.

Remove from heat, and place in a bowl of a standing mixer; beat using the paddle attachment until cools.

Add the eggs in four part, and mix until smooth.

Transfer the dough to a bowl, cover it with plastic wrap, and refrigerate until completely cool.

Fill a large piping bag fitted with a large star tip.

Pipe 3-inch choux rings over parchment paper squares.

Pour the oil into a large, heavy bottom pan and warm to 350F (180C).

Gently drop the rings into the oil, and fry for 2 minutes on each side. Use kitchen tongs to remove the parchment paper before turning the rings.

Remove from the oil, place over a wire rack; let cool for a few minutes, and glaze.

Mix the glaze ingredients in a medium bowl, then use a pastry brush to gently brush the chouxnuts with the glaze.
Recipe Notes
Make sure the eggs are at room temperature.
To bake the donuts, bake for 10 minutes at 400F (200C), then reduce the temperature to 375F (190C) and bake for additional 12-15 minutes.
Stay close during frying, and make sure the oil does not go over 350F (180C); the hight the temperature is, the less the donuts will puff.
The choux pastry donuts are best fresh right after frying.  Store at room temperature for up to one day.
You can make the dough using a stand, electric, or wooden spoon.
Use a pastry brush or a spoon to glaze the donuts; dipping them might deflate them.