Last updated on July 25th, 2023.
Sfenj, Moroccan donuts are a sticky unsweetened dough that is shaped into a rustic ring shape. The donuts are chewy with a crispy interior and sprinkled with sugar.
If you are a fried donuts fan, I also have a homemade Brioche Recipe , Boston Cream Donuts, and Potato donuts recipe.
Growing up in a Jewish-Moroccan family meant I had the privilege of participating in a rich, colorful and most delicious (plus VERY LOUD) tradition.
These Sfenj are a staple fried food during Hanukkah and on a special occasion like a wedding celebration. These two reasons must be Jewish because these Donuts are very common everyday street food in Morocco.
BTW, I also have these authentic Zeppole, Italian Donuts, and French crullers, recipes.
While Moroccan cuisine is rich in colors, spices, and flavors these donuts are nothing but the simplest recipe. The recipe calls for a few simple ingredients, no special techniques and gets its flavors from the frying oil and sugar.
Please do not think Krispy Kream or Dunkin Donuts, these donuts are hardcore street food. It is crispy on the outside but chewy on the inside. And while eating these fresh out of the pot will give you the full Moroccan cuisine experience it might be disappointing if eaten not fresh.
Now Let's Talk About This Sfenj, Moroccan Donuts Recipe:
The recipe calls for 1 1/2 cups of water. But, to avoid over hydriding the dough, start by adding 1 cup of water. The dough should be soft and sticky. However, you should be able to knead it with your hands and form a dough ball.
Do not worry about making perfectly round dough balls, the beauty of these donuts is in their rustic look.
I highly recommend using a candy thermometer, and make sure the oil is not over or under heated.
The donuts should be ready when light golden brown. But if you prefer a darker color fry the donuts for an extra 2 minutes.
You can sweeten the donuts with sugar, powdered sugar or in addition honey.
HAPPY BAKING!!!
One more thing…
Don't forget to tag @OneSarcasticBaker on Instagram if you bake this recipe. Would love to see your creations!
Here are some more fun recipes you might enjoy: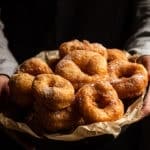 Sfenj Moroccan Donuts
Ingredients
4

Cups

AP Flour

(500 g / 18 oz)

2

tsp

Dried yeast

1

tsp

salt

1

TBS

Sugar

2

Large

Egg yolks

1 1/2

Cups

Lukewarm water

(360 ml / 12 oz)
Instructions
In a large bowl mix flour, yeast, salt, and sugar.

Add egg yolks and slowly drizzle in the water while mixing by hand.

Keep kneading the dough until a sticky, smooth and soft dough has formed.

Spray the dough with some oil spray and cover the bowl with a plastic wrap or a plastic bag.

Let the dough rise for about 1-2 hours.

Grease a large cookie sheet with some vegetable oil set aside.

Divide the dough into 15 parts, roll each piece into a ball and place it on the greased cookie sheet.

Cover the dough balls with a lightly damp kitchen towel for a second rise, about 30-60 minutes.

Pour the vegetable oil into a wide and deep pan, about 1/3-1/2 way up. Heat it to 340F-400F.

Using your finger and thumb create a hole in the center of each dough ball and place it into the hot oil.

Fry for about 3 minutes on each size.

The donuts are ready when lightly golden.

Sprinkle the donuts with some sugar or honey and serve immediately.