Last updated on February 4th, 2023.
A little bit of Russet potato goes a long way and gives these Potato Donuts a fluffy and soft texture with a crispy crust.
Please note that is post contains affiliated links which means I might make small earnings at no cost to you.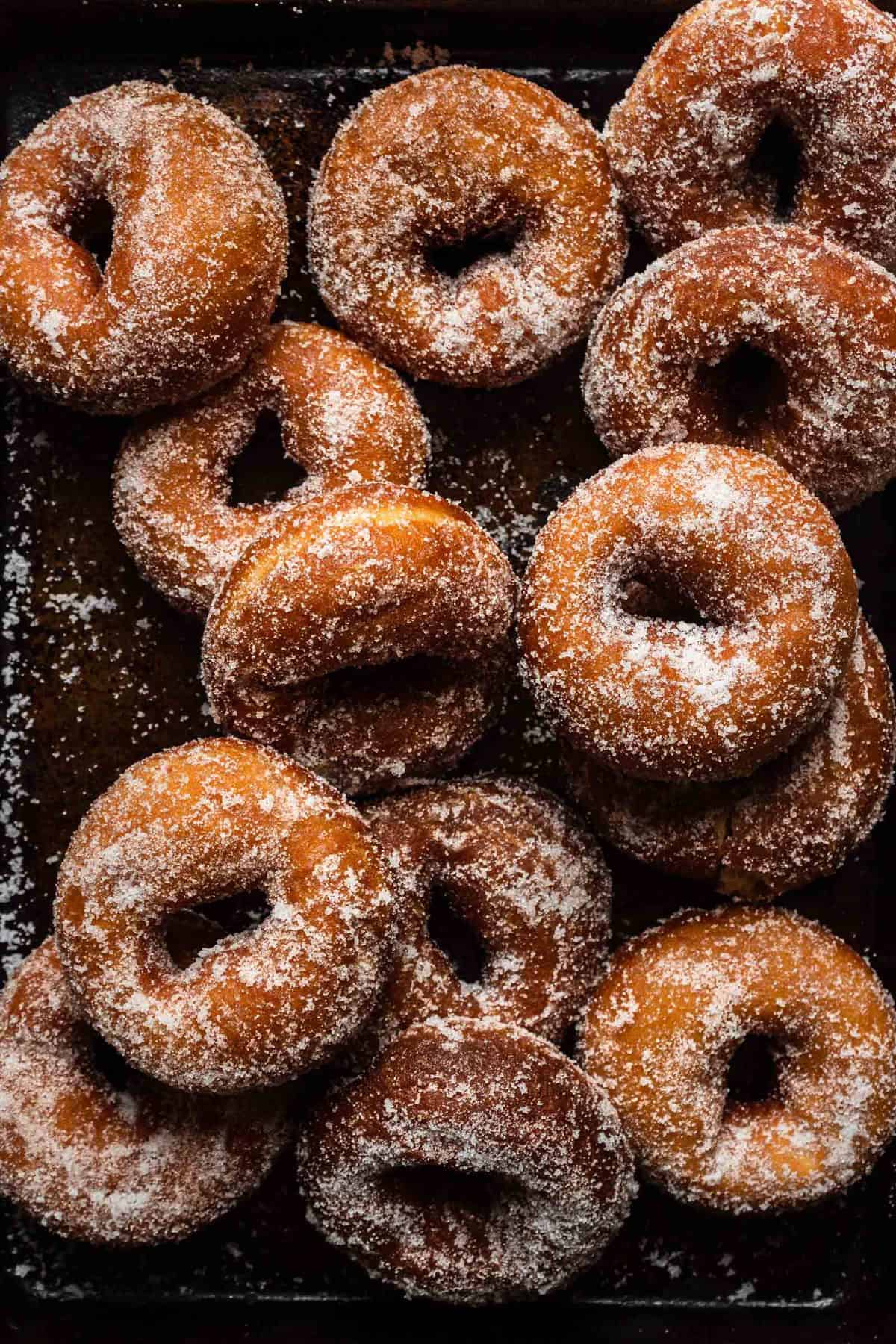 I first made this recipe to celebrate Chanukah, this holiday's tradition is to eat fried food. But let's face it, none of us really need a holiday to enjoy a fluffy soft, warm, and sweet donut! Am I right?
I have to be honest and say that I was nervous and full of doubts before making this recipe. It seemed very simple and a bit to easy to be that good. But trust me when I say it is all of the above and even more so you end up with amazing homemade fluffy sweet donuts!
For the donuts fans, I've got a Brioche doughnuts recipe, Boston Cream Donuts, Bavarian Cream Donuts, French crullers (chouxnut), and a Sfej Morrocan donuts recipe.
What Ingredients are in this Potato Donuts Recipe:
All-purpose flour
Yeast
Baking Soda
Salt
Nutmeg, feel free to skip or replace it with your favorite spice.
Sugar
Mashed cooked potato, even thou the recipe calls for a full medium-sized potato please note that we will only use 1/2 a cup total.
Egg
Milk
Melted Butter
How to make and shape the donuts:
This recipe has three steps.
Step one, making the dough:
Firstly, mix dry ingredients (flour, yeast, sugar, salt, and nutmeg) together.
Secondly add the remaining of the ingredients and mix using a stand mixer or your hand until you have a smooth dough.
The dough should be smooth, pleasant to touch of your hand, and not at all sticky. However, depending on the weather or where you live the dough might get over hydrated and sticky. To avoid that, start by adding 1/3 cup of milk, then if you notice the dough is not coming together the proper way add the rest of the milk.
Lastly, spray the dough with some oil spray and cover with plastic paper to allow the first rise.
Step Two, shaping the dough:
Once the dough has risen, divide it into 16 equal parts (this is where a" target="_blank"> kitchen scale comes in hand) and roll each piece into a ball. Now, gently press the ball and lift it with your hands.
Using your thumb at the top of the dough and finger at the bottom press the dough in the center until your fingers meet then gently stretch it into 3″ circle.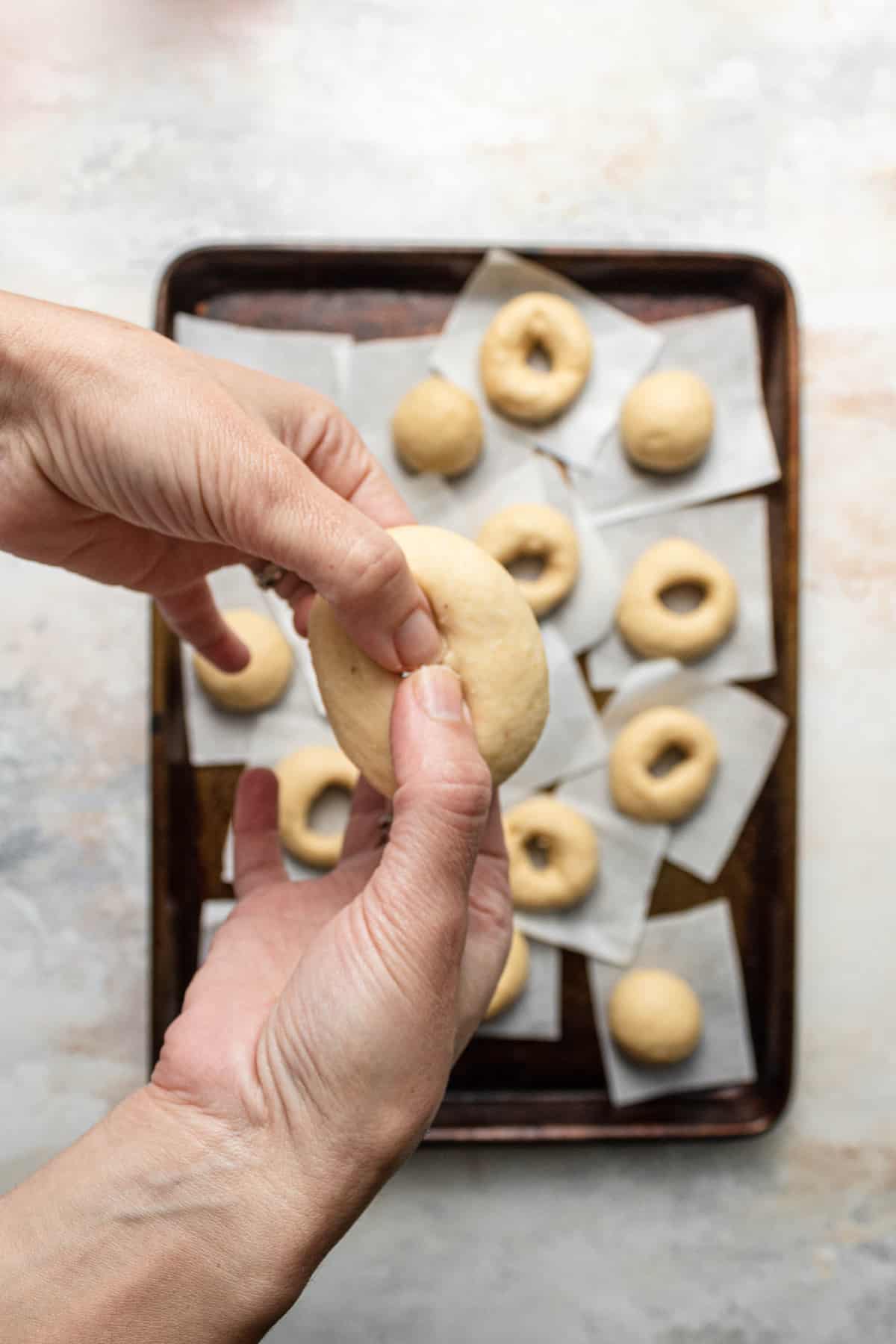 Step three, frying the dough:
You can use coconut oil, peanut oil, or vegetable oil. Use a deep and wide pan and a " target="_blank">candy thermometer to make sure the oil is at the right temperature (360F).
The donuts require about 90 seconds and I like to flip it few times until I get the color I like.
Fry test 1 donuts to make sure the oil is at the right temperature before frying a full batch.
Now Let's Talk About This Yeast Raised Potato Donuts Recipe:
Feel free to skip the nutmeg.
The recipe specifies 90 minutes of rising time. However, I like to allow the dough to rest and rise for about 3-4 hours. You can also make it the night before, place in the refrigerator and allow to get to room temperature the next day.
To help the ingredients mix properly firstly use the paddle attachment. When all the ingredients have come together into shaggy mash change into the dough hook.
Sometimes, when you pick up the donuts to put in the oil, you might deflate it, or mess its shape. To avoid it, after shaping, place it on a 2″x2″ parchment paper for the second rise. When it is time to fry, simply hold the ends of the parchment paper and gently dump in the oil. If the donuts hold on to the parchment paper, do not worry about it. It will get loose a few seconds into frying.
It is very important to keep the right oil temperature, I highly recommend using a candy thermometer while frying.
Always test one donut and make sure it is well cooked before frying the full batch.
You can fry the donuts without the hole and fill it with your choice of filling. (you will need to increase the frying time by 20-30 second)
HAPPY BAKING!!!
Here are some more recipes you might enjoy:
One more thing…
Don't forget to tag @OneSarcasticBaker on Instagram if you bake this recipe. Would love to see your creations!
And last, Did you like this recipe and inspiring? Save THIS PIN to your Donuts, Desserts, or Baking boards.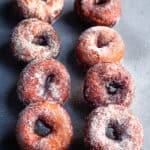 Potato Donuts
Ingredients
1

Medium

Russet Potato

(170 g / 6 oz)

3+1 TBS

Cups

AP Flour

(375 g / 12.5 oz)

1/4

Cup

Sugar

(50 g / 2 oz)

1 1/2

tsp

Yeast

1 1/2

tsp

Kosher Salt

1/4

tsp

Baking Soda

1/2

tsp

Ground Nutmeg

1/2

Stick

Unsalted Butter, Melted and warm

(56 g / 2 oz)

1/2

Cup

Milk

1

Large

Egg, cold

6-8

Cups

frying oil

1

Cup

Sugar in a medium wide bowl, for dusting
Instructions
Cook the potato using your method of choice (boil, steam, or bake) until tender.Peel, mash and measure 3 oz (about 1/2 cup). Allow cooling to room temperature. (About 70F)

Melt the butter, set aside and allow to cool from hot to warm. (should be 115F)

In a bowl of a standing mixer, sift the flour, yeast, salt, nutmeg and baking soda and stir to combine.Add the sugar.

Add the milk, melted butter, cooked potato and egg then mix using the dough hook until the dough is smooth.

Place the dough in a large greased bowl, cover with plastic bag and allow to rest until double in size. About 90 minutes.

Turn dough onto a lightly floured surface and dived it into 16 small pieces (about 40g each). 

Roll each piece into a small ball then flatten it. Using your thumb and forefinger gently pinch it in the center to create the hole and stretch it into 3" round.

Place aside for the second rise about 75-90 minutes.

Place the oil in a large cooking pan and warm it over the stove, medium-high heat until it reaches 350F.

Gently dump the donuts and fry for about 90 seconds, turning sides half way throug

Remove from oil and place in the bowl of sugar, cover the donut with sugar.