Last updated on May 7th, 2021.
I've been bitten by a red mosquito and now I have the unicorn virus.
There was also a severe sweet tooth diagnostic and a strong believe that Halloween is the best day of the year. So without a doubt Halloween Unicorn Donuts are the obvious choice.
(At the bottom of this post you can find a tutorial and some Unicorn Eyes images for inspiration.)
Please read carefully the below points, as it will help you achieve the best results:
To make these you will need a fair amount of candy melts, some fondant and a lot of patience since there are few steps involved.
In order for the candy melts to have a liquid consistency, it needs to reach a certain temperature. Which is why I highly recommend you use an electric candy melt pot. Just place the candy and allow it to reach the consistency you desire without worrying about burning the chocolate. (Get a Micheals coupon here).
If you don't have a candy melt pot, you can definitely use the microwave warming in 30 seconds increments, stirring in between. Or a double broiler.
For the purpose of piping the small flowers, a thicker chocolate consistency is needed. Best is to warm the candy melt for 45-60 second and rub the bag with you fingers to smooth.
If you choose, pipe the flowers using royal icing or buttercream.
While applying the horn, ears and flowers have a small amount of melted chocolate to be used as glue.
To achieve a darker, more "shiny" horn and ears, once dried apply an extra layer of black food coloring with a small brush (or paint spray)
Molding the unicorn horn and ears are super easy and the method can be adopted to any size you wish.
Halloween has many icons, different heroes and different colors. The following 3 examples are just that, so feel free to spread you talented wings and explore other designs.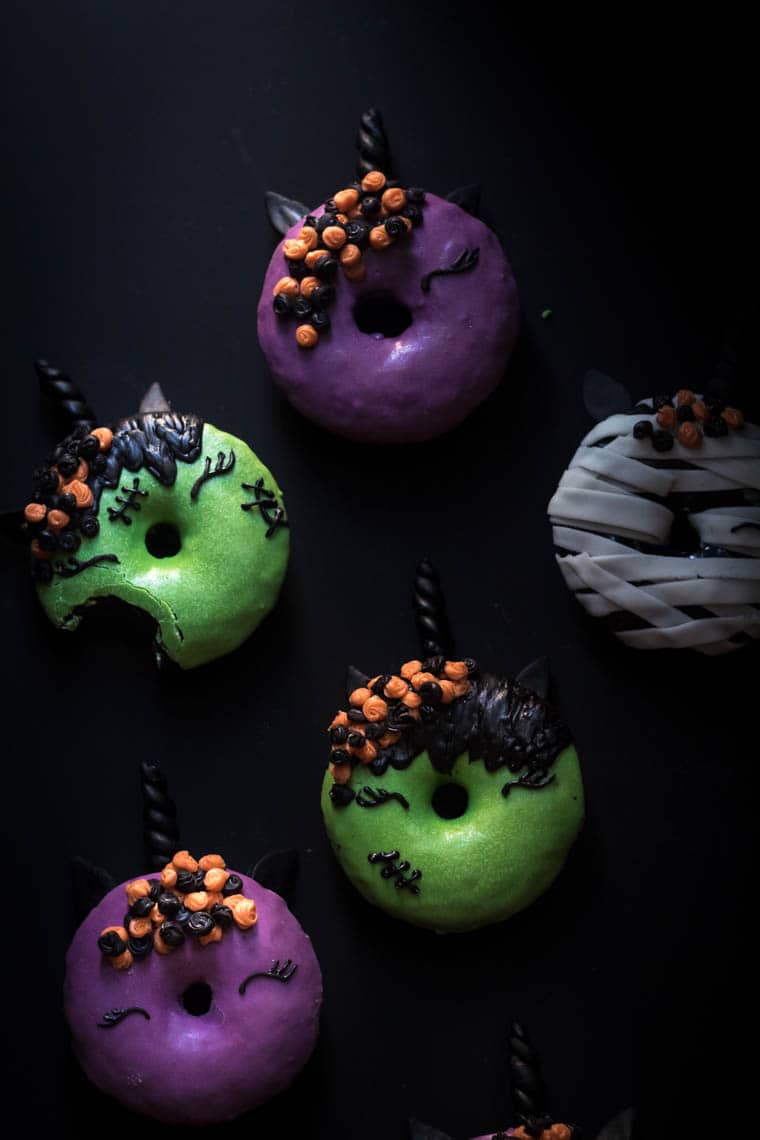 To Decorate The Halloween Unicorn Donuts
Step 1:
You will need: (Images 1 and 12)
Different color Candy Melts (About 1/2 cup for 4 donuts).
Black Fondant (75-100 g).
Tooth Picks.
Small Rolling Pin.
Sharp Knife.
1″ Leaf Cookie Cutter (I used this).
Sharp Knife or small rolling tool.
Small paint brush.
Small Dummy Cake.
Piping Bags fitted with small rosettes tip (Wilton #16).
Step 2:
Using the black fondant roll small grape size (4 g) balls.
Step 3:
Roll each ball into 4″ log, making sure the tips are pointy.
Step 4:
Fold each log to a U shape with no space in the center.
Step 5:
Gently twist the folded fondant, from the bottom up. Gently pinch the top.
Step 6:
Cut the bottom to create a flat surface and gently insert a toothpick. You will have about 1/2 of a toothpick bare, insert this part on top of the dummy cake and allow the horn to dry.
Step 7:
Roll black fondant into 1/4″ thick and cut small leafs.
Step 8:
Repeat step 6, this time use 1/2 a tooth pick per leaf (will be the ears)
Step 9:
Roll the white fondant and using the knife or rolling tool, cut 4″ long and 1/4″ wide stripes.
Step 10:
Dip the tip of a small brush with water and brush each stripe before randomly placing it on the donuts.
Step 11:
Gently insert the horn and ears on top of the donuts.
Step 12:
Place some candy melts (your choice of color) in a piping bag and warm in the microwave just enough to malt the chocolate. (about 45-60 seconds)
Step 13:
Using a small Rosette tip, gently pipe small flowers on top of a parchment paper. Allow to dry.
Step 14:
Have a small bowl with melted chocolate next to you. Using a small brush apply a small amount of melted chocolate on the back of each Rosette and randomly glue it under the horn.
Step 15:
Using a small round tip (wilton #1) and black candy melt, Pipe the unicorn eyes. (I added some Unicorn eyes images at the bottom of the post)
Happy Decorating!
To make the Halloween Unicorn Donuts you can use one of the following donuts recipes: