Last updated on September 19th, 2021.
Loaded with molasses, spices, and fig paste, this Fig cake is the perfect soft and tender companion to a crumbly and buttery oat crust. And in addition, to bring it all to a perfect harmony are some walnuts in honey syrup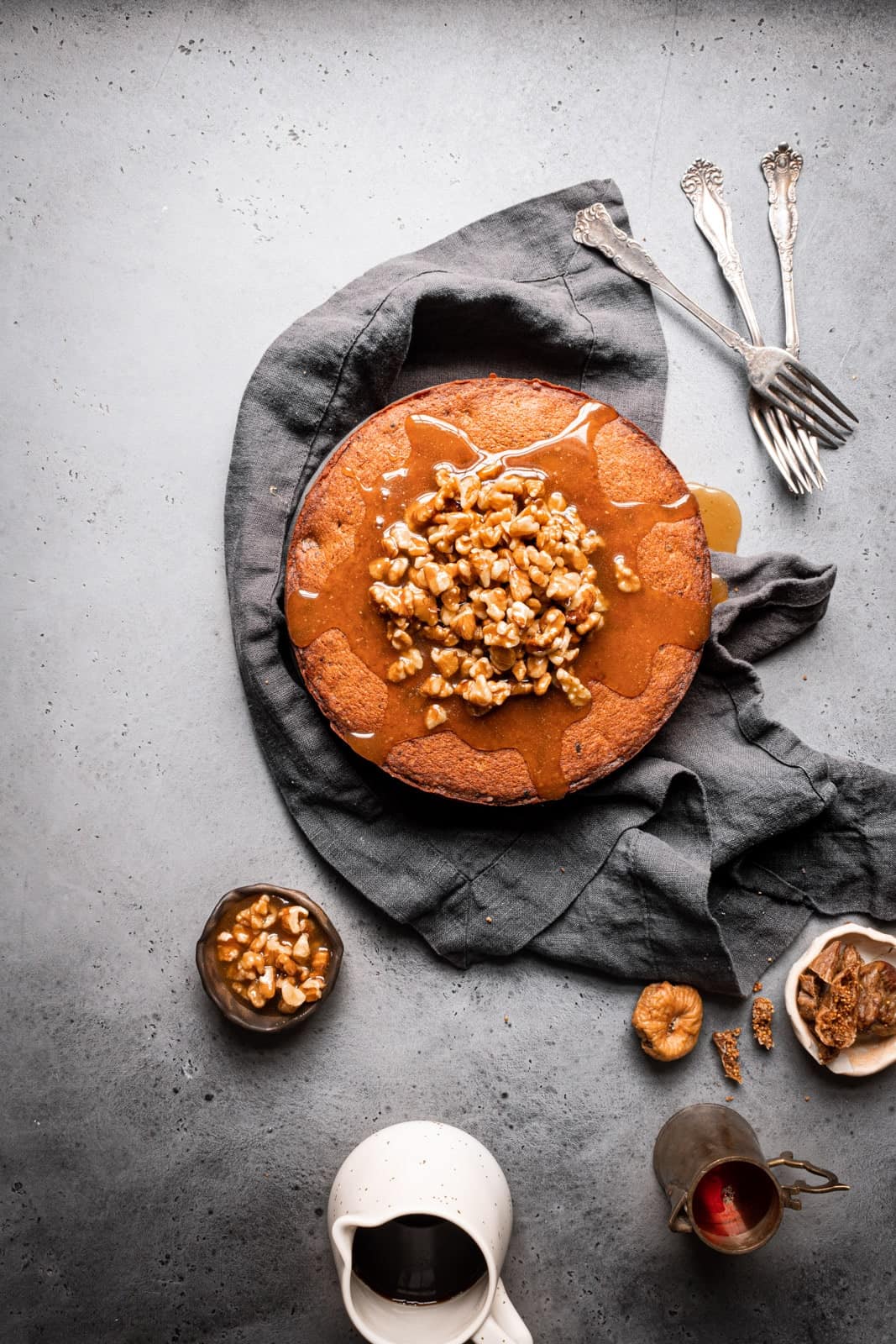 Don't you just love cheering for the underdog? You know, that hard-working, naturally talented that tends to stay away from the spotlight. But ALWAYS pleasantly surprising?
Just like Figs. Despite the fact that they are not as desired as chocolate or as common in recipes as oranges, they will always upgrade any dish and add that eye-opening factor.
I baked this cake in honor of Tu B'shevat. A Jewish holiday celebrating the "New Year For The Trees". On this ecological day, trees are planted in celebration and of course, we eat cakes. Mostly to celebrate the fact that one that no one tried to kill us. (sarcastically speaking of course)
However, there is one guideline. Add as many fruits/dried fruits and nuts as possible.
Now Let's Talk About This Fig Cake With Oat Crust
You can bake this cake without the crust, or with the crust but skipping the fig paste layer.
There are two ways to bake with the crust. Firstly right after layering it in the pan (350F for 10-12 minutes). The crust will be more crispy this way. Secondly, as you bake the cake for a softer crust.
If you are not a clove spice lover I highly recommend not to skip it despite it. It really brings all the flavors together.
You can use dark or light brown sugar. The dark brown sugar will firstly give a stronger molasses flavor and secondly a darker color. However, it will absorb extra moister which will result in a softer cake.
As you can see the cake can be baked in an 8″ round or loaf pan.
Use any loaf pan size you may have, the important thing to remember is not to fill the pan over 2/3 – 3/4 full.
The crust recipe will have enough dough for two cakes. You can freeze the leftover, or otherwise crumble the leftovers over the unbaked cake as streusel.
The recipe calls for oat flour, however, you can just process whatever oats you have in hand.
I use Trader Joe's fig paste.
HAPPY BAKING!!!
Here are some more recipes you might enjoy:
Also, One more thing…
Don't forget to tag @OneSarcasticBaker on Instagram if you bake this recipe. Would love to see your creations!
Did you like this recipe and inspiring? Save THIS PIN to your Cakes OR Desserts boards.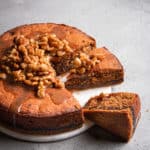 Fig Cake
Ingredients
Oat Molasses Crust
3/4

Cup

AP Flour

(90 g / 3 oz)

1/4

Cup

Oat flour

(25 g / 1 oz)

1/3

Cup

Sugar

(75 g / 2.5 oz)

1/2

tsp

Baking Powder

1/2

tsp

Salt

6

TBSP

Unsalted butter, soften

(90 g / 3 oz)

1

small

Egg yolk

1

TBSP

Molasses

1

tsp

Vanilla

1/3

Cup

Fig paste

(80 g / 3 oz)
Fig Cake`
1/2

Stick

Butter, soften

(55 g / 2 oz)

1/3

Cup

B. Sugar (light or dark)

(75 g / 3 oz)

1/4

Cup

Sugar

(50 g / 2 oz)

1

tsp

Molasses

1/4

Cup

Vegetable oil

(50 g / 2 oz)

2

Large

Eggs

1

Cup

AP Flour

(120 g / 4 oz)

1/2

tsp

Baking powder

1/4

tsp

Baking soda

2

tsp

Cinnamon

1/4

tsp

Clove

1/4

Cup

Fig paste

(60 g / 2 oz)

1/3

Cup

Full fat sour cream

(65 g / 2.25 oz)

5-6

Medium

Dried figs, finely chopped
Walnuts in Honey Syrup
1/2

Cup

Light Corn Syrup

( 150 g / 5.5 oz)

1/2

Cup

Honey

(170 g / 6 oz)

2

TBS

Butter

1

Cup

Walnuts, chopped

(125 g / 4.5 oz)
Instructions
Oat Molasses crust
In a bowl of a standing mixer mix together flours, sugar, baking powder, and salt. Cut the butter into large pieces and add to the flour mix mixing at low speed.

Once the flour mix is hydrated and there are no large pieces of butter add the yolk, molasses, and vanilla and mix until sticky dough forms.

Divide dough into two. Wrap with plastic wrap and refrigerate/ freeze until ready to use.

Once ready to use line the bottom of 8" x 3" round or loaf pan with parchment paper and grease the sides of the pan.

Roll one half of the dough between two pieces of plastic wrap to about the same size as the pan.

Peel the top piece of the plastic wrap and use the bottom piece to place the rolled crust in the pan. Remove the plastic wrap and use your fingers to tuck any excess dough or fill any empty edges.

Use a fork to pierce the dough and gently spread the fig paste. Set aside while making the cake.
Fig Cake
Preheat oven to 350F and set an oven rack at the middle shelf of the oven.

In a medium bowl sift the flour, baking powder, baking soda, and spices. Set aside.

Measure the sour cream and fig jam (or paste) in a medium bowl and mix to combine. Set aside.

In a bowl of a standing mixer fitted with the paddle attachment beat butter, brown sugar, sugar, and molasses on medium-high for 4-5 minutes. Scrape the sides and bottom of the bowl 2-3 times.

Slowly drizzle the oil and mix for additional 3-4 minutes. Until light and fluffy.

Add the eggs, one at a time waiting for each egg to fully incorporate before adding the next.

Scrape the sides and bottom of the bowl then add the flour mix in three additions alternating with the sour cream mix.

Right after adding the third portion of the flour, turn mixer off and complete blending with a rubber spatula.

Pour batter on top of the crust and fig paste layers and bake for 40-45 minutes or until a toothpick comes out clean from the center of the cake.

Once the cake has cooled remove from pan, place on a serving dish and top with walnuts.
Walnuts in honey syrup
In a medium pan bring the corn syrup and honey to a boil. Remove from heat and add the butter, let melt.

Pour the warm syrup on top of the walnut and stir to distribute.