Last updated on September 22nd, 2023.
There's something genuinely magical about sinking your teeth into a warm, fluffy Zeppole, a delectable Italian donut that has captured food enthusiasts' hearts and taste buds worldwide.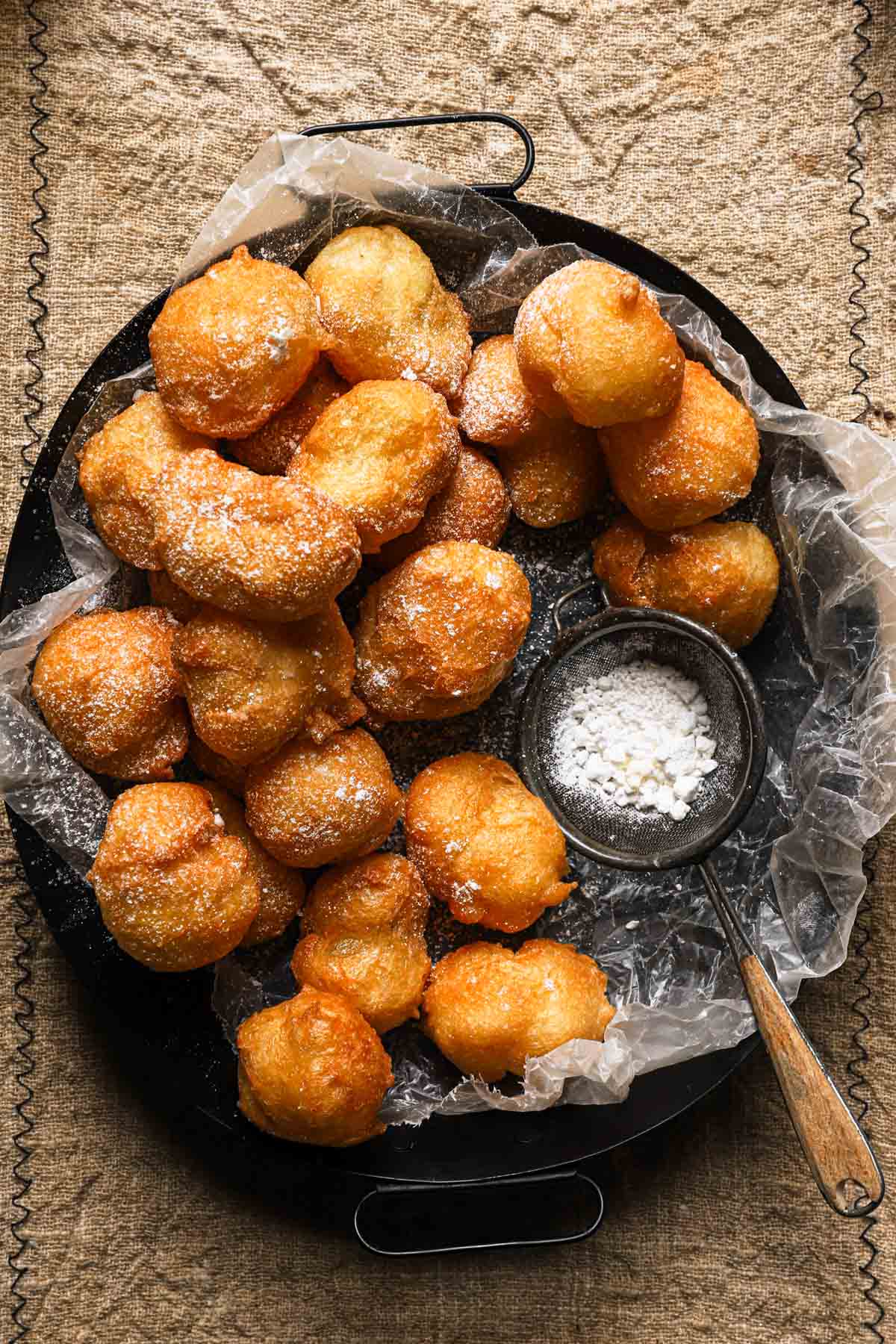 Whether you've encountered these delightful treats at a local Italian festival or have been longing to recreate the flavors of Italy in your kitchen, this step-by-step guide will help you master the art of making Zeppole at home.
If you like authentic recipes, check out my Sfenj, Morrocan Donuts recipe, or my other classic donuts recipes like these Brioche donuts, or Bavarian Cream Donuts.
What is Zeppole?
Zeppole, pronounced "zeh-poh-leh," are traditional Italian donuts from Naples, Southern Italy. These delectable treats are typically enjoyed during special occasions, particularly on Saint Joseph's Day (March 19th). Zeppole are made from a light and airy choux pastry (cream puff dough), like Chouxnuts, which is deep-fried until golden and crispy. The Italian doughnuts are dusted with powdered sugar and often filled with sweet fillings like these Bignè di San Giuseppe Italian Cream puffs filled with Italian Ricotta Pastry Cream. For more filling options, check out my pastry cream, Italian Pastry Cream, Creme Legere, or Creme Mousseline). You can also top them with delicious sauces (like ganache or white chocolate ganache).
If you like Italian pastries, check out my Cornetti, an Italian Croissant recipe, and my Maritozzo, an Italian sweet bun recipe.
Ingredients
To embark on your homemade Zeppoles-making adventure, you'll need the following ingredients:
1 cup water
1/2 cup unsalted butter or olive oil
1/4 teaspoon salt
1 cup all-purpose flour
4 large eggs
Granulated sugar
Canola oil for frying (peanut oil is also ok)
Powdered sugar (for serving)
How to Make Zeppole
Make the batter
Before you start, please note that I have a complete post about How to Make Choux Dough, including tips and troubleshooting.
In a medium-sized saucepan, combine the water, butter, and salt. Place the saucepan over medium heat and bring the mixture to a boil. Once the butter has melted completely, reduce the heat to low.
Add the flour to the warm water mixture, all at once, and stir vigorously with a wooden spoon until the mixture forms a ball and pulls away from the sides of the pan. This process will take around 1-2 minutes.
Transfer the flour mixture to a bowl of a stand mixer or a large bowl, and let it cool for a few minutes. Then, using an electric mixer or a sturdy spoon, beat in the eggs, one at a time, ensuring each egg is fully incorporated before adding the next. The batter should be smooth, glossy and create a V shape when you lift a spoon dipped.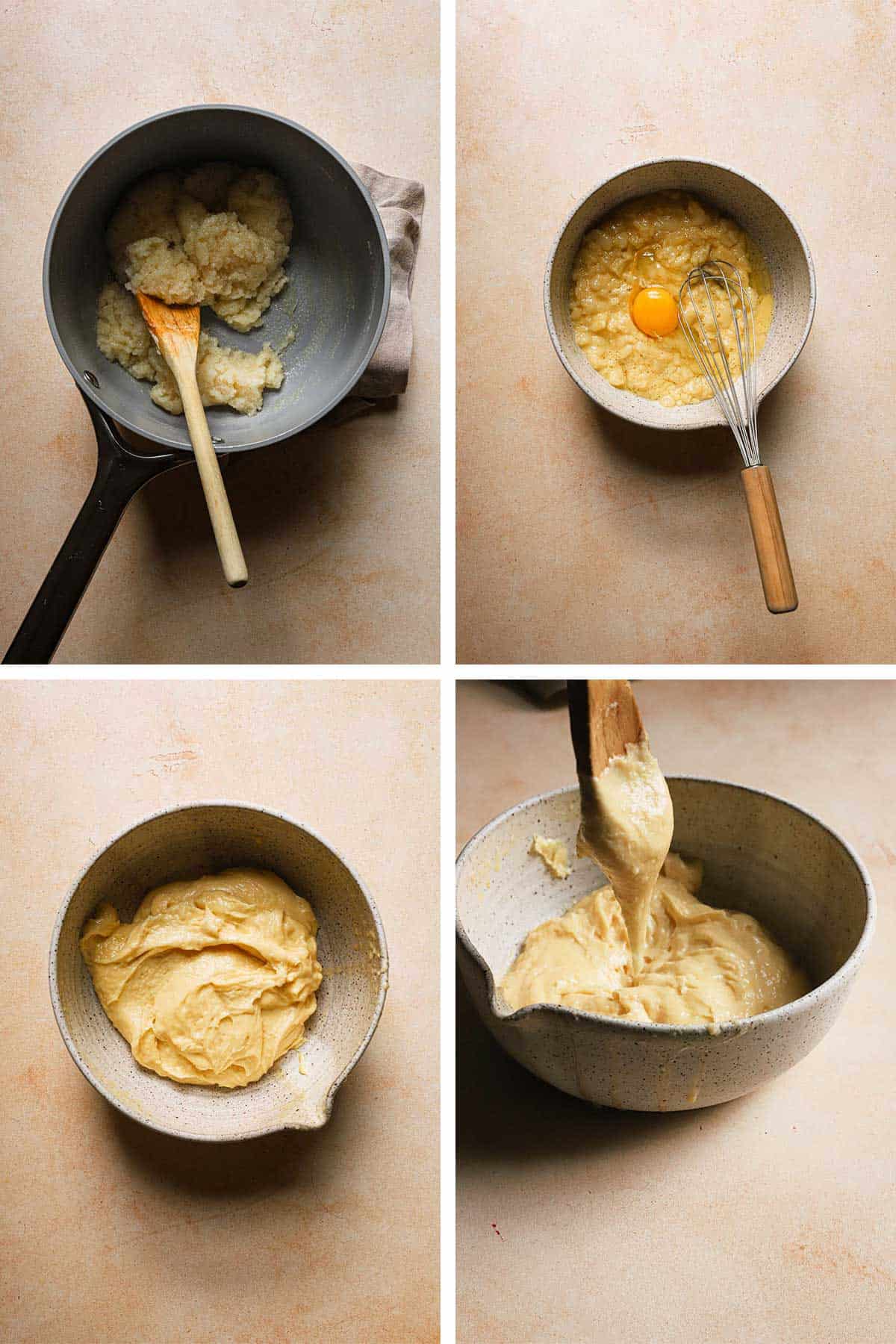 Fry
Fill a large, heavy-bottomed pot with vegetable oil to a depth of about 4 inches. Heat the oil over medium-high heat until it reaches 350°F (175°C). If you can, use a deep-fry thermometer or test the temperature, you can drop a small amount of the batter into the oil; if it sizzles and turns golden brown within a minute, the oil is ready.
Using a spoon or a small cookie scoop, carefully drop spoonfuls of the batter into the hot oil, working in batches to avoid overcrowding the pot. Fry the Zeppole on each side for 2-3 minutes until they turn golden brown and puffy.
Using a slotted spoon or a spider strainer, transfer the fried Zeppole dough balls to a paper towels lined plate, parchment paper, or a wire rack to drain excess oil.
While warm, generously dust the Zeppole with powdered sugar, ensuring they are evenly coated. You can serve them as they are or take them to the next level by filling them with your favorite sweet fillings, such as Nutella, pastry cream (like zeppole di san giuseppe), Creme Legere, Creme Mousseline, or fruit preserves.
Best Topping Ideas
Classic powdered sugar. Dust the Zeppole generously with powdered sugar for a simple yet elegant presentation.
Chocolate sauce drizzle. Melt some chocolate (dark, milk, or white) and drizzle it over the Zeppole for a decadent touch.
Cinnamon-sugar coating. Combine cinnamon and sugar in a bowl and roll the freshly fried Zeppole for a delightful, spiced flavor.
Melted butter and Parmesan cheese. Toss the donuts with melted butter and sprinkle parmesan cheese for the savory version.
Tips for Perfect Zeppole Recipe
Be cautious when frying the Zeppole. Pay attention to the oil temperature, and ensure the oil is hot enough to ensure a golden exterior while maintaining a fluffy interior.
Allow the dough to cool in the refrigerator, covered with plastic wrap, for about 60-90 minutes before frying; this will help with a uniform structure.
Use a spoon or ice cream scoop to drop the batter into the oil, giving your Zeppole a more uniform shape.
Don't overcrowd the pot when frying the Zeppole donuts. Fry them in batches to avoid temperature fluctuations, and you may end up with soggy donuts.
Serve the Zeppole immediately after dusting with powdered sugar for the best texture and flavor.
To make a chocolate-flavored Zeppole, replace 1/4 cup of the flour with cocoa powder, as I did in this Chocolate Cream Puff recipe.
Storing
Zeppole are best enjoyed fresh, but if you have any leftovers, store them in an airtight container at room temperature for up to 1 day. Reheat them in the oven at a low temperature before serving.
FAQs
Can I make the Zeppole batter in advance?
Yes, you can make the choux paste one day ahead and refrigerate.
Can I bake the Zeppole instead of frying?
While traditional Zeppole are deep-fried dough, you can try baking them at 375°F (190°C) for about 20-25 minutes until golden brown and puffed, just like cream puffs, or Creme
How Can I reheat Zeppole?
Best to heat in the oven at 300F (150C) until warm and crispy.
More Recipes You Might Like
Choux a la creme, Potato Donuts, Chocolate Glazed Donuts
Don't forget to leave a comment and tag me on Instagram when you make one of my recipes.
Zeppole, Italian Donuts Recipe
Light and crispy donuts dusted with powdered sugar
Ingredients
1

Cup

Water

(240ml)

1/2

Cup

Unsalted butter

(113g)

1

Cup

Bread, or unbleached all purpose flour

(120g)

1

tablspoon

Sugar

(15g)

1/4

teaspoon

Salt

4

Large

Eggs, at room temperature

4

Cups

Canola oil

(960ml)
Instructions
In a medium sauce pan pour the water, and the butter. Mix the flour, sugar and salt in a seperate bowl.

Place the saucepan over medium heat. Once the water has reached a full boil and the butter has completely melted, reduce the heat to low and mix in the flour mixture.

Use a wooden spoon to mix vigorously for about two minutes until you have a smooth dough and the sides of the saucepan are clean.

Remove from the heat and place the dough in a large bowl or a bowl of a standing mixer. Allow the dough to cool until it cools to room temperature.

While mixing, add the eggs, one at a time, until you have a smooth mixture. The dough will look curdle but, keep mixing it will come together.

Pour the oil into a large deep pan and heat it to 350F (180C).

Use a small cookie scoop or two small spoons to scoop the dough into the hot oil and fry for 3 minutes. The donuts are ready when they doubled their size and they are medium golden brown.

Use a slotted spoon to remove the donuts from the oil onto a baking pan lined with paper towels or parchment paper.

Dust with powdered sugar and serve.
Recipe Notes
Take note of the oil temperature, ensuring it reaches the proper heat to achieve a golden exterior while keeping a fluffy interior. If too hot, the donuts will set on the exterior and not puff, if too low, the donuts will not puff and end up too oily.
Use a small cookie spoon drops the batter into the oil for a more uniform shape. Keep in mind that the donuts will double and maybe triple their size.
Avoid overcrowding the pot when frying the Zeppole donuts. It's better to fry them in batches to prevent temperature fluctuations that could lead to soggy donuts.
For the best texture and flavor, serve the Zeppole immediately after dusting them with powdered sugar.
Leftovers should be stored at room temperature. To reheat, warm in a 300F oven until warm.