Last updated on November 22nd, 2023.
Indulging in the delightful world of Italian desserts is always a treat, and Pignoli cookies are no exception. These sweet delights, rich in almond flavor and adorned with pine nuts, are a classic that captures the essence of Mediterranean baking.
What are Pignoli Cookies
If you're a fan of Italian desserts and already tried this Torta De La Nonna, these Zeppole, and these Bignè di San Giuseppe, then you've likely encountered the exquisite classic Italian pignoli cookies AKA Amaretti con pignoli. These little delights are a traditional classic Italian cookies treat, origin in Southern Italy and Sicily that has stood the test of time. Pignoli is the Italian word for pine nute, and the cookies are known for their distinct almond flavor and chewy texture, making them a favorite among cookie enthusiasts. The star ingredient? Pignoli nuts, also known as pine nuts, impart a unique and nutty taste to these sweet bites.
The cookies taste a lot like rainbow cookies, but instead of seven layers of sweet and tender sponge cake, these delicious cookies have only a single layer coated with crunchy and buttery pine nuts.
Ingredients
The complete Pignoli cookie recipe including measurements can be found below on the recipe card.
Almond paste. Make sure the paste is soft and fresh, you can also use a homemade almond paste.
Granulated sugar.
Powdered sugar
Cinnamon. It is optional, you can replace it with a teaspoon of fresh orange zest or lemon zest.
Large egg whites
Vanilla extract
Almond extract
Pine nuts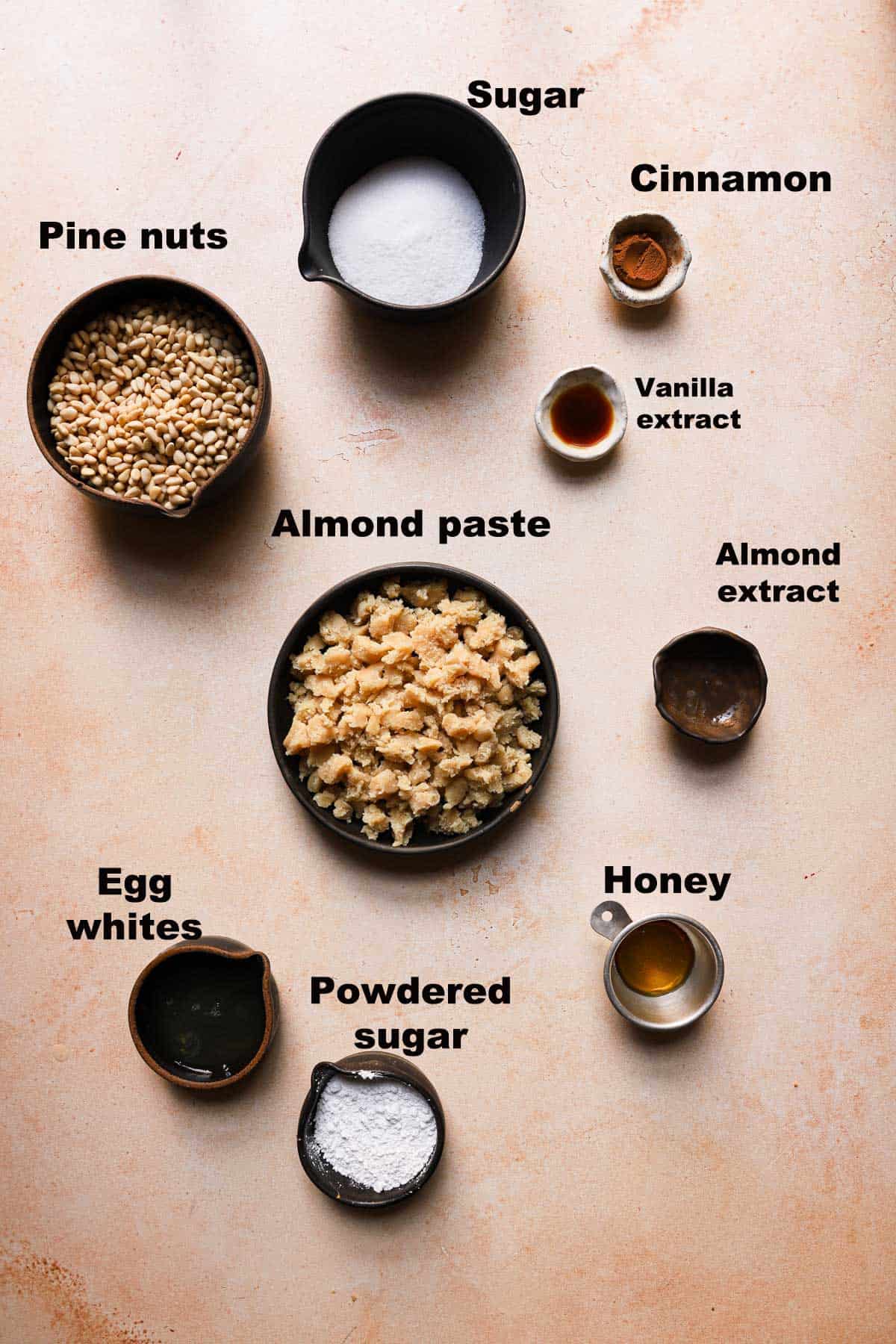 Main Ingredients: Almond Paste and Pine nuts
These are the easiest cookies to bake, but to achieve the best result it is critical to use the right ingredients.
The commercial almond paste you find in most grocery stores is made by mixing almond flour and simple syrup. The result is a sticky paste-like dough that is easy to mold. The simple syrup does not crystalize and the paste keeps its soft texture even during baking and as a result provides the cookies it's chewy texture.
If you have Almond Paste leftovers, use it to make this Almond Cake or Almond Pear Cake.
The reason we don't call these cookies Almond Cookies is because the Pine nuts are what gives this recipe its flavor and texture, so I consider it to be a key ingredient. While the cookies are rich with almond ingredients, the nuts balance the flavor and provide a smooth and crisp texture to complement the chewiness of the cookies.
How to Make Italian Pignoli Cookies
To make this easy recipe I used a food processor, but you can also use a stand mixer fitted with the paddle attachment a hand mixer, or an electric mixer.
Cut the almond paste into small pieces and place it in a bowl of a food processor.
​Add the sugar, powdered sugar, and cinnamon and pulse to a fine mixture.
Add the egg whites and vanilla and pulse until you have a sticky cohesive dough.
Place the pine nuts in a deep small bowl. Measure one tablespoon of batter (about 20g) and roll it with your hands.
Roll the dough balls in the pine nuts and then set over a cookie sheet lined with parchment paper.
Allow the cookies to sit at room temperature overnight (8 hours), then bake until golden brown.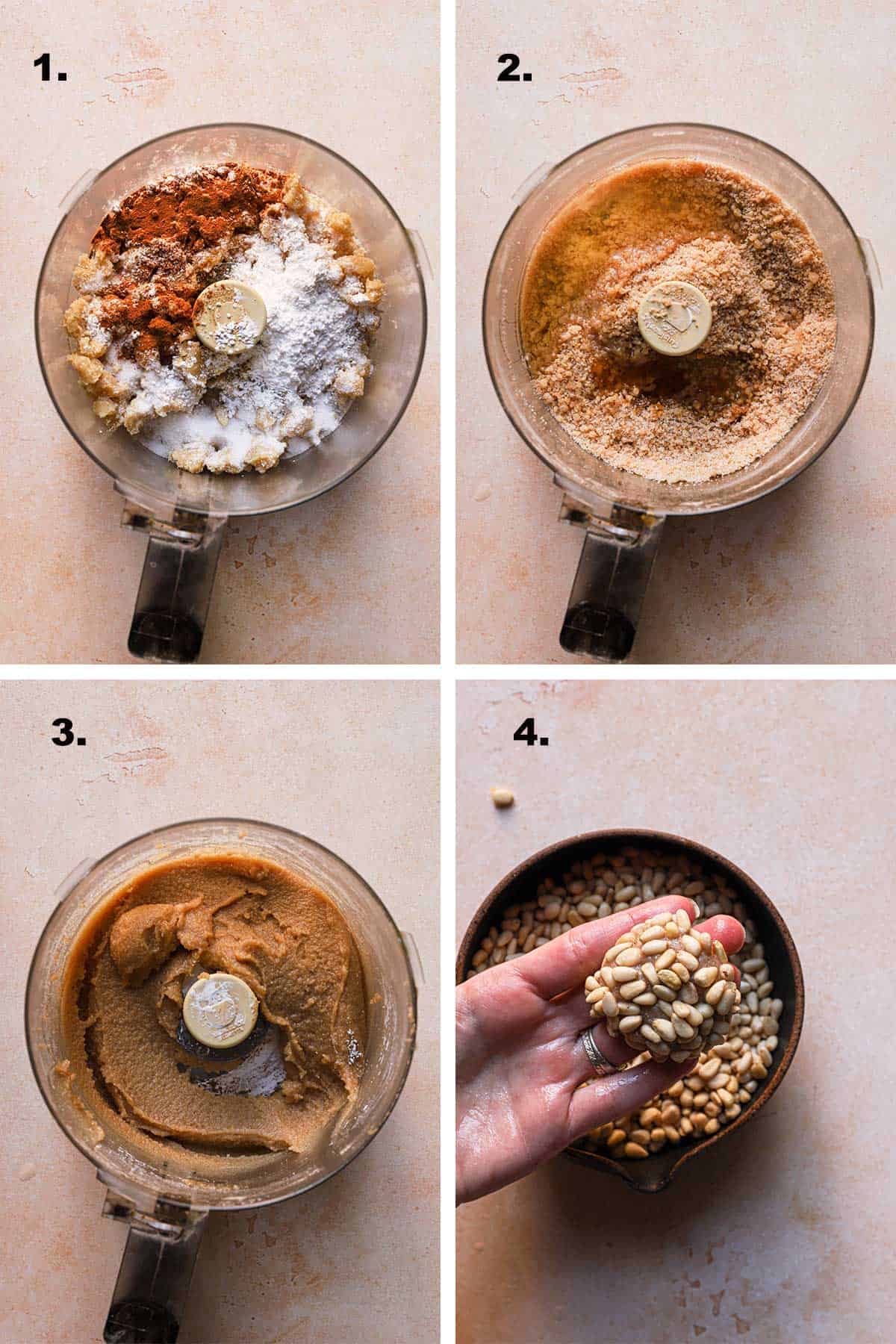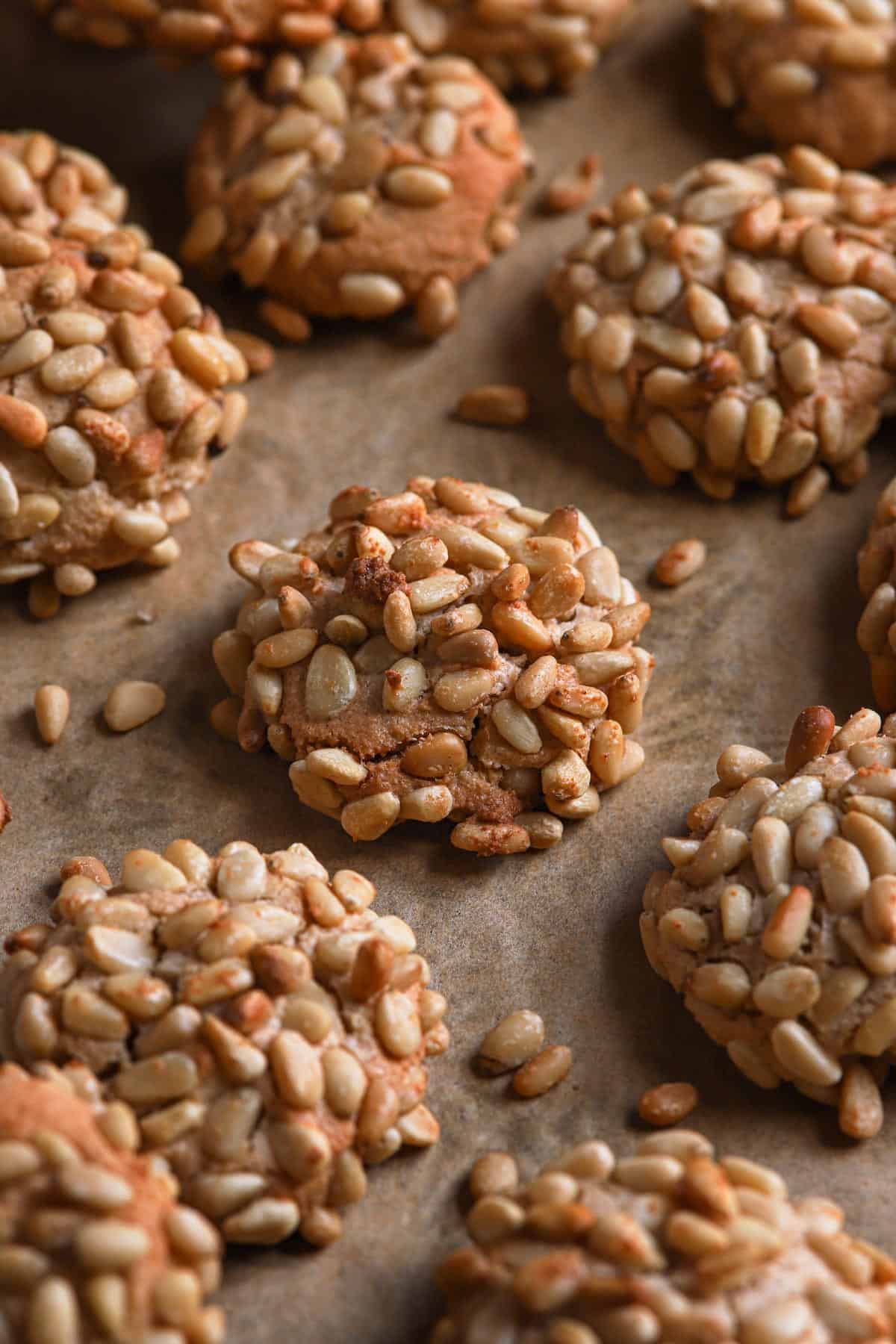 Tips
Fresh Ingredients Matter: Use fresh and high-quality ingredients, especially the Pignoli nuts, to enhance the flavor of your cookies.
Resting time while optional is very important. During this time the surface of the cookies dries out, and it will give the cookies their famous crisp exteriors and chewy centers.
​You can use a cookie scoop to scoop the dough but avoid shaping large cookies. These chewy cookies get their charm from their small-medium size.
Make Ahead and Storing
Make Ahead: You can prepare the cookie dough in advance and refrigerate it for up to 24 hours. This allows the flavors to meld, resulting in an even more delicious cookie.
Store Pignoli cookies in an airtight container at room temperature for up to a week. For longer storage, freeze the cookies for up to three months.
FAQ
Can I use a different type of nut instead of Pignoli nuts?
While Pignoli nuts are traditional, you can experiment with other nuts. Keep in mind that it will change the flavor and texture profile of the cookies.
Why are my cookies not chewy?
Not measuring the cookies correctly may result in a crisp cookie, and also overbaking can result in a crunchier texture. Ensure you follow the recommended baking time and remove the cookies when the edges are golden but the centers are still soft.
Can I use Marzipan instead of Almond Paste?
You can but it is not recommended. Marzipan has twice the amount of sugar Almond paste contains and less almond flavor.
Can I use almond flour instead of almond paste?
Yes, but the cookies will not be very chewy. Replace 2 tablespoons of sugar with 2 tablespoons of honey.
More Italian Recipes You Might Like
Cornetti Italian Croissants, Maritozzo, Crema Pasticcera
Don't forget to tag @OneSarcasticBaker on Instagram whenever you bake this recipe. Would love to see your creations!
Pignoli Cookies
Chewy almond-flavored cookies coated with pine nuts.
Ingredients
2

Cups

Almond paste

(450g)

1/2

Cup (+2 tablespoons)

Granulated sugar

(120g)

1/3

Cup

Powdered sugar

(30g)

1

teaspoons

Cinnamon

2

Large

Egg whites, at room temperature

1

Tablespoon

Vanilla extract

1

teaspoon

Almond extract

2

teaspoons

Honey

2

Cups

Pine nuts
Instructions
Cut the almond paste into small, 1/2 inch pieces, and place in a food processor along with the sugar, powdered sugar, and cinnamon. Pulse into a fine mixture.

Add the egg whites, vanilla and almond extracts, and honey and process until a sticky smooth dough is formed.

Scoop one tablespoon (about 20g), roll it between your hands, and then roll the dough in the pine nuts to coat.

Line the cookie balls over a cookie sheet lined with parchment paper and allow them to sit at room temperature for 8 hours, or overnight.

Bake at 350F (180C) for 18-20 minutes, until the cookies have puffed and are golden brown.
Recipe Notes
Store the cookies at room temperature in an airtight container for up to five days.
To freeze, line the cookies in a freeze bag and freeze for up to eight weeks.
If the dough is too sticky to roll, wet your hands and shake any access water.
This recipe can also be made using a stand mixer or an electric mixer.