Last updated on March 14th, 2022.
This Almond Cake recipe from scratch is delicious, easy and the best homemade almond recipe I can think of. The cake is tender, moist, and beautifully decorated with an interior of dark chocolate veins. If you love almonds and almond flavor, then this simple almond cake is for you.
I am so excited to share with you all this Almond cake exclusive recipe because this is one of the many recipes you can find in my book "Baking Science". Although the book talks and explains the delicate process of baking, it is still a cookbook and includes delicious recipes. Only each recipe includes an introduction talking about a certain scientific element that the recipe demonstrates. Like how this recipe demonstrates the ratio and mixing methods of pound cakes and butter cakes.
Pre-order my book HERE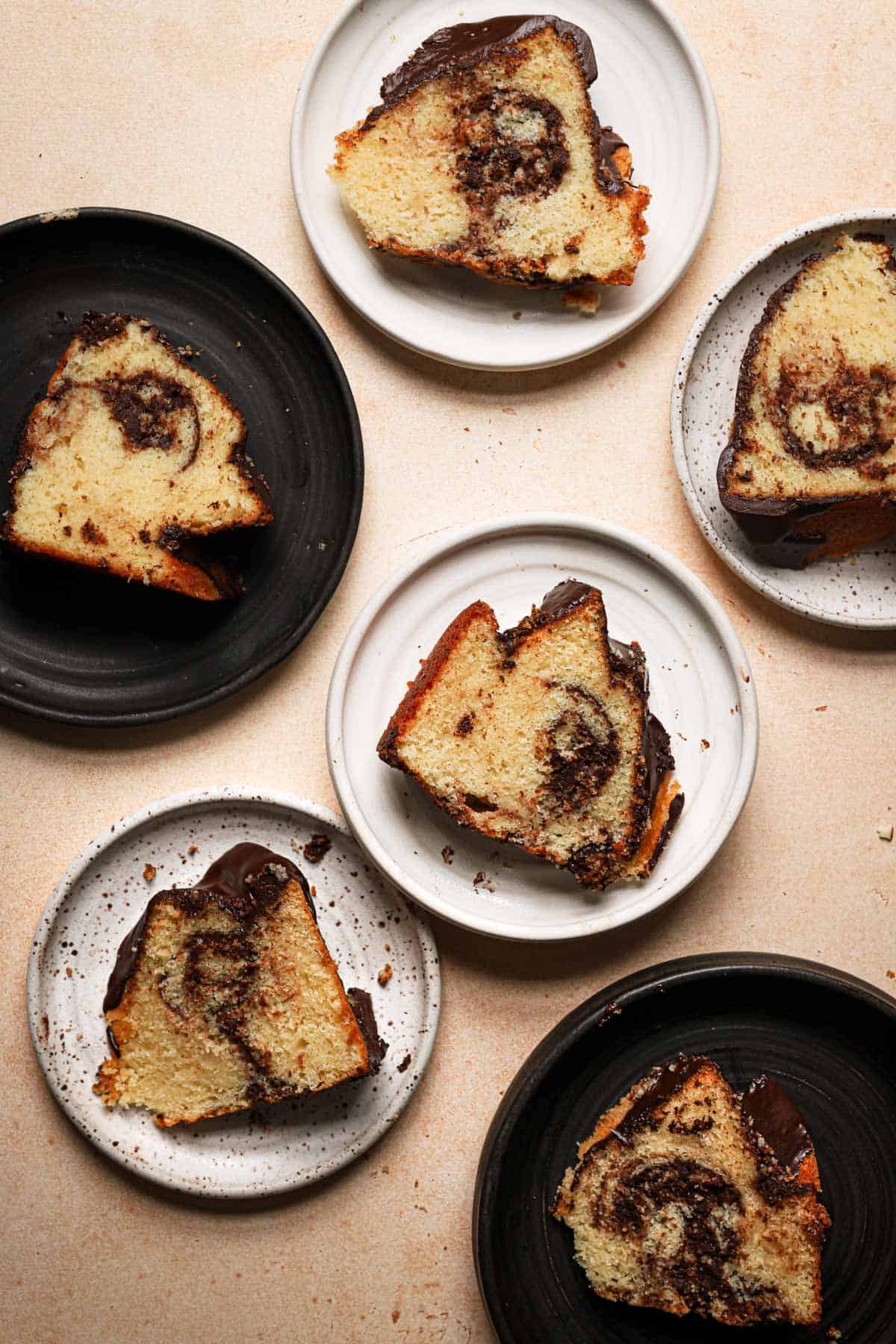 This Is The Ultimate Easy Almond Cake Recipe
Ok, so think a tender, comforting moist cake loaded with flavors with a unique interior, you can enjoy any time of the week and for any special occasion, whether it's an afternoon tea treat, next to your cup of coffee, or for a birthday celebration. Follow the steps described in this recipe and you'll master not just this moist almond cake but any other pound cake. The recipe calls for a small amount of chocolate but it really does have a great impact on the final result.
And speaking of almond cakes I've got a few more Almond cake recipes for you: Almond Poppy Seeds Cake and Almond Pear Cake.
What Ingredients Are Used In This Recipe?
The full measurements and instructions you can find below on the recipe card. Here are Baking Conversion Charts, for accurate measurements.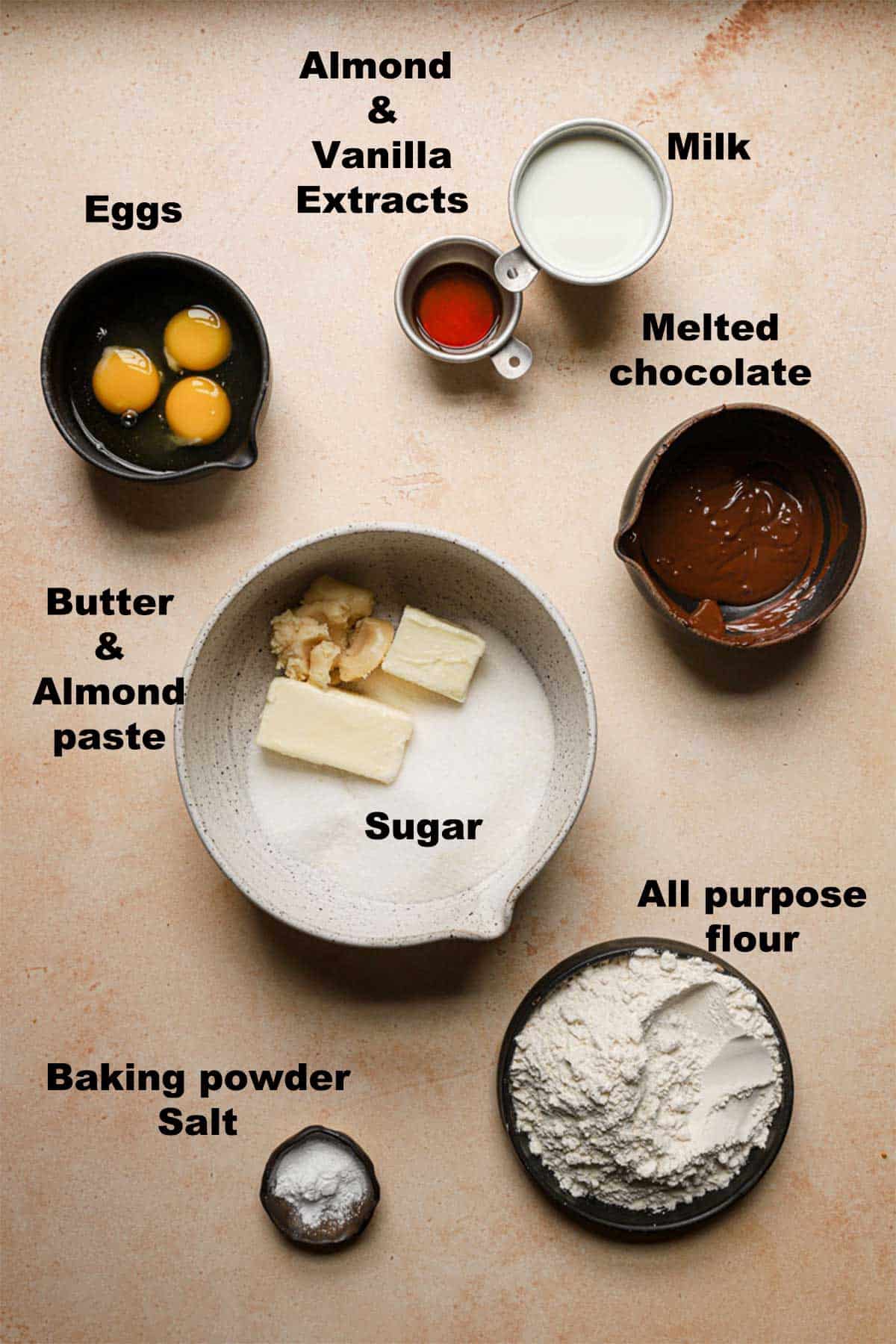 The recipe calls for fairly simple ingredients and you can find both almond paste and extract at your local markets.
Unsalted butter soften
All-purpose flour
Baking powder
Salt
Whole milk at room temperature
Almond extract
Vanilla extract
Granulated sugar
Almond Paste is what gives the cake its beauitful and natural flavor in addition to the extract. Do not mistake it with Martzipan. Martzipan is much sweeter and less flavorful.
Eggs at room temperature
Semi-sweet or dark melted chocolate
How To Make This Almond Cake Recipe?
First, preheat the oven and grease or line it with parchment paper.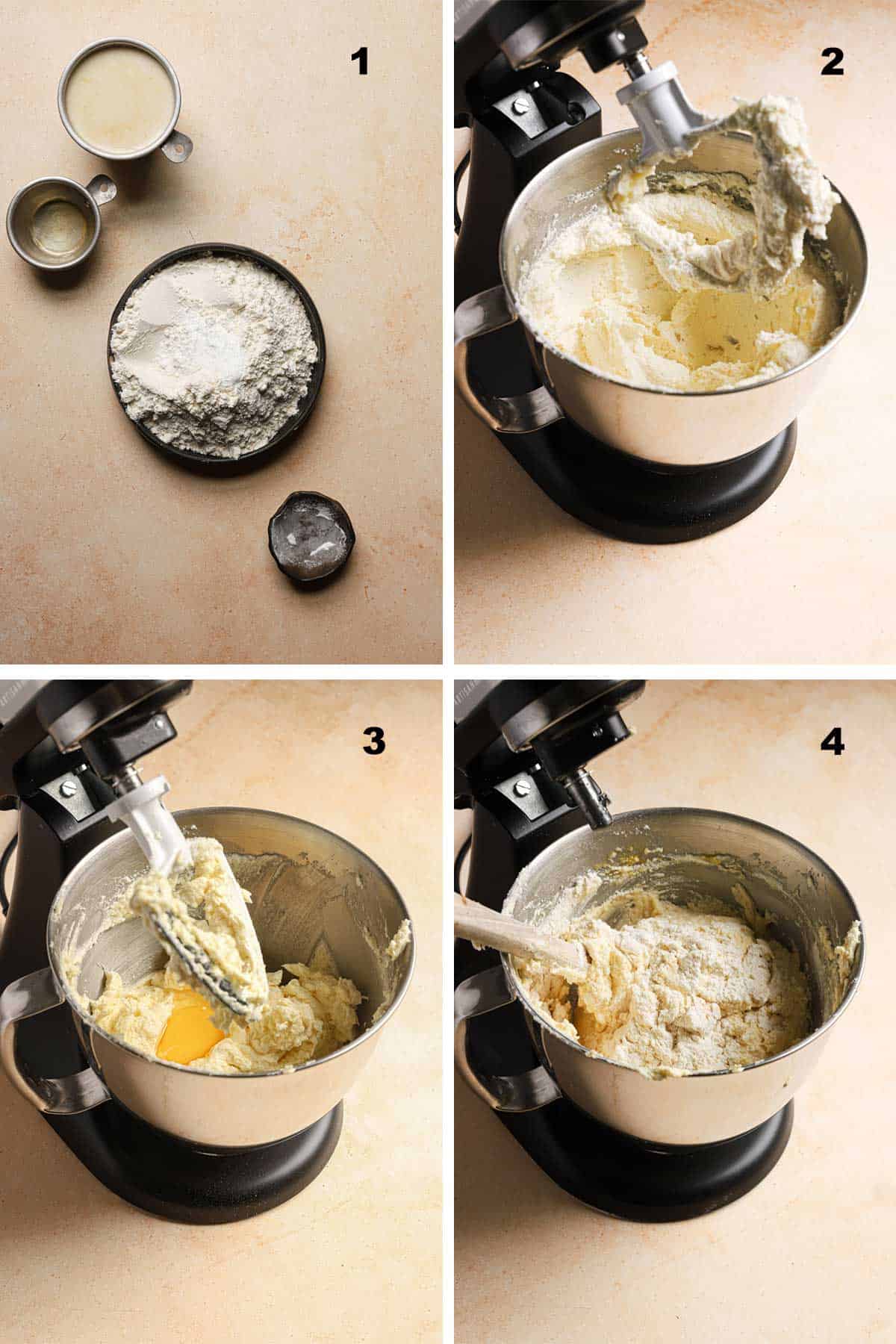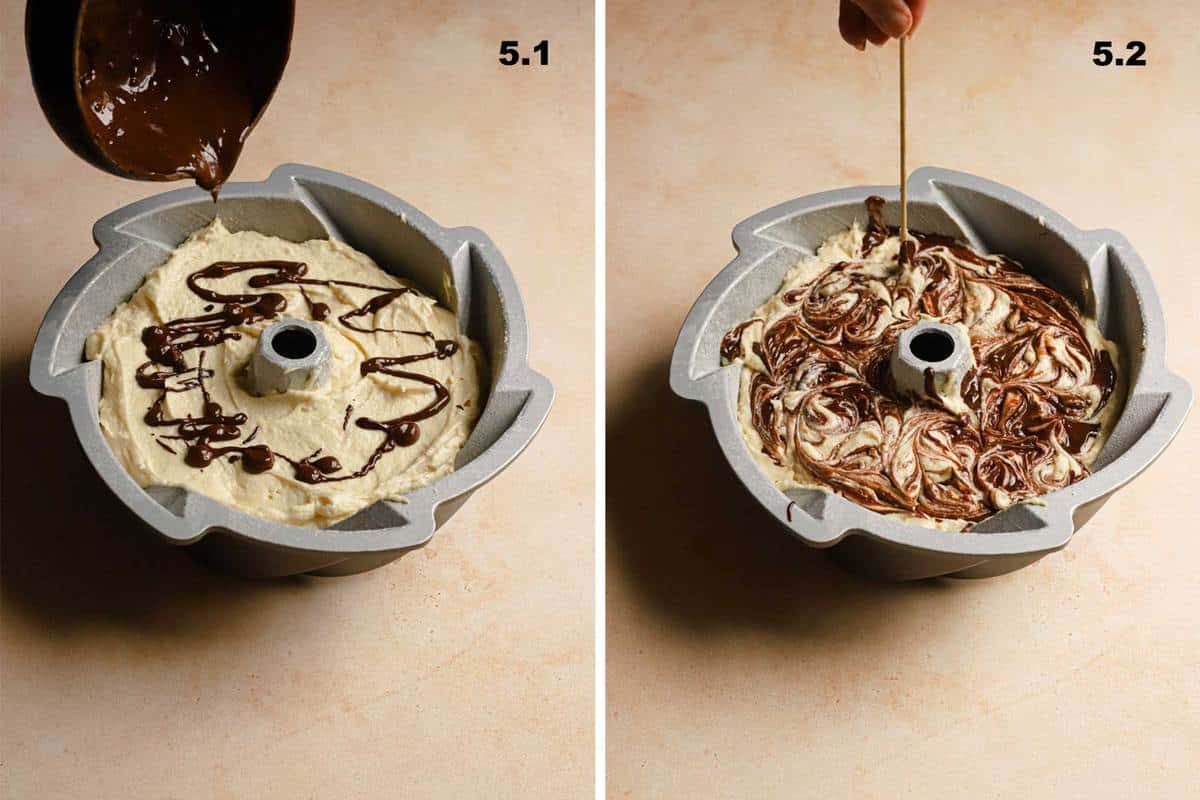 Combine flour, baking powder, and salt in a large bowl. In a separate medium bowl, mix the milk, and extracts.
In a bowl of an electric mixer, fitted with the paddle attachment, on medium-high speed beat the butter, sugar, and almond paste until light and fluffy, about 5 minutes. Do not rush this process, the incorporation of tiny air bubbles is key for a light tender, and delicate cake. Make sure to stop the mixer once or twice to scrape the sides and bottom of the bowl.
With the mixer on high speed add the eggs, one at a time waiting for each egg to completely incorporate before adding the next. For the eggs to be properly bonded the fat (butter) and liquids need to be incorporated with force, otherwise the mixture might curdle and the cake will turn out short and dense.
Reduce mixer to low speed and add the dry ingredients in three additions, alternating with the milk mixture. Once you add the last portion of the flour mixture turn the mixer off and use a rubber spatula to fully incorporate it. This is also a very important step. Once we are adding the flour, gluten nets is starting to form. We want to avoid the gluten from bonding too tight, otherwise, we will end up with a dense chewy cake. The best way to avoid it is by incorporating the flour at low speed and finishing with a rubber spatula.
Pour cake batter into the prepared baking tin and drizzle the chocolate on top of the cake. Use a toothpick to swirl the chocolate and create the veins.
Bake until the toothpick comes out from the center of the cake with a few moist crumbs. Remove from the oven and allow to cool for 15-20 minutes before inverting onto a wire rack.
Baking Pans Options And Expert Tips
The recipe in the book calls for a 9-inch loaf pan, but you can use any shape like a bundt pan (no larger than 8 cups), a sheet pan (8×8 or 9×9 inch square pans), and even round pans in case you want to make almond birthday cake recipe or any layer cake(you'll have to double or triple the recipe depending on how big and tall your cake is).
Make sure to adjust the bake times accordingly. The wider and shorter the pan, the shorter the baking time.
Make sure not to fill the pans over ¾ full. Same for cupcakes.
Very important for all of the ingredients to be at room temperature.
If the almond paste is dry and crumble, there is a risk it will not blend properly into the batter. If that is the case, you can either wrap it up in the microwave for a few seconds or warm it over a double broiler.
I think confectioners' sugar is a great option but if you are looking for a good frosting recipe, If you wish to frost the cake, try this cream cheese frosting.
Storing The Cake
The cake is best stored at room temperature covered for up to 3 days or frozen for up to 1 month.
FAQ
Can I bake this cake as Vanilla Cake?
Yes. Do not add the almond paste or almond extract and increase the vanilla extract to 1 tablespoon.
Can I add chocolate chips?
Sure, fold ½ cup mini chocolate chips along with the last portion of the flour.
Can I skip the melted chocolate part?
Yes, then you'll simply have vanilla almond cake.
Can I bake This As Lemon Almond cake?
Yes. Do not add the chocolate. Add 1 tablespoon of lemon zest with the sugar and replace the vanilla extract with lemon extract.
Can I use sour cream instead of milk?
Yes, same amount. You can also use heavy cream as an alternative.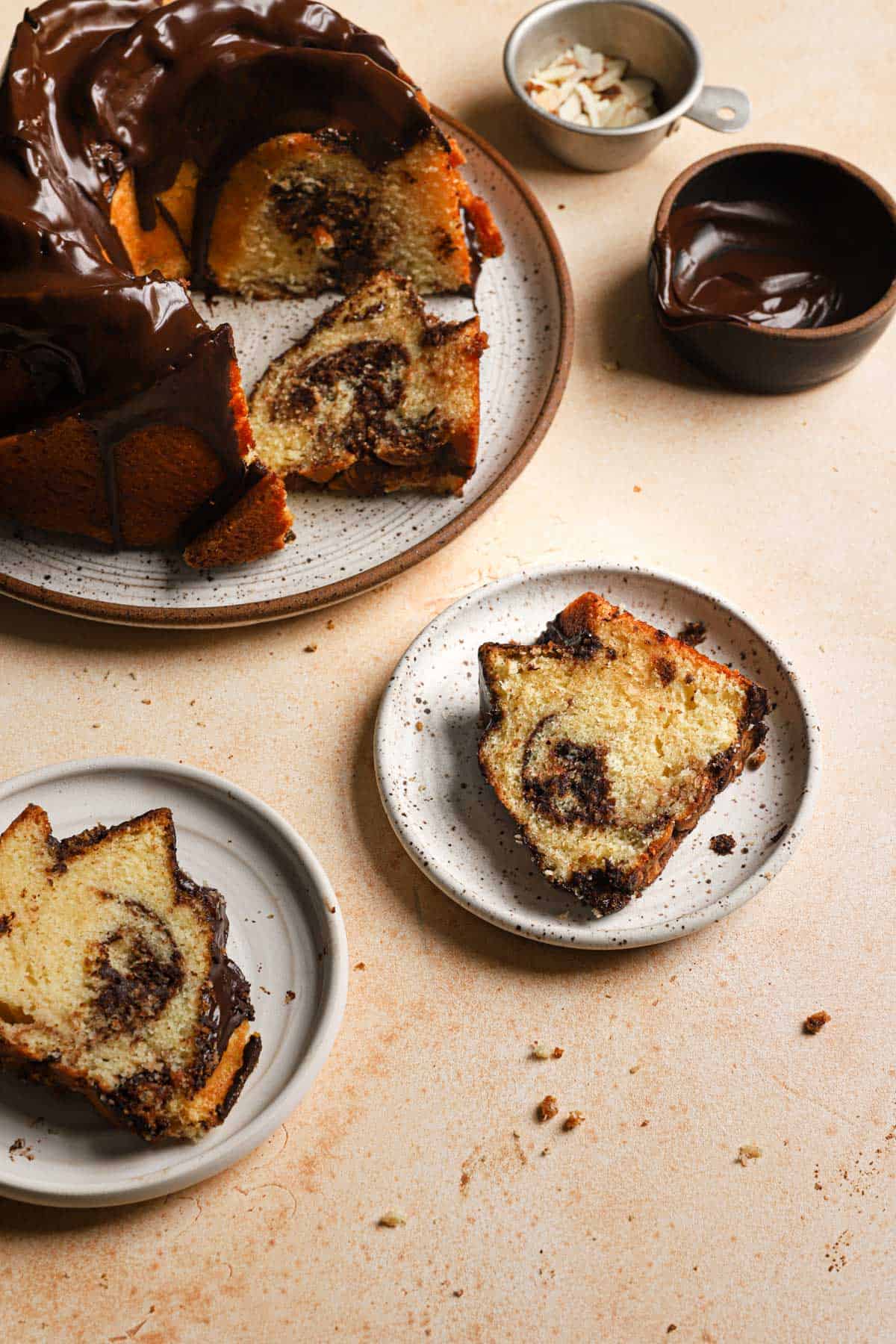 MORE RECIPE YOU MIGHT LIKE
Cherry almond frangipane galette, Mandel Bread, Marble cake
DID YOU TRY THIS RECIPE?
If you tried this recipe or any other recipe by One sarcastic Baker baking blog, please take a movement to rate and comment at the end of each recipe. Your questions, ideas, and thoughts are priceless, and here at OSB we value them more than butter!
And don't forget to tag me on Instagram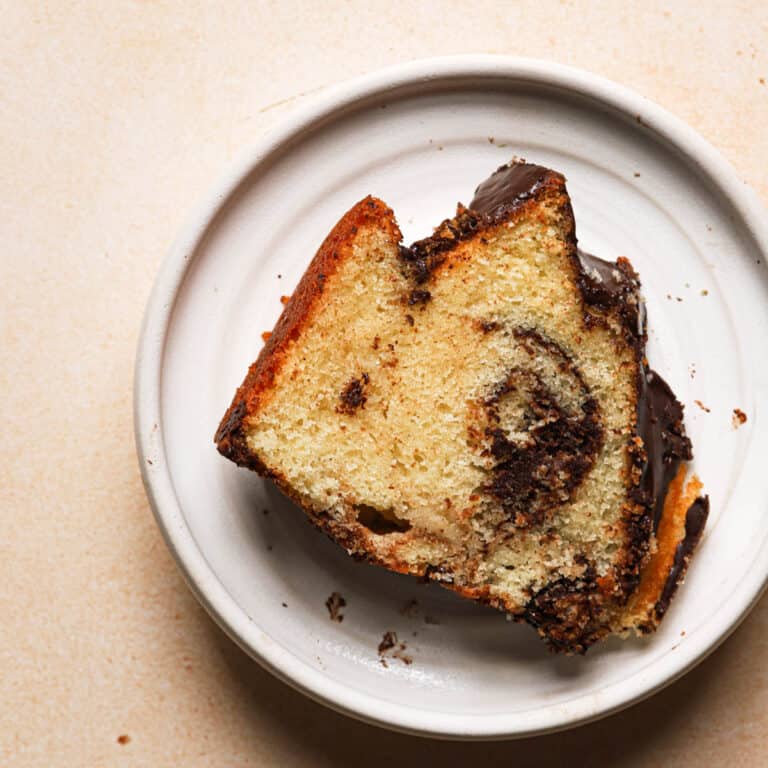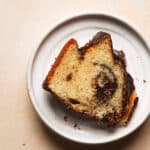 Almond cake recipe
Tender, moist and flavorful almond cake swilred with melted dark chocolate
Ingredients
1 1/2

Cups

All purpose flour

(180 g / 6 oz)

1

tsp

Baking powder

1/2

tsp

Salt

1/2

Cup

Full fat milk

(120 ml/4 floz)

1

tsp

Almond extract

1

tsp

Vanilla extract

1

Cup

Granulated sugar

(200 g / 7 oz)

3/4

Cup + 1 tbsp

Unsalted butter, softened

(180 g / 6 oz)

3

TBSP

Almond paste

(45 g/2 oz)

3

Large

Eggs

1/3

Cup

Melted dark chocolate

(45 g / 2 oz)
Instructions
Grease your pan with soft butter then sprinle with flour. Preheat oven to 350F. (180 C)

In a medium bowl, sift together the flour, baking powder and salt. Use a fork to blend.

Pour the milk into large measuring cups and mix in the extracts.

In a bowl of a standing mixer, fitted with the paddle attachment, beat the butter, sugar, and almond paste on medium-high speed until light and airy, about 5 minutes. Make sure to scrape the bottom and sides of the bowl once or twice.

Increase speed to hogh and add the eggs, one at a time waiting for each egg to fully incorporate before adding the next.

Reduce speed to low and add the flour mixture in three additions, alternating with the milk mixture starting and ending with the flour mixture. Once you add the last portion of the flour, stop the mixer and use a rubber spatula to fully blend the flour into the batter.

Spread the batter into the greased pan, drizzle the chocolate on top of the cake and use a large skewer to swirl the chocolate and create the veins.

Bake for 40-45 minutes or just until a cake tested comes out clean from the center of the cake. (or with few moist crumbs)

Remove from the oven and allow the cake to cool for 20 minutes before inverting and slicing.
Recipe Notes
Make sure the ingredients are at room temperature.
Do not replace almond paste with marzipan.
You can bake this cake in a 9″ loaf pan, 8×8″ or 9×9″ square pan, make sure to adjust the cooling time, the wider and shorted the pan the less time it needs in the oven. Best to set the timer for 25 minutes and check.
For this post, I used an 8 cups bundt pan and had to double the recipe by 50%.