Last updated on December 10th, 2022.
This Black and White Marble Cake is the ultimate marble pound cake. I'm talking about dense, moist and crumbly cake packed with flavors!
What is Black and White Marble Cake? Two things, firstly, your new favorite recipe and secondly a simple and delicious pound cake that has been smothered with semisweet and white chocolate.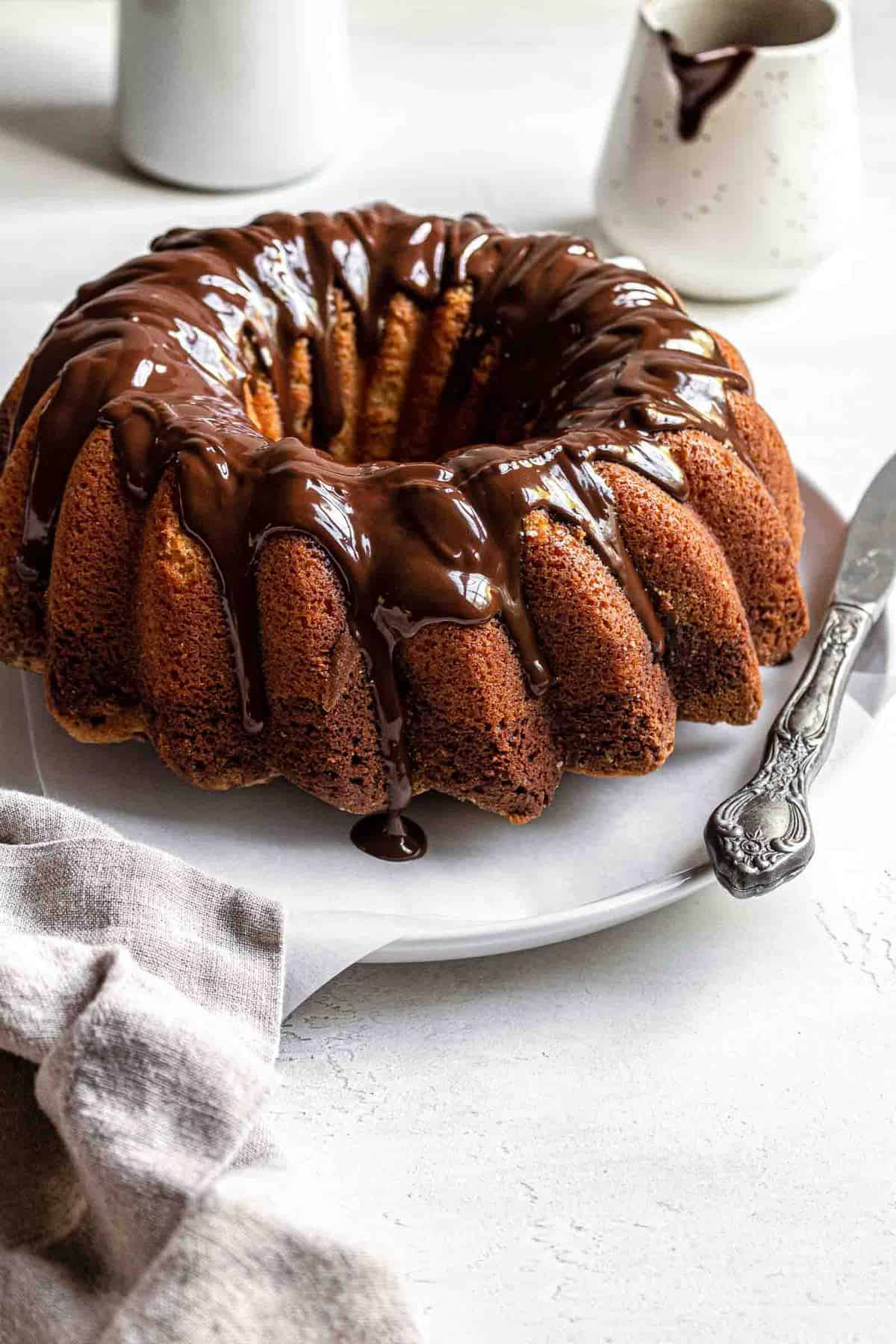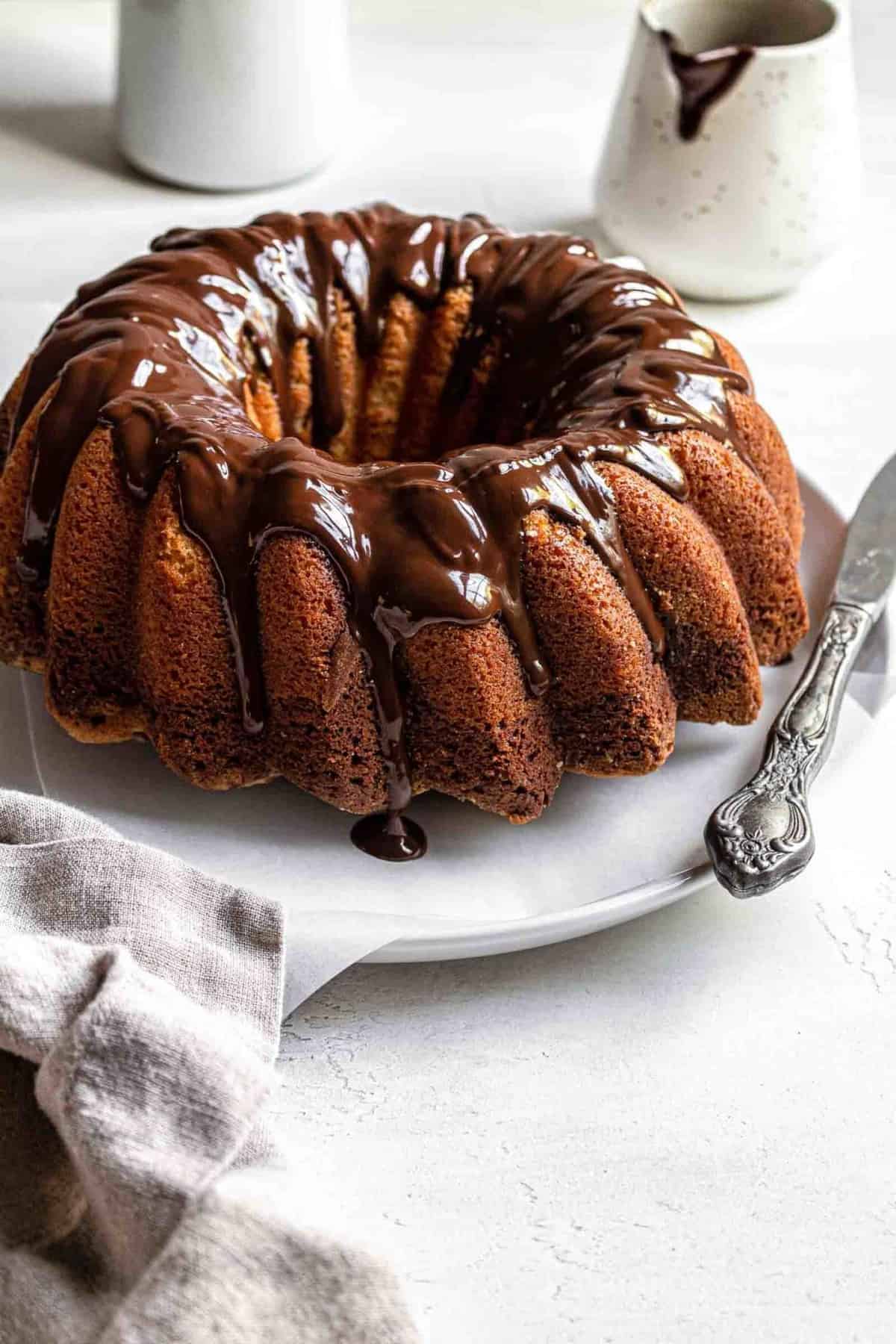 So this is the thing. You add each chocolate to a divided cake batter and dollop it into the pan in layers.
I have been baking this recipe for a few years now, ever since I brought home Baking Chez Moi by the one and only Dorie Greenspan. This is my favorite cake to bake for any special occasion or a special someone. It travels well and keeps its texture, freshness, and flavors.
Ingredients In Marble Cake: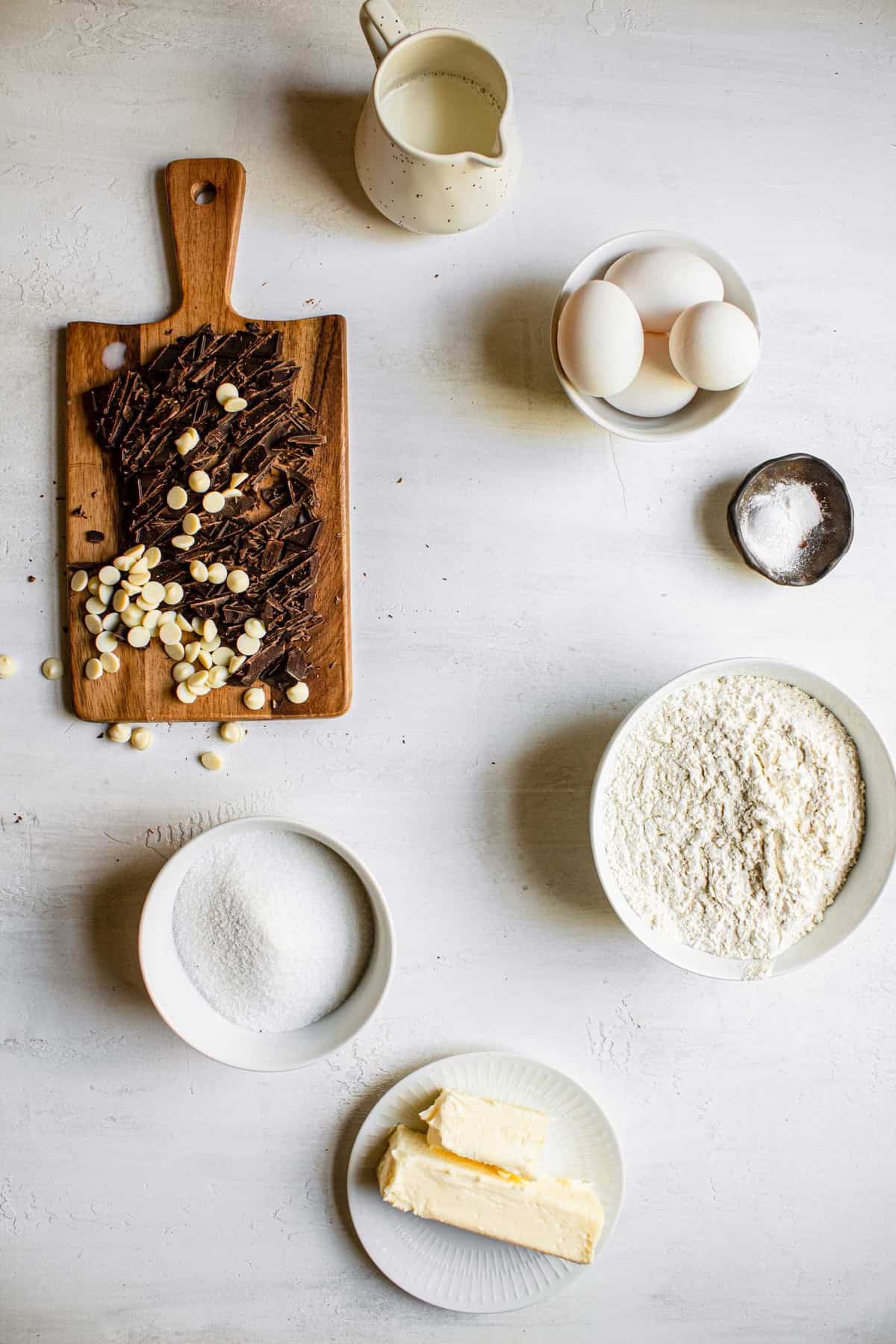 All-Purpose Flour
Baking powder
Salt
Butter, at room temperature. Very important in order for the butter and sugar to incorporate appropriate and create air pockets.
Sugar
Eggs at room temperature
Milk, try and use whole milk instead of skim. Nondairy milk is ok.
White Chocolate, it is very important to use high-quality White chocolate such as Ghiraradelli or Baker's.
Semi-sweet Chocolate, bittersweet chocolate is also a good option. Good quality chocolate is very important.
Dorie adds 1/4 tsp of orange or peppermint extract to the white chocolate batter. I decided to skip it but you can go ahead and add it right after dividing the batter in half.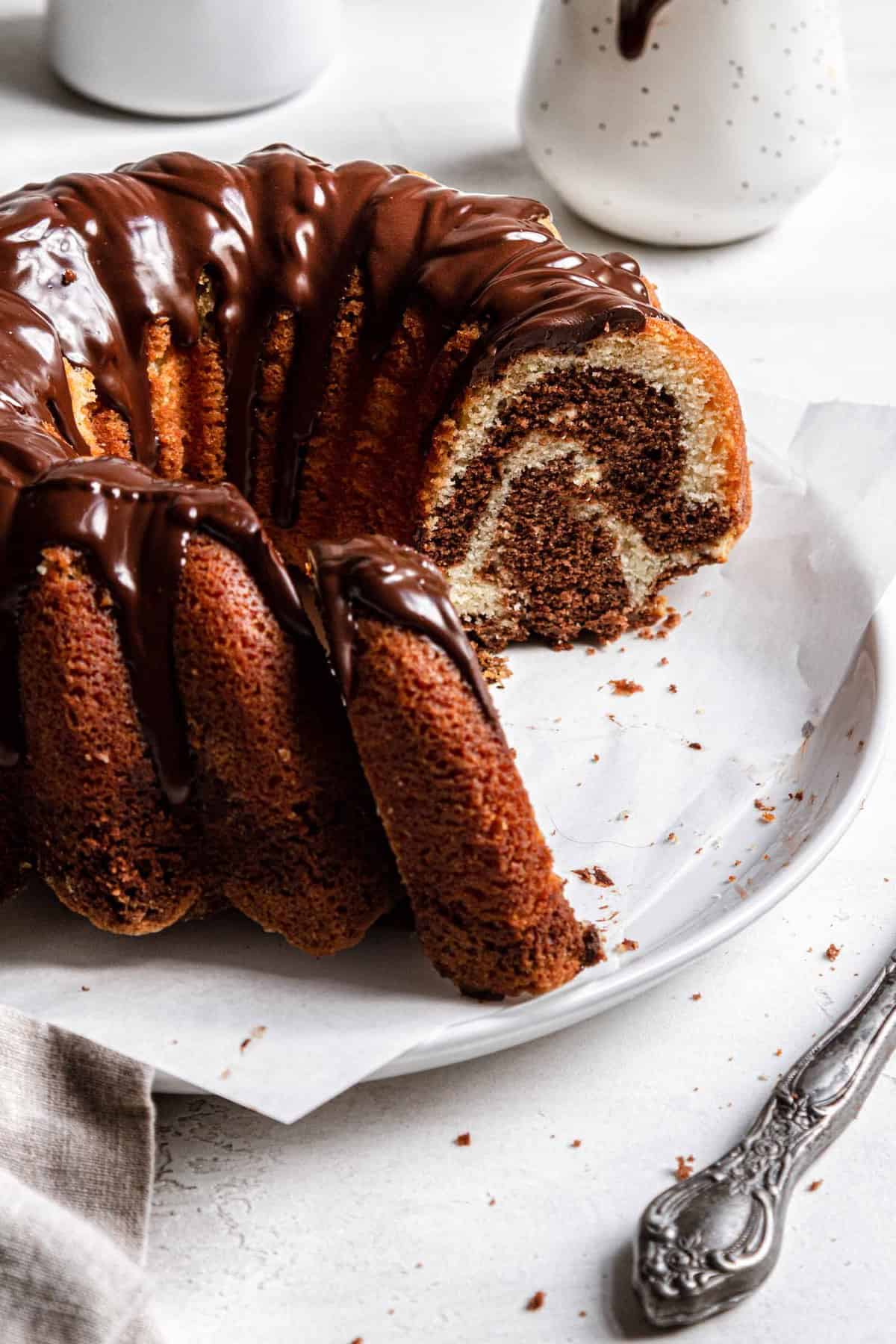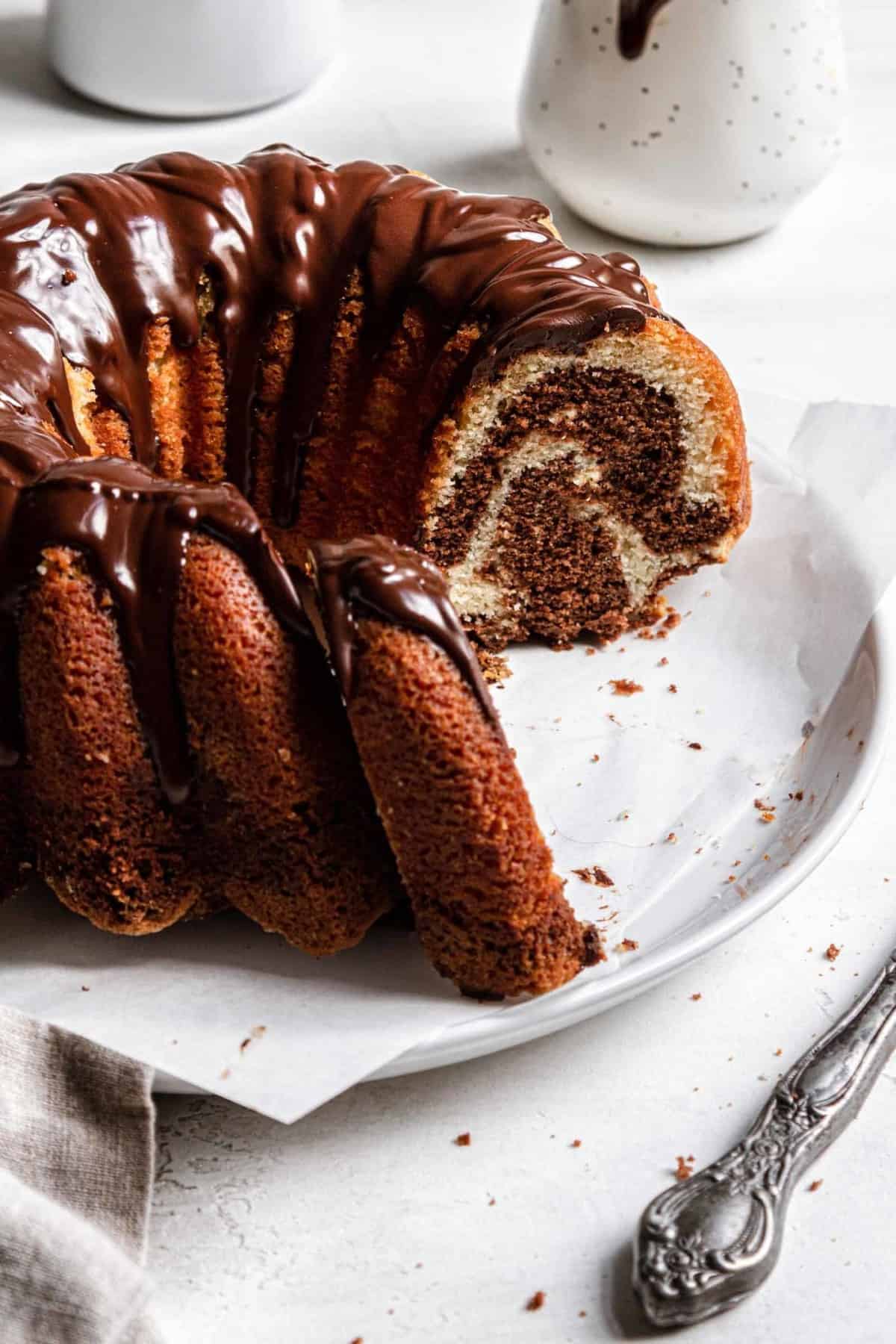 How to make This Marble Cake:
There are three steps to bake this cake.
Step 1, Is essentially baking a pound cake. Beating butter and sugar until light and fluffy. Adding eggs then alternating dry ingredients with wet ingredients.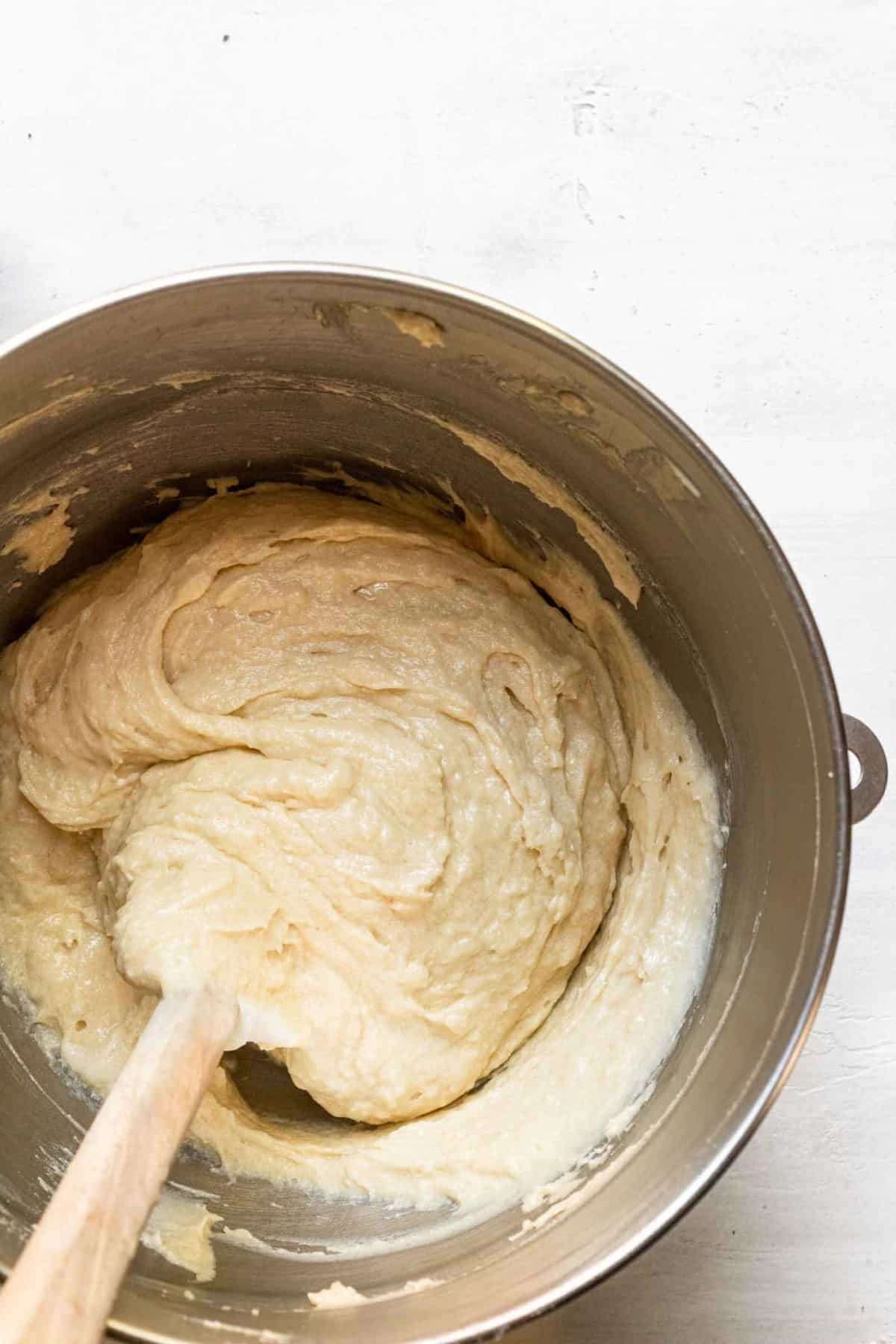 Step 2, Infusing Black and White chocolate flavors. Firstly, divide the batter into two equal parts. Secondly, fold in the melted white chocolate into one part and the semi-sweet melted chocolate into the second part.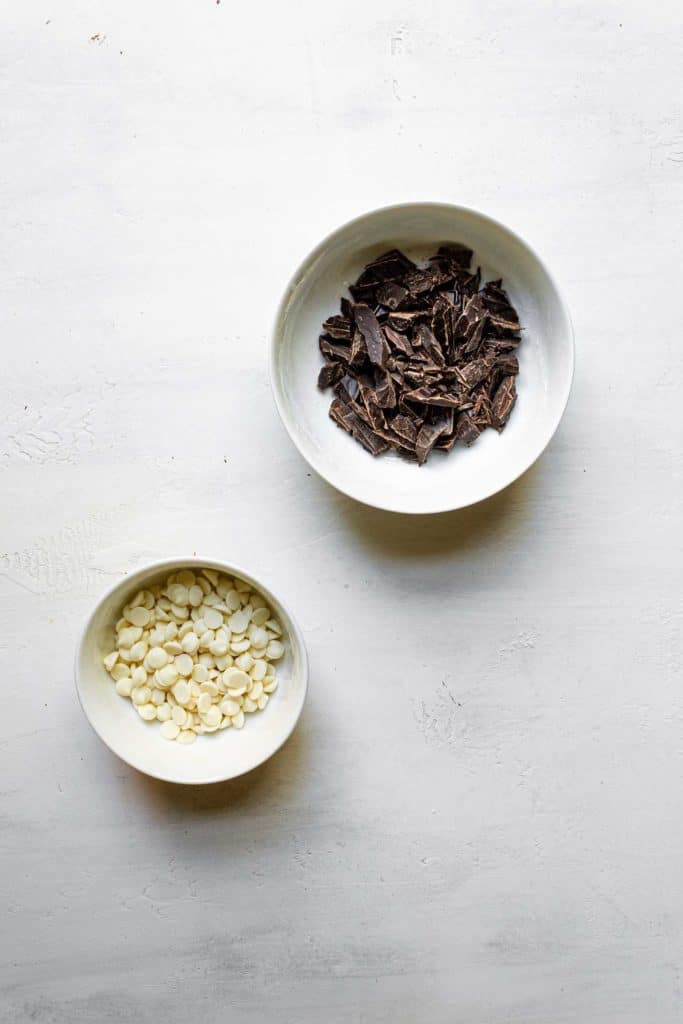 Step 3, Creating the marble pattern. Pouring half of the white chocolate batter into the greased pan and spread it into an even layer. Repeating with the semisweet chocolate batter. Repeating with the remaing batter. Lastly use a knife to run throw the batter to create the marble effect. (do not be tempted to overdo it, run the knife just once)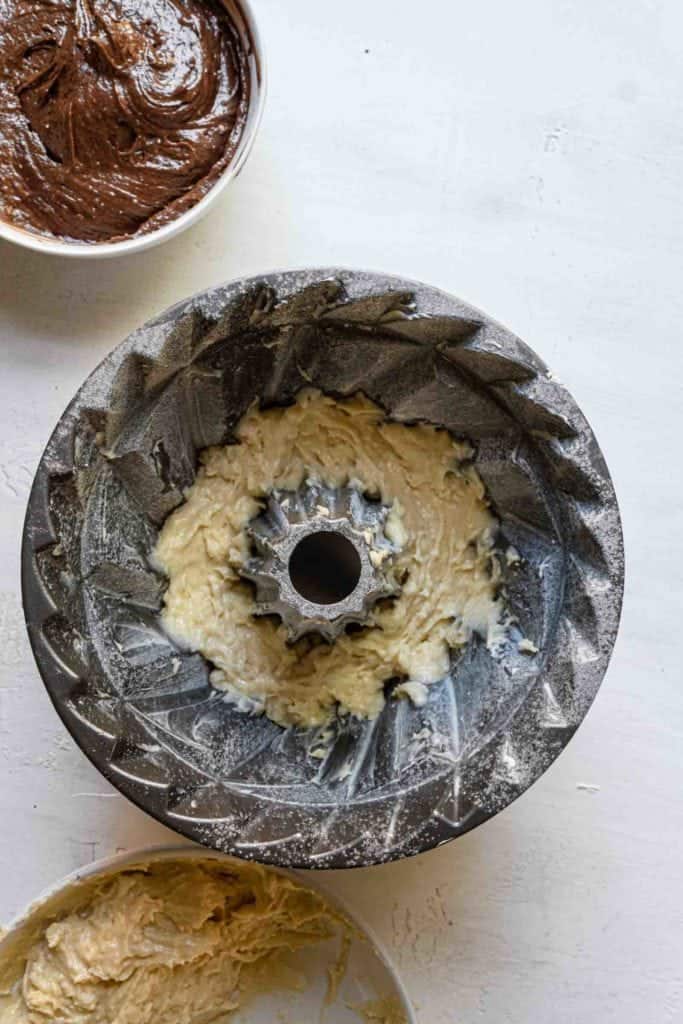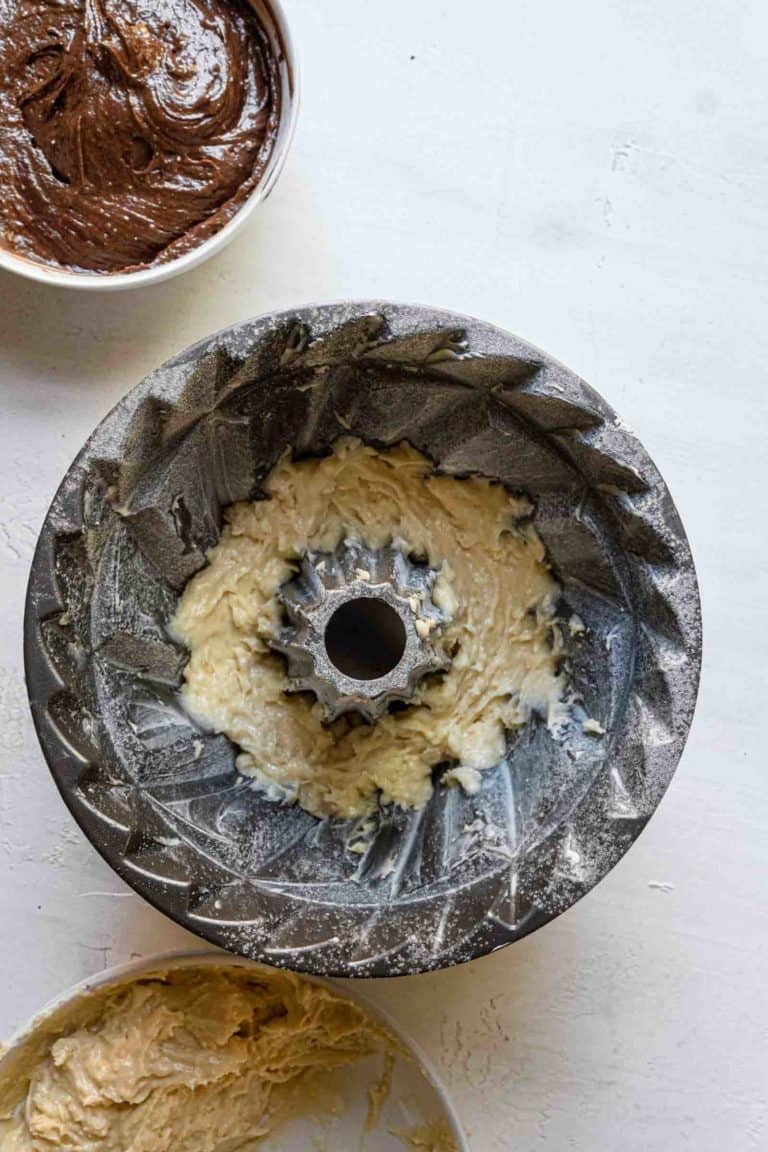 Please note, there are other ways of creating the Marble effect, Dorie's way was to randomly dollop the batters into the pan then run a knife through. Use your preferred method.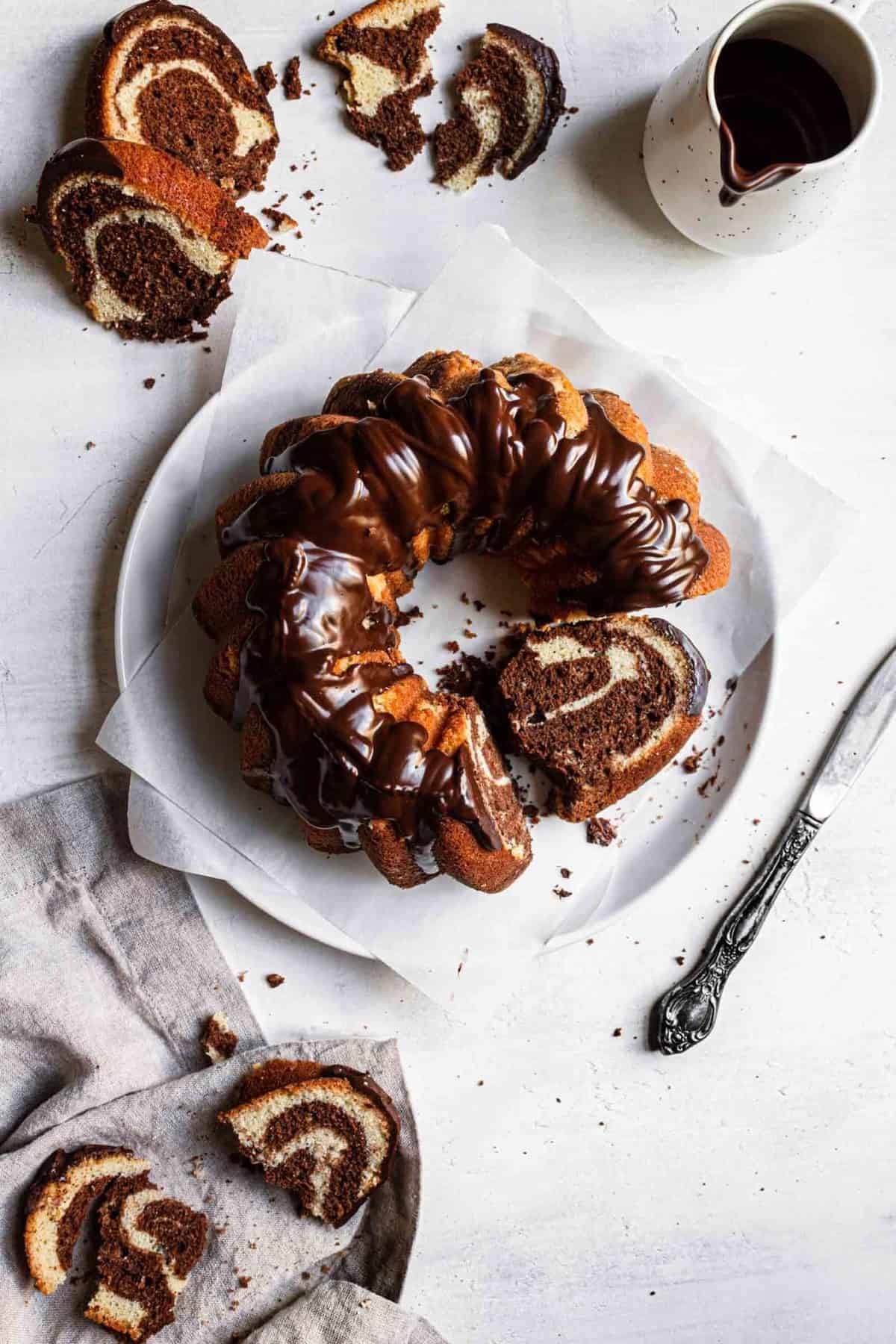 Can I use different pans?
Absolutely. I baked this recipe more than a dozen times and in different pans. Different options can be: 9″x5″ loaf pans, 2 x 8″x4″ loaf pan, and 9″ bundt pan.
Storing the cake:
This cake can be stored at room temperature covered in a cake stand for up to 4 days. Also, it can be wrapped in aluminum foil, bagged in a plastic bag and frozen for up to 2 months. Make sure to unwrap it to unfreeze.
Please remember these two notes!
Use only high-quality chocolate! An off-brand will not melt or blend properly. Also, this cake gets its flavors from the chocolates so don't settle when it comes to the quality.
Do not over bake the cake. When overbaked it tends to stick to the pan and removing it becomes a challenge. In addition, it gets dry super fast. Normally I would make a note that the cake is done when a toothpick comes out clean from the center of the cake. This time it is best to remove the cake from the oven when the toothpick comes out with some moist crumbs. (very much like brownies)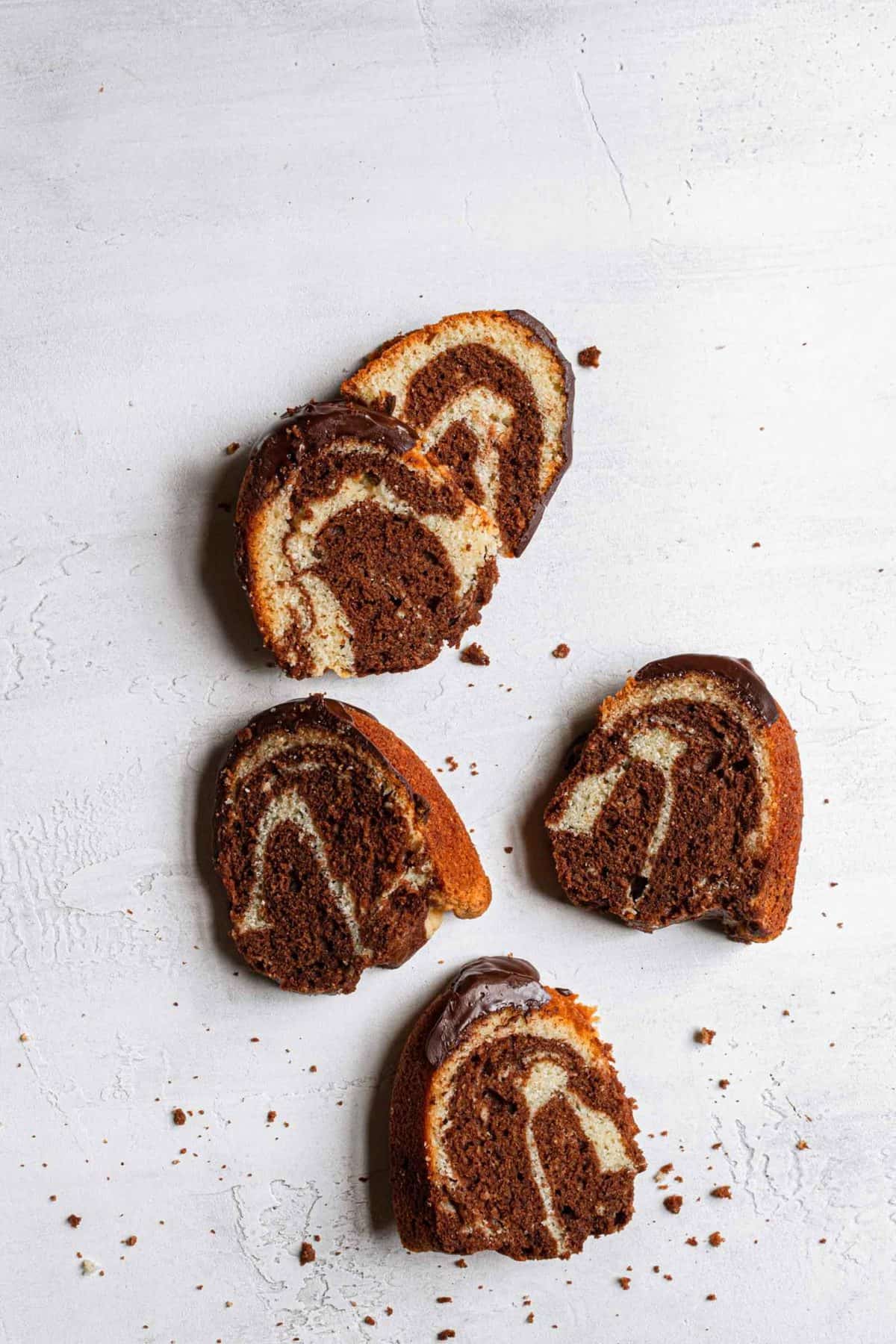 Here are some more Honey Recipes you might enjoy:
Also, one more thing…
Don't forget to tag @OneSarcasticBaker on Instagram if you bake this recipe. Would love to see your creations!
Thinking of baking this recipe sometime soon? Add THIS pin to your Cakes or Baking boards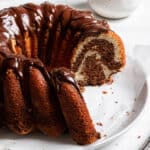 Marble Cake
This delicous marble cake gets its beautiful intiror from dark and white choclate.
Ingredients
2/3

Cup

White Chocolate, chopped

(120 g / 4 oz)

2/3

Cup

Semi-Sweet Chocolate, chopped

(120 / 4 oz)

2 1/4

Cup

All-purpose Flour

(270 / 10 oz)

11/4

tsp

Baking Powder

1/2

tsp

Salt

1 1/2

Sticks

Unsalted butter, soften

(300g/11oz)

1 1/2

Cups

Sugar

(200 g / 7 oz)

4

Large

Eggs

1/2

Cup

Milk

(120 ml / 4 oz)
Instructions
Preheat oven to 325F, generously grease the pan, sprinkle with flour and bang face down against the counter to release any access flour.

In a medium bowl, sift the flour, baking powder, and salt. Set aside.

Place the white chocolate in a medium bowl and melt in the microwave using 30-second increments until completely melted and smooth.

Do the same with the semi-sweet chocolate, set aside.

In a bowl of a standing mixer, mix on medium-high the butter and sugar until well combined about 2 minutes.

Add the eggs one and a time, waiting for each to completely incorporate before adding the next.

Scrape the bottom and sides of the bowl then add the flour mixture in three additions alternating with the milk starting and finishing with the flour mixture.

Right after adding the last portion of the flour, turn the mixer off then use a rubber spatula to incorporate the ingredients without over mixing the batter.

Dived the batter into two and fold in the white and semi-sweet chocolate in each part.

Dollop half of the white chocolate batter into the greased pan smooth into an even layer then do the same with half of the semi-sweet batter ontop. Repeat with the remaining batters.

Baker for 40 minutes or until a toothpick comes out clean (or with some crumbs) from the center of the cake.

Remove from oven and allow 10-15 minutes for the cake to cool before removing it from the pan.