Last updated on May 7th, 2021.
This Lemon Mint Cake is a such a refreshing treat. Bursting with zesty Lemon flavor and a minty fresh kick, it is truly like a cool summer breeze.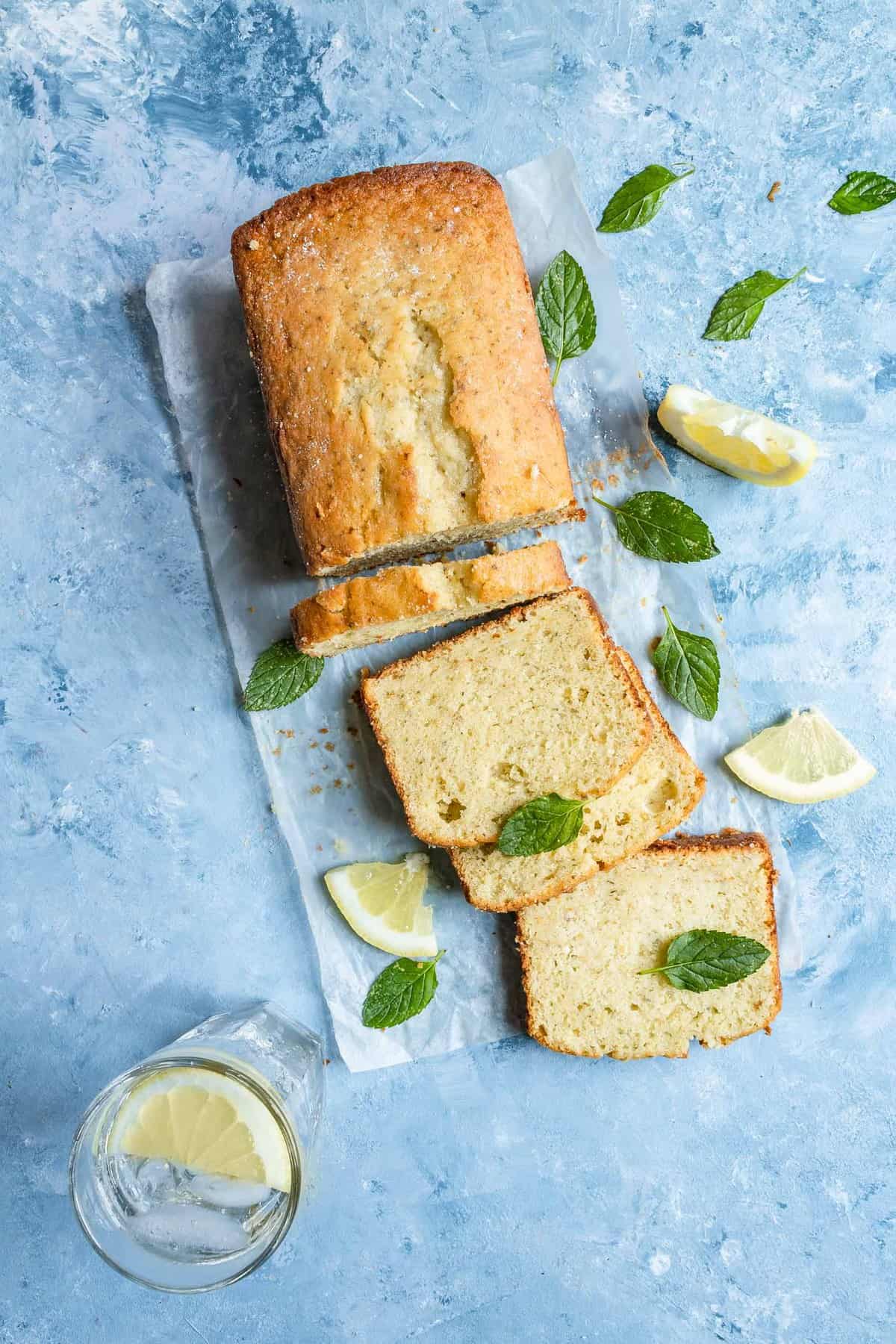 They say that you will always remember you first. "Chose wisely, cause you will always remember your first".
These wise words echoed strongly the day I decided it is time for me to take the next step. It was a bold decision, one I knew there is no going back from.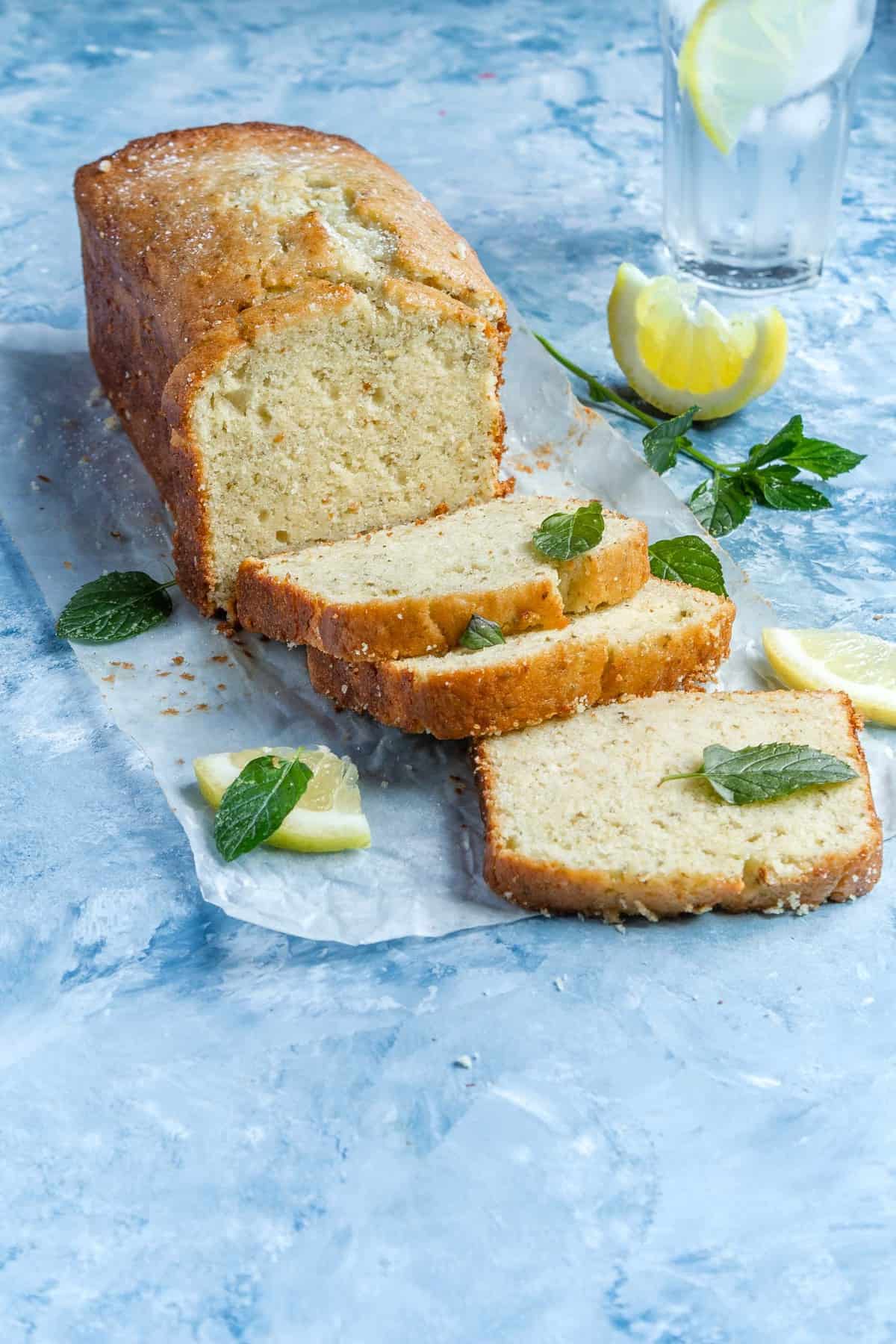 But the time has come.
The time for me to take the next step into my baking journey and develop my very own recipes. I decided to just roll with it.
The reason why I choose Lemon Mint combo is a blur. I only remember sweating it out trying to figure out how to infuse both flavors into the cake. (that was pre Pinterest/Alexa time) A small garden of fresh mint and lemon sacrificed itself to that end. Enough to fill two, three or even four dozens lemonade stands pitchers.
But I did it. And I am sharing my secret with you.
I realized that the best way to get the Lemon Mint flavors in the cake is to create some kind of an infusion that I can add to the cake batter. Hence the Lemon mint Syrup.
Mint released its flavors when in contact with hot water. So first I dip the fresh mint into boiling water for 5 seconds. Just to bring the flavor to the surface.
Then it is processed in the food processor with warm simple syrup made of fresh lemon juice and sugar. For the flavors to be maximized it needs to sit for a minimum of 8 hours (over might) in the refrigerator.
The recipe yields about 1/2 a cup of syrup , enough to use for the cake and after that there is enough left to be used for other purposes.
Here are some ideas:
Lemonade.
Hot or Cold Tea.
Ice Cream Topping.
Homemade Ice cream flavoring.
Here are some more Honey Recipes you might enjoy:
One more thing…
Don't forget to tag @OneSarcasticBaker on Instagram if you bake this recipe. Would love to see your creations!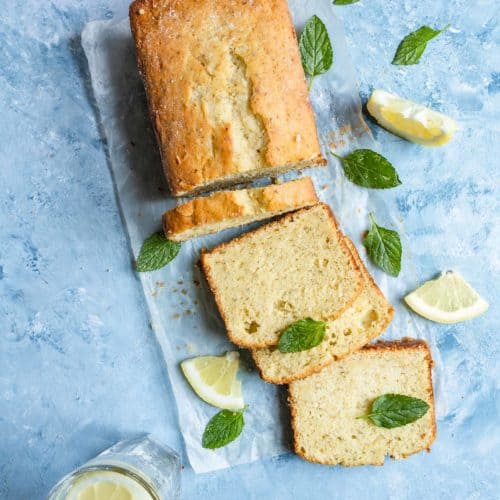 Lemon Mint Cake
Ingredients
Lemon Mint Syrup
1

pack

Fresh Mint

(28 g/ 1 oz)

2

Cups

Boiling Water

1/4

Cup

Fresh squeezed lemon juice

1/2

Cup

Sugar

(100 g/ 3.5 oz)
Lemon Mint Cake
1 2/3

Cup

AP Flour

(200 g/ 7 oz)

1 1/2

tsp

Baking Powder

1/2

tsp

baking soda

1/2

Cup

Butter, soften

(113 g/ 4 oz)

1

Cup

Sugar

(200 g / 7 oz)

2

tsp

Lemon Zest

3

Large

Eggs

3/4

Cup

Full Fat Sour Cream

(200 ml)

1/4

Cup

Lemon Mint Syrup

1

tsp

van. Extract
Instructions
Pour the boiling water into a large measuring cup. Dip the mint in the water for 5 seconds and immediately remove. Discard water and set mint aside.

Place the lemon juice and sugar in a heat prove pan over a medium heat and allow to boil.

Pour in the lemon sugar mix in a food processor add the mint and pulse until the mint is thinly chopped.

Place in a container and refrigerate over night.
To Make the Cake
Make sure all of the ingredients are at room temperature. Grease 8.3″x 3.5″ loaf pan and preheat oven to 340F.

In a bowl, sift the flour and baking powder and baking soda, mix to combine.

Using a measuring cup, place the sour cream, lemon mint syrup and vanilla extract and mix to combine,

In a bowl of a standing mixer, beat the butter and sugar and lemon zest on medium speed for 4-5 minutes or until you have a light and airy mix.

Change speed to low and add the eggs one at a time waiting for each egg to fully incorporate before adding the next.

Scrap the sides and bottom of the bowl to make sure all the ingredients are fully combined.

Add the flour mixture alternating with the sour cream mixture in 4 additions, starting and finishing with the flour mixture.

Pour the batter into the greased pan and bake for 45-50 minutes or until a toothpick comes out clean from the center of the cake.

Remove form the oven and wait 10-20 minutes before removing the cake out of the pan.