Last updated on October 5th, 2023.
Today we are learning how to make creme patissiere, a delicious custard and a key ingredient of many French desserts like cream puffs and choux buns. Like many other French recipes, the success is all in the technique, which is the secret to this foolproof recipe.
This post contains some affiliate links. To learn more, check out our disclosure policy.
What is creme patissiere (pastry cream), and what is it used for?
Creme Patissiere is crème anglaise, a vanilla sauce thickened with egg yolks (or eggs) and cornstarch into a considerable body used for all-purpose desserts like cake fillings, and for other fillings such as tarts (like this Torta Della Nonna), fruit tarts (like this Tarte Aux Fraises), choux pastry, Cruffins, donuts (like these Boston cream pie donuts), Pavlova, and other many more.
It is made by cooking eggs, milk, sugar, and cornstarch over direct heat and flavoring it with vanilla essence. But countless flavor options can be added while warm.
Sometimes the cream is folded into Almond Cream Filling to make a classic Frangipane.
Key ingredients
We only need simple ingredients to make this delicious creamy vanilla custard and the perfect filling. Note that these basic ingredients are key for a successful recipe.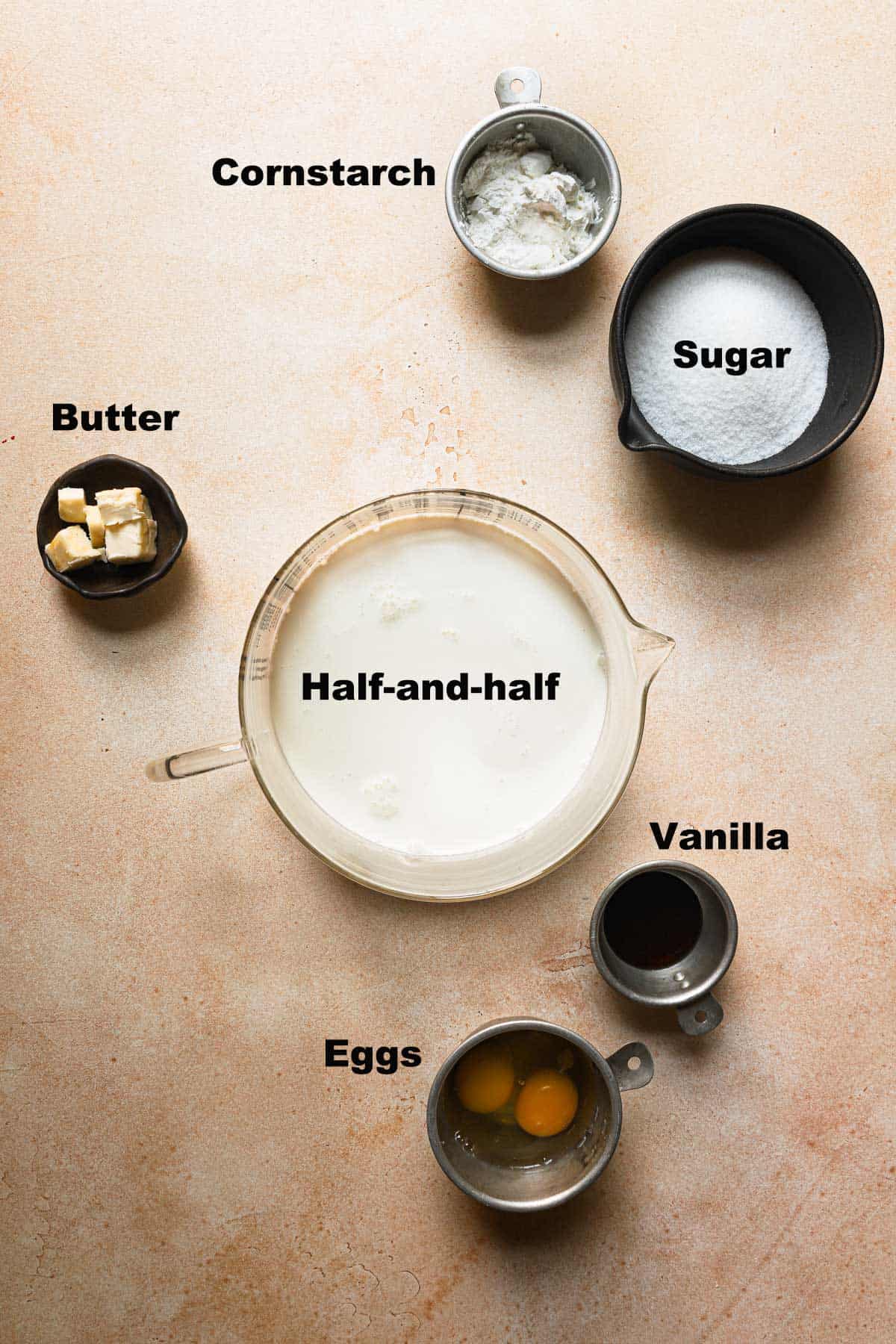 Eggs
Eggs are rich in proteins, and when exposed to heat, the proteins tend to stretch and bond with each other into a weaving structure. In our case, the liquid is trapped between the gaps of the weave structure.
Egg whites are richer in protein than egg yolks, while egg yolks are rich in fat, contributing to the creamy texture of any classic pastry cream.
One egg can thicken 1/2 cup of liquids; into a self-standing custard, but in our case, since we are using one cup per egg, the custard gets a thinner texture.
In this recipe, you can use two large whole eggs or one whole egg plus two egg yolks or four large egg yolks. It is a good idea to use room-temperature eggs.
Half-and-half
Half and half is a mixture of cream and milk and can provide a creamy custard without the fear of it cuddling.
You can use whole milk instead, but not cream. The cream might cause the creme to break and curdle.
Corn starch
The cornstarch will absorb the liquids the eggs could not trap because of the large amount of half-and-half in the recipe. See how starches swell and thicken in my What Is Heavy Cream post. While all starches swell and thicken, some are thickened into a firmer structure, like potato starch, so avoid substituting.
Vanilla Flavor
This pastry cream recipe is flavored with vanilla bean paste for that classic vanilla pastry cream flavor. You can also use vanilla extract (add it with the butter) or a vanilla pod.
How to make creme patissiere
Time needed: 20 minutes
Please read the step carefully before making the recipe.
Prep

To ensure the recipe's success, preparation is crucial.
To start, measure the necessary ingredients and whisk the eggs and cornstarch together in a bowl. Incorporate 1/4 cup of the half-and-half into the mixture, then set it aside. Keep a sieve handy nearby.
Next, take a medium-sized saucepan and add the remaining half-and-half, vanilla, sugar, and salt to it.

Apply Heat

First, heat the half-and-half in a saucepan until it boils. Take four tablespoons of the boiling liquid and slowly pour it into the egg mixture, then strain it through a sieve and into a small bowl.

Return the remaining half-and-half in the saucepan to a boil over medium heat, and then add the egg mixture.

Continuously stir the mixture for 20-30 minutes, ensuring it reaches the bottom and sides of the pan. Once the cream has thickened or reached a temperature of 180F, please remove it from the heat and add in the butter, stirring until it has melted.

Strain and cover

Transfer the mixture through a sieve again into a large bowl or glass container and place a greased piece of plastic wrap on top of the cream.

Store

Allow the creme to cool at room temperature before refrigerating for up to three days. Freeze for four weeks; if it curdles, whip until smooth.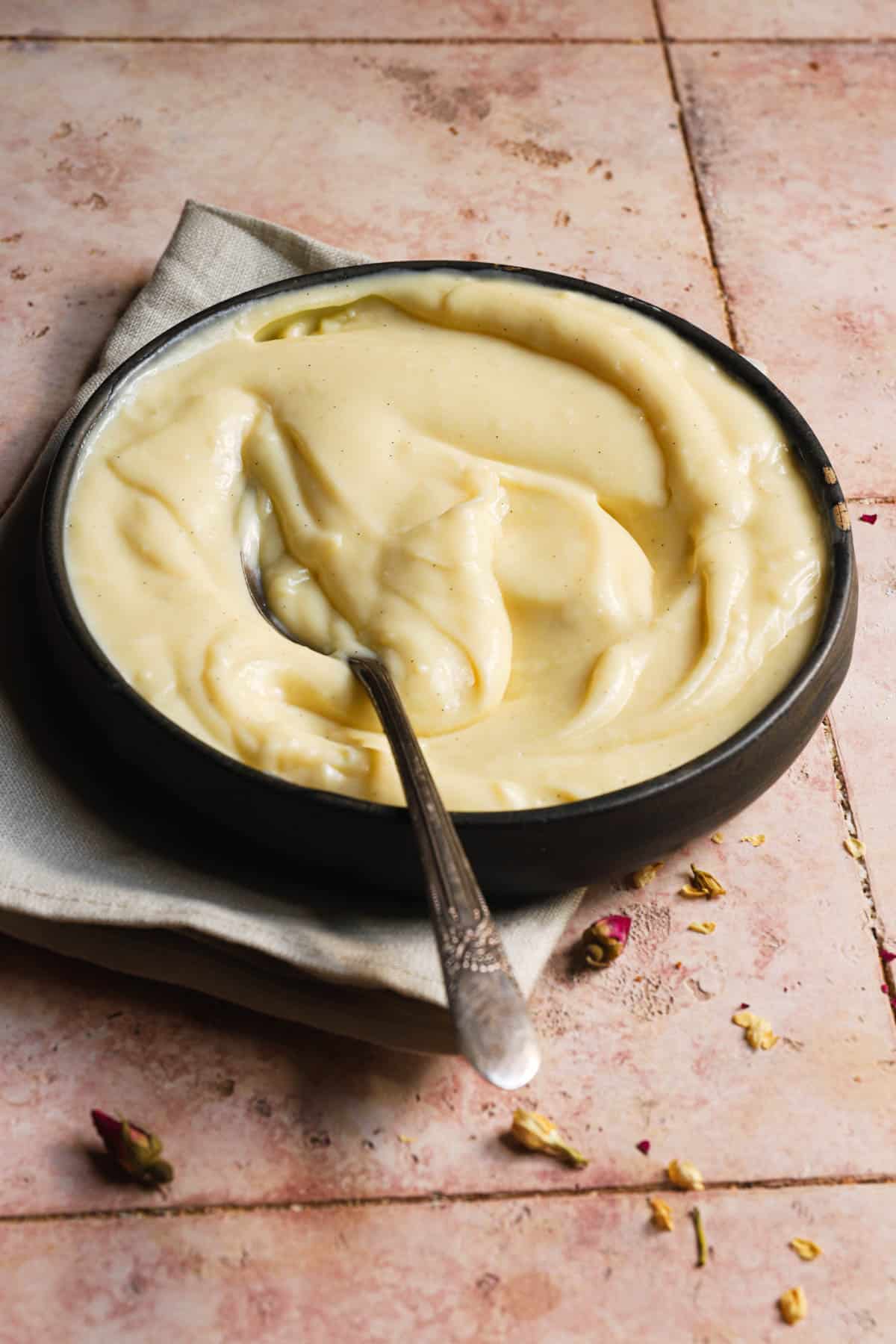 Flavoring classic crème pâtissière
This French pastry cream can be flavored with many different flavor and texture options; here are some ideas:
Coffee crème pâtissière. Add 1-2 teaspoons of instant coffee or espresso powder to the half-and-half.
Chocolate pastry cream. Add 1/3 cup chopped chocolate when warm and stir until smooth.
Peanut butter pastry cream. Stir 1/2 cup of smooth peanut butter into a hot pastry cream and stir until smooth.
Crème légère. Fold 2-3 cups of whipped heavy cream into a cold pastry creme. (creme diplomat, or diplomat cream, is the same but with an addition of relating for more stability). I used it to make these Choux a la creme.
Citrusy cream. Add some lemon or orange zest with the butter.
Creme Chiboust. Meringue lightened creme pat.
Creme Mousseline. Patissiere cream whipped with butter
Common pastry cream mistakes and FAQ
The pastry creme is too thick
You may have added too much cornstarch. Add some more liquid and cook while stirring.
The custard is too thin.
At first, it may seem a bit thin, and it thickens as it cools. If it is thick when warm, but then it is completely thin, it means that you did not cook it long enough. An enzyme called amelize tends to break the cornstarch if we don't deactivate it by cooking it to 180F.
The creme patissiere is grainy
​The eggs were not incorporated well, some were cooked and curdled, or the custard broke. Try to run it through a sieve and then whip it with an electric mixer.
Why is my creme gray?
Avoid using aluminum bowls, beaters, or saucepans. Aluminum discolors eggs into gray-greenish color. (and vice versa, eggs discolor aluminum dishes)
Can I use flour instead of cornstarch?
Yes, and cake flour is the best option.
Can I freeze crème pâtissière?
Yes, up to one month. If it seems to curdle, whip it with an electric mixer.
More Recipes You Might Enjoy
Bavarian Cream Donuts, Cornetti, Brioche Bread.
Don't forget to tag @OneSarcasticBaker on Instagram if you bake this recipe. I would love to see your creations!
Creme Patissiere (pastry cream) recipe
Creamy and smooth french pastry cream for all dessert filling
Ingredients
2

Large

Eggs, at room temperature

3

Tablespoons

Corn starch

(24g)

2

Cup

Half and half

(480ml)

1/2

Cup

Granulated sugar

(100g)

1

Tablespoon

Vanilla paste

1/2

teaspoons

salt

1

tablepoon

Butter, cut into four pieces.

(12g)
Instructions
In a medium bowl, mix the eggs, cornstarch, and 1/4 cup of the half-and-half. Set aside next to a sieve over a bowl.

Rub the vanilla paste into the sugar in a medium saucepan, then pour in the rest of the half-and-half, and salt.

Bring the sugar mixture to a full boil, then slowly drizzle four tablespoons into the egg mixture while stirring. Bring it back to a boil over medium heat.

Stain the egg mixture, then pour it into the saucepan.

Use a whisk to stir until thickened, about 40 seconds, or until it reaches 180F.

Add the butter and stir until it's completely melted, then transfer to a bowl or a container.

Place a piece of plastic wrap over the creme and let cool at room temperature for one hour, then refrigerate for up to three days.
Recipe Notes
Store in the refrigerator for up o three days, or freeze for up to four weeks.
If the custard seems lumpy, whip it using an electric mixer for 2-3 minutes.
To flavor the creme, add two tablespoons of flavored liquor, 1/2 cup of creamy PB, or 1/3 cup of chopped dark chocolate with the butter. 
Fold 2 cups of the whipped cream into a cold pastry cream for more volume.
Do not use heavy cream; it will curdle the cream.
Replace the half-and-half with whole milk.
Use 2 whole eggs, or 1 eggs plus two egg yolks (if using milk), or four egg yolks.
​