Last updated on September 21st, 2023.
Creme Chiboust, is a classic French pastry custard base dessert made of two items: rich pastry cream, lightened with Italian meringue. Like Creme Legere and Creme Mousseline, this creamy custard is great for filling different desserts. Today, we will go through the process of creating a perfect Creme Chiboust, ensuring your success in mastering this exquisite dessert.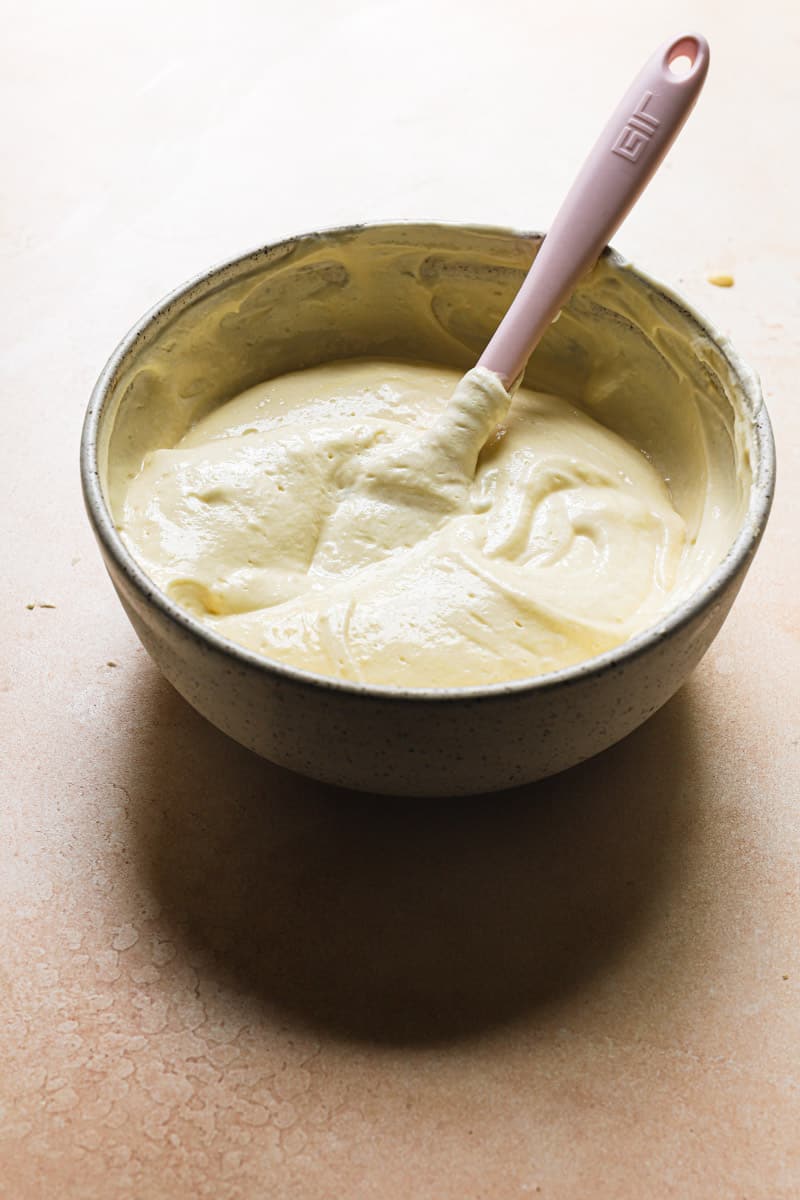 How to make Creme Chiboust step by step
Ingredients
For the Pastry Cream:
half-and-half or, whole milk
granulated sugar (you can also use light brown sugar for a deeper flavor)
egg yolks (or, two large whole eggs)
cornstarch
Gelatin (one envelope, or two sheets)
vanilla extract, or seeds of one vanilla pod
Flavored Variations: For added complexity, you can infuse the milk with various flavors such as instant coffee, citrus zest, or cinnamon sticks, allowing them to steep before starting the pastry cream recipe.
For the Italian Meringue:
whites
granulated sugar
water
Instructions to make creme chiboust
Step 1: Make the Pastry Cream (crème pâtissière)
In a medium bowl, whisk together the egg yolks, cornstarch, and 1/3 cup of the milk until well combined. In a small bowl, mix the gelatin with 1 tablespoon of water.
In a medium saucepan, heat the remaining milk and sugar over medium heat until simmer.
Slowly pour 4 tablespoons of the hot milk into the egg mixture, whisking constantly to avoid curdling. Run the mixture through a sieve over a bowl.
Place the milk back over the stove and cook on medium heat, once simmer pour the egg mixture while stirring constantly until it thickens.
Remove the saucepan from heat and stir in the vanilla extract and gelatin and stir to dissolve and distribute.
Transfer the pastry cream to a bowl, and cover the surface with plastic wrap to prevent skin from forming. Allow it to cool to room temperature.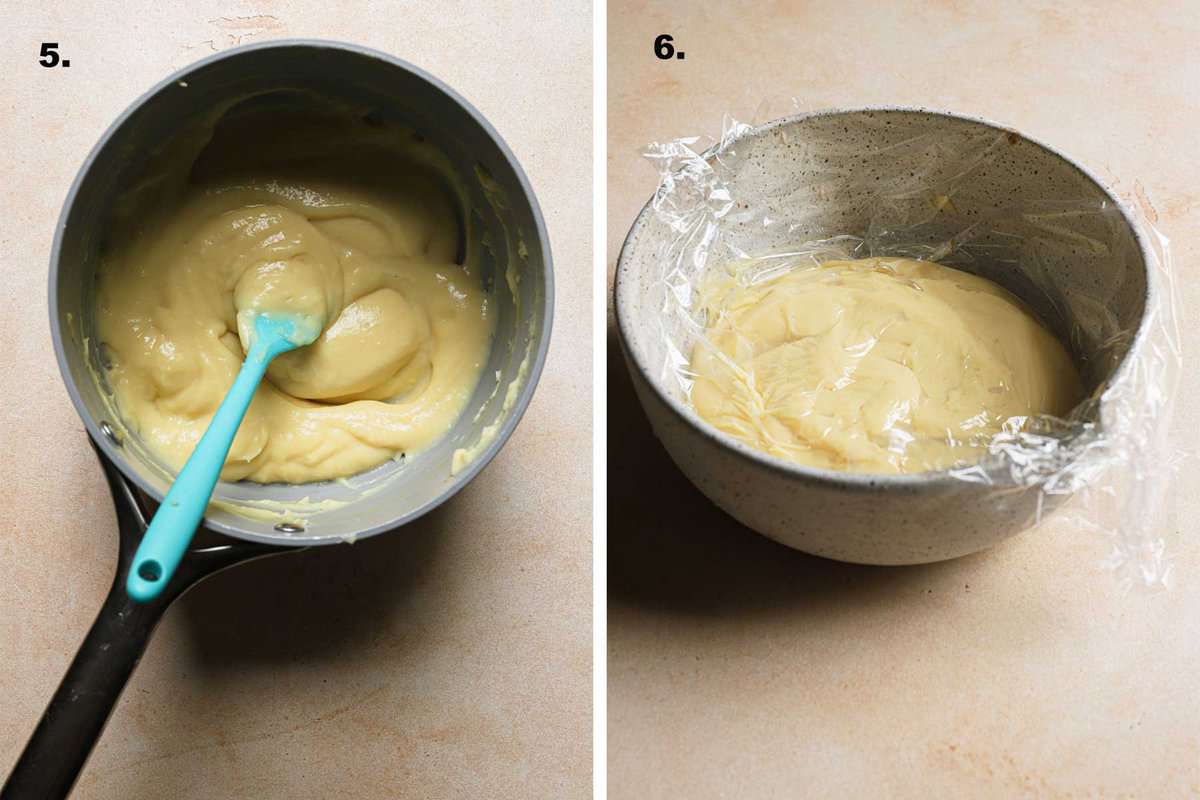 Step 2: Make the Italian Meringue
In a clean, heatproof bowl, whisk the egg whites until frothy using an electric mixer (avoid using the paddle attachment).
In a small saucepan, combine the sugar and water, and heat over medium heat until the sugar dissolves completely. Use a candy thermometer to monitor the temperature.
Once the sugar syrup reaches 240°F (115°C), remove it from heat.
While whisking the egg whites at medium speed, slowly drizzle the hot sugar syrup in thin steam into the bowl in a steady stream.
Continue whisking until the meringue reaches stiff peaks and cools down to room temperature. It can take up to 7 minutes, but at the end, you should have a fluffy shiny meringue
Combine the Pastry Cream and Italian Meringue
Place the creme pat in a large bowl and gently mix one-third of the Italian meringue into the cooled pastry cream to lighten it.
Add the remaining meringue and fold it in until fully incorporated. Be careful not to overmix, as it may deflate the meringue.
Your Creme Chiboust is now ready, use it immediately.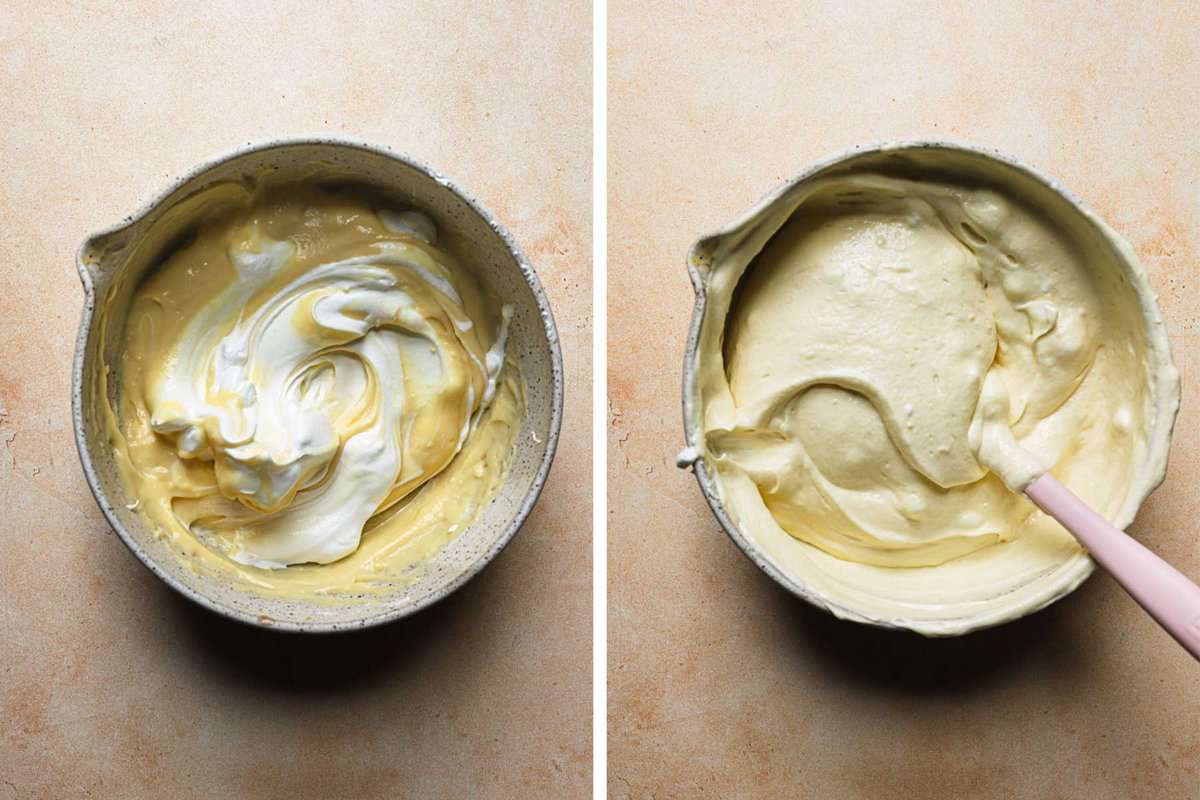 Storing
Chiboust Creme should be used immediately, as the meringue tends to water down within 24 hours. The pastry creme is good for three days and can be made ahead of time.
Once you used the creme to fill or layered your desserts, it is important to refrigerate within four hours or less.
Tips for Making chiboust Cream
Prepare your ingredients in advance, and make sure it's at room temperature: Creme Chiboust is a delicate and time-sensitive dessert, so it's important to have all your ingredients measured and ready before you begin. This includes eggs, sugar, milk, cornstarch, and any flavorings you plan to incorporate.
Use a good-quality vanilla bean or extract: the creme often relies on the flavor of vanilla to enhance its taste.
Master the pastry cream: The base of Chiboust Creme is pastry cream, so it's essential to prepare it properly. Check out my post on How To Make Creme Patissiere for all the tips including troubleshooting.
Be patient with the egg whites: Creme Chiboust incorporates Italian meringue, which is made by whipping egg whites and sugar to a stable, glossy consistency. Take your time while beating the egg whites and gradually add the sugar, ensuring it dissolves completely. The resulting meringue should hold stiff peaks.
Fold the meringue gently: When combining the pastry cream and meringue, use a gentle folding motion to maintain the airiness of the meringue. Over-mixing can deflate the meringue, resulting in a thin, sauce-like texture.
Chill thoroughly before serving: this dessert benefits from being thoroughly chilled before serving. Refrigerate it for at least a few hours, to allow the flavors to meld and the dessert to set properly.
Use this cream to upgrade your deserts like Choux buns, paté sablée and other sweet tarts (Tarte Aux Fraises), cream donuts, choux a la creme, choux au craquelin, the famous gâteau saint-honoré, or even these Italian Croissants.
Get creative with decorating and garnishing: Chiboust offers endless possibilities for serving and pairing with complementary accompaniments. Enhance its visual appeal and add extra flavor by exploring options such as fresh fruits, drizzling a luscious caramel sauce, or adding a delightful sprinkling of candied nuts like these Candied Cashews, or These Candied Pecans.
You can use a spatula to spread the cream or a piping bag.
Remember, making Cream Chiboust requires some practice to achieve the perfect balance of textures and flavors. Don't be discouraged if your first attempt isn't flawless. Enjoy the process and embrace the learning experience!
FAQ
Why didn't my meringue whipped?
If your bowl of whisk has even the slightest amount of fat in it, the meringue will not whip. To ensure your meringue is fat-free, dip a piece of paper towel into lemon juice and wipe your utensils with it.
Is monsieur chiboust the same as crème mousseline?
No. Chiboust is pastry cream lightened with meringue, while Creme Mousseline is pastry cream creamed with butter.
What is the difference between custard and creme pat?
Creme pat is pastry cream and it is considered to be custard.
​I've seen a pastry chef adding gelatin sheets to the pastry cream, should I?
You can if you wish for a thicker cream, but the recipe will work just fine without any.
More Desserts Recipes You Might Enjoy
Pavlova Cake, Chocolate Cream Puffs, Biscoff Cheesecake
Don't forget to leave a comment and tag me on Instagram when you make one of my recipes.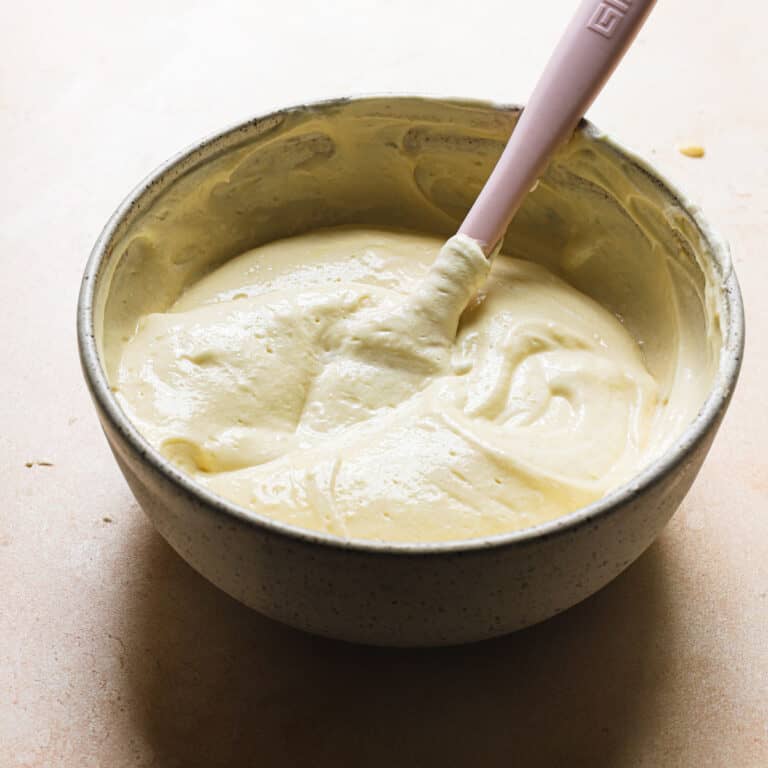 Creme Chiboust
Lightened pastry cream with meringue
Ingredients
2

Cup

Half and Half, or whole milk

(480ml)

1/3

Cup

Granulated sugar

(70g)

1

teaspoon

Vanilla extract

4

Large

Egg yolks

4

tablespoon

Cornstarch

(32g)

1

tablespoon

Unflavored gelatin (or agar agar)

(7g)

4

Large

Egg whites

1/2

Cup

Granulated sugar

(100g)

1/4

Cup

Cream of tartar
Instructions
In a medium bowl mix the egg yolks, cornstarch, and 1/4 cup of the milk (or half-and-half). In a small bowl, mix the gelatin with 2 tablespoons of water and set aside.

Place the remaining milk in a medium saucepan, add the sugar, and cook over medium heat, until starts to simmer.

Remove from heat, and slowly pour 4-6 tablespoons of the hot milk into the egg yolk mixture while stirring.

Run the egg mixture through a sieve over a bowl, then pour it into the remaining milk.

Place the mixture back over the stove, and cook until thickened while stirring.

Remove from heat and add the gelatin and vanilla while stirring until dissolved and distribute.

Pour into a bowl and place a piece of plastic wrap over the surface of the pastry cream. Let cool at room temperature then refrigerate.

Make the meringue: whip the egg white and cream of tartar while you cook the sugar.

Place the sugar and water in a saucepan and cook to 240F (115C).

With the mixer on, slowly drizzle the warm sugar into the meringue.

Beat until stable stuff meringue is formed and it has cooled down to room temperature.

Remove the pastry cream from the refrigerator, then mix in 1/3 cup of the meringue.

Fold in the remaining meringue and use immediately.
Recipe Notes
The creme should be used immediately as the meringue tends to water down.
To enhance flavor complexity, you have the option of flavoring the milk with different elements like instant coffee, citrus zest, or cinnamon sticks and letting them infuse before initiating the pastry cream recipe.
To maintain the meringue's lightness, gently fold it when combined with pastry cream to avoid deflating it. Over-mixing results in a sauce-like texture.
You can use powdered gelatin, agar-agar, or two gelatin sheets.