Last updated on August 14th, 2022.
This silky smooth, creamy and ridiculously delicious Biscoff Cheesecake recipe is the dessert we've all been craving. Biscoff lovers, I've got the best cheesecake for you.
Biscoff cookies are my guilty pleasure and Biscoff cookie butter is one of my absolute favorite ingredients to bake with.
I love how many different ways you can use it to create the most delicious recipes like these Biscoff butter cookies, Banana Biscoff Cake, Lotus Ice cream, Biscoff donuts, and Biscoff brownies.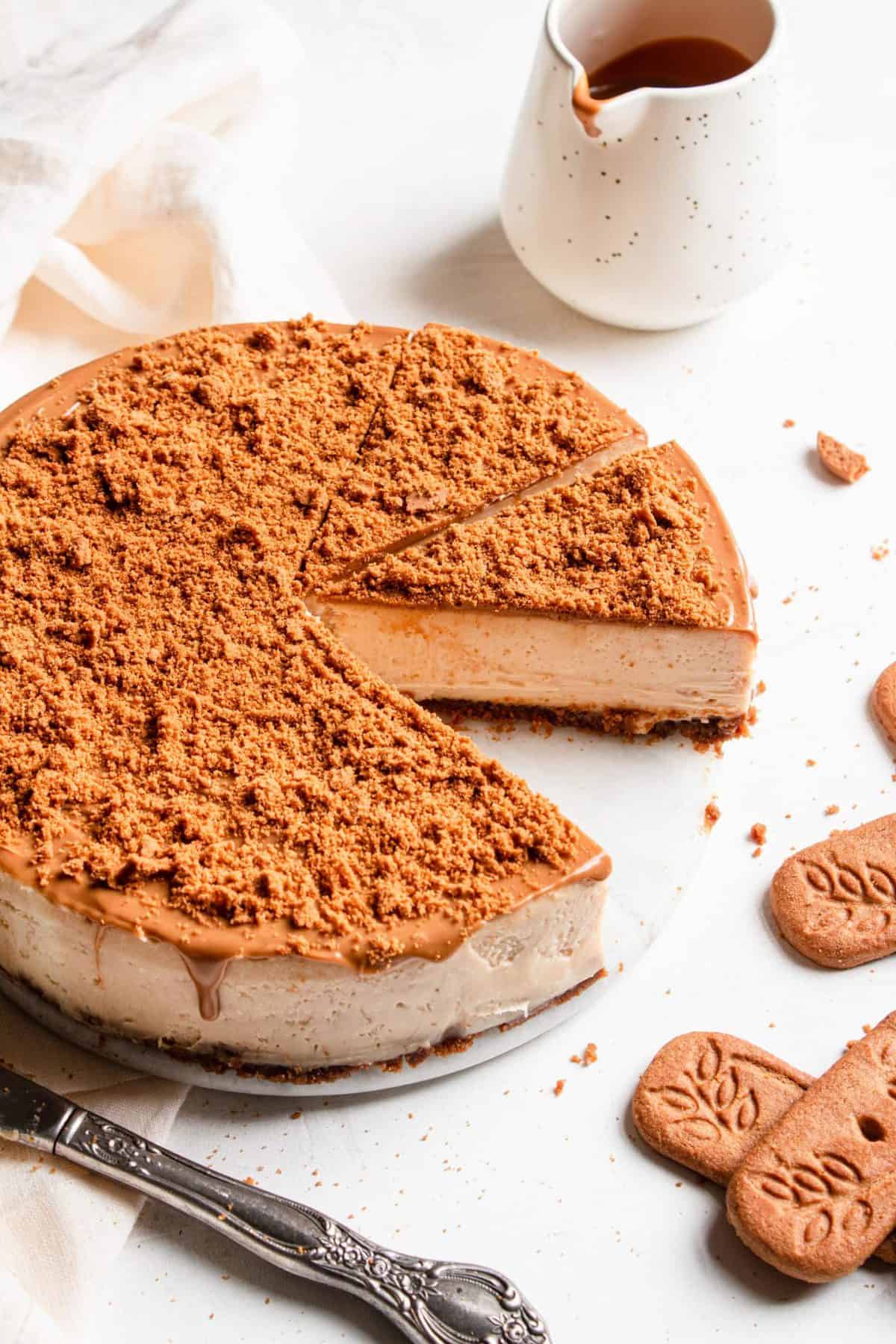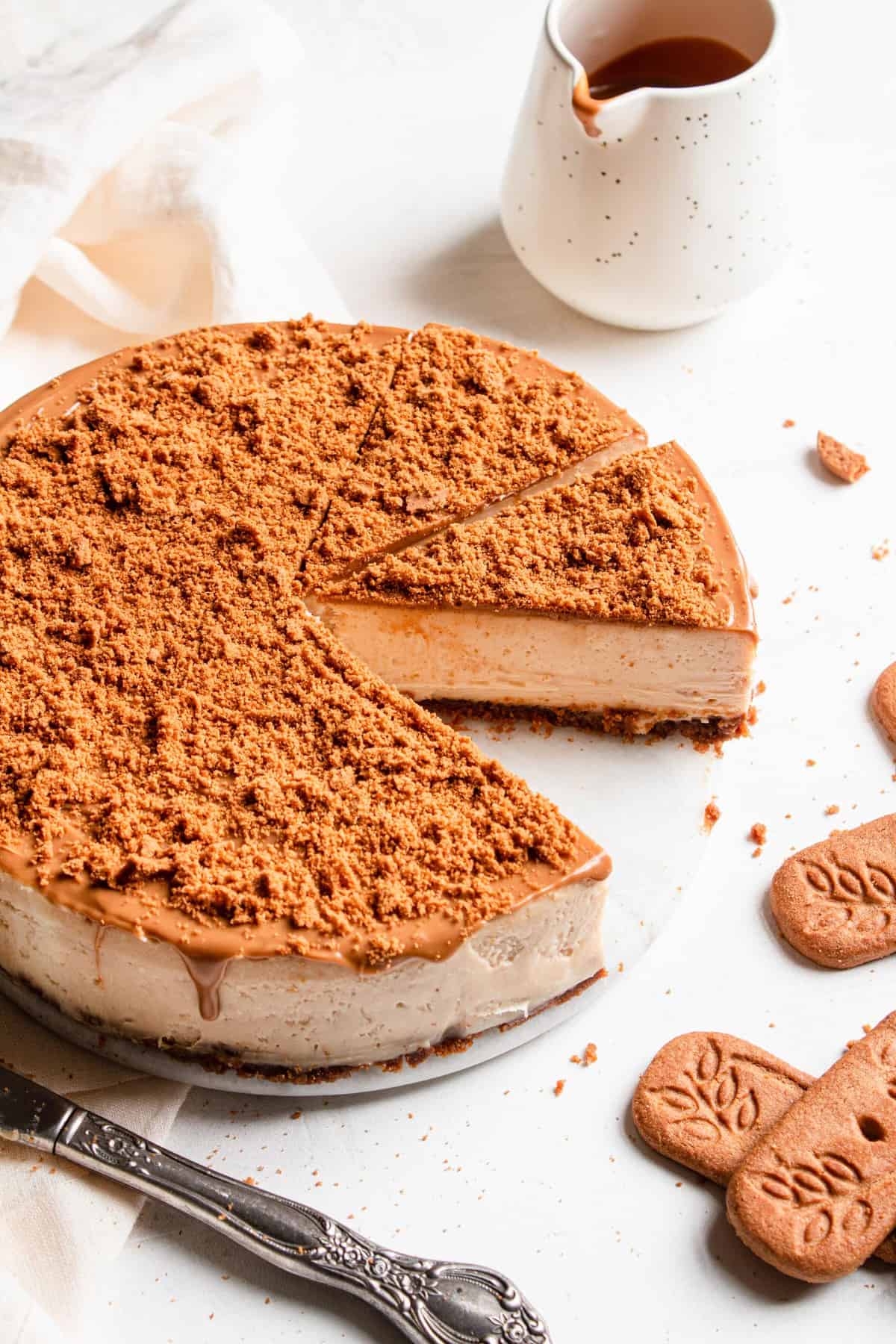 Imagine that: a thin crispy layer of buttery speculoos cookie crust, topped with thick, creamy, and smooth cookie butter-flavored cheese custard filling. But this is not all because right before serving we drizzle another layer of warm cookie butter.
Now if you are not a savvy cheesecake baker and do not have much experience baking cheesecake recipes, please do not worry. This delicious cheesecake can be baked with or without a water bath, and below you can find step-by-step instructions and tips for successful baking.
Why this Lotus cheesecake recipe
My guess is that if you are a huge Biscoff dessert, you are already convinced. But just in case you are unfamiliar with the wonderful qualities of cookie butter, consider the following:
Impressive. This cake is all about the wow factor.
Easy. Despite its impressive appearance, this is an easy biscoff cheesecake and simple to make.
Delicious. The sweet and warm flavors of the cookie-butter is the best companion to go with the tangy cream cheese.
What ingredients are in this lotus biscoff cheesecake recipe
You can find the full recipe including measurements at the recipe card at the bottom of this post.
Biscoff cookie crumbs. You can either process the cookies in a food processor, or use a rolling pin to crush the cookies.
Light brown sugar
Melted butter
Cream cheese
Granulated sugar
Cornstarch, you can replace it with all purpose flour
Full fat sour cream, you can replace it with heavy cream.
Eggs
Vanilla extract
Lotus Biscoff spread – for decorations
Lotus biscuits – for decorations
Whipped cream – for decorations
How to make this lotus biscoff cheesecake
There are two parts to making this cake: making the crust and making the cheesecake batter. Both are easy and straightforward, but for the best results, please read this post carefully.
To make the crust
Mix together the cookie crumbs, melted butter, and light brown sugar then spread the mixture evenly over an 8-inch springform pan. Bake for 12 minutes and allow to cool.
Once cooled, wrap the bottom and sides of the pan with aluminum foil.
To make the biscoff cheesecake base
In a small bowl, mix together the sugar and cornstarch and set aside.
Place the cream cheese in a large bowl, or a bowl of a standing mixer and beat on medium speed for about 1 minute, then add the sugar and mix until smooth.
Add the sour cream and beat until smooth.
Scrape the bottom and sides of the bowl then increase speed to medium-high and add to the cream cheese mixture the eggs one at a time, waiting for each egg to completely distribute before adding the next.
Stop the mixer and add the vanilla extract and drizzle in the warm and melted cookie butter.
Pour the cheesecake mixture into the prepared crust, then tap the pan over the counter to release any air bubbles.
Place the cheesecake inside a 9×13 – inch pan and fill with boiling water to half the height.
Cover with aluminum foil and poke 4-5 holes then bake for 40-45 minutes or just until the cake jingles at the center but is set about 1-inch from the edges.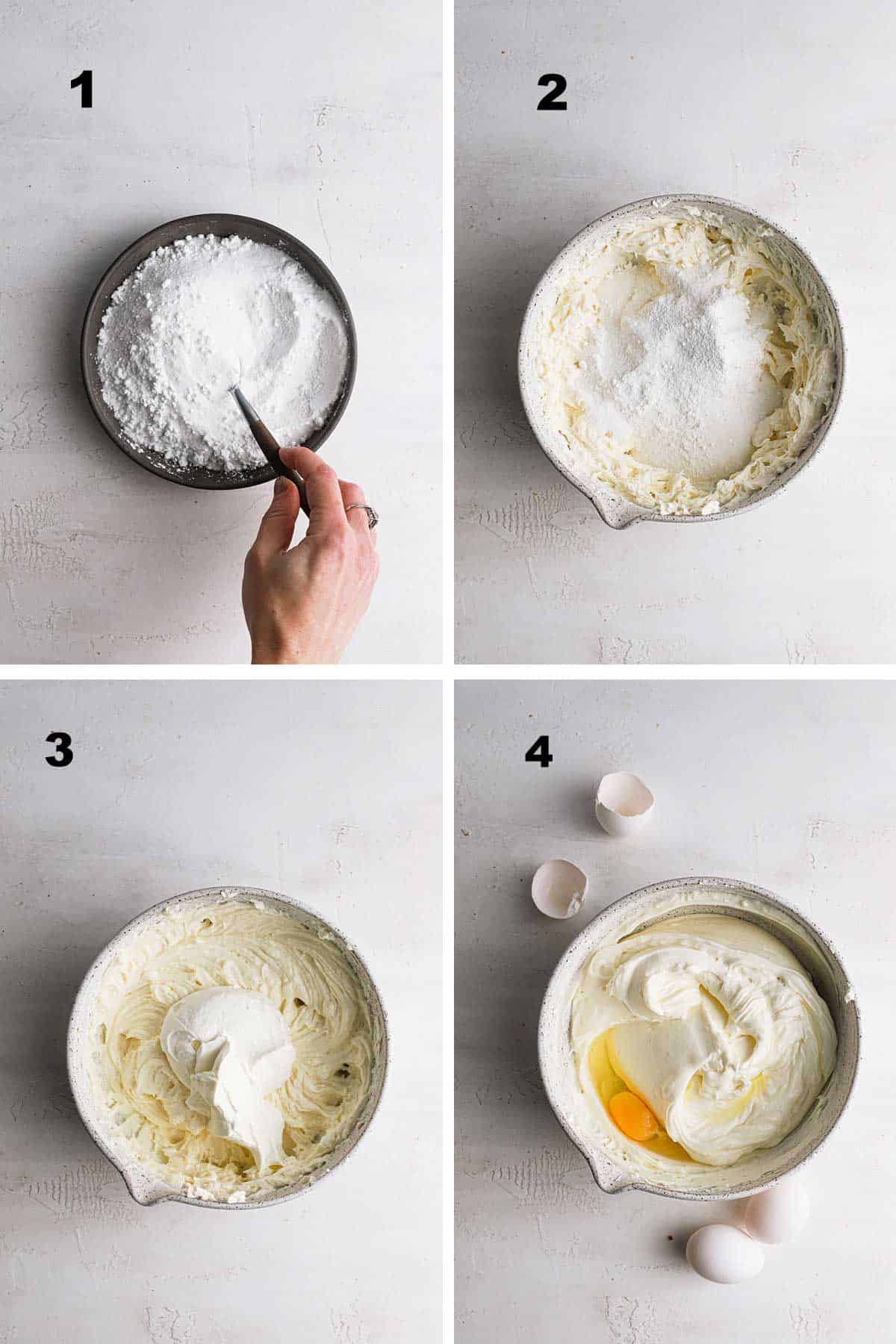 Variations
This biscoff cheesecake recipe is a great cheesecake base and you can play around with the flavors like these ideas:
Peanut butter. Replace the cookie butter with peanut butter.
S'mores. Use graham crackers for the crust and replace biscoff butter with dark melted chocolate. Spread the top of the cheesecake with marshmallow fluff.
Oreo cheesecake. Use oreo cookie crumbs for the crust and fold in 12 crushed cookies into the batter.
White chocolate. Use graham crackers for the crust and replace the biscoff butter with melted white chocolate. Do the same with milk chocolate.
Expert tip
Please read carefully the below tips to ensure you have a creamy cheesecake with the perfect texture.
Make sure all of the ingredients are at room temperature. Cold ingredients will not mix well and you'll end up with a lumpy mixture.
Pay attention to the appearance of the cake. It is ready when 1 inch of the edges is set and the center jingle. At this point turn the oven off and allow the cake to cool inside the closed oven. This should take 4-6 hours, so plan ahead. You can read and learn more about the science behind this process in my upcoming book "Baking Science"
Do not open the oven door too soon or too often, this will crack the cake.
Allow the cake to completely cool in the refrigerator for 1-2 hours before topping and slicing.
Make sure you use boiling hot water and not cold water for the water bath.
If you bake without a water bath, place the pan over a baking sheet.
You can use a hand mixer instead of a stand mixer.
Storing this biscoff lotus cheesecake
The cake should be refrigerated for up to 5 days lightly covered with plastic wrap. Leftover slices can be placed in an airtight container.
FAQ
What flavor is Biscoff?
Biscoff has a warm caramelized sugar flavor infused with cinnamon.
What is the best cream for cheesecake?
Full fat cream cheese.
What do you use Biscoff butter for?
Filing and flavoring cakes and dessert, toppings for ice cream and a snack.
How long does cheesecake last in the fridge?
For up to 5 days at the back of the shelf.
Can I use other pan sizes?
Yes, you can use a 9" spring form pan, a 9×13 inch pan.
Can I use a regular pan instead of a springform tin?
Yes, then cover the top with plastic wrap and a flat plate then turn it upside down.
Video by: Marie Sugar Salt Magic
MORE RECIPE YOU MIGHT LIKE
Vanilla cheesecake, Sponge cheesecake, Black forest cupcakes
DID YOU TRY THIS RECIPE?
If you tried and enjoyed this Biscoff cheesecake recipe or any other recipe by One sarcastic Baker baking blog, please take a movement to rate and comment at the end of each recipe. Your questions, ideas, and thoughts are priceless, and here at OSB we value them more than butter!
Biscoff Cheesecake Recipe
A thin crispy layer of buttery speculoos cookie crust, topped with thick, creamy, and smooth cookie butter-flavored cheese custard filling.
Servings
1
8″ cake (serves 10 people)
Ingredients
Speculoos Cookies Crust
Speculoos Cookies , about 15

(140 g / 5 oz)

2

TBS

Light Brown Sugar

(35 g / 1.25 oz)

4

TBS

Unsalted butter, melted

(55 g / 2 oz)
Cookie Butter Cheesecake
3

pkg

Full fat cream cheese (8 oz each)

(672 g / 24 oz)

1

Cup

Sugar

(200 g / 7 oz)

3

TBS

Corn starch

1

Cup

Full fat sour cream

(200 g / 7 oz)

3

Large

Eggs

1

tsp

Vanilla extract

1/2

Cup

Cookie butter, warmed
Instructions
Crust
Place the cookies in a food processor and pulse to fine crumbs. Add sugar and melted butter and pulse again to incorporate.

Evenly spread the crumbs and press into the pan. You can use your fingers or the back of a spoon.

Bake for 12 minutes in a 350F preheated oven.

Once the crust has cooled, wrap the sides of the pan with tin foil and parchment paper (tin foil bottom layer) and place it in a larger pan. The pan should be large enough to allow about 1" space between each pan and deep enough to be filled with water halfway up the side of the cake pan.
Cheesecake
Preheat the oven to 325 F (165 C).

In a small bowl mix together the sugar and cornstarch.

Using a stand mixer fitted with the paddle attachment beat the cream cheese on medium speed for about 1 minute. Occasionally scrape down the sides and bottom of the bowl and beat until smooth and lump-free.

Pour the sugar and cornstarch and mix until smooth. Scrape down the sides and bottom of the bowl.

Add the sour cream and mix until smooth. 

Mix in the eggs one at a time waiting for each egg to fully incorporate before adding the next, scraping down the sides after each addition. 

Pour the vanilla extract or bean paste then stop the mixer drizzle the cookie butter in and fold until fully incorporated.

Pour the cheesecake batter on top of the prebaked cookie crust. Bang the pan against the counter to release air from the batter.

Place the cake in the center of a larger pan and fill the pan with boiling water halfway up the sides of the cheesecake pan. Make sure the water does not splash into the cake batter.

Cover the pans with aluminum foil and poke it 4-5 times to allow some air escaping while it bakes.

Bake for about 40-45 minutes or until the center of the cake (about 1.5" from the edges of the pan) jiggles like jelly.

When the cake is done, turn the oven off and leave the door closed for the cake to cool for about 1-3 hours.

Remove the cake from the oven when it is completely cooled and run a knife blade between the cake and the sides of the pan. (dip the knife in hot water)
Recipe Notes
Make sure all of the ingredients are at room temperature.
The cake is ready when it jiggles at the center and is set 1-inch from the edges of the pan.
Do not open the oven door too often and allow the cake to completely cool in a door-closed oven.
To bake the cake without a water bath, place the cake pan on a cookie sheet and reduce temperature to 275F