Last updated on March 10th, 2022.
This Blackberry Vanilla Cheesecake is a silky smooth creamy and soft cheesecake loaded with fresh blackberries giving it a surprising and beautiful interior.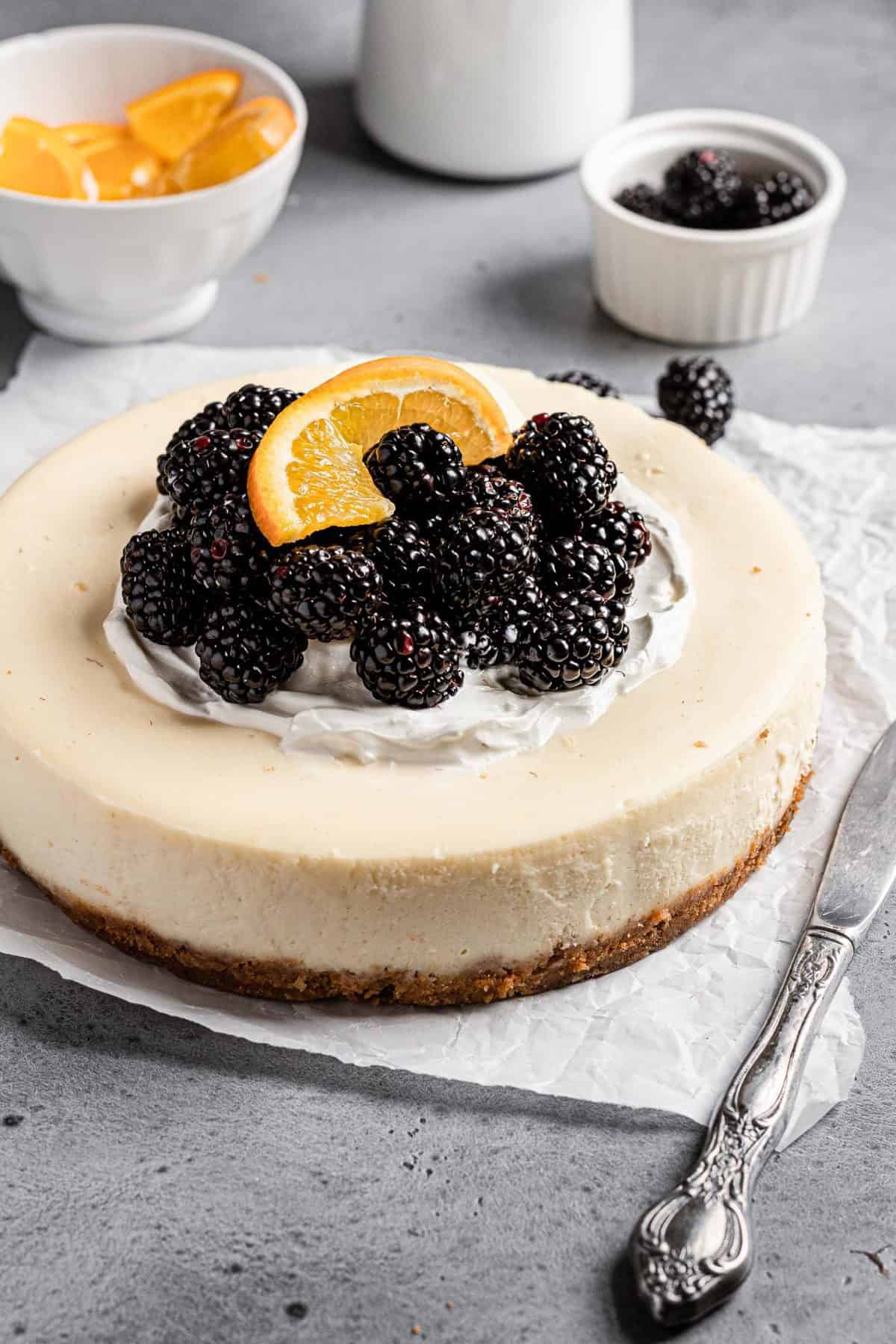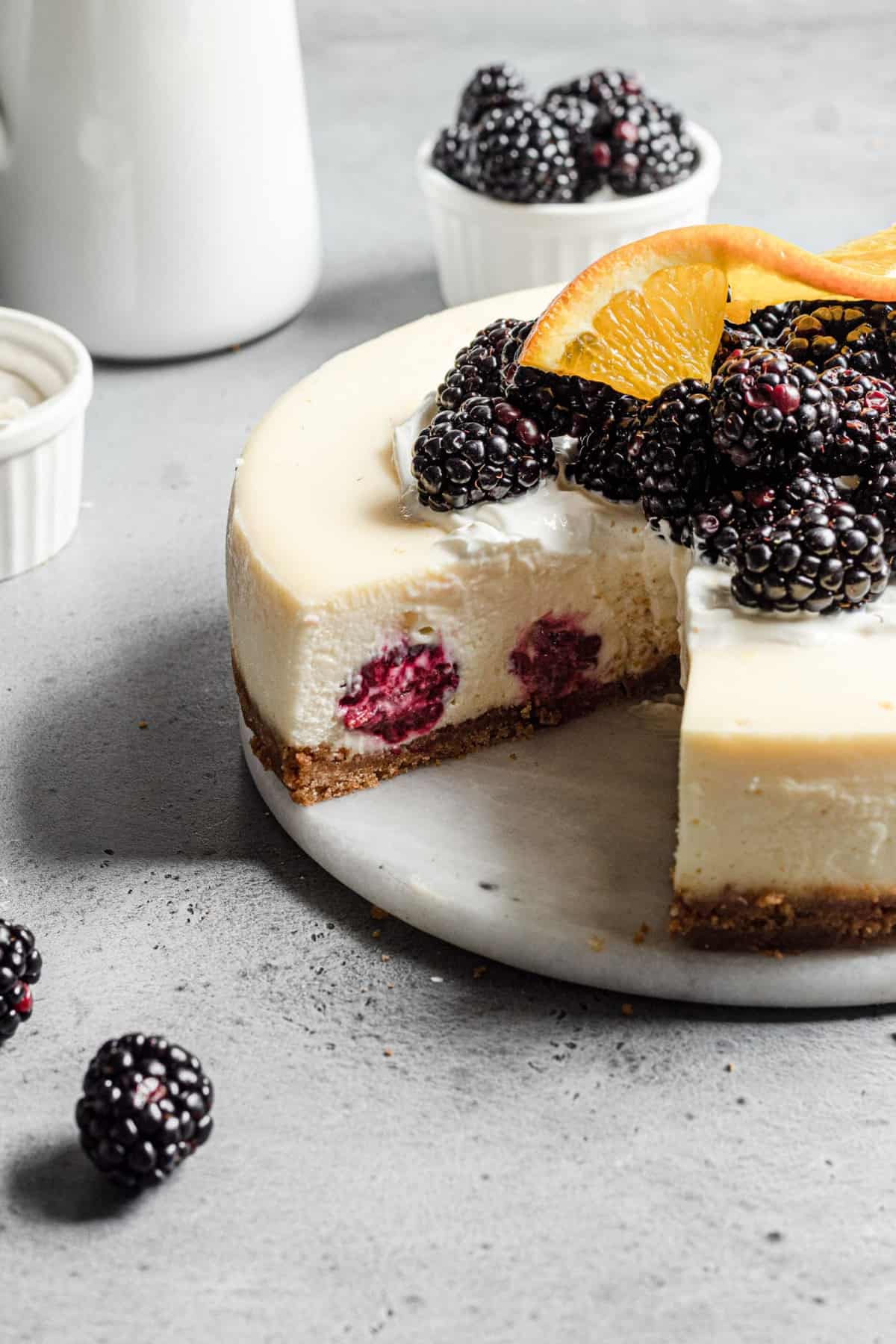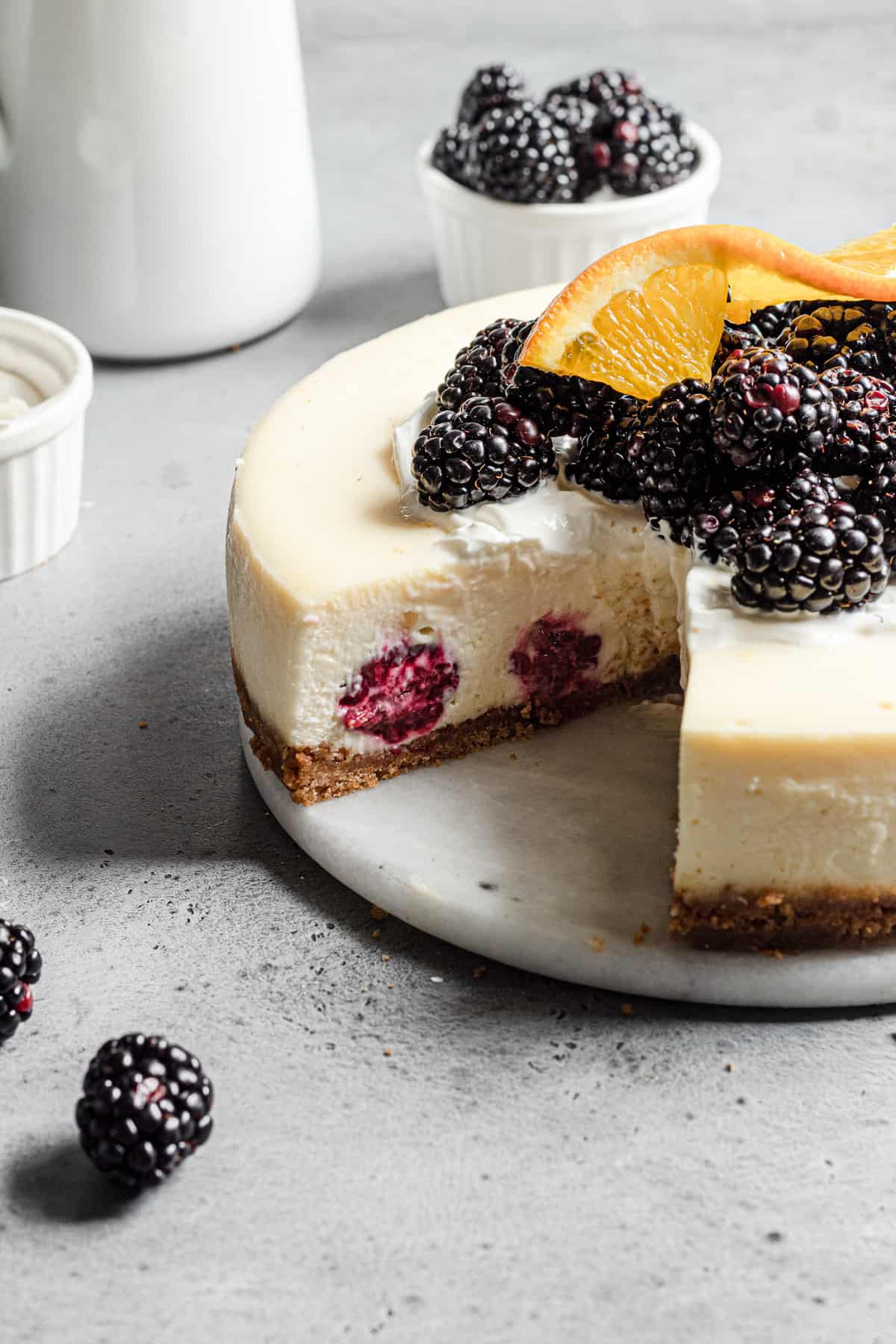 Baking cheesecake can be an intimidating and nerve-racking process. Will it crack? Is it cracking? Oh please don't let it crack..? WHY DID IT CRACK!!!???
I hear ya! This can be a real party pooper and suck all of the fun out of baking.
I am here to help! Not only by sharing some tips to better understand why a cheesecake might crack and how to avoid it. BUT also to let you know that IT IS OK if it does. It will still taste good.
Nothing to be ashamed of, it happens to everyone and it is very natural…
The following few paragraphs will explain the sciences behind baking cheesecakes and are followed by a full step by step tutorial.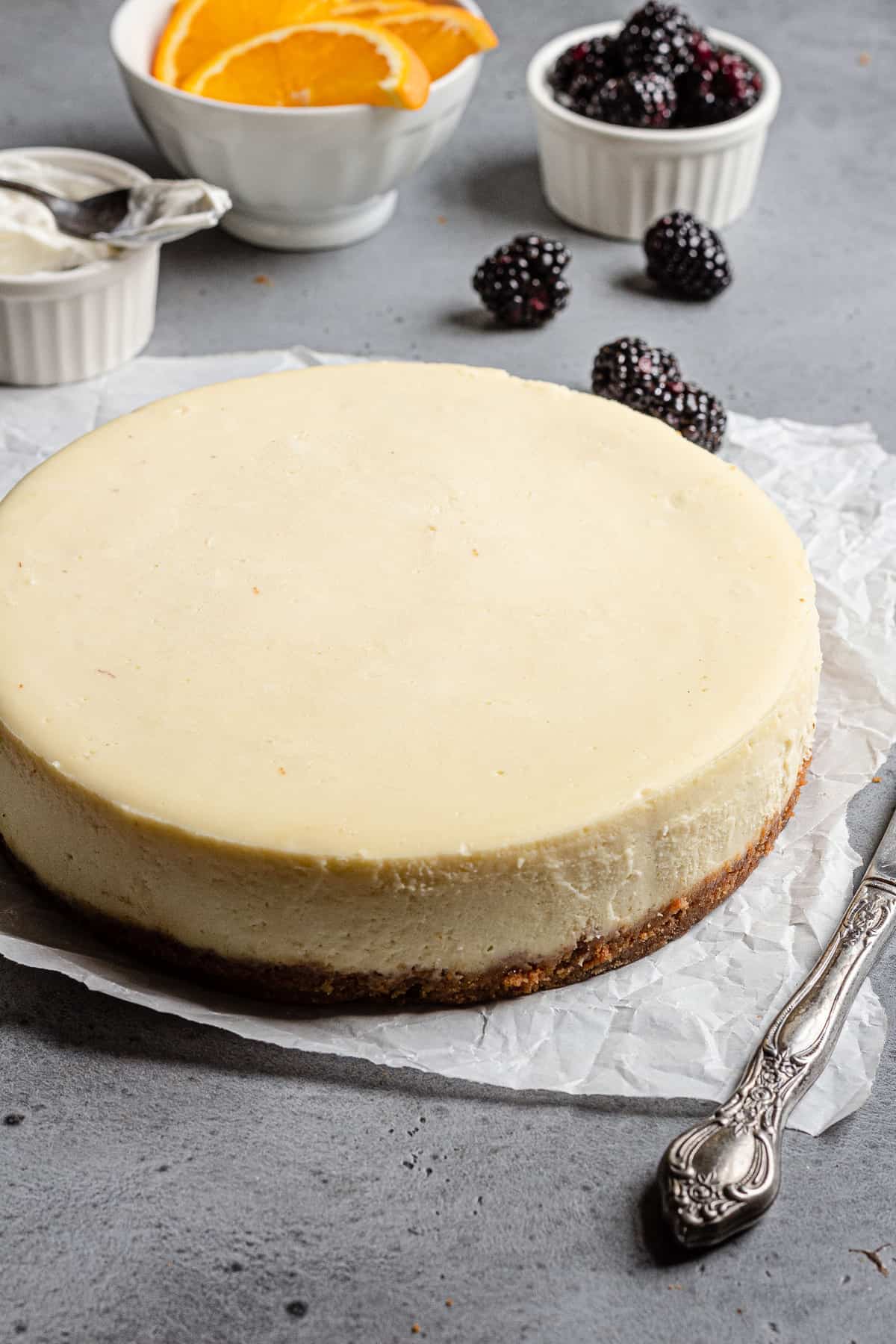 Room temperature ingredients
This is super important and one of the main ways to achieve a silky smooth cake. When all the ingredients are at room temperature (same temperature), firstly the cream cheese will be soft and smooth when initially mixed. Secondly, the ingredients will blend together easily, evenly and will trap less air which will result in a smooth and lump-free top.
TIP!
If your cream cheese in not at room temperature warm it in the microwave for about 30 seconds.
Mixing the cornstarch with the sugar
BEFORE adding it into the cream cheese. This is the best way to evenly distribute the cornstarch in the batter.
BANG BANG!
After pouring the batter into the pan, bang the pan against the counter to release any air bubbles. If skipping this stage (spoken from experience) the air trapped in the batter will find a way to escape out of the cake as it cools which may result in a cracked cake top.
When adding blackberries, bang the cake before and after adding the fruit.
Water Bath
Water baths are good when baking custard baked goods such as cheesecakes. The water bath rarely exceeds simmering water temperature (180F -190 F / 82c – 88c). This eliminates hot spots and also slows the process and evens out baking so that the outside and sides of the cake do not become rubbery or over baked before the inside and center bake.
Vanilla cheesecake Cooling process part 1
If you are a savvy baker you may already know that when removed from the oven, baked goods continue to bake until reaching room temperature. This process is called Carryover. Each baked goods differs when it comes to the cooling time outside of the oven. Cookies will cool very fast and should be fully baked when coming out of the oven. Cheesecakes retain a lot of heat and cool down very slowly. Which is why it should still jiggle when turning the oven off. The carryover process will complete the baking process and firm the cake as it cools.
Vanilla cheesecake cooling process part 2
As mentioned above, cheesecakes retain a lot of heat and the cooking/cooling process is very slow. Which is why you want to help the process by leaving the cake in the oven as is cools. Removing the cake from the oven too soon will cause a sudden change in temperatures. That can result in heat coming out of the cake too fast and cracking the cake.
PLEASE KNOW!
An over-baked vanilla cheesecake will crack at the top and will have a more dense texture. on the other hand, an underbaked cake will sink at the center and will have a softer texture. Both are still super delicious and can be easily covered with some whipped cream or fresh fruit/fruit filling for a more esthetic look.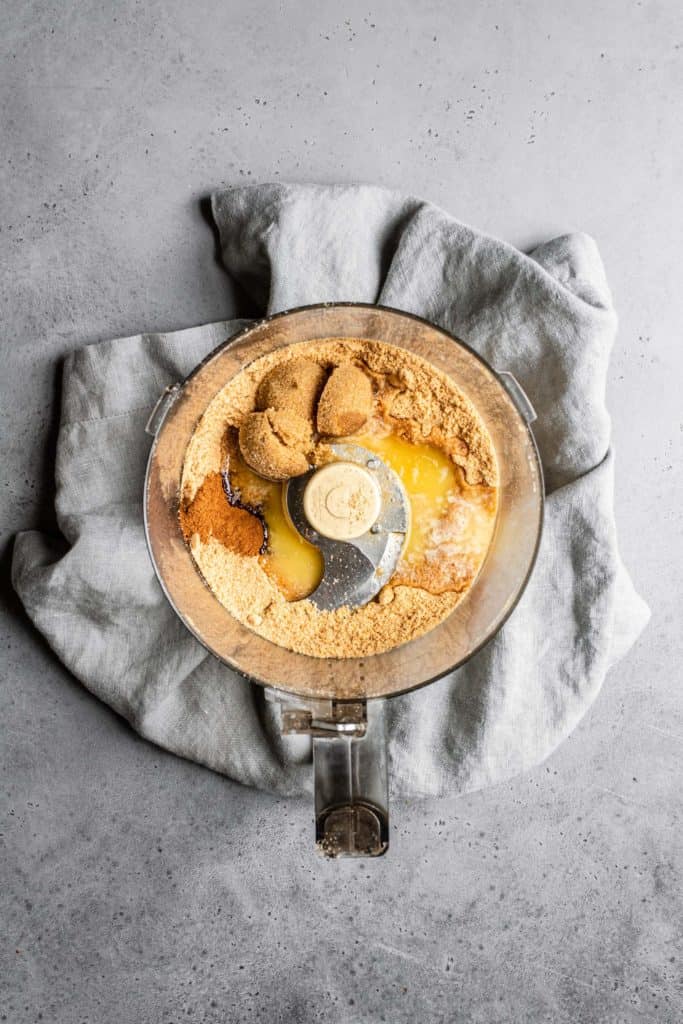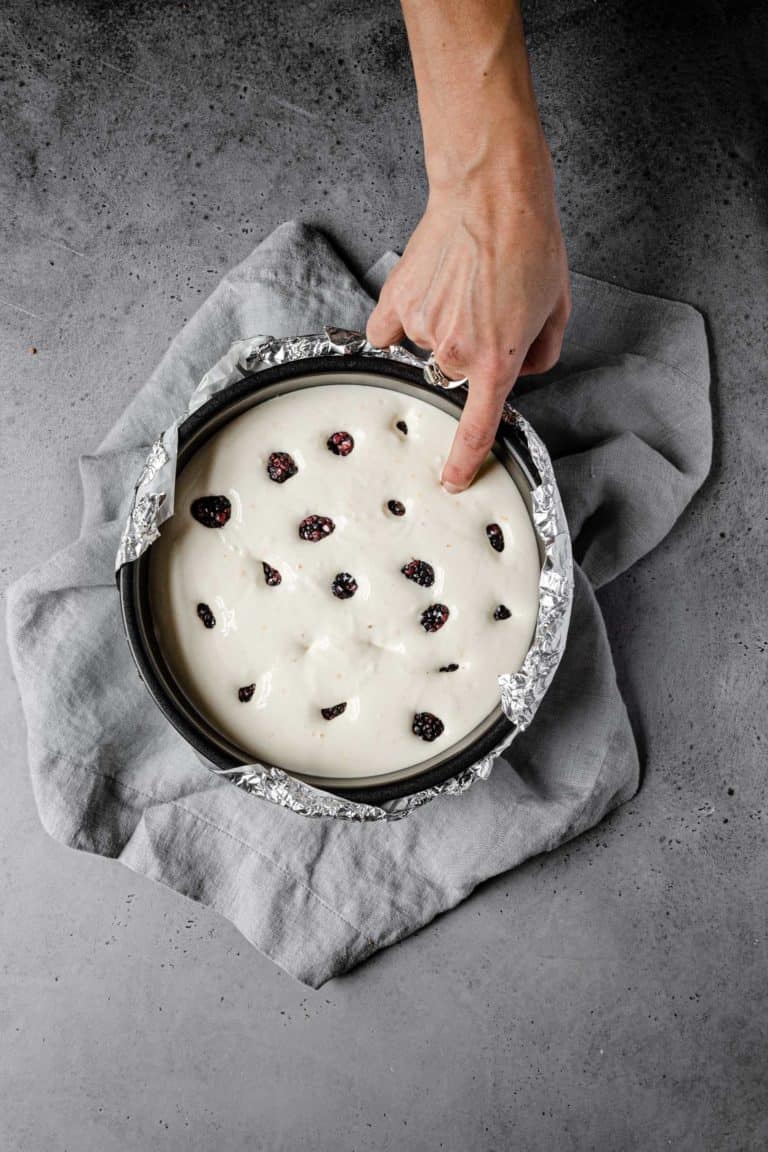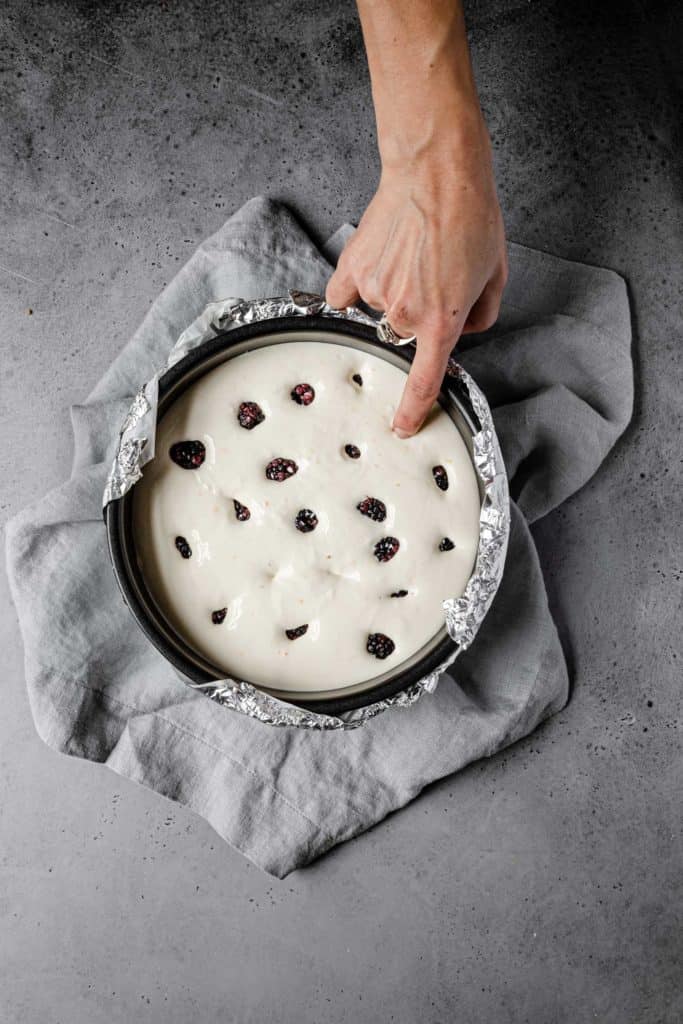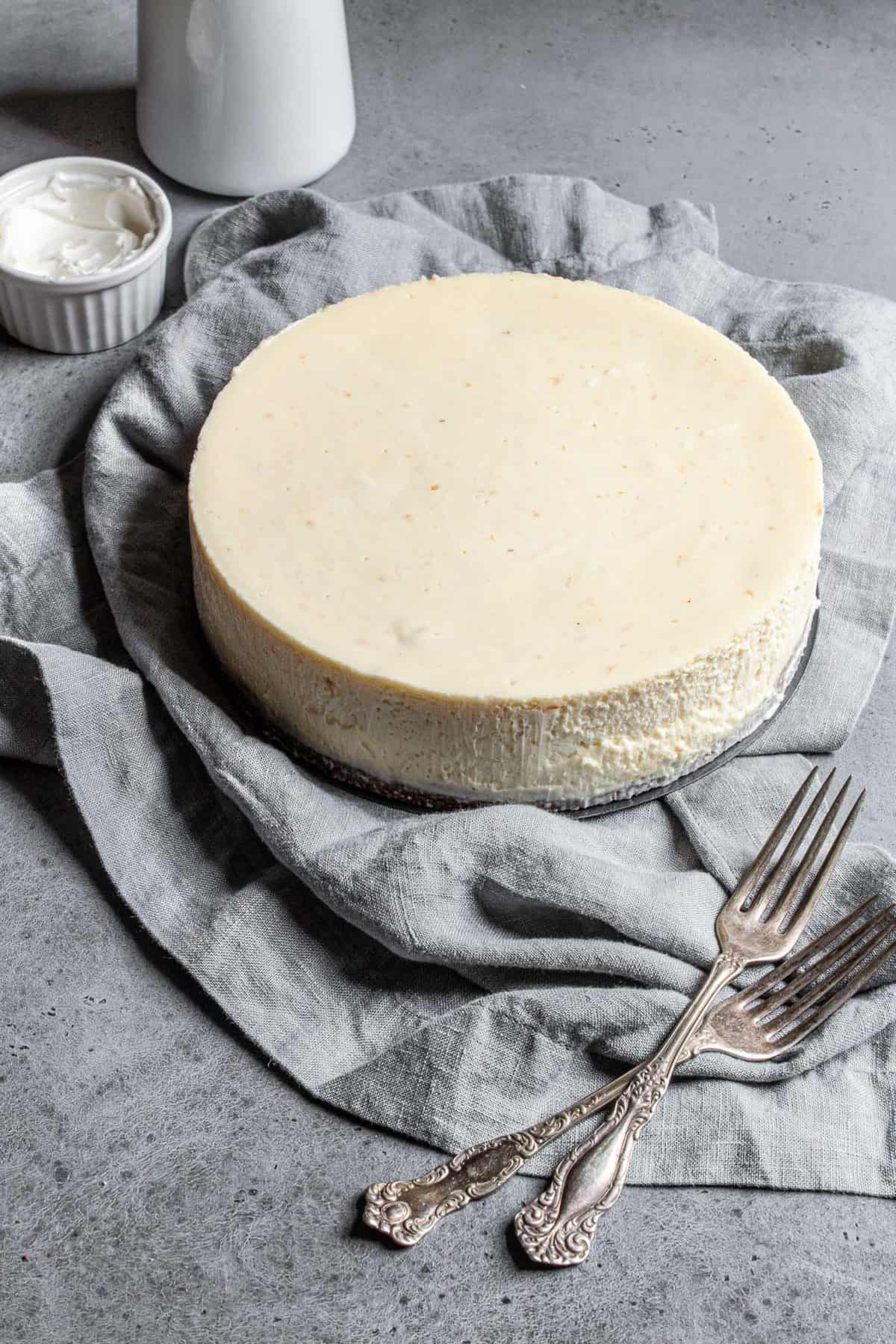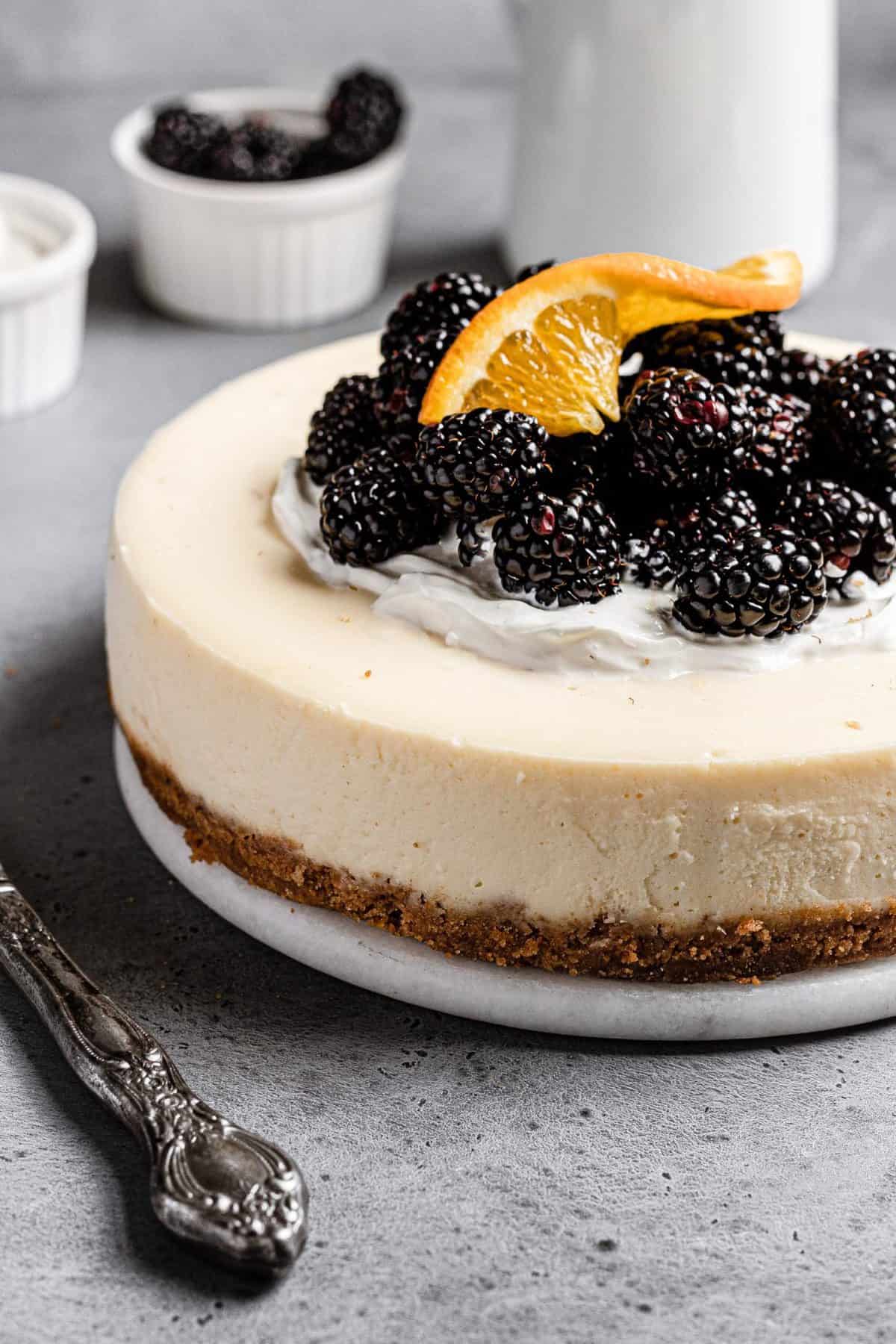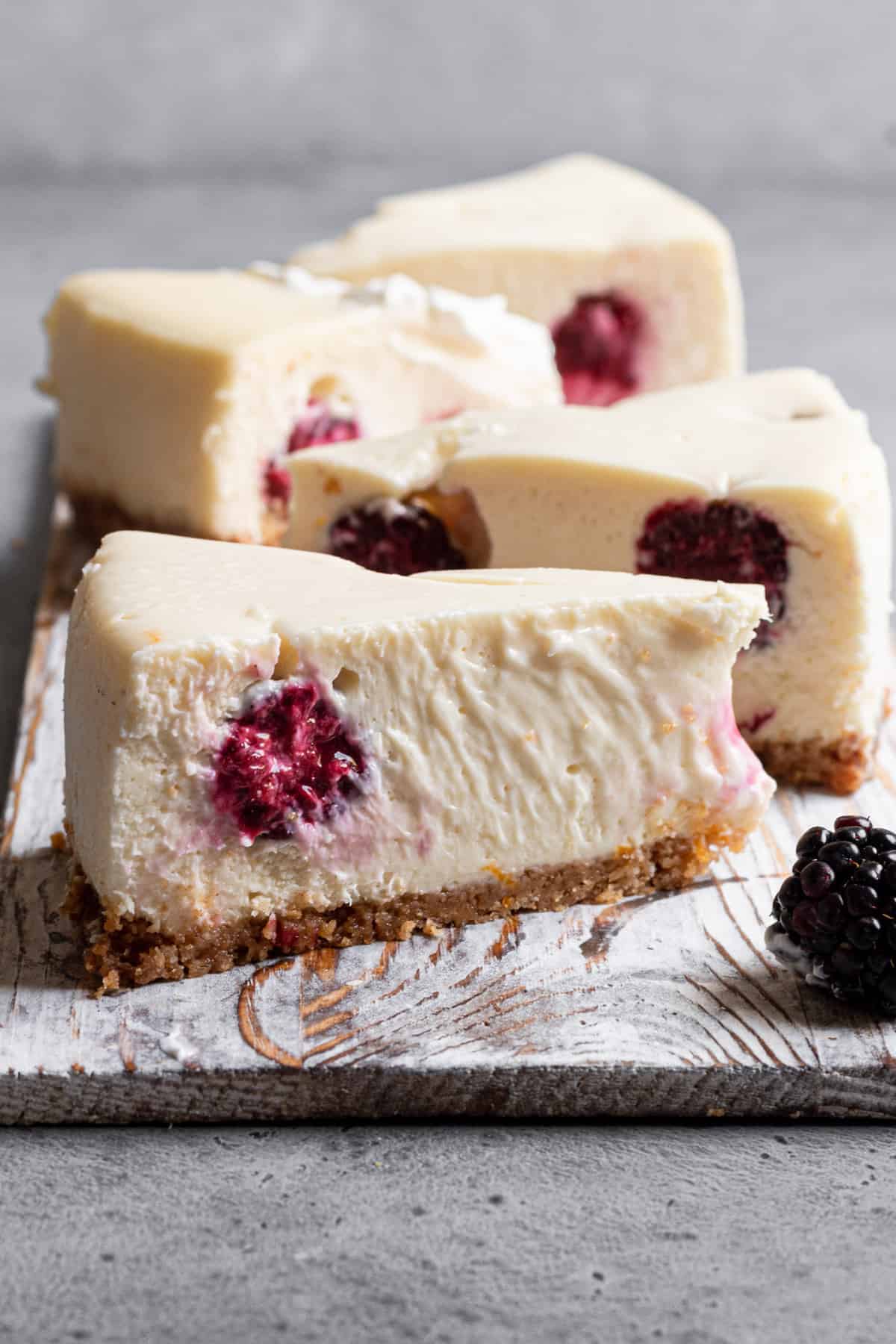 Now Let's Talk About This Blackberry Vanilla Cheesecake Recipe:
VERY IMPORTANT! Please scrape the sides and bottom of the bowl before adding a new ingredient and once or twice during the mixing process. Introducing a new ingredient will naturally create lumps and some might stick to the sides of the bowl or sink to the bottom.
Feel free to skip adding blackberries and just go with plain vanilla cheesecake.
For more flavor, you can add 3 TBS of bourbon along with the vanilla extract and orange zest.
You can use any crispy cookie you have in stock such as graham cracker or shortbread. Avoid using soft cookies such as sugar cookies or ladyfingers.
You can very easily skip the water bath method and bake it dry. Please note that the cake will rise high (and will deflate during cooling) so make sure the sides of the pan are high. Also, the cake might tear similar to a pound cake.
The recipe yields 1 – 9″ spring pan. If you chose to bake the cake in a smaller (8″) or larger (10″) pan, please make sure to adjust the baking time. A larger pan will require less baking time and the other way around.
HAPPY BAKING!!!
Here are some more fun recipes you might enjoy:
One more thing…
Don't forget to tag @OneSarcasticBaker on Instagram if you bake this recipe. Would love to see your creations!
Did you like this recipe and inspiring? Save THIS PIN to your Cakes, Desserts or cheesecakes boards.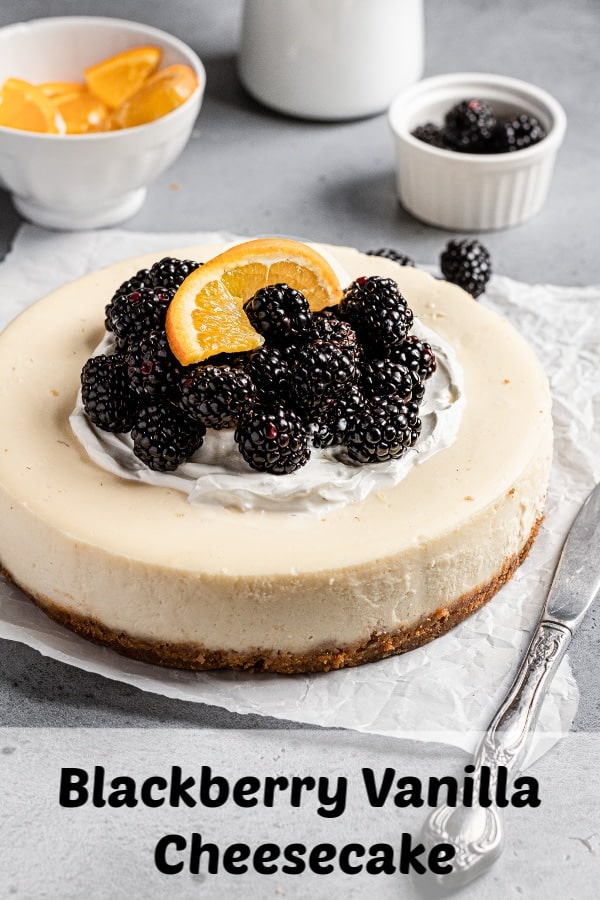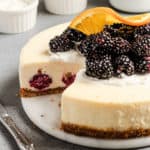 Blackberry Vanilla Cheesecake
Ingredients
Cookie Crust
1

Cup

Cookie crumbs

(140 g / 5 oz)

3

TBS

Light Brown Sugar

(3.5 g / 1.5 oz)

1/2

tsp

Cinnamon

pich salt

4

TBS

Unsalted butter, melted

(60 g / 2 oz)
Vanilla Cheesecake
3

pkg

Full fat cream cheese (8 oz each)

(680 g / 24 oz)

1

Cup

Sugar

(200 g / 7 oz)

2

TBS

Cornstarch

1

Cup

Full Fat sour cream

(211 g / 7.5 oz)

3

Large

Eggs

2

tsp

Vanilla extract OR 1 TBS vanilla bean paste

zest of 1/2 an orange

pinch

salt

2

Cups

Fresh blackberries

( 170 g / 6 oz)
Instructions
To make the crust
In a food processor mix the cookie crumbs, sugar, salt, cinnamon, and melted butter.

Evenly spread the crumbs and press into the pan. You can use your fingers or the back of a spoon.

Baker for 12 minutes in a 350F preheated oven.

Once the crust has cooled, wrap the sides of the pan with tin foil and parchment paper (tin foil bottom layer) and place it in a larger pan. The pan should be large enough to allow about 2" space between each pan and deep enough to be filled with water halfway up the side of the cake pan.
Vanilla Cheese cake
Preheat the oven to 325 F (165 C).

In a small bowl mix together the sugar and cornstarch.

Using a stand mixer fitted with the paddle attachment beat the cream cheese on medium speed for about 1 minute. Scrape down the sides and bottom of the bowl and beat until smooth and lump-free. Occasionally scrape the sides and bottom of the bowl.

Pour the sugar and cornstarch and mix until smooth. Scrape down the sides and bottom of the bowl.

Add the sour cream and mix until smooth.

Mix in the eggs one at a time waiting for each egg to fully incorporate before adding the next, scraping down the sides after each addition.

Pour the vanilla extract or bean paste, salt, and orange zest. Mix for 30 seconds.

Pour the cheesecake batter on top of the prebaked cookie crust. Bang the pan against the counter to release air from the batter. Poke the fresh blackberry in the batter and bang the pan again.

Place the cake in the center of a larger pan and fill the pan with boiling water halfway up the sides of the cheesecake pan. Make sure the water does not splash into the cake batter.

Cover the pans with aluminum foil and poke is 4-5 times to allow some air escaping while it bakes.

Bake for about 40-45 minutes or until the center of the cake (about 1.5" from the edges of the pan) jiggles like jelly.

When the cake is done, turn the oven off and leave the door closed to cool for about 1-3 hours.

Remove the cake from the oven when it is completely cooled and run a knife blade between the cake and the sides of the pan. (dip the knife in hot water)