Last updated on November 9th, 2023.
If you're a fan of muffins and are looking to try something new and exciting, then you're in for a treat! These Pistachio Muffins are not only a delightful departure from the ordinary, but they also come with a burst of nutty creamy flavor and a lovely green hue that's sure to catch your eye.
Why You Will Love This Recipe
These delicious Pistachio Muffins are a unique and delightful twist on traditional muffins. Here's why you're going to fall in love with this recipe:
Rich Pistachio Flavor: These muffins are infused with the irresistible nutty and slightly sweet flavor of pistachios, making them a perfect treat for pistachio lovers. In this recipe, I used natural ingredients and real pistachios vs. instant pudding mix.
Beautiful Green Color: The natural green color of pistachios adds a visually appealing touch to these muffins, making them perfect for special occasions or a unique breakfast experience.
Moist and Tender Texture: The addition of pistachio paste and cream cheese in the batter ensures a moist and tender crumb that's simply irresistible.
Simple Ingredients: You won't need any fancy or hard-to-find ingredients for this recipe. Everything you need can be found in your local grocery store.
Customizable Toppings: Feel free to get creative with your choice of toppings – from crushed pistachios to a dusting of powdered sugar, the possibilities are endless.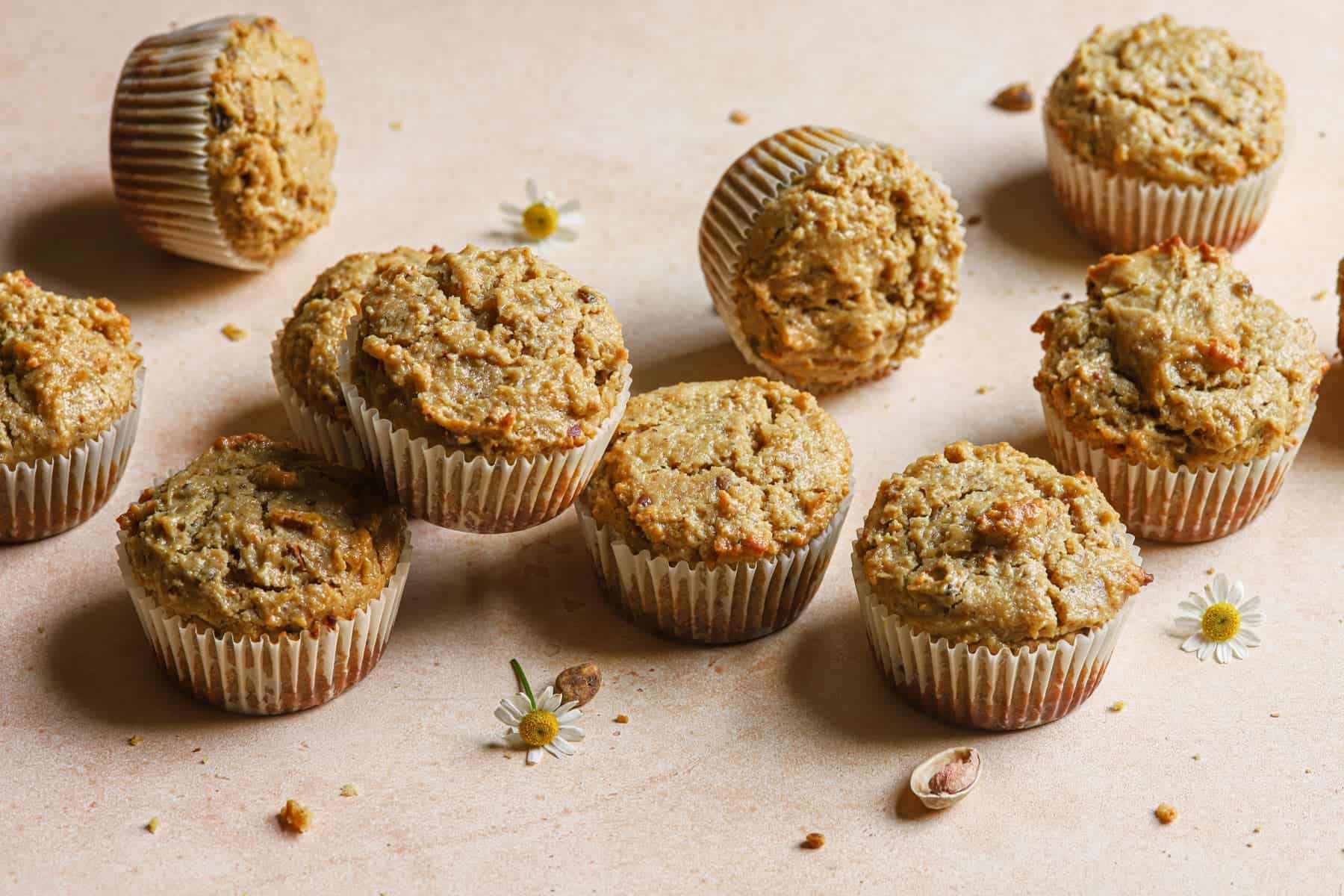 Ingredients
The complete pistachio muffin recipe can be found at the bottom of this post on the recipe card.
All-purpose flour
Granulated sugar
Roasted chopped pistachios. Either lightly salted or unsalted pistachios. Use your leftover Pistachios to make these Pistachio Cookies.
Whole milk
Cream cheese. Can be replaced with one cup of sour cream (240g).
Large eggs
Baking powder
Salt
Vegetable oil. In this recipe, I do not recommend replacing the oil with melted butter. Using oil is the best way to ensure to get moist muffins.
Topping ideas: chopped pistachios, coarse sugar (pearl sugar), powdered sugar.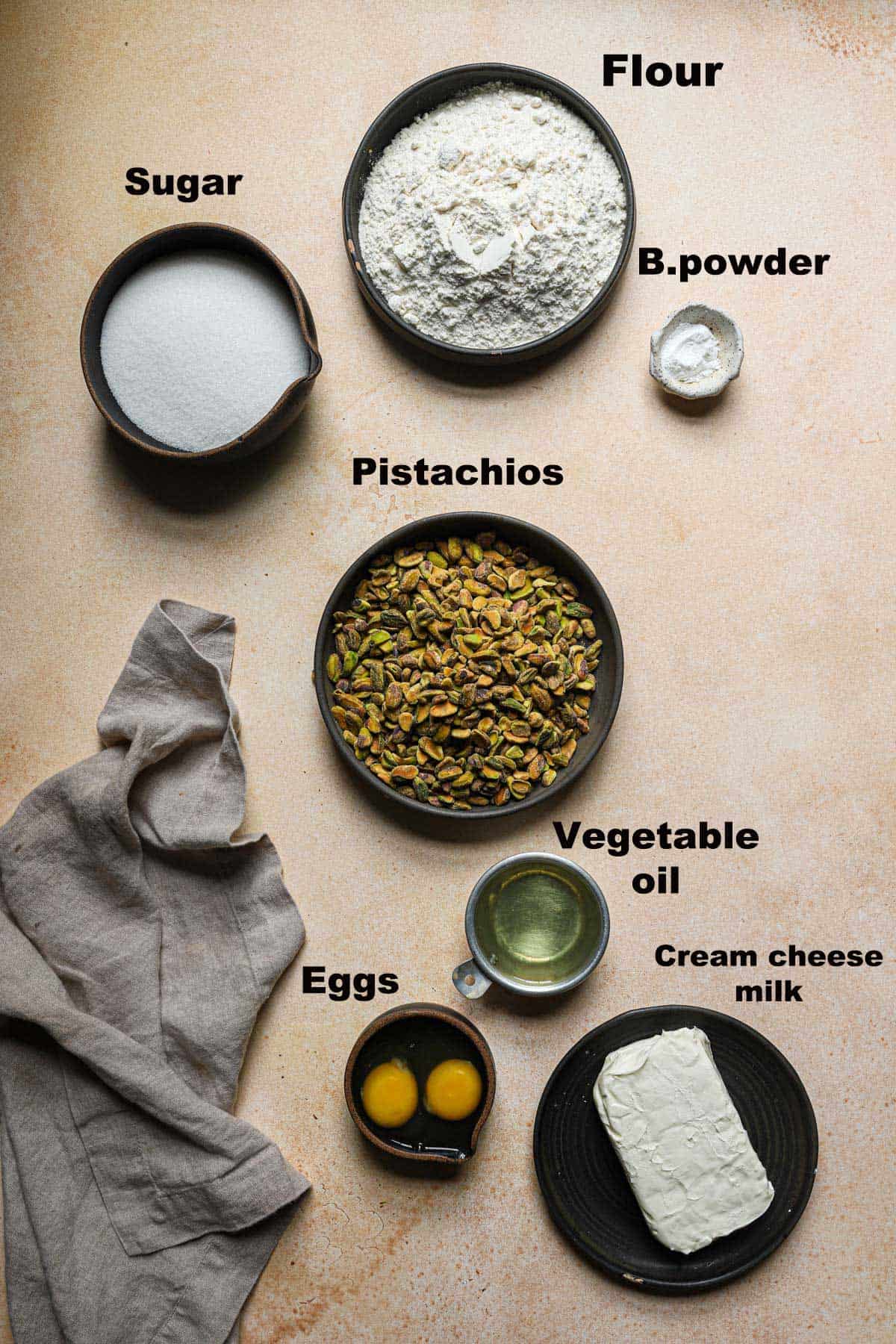 How to Make Pistachio Muffins
Use a food processor to process the rest of the pistachios until you have a smooth paste. Add 1/4 cup of the oil and process to blend.
In a large mixing bowl, mix the flour, baking powder, salt, and half of the chopped pistachios.
In a large bowl, mix the cream cheese, milk, sugar, and eggs until smooth. Add the remaining vegetable oil and pistachio paste.
Sprinkle the wet ingredients over the dry ingredients, and mix just until the flour mixture is hydrated. Allow the batter to rest for an hour. (optional)
Divide the batter into the muffin tin, and bake.
Tips
For best results, it is critical that all of the ingredients are at room temperature. Cold ingredients will not blend properly and will result in dense, compact tough muffins.
Use a store-bought pistachio paste instead of making your own.
For an extra pistachio crunch, sprinkle chopped pistachios on the tops of the muffins before baking.
To bake bakery style muffins, consider filling the muffin pan without paper liners. Allow them to cool and set for about 15 minutes before inverting them to a wire rack.
For a more intense nutty flavor, add one teaspoon of almond extract to the liquid mixture.
How to Get Round Muffin Tops
There are three important ways to make sure the muffins have round muffin tops, and it's true for all muffin recipes like this Double Chocolate Muffins recipe and this Banana Toasted Coconut muffin recipe.
Measure the ingredients correctly. The more liquids you add, the flatter the muffins are. That is true when it comes to sugar as well. The sugar absorbs moisture.
Allow the batter to sit before baking. That is basically the "secret ingredient" most bakeries use. The rest time allows the starches in the flour to absorb the liquids and increase its volume, this way during baking the moisture allows the muffins to swell vs evaporate.
Space the muffin cups. When we crowd the pan, the muffins receive the heat from each other, so they set faster and have less chance to rise.
Storing
To keep your Pistachio Muffins fresh and moist, store them in an airtight container at room temperature for up to three days. You can also freeze them for longer storage. Just make sure to thaw them at room temperature before enjoying them.
FAQ's
Can I use pistachio flour instead of pistachio paste?
You can use pistachio flour to replace the chopped nuts but for an ultimate flavor, I recommend using paste.
Can I make these muffins gluten-free?
Absolutely! You can substitute all-purpose flour with a gluten-free flour blend to make these muffins gluten-free.
Can I add chocolate chips to the muffin batter?
Of course! Chocolate and pistachio are a delightful combination. You can fold in chocolate chips to the batter before baking.
Will other nuts work for this recipe?
Yes. Follow the recipe using other nuts like pecans, hazelnuts, or cashews.
More Recipes You Might Like
Five Minutes scones, Ginger Pecan Scones, Apple Muffins
Pistachio Muffins Recipe
Tender and flavorful muffins using pistachios
Ingredients
1 2/3

Cups

All-purpose flour

(200 g/ 7 oz)

2

tsp

Baking powder

1/2

tsp

Salt

1

Cup

Granulated sugar

(200 g / 7 oz)

1 2/3

Cups

Roasted pistachios

(200 g / 7 oz)

1/2

Cup

Vegetable oil

(120 ml)

1

Cup

Full fat cream cheese

(224 g / 8 oz)

2

Large

Eggs

3

tbsp

Milk

(45 ml)
Instructions
In a medium bowl, sift together the flour, baking powder, and salt. Add the sugar and mix to blend.

Chop half of the pistachios (100 g/ 3.5 oz), add it to the flour mixture, and set aside.

Place the remaining pistachios in a food processor and process until the pistachio is very fine and moist. About 3 minutes. Scrape the sides of the bowl.

With the food processor on, add 1/4 cup of vegetable oil and process for an additional 30 seconds, until you have a smooth oil. Set aside.

In a large bowl, mix the cream cheese and eggs until smooth, add the remaining vegetable oil followed by the pistachio oil and milk, and mix until fully incorporated.

Mix in the flour mixture and use a wooden spoon to fully incorporate.

Set the bowl aside for 30-60 minutes.

Divide the batter between 12 muffin liners and place in the refrigerator. Fill each liner to the top.

Bake at 350F and bake for 22-25 minutes. The muffins are ready when a toothpick comes out clean from the center of the muffins. (A few moist crumbs are okay)

Remove from the oven and allow to cool for 15 minutes before serving.
Recipe Notes
Make sure all of the ingredients are at room temperature.
Store the muffins at room temperature for up to five days in an airtight container.
To freeze, place the muffins in a freeze bag and freeze for up to eight weeks.
Use a store-bought pistachio paste instead of making your own.