Last updated on January 3rd, 2023.
These pistachio muffins are loaded with creamy pistachio flavors and all from natural sources. These muffins are the perfect not-so-sweet, comforting, and nutty morning companion to your coffee or tea.
Why Pistachio Muffins?
Because pistachio is the most delicious nut, it can shine on its own and not just add a texture to our recipe.
Pistachio is the star for many special desserts such as layered cakes, mousse cakes, rich tarts, and fascinating French patisseries. However, it is not very often that we see it in an everyday baked good like a muffin. Well, at least until now.
Note that these muffins are not sweet and are great for breakfast, or afternoon snack.
More muffins recipes for you: Banana coconut muffins, Blueberry pie muffins, Fresh peach muffins.
Why this recipe?
Because this recipe is flavored with nothing but pistachios. These Pistachio muffins have no artificial flavoring, extracts, or expensive pistachio crème.
To fully understand how this recipe gets its unique pistachio flavor, let's pause for a moment and take a closer look at the wonderful nut that is Pistachio.
Pistachio is made of 5% water, 20% protein, 54% oil, and 19% carbohydrates. They have a weak cell wall which gives them a tender and pleasant bite, and while the low percentage of starches (carbohydrates) prevent it from having a "mealy" texture the high percentage of oil is what gives the Pistachio a rich and moist mouthfeel.
Fat, or in this case oil, its flavor, we all know that. But another wonderful quality that fat has is its ability to conduct flavor and even aroma. So now we know that the key to extracting the Pistachio flavor (and aroma by default) is by focusing on the fat.
How do we achieve the pistachio flavor?
Two ways: Roasting and chopping.
Roasting
When roasting the pistachio (or any nut) we bring the oil to the surface of the nut and as a result release flavors.
Chopping
Most nuts have a thin layer of skin that protects them, we can clearly see it and most times we remove it as it can contribute a bitter flavor. The oil and flavors are all underneath the first few layers of the nuts, so to bring it all out we need to chop the nuts, the finer the more intense the flavors are.
---
Expert note
If you roast the Pistachio at home, avoid chopping them before roasting. Roasting chopped pistachio will reduce its vivid green color even more so.
---
In this muffin recipe, we take it even a step higher and process half of the pistachios in a food processor while adding some vegetable oil. The pistachios change their appearance and phase, from a solid nut to liquid oil. And like we mentioned above, oil is flavor. Pistachio Flavor.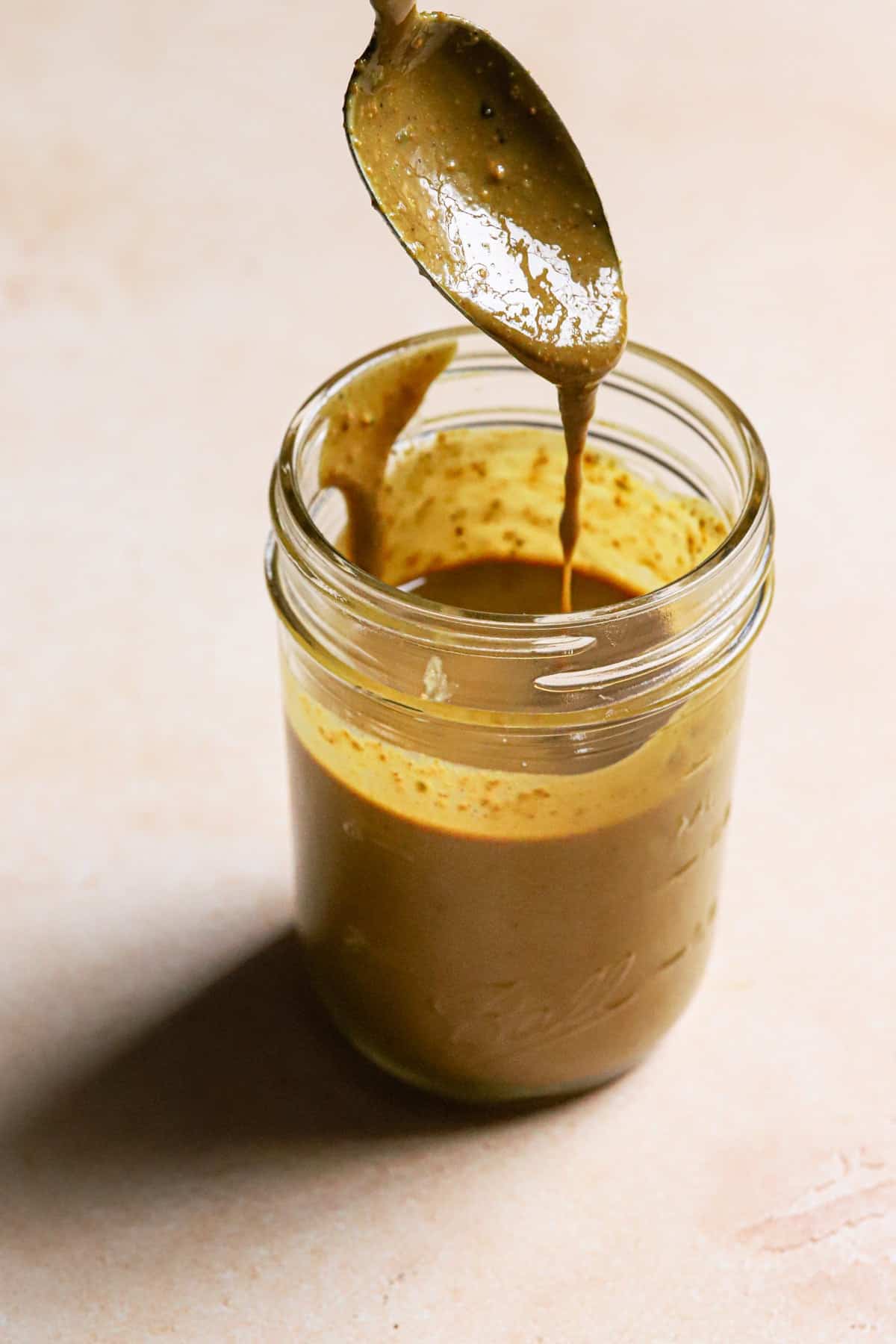 With the second half of the nuts, we will chop and add to the flour mixture. This addition will provide texture as well and flavor.
But not only the Pistachios contribute to the flavor of these muffins. The use of full-fat cream cheese turns these muffins from Pistachio muffins to Creamy Pistachio muffins. The fat in the cream cheese (almost 30%) carries delicious milk solids and creamy milk flavors, that go wonderfully with the Pistachio. However, please keep in mind that not all cream cheese brands are created equal.
Make sure to use a high-quality cream cheese and try to avoid an off brand. It really does make a different.
And now let's talk about the ingredients, mixing methos and baking process of these Pistachio Muffin Recipe:
What Ingredients Are in This Pistachio Muffins Recipe?
All-purpose flour, use the brand you like. I found that king Arthur Flour and Gold Medal Unbleached flours always provide great results.
Salt
Baking Powder is the only (other than sifting and mixing) method of leavening in this recipe. Since the batter rests before baking, make sure to use a "double acting" baking powder.
Granulate Sugar will provide moisture and sweetness to the recipe. Avoid reducing the amount. Reducing might result in a dense tough muffin.
Cream cheese is a source of liquid, fat, and flavor in this recipe. Use a high-quality brand and do not skip on the fat by using low-fat cream cheese
Milk help absorb the flour faster and reduce the mixing time. Also, provides some moisture to the muffins.
Eggs, large.
Unsalted Pistachio is divided into two equal parts, the first part to cream pistachio oil and the second part to be added to the dry ingredients and add some texture.
Vegetable oil, the main source of fat in this recipe.
Ingredient's substitutions
Every ingredient in this recipe has been carefully picked and plays a very important part in the making of this recipe. If you feel like you want to replace an ingredient know that I do not recommend it. Think about maybe finding a different recipe that might fit your needs better.
Here are some great pistachio recipes from my favorite bloggers: Starbucks Pistachio Frappuccino Copycat, Pistachio chocolate chocolate-chip muffins, Cream-filled donuts, and Pistachio shortbread cookies.
Preparations and Mixing process
First, measure the ingredients and allow them to reach room temperature.
Next, place half of the pistachio in a food processor and process for 2-3 minutes, until the pistachios are finely chopped and appear moist. Now, with the food processor on, drizzle in the oil and process until smooth, about 20-30 seconds. Set aside.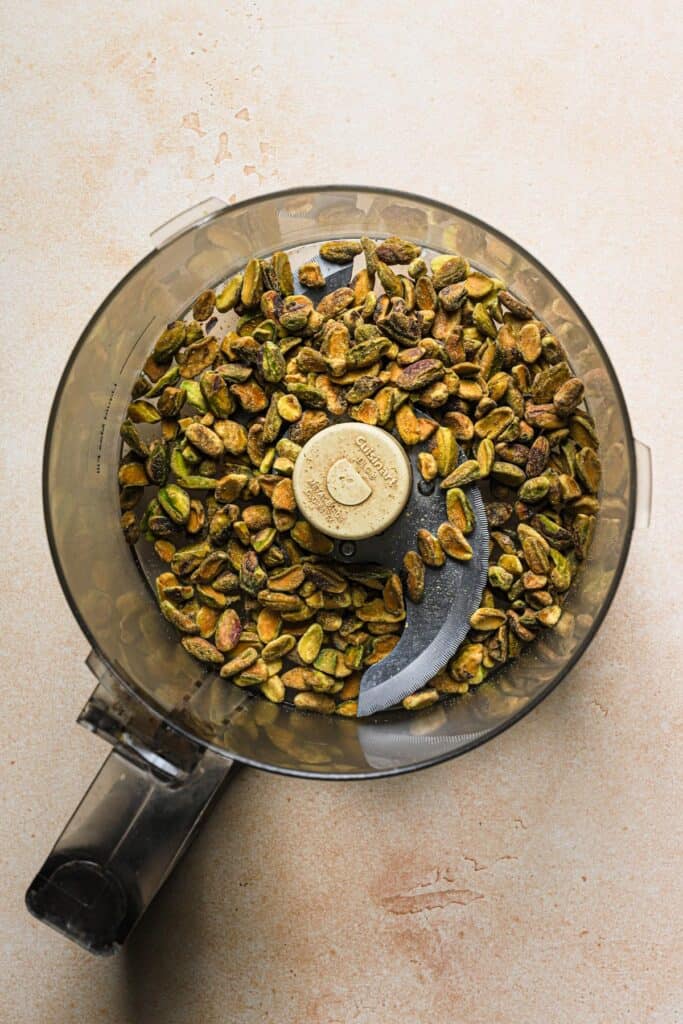 In a medium bowl, sift the flour, baking powder, and salt, mix in the sugar and mix to combine. Chop the second half of the pistachios and add them to the flour mixture. Set aside.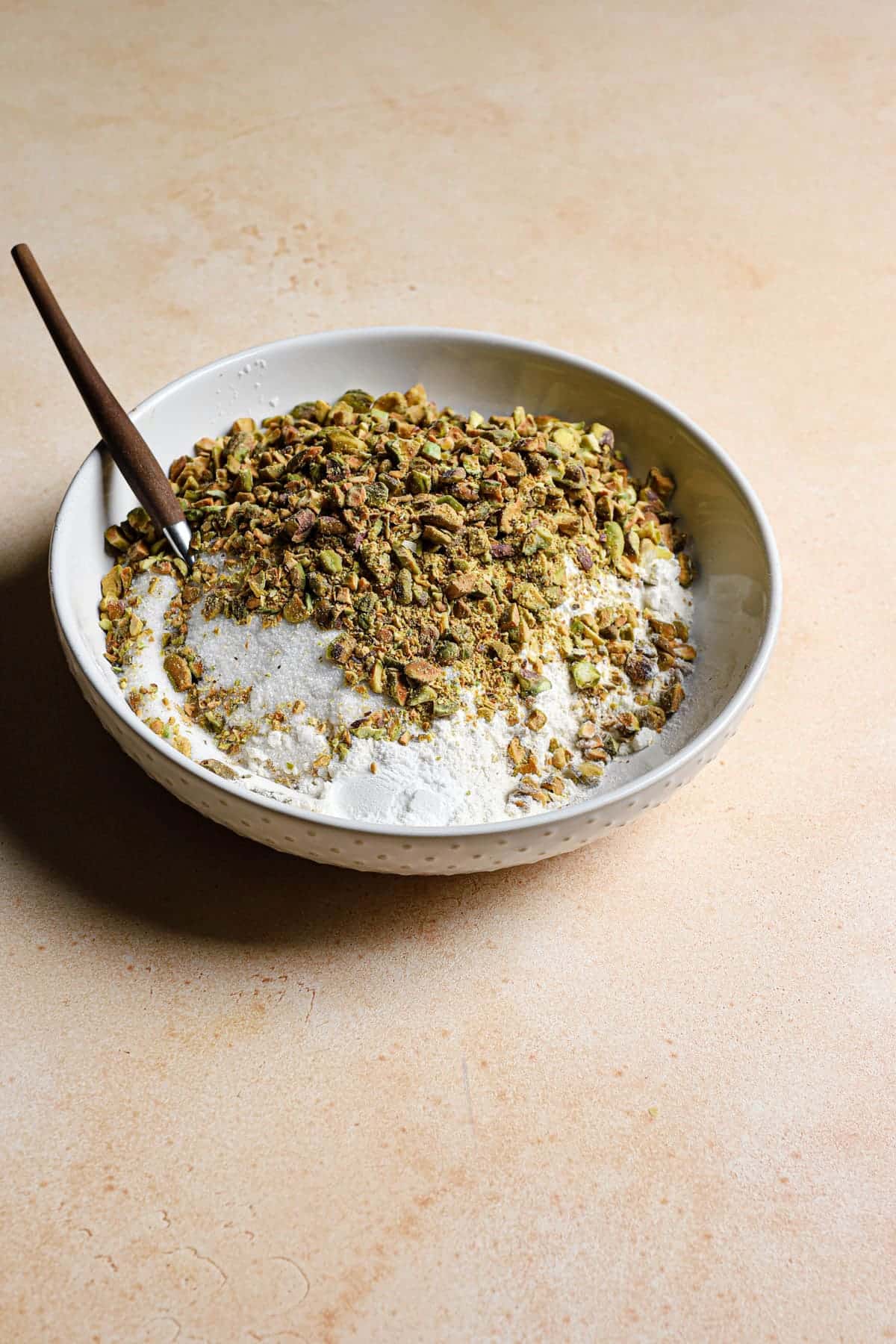 In a large bowl, beat the cream cheese and eggs. You can use a fork, a whisk, or a hand mixer. Drizzle in the remaining oil followed by the pistachio oil. Mix to fully incorporate.
Mix in the flour mixture into the cream cheese mixture just until combined. Set aside for 30-60 minutes.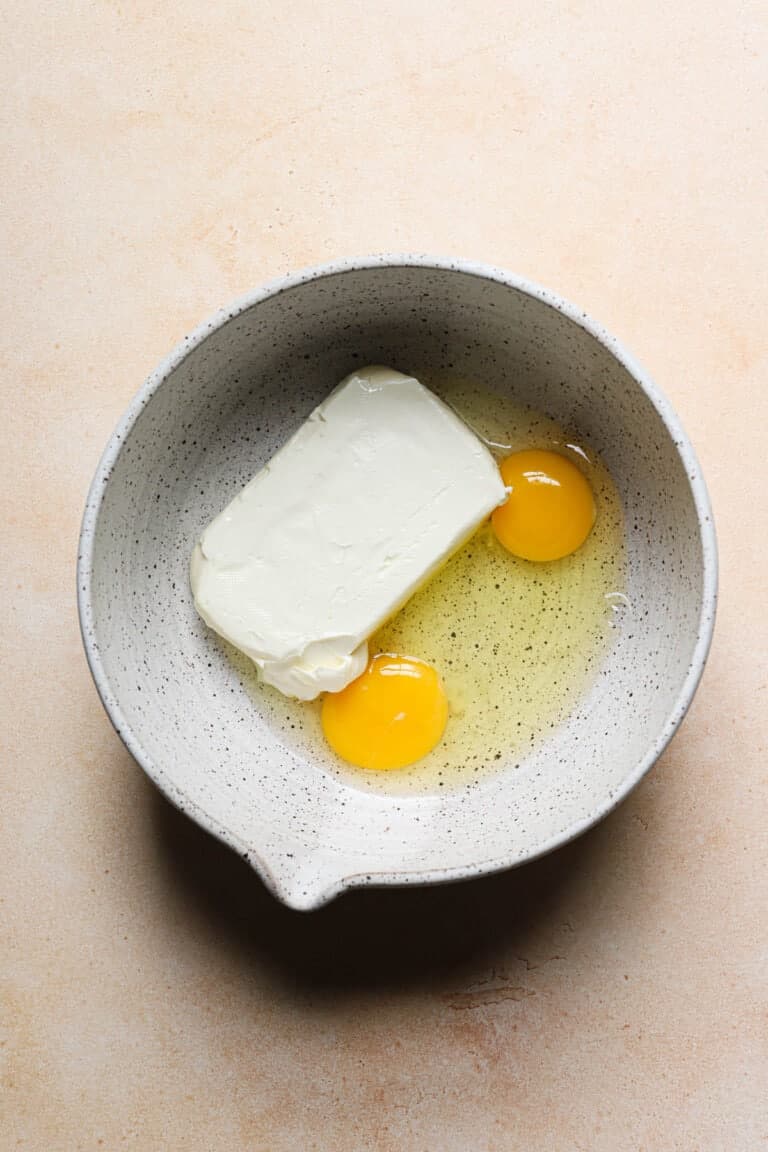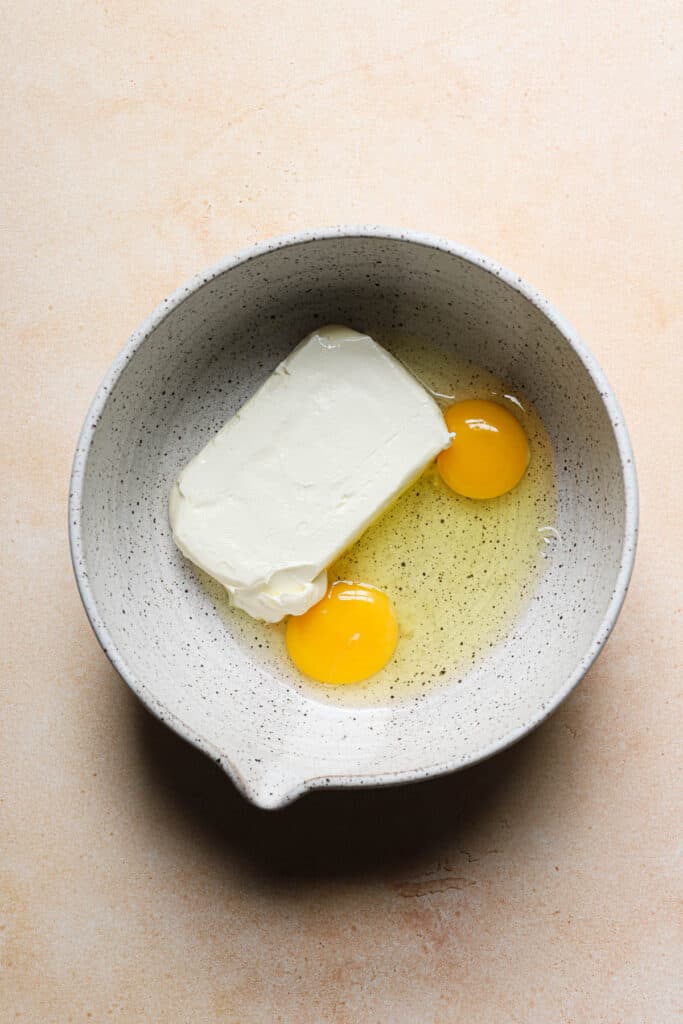 Baking the pistachio muffins
Before we bake the muffins, we allow them to rest for 30-60 minutes at room temperature then, again in the refrigerator after scooped for the duration of the time it takes the oven to reach 400F.
Bake for 5 minutes at 400F, reduce to 350F and bake for additional 15 minutes.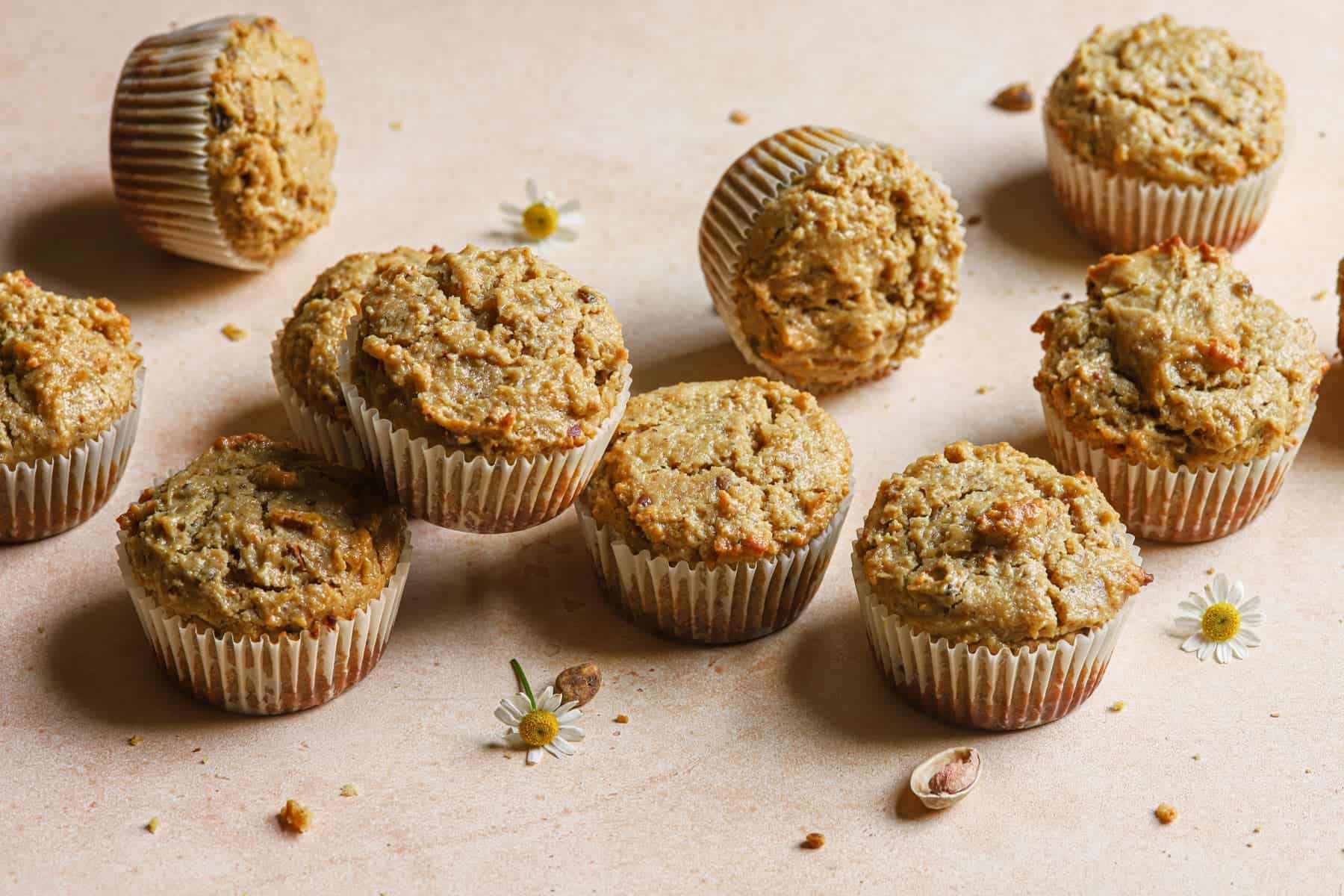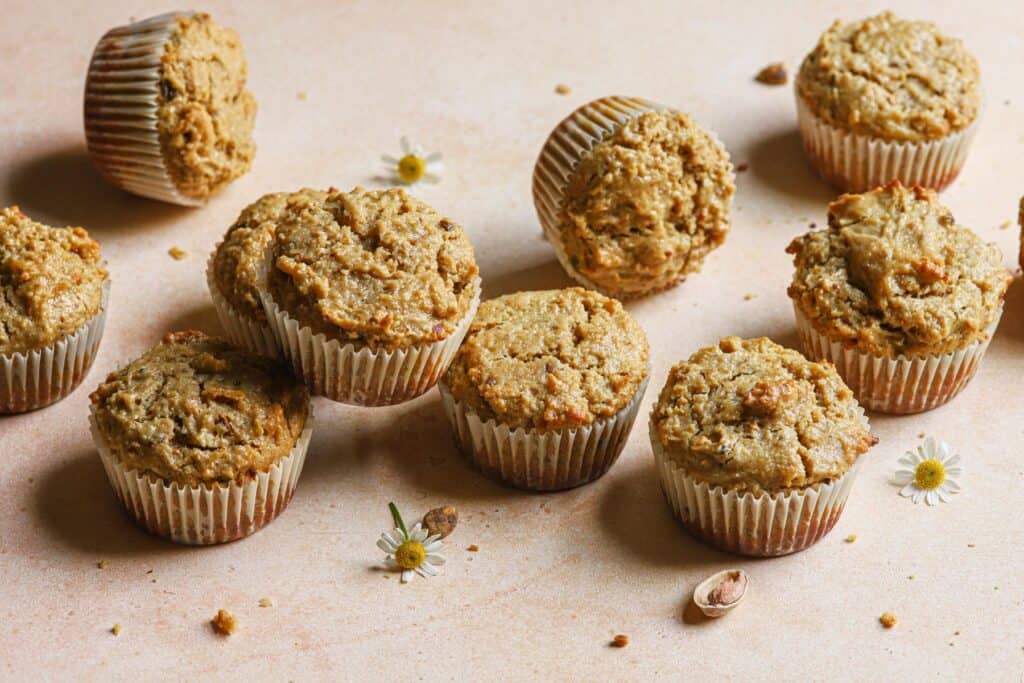 Storing the muffins
Muffins have a short shelf life, most times just 1 day. But due to a large amount of fat in this recipe coming from the pistachios, vegetable oil, and cream cheese these muffins are great for 2-3 days, at room temperature.
Another option is to freeze the muffins in a freezable plastic bag. When ready to eat, remove from the freezer and out of the bag until reached room temperature.
If you're passionate about baking and want to learn more about the wonders of Baking and science, then you will love my upcoming book that is all about BAKING SCIENCE, click HERE to preorder.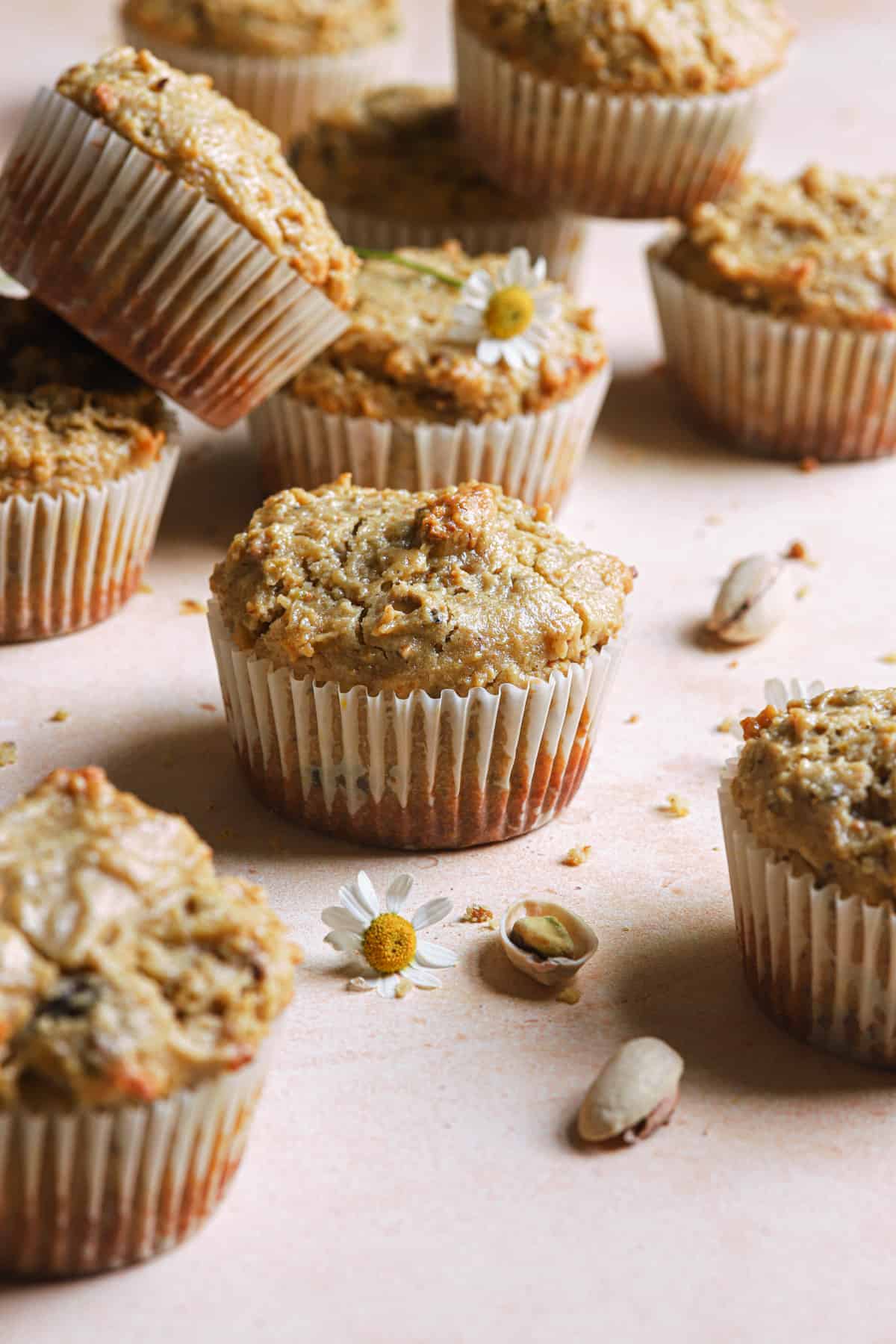 FAQ's
Can I use other nuts?
Yes, use any nut you like. I recommend that you use a nut with a strong noticeable flavor like pecans, hazelnuts, or peanuts (even though it is not a nut). If using almonds, add 1 tsp of almond extract to enhance flavors.
Can I use unroasted nuts?
You can, but I highly recommend you won't. Unroasted nuts do not have a strong flavor and I am not sure that the muffins will stand the test of taste using unroasted nuts.
Can I use salted pistachio?
Yes, but make sure you do not add any salt to the recipe.
How to chop my pistachios?
I used a large kitchen knife. I wanted the pistachios to be large enough to add texture but not to be so they might not be well distributed. It is totally up to use, you can chop them very fine or very rough.
Can I skip resting time?
Yes. Since the muffins have a very low amount of liquid, I am not at all concerned that they might bake flat. However, note that resting time help maintains some moisture in the muffins and provides a pleasant texture.
More recipes you might like:
Pistachio Orange blossom caramel cookies , Honey almond cake, Pretzel chocolate cream puffs ,Coconut scones
HAPPY BAKING!!!
One more thing before you bake: please rate and comment on this recipe if you like it, and don't forget to tag me on Instagram, I would love to see your creations!
And last thank you for visiting and supporting One Sarcastic Baker!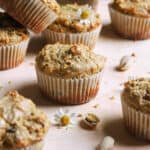 Pistachio Muffins
Ingredients
1 2/3

Cups

All-purpose flour

(200 g/ 7 oz)

2

tsp

Baking powder

1/2

tsp

Salt

1

Cup

Granulated sugar

(200 g / 7 oz)

1 2/3

Cups

Roasted pistachios

(200 g / 7 oz)

1/2

Cup

Vegetable oil

(120 ml)

1

Cup

Full fat cream cheese

(224 g / 8 oz)

2

Large

Eggs

3

tbsp

Milk

(45 ml)
Instructions
In a medium bowl, sift together the flour, baking powder, and salt. Add the sugar and mix to blend.

Chop half of the pistachios (100 g/ 3.5 oz) , add it to the flour mixture, and set aside.

Place the remaining pistachios in a food processor and process until the pistachio is very fine and moist. About 3 minutes. Scrape the sides of the bowl.

With the food processor on, add 1/4 cup of vegetable oil and process for additional 30 seconds, until you have a smooth oil. Set aside.

In a large bowl, mix the cream cheese and eggs until smooth, add the remaining vegetable oil followed with the pistachio oil and milk, mix until fully incorporated.

Mix in the flour mixture and use a wooden spoon to fully incorporate.

Set the bowl aside for 30-60 minutes.

Divide the batter between 12 muffin liners and place in the refrigerator.

Preheat oven to 400F. Bake for 5 minutes then reduce heat to 350F and bake for additional 15-17nminutes. The muffins are ready when a toothpick comes out clean from the center of the muffins. (few moist crumbs are ok)

Remove from the oven and allow to cool for 15 minutes before serving.