Last updated on July 12th, 2023.
These cream cheese breakfast pastries are the best of all worlds. Unbelievably flaky, creamy, and delicious. Fast and easy but yet impressive, great usage of leftovers, and best of all, it's all about the cream cheese spread.
This post is sponsored by Tillamook, however, all thoughts and opinions are my own. Thank you for supporting the brands that make One Sarcastic Baker possible.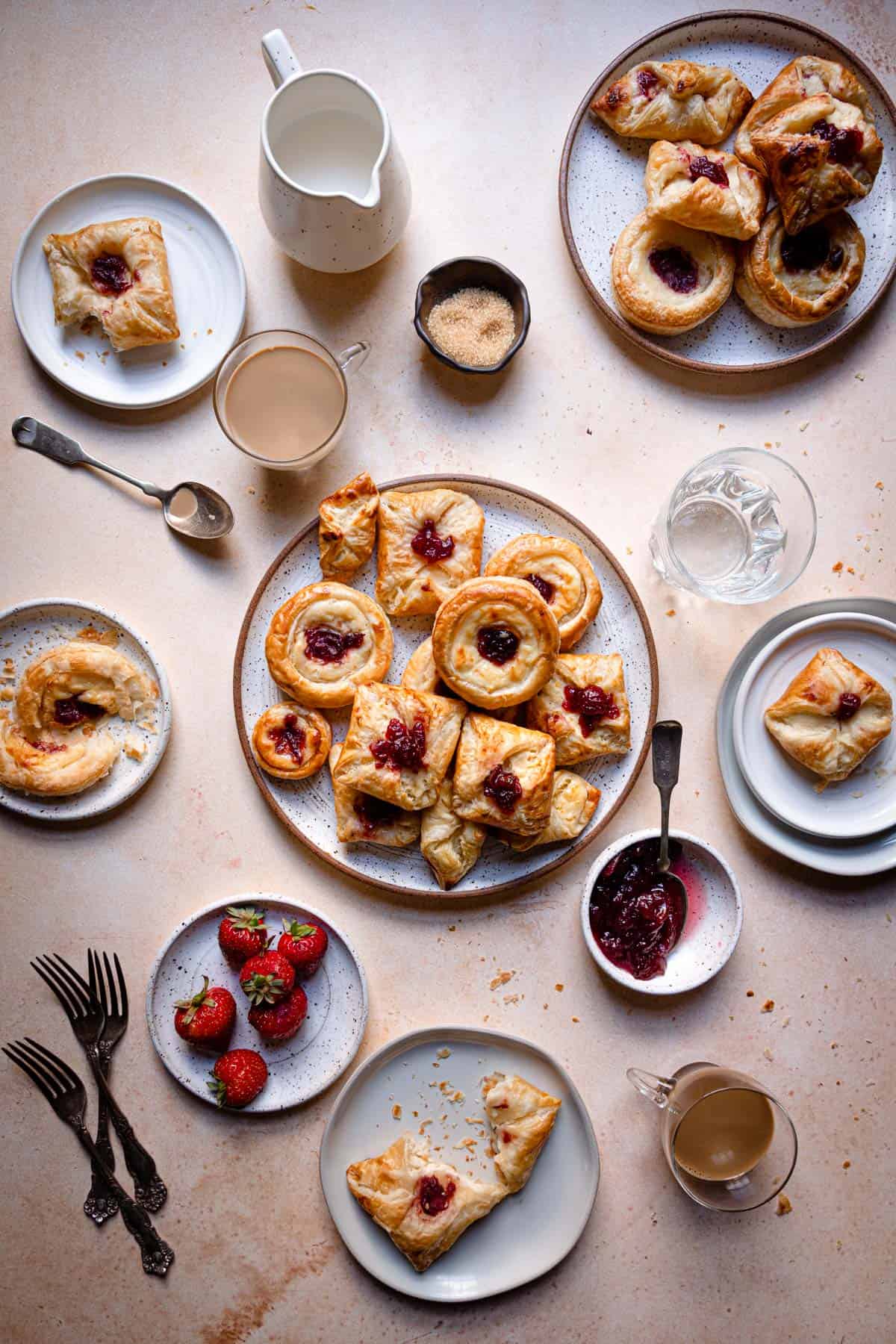 A while back I saw a news article, led by a very famous doctor who was talking about the danger of breakfast. Apparently, according to him, it is no longer healthy to eat breakfast. To that, I have to say firstly, what a load of… and secondly, my great-great-grandmother lived to be 104 and she ate breakfast every single day with the occasion of an extended breakfast, AKA brunch a few times a month. True, her daughter did not break her record and only lived to be 101 but there's a chance she may have watched the news and took it to heart.
Now, let's be honest. There is only one meal that is better than breakfast/brunch and that is Thanksgiving dinner. And only because it gets extra points for leftovers. Leftovers that are eaten the day after. For breakfast.
Leftovers such as Cranberry sauce. Add it with some Tillamook cream cheese spread and bake it inside a puff pastry pocket and you have the most delicious, fanciest, and easiest brunch!
The best part, even that one family member that can only eat cream cheese spread on a bagel is going to be super happy. (no judgment)
I mean Tillamook Farmstyle Cream Cheese Spread, is rich, creamy, cheesy, and also light and airy and packed with flavor. I love Tillamook's because it's made without gums, fillers, or preservatives, offering a cleaner option than most cream cheese products found on store shelves today. Not sure how it's scientifically possible, but they did it. And I am thankful for it. You can find it at your local Publix, I also have a coupon for it here!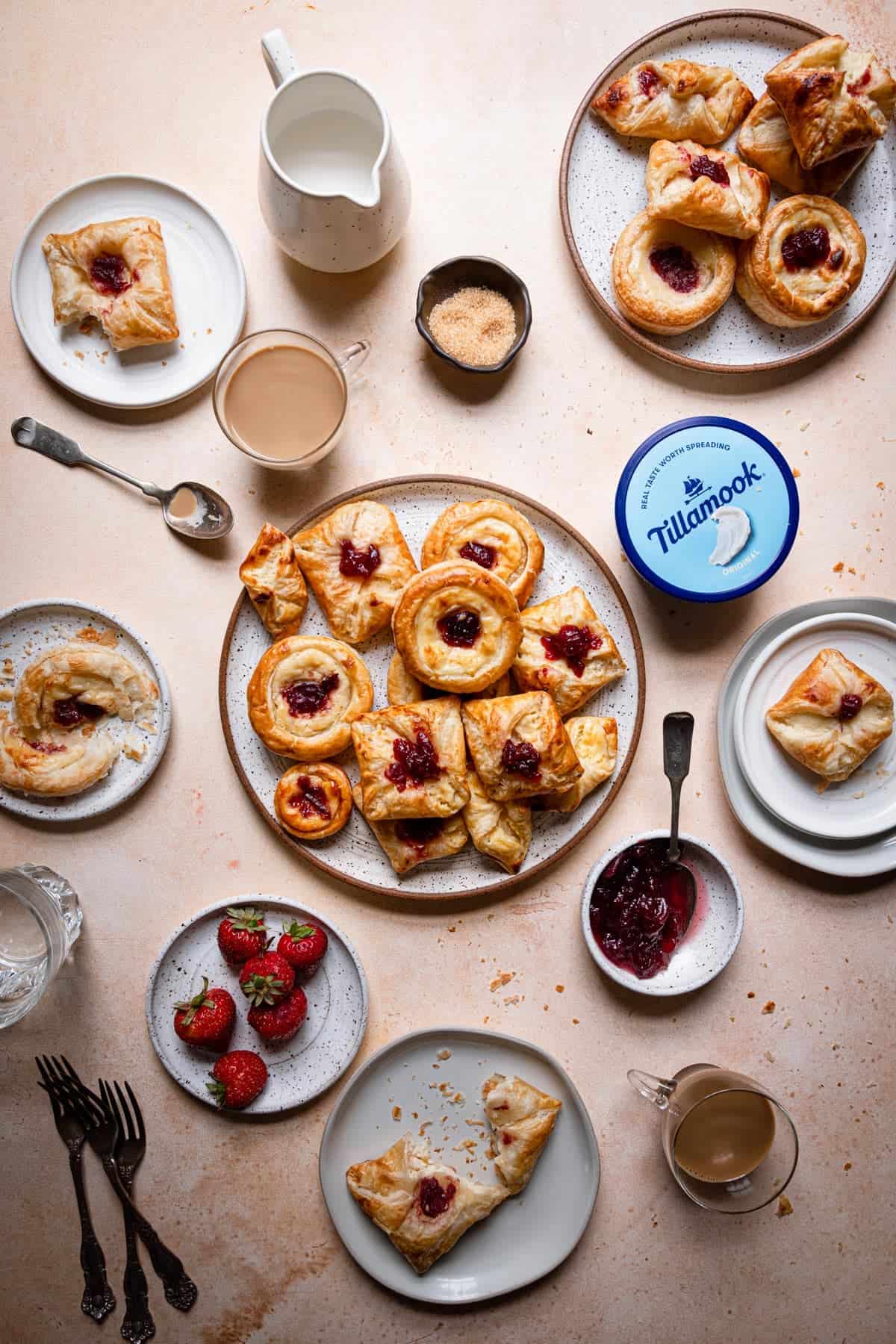 Few words about the pastries:
When creating this recipe I had Thanksgiving morning and the following day in mind. Slow morning, surrounded by family and wishing for a confirming yet fast and easy recipe. You can use cranberry sauce or skip it altogether. You can fancy the pastries up using the folding ideas below, or simply fold it pop-tart style.
You can also make these pastries using laminated dough, like in this Pain Au Raisin recipe and this Cornetti recipe.
Also, the cream cheese recipe is great to be used as a babka filling, brownie with cream cheese, or even your favorite chocolate muffins.
What Ingredients Are In These Cream Cheese Breakfast Pastries:
Tillamook Farmstyle cream cheese Spread
Sugar
Egg
Heavy cream
Vanilla extract
Orange zest
Puff Pastry
Cranberry Sauce
Making the Cream Cheese Filling:
Super simple, place the cream cheese spread, sugar, heavy cream, egg, vanilla, and orange zest in a large bowl then mix it all into a smooth cream.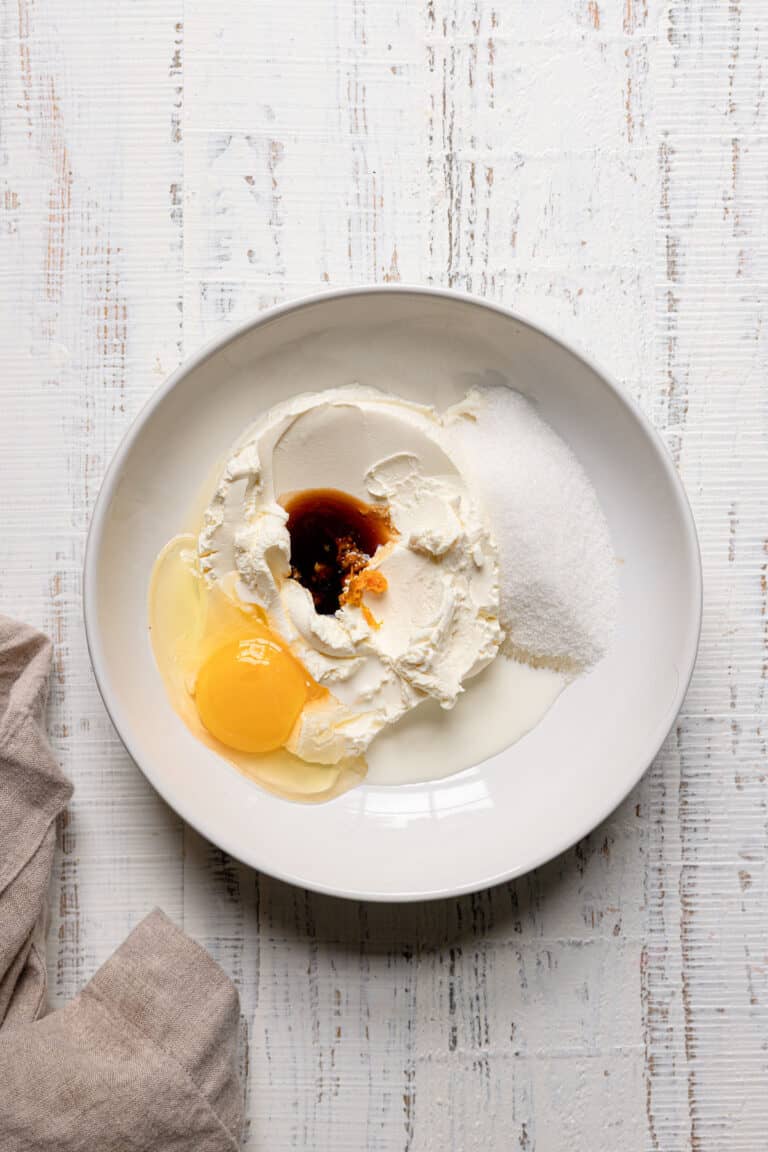 Shaping These Cream Cheese Breakfast Pastries:
Below are a few options, but I say that you can make this using the simplest option of cutting the puff pastry the size and shape you wish, fill with cream cheese and cranberry sauce and place another layer of puff pastry on top. (use a fork to seal the edges together)
Option 1:
Cut the puff pastry to 4″x4″ squares, place 1-2 tsp of cream cheese filling at the center. Bring the corners of the square to the center, then place 1/2 tsp of cranberry sauce where the ends meet.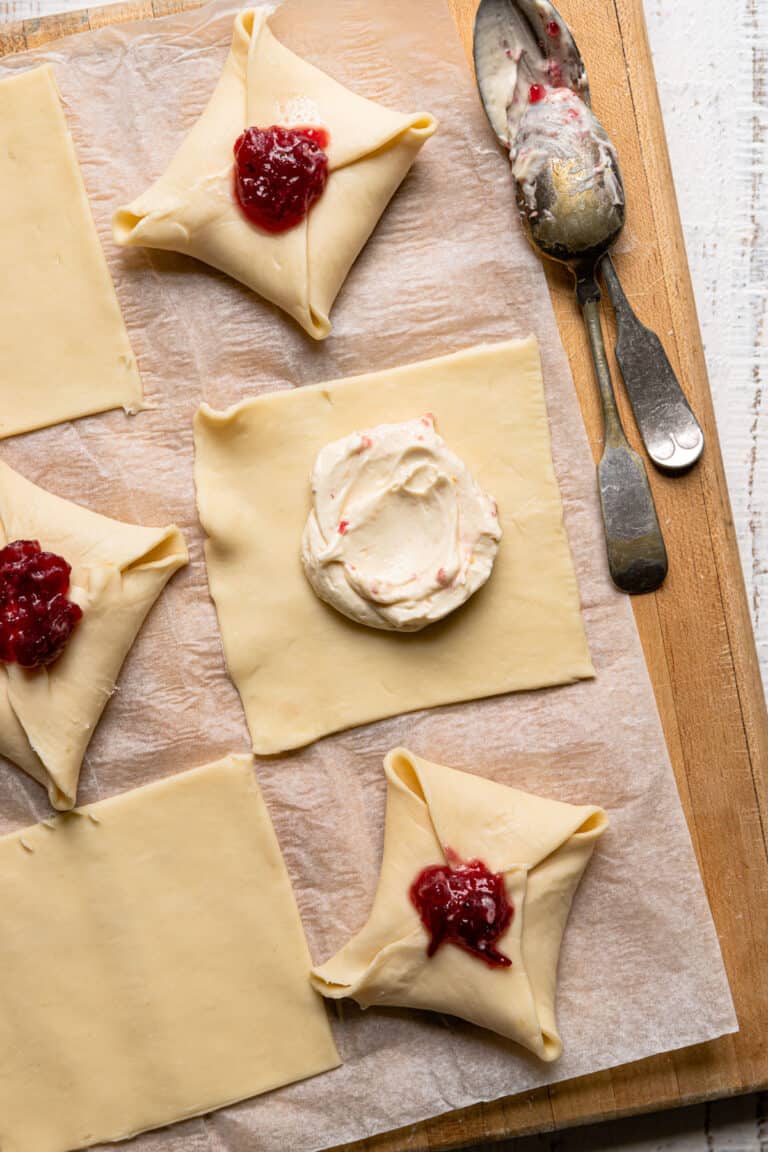 Option 2:
Use a 3″ or 4″ round cookie cutter to cut 2 circles. Then use another 2″ or 1″ round cookie cutter to cut one of the large rounds. Remove the centerpiece and place the edges on top of the second large round piece. Fill the center with 1-2 tsp of cream cheese and also 1/2-1 tsp of cranberry sauce.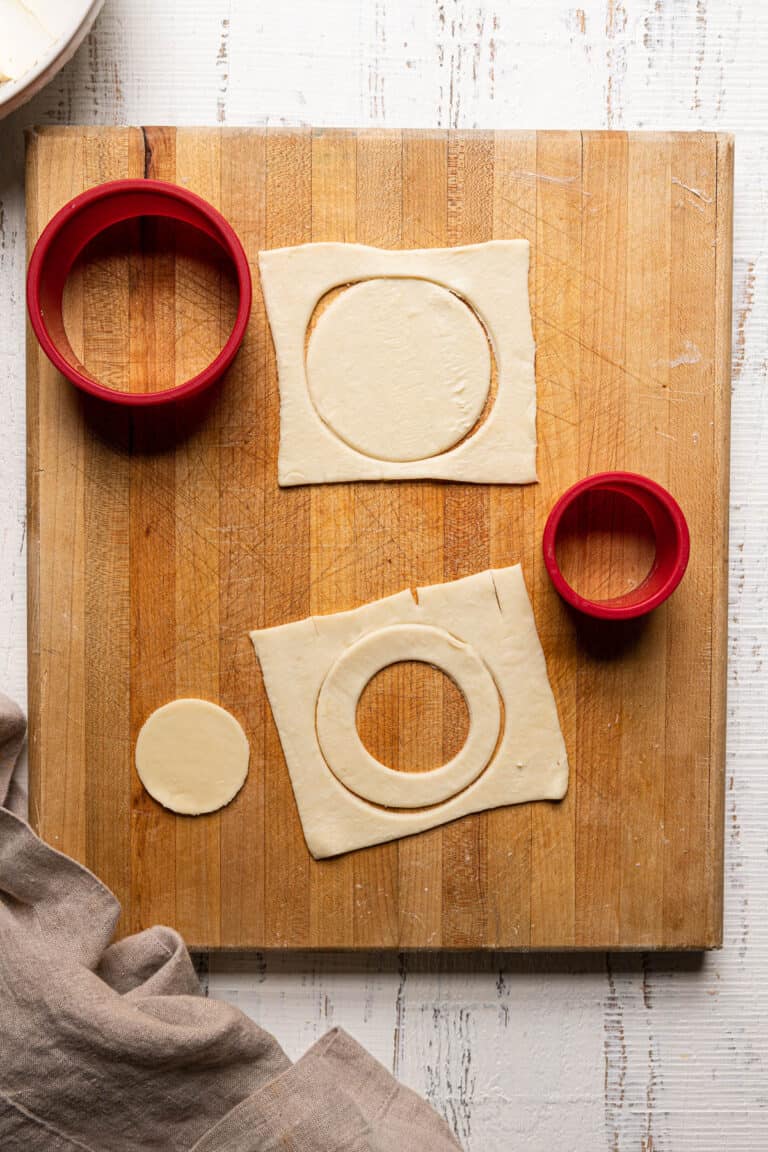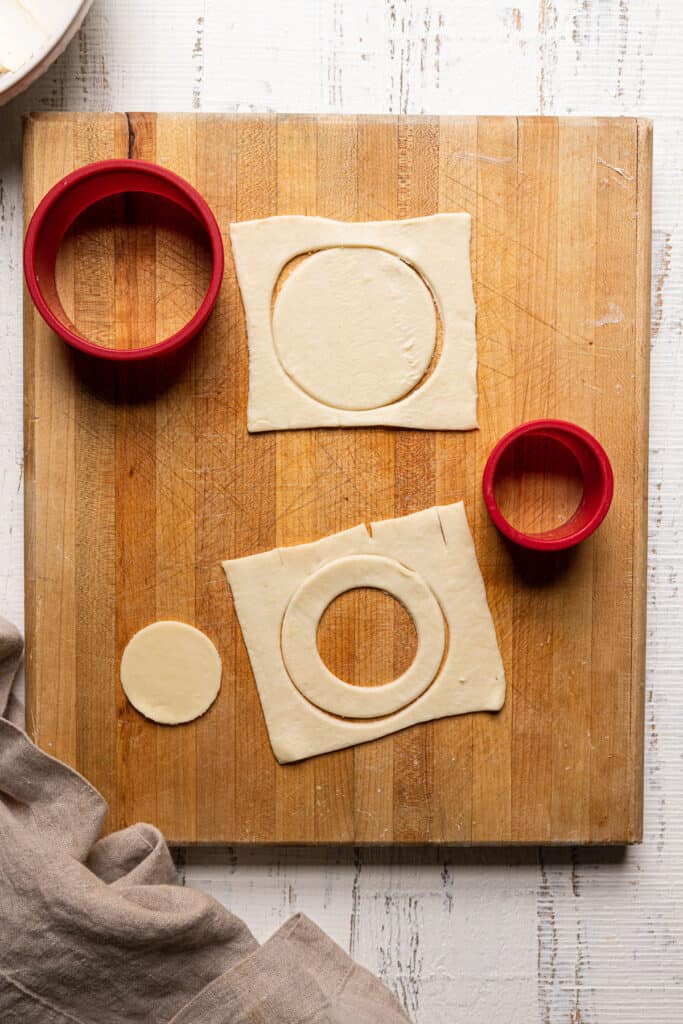 Option 3:
Cut the puff pastry into 4″ even squares, place 1 tsp of cream cheese filling and 1/2 tsp of cranberry sauce at the center then bring 2 opposite ends to meet at the center.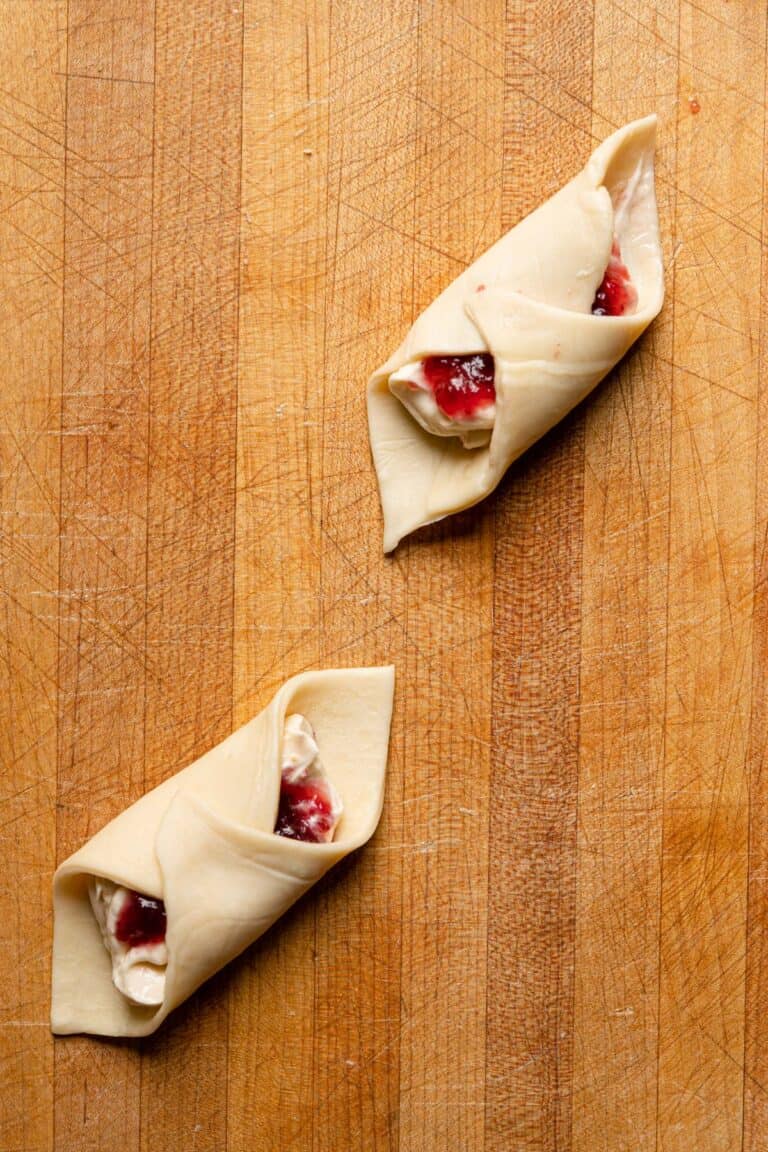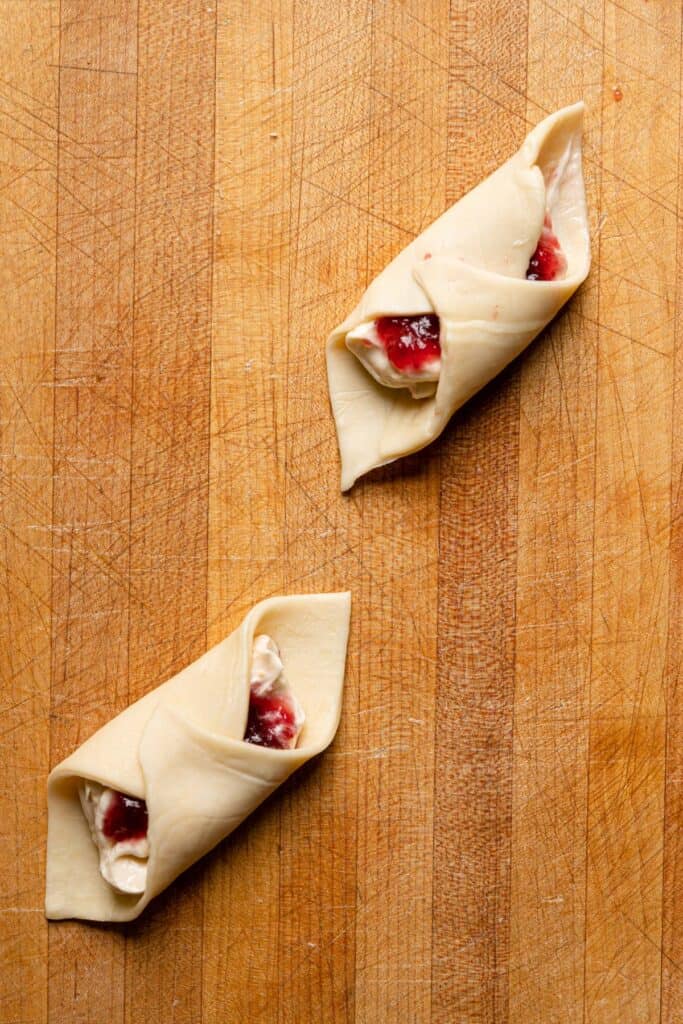 Baking and Storing The Pastries:
Best is to read the baking instruction on the package of the puff pastry brand you are using. The pastries are ready when they are golden brown and puffed.
Also, it is best when eaten right away, you can store it at room temperature or in the refrigerator for up to 2 days.
HAPPY BAKING!!!
Here are some more recipes you might enjoy:
Also, one more thing…
Don't forget to tag @OneSarcasticBaker on Instagram if you bake this recipe. Would love to see your creations!
Did you like this recipe and inspiring? Save THIS PIN to your breakfast, or baking boards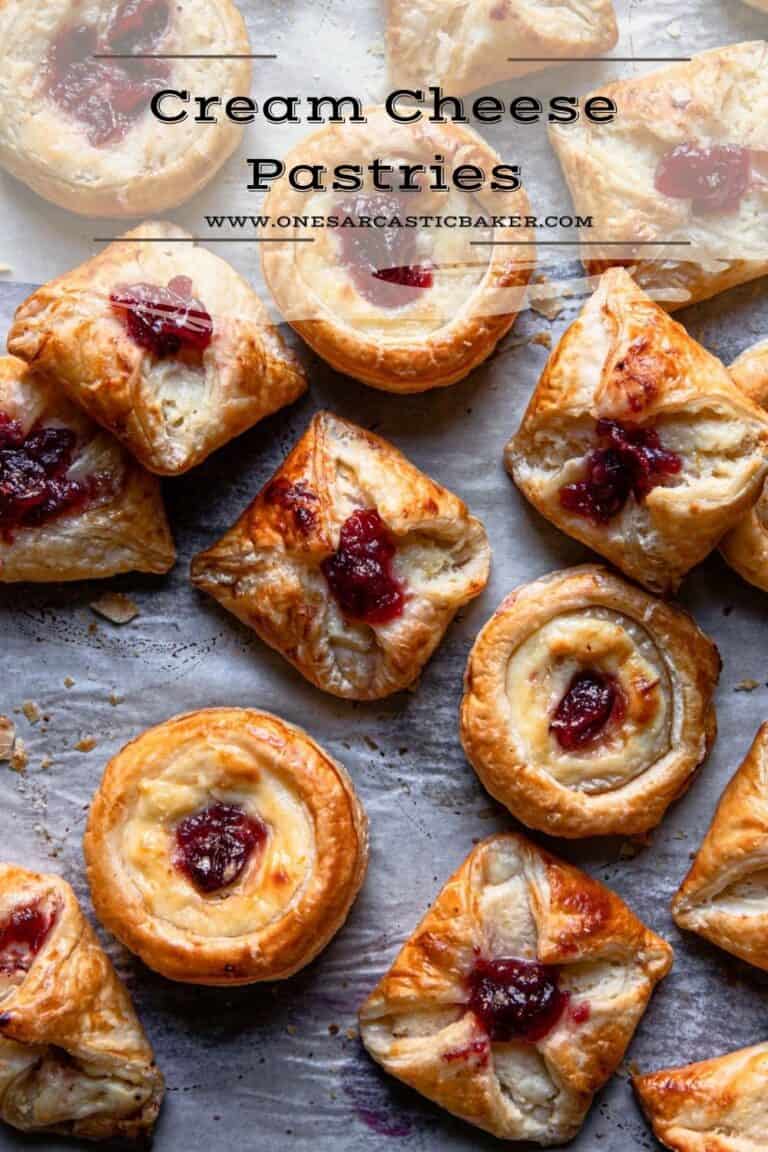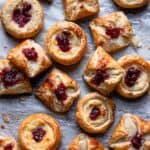 Cream Cheese Breakfast Pastries
Ingredients
1

pkg

Puff pastry

1

Cup

Tillamook Farmstyle Cream Cheese Spread

(225 g / 8 oz)

1/4

Cup

Sugar

(50 g / 2 oz)

1

TBS

Heavy cream

1

Large

Egg

1

tsp

Vanilla extract

1

tsp

Fresh orange zest

1/2

Cup

Cranberry Sauce

1

Egg, beaten for egg wash
Instructions
Preheat oven to 425F (or according to the instruction of the puff pastry you are using), and line 2 baking sheets with parchment paper)

In a large bowl, place the cream cheese, sugar, heavy cream, egg, vanilla, and orange zest.

Use a hand mixer to bring it all together into a thick paste.

Cut the puff pastry into 4"x4" squares , place 1 tsp of the cream cheese filling in the center, and top with a tsp of cranberry sauce.

Seal the puff pastry and brush with the beaten egg.

Bake for 12 minutes or until puff and lightly golden. Remove from oven and let cool for about 5-10 minutes before serving.