Last updated on October 11th, 2021.
These 5-minutes pumpkin scones are soft, tender, and full of pumpkin and fall flavors. Topped with cinnamon glaze and sprinkle with toasted pecans for the perfect texture.
It actually took me 3 minutes to get these 5 minutes pumpkin scones ready for the oven. It is basically a scone made using the muffins method: mix the dry, mix the wet then mix them together.
Why 5-minutes scones?
Well, because I got super lazy. And I really wanted a pumpkin scone. So instead of cutting the COLD butter into the flour and wait some more for it all to get even colder, I just melted it all. I knew that the heavy cream being 50%+ fat will be my guardian angel and make sure the scones will be tender, crumbly, and oh so soft. So please do not substitute the heavy cream with skim milk.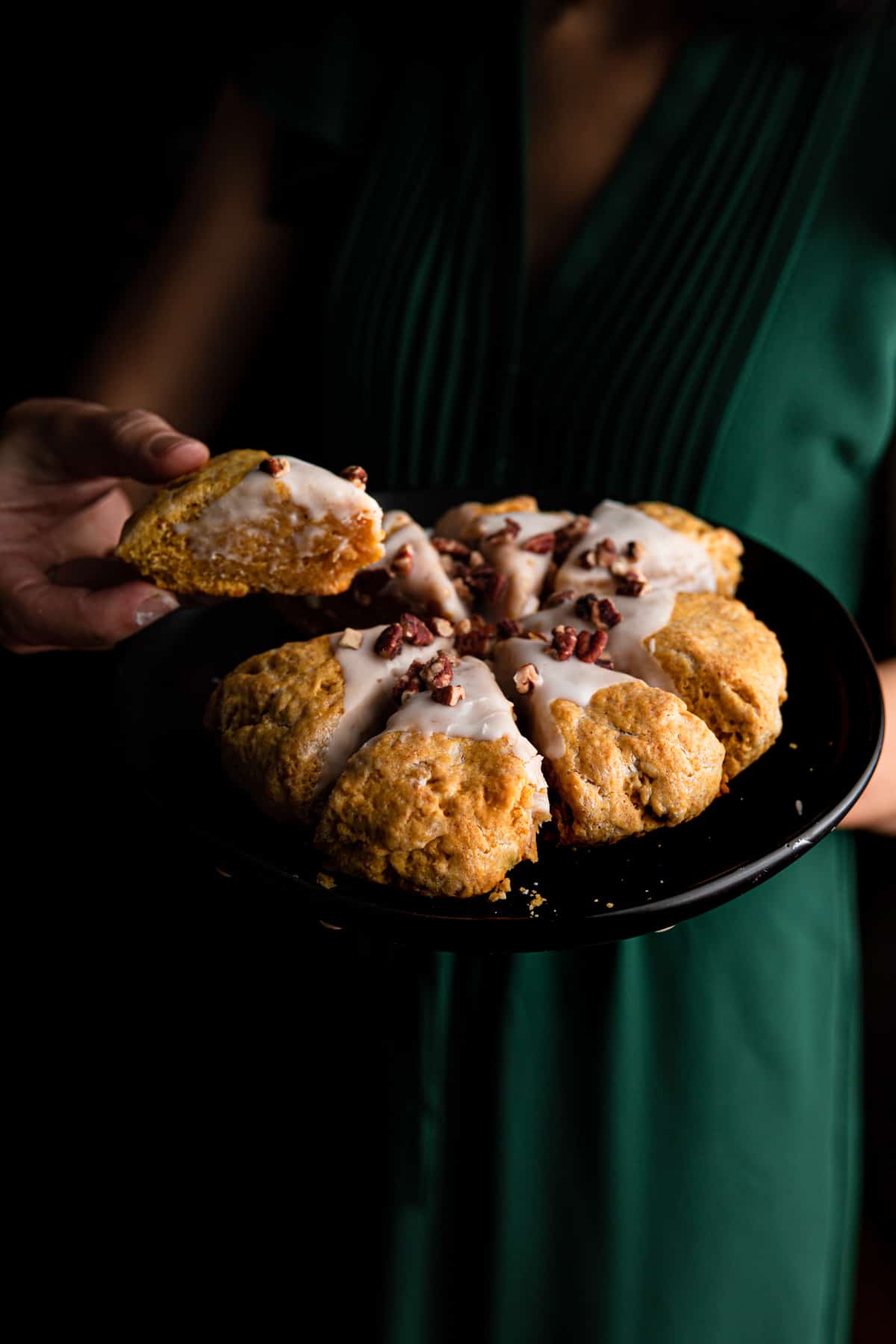 What Ingredients Are In These 5 Minutes Pumpkin Scones:
AP Flour
Sugar, a very small amount. The scones are not so sweet, something to consider when deciding whether you want to add the glaze or not.
Cinnamon and pumpkin spice, feel free to use your favorite spice combination but please do not skip this part.
Baking powder, one of the main components that give the scones its tender texture.
Unsalted butter, melted
Pumpkin Puree
Heavy Cream
How To Make 5 Minutes Pumpkin Scones:
To make these scones, you will need 1 large bowl, one medium bowl a fork and a large spoon.
Firstly, blend together the flour, sugar, baking powder, and spices and use a fork to fully incorporate. Next, do the same with the butter, pumpkin puree, and heavy cream and pour it over the flour mixture.
Use a spatula or a wooden spoon to bring it all together into a shaggy dough. Feel free to use your hand and do not overdo it, only mix until the dough comes together.
Place the dough on a lightly floured surface then, divide into 2 equal parts. Shape each part into a 6″ disc and use a large knife to cut each disk into 6 parts.
Brush the top with heavy cream and bake for 15-18 minutes, or just until the bottom of the scones is medium brown and the top is no longer shiny looking.
Frosting the Scones:
As mentioned above, the scones contain a very small amount of sugar which means they are not as sweet as a typical scone. They are still very delicous without the glaze but I highly reccomend to add it as it adds an extra texture.
To make the glaze thick, start by adding 4 TBS of heavy cream into the sugar. If you chose to make it thiner, add 1 tsp of heavy cream at a time until you achieve the desired consistency.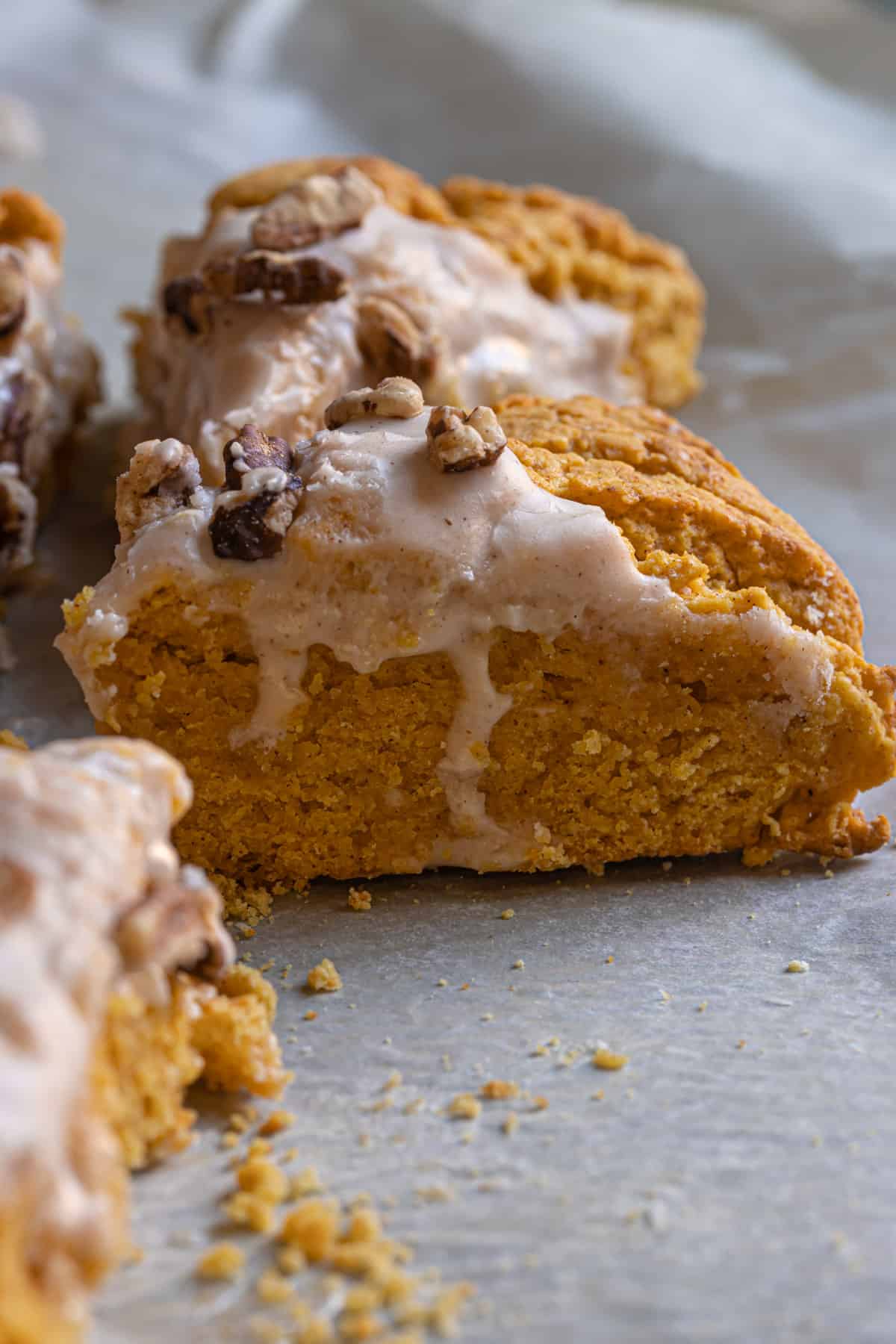 Baking and Storing the Scones:
The scones and be baked immediately after shaping the dough. However, you can make the dough the night before, refrigerate the unbaked shaped scones then bake in the morning. Please note that if refrigerated the scones will keep the shape better.
The scones can be stored, covered at room temperature for up to 48 hours. Please remember that the glaze has heavy cream into, so if frosted please refrigerate after 4-5 hours.
HAPPY BAKING!!!
Here are some more recipes you might enjoy:
Also, one more thing…
Don't forget to tag @OneSarcasticBaker on Instagram whenever you bake this recipe. Would love to see your creations!
Lastly, did you like this recipe and find inspiring? Save THIS PIN to your Baking board.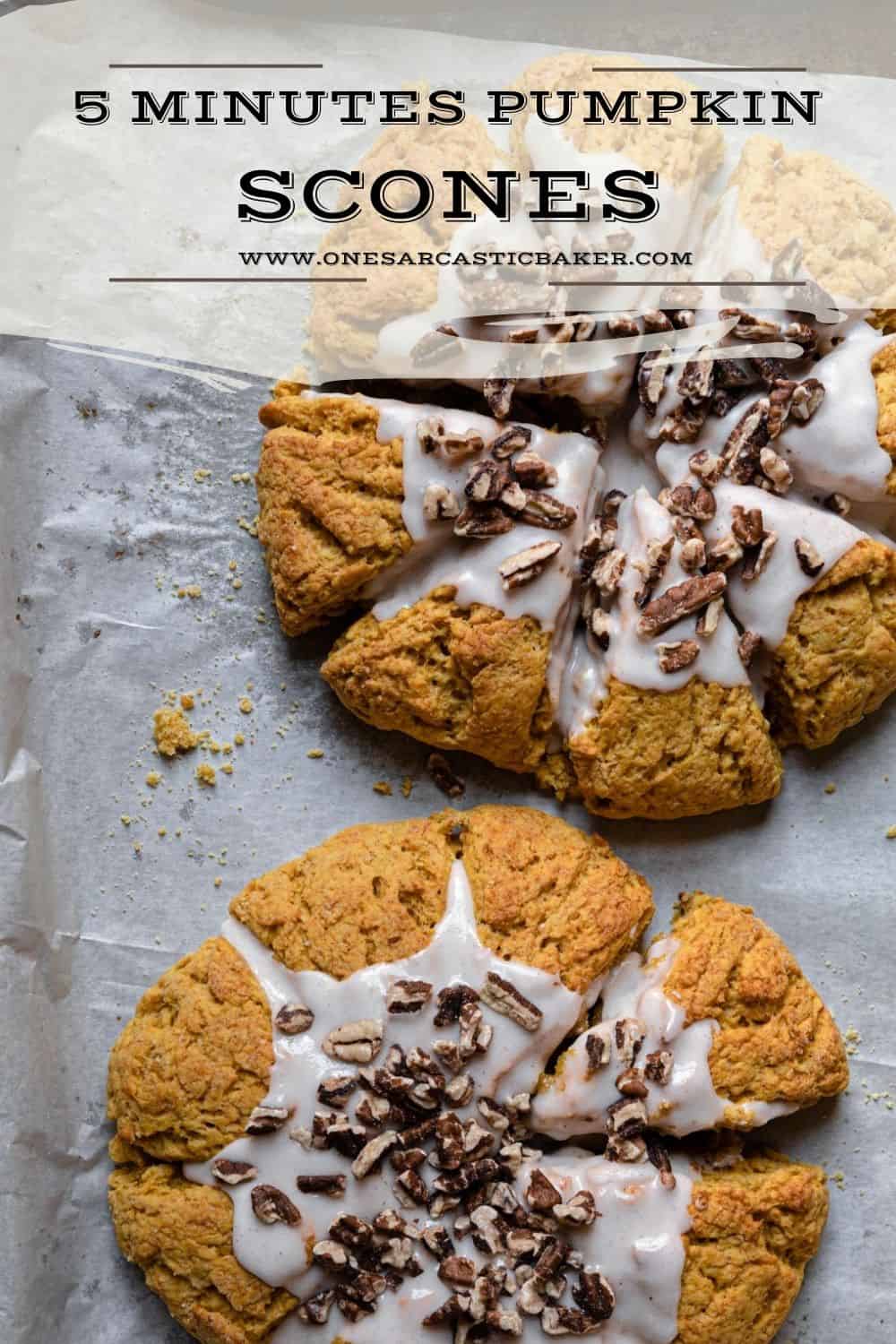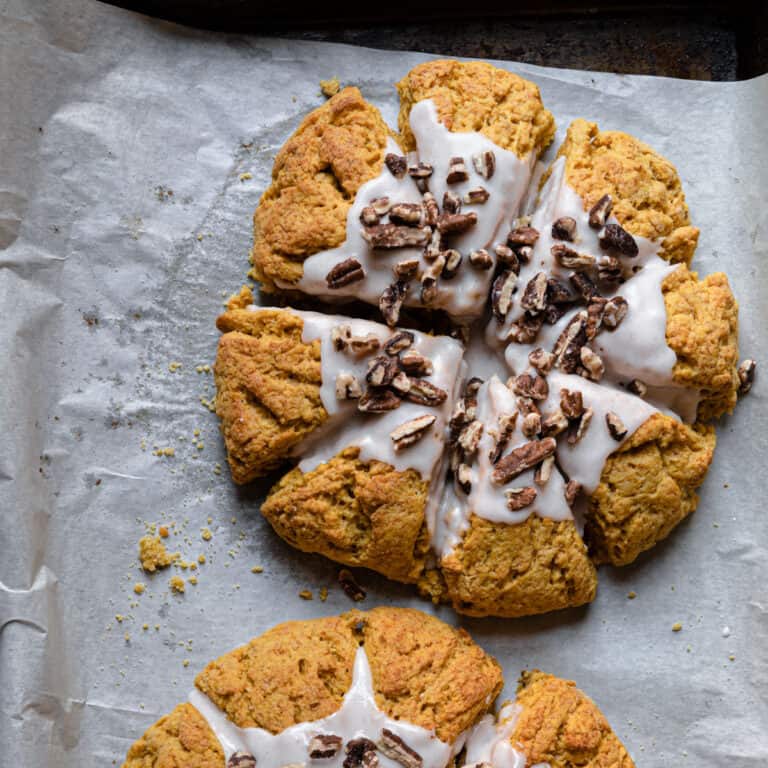 5 Minutes pumpkin Scones
Ingredients
3

Cups

AP Flour

(360 g / 13 oz)

1

TBS

Baking powder

1/3

Cup

Sugar

(70 g / 2.5 oz)

1

tsp

Cinnamon

1

tsp

Pumpkin pie spice

1

Stick

Unsalted butter, melted

(113 g / 4 oz)

1/2

Cup

Pumpkin puree

(100 g / 3.5 oz)

3/4

Cup

Heavy cream

(180 ml / 6 oz)
Cinnamon Glaze
2

Cups

Powdered sugar

(250 g / 8.5 oz)

4-8

TBS

Heavy cream

1

tsp

Cinnamon

1

Cup

Chopped toasted pecans
Instructions
In a large bowl, sift together the flour, baking powder, sugar, and spices. Mix to fully incorporate. Set aside.

In a separate bowl, mix the pumpkin puree and heavy cream pure the melted butter and mix until smooth.

Pour the pumpkin mixture into the flour mixture and use a wooden spoon to blend it all just until a dough is formed.

Divide dough into two even parts and shape each part into a 6" round disk. Place the disks on a baking sheet lined with parchment paper and let cool while the oven is heated.

Heat oven to 400F. Once ready, remove the dough from the refrigerator and use a large knife to slice each disk into 6 even part.

Bake for 15-17 minutes, until the bottom, is golden brown and the top puffy.

Remove from oven allow 5-7 minutes to set then top with frosting and sprinkle with pecans.
Cinnamon Glaze
Place sugar in a large bowl and mix in the cinnamon.

Add 4 TBS of heavy cream and mix into a thick paste. If needed add 1 TBS of heavy cream at a time until the desired consistency is formed.