Last updated on March 10th, 2022.
Even though these double chocolate muffins are a breakfast thing, I always crave them late at night. Something about A warm steamy chocolate muffin loaded with creamy vanilla ice cream that goes so well with some late-night Netflix binging.
No planning ahead is required. Just 2 bowls, a muffin tin and 25-30 minutes.
Making this recipe is as simple as boiling an egg so I won't bore you with the details. I will, on the other hand, give you my "last minute" tips on how to bring your ingredients to room temperature in 10 minutes or less!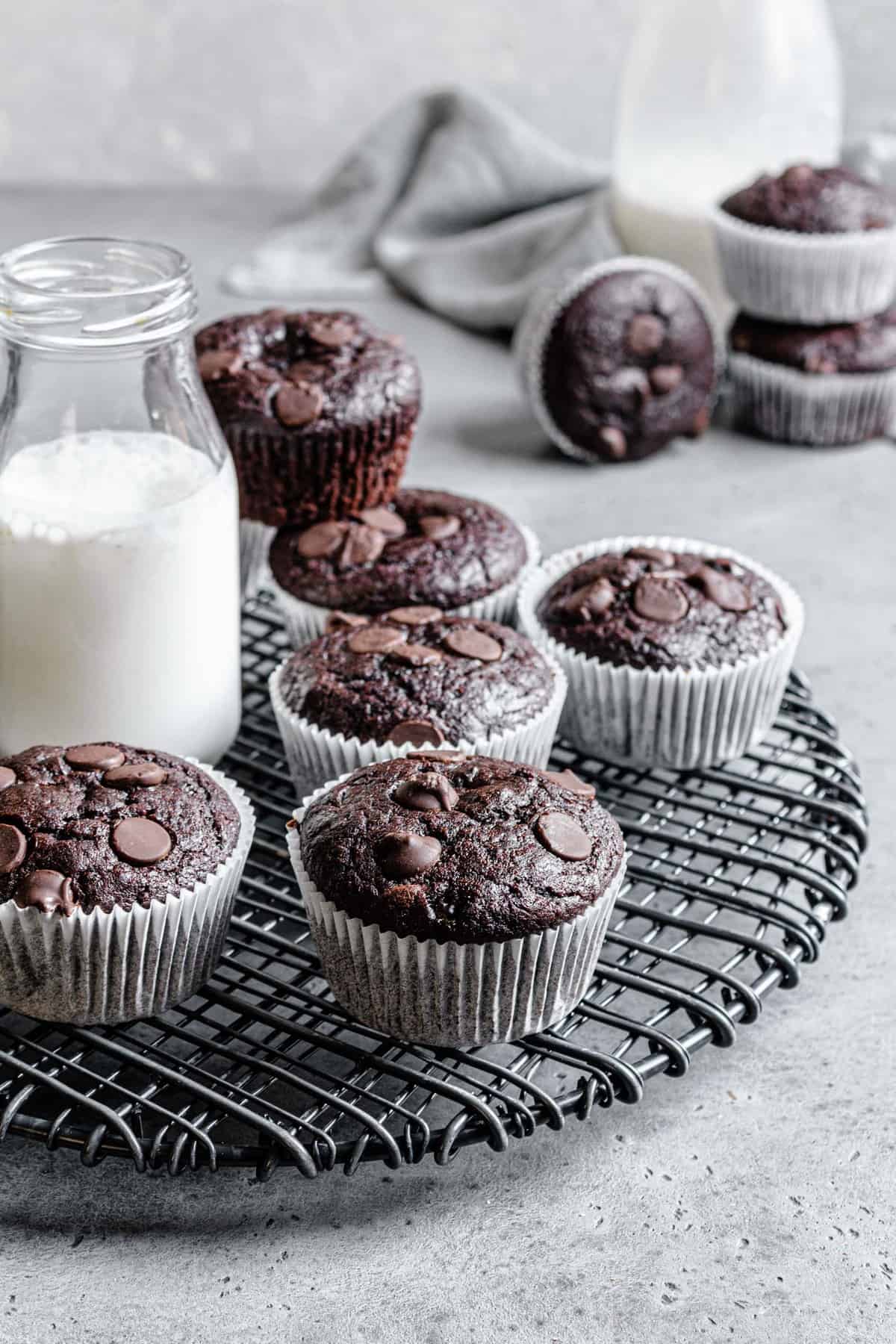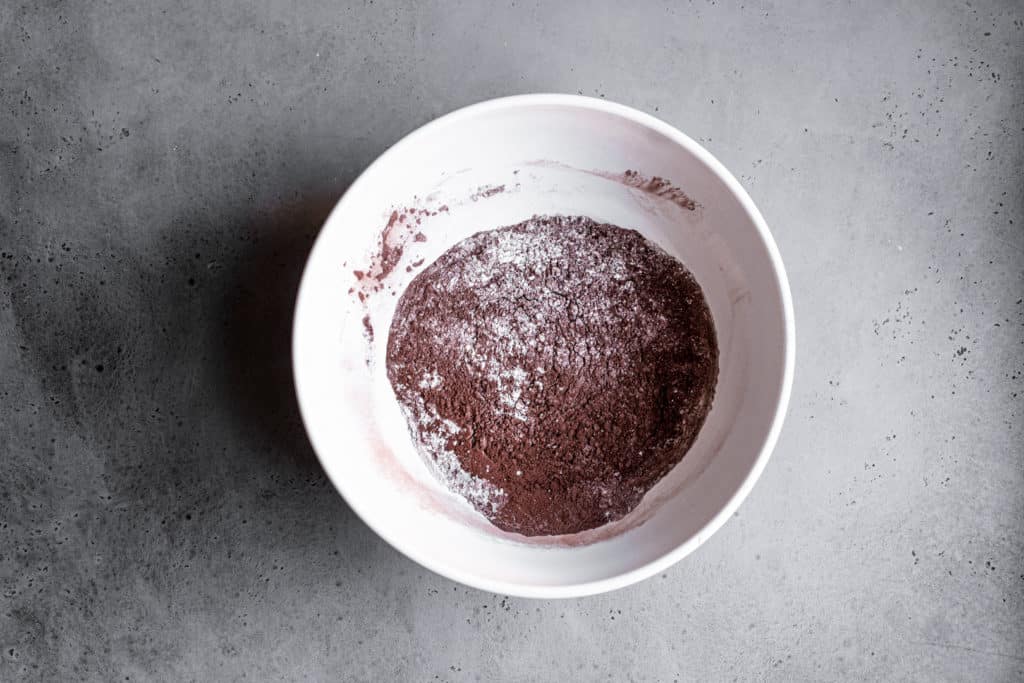 How to bring ingredients to room temperature:
EGGS
Place eggs in a deep bowl (I use a large glass cup) and place the bowl in the sink under warm running water for 1-2 minutes. After that leave the eggs in the bowl (now filled with warm water) for 5-10 minutes.
TIP! To know if the eggs are bad, know that eggs should never float when in water. Floating eggs = bad eggs.
Milk / heavy cream / Half & Half
In the microwave, warm up 1/4 – 1/3 of the required amount for about 20-30 seconds. Until the liquid is almost too hot to touch. Add the remaining liquid to the warmed liquid.
Sour Cream / Buttermilk/ Orange Juice / Lemon Juice
Firstly measure the ingredient in a large (preferably tall) dish and place the dish in a large deep bowl. Secondly, Fill the large bowl with boiling water and let sit for about 10 minutes. Stir halfway.
CREAM CHEESE
Cut cream cheese into medium-sized pieces and warm in the microwave using 15-20 seconds increments.
BUTTER
Two options:
Cut the butter into small pieces and place it on the stove (in a bowl), next to a cooking pot. Check it often to make sure it is not melting. (I also place it on my counter while the dishwasher is running.)
Use a grater to grate the butter. Let sit for 15-20 minutes.
Now Let's Talk about This Double Chocolate Muffins Recipe:
The recipe instructs to fill the muffin liners 3/4 full. However, you can go ahead and fill the muffin liner to the top for that muffin tops love.
For best results, make sure your ingredients are at room temperature. See above for fast, last minutes tricks.
If you do not have buttermilk in hand, add 2 tsp of vinegar (or fresh squeezed lemon juice) to the milk and mix.
Do not over mix the batter. Mix just to incorporate the ingredients, few lumps are ok.
You can use light brown sugar or dark brown sugar. I like using the dark because it has more molasses which firstly it traps extra humidity and secondly enhances the chocolate flavor.
Espresso powder is optional, but if you do not have it in hand instant coffee is just fine.
Here are some more recipes you might enjoy:
Also, One more thing…
Don't forget to tag @OneSarcasticBaker on Instagram if you bake this recipe. Would love to see your creations!
Did you like this recipe and inspiring? Save THIS PIN to your Muffins, or Chocolate boards.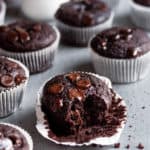 Double Chocolate Muffins
Ingredients
2

Cups

AP Flour

(240 g / 8.5 oz)

1

tsp

Baking powder

1/4

tsp

Baking soda

1

Cup

Light or Dark brown sugar

(200 g / 7 oz)

1

tsp

Espresso powder

1/2

tsp

Salt

1/2

Cup + 1 TBS

Unsweetened cocoa powder

(50 g / 2 oz)

1

Cup

Chocolate chips

(170 g / 6 oz)

1

Cup

Buttermilk

(240 ml / 8 oz)

2

Large

Eggs

1/2

Cup

Vegetable oil

(120 ml / 4 oz)
Instructions
Preheat oven to 350F and line two 12 count muffin pans with 15 muffin liners. (One pan if filling liners to top).

In a medium bowl sift together flour, cocoa powder, baking powder, baking soda and
Salt. Add the sugar and chocolate chips and mix to incorporate.

In a separate bowl mix together the remaining wet ingredients then add them to the dry ingredients and mix just until combined.

Fill muffin liners 3/4 full and bake for 15-18 minutes or until a toothpick comes out clean from the center of the muffins.