Last updated on March 17th, 2023.
These Coconut Banana muffins are loaded with toasted coconut giving the muffins a burst of flavor and an additional texture.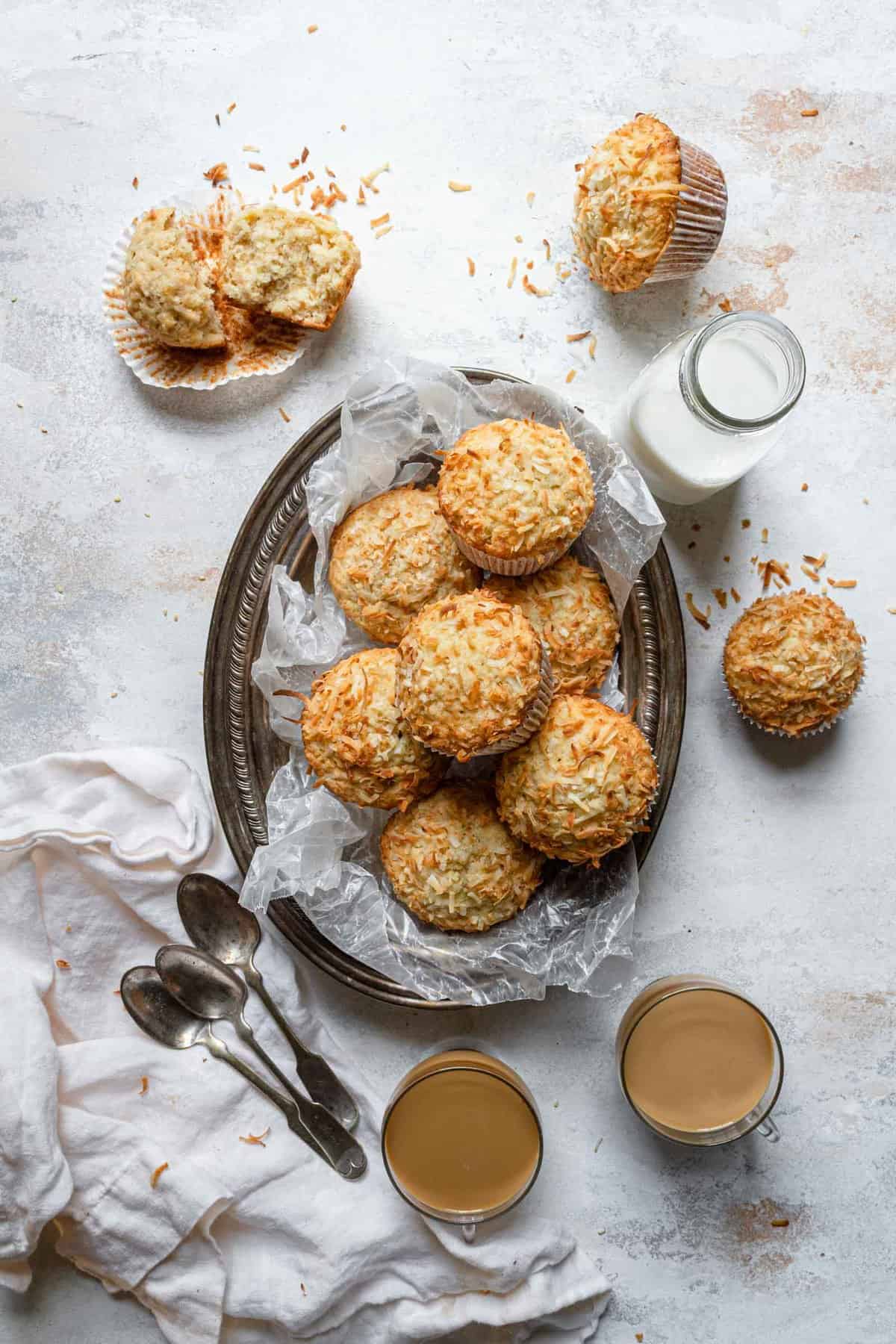 Muffins, like muffins, are the easiest, fastest, and perhaps the most comforting morning/weekend food. And as recently I discovered, muffins are also very adaptable. But if you prefer scones, check out these Coconut Scones, or maybe this Coconut Bread.
Replacing sour cream with cottage cheese and in addition reducing the liquid amount in the recipe actually turned out to be soft, sweet, and out-of-this-world delicious muffins.
Why Cottage Cheese?
I was out of sour cream. And cottage cheese, being 75%-85% water and with a high level of acidity was THE PERFECT last-minute resolution.
Despite the fact that the cheese keeps its curly texture pre-baked it does not affect the end result.
You might notice a few speckles of cheese if you break a muffin straight out of the oven but for the most part, it incorporates fully with the batter.
What can I use instead?
An equal amount of banana. (half medium banana)
Sour cream
Milk
Unsweetened apple juice.
Buttermilk
What Ingredients Are In This Recipe?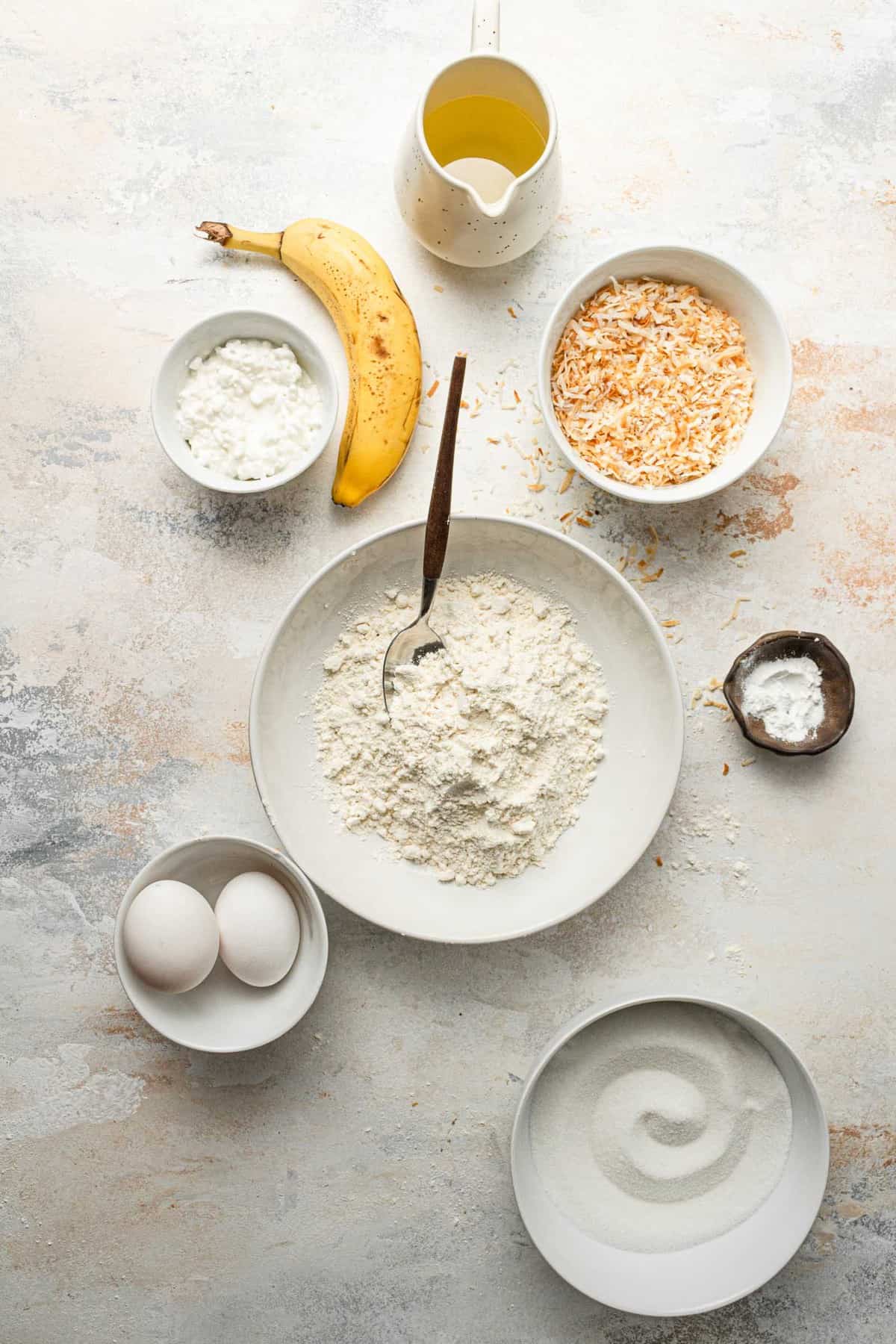 Unsweeten shredded coconut, it is very easy to toast the coconut, and the best part it gives the best smell to your kitchen.
AP Flour
Baking powder
Baking Soda
Salt
Sugar
Medium Banana, can be ripe or over ripped. Over ripped banana will result in a sweeter muffin while simply ripped banana will give the muffin a stronger banana flavor.
Cottage cheese, I used small curds, full-fat cottage cheese.
Eggs
Vegetable Oil can be substituted with melted butter but please keep in mind that the oil makes the muffins extra moist.
How To Bake These Muffins:
Make-Ahead: Toasted Coconut
Evenly spread it on top of a cookie sheet and bake for 4 minutes in a 350F preheated oven. Use a spatula or a wooden spoon to mix and bake for an additional 3 minutes.
In a large bowl mix the flour, baking powder, baking soda, sugar, and coconut.
Mash the banana and cottage cheese in a medium bowl followed by eggs and oil.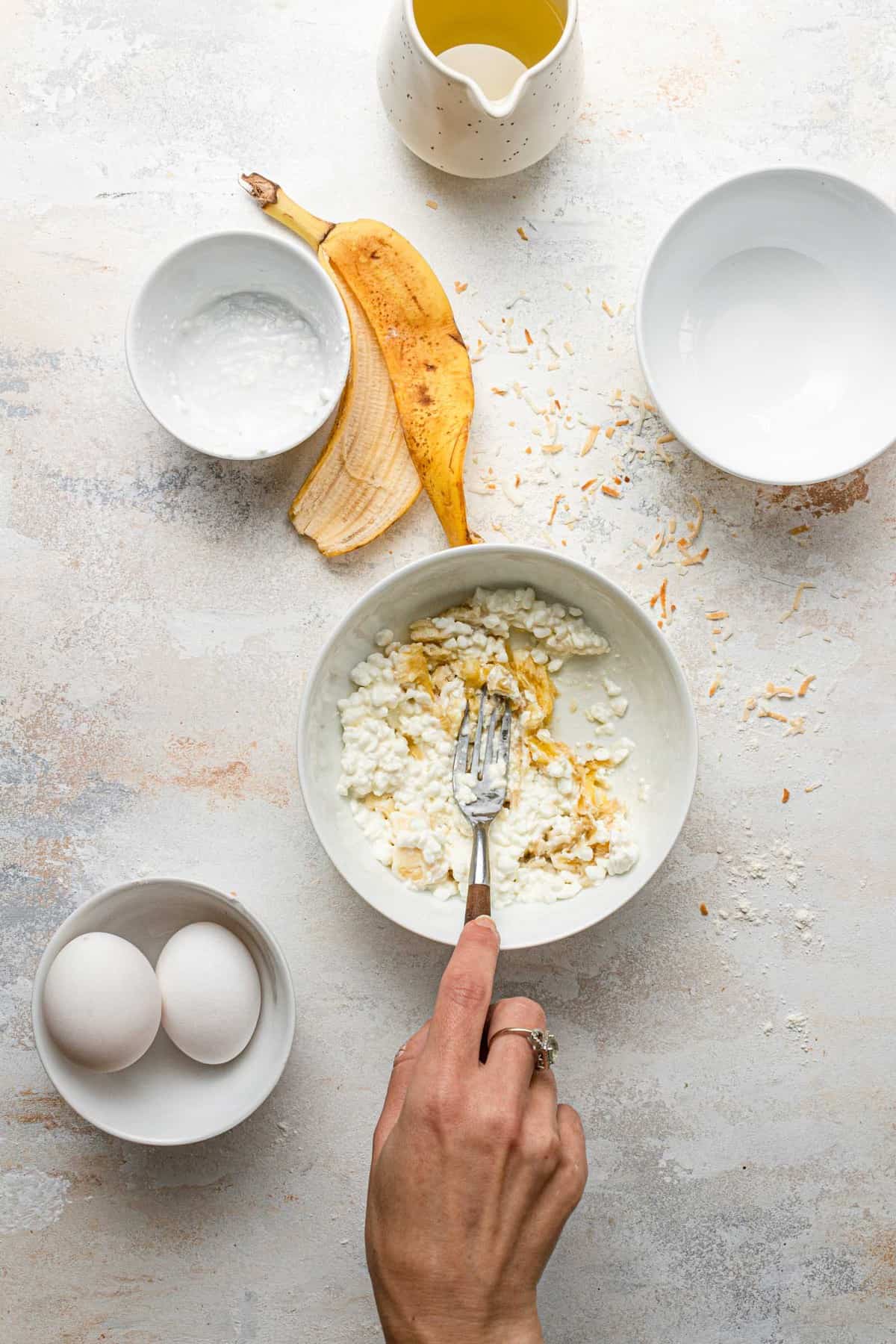 Pour the wet ingredients on top of the dry ingredients and mix just until combined. And last, Fill liners to the top and sprinkle with some extra toasted coconut.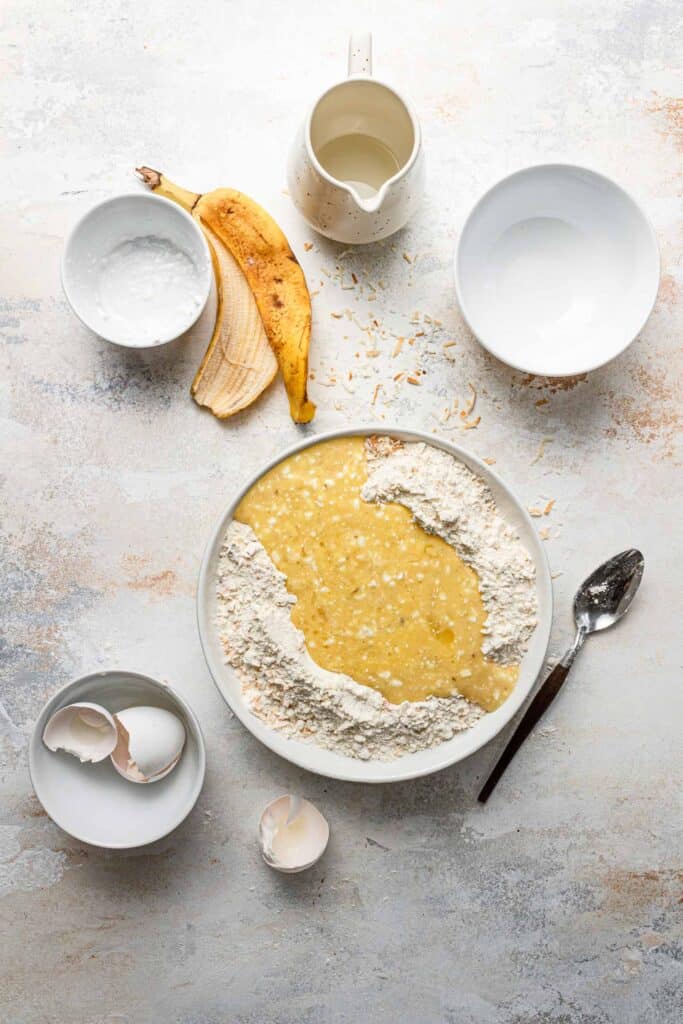 How To Store These Toasted Coconut Banana Muffins:
The muffins are best eaten when warm out of the oven. Firstly, You can store them at room temperature in a ziplock bag or a tight container. Also, you can freeze them muffins inside a freezable plastic bag. Allow the muffins to reach room temperature before eating. Another great way to eat these is to warm them up in the microwave for 30 seconds.
I have a few more important notes for you about these Banana Muffins:
The banana flavor is not very strong, however, if you are a huge fan of the banana flavor you can replace the cottage cheese with half a banana.
If you really can not have enough banana in your muffins you can add up to 2 medium bananas (200 g ). However, please know that the extra bananas will make for a

heavier

batter and the muffins will not rise the same way. Fill the liners up to 3/4 top.
For an extra coconut flavor, add 1 tsp of coconut extract.
You can skip the shredded coconut and mix in chopped nuts instead.
HAPPY BAKING!!!
Here are some more recipes you might enjoy:
And, one more thing…
Don't forget to tag @OneSarcasticBaker on Instagram if you bake this recipe. Would love to see your creations!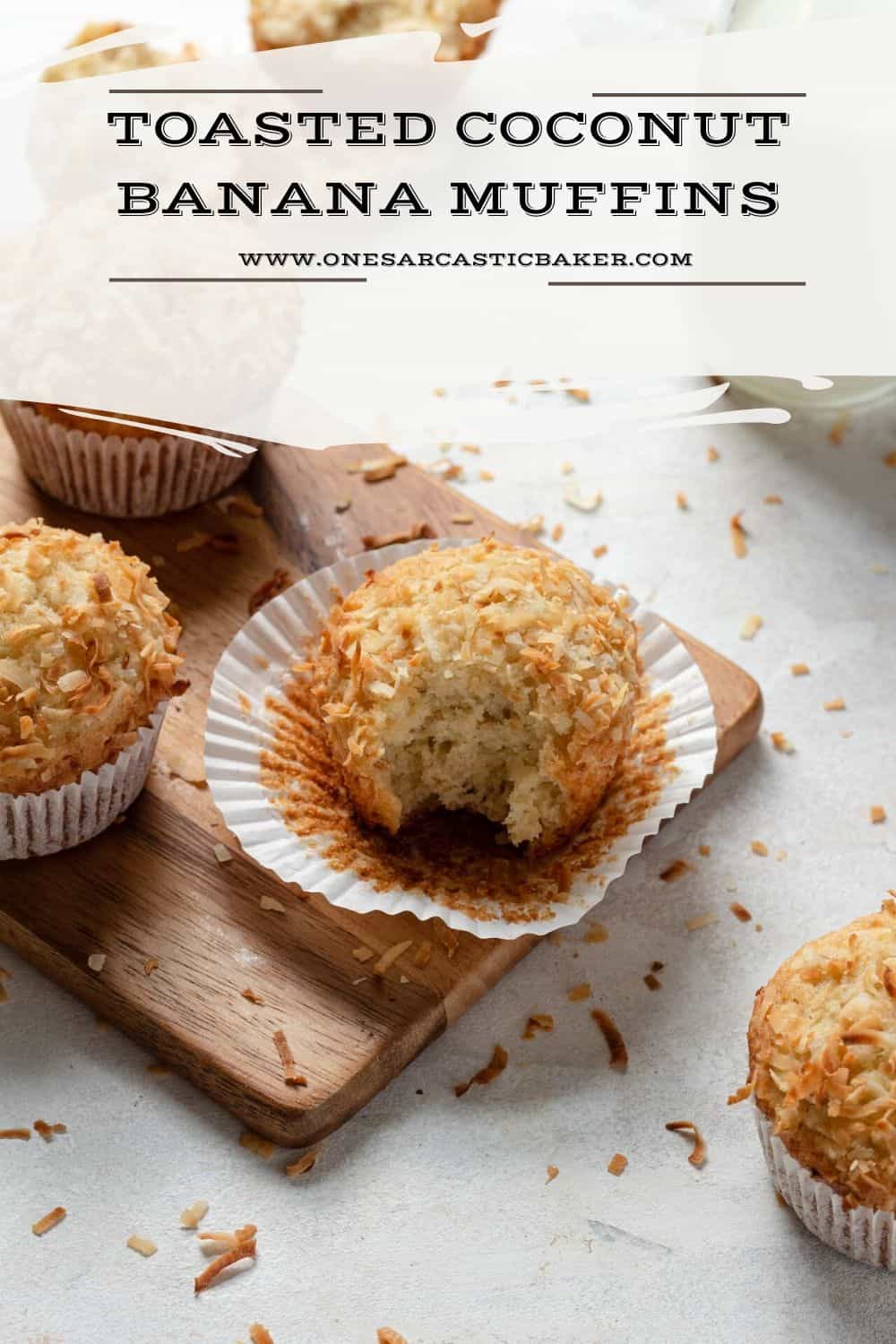 Toasted Coconut Banana Muffins
Ingredients
1 2/3

Cup

AP Flour

(200 g / 7 oz)

1/2

tsp

Baking Powder

1/4

tsp

Baking Soda

1/2

tsp

salt

3/4

Cup

Sugar

(150 g / 5.5 oz)

1

Medium

Riped Banana

( 90 g / 3.25 oz)

1/4

Cup

Cottage Cheese

(60 g / 2 oz)

2

Large

Eggs

1/2

Cup

Vegetable oil

(100 g / 3.5 oz)

1

Cup

Unsweetened toasted coconut (+ more for toppings)

(60 g / 2 oz)
Instructions
Toasted Coconut
Preheat oven to 350F, line a cookie sheet with parchment paper and evenly spread the coconut on top.

Bake for 4 minutes then remove from the oven and use a large spatula to toss the coconut.

Return to oven and bake for an additional 3 minutes.

Remove from the oven, toss again and let cool.
Toasted Coconut Banana Muffins
Preheat oven to 375F and line 8 muffin cavities with cupcake liners. Set Aside.

In a large bowl sift together the flour, baking powder, baking soda, and salt. Add the sugar and toasted coconut and use a fork to incorporate it all.

In a medium bowl, mash the banana and cottage cheese using a fork until the banana is fully mashed.

Beat in the eggs and drizzle in the oil.

Pour the wet ingredients over the dry ingredients and mix just until all is combined.

Fill the cupcake liners with the batter full to the top and sprinkle with 1-2 tsp of extra toasted coconut on top.

Bake for 15-18 minutes or until a toothpick comes out clean from the center of the muffins.

Remove from the oven and allow 5 minutes for the pan to cool before removing the muffins.
Recipe Notes
You can mix the sugar with the flour or with the banana mixture.