Last updated on January 3rd, 2023.
This Chocolate Chips Hazelnut Bread is not only moist, tender and loaded with flavors but also super easy and fast to bake.
This post is sponsored by Florida Crystals®, all thoughts and opinions are my own. Thank you for supporting the brands that make One Sarcastic Baker possible.
You guys! I am so excited about this recipe for a few great reasons. The first obvious one is that this bread is loaded with chocolate chips and chopped hazelnuts which makes it SO delicious.
Seriously, every bite is a mouthful of soft and tender cake packed with some crunchy hazelnuts that pair so well with the chocolate chips.
Another reason is that this is a "no mixer" recipe. The only thing we need to do is dirty up 2 bowls and a large spoon.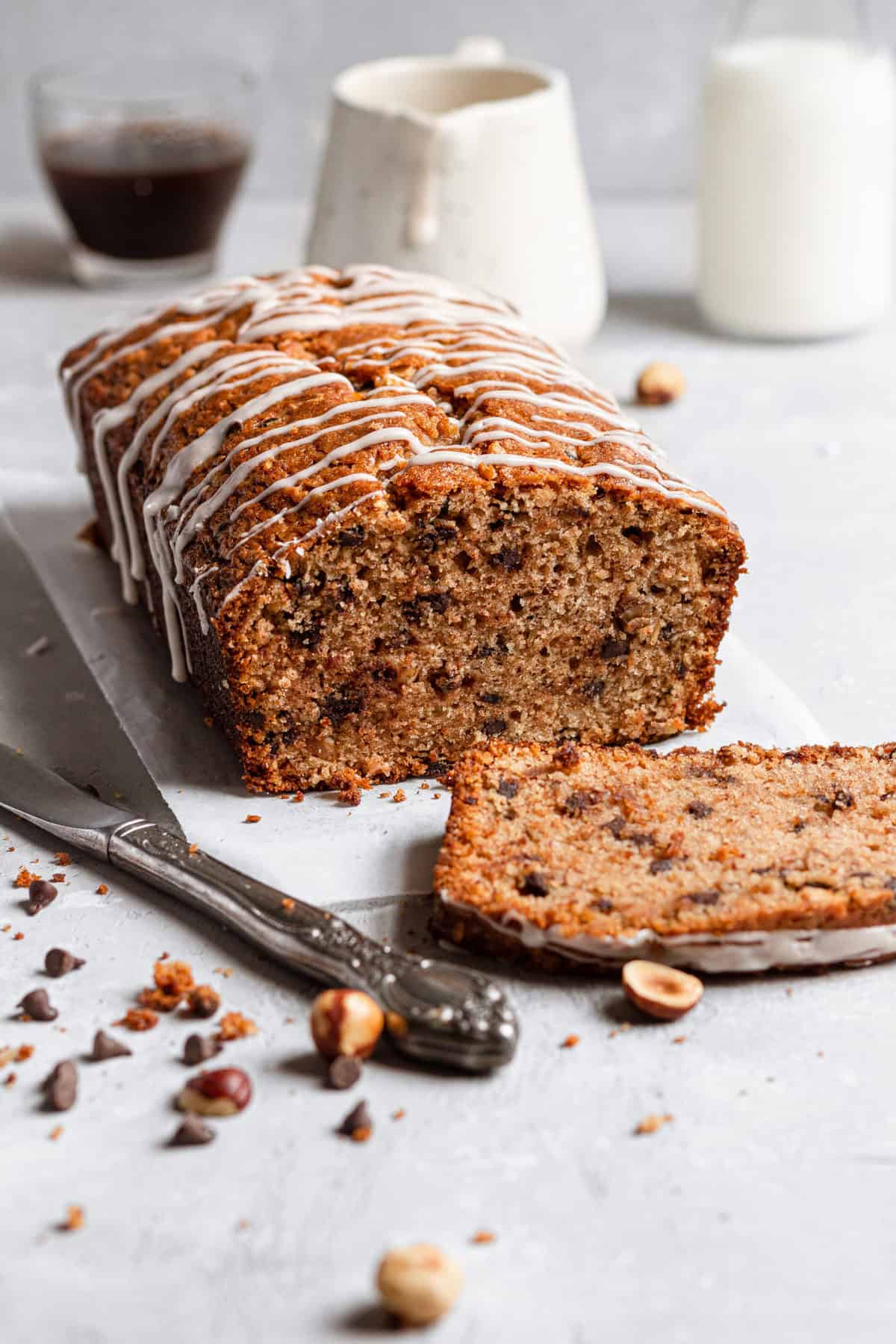 And, I used 3 types of Florida Crystals ® sugars. My favorite part about Florida Crystals® is that it is grown and crafted in Florida and it is 100% a product of the U.S. Not only that, the brand's philosophy is non-GMO/all organic, which naturally leads to more sustainable practices. That means they are using everything at their disposal to be more efficient and eco-friendly every step of the way. It starts with getting the most out of every stalk of sugarcane; which not only contains the sugar for the products they make but also brings the water needed for the process and the natural fiber required to create the clean energy to power their mill. And, I love the fact that they built "homes" for barn owls as a natural solution to control pests.
.
Ingredients in this chocolate chips hazelnut bread:
AP Flour
Baking powder and baking soda
Cinnamon and Nutmeg
Florida Crystals® Organic Powdered Raw Cane & Florida Crystals® Organic Brown Raw Cane. I like the combination of the two types of sugar. The brown sugar adds extra moistness to the cake without making it too dense.
Mini Chocolate chips are the best way to make sure the chocolate chips will not sink to the bottom of the bread. Also, the chocolate chips are evenly distributed.
Chopped Hazelnut, I chopped the hazelnut using a large kitchen knife to the size of the chocolate chips. This way I get a crunchy hazelnut in every bite.
Buttermilk is an acidic ingredient that when interacts with the baking powder and baking soda creates a moist and tender bread.
Vegetable oil to keep the cake light and tender.
Ingredients for the Glaze:
Equipment:
TWO BOWLS, Place dry ingredients in one large bowl, mix wet ingredients in a medium bowl and mix it all together with the oil.
9″ LOAF PAN, I like to grease the pan with softened butter and in addition line a parchment paper to make sure the cake will come out easily.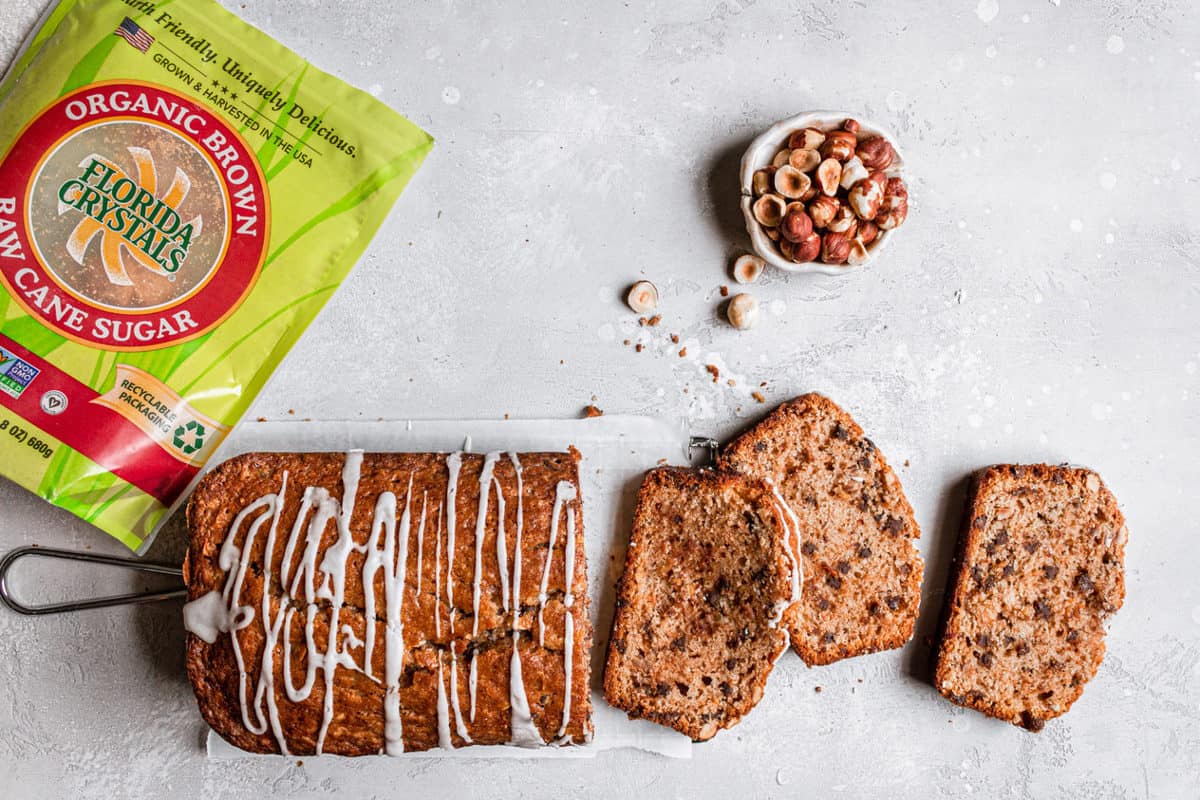 How to Store the bread:
The bread is best when stored at room temperature for up to 3 days. Also in the refrigerator covered up to one week. Or in the freezer for up to 2 months. It is best eaten when at room temperature.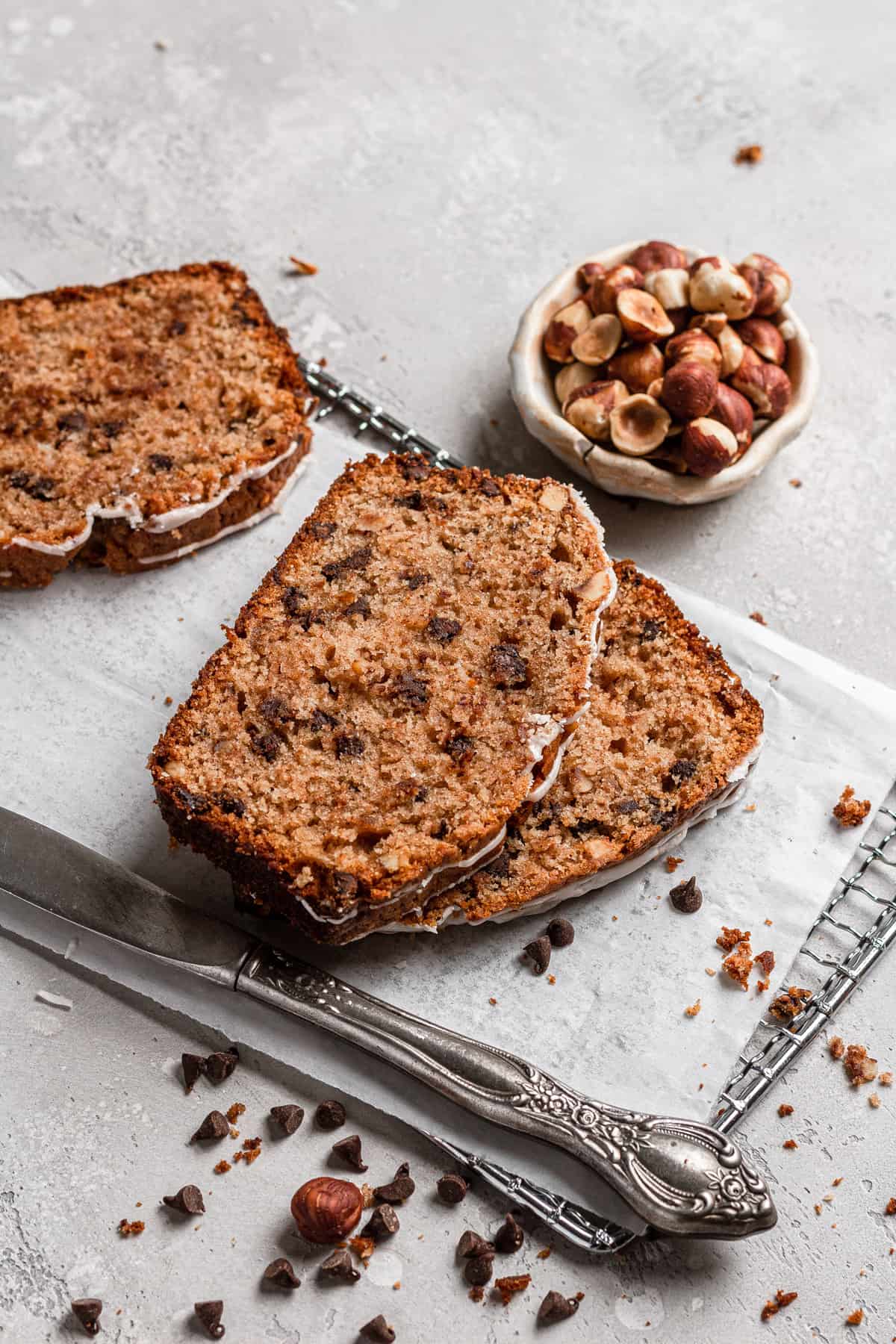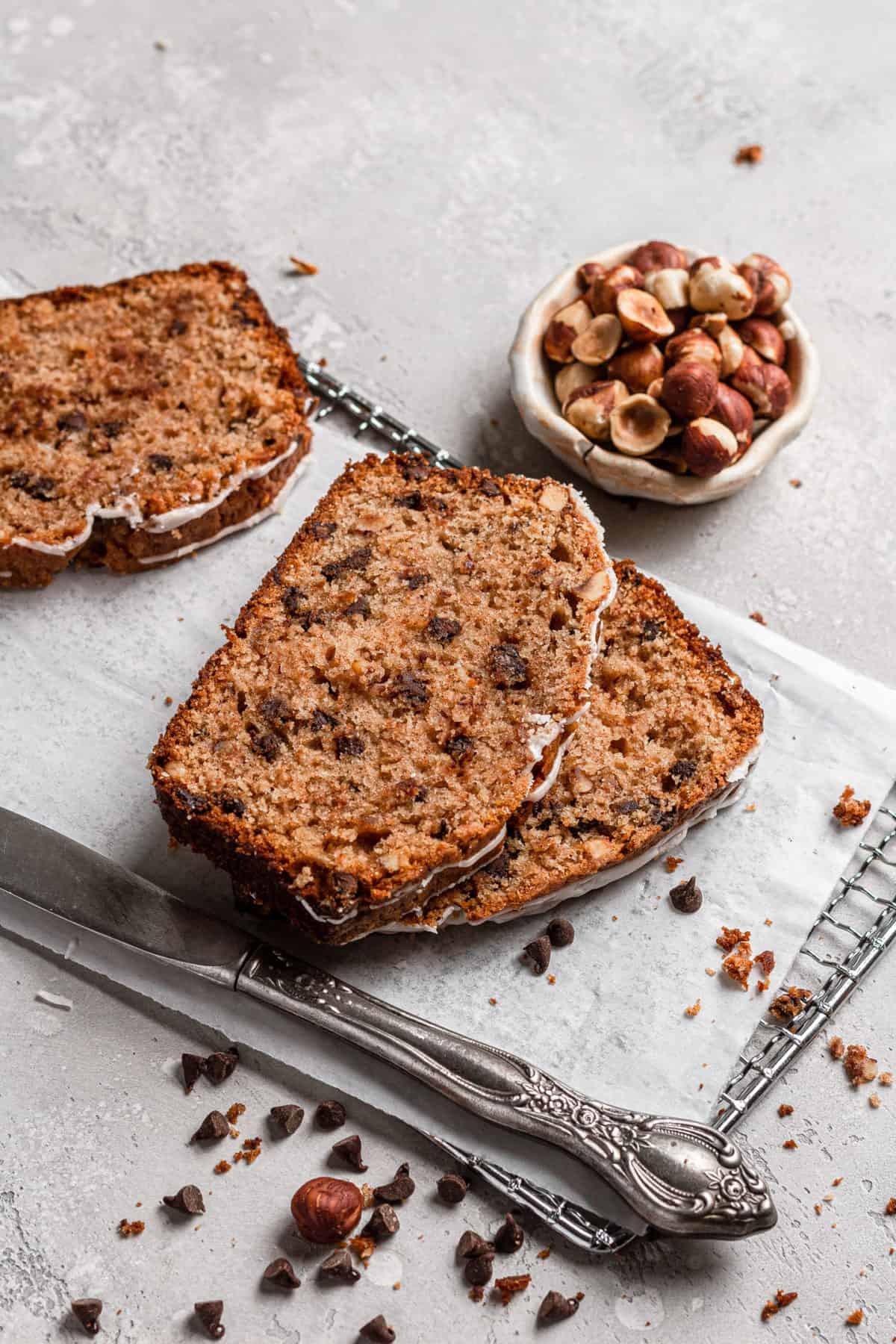 Now Let's Talk More Details About This Chocolate Chips Hazelnut Bread
Please make sure all ingredients are at room temperature. Otherwise, the bread might be dense.
It is very important not to over mix the batter. Mix just to incorporate the ingredients, few lumps are ok.
I added nutmeg for extra flavor. However, if you are not a fan feel free to skip it.
For a nondairy option, replace buttermilk with apple sauce and in addition use dairy-free chocolate chips.
When making the icing, start with 2 tsp of milk and mix. Add a tsp at a time until achieving your desired consistency.
Please note, the icing recipe will be enough to cover the bread. But if you chose to drizzle the bread feel free to cut the recipe in half.
HAPPY BAKING!!!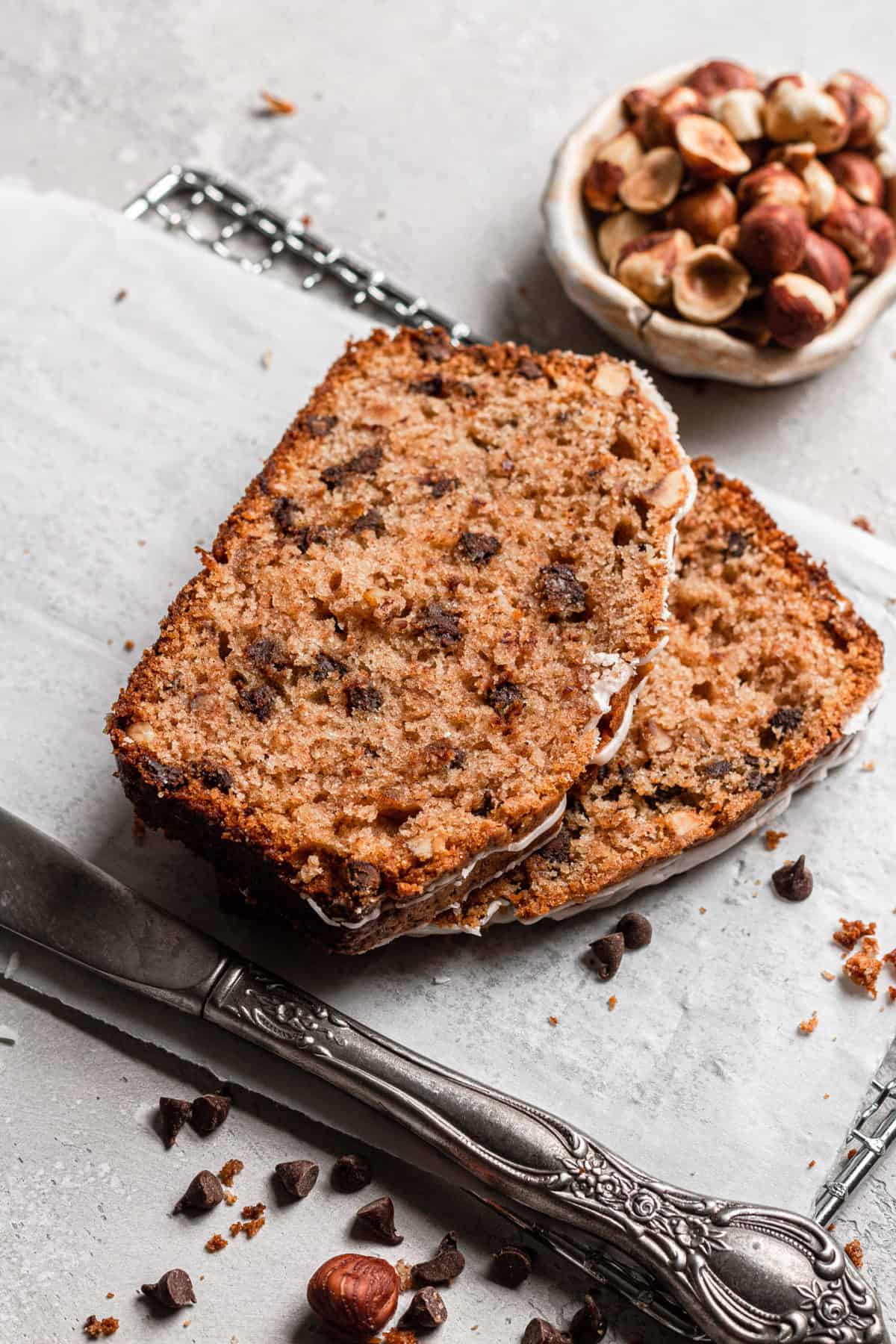 Also, are some more recipes you might enjoy:
And, don't forget to tag @OneSarcasticBaker on Instagram if you bake this recipe. Would love to see your creations!
Did you like this recipe and inspiring? Save THIS PIN to your Cakes, Desserts or Sprinkles boards.
Chocolate Chips Hazelnut Bread
Ingredients
1 2/3

Cups

AP Flour

(200 g / 7 oz)

3/4

tsp

Baking powder

1/4

tsp

Baking soda

2

tsp

Cinnamon

3/4

Cup

Florida Crystals® Organic Raw Cane Sugar

(150 g / 5.5 oz)

3/4

Cup

Florida Crystals® Organic Brown Raw Cane

(150 g / 5.5 oz)

1/2

Cup

Mini chocolate chip

(85 g / 3 oz)

1/2

Cup

Chopped Hazelnut

(60 g / 2 oz)

2

Large

Eggs

3/4

Cup

Buttermilk

(180 ml / 6 oz)

1/2

Cup

Vegetable oil

(120 ml / 4 oz)
Cinnamon Glaze
1

tsp

Cinnamon

1 1/2

Cup

Florida Crystals® Organic Powdered Raw Cane

(170 g / 6 oz)

2

TBS

Milk
Instructions
Preheat oven to 350 F. Line a 9"x3" loaf pan with parchment paper and grease the parts that are exposed.

Sift flour, baking powder and baking soda in a large bowl. Add sugars, chocolate chips, and chopped hazelnuts. Use a hand whisk or a large spoon to blend all ingredients together.

In a separate bowl, beat eggs, add buttermilk and pour the mix into the flour mix. Drizzle in the oil.

Using a hand whisk or a large spoon, mix the ingredients just until they come together. Do not over mix, few lumps are ok.

Pour batter in greased pan and bake for 45-50 minutes or until a toothpick comes out clean from the center of the cake.

Remove from the oven and let cool for about 15-20 minutes before removing from the pan.

Once ready to serve, mix powdered sugar with cinnamon. Add milk and mix. Drizzle on bread and serve.