Last updated on October 26th, 2021.
These Blueberry Pie Muffins have it all. A crispy pie crust topped with sweet blueberry pie filling layered with a tender, fluffy and flavorful blueberry muffin.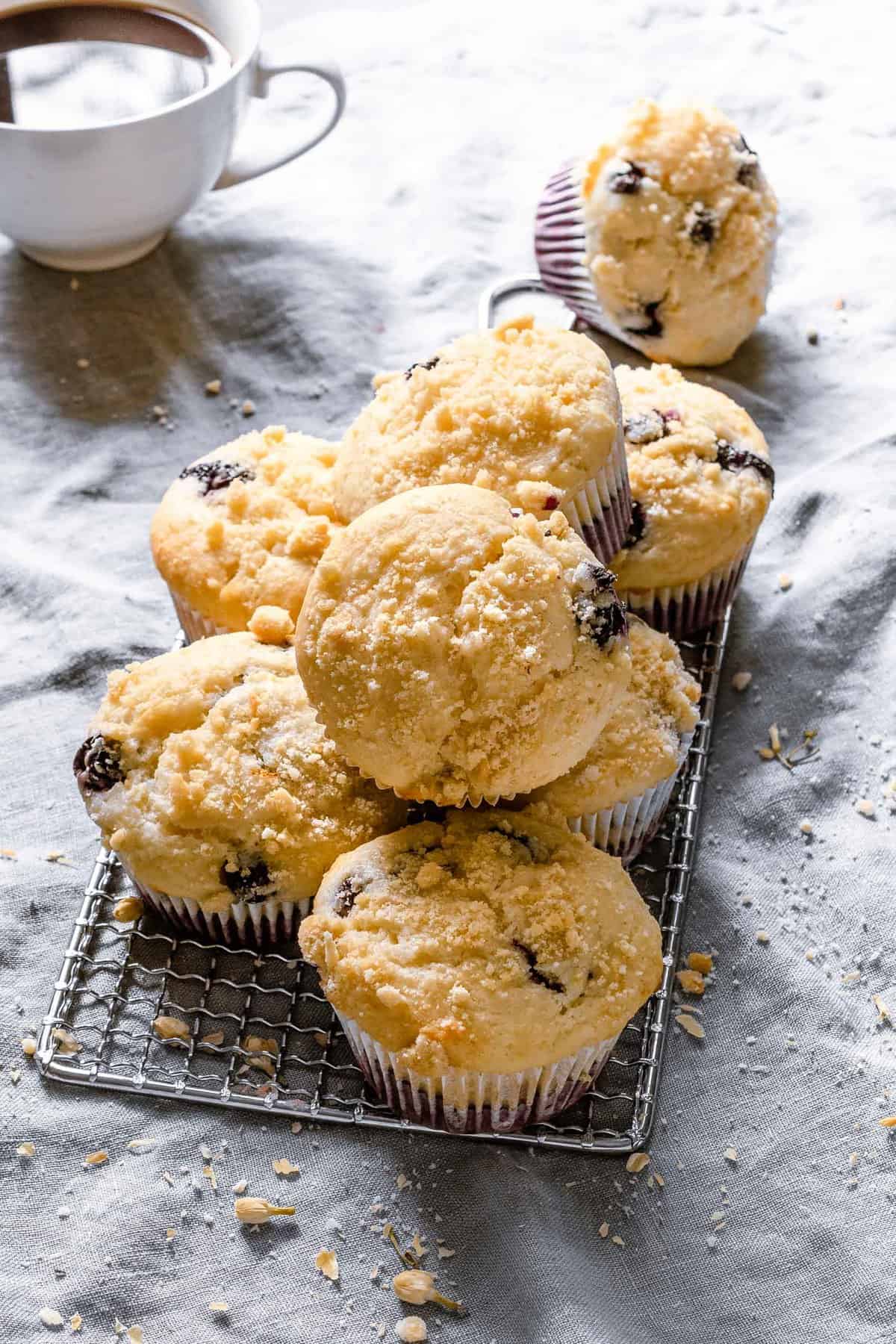 If you follow me on Instagram, you probably are aware of my wired pie obsession. It is by far my favorite dessert. One I officially tried a few years after I moved to the states, skeptical about what all the fuss is about. However, it was love at first bite and since then I have been perfecting my homemade pie craft. (almost there!)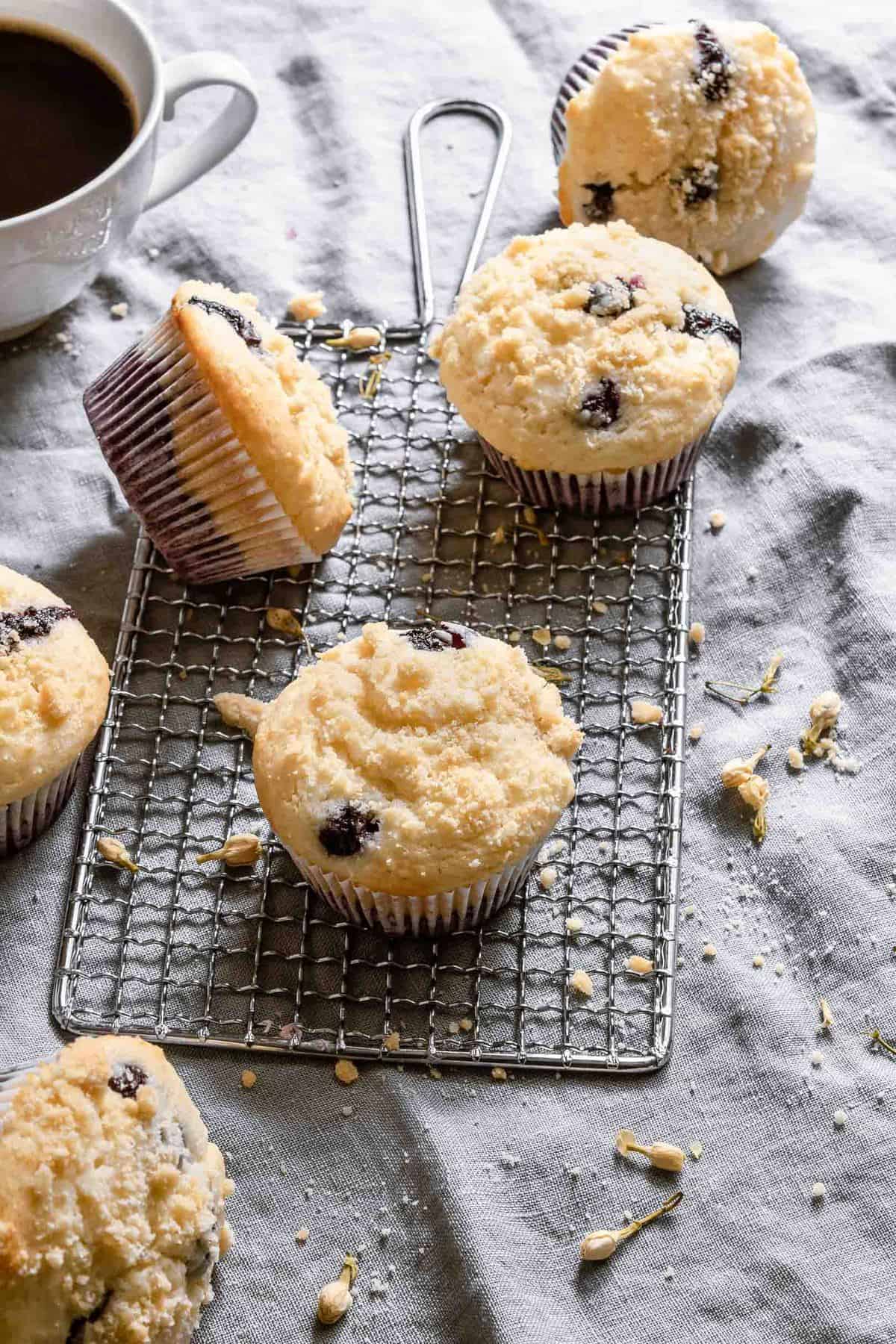 There is a certain Leonardo De Caprio "King Of The World" moment when achieving the perfect flaky and tender pie crust. When that happens every dough scrap counts. That's when creativity is kicking in and recipes like this Blueberry Pie Muffins come to life.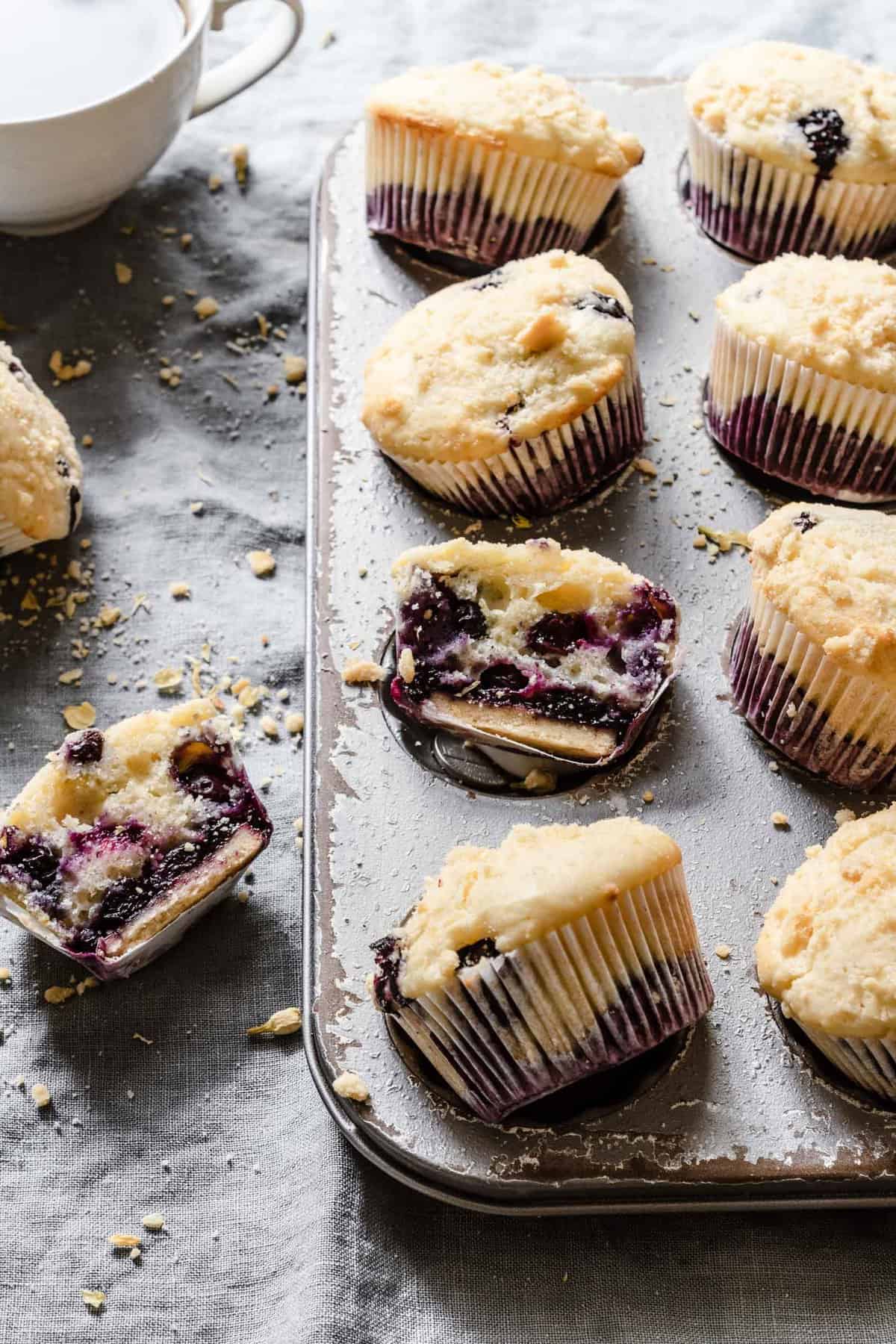 I made Blueberry filling simply because I had some blueberries in the fridge. Hence you can use any filling you wish like cherry, raspberry, peach even poppyseeds.
Baking muffins is simple, fast and requires basic steps:
Place dry ingredients in a bowl.
Add wet ingredients.
Mix to incorporate
Fold in blueberries.
In addition, turning Blueberry muffins into Blueberry Pie Muffins requires few more simple steps:
Place half baked pie crust in the muffin liner.
Toppie crust with blueberry filling.
Add muffin batter.
Sprinkle with pie crust crumbs.
Now Let's Talk About This Blueberry Pie Muffins:
THE PIE CRUST:
I used scraps from a homemade blueberry pie crust I made a few days earlier. But, You can use a store-bought pie crust or a homemade one.
To make sure the pie crust layer is the right size, measure the base of the muffin liners you are using before cutting the pie crust.
Use a small fork to prick the crust before baking to avoid it from puffin.
Brush the crust with egg white and sprinkle it with cinnamon sugar.
Bake some crust scraps for the muffins toppings.
Few more words about the pie crust:
The reason the recipe calls for half baked pie crust, it is the best way for both the crust and the muffin to have a tender, soft bite.
Different pie crust brands and recipes require different temperature and/or time to fully bake. The best way to know if the pie crust is ready for this specific recipe is to look at the bottom of the crust, it should be lightly golden but still on the pale side.
However, if you have any concerns just bake it all the way.
THE PIE FILLING:
You can go ahead and use store-bought blueberry pie filling. However, homemade tastes the best.
The filling can be made a few days in advance and after that kept in the refrigerator. If you make it the same day, allow it to cool down before using it.
THE MUFFIN BATTER:
This recipe can be baked like a regular blueberry muffin. To do that, skip the pie crust and pie filling and in addition increase the fresh blueberries to 2 cups.
Please make sure all the ingredients are at room temperature.
Do not over mix the batter, mix just to combine the ingredients. It may look lumpy and it is ok.
Fill the muffin liners 3/4 full. Because the batter has baking soda the muffins will overflow and get flat during baking if the liners are full all the way to the top.
However, for tall and domed muffins drop the baking soda and increase baking powder to 2 tsp.
HAPPY BAKING!!!
Here are some more muffins recipes you might enjoy:
One more thing…
Don't forget to tag @OneSarcasticBaker on Instagram if you bake this recipe. Would love to see your creations!
Blueberry Pie Muffins
Ingredients
For the Blueberry Muffins
2

Cups

AP Flour

(224 g / 8 oz))

1/2

Cup

Sugar

(100 g / 3.5 oz)

1 1/2

tsp

Baking Powder

1/2

tsp

Baking Soda

2

tsp

Lemon zest

1

Cup

Full Fat Sour Cream

(224 g / 8 oz )

2

Large

Eggs

1/2

Stick

Unsalted Butter, melted

(60 g / 2 oz)

1

Cup

Fresh Blueberries

(100 g / 3.5 oz)
For the Blueberry Pie Filling
1

Cup

Sugar

(200 g / 7 oz)

3

TBS

Corn Starch

1

tsp

Ground Cinnamon

2

Cups

Fresh or frozen Blueberries

(200 g / 7 oz)

1/2

Cup

Water

15

2"

Pie Crust circles half baked. (please see notes above recipe)
Instructions
To Make the Blueberry pie Filling
Place the sugar, cornstarch, cinnamon and blueberries in a medium pan.

Add the water and stir to combine. Cook on medium-high until starting to boil.

Reduce heat to low and let cook for about 10 minutes or until the mix has thickened.

Remove from heat and allow to cool to room temperature. The filling can be refrigerated in a tight container for up to a week.
To Make The Muffins
Place the flour, baking soda, baking powder, sugar and lemon zest in a bowl.

Add the eggs, sour cream and melted butter and mix just to combine.

Gently fold in the blueberries.
To Assemble
Preheat oven to 350F and line 1 muffin tin with muffin liners.

In each liner place the half baked pie crust circle.

Add 1 TBS of blueberries pie filling and make sure is it evenly distributed.

Add a layer of muffin batter 3/4 full.

Crumble some pie crust and sprinkle on top.

Bake for 20-25 minutes or until a tootch pick comes our dry from the center of the muffin.

Remove from the oven and allow to cook for 15-20 minutes.