Last updated on December 2nd, 2022.
This post is sponsored by Aunt Sue's Raw & Unfiltered Honey. All opinions and thoughts are my own. Thank you for supporting the brands that help make One Sarcastic Baker possible.
Honey Orange Blossom Baklava Muffins are a refreshing way to add some flavor to the breakfast table. These muffins are Soft and tender with a crunch tops.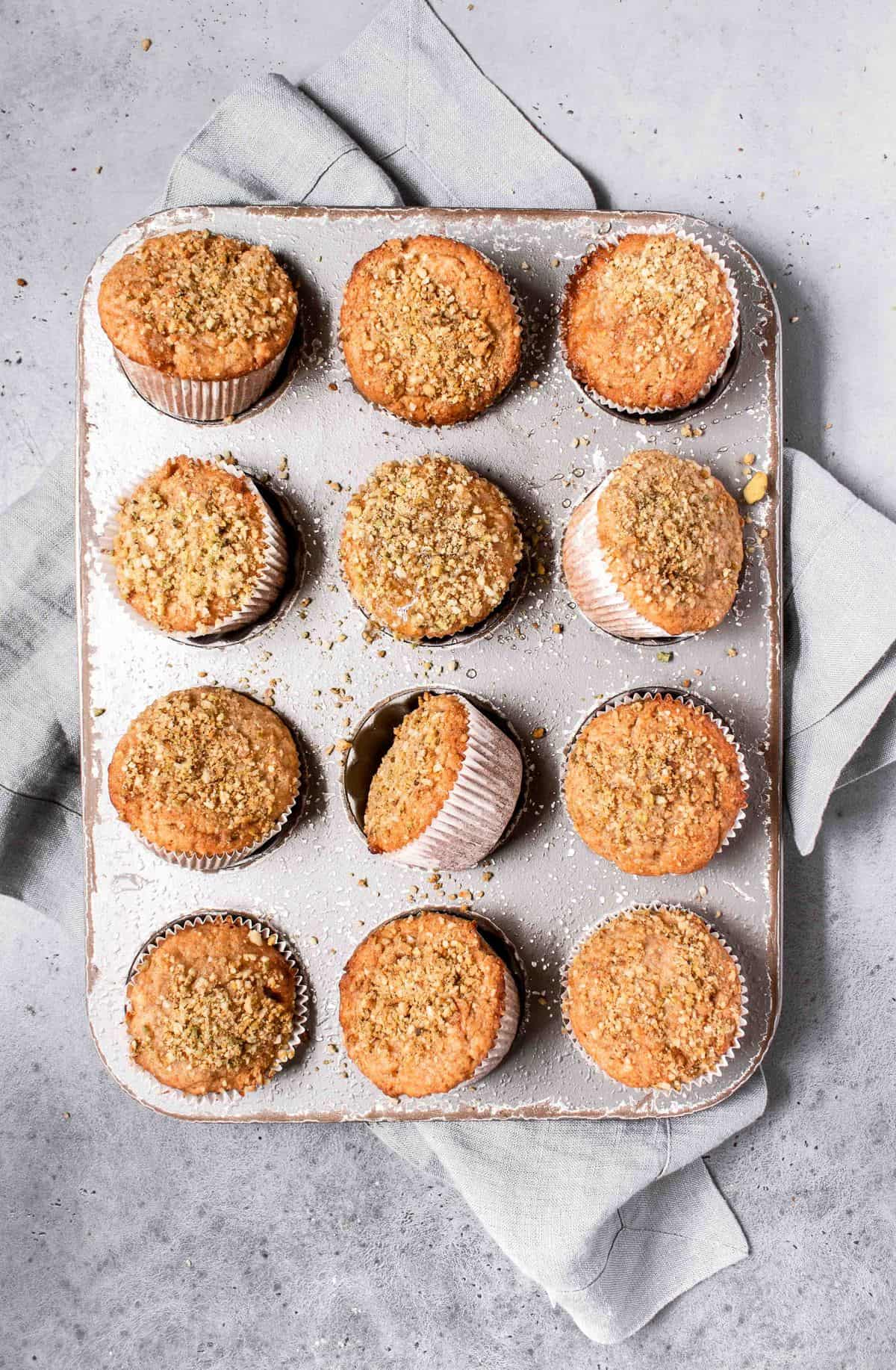 Yes, you are correct to believe that this Muffin recipe was inspire by my latest Honey Orange Blossom Baklava recipe.
It is also my way of helping the environment.
Allow me to clarify. My oldest daughter Emily is 8. Rememberer this magical age when your teacher is a super hero and you can change the world with just an idea?
Well, Emily learned in school all about the bees. How important they are to our eco system and environment. She even learned all the different ways one person can help them and make a difference.
Yep, you guessed it. She wanted mommy to adopt a beehive. She even pinky swore she won't run screaming when ever she sees one (made her take it back). My reply was a big hard NO. I could argue with her that her desire for a beehive is just a phase. (Like the time she sprinkled mini lego all over the steps and her bedroom floor so she can hear the tooth-fairy.) (ohhhhhch!!! also, she's a fairy…she has wings!!!).
But instead, I just reassured her that BUYING the right honey is just as good as having your own beehive. (note to teachers, please add that to the list of ways to help.) I even pointed to the honey that was sitting on the breakfast table. Sue Bee Honey is not only delicious honey, but it is also made by a group of beekeepers right here in the US. And since they have been doing it for literally 100 years, the bees are in good hands. Best for the bees and the environment that mommy will stick to baking.
So Honey Orange Blossom Baklava Muffin recipe was borned. As the perfect breakfast condiment, Sue Bees honey really enhances the flavors in the Baklava. Plus, I get to drizzle it and make a sweet sticky mess.
Now let's talk about these Honey Orange Blossom Baklava Muffins:
Before baking, ensure all ingredients are at room temperature (including the sour cream).
Like the Baklava, use whichever nuts you wish. Same with spices.
The nuts should be finely ground for even distributions.
When adding the dry and liquid ingredients, ensure you don't over-mix. Mix with a rubber spatula the last amount of flour.
If you don't have Turbinado sugar in hand, go ahead and skip it. This sugar is meant to give the muffins tops crunch, it will not affect the flavors.
Here are some more Honey Recipes you might enjoy:
One more thing…
Don't forget to tag @OneSarcasticBaker on Instagram if you bake this recipe. Would love to see your creations!
Honey Orange Blossom Baklava Muffins
Soft, tender, and full of flavors with a crunchy tops.
Ingredients
1 1/2

Cups

Mixed nuts

(150 g / 5.5 oz)

1 2/3

Cups

AP Flour

( 200 g / 7 oz)

1

tsp

Baking Powder

1/4

tsp

Baking Soda

2

tsp

Ground Cinnamon

1/4

tsp

Salt

3

TBS

Turnbinado sugar

3/4

Cup + 1 TBS

Full fat Sour Cream

(200 g / 7 oz)

2

TBS

Orange Blossom Water

1

tsp

Vanilla Extract

2

Large

Eggs

1

Stick

Butter,soften

(113 g / 4 oz)

1/2

Cup

Sugar

(100 g / 3.5 oz)

1/4

Cup

Sue Bees Honey

(75 g / 2.5 oz)
Instructions
Preheat oven to 400F and and line 2 muffin tins with muffin liners (you will need about 18 liners)

In a medium bowl, sift the flour baking powder, baking soda, salt and cinnamon.

In the Food processor, place the nuts and process until finely grained. Measure 1/4 cup (60 g/ 2 oz) and add it to the flour mix, stir to combine and set a side. Reserve the remaining of the nuts.

In a separate bowl mix the remaining of the nuts with the Turbinado sugar.

In a large measuring cup, add the sour cream, orange blossom, vanilla and eggs and mix to combine.

In a bowl of a standing mixer place the butter, sugar and honey and mix on medium beat using the paddle attachment until fluffy.

Reduce speed to low and add the flour mix in 3 additions alternating with the liquid mix.

Right after adding the last addition of the flour turn the mixer of and finish mixing with a rubber spatula.

Evenly divide the batter between the muffin liners, filling the cups 3/4 full. Sprinkle each muffin with the Turbinado and nuts mix.

Bake for 5 minutes on the middle rack then reduce heat to 375 and bake for additional 12-15 minutes or until a tooth pick comes out clean from the center of the muffins.