Last updated on April 20th, 2022.
This Blueberry Lavender Pie is timeless. It is so indulging yet light and fresh, and the most delicious treat you can enjoy any time of the year.
Lucky for us here in the great US of A, we get to enjoy blueberries all year long. And whenever I see a big beautiful blue basket of these tiny pearls I know it is playtime in my kitchen.
A while back I made this amazing Blueberry Cinnamon layer cake. But this time I decided to go with Blueberry Lavender Pie because I wanted to roll up my sleeves and dive deep into some baking Science and talk a bit about Thickeners. Well, thickeners agents AKA starches in fruit pie to be more precise. It will be short and painful, promise. But if you are not really in a pie mood, then check out this Blueberry Pie Muffins and even this Blueberry Babka.
What are starches?
In the baking science world, starches are thickening agents that in a liquid and heat environment it increases it viscosity (state of thickness) without modifying its other properties such as taste.
How Do Starches Thickens?
The process is called gelatinization and the catalyst is heat. At the presence of water and heat the bond of the starch grains is breaking down and allowing the grains to absorb more water much like a sponge. Different types of starches will thicken at different temperatures and will absorb different amounts of liquid.
When it comes to fruit pies, there are 3 main starches that are mostly used:
Flour
Cornstarch
Tapioca (quick cooking Tapioca)
Flour:
The most common and affordable. Flour is not pure starch as it is driven from wheat which means it contains protein and fewer starch grains. That means we need to use about 1.5 times more amount than pure starch.
The important thing to know about flour as a thickener is that it starts thickness at a fairly high temperature, 208F. With fruit pies, it can create an issue since the longer we bake the pie the higher chance we have for the fruit to collapse. (hello top crust gap!)
Cornstarch:
The most common starch used in the USA is inexpensive and readily available. Cornstarch is pure starch and begins to thicken at 180F. Cornstarch does not have any flavor or appearance and my favorite quality of it is that it has a smooth un-elastic texture.
Tapioca (quick cooking Tapioca):
The second most used starch is mainly because it is more expensive as it is primarily imported from Thailand and Brazil. Tapioca begins to thicken at a lower temperature than cornstarch about 130F-150F. The thing about Tapioca is that it breaks down faster than cornstarch which is why I recommend using it with streusel pie or a well vented double-crust pie. (Double crust pie requires a longer baking time). Tapioca has the ability to absorb more liquids, it turns clear with heat and has more of a jello-like texture.
Different fruits require a different amount of thickeners, I found THIS article to be super helpful.
What ingredients are in this Blueberry Lavender Pie?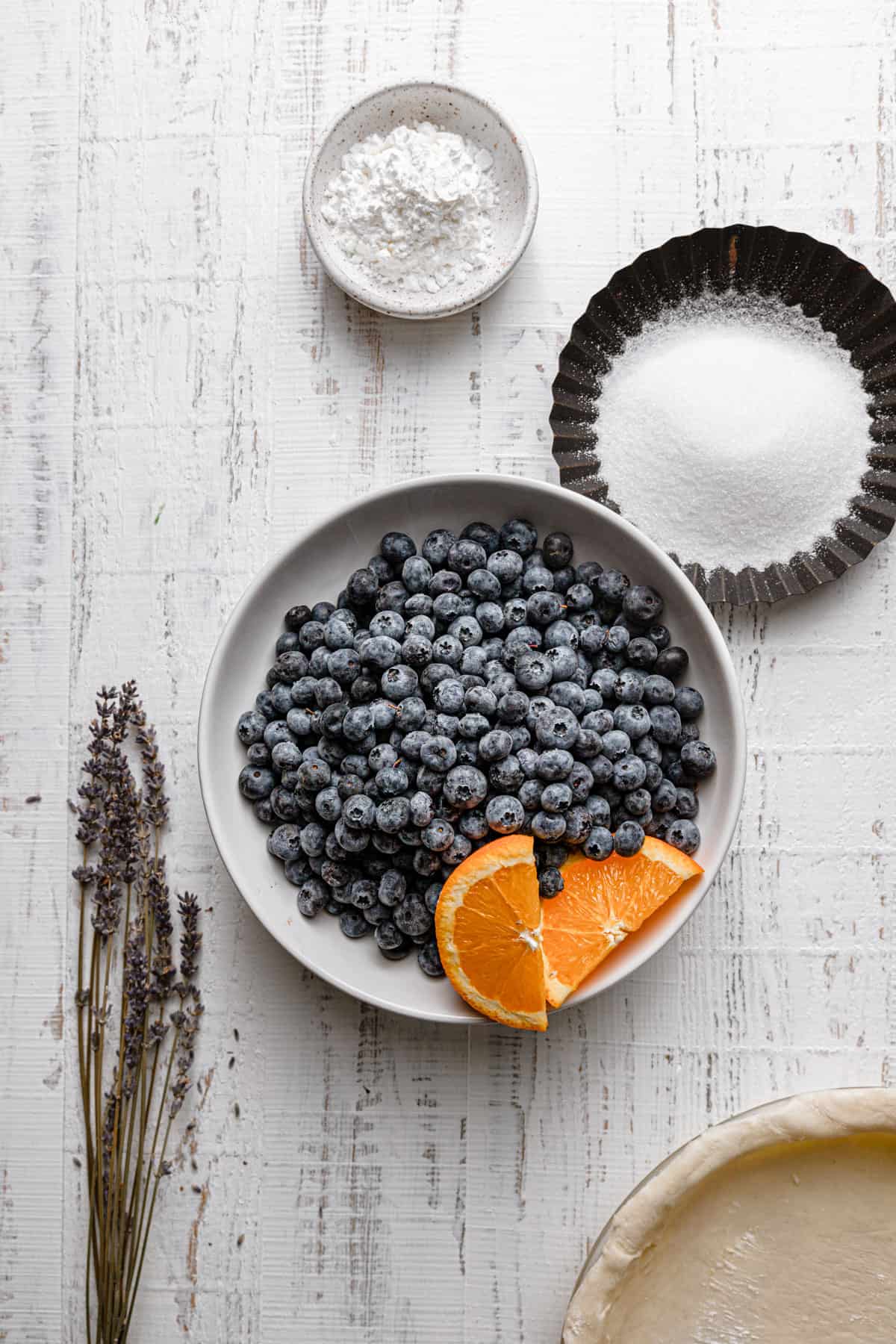 Double crust pie dough (the below recipe is made using a pastry cutter. But for a full tutorial on how to make pie crust using a food processor, click HERE)
Blueberries, fresh.
Fresh squeezed Orange Juice
Orange juice
Lavender
Sugar
Cornstarch
Making the pie:
When it comes to pie planning is key.
The main reason is that the pie crust requires a few chilling times during the making of the dough and pie. As we all know the secret is in the crust and as so, it can make or break the end result. Having said that, I will add and say that if you are a savvy pie baker stick to your own routine. This filling will work with any type of crust.
So, step one is to make the pie crust then line it in a 9″ pie dish, trim the edges, and let rest in the refrigerator for a minimum of 2 hours.
When ready to bake, preheat the oven to 425F and set an oven rack on the lowest oven shelf.
In a separate medium bowl, mix the corn starch and sugar together until well incorporated.
Why?
When we take this extra step we make sure there are no cornstarch lumps hiding between the blueberries. Unlike sugar, cornstarch will not melt during baking. Having lumps in the filling may prevent cornstarch grains from absorbing the liquids.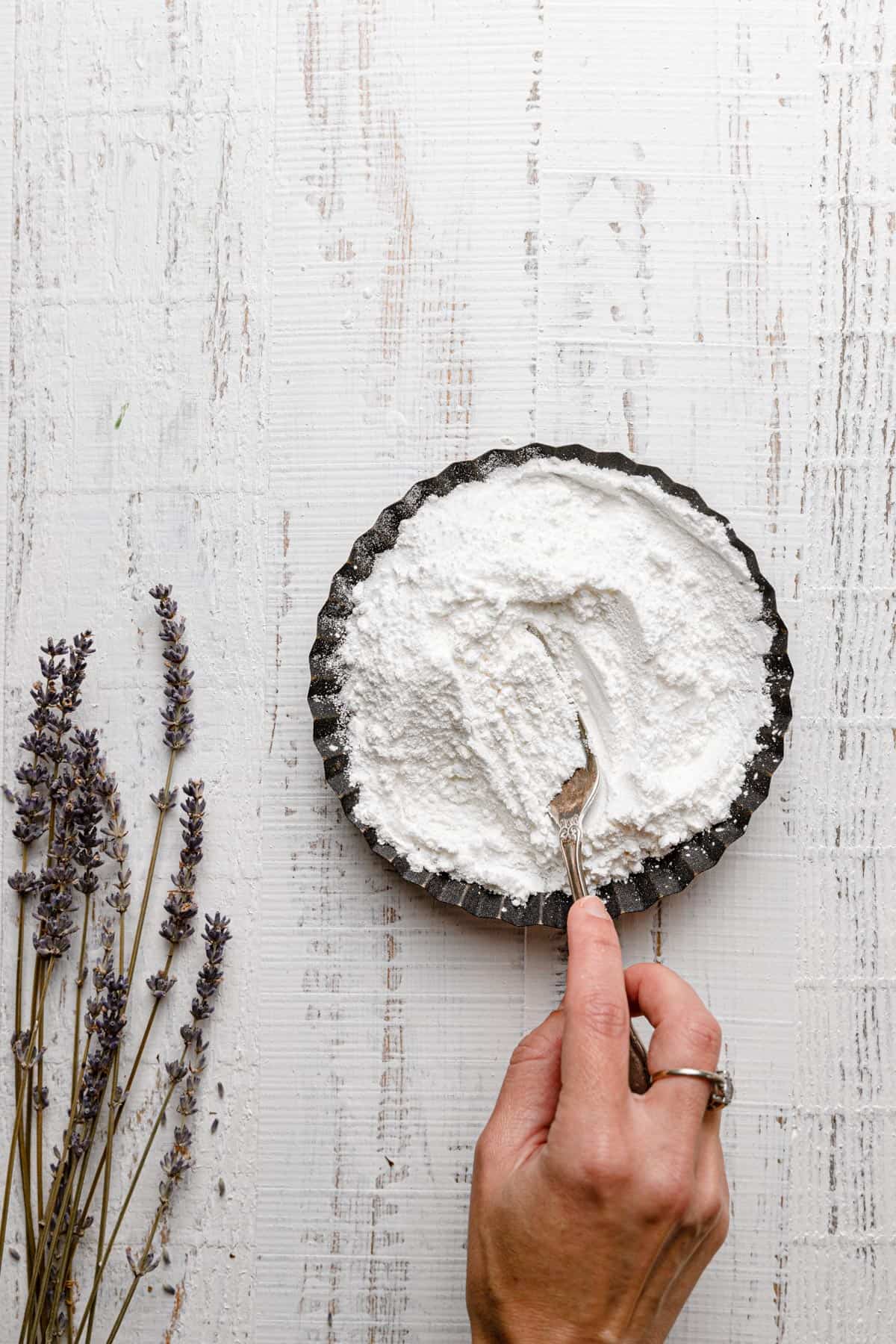 In a large bowl, place the blueberries, orange juice, orange zest, and chopped lavender, and use a rubber spatula to distribute.
Sprinkle the sugar/cornstarch mixture and mix for even distribution.
Pour the filling into the pie shell, and cover with some more pie crust. Next, place in the refrigerator to chill for 45 minutes.
A note about Lavender:
A little goes a very long way. The main reason I added it to the recipe is that it adds sweetness to the fruit not so much for extra flavor. If adding too much the pie will taste more like perfume than blueberries. Also, feel free to remove it completely if you're not a fan.
Remove from the oven, brush with an egg wash, and bake at the lowest oven shelf. On top of a large cookie pan.
Baking this Blueberry Lavender Pie:
Whenever baking a fruit pie, it is very important to place the pie dish on top of a large cookie pan lined with parchment paper.
Firstly, the pan will make sure no filling will drip on the oven floor. Secondly, the pan will act as an additional, however, more even heat conductor meaning the filling will cook evenly at the same time.
Bake the pie on the lowest oven shelf.
Start with 425F for the first 15 minutes then reduce to 350F and bake for additional 45-50 minutes.
How To Know The pie Is Ready?
The million-dollar question. To be honest I can not think of just one clear answer because there are many variables. Such as what fruits are we baking? Is it very ripe, store-bought, or fresh from the farmer's market?
The pie is ok to be taken out of the oven when the crust is golden brown and the liquid is bubbly.
Know that if we over-cook the fruit it will collapse into a flat layer but let's say we undercooked it a bit, we will still have a nice pie structure. Even more so, if we made a good flaky pie crust it will stand up to the test of the extra liquid.
HAPPY BAKING!!!
Here are some more pie recipes you might enjoy:
Also, one more thing…
Don't forget to tag @OneSarcasticBaker on Instagram whenever you bake this recipe. Would love to see your creations!
Did you like this recipe and find it inspiring? Save THIS PIN to your Desserts and Pie Baking Science boards.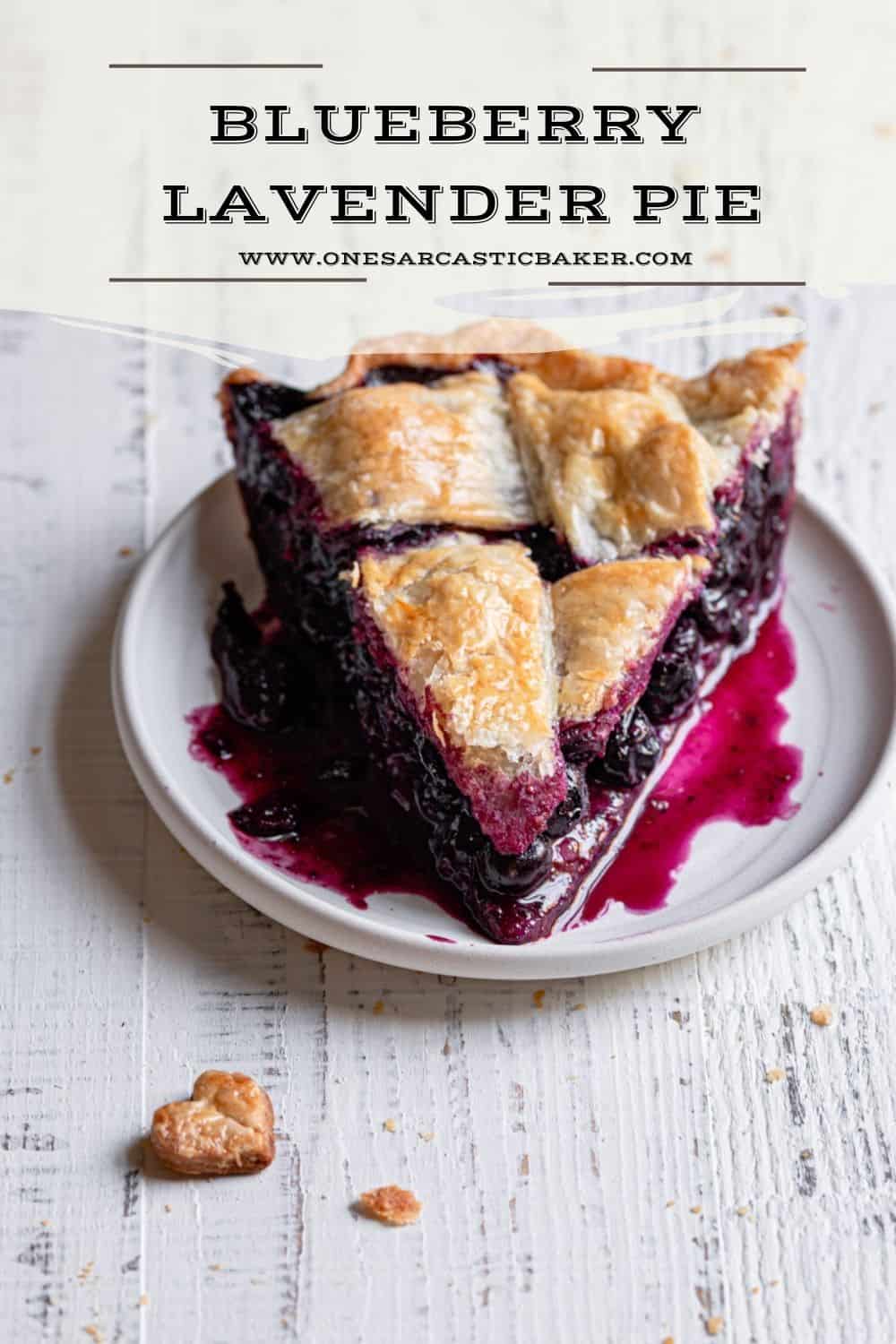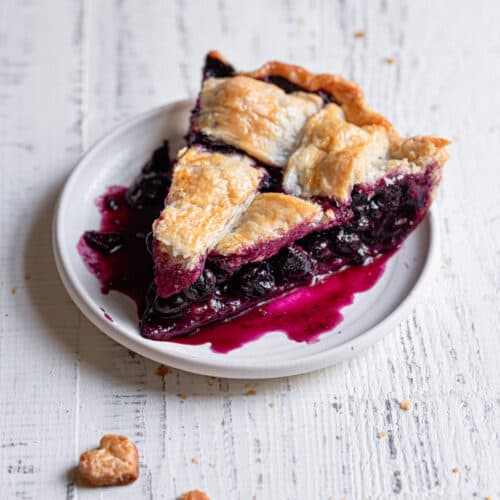 Blueberry Lavender Pie
Fresh blueberry lavendar pie withhomemade crust
Ingredients
Pie Crust
3

Cups (-2 TBS)

AP Bleach Flour

(340 g / 12 oz)

1/4

tsp

Baking powder

1/2

tsp

Salt

1

Cup

Unsalted butter, cubes very cold

(225 g / 8 oz)

1 1/2

TBS

Apple cider vinegar

1/3-1/2

Cup

Ice water
Pie Filling
6

Cups

Fresh Blueberries

1

Cup

Sugar

(200 g / 7 oz)

6

TBS

Cornstarch

(42 g / 1.5 oz)

1/2-3/4

tsp

Chopped lavender

2

TBS

Fresh squeezed Orange juice

1/2

Orange

Zest
Instructions
Pie Crust
Cut the butter to 1/2" cubes, wrap in a plastic bag, and place in the refrigerator for a min. of 30 minutes

Measure the flour, baking powder, and salt, mix to combine, and place in the freezer for a min. of 30 minutes.

In a large bowl, place the flour mix and butter and toss the butter with your finger to evenly coat it with flour.

Use a pastry cutter to cut the butter into the flour until it is the size of small peas.

Sprinkle the apple cider vinegar and 4 TBS of ice water (no ice, just water) and use a rubber spatula to incorporate the water and vinegar into the flour.

Pinch a small amount with your finger to check if ready. If the mix is holding its shape it is ready, if not add 2 TBS at a time.

Pour the flour mixture on a large piece of plastic wrap, grab both sides of the wrap with your hands and pinch the dough to form a disk.

Divide the dough into 2 , wrap each piece in a separate plastic bag, and place in the refrigerator for a min. of 30 minutes preferably overnight.

Roll one piece of dough into a 12" circle and line a 9" pie pan with the dough. Cut any access dough. Place back in the refrigerator for a min. of 2 hours.
Pie Filling
In a medium bowl, blend together the sugar and cornstarch.

Place the blueberries in a large bowl along with the orange juice, orange zest, and chopped lavender.

Add the cornstarch/sugar mix on top and use a rubber spatula to evenly distribute.

Remove the pie crust from the refrigerator and pour the pie filling on top.

Use the second half of the dough to roll and cover the pie (or make your own design), seal the edges.

Place back in the refrigerator for 45-60 minutes.

When ready to bake, preheat oven to 425

Line a large cookie pan with parchment paper and place the pie on top. Brush the pie with egg wash and place it in the lowest oven rack.

Bake for 15 minutes, then reduce temperature to 350F and bake for additional 35-40 minutes.

The pie is ready when the filling is bubbling and the crust is golden brown.

Remove from oven and let 2 hours to cool before slicing.