Last updated on December 2nd, 2021.
Fresh Cherry Mini Pies are the best way to enjoy summer's sweet and juicy fruits. Tender and flaky pie crust layered with a generous creamy layer of cream cheese filling and topped with fresh cherries coated with citrusy simply syrup and fresh chopped mint.
My love for pie runs deep and when summer hits the market my excitement for the endless fruit pies possibilities knows no limits. And thou the smell of caramelized fruit is one of life's biggest joys sometimes it's fun to just let the fruit shine on its own. "Free-Style", meaning no thickeners, no baking time, and no hovering over the oven's door in search of some bobbles.
All of the above plus a tender and flaky pie crust. After all, it does mention pie in the title.
What Ingredients are in this Fresh Cherry Mini Pies Recipe: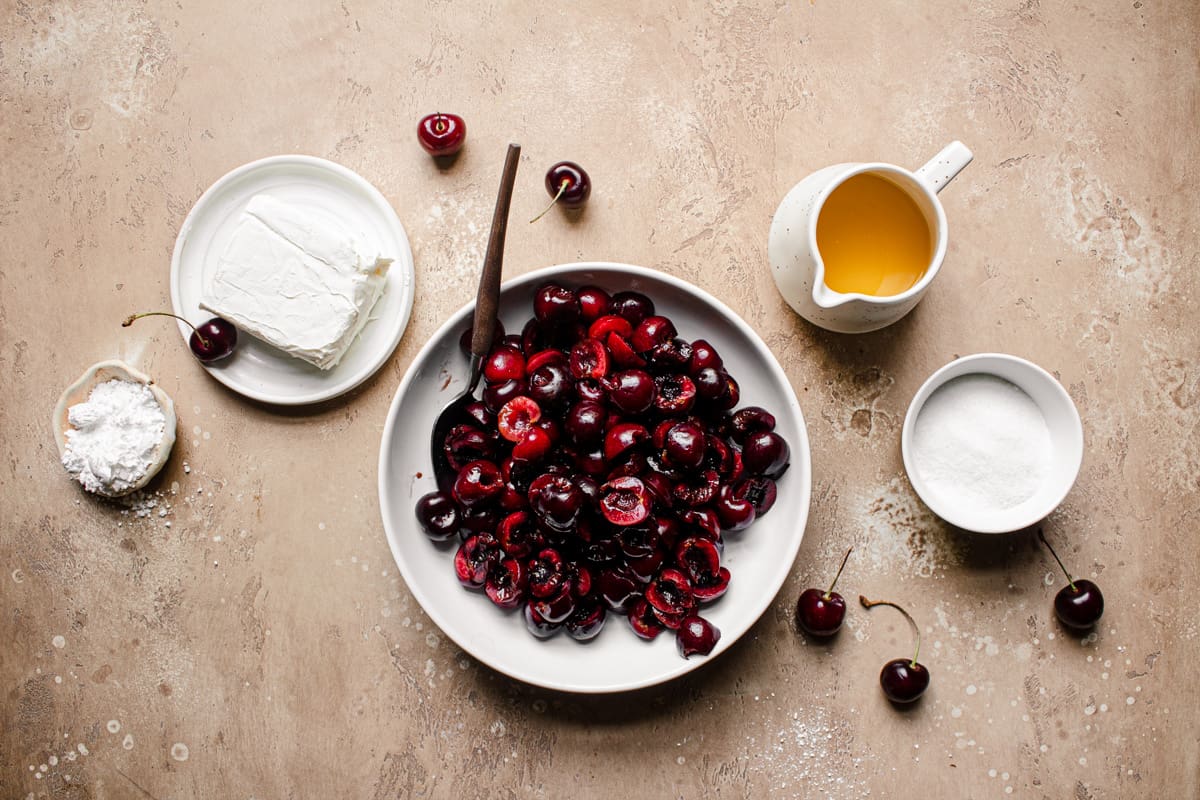 Egg, to brush the dough.
Fresh Cherries, pitted and cut in half.
Fresh squeezed orange juice, you can use bottled but it won't be as good.
Sugar
Orange zest (optional)
Fresh mint, chopped. An important note about the fresh mint: I added the chopped mint just to add some interest and color to the images but it turned out it adds SO MUCH to the flavor so I decided to include it in the recipe.
Cream cheese
Powdered Sugar
Heavy cream
How To Make This Fresh Cherry Mini Pies Recipe:
This recipe has three parts, each can be made a head to save time:
Part 1: Pie Crust
For this recipe, use your favorite pie crust or even pie crust scraps you may have in hand. As you can see I cut the dough into mini pieces but you can roll the crust into one big piece (much like pizza dough).
The Pie crust can be made up to 3 days ahead and baked up to 1 day ahead.
What can I use instead of Pie Crust?
Personally, I think pie crust is the best way to eat this dessert, however another great option is a store bought (or home-made) puff pastry.
Also, if you have a tart dough that you absolutely adore, then go for it! (THIS is my all-time favorite sweet tart crust).
Part 2: Cherries in syrup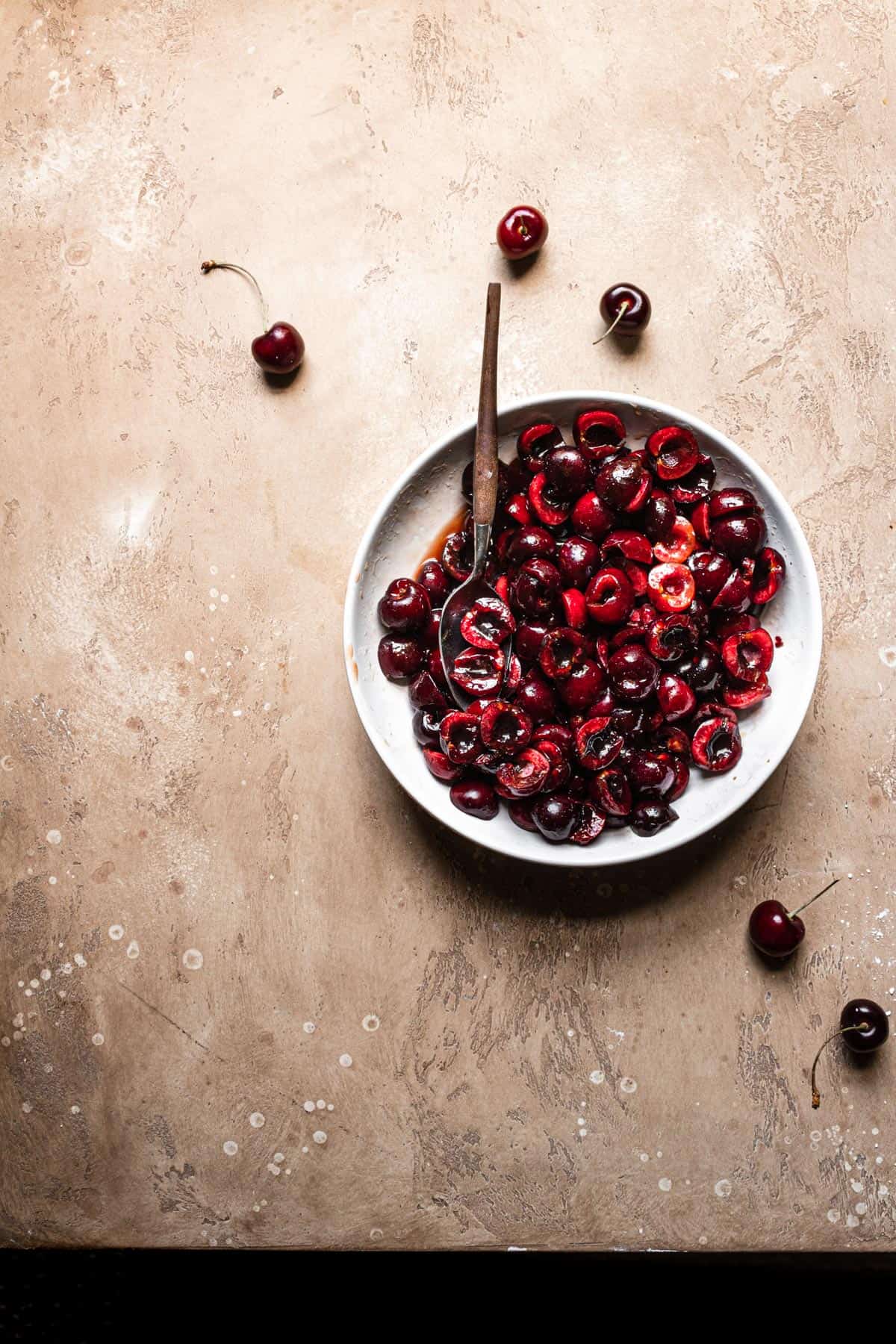 The orange syrup is a great way to bring out not only all of the cherries juices but also all the flavors together. This syrup is basically a simple syrup (1:1 sugar: liquid ratio) but instead of water, I used orange juice.
Once the syrup has cooled we will pour it onto of the cherries and use a spoon to make sure they are all coated.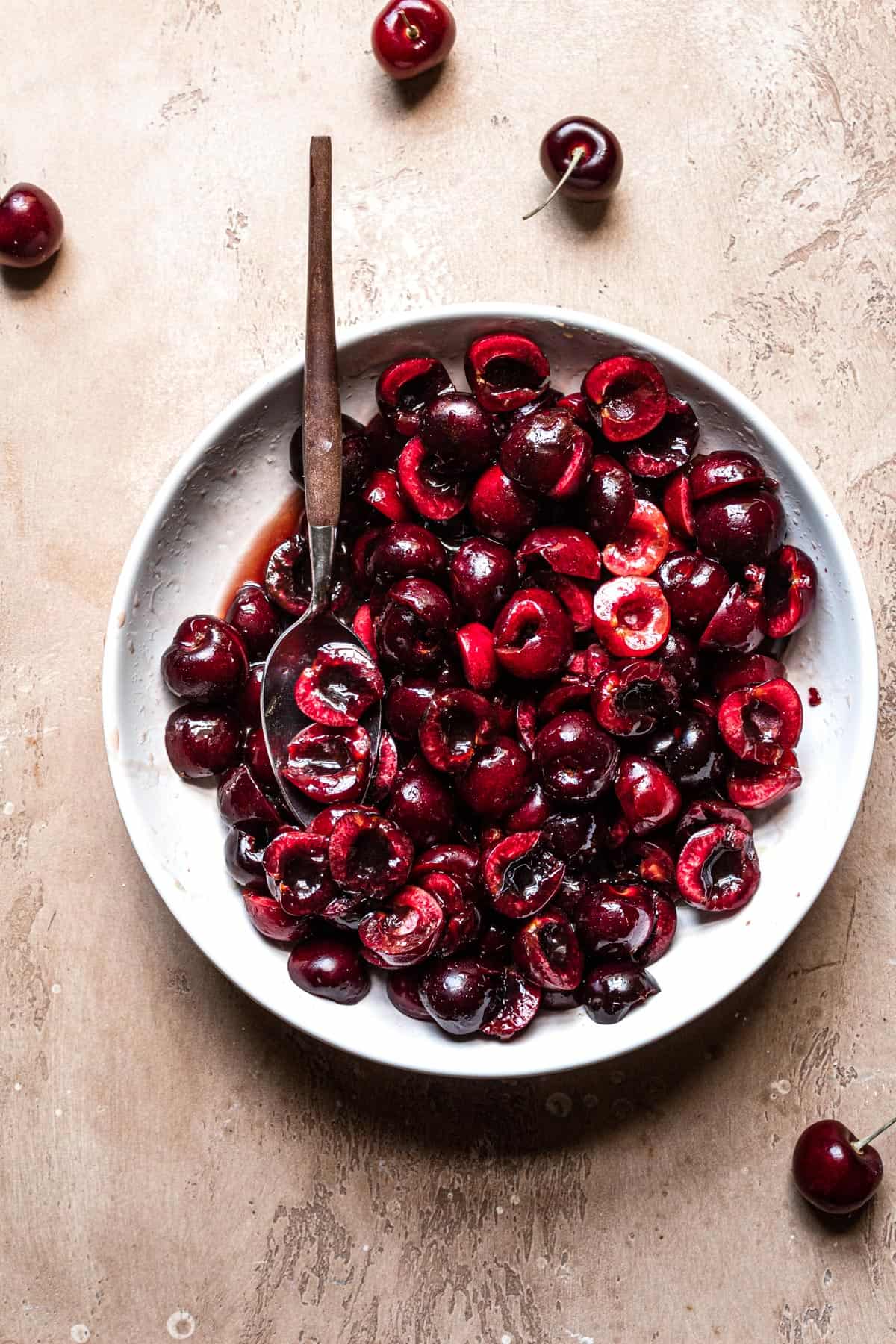 Lastly, right before serving we will mix in the chopped fresh mint.
You can make ahead the simple syrup 5 days in advance (make sure to store in the refrigerator). Coating the cherries with the syrup up to 30-60 minutes before serving the pies.
Can I use other fruits?
Absolutely, I think any fruit you would enjoy eating fresh would be a great substitution to the fresh cherries. This thing to consider is how it will par with the orange flavors and/or the fresh mint. Stone fruits such as peaches and apricots or berries would be great. Try to avoid fruits with high water percentage such as watermelon or pineapple.
Part 3: Cream cheese filling
It is best to use room temperature cream cheese in order to avoid lumps in the filling. Firstly, we beat the sugar and cream cheese then adding the heavy cream and mix until we have a smooth cream.
Optional: Add the orange zest to the filling instead of the syrup
Make this filling up to 2 days ahead and store in the refrigerator.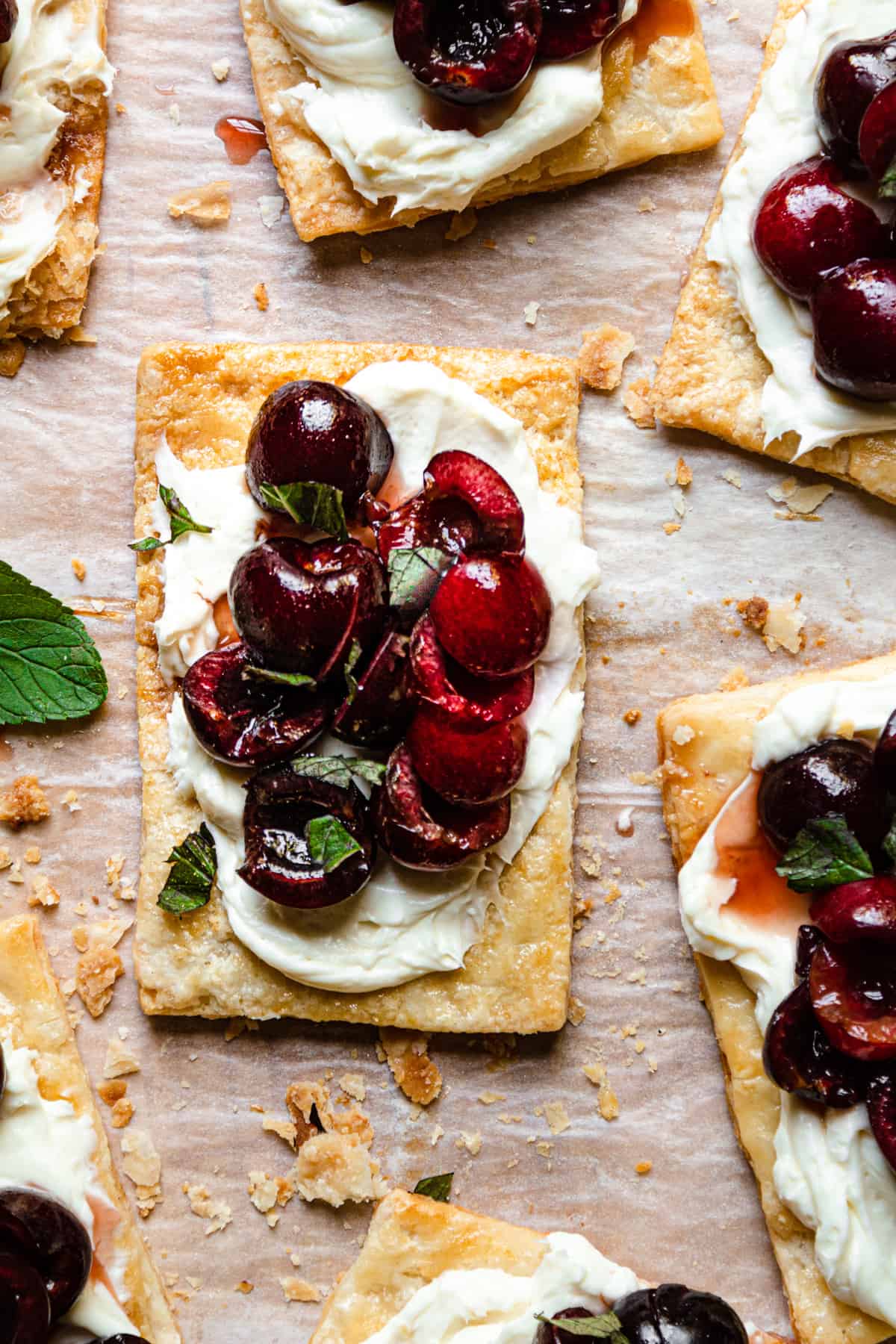 Don't care much for Cream cheese?
No problem at all. Replace the cream cheese with mascarpone cheese or use whipped cream instead of the cream cheese recipe.
Another great option is lemon curd for the citrus lovers amount us.
Assembling:
This is the best part! Once we have all of our recipe parts ready we will simply spread some cream cheese filling then top it with some of the fresh cherries.
Serving the mini pies:
The pies should be served and eaten within 15-20 minutes after assembling. You can most defiantly eat them much later but they might lose their vibrant colors.
Storing the mini pies:
The pies can be left at room temperature up to 1.5-2 hours after assembling than in the refrigerator for up to 2 days.
Please note that since there is uncooked cream cheese in the recipe treat the mini pies according to the cream cheese freshness.
HAPPY BAKING!!!
Here are some more cookies recipes you might enjoy:
Also, one more thing…
Don't forget to tag @OneSarcasticBaker on Instagram whenever you bake this recipe. Would love to see your creations!
Lastly, did you like this recipe and find inspiring? Save THIS PIN to your Baking or Pie boards.
Fresh Cherry Mini Pies
Fresh cherry soaked in mint syrup layered on top of flaky pie crust
Ingredients
1

Double crust pie crust

1

pkg

Cream cheese, full fat

(225 g / 8 oz)

1

Cup

Powdered sugar

(125 g / 4 oz)

4

TBS

Heavy cream

2

Cups

Fresh cherries, pitted and sliced in half

(300 g / 11 oz)

1/4

Cup

Fresh squeezed orange juice

(60 ml / 2 oz)

1/4

Cup

Sugar

(50 g / 2 oz)

1

tsp

Orange zest

2

TBS

Fresh chopped mint
Instructions
Pie Crust (Make a day ahead)
Roll the pie crust into 1/8" thick then you a knife or a cookie cutter to cut the pie into the shape you desire. ( I used a 3"x1.5" rectangle cookie cutter).

Brush the crust with egg wash and bake until golden brown.

Remove from oven and allow to cool completely.
Cherries (Make syrup up to 3 days ahead mix cherries about 30-60 minutes ahead)
In a small pan, pour the orange juice, sugar, and orange zest and cook on medium until the liquids start to boil. Reduce heat to low and cook for an additional 5 minutes.

Remove from heat and let cool.

Once cooled, pour the orange syrup on top of the pitted cherries and mix in the mint leaves. Use a spoon to coat the cherries evenly.
Cream Cheese (Make to 1 day ahead, allow to soften before spreading)
In a medium bowl, using a hand mixer mix the cream cheese and sugar until well incorporated.

Add the heavy cream and mix again to incorporate.
Assembling
Spread 1 TBS of the cream cheese filling on top of a pie crust piece and 2 TBS of syrup coated cherries.