Last updated on September 29th, 2023.
This Stone Fruits Galette is the ultimate summer treat. Imagine a tender, flaky and buttery pie crust layered with a sweet and tangy variety of stone fruit and baked to golden brown perfection.
What is Galette?
Well, I guess it depends on who you are asking. Some would say it's a pancake and others would say it is a thin sweet waffle.
But I am guessing you are asking me so I will make things simple and say it is pie. Galette by definition means flat cake that stands on its own (no mold/pan).
And for me, it is a tender and flaky pie crust layered with some fruits and baked to perfection.
What I love about a galette is that because it has one layer of fruits there is a small amount of liquid to moist the crust. And in addition, because there is no top crust, the steam can evaporate fast which makes it simple and easy to recognize when it is done.
What Ingredients are in the Galette:
Pie crust. I used my Cream Cheese Pie Crust, but you can also use an all-butter pie crust.
A variety of stone fruits such as Apricots, Cherries, Peaches, Nectarines, and/or plums. (Avoid Mangos)
Cornstarch
Sugar
Lemon Juice
Almond Flour or Frangipane, to spread as a thin layer before adding the fruits.
Tips and key points when assembling this Stone Fruits Galette:
You can use any number of fruit variety are you wish. I highly recommend that you taste the fruit before so you'll have some idea of how sweet/tart it is. For example, the apricots in my galette had a very tart flavor so I decided to add a bit more of the sweet peaches.
I love to apply a generous layer of Almond Frangipane before adding the fruit. Firstly, it adds more flavor, and secondly, it acts as a barrier between the fruits and crust. Also, you can simply use a few TBS of Almond Flour and skip the frangipane.
When filling the galette make sure to remember that you need to fold about 2″ of dough over the fruit, so do not layer the fruit over the full surface of the dough. Click HERE for a tutorial.
It is almost impossible to handhold the prebaked galette after assembling it. Make sure you transfer the rolled dough to the pan before filling it.
You can brush the prebaked galette with egg wash and sprinkle it with some turbinado sugar.
Storing the Stone Fruits Galette:
The Galette is best eating the same day but can be stored at room temperature covered for up to 2 days, or in the refrigerator for up to 4 days. It is best eaten warmed up with a scoop of ice cream.
HAPPY BAKING!!!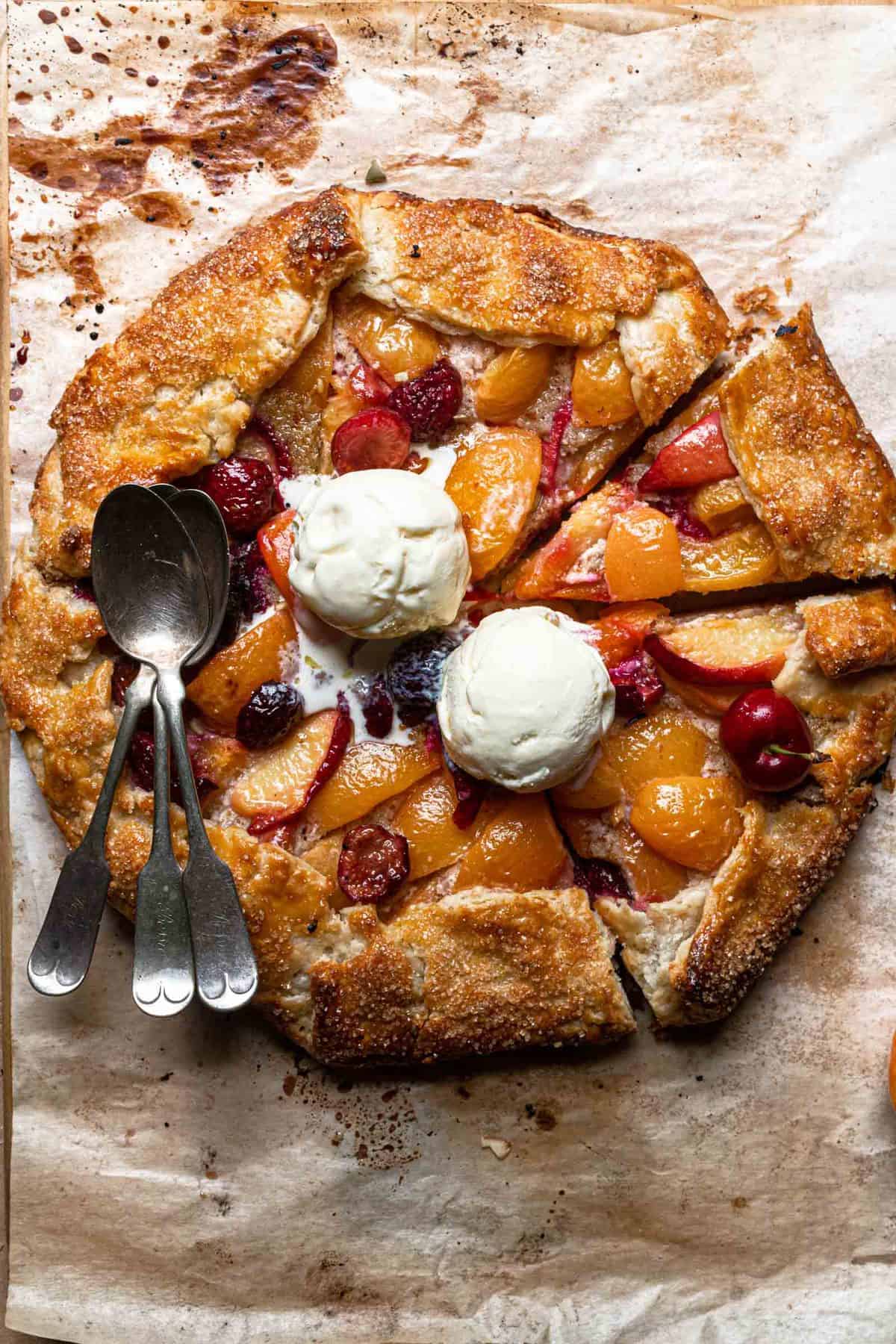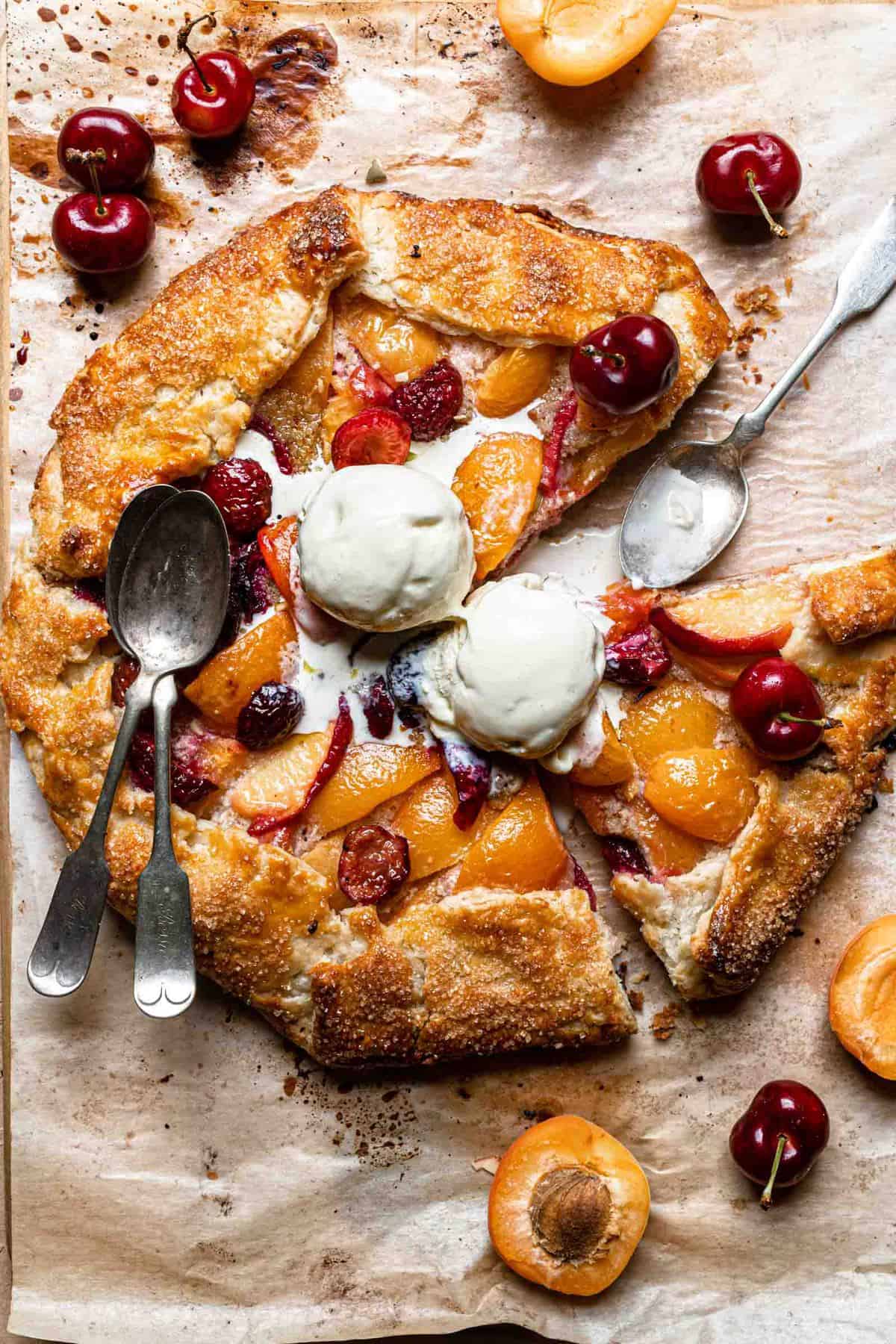 Here are some more recipes you might enjoy:
Also, one more thing…
Don't forget to tag @OneSarcasticBaker on Instagram if you bake this recipe. I would love to see your creations!
Stone Fruits Galette
Ingredients
1

Stick

Unsalted butter, cold and cut into 1/2" cubes

(8 oz / 113 g)

1 1/2

Cup

Bleached AP flour or pastry flour

(180 g / 6.5 oz)

1/4

tsp

Salt

1/8

tsp

Baking powder

1/3

cup

Cream cheese (1/3 pkg)

( 85 g / 3 oz)

2

TBS

Heavy Cream

1 1/2

tsp

Apple Cider vinegar
Stone Fruit Filling
4

Cups

Stone Fruits Variety , sliced into 1/4" thick

(675 g / 24 oz)

1

tsp

Freshly squeezed lemon juice

4

TBS

Cornstarch

1/2

Cup

Sugar

2

TBS

Almond flour or finely crushed cookies (optional)

1

Beaten egg, for wash
Instructions
Pie Crust
Cut the cream cheese into 2-3 pieces, wrap in a plastic wrap, and place in the freezer for about 30 minutes.

Measure flour, salt, and baking powder into a freezable bag and place it in the freezer for about 30 minutes.

In a food processor, pulse the dry ingredients about 3 times.

Add the cream cheese and pulse until the mixture resembles a coarse meal.

Add the cold butter and pulse until the butter is the size of large peas.

Remove the cover and add the heavy cream and vinegar. Pulse until the butter is the size of small peas.

Place mixture (will not hold together unless pinched together) on top of a large piece of plastic wrap.

With each hand holding one side of the plastic wrap press the mixture together into a disk.

Tightly wrap the dough with plastic wrap and let rest in the refrigerator for a minimum of 1 hour and preferably overnight.
Filling and Assembly
Place cut fruit in a large bowl and sprinkle over the lemon juice, toss to distribute.

In a medium bowl, measure the sugar and corn starch and use a fork to blend.

Sprinkle sugar/cornstarch mix on top of the fruit and toss to evenly distribute. Set aside for about 15 minutes.

Remove dough from the refrigerator and roll it to 12-14" circle , about 1/3" thick. Use a knife to trim uneven edges.

Place the dough on a cookie pan lined with parchment paper.

Brush the center of the dough (about 2-3" from the edges) with egg and evenly spread the almond flour on top. Make sure not to leave some bare dough that can be folded on top of the fruits)

Evenly spread the fruit on top of the almond flour and pour over any access liquids.

Gently fold the bare edges on top of the fruits. Brush with egg wash and place in the refrigerator for about 45 minutes.

Preheat oven to 425F and place an oven rack at the bottom shelf.

Bake for 35-45 minutes or until the crust is golden brown and you notice bubbles coming from the fruit.

Remove from oven and allow to cool before slicing.