Last updated on August 5th, 2022.
This delicious Blackberry Pie is a sweet, flaky treat and the perfect addition for a summer gathering or holiday family reunion.
As an American icon, pie has its unique spot in the great American holidays. No 4th of July or Thanksgiving celebrations are complete without an impressive spread of pastries. However, I would not dare to bring a pumpkin pie to a hot summer BBQ.
That just makes no sense, and thinking about people's faces, and reactions make me laugh hard. Such a scene would be a great SNL Skit. Don't you think? (I can see Will Farrel's shocked face at the sight of pumpkin pie as he grills some burgers at his 4th of July BBQ)
And that brings me to this Blackberry ginger pie. It is perfect for any special occasion, special day, and above all, it is so delicious. The sweet, vibrant blackberries hold together beautifully while keeping their juicy texture.
For more blackberries treats, check out my Lemon Blackberry Bread, my Blackberry lemon cake, and my Blackberry Chocolate Cupcakes.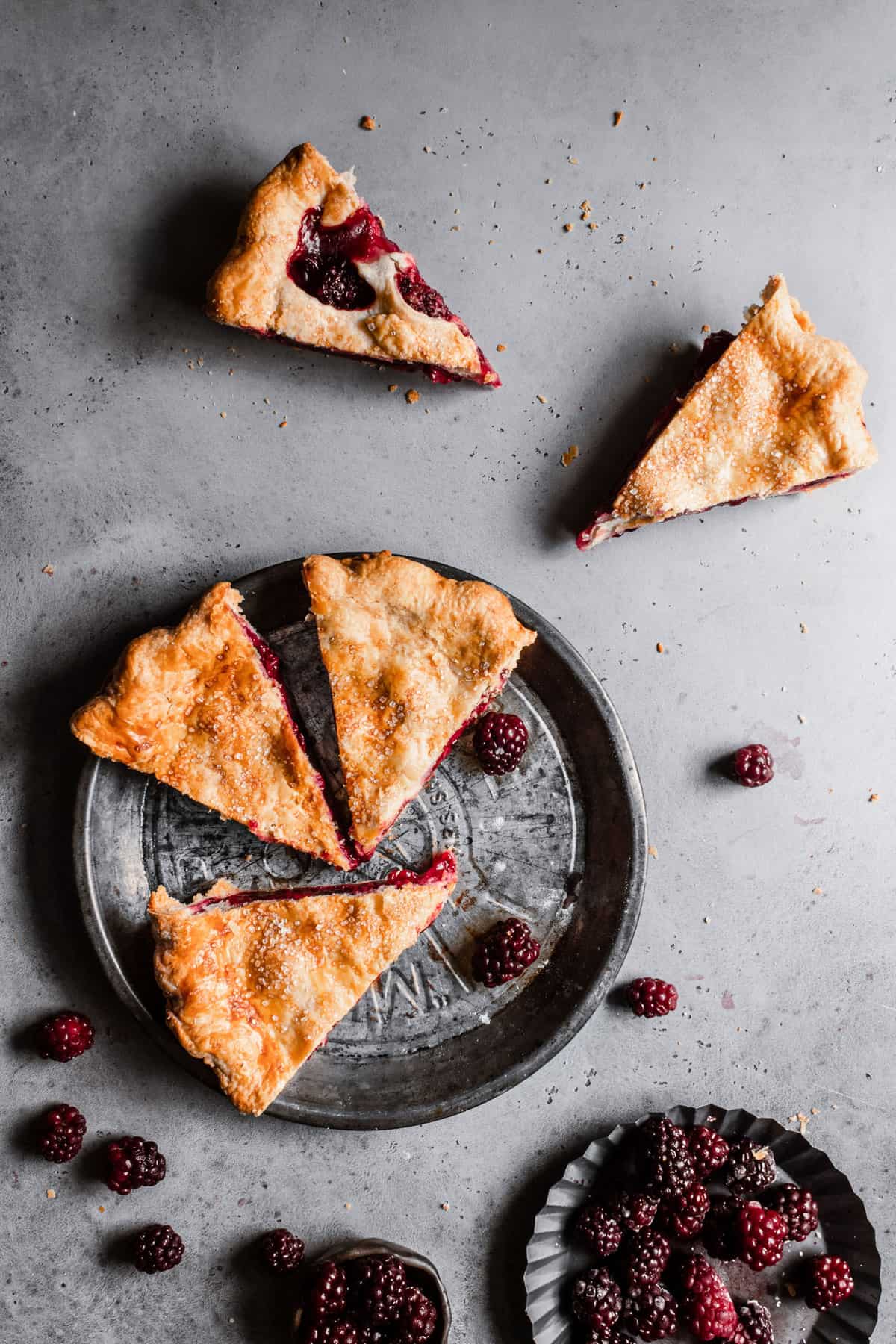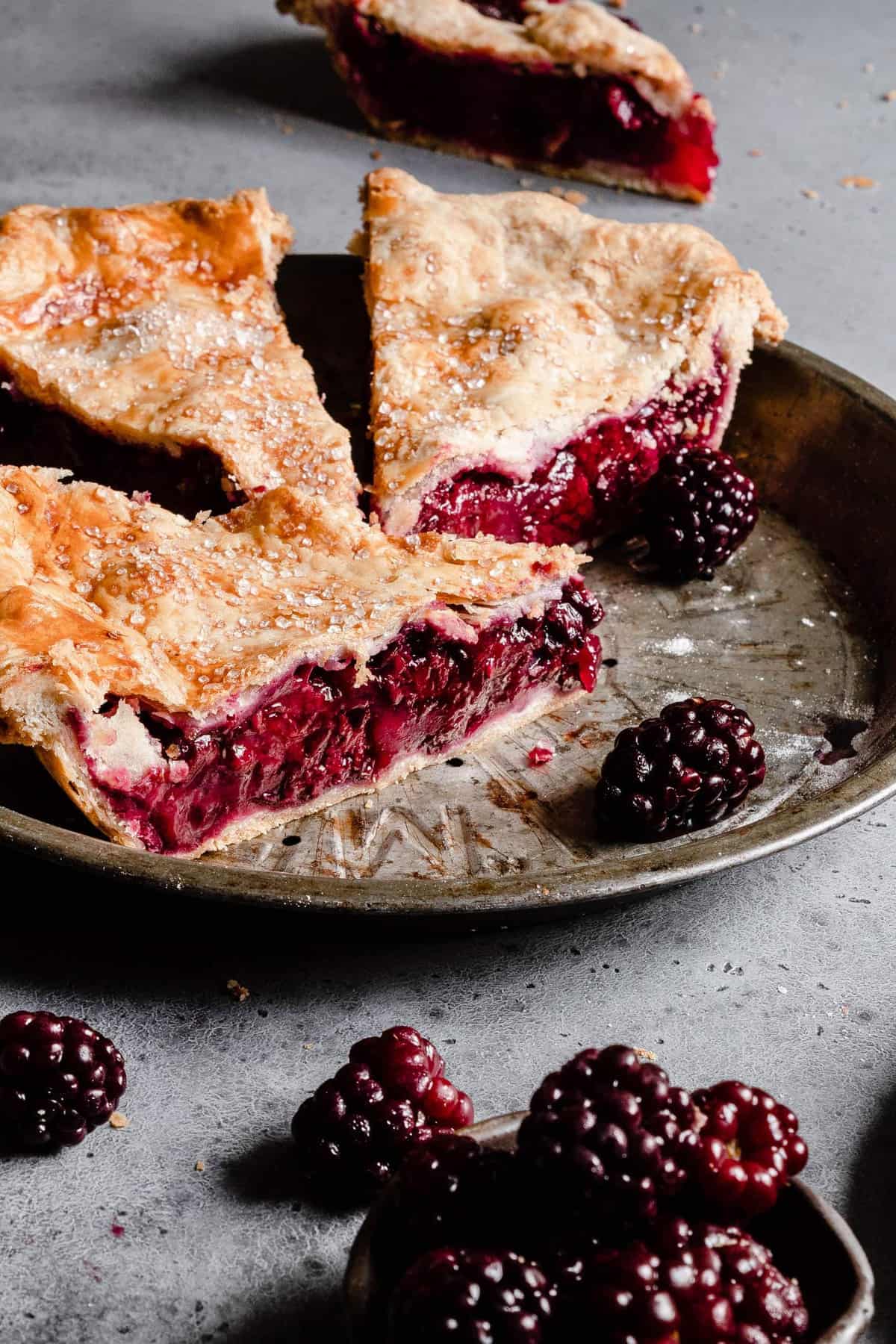 Now Let's Talk About This Blackberry Ginger Pie:
This pie is the perfect fit for a double-crust pie. But, it is very important to know that the top cruts cutout shapes are not just for aesthetic reasons. The holes allow steam to evaporate as the filling bakes and as a result, the filling thickens.
Mix the cornstarch and sugar together before adding it to the fruit to avoid the fruit from collapsing.
The lemon in the filling is not for a "lemony" flavor porpuses, but to help bring out the blackberries flavor and preserve its vibrant color.
Fill free to skip the top crust and sprinkle some streusel instead.
If you are not a ginger lover, you can remove it from the recipe and replace it with 1-2 tsp of nutmeg or cinnamon.
Below you can find a recipe for all-butter pie crust. However, You can bake this filling in any pie shell. No need to stick to the pie crust recipe below. Use your favorite if you would like
PIE TIP! Right before adding the filling, brush the pie crust with egg white and gently press an even layer of 2 TBD almond flour (or crushed cookies). This will act as a "barrier" between the crust and filling. (optional)
This pie filling was adapted from King Arthur Flour.
HAPPY BAKING!!!
Here are some more recipes you might enjoy:
One more thing…
Don't forget to tag @OneSarcasticBaker on Instagram if you bake this recipe. Would love to see your creations!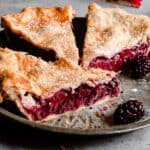 Ginger Blackberry Pie
Home made pie filled with juicy fresh blackberry and a hint of ginger
Ingredients
14

TBS

Unsalted butter, cold

(200 g / 7 oz)

2 2/3

Cups

Bleached AP flour

(320 g / 11.25 oz)

1/4

tsp

salt

1/4

tsp

Baking Powder

7

TBS

Ice water

1

TBS

Apple cider Vinegar
Blackberry Ginger Filling
8

Cups

Fresh Blackberries

(850 g / 30 oz)

2/3

Cup

Sugar

(135 g / 5 oz)

5

TBS

Cornstarch

(35 g / 1.5 oz)

1

TBS

Finely grated fresh ginger

2

tsp

Vanilla extract

1/2

Lemon

Juice and zest

pinch

Salt

1

Beaten egg for brushing

1/4

Cup

Turbinado sugar for topping
Instructions
Pie Crust
Cut the cold butter into 1/2" cubes and divide into two parts: 9 TBS and 5 TBS.

Wrap each part with plastic wrap. Place the large amount in the refrigerator and the smaller part in the freezer for a minimum of 30 minutes. 

Sift together the flour, baking powder, and salt. If time permits, place the mix in a plastic bag and freeze for about 30 minutes. 

Place the flour mix in a bowl of a food processor and pulse about 3 times. 

Add the large part of the butter and process for about 10 seconds, until the mixture resembles a coarse meal.

Add the smaller part of the butter and process until the butter is the size of large peas. About 10 seconds. 

Add the water and vinegar and process until the butter is the size of small peas. About 5-10 seconds.

The mixture should look grainy and will only hold together when pinched with your fingers.

Place the mixture on a clean surface and using the palm of your hand press it all together to form a disk. 

Divide the dough into two, one part slightly larger than the other (2/3-1/3). Wrap each part with plastic wrap and refrigerate for a minimum of 1-hour or overnight.

About an hour before baking time, remove the dough from the refrigerator and roll it into 1/8" thick 12" circle. Gently lift the dough and place it in a 9" x 2" pie pan. Shape the top tedges using the knuckle of your finger. Place back in the refrigerator for about 30 minutes.

Roll the smaller part of the dough into 10"-12" circle and use a leaf-shaped cookie cutter to create the design. Place the rolled dough on a cookie sheet lined with baking paper and return to the refrigerator to cool.
Blackberry Ginger Filling and assembling
About 30 minutes before baking, preheat oven to 400F. Place an oven rack at the lowest shelf and line a large baking pan with baking paper.

Place the filling ingredients in a large bowl and gently toss for even distribution.

Remove the pie shell from the refrigerator and pour the blackberry filling in.

Place the top crust on top of the filling and seal the edges.

Brush the pie with the beaten egg. Sprinkle with turbinado sugar.

Bake on top of the line baking pan for 50-60 minutes or just until the filling in bubbling.