Last updated on March 10th, 2022.
Walnut Chocolate Tart is a simple however impressive dessert you can easily assemble in an hour or less. A nutty crust filled with dense chocolate ganache filling which can be topped with endless options.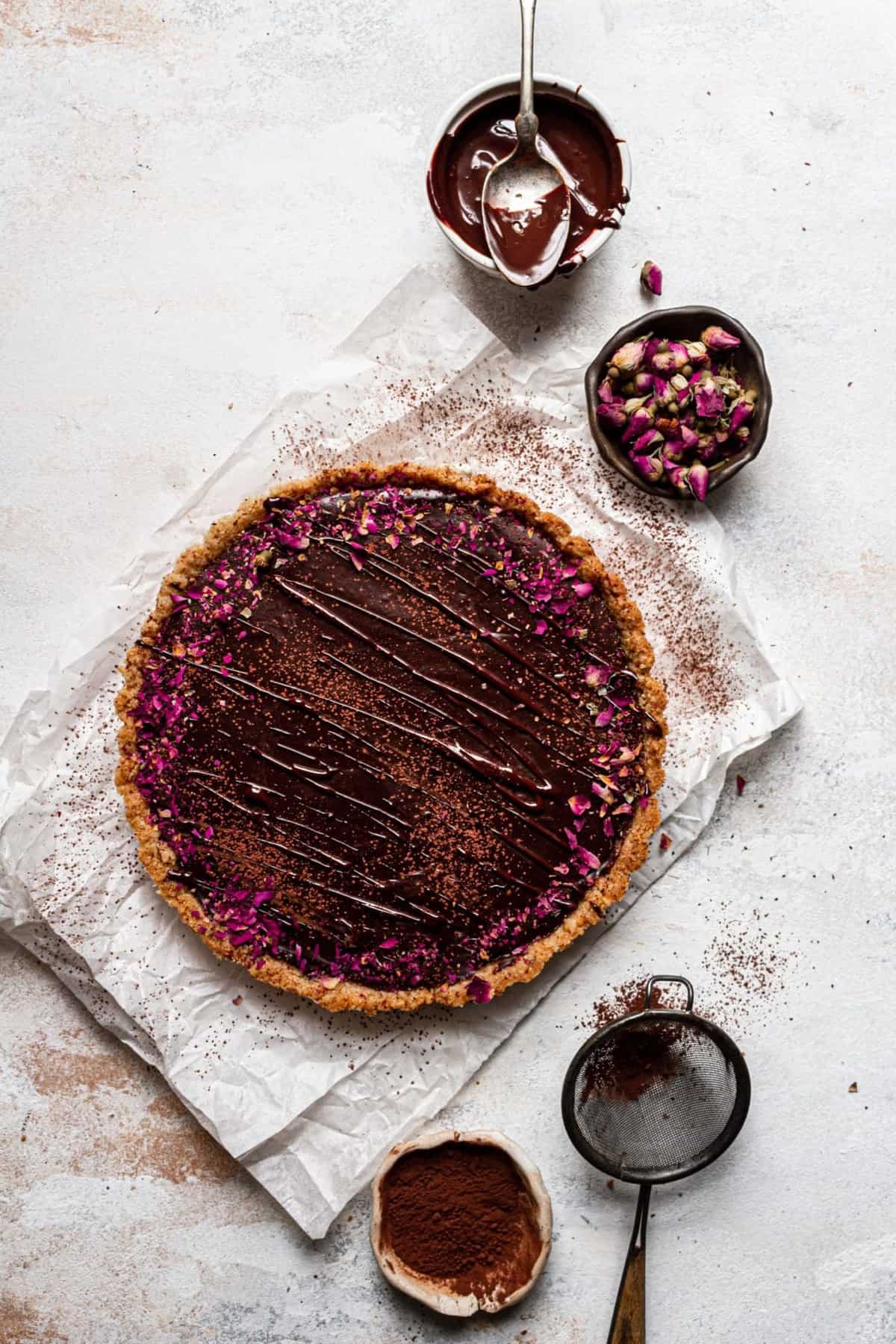 Despite the fact that this pie has zero amount of gluten, I have yet to completely give up flour. It is simply me making the most out of the upcoming Passover holiday. You know, that holiday us Jews, voluntarily giving up all flour products for the sake of Matzah. What can I say, Judiazim is a mystical religion.
Oh and Just in case you never tried this flavorless giant cracker known as Matzah, I will save you the trouble and let you know that it only tastes good when smothered with chocolate.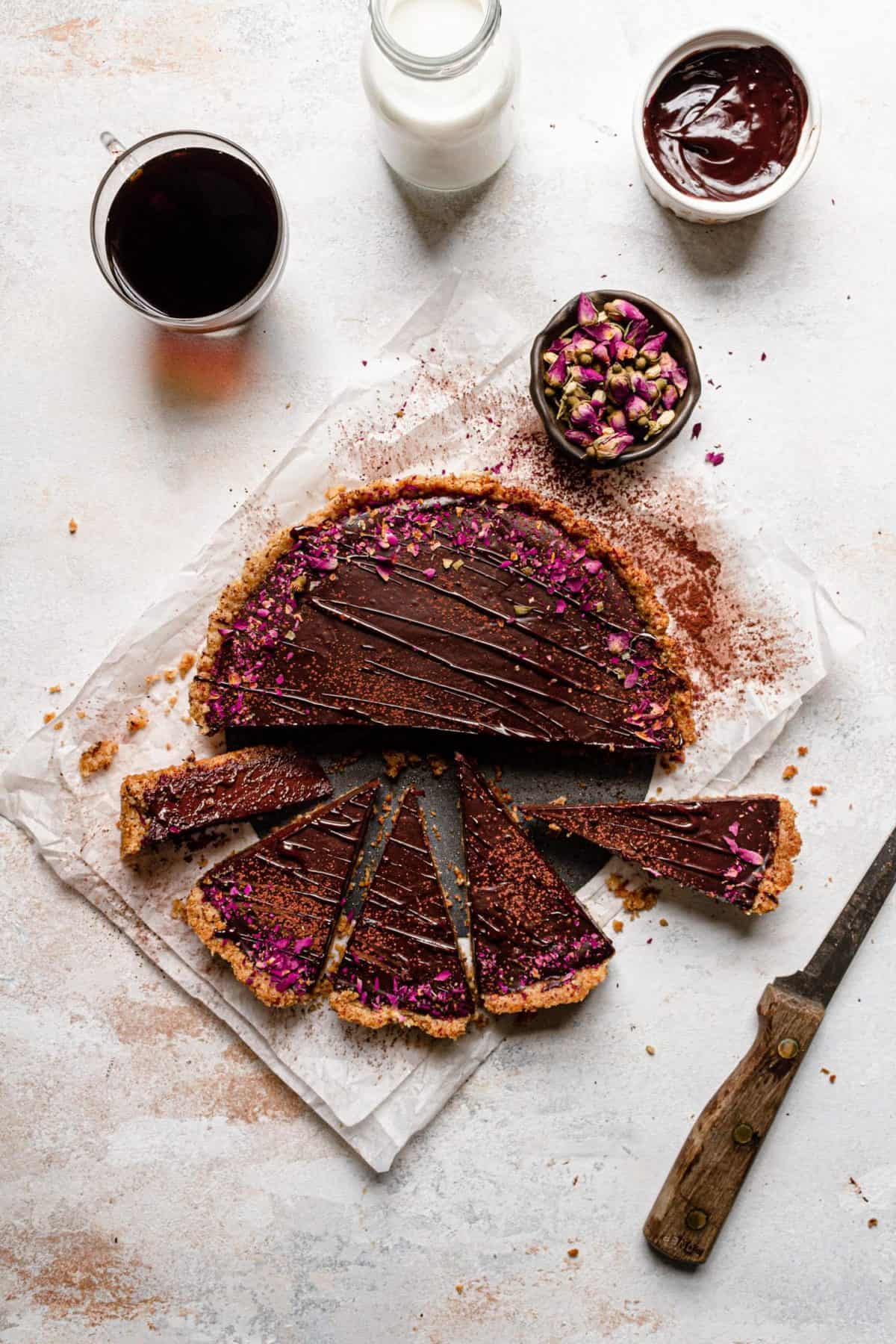 Ingredients you need to make this Tart:
Toasted Walnuts, toasting is an option however it will increase the nut flavor.
Sugar
Unsalted butter
Chocolate, here is where you can go crazy. I used 72% chocolate BUT you can use your favorite kind. Below I described in more detail how to use different types.
Heavy Cream
Your choice of topping such as drizzled chocolate, fresh fruit, whipped cream, candied nuts, etc.
How to Make the Tart
It is truly easy to make this Walnut Chocolate Tart. Firstly you will need 9″ tart pan, a food processor and a wide deep bowl.
Place walnuts melted butter and sugar in the food processor and process just until the ingredients are combined.
Evenly spread the walnut mixture into the tart shell using your fingers or the back of a spoon.
Prick with a fork and bake for 12-15 minutes.
Place chopped chocolate and butter and a wide deep bowl.
Bring heavy cream to a simmer and pour over the chopped chocolate. Wait for about 3 minutes.
Mix cream and chocolate until smooth.
Pour over the baked tart shell.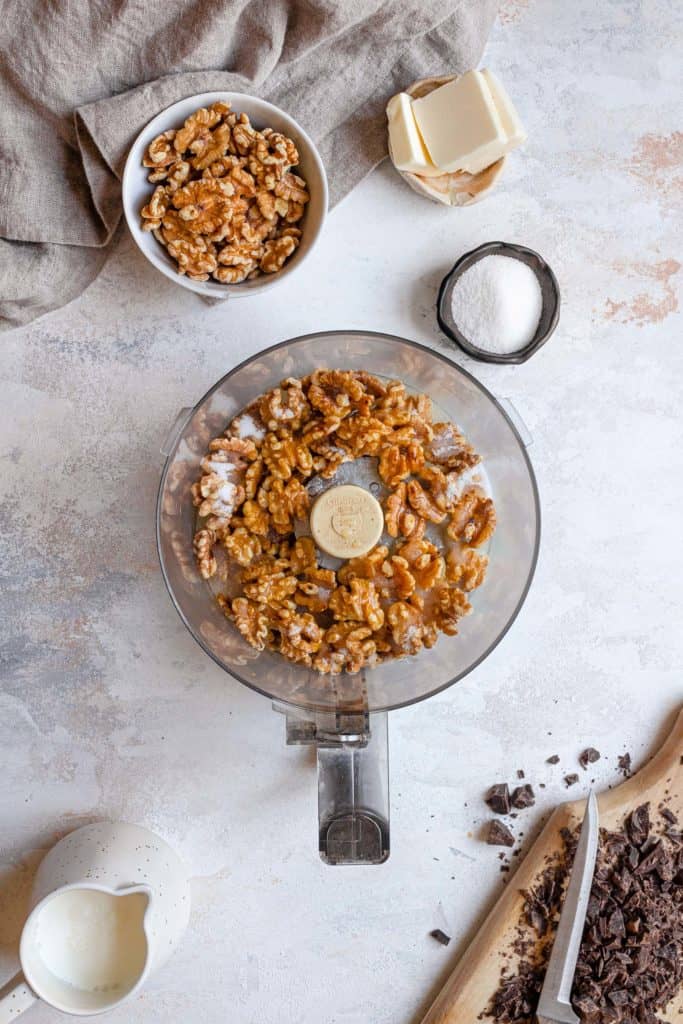 How to Store this Walnut Chocolate tart:
The tart can be stored covered at room temperature for up to 48 hours. However, if you bake it ahead or have leftovers you an store it in the refrigerator covered.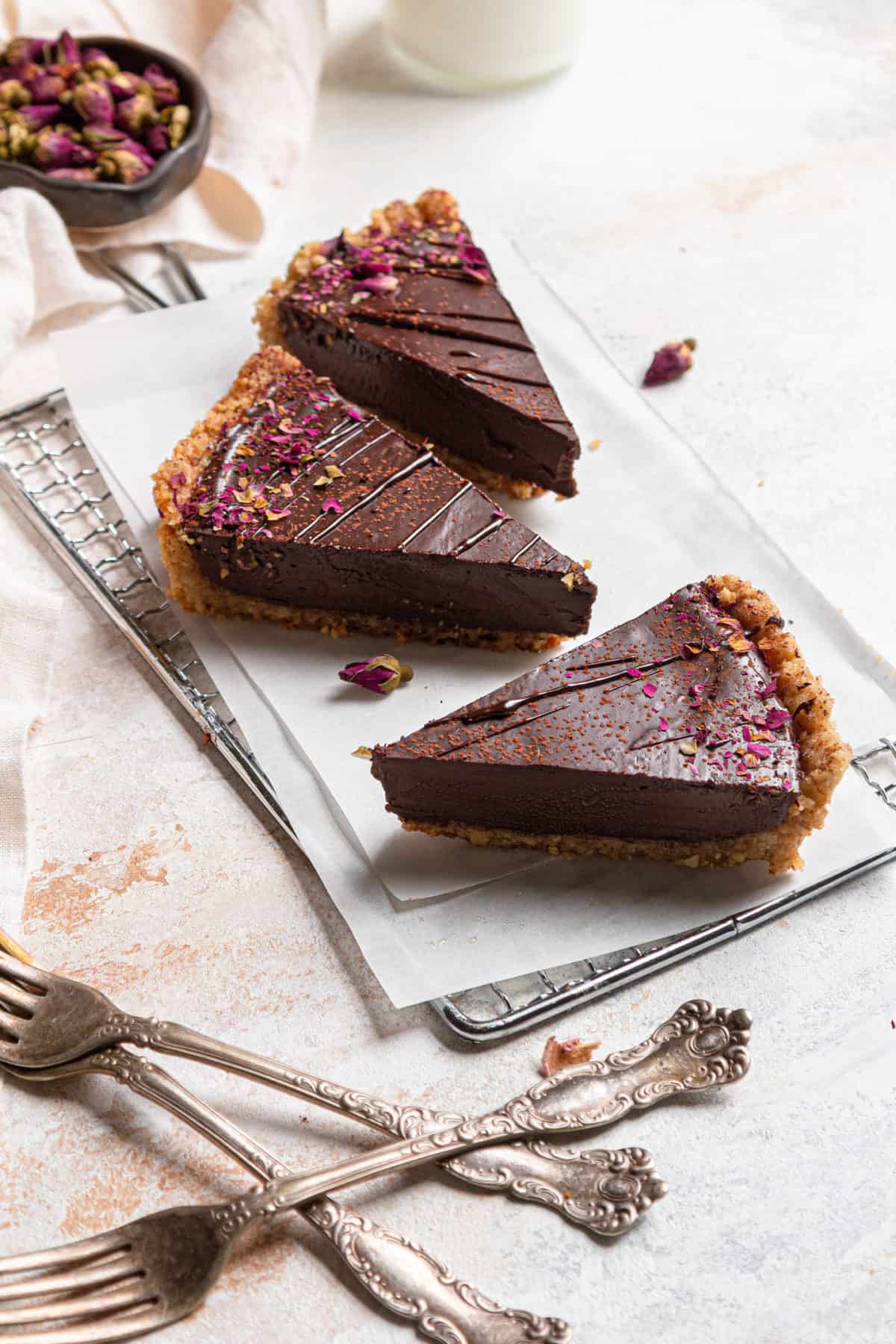 Other Chocolate Options:
Dark Chocolate (72%) – follow the recipe as is. The ganache will settle fairly fast, about 45-60 minutes at room temperature.
Semisweet Chocolate (56% – 72%) – follow the recipe as is. However, the ganache will take a bit more time to settle.
Milk Chocolate, increase the chocolate amount by 50%.
White Chocolate – use double the amount of chocolate (16 oz).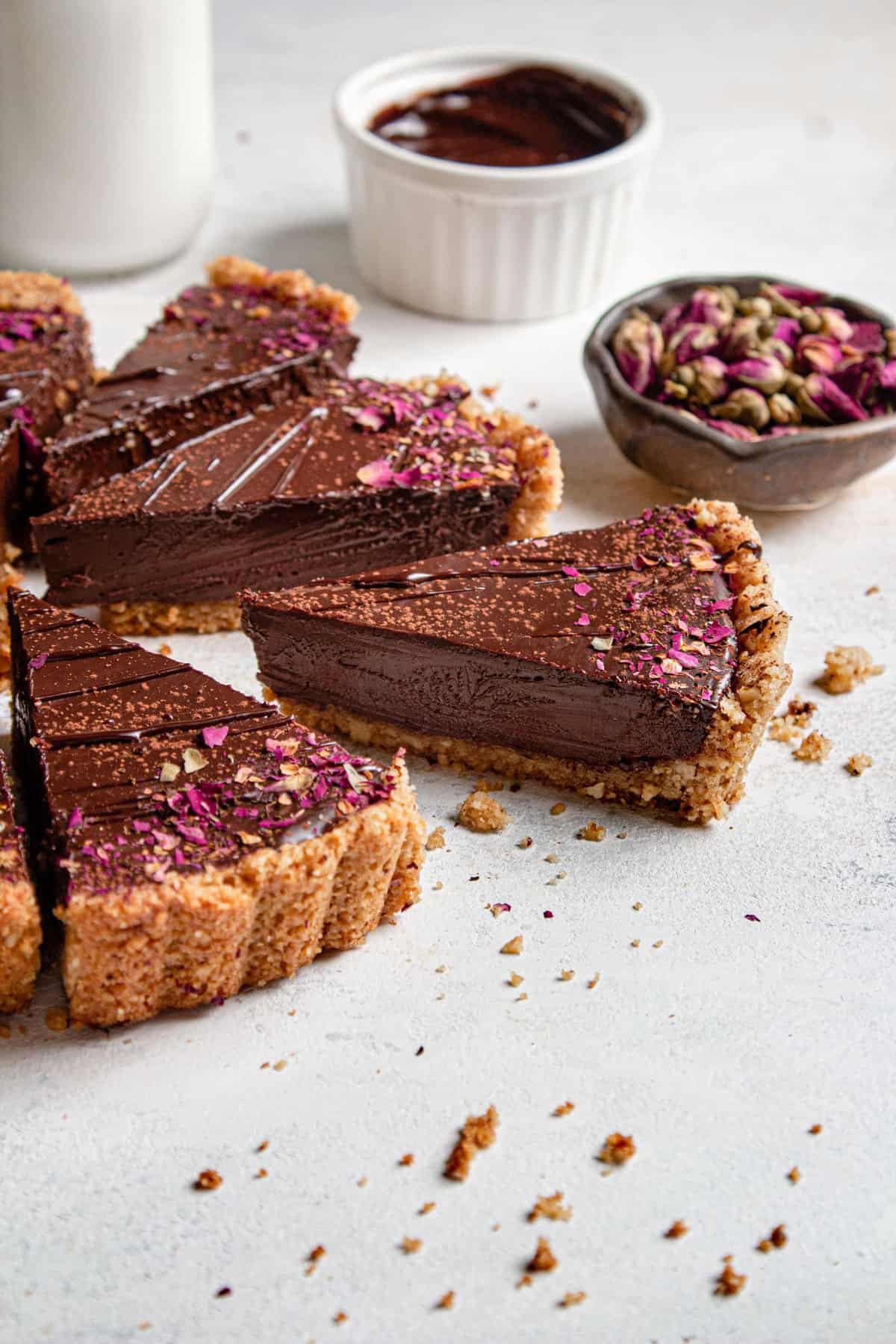 Now Here Are Some Important Notes About This Walnut Chocolate Tart:
I used walnuts, however, you can use your choice of nuts.
Different quality of chocolate might produce different results. For example, you might notice that the chocolate takes more time to melt, settles slower, etc. So, try and use high-quality chocolate. But if the one you like seems to be too loose or too thick, simply adjust the amount of chocolate or cream.
As the crust bakes, it will puff so please do not forget to prick it with a fork. Also, immediately as you remove it from the oven use the back of a spoon to gently press it down.
HAPPY BAKING!!!!
Here are some more fun recipes you might enjoy:
One more thing…
Also, don't forget to tag @OneSarcasticBaker on Instagram if you bake this recipe. Would love to see your creations!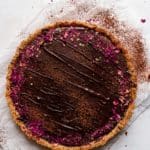 Walnut Chocolate Ganache Tart
Ingredients
Walnut Chocolate Ganache Tart
2

Cups

Toasted Walnut halves

(200 g / 7 oz)

1/4

Cup

Sugar

(50 g / 2 oz)

4

TBS

Unsalted Butter, melted

(56 g / 2 oz)
Chocolate Ganache Filling
1 1/3

Cups

Chopped dark or semi-sweet chocolate

(220 g / 8 oz)

1

Cup

Heavy cream

(240 ml / 8 oz)

4

TBS

Unsalted Butter, cut into 1/4" cubes

(45 g / 2 oz)
Instructions
Grease a 9" tart shell and preheat oven to 350F.

Place walnuts, sugar and melted butter in a food processor and pulse until all the ingredients have combined.

Scoop walnut mixture in the tart shell and use your fingers or the back of a spoon to evenly spread the paste into the shell.

Prick the shell with a fork.

Bake for 12-15 minutes until the shell is golden. If the shell puffed, use the back of a spoon to press it back as soon as you take it out of the oven. Let cool
Chocolate Ganache Filling
Place chopped chocolate and butter in a large bowl.

Pour heavy cream in a saucepan and place over the stove medium heat. Once you notice some bubbles at the edges of the pan, remove from stove and pour cream over chocolate.

Wait a few minutes before mixing to allow the hot cream to melt the chocolate and butter.

Use a rubber spatula or a hand whisker to mix the filling until smooth.

Pour chocolate filling into the walnut shell and spread it evenly.

Allow to cool and firm for about 30 minutes.

When ready to serve, sprinkle some melted chocolate or top with fresh fruits.