Last updated on October 18th, 2023.
Cremeux, with its smooth and velvety texture, is a dessert dream come true for any chocolate lover. It strikes the perfect balance between a chocolate cream custard and a rich ganache, making it a versatile component in various desserts. In this guide, we'll take you through the steps of creating your own indulgent and the perfect chocolate crémeux.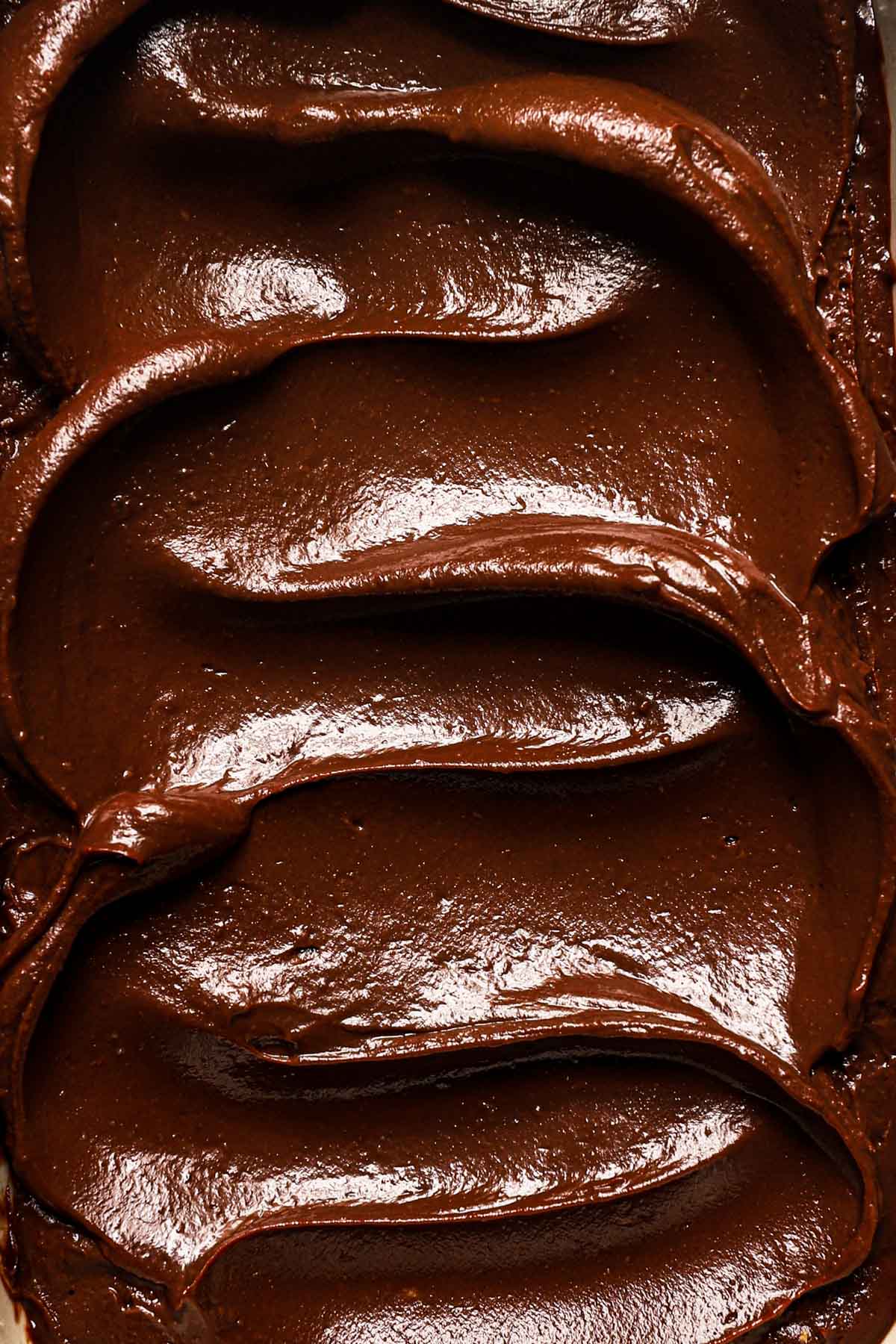 What is Chocolate Cremeux?
Chocolate Cremeux, pronounced as "cray-moo," is a French dessert that translates to "creamy" in English. It is a silky-smooth chocolate custard-like made by melting chocolate into a warm crème anglaise, a thin creamy custard. Cremeux can be used in various desserts, like tarts (see this Tarte Au Chocolat, Walnut Chocolate Tart), pies, filling for cream puffs, cakes, and more. The key to a perfect cremeux lies in its texture – thick, luscious, and oozing with chocolate goodness.
Crémeux au Chocolat vs. Ganache: Unraveling the Differences
To make chocolate ganache, we need two ingredients: chocolate and cream. But sometimes, other ingredients are added for flavor and texture. For example, I added some brown sugar when I made the ganache for this Chocolate Ganache Cake, so it is ok to say that crémeux is a form of a rich and delicate ganache.
To make crémeux chocolat, we need half-and-half, egg yolks, sugar, choux pastry, and chopped chocolate, so while we can refer to cremeux as ganache, we can not say that ganache is cremeux.
Crémeux au Chocolat vs. Mousse
There are many recipes and techniques to make chocolate mousse but the one thing that all recipes have in common, is the incorporation of air into the cream, whether it's by folding whipped cream, whipped egg whites, or just whipping the chocolate.
Crémeux au Chocolat is the opposite of that, it is dense rich, and with the minimum amount of air bubbles incorporated. Having said that, I can confirm that if we fold whipped cream into the cool recipe, we will end up with chocolate mousse.
Why You Will Love This Recipe
Silky-Smooth Texture: Chocolate Cremeux is a sensory delight with its luxuriously smooth and creamy texture.
Versatile: It can be used in various dessert creations, from tarts and cakes to mousses and truffles. Flavors are versatile as well, while dark chocolate crémeux is the most common treat, other types of chocolate are options, as well as incorporating more flavors like citrus zest, cinnamon, and other flavors is possible.
Intense Chocolate Flavor: The deep, rich chocolate flavor is sure to satisfy your chocolate cravings.
Ingredients
You only need five simple ingredients to make this perfect dessert.
Chocolate. You can use Dark chocolate, Milk chocolate, or white chocolate (measurements may vary, see recipe card for exact measurements.)
Half and half. (half milk and half heavy cream) You can use whole milk instead, but avoid using all heavy cream.
Egg yolks
Granulated sugar
Salt
How To Make Chocolate Cremeux
Time needed: 20 minutes
Make the Creme Anglaise

Heat the heavy cream over medium heat until simmering (hot but not boiling). In a separate bowl, whisk together the egg yolks and sugar until they become pale and slightly thickened. Slowly pour the hot cream over the egg mixture while continuously whisking.

Thicken

Pour the warm cream and egg yolk mixture back into the saucepan and cook over low heat, stirring constantly, until it thickens enough to coat the back of a spoon. This should take anything from 5-7 minutes.

Infuse the Chocolate

Remove from heat and pour it over the finely chopped chocolate, allow to sit for 2-3 minutes, and melt the chocolate. Gently and slowly stir the chocolate until it's fully melted and incorporated. (alternatively, you can use an immersion blender).

Storing

Transfer your Chocolate Cremeux to a container, cover it with plastic wrap directly touching the surface to prevent skin from forming, and refrigerate until it's set.
Tips and Troubleshooting
Preparation is key. Have all of the ingredients and equipment ready before you start heating the milk. Here is the order of things I recommend for best results: place the chopped chocolate in a large bowl. Pour the milk into a saucepan. Place the egg yolk in a medium bowl and the sugar in a small separate bowl. Mix the egg yolks and sugar as the milk is heating. If the sugar is mixed too soon, it will curdle the egg yolks.
Avoid Overheating: Be cautious when heating the cream and when melting the chocolate, as overheating can cause the mixture to split.
Use High-Quality Chocolate: The quality of your chocolate matters, so choose a brand you trust and enjoy eating. I used Scharffen Berger 60% dark chocolate.
Strain for Smoothness: To ensure a perfectly smooth cremeux, consider straining it through a fine sieve before refrigerating.
Use a wooden spoon, or a rubber spatula when cooking the creme anglaise, aluminum spoons might give the custard a greenish-grayish color.
Storing
The chocolate cream should be stored in an airtight container for up to three days at room temperature.
To warm it, do not use the microwave, place it in a bowl over a pot with simmering water (double boiler) and allow it to warm.
FAQ
What to do with Cremeux?
Chocolate Cremeux can be used in countless ways! Spread it on tarts, layer it in cakes, fill pastry shells, or even enjoy it as a decadent dessert on its own.
Can I use pastry cream instead of creme anglaise?
You, can but not for cremeux. Adding chocolate to pastry cream will yield chocolate pastry cream.
How can I make white chocolate crémeux?
Use chopped white chocolate instead of dark chocolate.
Can I use chocolate chips instead of chopped chocolate?
Yes, but because chocolate chips melt at a higher temperature, it is important to cut them into small pieces.
More Recipes You Might Enjoy
Chocolate Whipped Cream, French Almond Cream, How To Stabilize Heavy Cream
Please rate and comment if you enjoyed this recipe, and don't forget to tag me on Instagram when you bake one of my recipes.
Cremeux Au Chocolat
Creamy and smooth chocolate cream for fillings, toppings and other desserts.
Ingredients
1

Cup

Finley chopped dark chocolate

(170g)

2/3

Cup

Whole Milk

(160ml)

2/3

Cup

Heavy cream

(160ml)

1

teaspoon

Vanilla extract

3

Large

Egg yolks

1/3

Cup

Granulated sugar

(70g)
Instructions
In a large bowl, place the chopped chocolate and set aside.

Pour the milk, cream, and vanilla into a medium saucepan, and place over medium heat. Cook to a simmer.

As the milk is warming, mix the egg yolks and sugar until completely blended.

Once the milk reaches a simmer, remove it from the heat and slowly drizzle it into the egg yolk mixture, a tablespoon at a time while constantly stirring.

Run the mixture through a sieve then return to the saucepan and place back over the stove.

Cook over medium heat while you constantly stirring, until the mixture has thickened. The way to know is by dipping a wooden spoon into the mixture and then running your finger through the middle, if there is a noticeable line then it is ready.

Remove from the stove, and pour it over the chopped chocolate. Allow it to sit for a few minutes.

Gently stir the chocolate until you have a smooth and shiny cream.

Place a plastic wrap over the surface of the chocolate and allow it to set. Or use it as instructed in your recipe.
Recipe Notes
If using milk chocolate reduce the sugar amount to 1/4 cup (50g) and use 1 1/4 cup chocolate (210g).
If using white chocolate, reduce the sugar amount to 1/4 cup (50g), and use 1 2/3 cup white chocolate (270g).
The creme should be in an airtight container for up to five days in the refrigerator.
To warm the cremeux, place it over a double boiler and allow it to warm.