Last updated on October 11th, 2023.
Tender, light, fluffy, and moist chocolate ganache cake made from scratch and topped with smooth ganache. This cake is timeless and can satisfy even the most devoted chocolate lovers.
The ultimate chocolate ganache cake
A good chocolate cake is like that little black dress we all have in our closets. It's timeless, always complements us, as well as is one we can count upon. This chocolate cake recipe is just like that; easy and simple to make, delicious, and perfect for a special occasion, like a birthday or anniversary or a simple snack.
The best news is that the recipe calls for simple ingredients, and you can easily convert it to Gluten-free and dairy-free.
Ingredients and substitutions
Unbleached all-purpose flour. Always measure your ingredients, especially flour and cocoa powder, for the best results using a kitchen scale. For a gluten-free ganache cake, use Gluten-free 1:1 flour (King Arthur or Bob's mill, affiliate)
Baking powder and baking soda as our leavening agents.
Salt. Do not use any if using salted butter.
Chopped dark chocolate. Do not use chocolate chips; they do not melt very quickly, I used 65% dark semi-sweet for the cake and the ganache, but 72% is also ok. Do not use white chocolate or milk chocolate; the cake will turn out too sweet and bland.
Natural Unsweetened Cocoa Powder. You can use dutch process cocoa instead.
Hot coffee. Hot coffee blooms the chocolate and enhances its flavors. Use coffee you enjoy drinking; instant coffee or espresso powder is also an option.
Sour cream. I used full-fat; for a dairy-free chocolate cake, use unsweetened apple sauce, dairy-free/vegan dark chocolate, and vegan butter.
Unsalted butter. Salted butter is ok; make sure it's softened at room temperature.
Vegetable oil. Like canola oil or olive oil for a unique flavor.
Light brown sugar. Or a combination of granulated sugar and dark brown sugar.
Large eggs at room temperature.
Heavy cream for the ganache.
How To Make Chocolate Ganache Cake
You can make this recipe using a stand mixer or an electric mixer.
Pour the hot coffee over the cocoa powder and chopped chocolate, and let it sit for a minute or two for the chocolate to melt.
Measure the dry ingredients in a separate bowl. Gently stir until smooth, then mix in the sour cream. Set aside. Set aside.
In a bowl of an electric mixer, using the paddle attachment, beat the butter, oil, and sugar until light and fluffy, about 4-5 minutes. Add the eggs one and a time. Scrape the bottom and sides of the bowl.
Reduce speed to low, or with a rubber spatula, add the dry ingredients in three parts, alternating with the wet ingredients.
Pour the cake batter into the pan(s), level with an offset spatula, and bake. It is ready when a toothpick comes out of the center of the cake with a few moist crumbs. Allow the cake to cool over a wire rack before topping it with the chocolate ganache frosting.
How to make chocolate ganache
There are many ways to make a simple ganache, and this is my favorite way. Check out my post about How To Make Ganache for more detailed information. Another option is to cover the cake with a silky smooth French Cremeux (chocolate cream).
Place the chopped chocolate in a large deep bowl.
Use a medium saucepan to bring the sugar and heavy cream to a soft boil (there are bubbles, but they are not boiling).
Pour the cream over the chocolate and cover the bowl for 4-5 minutes.
Remove the cover and gently stir the ganache until smooth; at first, it might look messy, but keep going.
Set aside for it to set. It might take between 1-4 hours, depending on the chocolate you are using or the temperature in your kitchen.
How do you cover a chocolate cake with ganache?
Ganache is one of the best frostings to frost with; it is easy to make, has a great consistency, is not too soft or too thick, and also has a long shelf life. At first, it might seem very thin, be patient and give it time to set. Important to understand that the ganache sets thicker as time passes. It is ready to be used once it reaches a cold sour cream consistency.
To make a whipped chocolate ganache, whip it on high after refrigerating for two or more hours.
I like to top the entire cake with thick ganache; it's impressive and rustic, and you don't need any tools to decorate the cake with the ganache. Dollop the ganache at the center and use an offset spatula or the back of a spoon to spread the ganache gently.
When filling and frosting a layer cake, I recommend refrigerating the layers for about 30 minutes but no more than 60 minutes. This way, it will move and crumble less. To fill, pipe the ganache around the edges using a small round pastry tip. To frost, start with the top and work your way down the sides of the cake. To add a ganache drip, check out my tips for this Chocolate Drip Cake.
If you want a thin topping, I recommend poking it with a toothpick and pouring it while it is slightly warm over the cake. Double the heavy cream by 50-100%.
Making ahead and storing
This very chocolaty cake can be made up to 3 weeks ahead of time and freeze frosted or unfrosted. When frosted, please place it in an airtight container or a cake dome, and freeze. When ready, allow warming at room temperature.
If not frosted, wrap it in a plastic wrapper in a freezer bag and freeze.
Make the ganache 48 hours in advance and refrigerate. Warm it on top of a double boiler.
Store the cake covered at room temperature.
Tips and FAQ
Can I make this recipe as a double-layer cake?
Yes, you can divide the batter between two 8 inches and three 6-inches. You can also use a 7-inch round pan for three layers or two. or double the recipe.
Can I bake this recipe as cupcakes?
Yes, fill the cupcake liners 2/3 full and bake for 15-18 minutes.
For straight, tall edges.
Line the pan with parchment paper, and do not grease the sides of the pan. This way, the sides can cling to the pan and not create round edges.
What are the best ways to thicken ganache?
Give it time to set. If pressed in time, place the bowl inside a large bowl filled with ice and stir the ganache. Make sure no water gets in.
Can you put chocolate chips in the batter?
Yes, fold in 1/2 cup of mini chips.
Why would a chocolate cake crack? How can this be avoided?
If it cracks, chances are the oven temperature is too high. Use an oven thermometer to check your oven temperature, and bake at a higher oven shelf. Cracks do not mean the cake is terrible; cover it with ganache.
How can you frost a cake without it crumbling?
Place it in the refrigerator for 30-60 minutes before frosting it.
More chocolate and Ganache recipes
Brownie cake, Brownie Pizza, Orange Ganache Cake, Cream Puffs,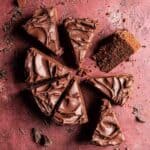 Chocolate Ganache Cake Recipe
Moist and tender cake topped with ganache frosting
Ingredients
1/3

Cup

Chopped semi-sweet dark chocolate

(60g/2oz)

1 1/2

teaspoon

Baking powder

2/3

Cup

Hot coffee

(160ml)

1/3

Cup

Sour cream, at room temperature

(80ml)

1 1/4

Cup

Unbleached all-purpose flour

(150g/3oz)

1/2

Cup

Unsweetened cocoa powder

(50g/2oz)

1/4

teaspoon

Baking soda

1/2

teaspoon

salt

7

Tablespoons

Unsalted butter, at room temperature

(100g/3.5oz)

1/4

Cup

Vegetable oil

(60ml)

1

Cup

Light brown sugar

(200g/7oz)

2

Large

Eggs, at room temperature
Chocolate Ganache
1 1/3

Cup

Dark chocolate chopped

(225 g / 8 oz)

1

Cup

Heavy cream

(240ml)

1/4

Cup

Dark brown sugar

(56 g / 2 oz)
Instructions
Preheat oven to 340F (165C) and line an 8-inch or 9-inch pan with parchment paper.

Pour the hot coffee over the chopped chocolate and cocoa powder, in a medium bowl. Give it a minutes or two to sit, then gently stir until smooth.

Mix in the sour cream and set aside.

mix the flour, baking powder, baking soda, and salt in a separate bowl. Set aside.

Beat the butter, oil, and sugar in a bowl of a stand mixer until light and fluffy, about 4-5 minutes. Scrape the bottom and sides of the bowl.

Add the eggs, one at a time, waiting for the first egg to be fully incorporated before adding the next.

Lower the speed to low, then add the flour mixture in three additions alternating with the cocoa mixture.

Once you added the last portion of the flour, turn the mixer off and use a rubber spatula to incorporate any chocolate residue.

Pour the batter into the prepared pan, use an offset spatula to smooth the top, and bake for 38-45 minutes if using an 8-inch, or 35-40 minutes if using a 9-inch.
Making The Ganache
Place the chopped chocolate in a medium bowl.

Over the stove, heat the cream and sugar to a simmer while stirring.

Pour the cream mixture over the chocolate and set aside for about 5 minutes.

Slowly stir the chocolate and cream until smooth and shiny.

Let cool. As it cools it will get a paste-like texture.
Recipe Notes
Make sure the ingredients are all at room temperature.
Use hot water or warm milk instead of coffee.
For straight edges, only grease the bottom of the pan, then run a knife through the sides of the pan to remove from pan.
You can bake in two 8-inches pans for a layer cake or three 6-inches pans. 
To make a tall layer cake, double the recipe.
For a thick ganache, follow the recipe. 
For a thin ganache, double the amount of cream by 50-100%.
For a gluten-free option, use 1:1 gluten-free flour.
To bake a dairy-free recipe, use vegan chocolate, vegan butter, and unsweetened apple sauce instead of sour cream.