Last updated on January 18th, 2023.
Brownie Pizza is the dessert to make when you want to have fun. A fudgy chocolate brownie topped with silky smooth ganache and sprinkled with fresh strawberries is the perfect dessert to lift anyone's spirit.
But the best part is that it is a dessert pizza, meaning you can top it with unlimited possibilities.
If you are a fan of Brownies, check out my Biscoff Brownies, Matcha Brownies, Brownie Cake, and Brownie Blondies recipes.
What Is Brownie Pizza
Well, the obvious answer to the question is a dessert pizza. It's a brownie base spread with various thick pastes such as dark chocolate ganache, cream cheese frosting, marshmallow fluff, or even ice cream and then sprinkled with different toppings: fresh fruit, chocolate chips, peanut butter cups, nuts, etc.
Why This Dessert?
I know, a Pizza Brownie Recipe might seem a bit too much. After all, brownies are already a rich and dense treat. Do we need to add more to it?
No, we do not. But we can, and we want to, and it's fun and makes everyone happy. So we will. But in case you are not convinced, here are a few more reasons:
It's Fun. In case I did not make myself clear before, think of the facial expressions and the smiles on your loved one's faces at the sight of it.
It's easy. You do need to clean a bowl or two, but this is easy peasy for such a show stopper.
Versatile. You can bake this for any occasion: July 4th, birthday parties, Valentine's, Christmas. It's all in the toppings.
It's not that bad. The brownie crust is thinner than the traditional size ones, and you can't go too heavy on the toppings because the crust is thin. Also, by whipping the eggs, we incorporate a fair amount of air bubbles. Those air bubbles lighten the brownie, giving it a "melt-in-the-mouth" texture.
Ingredients You'll Need
The ingredients list and measurements are at the bottom of this post in the recipe card.
For The Brownie Crust
Unsalted butter
Unsweetened chocolate is the key to the rich texture of the brownie and will moderate its sweetness.
Eggs at room temperature. This is very important. Cold eggs will not whip.
Granulated Sugar
Vanilla extract
AP Flour, bleached or unbleached, is both an option. (I use unbleached).
Cocoa powder. Dutch-process cocoa or natural are both excellent options.
Salt
Chopped toasted pecans. Optional, but I am a massive fan of baking with nuts.
For the Ganache
Substitutions
Salted butter can replace the unsalted butter. Skip the salt.
Use light brown sugar for a deeper, more intense flavor and a softer brownie.
How To Make This Recipe?
Making The Brownie
This recipe will yield one 9-inch crust and about 10-12 pizza brownies slices. If you wish to bake it in a 12-inch pizza pan, double the recipe by 50%.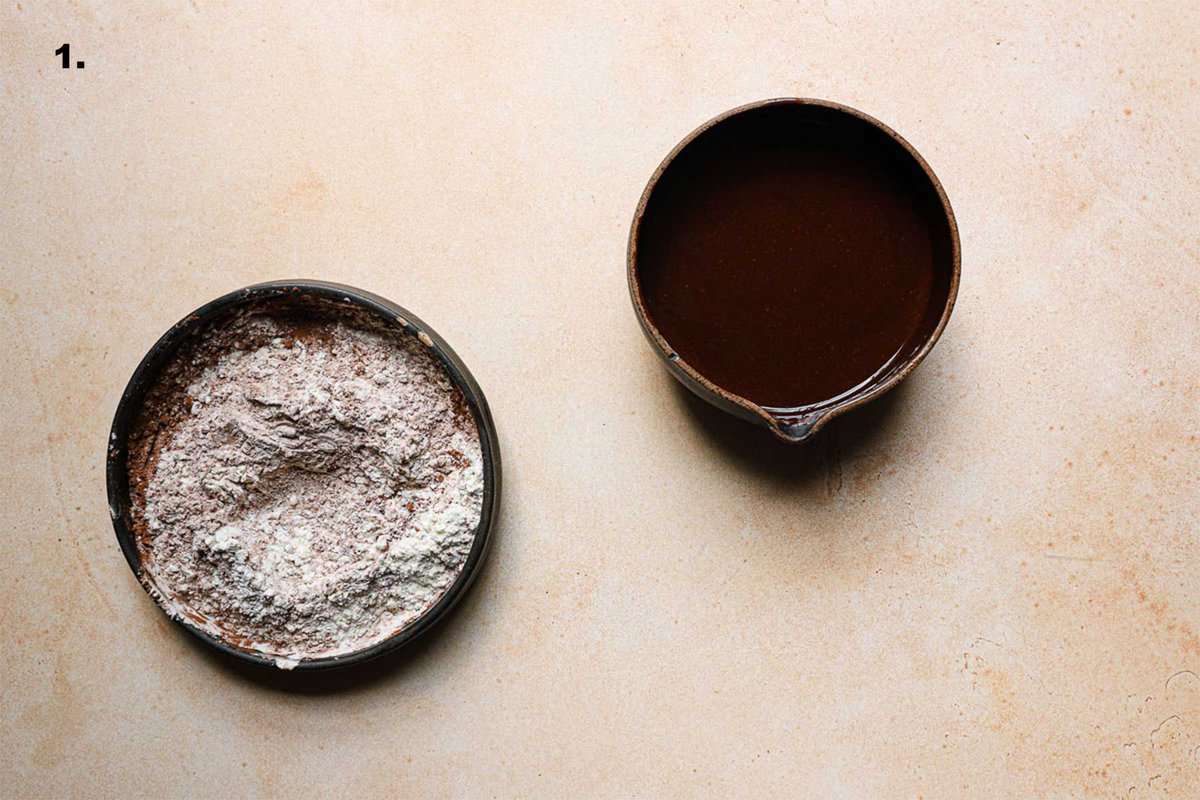 Sift the flour, cocoa powder, and salt in a small bowl and set aside. In a separate bowl, melt the butter and chocolate until completely smooth, and set aside.
In a large bowl, whip the eggs until frothy, then gradually add the sugar, one tablespoon at a time, and beat until the mixture is pale yellow and thick.
Beat in the melted chocolate, fold the flour mixture, pour the batter into the pan, sprinkle with the chopped pecans, and bake.
Making The Ganache
For flavors and topping ideas, please see below. For more information about the processes of ganache, check out my article: what is ganache?
Place the chopped chocolate in a large mixing bowl.
Mix the heavy cream and brown sugar in a medium saucepan and bring to simmer. Pour over the chocolate, cover with a plate, and sit for a few minutes.
Using a whisk or a wooden spoon, gently stir the chocolate and heavy cream until completely smooth. It will look messy at first but keep at it. Once smooth and lump-free, allow to reach room temperature and thicken.
Assembling
While you can frost the crust ahead of time, I recommend avoiding topping with fresh fruit until serving time.
Place the crust over your serving plate and spread the ganache.
Sprinkle with the strawberries.
More Topping Ideas
Just like the traditional pizza, you can make this Brownie Pizza Recipe your own when it comes to flavor and toppings.
Make cream cheese frosting and top with fresh fruits.
S'mores Dessert. Spread marshmallow fluff or mini marshmallow, torch with a kitchen torch, and sprinkle with shredded milk chocolate and crushed graham crackers.
Peanut Butter Pizza. Mix 1/2 cup of peanut butter to this Ameican Buttercream. Sprinkle with Rees's and chocolate chips.
Peanut Butter And Jelly. Spread 1/2 cup of peanut butter, then spread 1/2 cup of your favorite jam on top.
Ice cream Pizza. Allow your favorite ice cream to soften, then scoop it over the brownie. Use an offset spatula to spread the ice cream gently, and top with sprinkles.
Expert Tips
Very important to use room temperature eggs, cold eggs will not whip.
Consider adding more melted chocolate if the ganache does not thicken and reaches a spreadable consistency.
Add more cream if the ganache is too thick.
Do not bring the heavy cream to a full boil. If the temperature is too high, it will break the chocolate emulsion, and the fat will separate from the chocolate.
Less is more. Keep that in mind when you top the brownie. Too much or many toppings might end up being a big over-sweet mess.
Plan and ask your local pizza place for an empty box to travel with this dessert.
Storing
It's best to store the crust at room temperature for up to 2 days, covered. Ganache at room temperature as well, up to two days. If using perishable components such as cream cheese or heavy cream, refrigerate within 3 hours.
FAQ
Can I use Brownie Mix instead of baking the brownie crust?
Yes. Use the brand you like and follow the instruction in the box.
Can I freeze the pizza?
Yes. Make sure to wrap it with plastic, and if possible, in an air-tight container.
Can I use a brownie pan?
Yes. 9×9- inch pan should be ok. For a 9×13-inch double the recipe by 50%.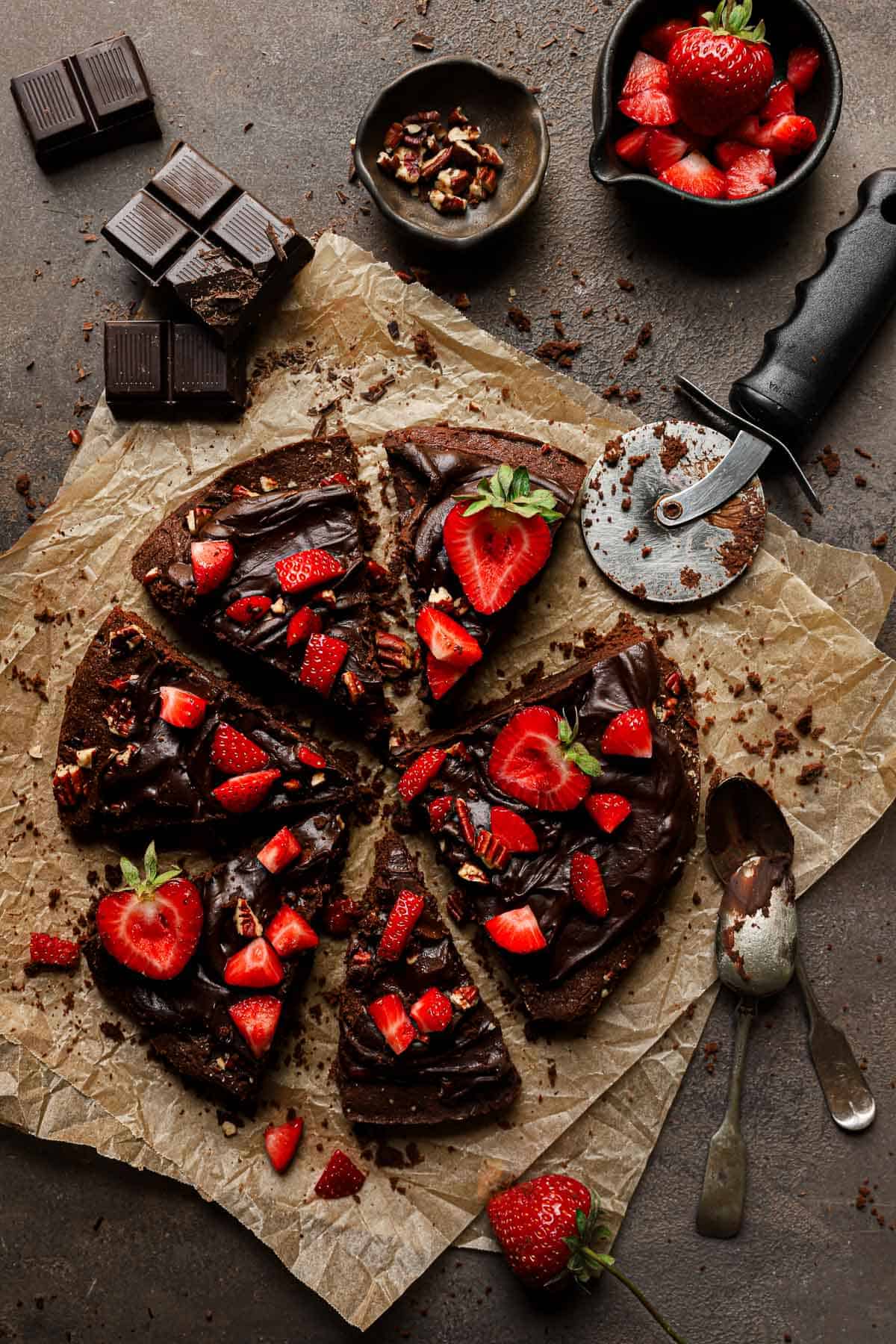 Hungry For More Recipes?
i hope you'd enjoyed this Brownie Pizza recipe and here are some more bars and chocolate recipes I think you will like:
DID YOU TRY THIS RECIPE?
If you tried this recipe or any other recipe by One sarcastic Baker baking blog, please take a movement to rate and comment at the end of each recipe. Your questions, ideas, and thoughts are priceless, and here at OSB we value them more than butter!
And don't forget to tag me on Instagram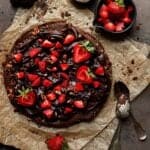 Brownie Pizza
Brownie crust topped with chocolate ganache and fresh strawberries
Ingredients
1/2

Cup

Butter

(113 g/ 4 oz)

1/2

Cup

Unsweetened Chocolate

(90 g/ 3 oz)

2

Large

Eggs

3/4

Cup

Sugar

(150 g / 5 oz)

1

tsp

Vanilla extract

1/2

Cup

AP flour

(60 g / 2 oz)

2

Tablespoons

Cocoa powder

(12g /0.5 oz)
Dipping Chocolate
1

Cup

Semi-sweet (56-65%) Chopped Chocolate

(150g/5oz)

3

Tablespoons

Dark brown sugar

(35g/1oz)

2/3

Cup

Heavy cream

(160ml/6fl oz)
Instructions
Preheat the oven to 325 F. Grease the bottom and sides of a 9" round baking pan with parchment paper and set aside.

In a bowl, mix the flour, salt, and cocoa powder, and set aside.

Melt the butter and chocolate in the microwave, using 30 seconds increments.

In a bowl of a standing mixer, beat the eggs on high speed for about 1 minute.

Gradually add the sugar and vanilla and keep beating until the mixture is a pale yellow, about 2 minutes.

Reduce speed to low and add the melted chocolate. Fold in the flour mixture using a rubber spatula.

Pour the batter into the prepared pan, and sprinkle evenly the toasted pecans. 

Bake for 20-25 minutes. It will be ready when a toothpick comes out with a few moist crumbs from the center of the cake.

Allow the Brownie to completely cool in the pan.

When ready to serve, place the crust over your serving dish, spread with the ganache and sprinkle with fresh strawberries.
Chocolate Ganache
In a small saucepan, bring the heavy cream and sugar to a simmer.

Pour the cream over the chopped chocolate, and let sit for a few minutes.

Gently stir the mixture until it is silk smooth, and allow to sit for 30-60 minutes until set.
Recipe Notes
make sure the eggs are at room temperature otherwise, they will not froth.

If the ganache is too thick, mix in more warm cream, if it is too thin, mix in melted chocolate.

The cream should not reach a full boil, otherwise, it might separate the fat from the chocolate and you will end up with a white unpleasant deposit.

Less is more. Do not be tempted to add too many toppings. The brownie is thick and dense.

For a portable dessert, ask your local pizza place for an empty box. Make sure to assemble the pizza in the box.

You can use chocolate chips instead of chopped chocolate.