Last updated on May 7th, 2021.
Baking Chocolate dipped Brownie wedges was not what I had in mind. It was one of these great surprises.
Last week I felt like baking Chocolate-Pecan Brownie. I realized then, that I can not think of any recipe that cannot include one or two of these AMAZING flavors. This is a pretty impressive achievement for an ingredient. So to celebrate the two I decided to "go festive" and bake the Brownie in around 9″ pan.
The idea was different and felt like a good one. I didn't want to over think it, so quickly I made and poured the batter in the pan, placed it in the oven and 20 minutes later the house smelled like Chocolate.
Twenty-one minutes later, my first born, Emily, sniffed her way into the kitchen wearing a big smile that changed into a confused stare at the look of the pan.
"Brownies are supposed to be squares, why is it a circle?"
I explained that today is about doing something different and we will have triangle brownies.
"It can't be a triangle, a triangle has 3 straight sides, this has only 2…the third is not straight …"
There was no point to argue with her about that, instead, I decided to improvise and dip the Brownie in Chocolate which will give each piece its third straight side!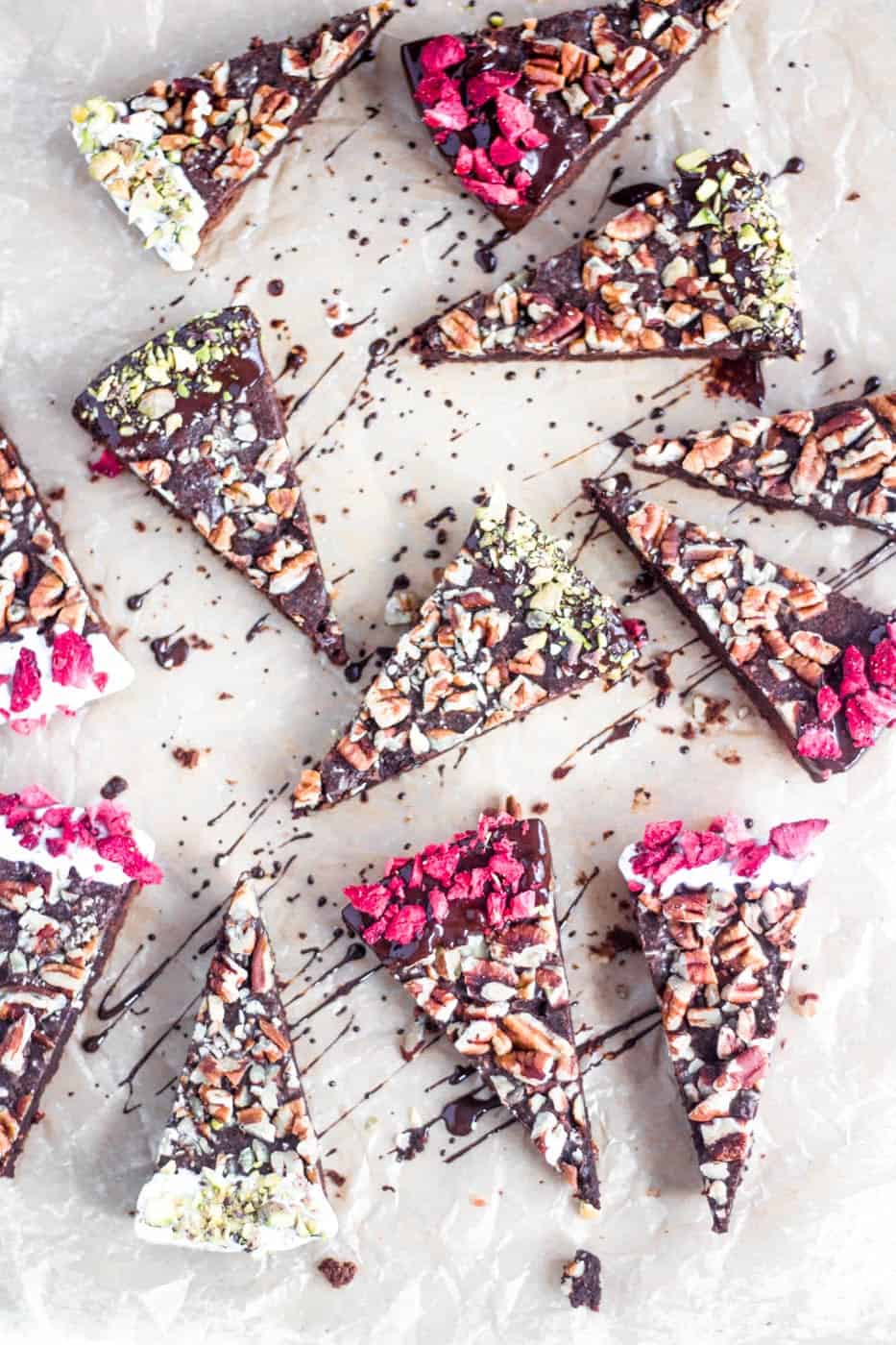 There were some Pistachios and freeze dried Strawberries in the Pantry, right away I knew it would give the Brownies an extra "oommphh"
I was not disappointed.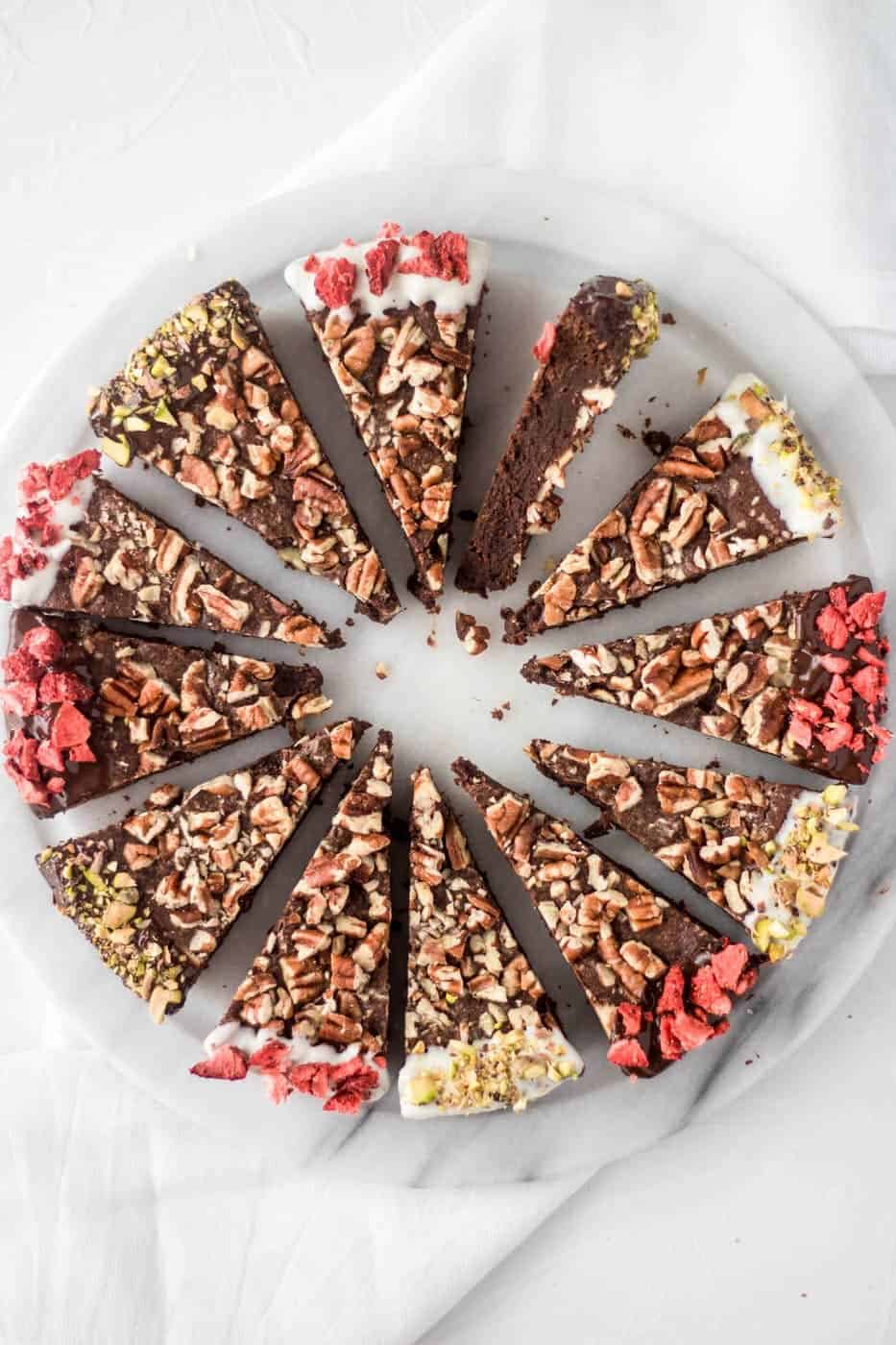 The Brownies were moist, dense and full of dark chocolate flavor.The Pecan added nutty flavor plus a crunchy texture and the Pistachio/Strawberry took it the extra mile by only giving it a hint of flavor.
I would easily declare that this is my new way of baking Brownies, but I am pretty sure that Emily has her own way.
To be honest, as long as it has Chocolate and Pecans in it, I am in.
Don't forget to check out this week's Baker's tip following the recipe.
Happy Baking.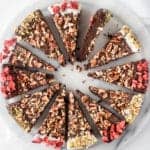 Dipped Brownie Wedges
Ingredients
1/2

Cup

Butter

(113 g/ 4 oz)

1/2

Cup

Unsweeten Chocolate

(90 g/ 3 oz)

2

Eggs

3/4

Cup

Sugar

(150 g / 5 oz)

1

tsp

Vanilla extract

3/4

Cup

AP flour

(90 g / 3 oz)

3/4

Cup

Coarsly chopped toasted Pecans

(100 g /3.5 oz)
Dipping Chocolate
1/4

Cup

Bittersweet Chocolate Chips

(30 g/1 oz)

1/4

Cup

White Chocolate chips

(30 g/1 oz)

1

tsp

shortening

1/4

Cup

Chopped pistachios

1/4

Cup

Freezed drid strawberries, crumbled
Instructions
Preheat oven to 325 F. Line a 9" round baking pan with parchment paper and set aside.

Place the butter and unsweetened chocolate in a saucepan over a medium heat and allow to melt while stirring. Remove from heat and allow to cool.

In a bowl of a standing mixer, beat the eggs on high speed for about 1 minute.

Add sugar and vanilla and keep beating for 2 minutes until you get a thick light yellow mixture.

Change the speed to low and add the melted chocolate then sprinkle in the flour. Mix just to combine.

Pour the batter into the cake pan spread and sprinkle evenly the toasted pecans.

Bake for 20-25 minutes. It will be ready when a toothpick comes out with crumbs from the center of the cake.

Allow the Brownie to completely cool in the pan.

Remove the Brownie from the pan and it into four quarters and each quarter cut into 3 wedges.

Dip outer side of the Brownie into the melted chocolates and sprinkle with Pistachio or Strawberries.
To Make the Dipping Chocolate
Place the semisweet chocolate and white chocolate in separated bowls, add 1/2 teaspoon of shortening to each bowl.

Place each bowl in the microwave and melt in increments of 15 seconds, stirring at the end of every 15 seconds.
For more information, click the picture
**Please note that I am part of the Amazon Affiliate Network. If you choose to purchase through the above link, I will receive a small commission (at no additional cost to you).